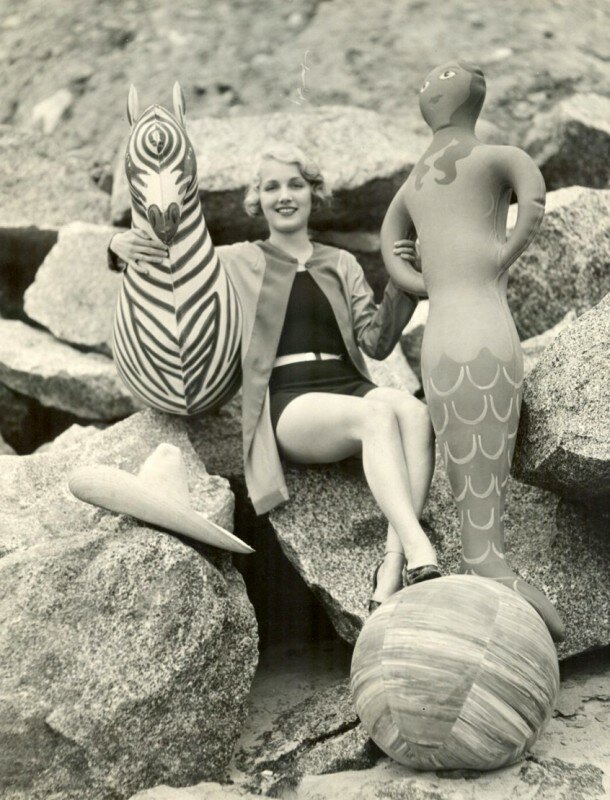 odd one out x consuming passion x in your face x love song
———————————
Fort Point Open Studios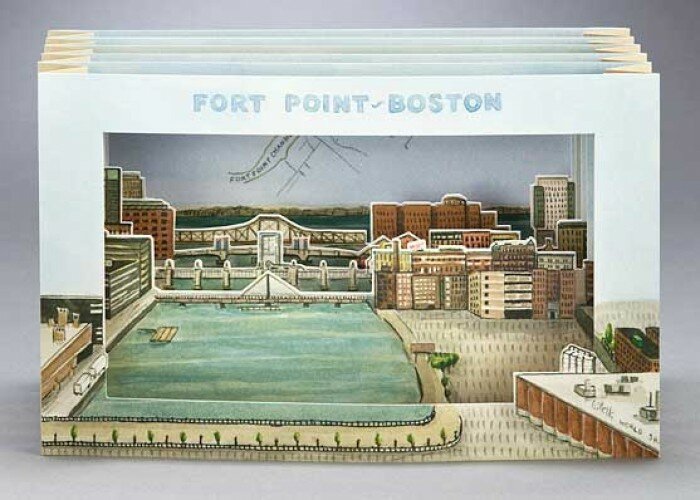 (Fort Point tunnel book, Laura Davidson)
When: Friday October 19th: 4:00-7:00pm || Saturday October 20th – Sunday October 21st: 12:00-6:00pm
Where: Fort Point. List of participating studios here.
How: Official Website
What/Why: "Explore the historic waterfront warehouses that are home to painters, sculptors, ceramicists, jewelers, performance artists, fashion designers, printmakers, book artists, photographers, and more. Meet local artists and craftspeople, and get a behind the scenes look at where Boston artists create their work.Find established artists, and discover new emerging talents. Stroll, ponder, and browse. Buy original art from the people who make it.
Visitors to Open Studios can explore 10 buildings in the Fort Point neighborhood, plus galleries and creative design shops. All buildings are in easy walking distance of each other.
In addition to the more than 150 artists studios and galleries which will be open, Open Studios features a series of special events including Artists' Demonstrations, Hands-On Activities, Performance"
Check out my FLUX. picks for 2012 Fort Point Open studios here!
——————————
Natick Open Studios

(David Lang)
When: Saturday October 20th- Sunday October 21st, 2012 | 12:00-5:00PM
Where: List of participating artists here.
How: Official Website
What/Why: "Natick Artists Open Studios is comprised of over 60 artists who live, work or show in Natick. We are committed to bringing art to the local community by opening our studios and welcoming conversations about the experience of creating art. We offer the opportunity to see art, learn about how it is made, and converse with local artists in a relaxed and festive atmosphere. Participating artists include painters, jewelry-makers, ceramicists, sculptors, woodworkers, and paper, fabric, glass and garden artists."
——————————
Zombie Fashion Show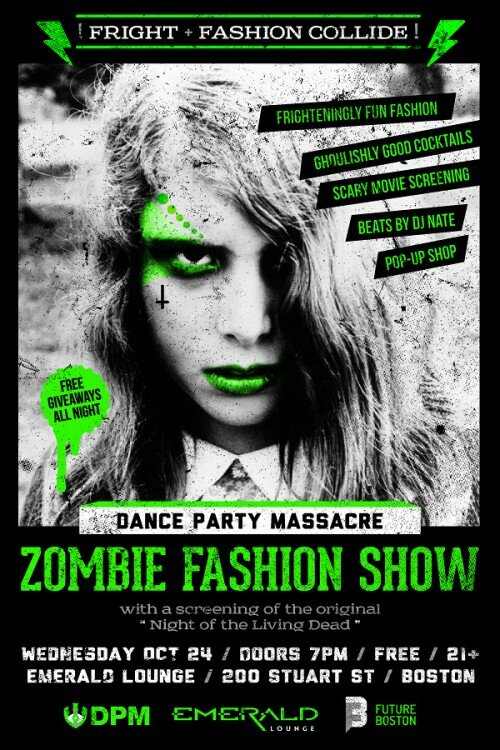 When: Wednesday October 24th, 2012 | 7:00PM-12:00AM
Where: Emerald Lounge, 200 Stuart Street, Boston, Massachusetts 02116
How: Official Website
What/Why: "As a way to express our appreciation for all of our supporters, we will be collaborating with Dance Party Massacre in hosting the Finale of ASSEMBLE! 2012! This night will mark the 5 year anniversary of the company, which started as a Halloween house party held to show off DPM's designs in 2007. In true Halloween spirit, DPM will be presenting a Zombie Fashion Show that will be backed by a screening of the original "Night of the Living Dead".
——————————
Consuming Passion: Food as a Metaphor

 (Hurt & Damage (detail 10), Elizabeth Kostojohn)
When: On view through November 18th, 2012
Where: Concord Art Association | 37 Lexington Road, Concord MA 01742
How: Official Website 
What/Why: "Food, so essential to life, is more than its physical parts; it is a reflection of our shared human experience. For artists, food is a copious source 
of visual and symbolic inspiration. 
The intricate link between food and art is one that spans cultures, time and place. Throughout the centuries, artists have been attracted to food as a subject and often used it metaphorically: water represented sustenance of life; pomegranates, 
hope and eternal life; and, the still lifes of the Dutch masters, so gloriously overflowing with fruit, game, fish and fowl, symbolized the abundance of Holland's thriving economy in the 17th century 
Today's artists employ a variety of media – including edible materials themselves – to explore food as a metaphor for human relationships and society's challenges, and sometimes as a critique of contemporary culture. 
In Consuming Passion, thirteen artists use food imagery with a variety of intentions: to provide a peek into our domestic settings and to provoke questions about what is really happening during an everyday moment, to express concerns about threats to our environment, to celebrate the sumptuousness of our organic riches, to alert us to the delicacy and the fertility of symbolic foods, to comment on human consumption, and to employ food to illustrate and to evoke human emotion. For others, imaging food provides abundant visual structures through which to solve challenges of exploring line, color, pattern and space. 
It is our hope as curators that this exhibition will allow you, the viewers, to pause for a moment, to see anew and to enjoy food from a fresh perspective."
——————————
Mario Testino: In Your Face

When:On view Sunday October 21st through February 3rd, 2013
Where: Museum of Fine Arts, 465 Huntington Avenue, Boston, MA
How: Official Website
What/Why: "In Your Face" offers a provocative inside look at some of today's most elusive and exclusive subjects through the lens of renowned fashion and portrait photographer and Vogue and Vanity Fair contributor Mario Testino. Known for the elegance, beauty, style, irreverence, and contradiction of his images, Testino gives us a career retrospective arranged in compelling visual stories. These images capture the interplay of mass media, celebrity, and glamour, and offer a new understanding of his influence and aesthetic contributions to fashion and photography.
This exhibition, his first in the US, represents the brilliant range and quality of Testino's thirty-year career and includes striking, exquisitely styled images of international superstars such as models Kate Moss, Stephanie Seymour, and Gisele Bündchen, actors Brad Pitt, Nicole Kidman, and Gwyneth Paltrow, musicians Mick Jagger, Madonna, and Lady Gaga, and soccer player David Beckham. "In Your Face" recreates the photographer's world and his people—formal portraits juxtaposed with private party snapshots, nudes with fashion, black and white with color, and interiors with exterior settings—making visitors feel as though they had stepped into the pages of one of today's most entertaining and spectacular fashion magazines."
——————————
Odd One Out and Dolls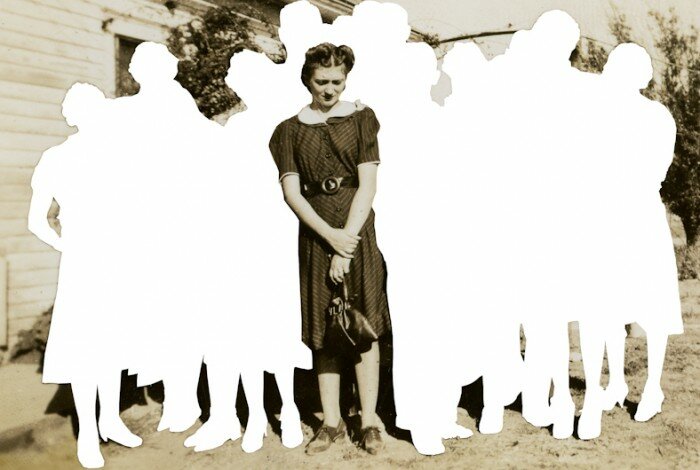 When: On view October 25th through November 24th, 2012
Where: Gallery Kayafas, 450 Harrison Avenue Suite 37, Boston, MA 02118
How: Official Website 
What/Why: Solo show of new work, 2D prints and 3D sculpture/installation
——————————
Time Body Space Objects 2

When: Saturday October 20th, 2012 10:00AM-10:00PM
Where: Anthony Greaney, 450 Harrison Avenue, Boston, MA 02118
How: Official Website 
What/Why: "12 artists have been invited to participate. Each artist will choose one hour – randomly, out of a hat. There will be no clean up or set up time, one hour will transition into the next. Each artist must leave the space empty at the end of their hour.
The theme will be commitment. There will be no remnants left behind.
Participating artists:
10am-11am Tom Maio
11am-12pm Martine Viale
12pm-1pm Daniel DeLuca
1pm-2pm Jeff Huckleberry
2pm-3pm Erik Benjamins
3pm-4pm Sandrine Schaefer
4pm-5pm Nicholas Buffon
5pm-6pm Rob Andrews
6pm-7pm Ryan Hawk
7pm-8pm Peter Dobill
8pm-9pm Anya Liftig
9pm-10pm Tim Devin
12 hours of performance art!"
——————————
Annual Members' Show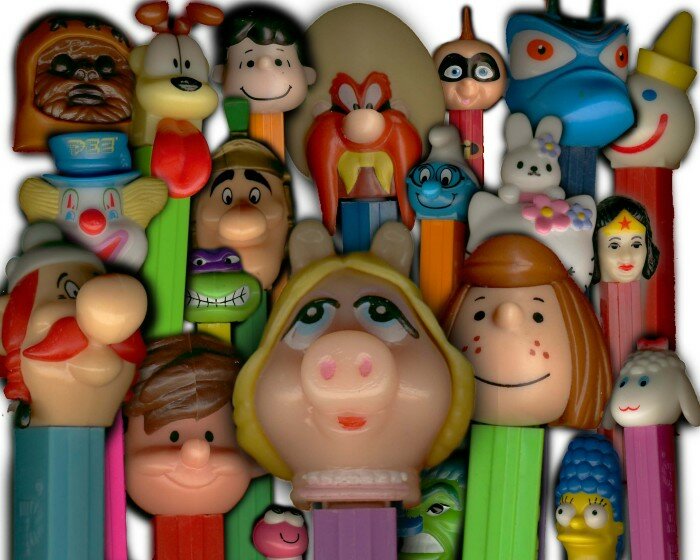 (Barry Cronin)
When: On view through October 31st, 2012
Where: The FPAC Gallery, 300 Summer Street, Boston, MA
How: Official Website
What/Why: "In conjunction with Fall Open Studios, the FPAC Gallery presents the annual Group Show, with works in all media by more than seventy-five Fort Point artists."
—————————
The Death of Childhood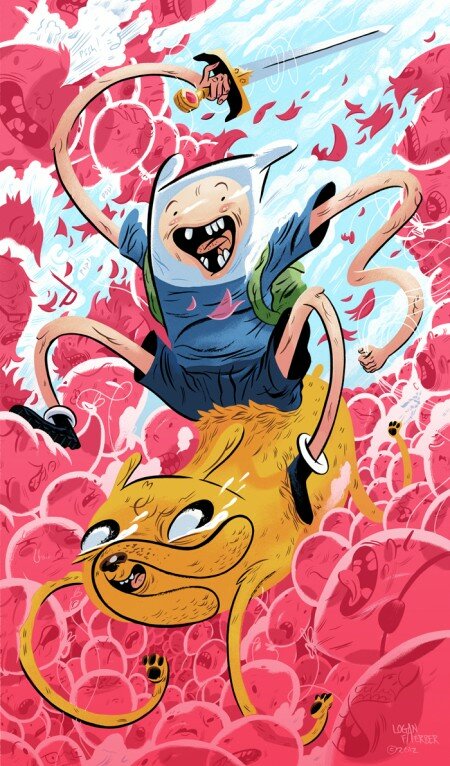 (Adventure Time, Logan Faerber)
Opening Reception: Saturday October 20th, 2012 8:00-11:00PM
Where: Orchard Skateshop, 156 Harvard Ave, Allston, Massachusetts 02134
How: Official Website 
What/Why: "Immediately following the Bake and Destroy premiere we will be hosting a 21+ art exhibit opening in the Extension Gallery on the second level of the shop. The show is entitled "The Death of Childhood" and was curated by Tak Toyoshima, and includes work from 12 different artists using different mediums playing on warped and twisted childhood memories."
——————————
The Love Song of R. Buckminster Fuller (With live performance by Yo La Tengo)

When: Saturday October 20th, 2012 (Note: Only tickets for 9PM show are still available)
Where: ICA Boston, 100 Northern Avenue, Boston, MA 02210
How: Official Website
What/Why: "The Institute of Contemporary Art/Boston (ICA) presents the Boston premiere of The Love Song of R. Buckminster Fuller, featuring live musical accompaniment by Yo La Tengo on Saturday Oct. 20, 2012, at 7pm and 9pm (there are two shows). The event takes place in the Barbara Lee Family Foundation Theater. Tickets are $25 general admission, or $20 for members and students, and are on sale now at (617) 478-3103 or www.icaboston.org. 
The Academy Award-nominated filmmaker Sam Green returns to the ICA with the Boston premiere of his new "live documentary," The Love Song of R. Buckminster Fuller (2012, 60 min.) featuring a score and live accompaniment by the seminal indie-rock superstars Yo La Tengo. The piece is a follow-up to his internationally acclaimed live film Utopia in Four Movements, which was screened/performed at the ICA last year. Green cues images and narrates in person while Yo La Tengo performs the soundtrack. Buckminster Fuller, 20th-century futurist, architect, engineer, and inventor experimented tirelessly for 50 years to find out what one single person could achieve on behalf of humanity. The film explores Fuller's utopian vision of radical social change through a design revolution. Drawing equal inspiration from old travelogues, the Japanese Benshi tradition of silent film narration, and TEDTalks, the life of Buckminster Fuller has never looked and sounded so beautiful.
Fuller was born in Milton, Mass., kicked out of Harvard twice, and is buried at Mt. Auburn Cemetery. Though the film examines his work in San Francisco, this presentation will be tailored for Boston, addressing the iconoclast's ties to the area. For more information about the film, visit www.buckminsterfullerfilm.com."
——————————
#catvidfest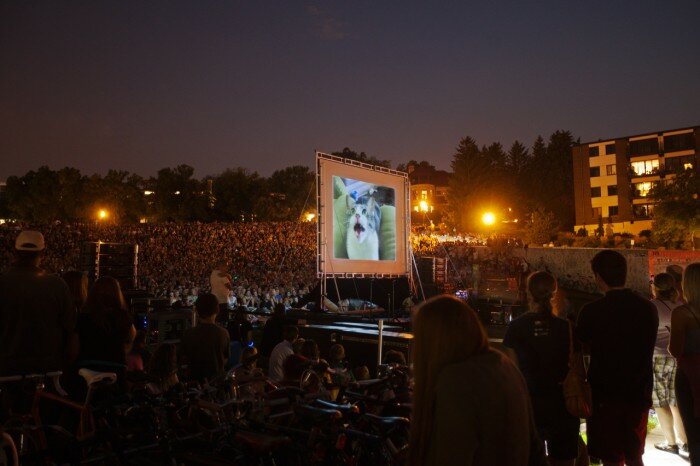 When: Tuesday, Oct. 23, from 7 p.m. to 8:30 p.m
Where: U Mass Boston, Campus Plaza, 100 William T. Morrissey Blvd., Boston, Massachusetts 02125
How: Official Website 
What/Why: "While normally viewed alone on a computer screen, our unofficial cat-lady-in-residence invites you to come gather together on the field and LOL in the presence of others as your favorite silly cat videos are projected larger-than-life one after the other.  Experience the joy of a surprised kitten or keyboard cat together. Participate in this experiment that tests the social boundaries of the online community with a live, off-line event as we attempt to gather in physical space and real time to enjoy one of the internet's most popular phenomena."
——————————
Round Cambridge
When: Through November 23rd, 2012
Where: Cambridge, MA
How: Official Website
What/Why: "ROUND: Cambridge, created by artist Halsey Burgund, is a new city-wide, site-specific sound art installation. The project engages the general public through music and participant commentary via smartphone technology. Using Cambridge's impressive Public Art Collection and public spaces as a touch-point, citizens and visitors are able to participate by adding their thoughts, questions, and reflections to an ever-evolving composition encompassing the city. As a participant moves throughout the city, the person can record comments or listen to those left by others about a specific artwork or location. Users' comments immediately upload to the composition, adding a new auditory layer to the landscape. 
The CAC Gallery is the launching site for ROUND: Cambridge. Gallery viewers, and those without a smartphone, can experience the project and contribute to the composition in the recording booth at the CAC Gallery, located in the City Hall Annex at 344 Broadway, 2nd Floor, Cambridge.
Download the free ROUND: Cambridge app at iTunes and Google Play.

This new public art project, commissioned by the Cambridge Arts Council, will be live through 2014. As a public artwork, ROUND: Cambridge exists in the public domain, like the sculptures, murals and other public art around Cambridge. By allowing people to leave their mark on the landscape, Cambridge is transformed into a collective audio work.
Learn more by visiting the CAC Gallery or download the ROUND: Cambridge App at
www.cambridgeartscouncil.org or http://halseyburgund.com/work/r2c/"
——————————
Crowdfunding Public Art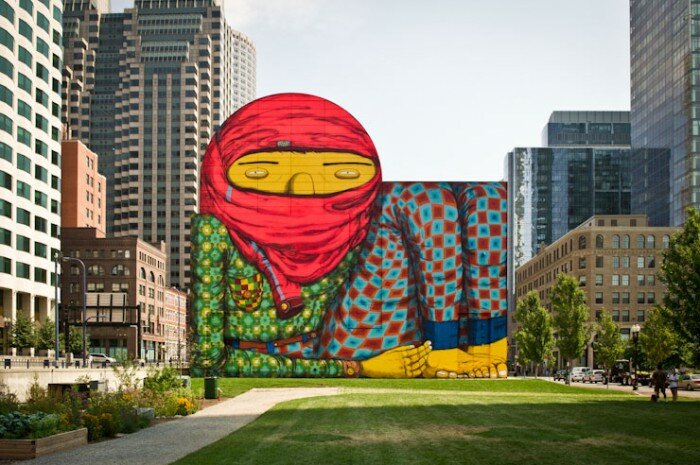 When: Tuesday October 23rd, 6:00-9:00PM
Where: New England Foundation for the Arts, 145 Tremont St, Boston, MA 02111
How: Official Website
What/Why: "We know that funding is on your mind! That's why NEFA and Boston Art Commission are teaming up to explore innovative and contemporary funding strategies for public art projects.
Join Kickstarter art program director Stephanie Pereira and a panel of artists who led successful Kickstarter campaigns for a primer on how to bring a Kickstarter project to life. Learn how to structure a campaign; discover effective rewards; gain useful promotional techniques; and come away with helpful tips to bring your public art project to fruition!
Session format: The first section of the session (6:00-7:00PM) will focus on networking and workshopping. We invite you to join mini working groups on funding public art projects, and encourage you to share with eachother your expertise, resources and experiences. Light bites will also be provided to nourish your bellies and minds! Stephanie's presentation and the panel will follow from 7:00-9:00PM."
——————————
 Sloane Merrill Gallery Opening Reception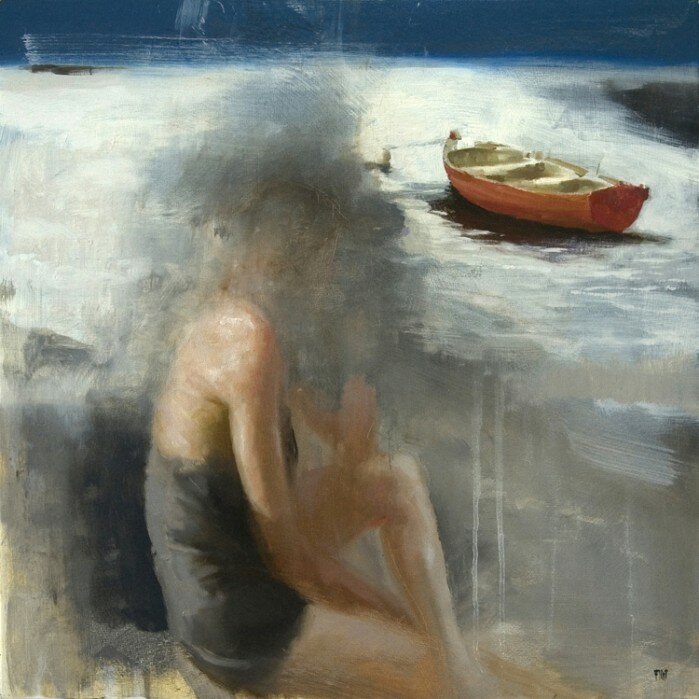 (Breathing Brought Her Closer, Joshua Flint)
When: Friday October 19th, 2012 6:00-9:00PM
Where: 75 Charles Street, Boston, MA 02114
How: Official Website
What/Why: "Sloane Merrill Gallery's aim is to introduce a fresh, cohesive roster of living artists to the evolving Boston, national, and international art markets. The gallery is dedicated to the exhibition of representational artists actively working in oil who have a distinctive personal approach to their work. Our gorgeous space is in the Beacon Hill neighborhood of Boston, a lively, historic area with an excellent balance of locals, visitors, and Bostonians who work on the Hill. Our mission is to encourage, educate, and assist collectors in the acquisition of original works of art wherever they may be in the process — just starting out, adding to an existing collection,  or introducing the next generation to the art world!​"
——————————
Everybody's a Critic!

(Art Critic, Norman Rockwell)
When: Tuesday, October 23, 2012, 4:30PM
Where: Wellesley College, Newhouse Center for the Humanities, Green Hall, 106 Central Street – Wellesley, MA 02481
How: Official Website
What/Why: "At a time when anyone can write a review on Amazon or express her opinion in a variety of public venues, what does it mean to be a professional critic? How do critics form their opinions?  What makes a good review? 
Claudia La Rocco is the founder and artistic director of thePerformanceClub.org, which won a 2011 Arts Writers Grant. She writes about performance for theNew York Times, and is on the faculty of the School of Visual Arts' graduate program in Art Criticism and Writing.  Sebastian Smee is the art critic for theBoston Globe and winner of the 2011 Pulitzer Prize for Criticism.  He joined the paper's staff from Sydney, where he worked as national art critic for The Australian.  James Wallenstein is the author of a novel The Arriviste (2011) and of essays and stories that have appeared in GQ, The Believer, Tikkun, The Antioch Review, The Boston Review, and The Hudson Review.  "
——————————
What did I miss?
Reminder: This is the last weekend to see Elsewhere before the Distillery Gallery (which is scarily close to Fort Point Open Studios) is reduced to a shell of it's former self.
Run don't walk.
Have a great weekend! ♥