out of the ruins x 100 steps x travel without travel x elsewhere
—————————
Invitational Dartmouth Alumni Exhibition

(The Parking Ticket, Scott Listfield)
When: On view through December 1st, 2012
Opening Reception: Friday September 14th, 3PM
Where: Hopkins Center for the Arts, 2 East Wheelock Street, Dartmouth College, Hanover, NH 03755
How: Official Website
What/Why: "Timed to coincide with the opening of the new Black Family Visual Art Center, this exhibition celebrates the distinguished alumni of Dartmouth College's Studio Art program. This two-venue exhibition, which will be on display in the Nearburg Gallery and Arts Forum in the new Black Family Visual Arts Center and the Top of the Hop, showcases paintings, photographs, prints, sculpture, and works in new media by outstanding artists, ranging from recent graduates to those who have been working professionally for many years. These highly accomplished artists value the importance of their arts education at Dartmouth and stay in close contact with their former instructors in the Studio Art Department. The fourteen artists whose work has been selected for this inaugural alumni exhibition bring a diverse range of approaches and techniques to their artistic practice. Seen together, their work exemplifies the vibrancy and eclecticism of the contemporary art world, which was first introduced to them by their professors at Dartmouth. "
————————
Reading

(Sun Bathers on Rock, Cannes, 1975, André Kertész)
When: On view through October 24th, 2012
Where: Barbara Krakow Gallery, 10 Newbury Street, Boston, Massachusetts 02116
How: Official Website
What/Why:"Featuring the works of André Kertész,Ed Ruscha & the "Between Artists" series of books from Art Resources Transfer Reading"
Also on view(through October 13th, 2012)..
Mike Glier-Antipodes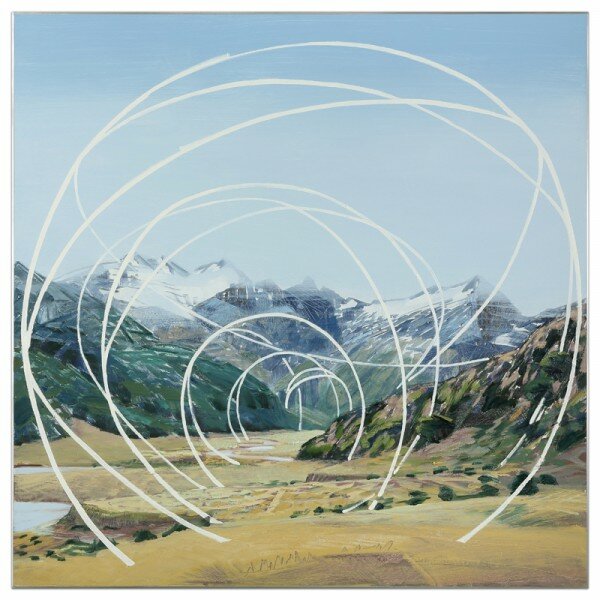 (February 15, 2012: Rees Valley, New Zealand)
What/Why: More information on the exhibition here.
————————
Before I Die…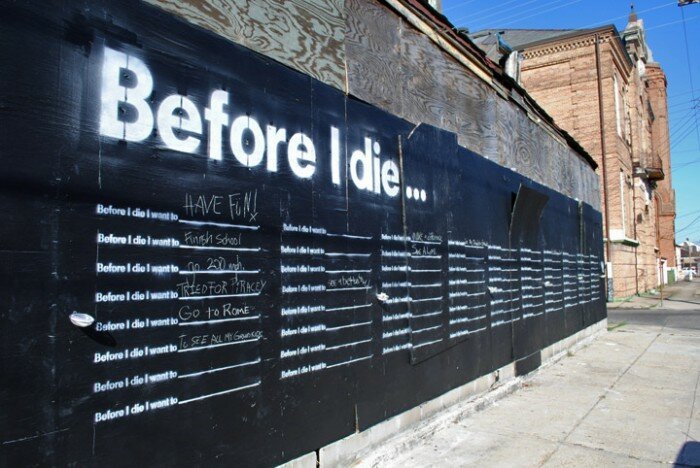 (Before I Die.. in New Orleans,

Candy Chang

)
Where: Rose Kennedy Greenway, Boston, MA
How: Official Website
What/Why: "It's easy to get caught up in the day-to-day and forget what really matters to you. When Candy lost someone she loved very much, she thought about death a lot. This helped clarify her life but she struggled to maintain perspective. She wanted to know what was important to the people around her. So with help from old and new friends, she turned the side of an abandoned house in her neighborhood in New Orleans into a giant chalkboard and stenciled it with the sentence "Before I die I want to _______." so anyone walking by can pick up a piece of chalk, reflect on their lives, and share their personal aspirations in public space.
It was all an experiment. By the next day the wall was entirely filled out and it kept growing. Before I die I want to… sing for millions, see my daughter graduate, straddle the International Date Line, see the leaves change many times, be someone's cavalry, live off the grid, build a school, hold her one more time, abandon all insecurities, be completely myself…  People's hopes and dreams made her laugh out loud, tear up, and feel consolation during her own tough times. The wall transformed a neglected space into a constructive one where we can understand our neighbors in new and enlightening ways, restore perspective, and remember we are not alone. The Atlantic called it "one of the most creative community projects ever, and the project was featured on NBC's Rock Center with Brian Williams.
After receiving hundreds of messages from people around the world who wanted to make a wall, she and her Civic Center colleagues created the project website beforeidie.cc and a Before I Die Toolkit to help people make a wall with their community and share their wall online. You can also download all files for free to remix or create your own stencils. Thanks to passionate people, this project has expanded to countries around the world, including Kazakhstan, South Africa, the Netherlands, Mexico, Australia, Portugal, Italy, Argentina and beyond. Taken together, the Before I Die project offers a public space for contemplation and a snapshot of the values our neighbors hold dear. Together we can make public spaces that better reflect what matters to us as a community and as individuals. Developed with support from the Black Rock Arts Foundation."
————————
Julee Holcombe-Steel and Stones, Blood and Bones

(A Fox in the Hen House, Julee Holcombe)
When: On view through October 13th, 2012
Where: Gallery Kayafas, 450 Harrison Avenue, Boston, MA 02118
How: Official Website
What/Why: "Gallery Kayafas is pleased to present Julee Holcombe's first solo exhibit, Steel and Stones, Blood and Bones. These large scale photographs from her Homo Bulla series, architectural and figurative scapes, are digital collages of layer upon layer of assembled resonant images from many different places. The views of construction and deterioration, ancient ruins erected in the midst of skyscrapers and monuments, or the reverse, create mystifying worlds with historical references to specific times, happenings and the human condition. Memory, recognition, fantasy, spring from this imaginative and convincing work!
Her figurative photographs, like the architectural compilations, are intriguing and mysterious, a collection of images and ideas, embracing interpretations of paintings, religious parables and modern street sensibility. She investigates contemporary cultures while mixing reality and fiction.
Holcombe resides in New Hampshire where she is an Assistant Professor of Art and Art History at the University of New Hampshire. Her work is in numerous private and corporate collections."
Also on view..
Charles "Teenie" Harris- A Selection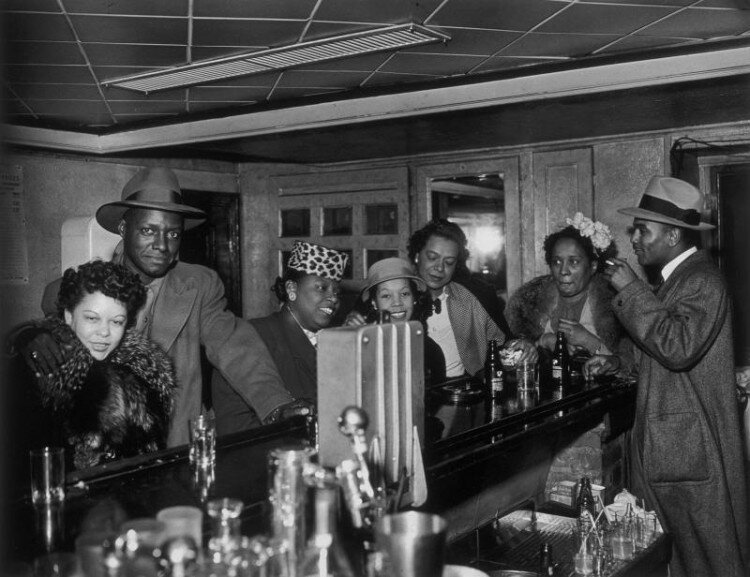 (Untitled Bar Patrons)
What/Why: "A collection of rare Charles "Teenie" Harris photographs from his family's archive is on view before they are disseminated. Harris photographed in the Pittsburgh Hill District, the city's, and in many ways, the country's, cultural center for African-American urban life. He worked from the onset of WWII until the end of the Vietnam War. His black and white photographs, an archive of nearly 80,000 images, are considered to be one of the most complete visual documents of African-American society of any time. Operating his own studio as well as freelancing for the Pittsburgh Courier, an African-American owned weekly, international newspaper, he worked and lived within his community with an awareness of and a mission to document its singularity and richness. Pittsburgh was a hub for professional athletes, performers, and politicians who often made the Iron City a second stop after New York City.  Harris met and photographed them all:  Cassius Clay, Joe Lewis, Jackie Robinson, Lena Horne, Duke Ellington, Louis Armstrong, Jack Kennedy, Eleanor Roosevelt, Martin Luther King, and the citizens of the Hill District."
————————
All of the Above- New Work by Nona Hershey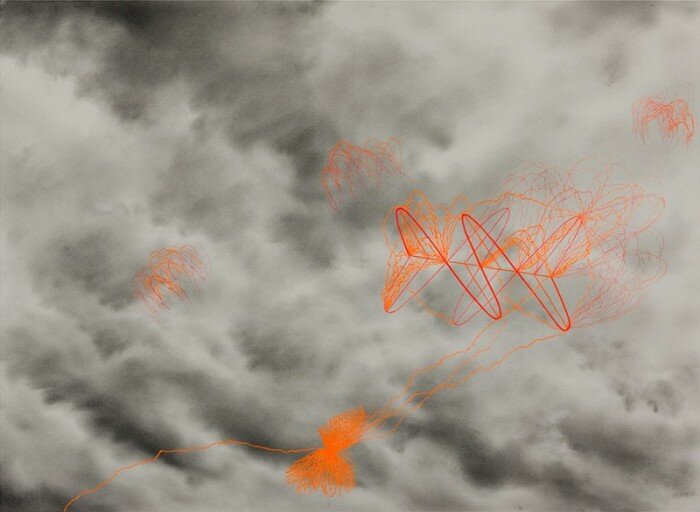 (Techno Chatter)
When: On view through September 29th, 2012
Where: Soprafina Gallery, 55 Thayer Street, Boston, MA  02118
How: Official Website
What/Why: "Nona Hershey's new series of work is concerned with the invisible electronic pollution that surrounds us all. She imagines the wireless transmissions that we all send and receive constantly. What is this clutter we emit into our environment, she wonders, as we become more and more 'wireless' do we become more and more 'wired'?"
————————
Cut and Glitter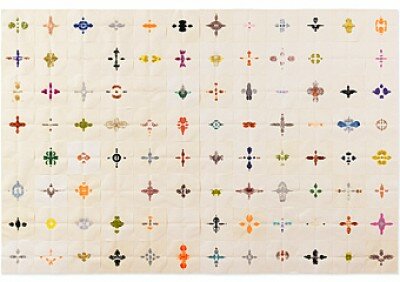 (Glitter Rorschachs/96 horizontal, Kathleen O'Hara)
When: On view through September 21st, 2012
Where: NK Gallery, 450 Harrison Avenue, Boston, MA 02118
How: Official Website
What/Why: "NK Gallery and Beth Kantrowitz/bkprojects is pleased to present "Cut and Glitter", an exhibition of Kathleen O'Hara's glittery Rorschach works on paper and panel and Randal Thurston's exquisitely cutout silhouettes.
When Kathleen O'Hara and Randal Thurston met at NK Gallery to discuss their upcoming exhibition, both were struck by the crypt-like feel of the gallery's lower level space. The scalloped vaulting of the brick ceiling reminded Thurston of the Capuchin Chapel in Rome, while the symmetrical panels flanking the gallery's rear wall brought medieval altarpieces to mind for O'Hara. Their collaborative exhibition, "Cut and Glitter", will be an installation of Randal Thurston's dark, iconic silhouettes and Kathleen O'Hara's transcendently glitzy glitter panels."
————————
Wareham Street Open Studios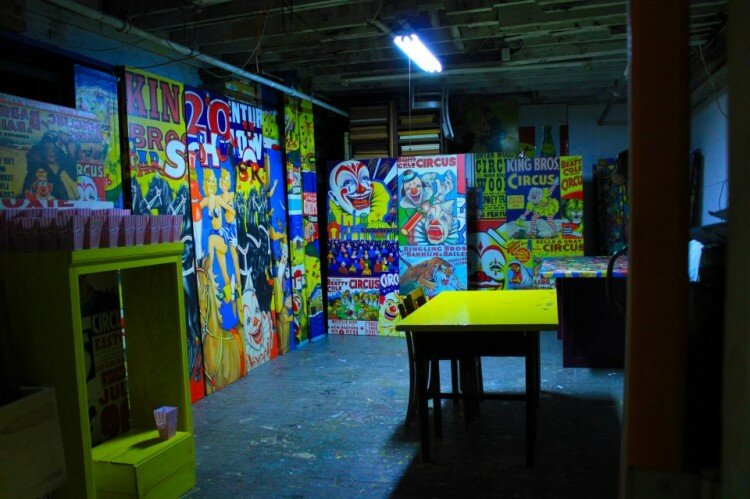 When: Saturday and Sunday September 15-16th, 2012 11am-6pm
Where: 35 Wareham St. Boston, MA 02118
How: Official Website
What/Why: "OVER 100 ARTISTS IN 3 BUILDINGS!!!  35, 49 and 59"
————————
Harold Feinstein A Retrospective

When: On view through October 30th, 2012
Opening Reception: Friday, September 14th, 5:30 – 7:30pm
Where: Panopticon Gallery, 502c Commonwealth Ave, Boston, MA 02215
How: Official Website
What/Why: "The long-awaited exhibition: Harold Feinstein A Retrospective coincides with the launch of his book of classic black & white photographs published by Nazraeli Press. Pre-order a copy now by visiting their website.
This exhibition and monograph showcases and revisits some of Feinstein's most beloved images: from the boardwalk at Coney Island and the streets of New York, to his tour of duty as a grunt in Korea. This body of work spans close to fifty years."
Also on view..
Stephen Sheffield

What/Why: "In the private room we are featuring Boston-based photographer Stephen Sheffield. Sheffield's dynamic use of photography through his fine art, editorial assignments and commissioned work play out as stories, and depict both everyday and unusual events. Each image is framed by his unique and dark sense of humor, occasionally casting himself as the protagonist.
Sheffield's portfolios include straight photography, alternative processes, the use of Polaroid, and large-scale photo assemblages."
Also ALSO on view..
Featured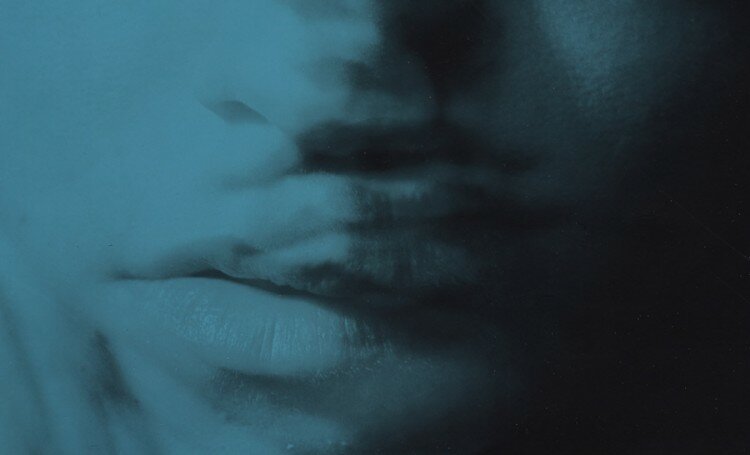 What/Why: "Our Emerging Artist | FEATURED is Alipio Hernandez. Alipio is a recent graduate of the New England School of Photography. His series 'Ambiguous' was inspired by stories his grandmother use to tell him when he was a young child growing up in Venezuela.
Alipio uses clothing dye to tone the portraits in his gelatin silver prints before he cuts them apart and stitches them back together. In some instances, these rather straight-forward portraits become abstracts – facial features are moved around and/or double exposed, creating a sense of movement and obscurity."
————————
Instant Messaging

When: On view through October 13th, 2012
Where: Anthony Greaney, 450 Harrison Avenue, Boston, MA 02118
How: Official Website
What/Why: "Every generation misfires at a speed necessary to ensure a combustion rate that ignites a certain few. The flare-ups are distinctly lighted spectacles, like signals. They raise a glow, a lantern-like fire. These messages are intrinsic and meant to be of limited attraction. The lights are networked like cell phone towers except they connect only the connected. 
Dead Art Star documents these connections in a series of Polaroids, which seek to capture the very essence of the moment. And to be very clear, it is never the moment before, or the moment after. It is immediate and irredeemable, a perfectly timed information cluster that establishes the present. Circumstance edits the content and informs the composition. It is what is happening now. Yet despite this immediacy, the photographs are iconic, and loaded with the past. Everything essential to the moment has withered away but luckily recognizable traces remain. 
Lucy Watson signals out into the world via her toys. And like any well-schooled bomb-maker she handles the point of knowing her materials well. Occupational safety aside, in Watson's hands, toys are fraught and dangerous things. Never mind choking hazards: Watson imbues her work with a demonic intensity that is brutally frank, sexualized, and confrontational. In her hands, toys become a message board for a litany of societal complaints and less directly, an appealing argument for decadence. 
What's interesting here is the flow of information and how unencumbered it is by the absence of technology. This lightening-quick transmission of experience that both artists are able to establish runs counter to the artificial construct measured by social media. "
————————
South End Open Studios

(Bare Necessities, Anthony Palocci Jr)
When: Saturday September 15th-Sunday September 16th, 2012 11AM-6PM
Where: Map of Participating Artists here.
How: Official Website
What/Why: "26th Anniversary of South End Open Studios! 2012"
————————
Jesse Aron Green: Paranoia Places its Faith in Exposure

(Paranoia Places Its Faith in Exposure, Jesse Aron Green)
When: On view through October 7th, 2012
Where: Harvard University, Carpenter Center for Visual Arts,
How: Official Website
What/Why: "Jesse Aron Green will present a new body of work, consisting of over forty paintings, sculptures, drawings, photographs and video-works, titled Paranoia Places Its Faith in Exposure. The phrase is borrowed from a poem of the same name by Brian Blanchfield, a friend and collaborator of Green's, who took the phrase from theorist Eve Kosofsky Sedgwick's book Touching Feeling, which draws upon Paul Ricoeur's work on Sigmund Freud, who based much of his early research on paranoia upon the memoirs of Daniel Paul Schreber, the famous lunatic (who, it must be noted, provided the inspiration for Green's most well-known work to date, titled Ärztliche Zimmergymnastik, which had its premiere installation at Tate Modern in 2008). The title, like all of the work in the exhibition, is the means to a site- and debate-specific exploration of intellectual, artistic and historical influence, all within the bounds of Le Corbusier's landmark Carpenter Center, from which Green takes formal, material and stupefacient inspiration. In conjunction with the exhibition, Green and collaborator Hana van der Kolk will lead students in a performance in late September, sponsored by Learning From Performers (Office for the Arts at Harvard) with support from the Peter Ivers Visiting Artist Fund."
Also on view..
Michael Wang- Differentiation Series

What/Why: "Working with a cellular biologist at Harvard, Michael Wang has created micrograph images of artificially produced stem cells. These images have been hand-tinted according to a system that matches a unique color to every cell type that can be potentially produced from these undifferentiated cells. At 6 pm on Thursday, September 13, the biologist and an art historian from the university will offer distinct interpretations of the images."
————————
Something Along Those Lines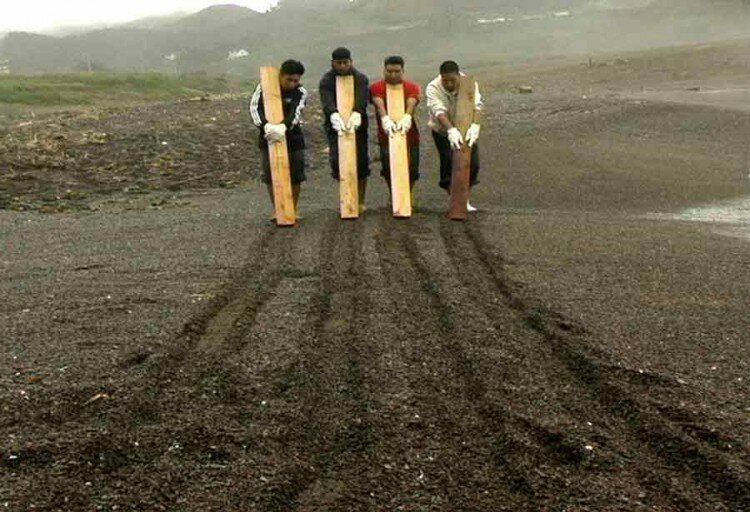 (Four Parallel Lines(video still) Ann Carlson + Mary Ellen Strom)
When: On view through November 3rd, 2012
Opening Reception: Thursday September 20th, 2012 6-8PM Reception celebrating the completion of Wall Drawing #118 installation
Where: SMFA, Barbara and Steven Grossman Gallery, 230 Fenway  Boston, MA 02115
How: Official Website
What/Why: "In the fall of 1971, SMFA hosted Sol LeWitt as a visiting artist and lecturer. Not a fan of public speaking, LeWitt instead invited students to work with him on a new piece, Wall Drawing #118, comprised of "fifty randomly placed points all connected by straight lines," his first wall drawing in Boston. Wall Drawing #118 will be drafted and installed at SMFA again this fall serving as the catalyst for "Something Along Those Lines," a dynamic group exhibition which brings together artists who combine conceptual, sculptural and performative engagements with the formal elements of drawing.
On view September 13–November 3, 2012, this exhibition features work by international modern and contemporary artists Adel Abdessemed, Ann Carlson + Mary Ellen Strom, Carlos Cruz-Diez, Gego, Felix Gonzalez-Torres, Sol LeWitt, Bruce Nauman, Fred Sandback and Lawrence Weiner.
View the drafting and installation process of Wall Drawing #118 September 13–19; a reception on September 20 from 6–8 pm will celebrate its completion.
"Something Along Those Lines" connects the art historical legacy of SMFA with conceptual engagements in drawing from the last 40 years, each with distinct social, political and formal contexts. Featuring works in video, installation, sculpture, performance and multiple forms of wall drawing, the exhibition underlines the role of concept in the formation of content and form."
————————
Dor Guez- 100 Steps to the Mediterranean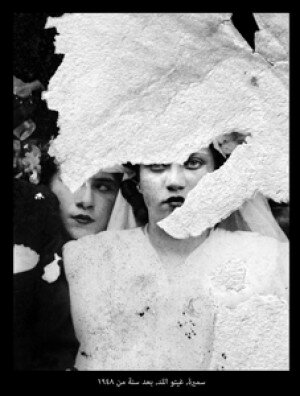 When: On view September 20th – October 30th, 2012
Opening Reception: September 20th, 2012
Where: Rose Art Museum, 415 South Street, Waltham, MA 02453
How: Official Website
What/Why: "100 Steps to the Mediterranean, a solo exhibition of photography and video installations by Dor Guez, one of the most compelling emerging artists in the Middle East, will open on Sept. 20 from 5 to 8 p.m. It will be the artist's first major museum exhibition in the United States.
100 Steps to the Mediterranean explores the overlooked histories of the Christian Palestinian minority in the Middle East by tracing the memories and present experiences of three generations of the artist's family. Jerusalem-born Guez interweaves their stories with renderings of specific sites in contemporary Israel that are central to their lives — the old town of Lod, Ben Shemen Forest, and the Mediterranean shore in Jaffa."
————————
Far Away Up Close: Hannah Verlin

(Stars)
When: On view September 17th – October 13th, 2012
Opening Reception: Tuesday September 18th, 5-8PM
Where: 301 Gallery, 301 Cabot St. Beverly, MA
How: Official Website
What/Why: "Hannah Verlin's artwork all shares an aesthetic of belied simplicity. Shapes are limited to basic geometries of squares, circles, and triangles. The color palette is restrained to black and white with only the occasional burst of color in contrast. The materials are familiar-paper, cloth, and string-with minimal manipulation. 
The work covers a range of themes: history, time, the printed page, literary tradition, love, and outer space. Time and the artist's hand are ever present in the work-hand-written text, repetition of form, torn paper, and dripping ink. The act of creation can be felt with immediacy in the final form."
————————
Blanc Gallery September Show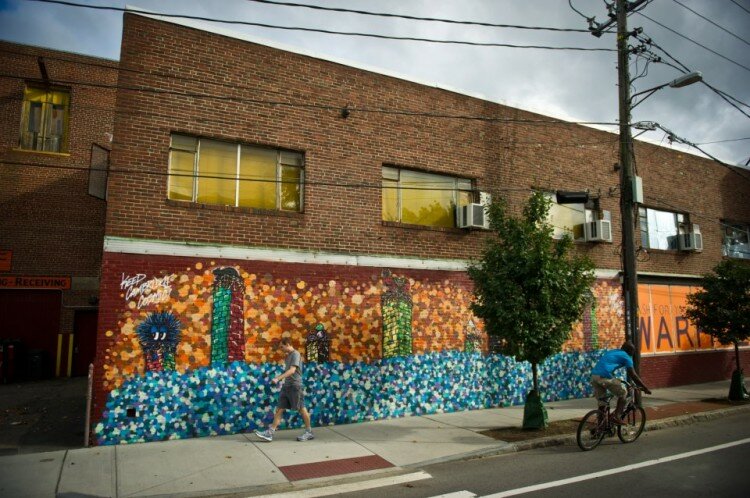 (mural by Caleb Neelon)
When: On view through September 2012
Where: Blanc Gallery, 110 Brookline Street, Cambridge, MA
How: Official Website
What/Why: Rotating mural exhibition. September artists include work by Geoff Hargadon and Caleb Neelon.
————————
Bernd Haussmann

(

Silver Painting, #1297)
When: On view through September 30th, 2012
Where: Chase Young Gallery, 450 Harrison Avenue, Boston, MA 02118
How: Official Website
What/Why: From the artist statement: "My paintings are built up layer by layer of varied hues and imagery and then often scratched to reveal a strata of information and experience suggestive of the accumulation of life. My painting is not the visualization of a single string of thoughts releasing a single meaning but a multidimensional space in which a variety of thoughts and ideas coexist.
A painting is only a painting until it becomes alive in the viewer's mind. Painting is not about what you see, it is about what you don't see."
————————
Alice Vogler-Time on View

When: On view through October 13th, 2012
Where: Proof Gallery, The Distillery, 516 East Second Street, Second Floor, South Boston MA 02127
How: Official Website
What/Why: "Objects hold the memory of their life. A performance action only happens once. That moment in time cannot ever happen again. It's the beauty of performance…. The objects in Time on view are both relics from past performances and living interactive sculptures. The viewer's interaction and interruption of each object creates the existence of a new piece – their piece – a memory of an action for some, an imagining of an action for others."
————————
Gil Blank

When: On view through October 24th, 2012
Opening Reception: Saturday September 15th, 2012 6-8PM
Where: LaMontagne Gallery, 555 East Second Street, Second Floor, South Boston MA 02127
How: Official Website
What/Why: "Over the course of 2004, Gil Blank downloaded 35 images from a remote webcam positioned to look out over the old waterfront of Portland, Maine. Once the center of the city's maritime industry and home to an oceanic observatory, the waterfront's viability as a working urban environ has long since passed. In the years since he first collected the images, Blank has continuously reproduced the same group of images, though always in a different form."
"For the exhibition at LaMontagne, Blank will show two distinct generations of works from this project. The main gallery features a single group of the graphite slabs, the primary engravings from which all the subsequent image groups descend"… and the other body of work is.. "a grid of the same 35 images, reprinted in unstable dye inks on handmade rag paper, are hung in the gallery's project room."
————————
Space Mission
When: On view through September 22nd, 2012
Reception: Saturday September 15th, 2012 3-6PM
Where: 119 Chelmsford St, Lowell, Massachusetts
How: Official Website
What/Why: "Space Mission: an exhibition honoring collaborative spaces and the artists who inhabit them. It's a way to pay tribute to what they do and how they continue to further grow art and community in Massachusetts."
————————
Honky Tonk  – Henry Horenstein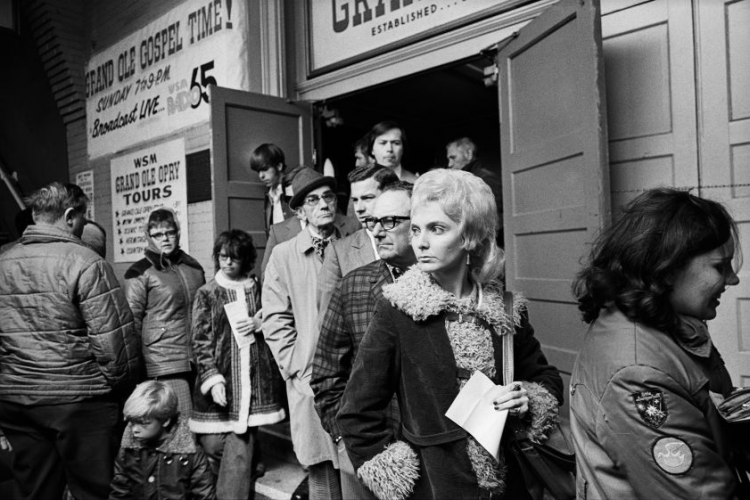 When: On view through October 27, 2012
Where: Carrol and Sons, 450 Harrison Avenue, Boston, MA 02118
How: Official Website
What/Why: "Carroll and Sons supports contemporary artists who work in painting, photography, sculpture, video and works on paper. The gallery focuses on building the careers of lesser-known artists and promoting ones who are under recognized."
————————
Rania Matar – Girls in Between: Portraits of Identity

(Izzy, Rania Matar)
When: On view through November 3rd, 2012
Where: PRC Gallery, 832 Commonwealth Avenue, Boston, MA
How: Official Website
What/Why: "With her camera Rania Matar poignantly captures the elusive and mysterious moment in a female's life when she is both a child and an emerging woman. Spurred on by her observations from her own daughters, Matar invites her subjects to decide for themselves how they will appear in a photograph and what parts of themselves they are willing to share with others. By establishing what she describes as "beautiful and intimate collaborations" with each girl she photographs, Matar uncovers a world so personal to each girl that the viewer walks away feeling as if he or she has met and had a conversation with each subject. The girls in Matar's photographs, from both the United States and Lebanon, simultaneously hide and expose themselves, exhibiting a dual vulnerability and ferocity completely unique to the female transition from girl to woman. This show features work from Matar's highly acclaimed project A Girl and Her Room as well as never-before-seen work from Matar's new project L'Enfant-Femme."
————————
Rhona Bitner – Images from the Series Listen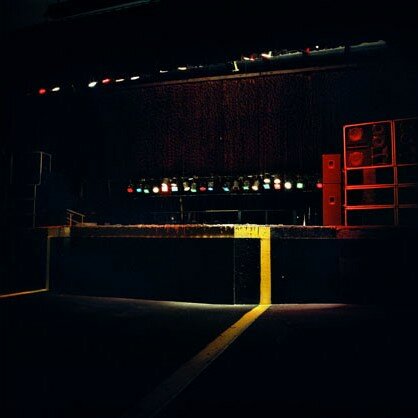 (Harpos Concert Theater, Detroit, MI)
When: On view through October 23rd, 2012
Where: Howard Yezerski, 450 Harrison Avenue, Boston, MA 02118
How: Official Website
What/Why: "In her latest series of photographs, LISTEN, Rhona Bitner images the iconic spaces of American music. Continuing her photographic investigations into the experience of performance, spectacle and theater, Bitner began a journey to create a visual recording of the studios, arenas, clubs and theaters that rocked American popular culture through the twentieth century and remain part of our collective memory today. The artist weaves between famed and forgotten sites, from the lofty ceilings of Electric Lady Studios in New York and Ocean Way Recording in Los Angeles to the modest, whitewashed corners of Tuxedo Junction in Birmingham or the sweaty mosh-pit of Harpo's in Detroit. The voices of Buddy Holly, Muddy Waters, Elvis Presley, Frank Sinatra, Aretha Franklin, Jimi Hendrix, Patti Smith and countless others have graced the halls presented in her images — their echoes reflecting off the vibrant surfaces of her prints. Thus far in the project she has photographed over 200 venues, and she's not done. Individually, the images are a tribute to American music. Together, the series becomes a photographic symphony of an integral part of American life and culture. 
Much of her time is spent researching, editing, choosing. Eventually, she hits the road – treks to these places and listens carefully before she makes her image. Bitner's aesthetic enters the picture only to clarify the sound. These journeys create an anthology of larger, entwining ideas of space and history and become a union of sight and sound. 
The large-scale chromogenic prints are rich with color and detail. Scars lurk through the veneer of a stage once painted, a wall once broken. Nothing stands between the viewer and the sticky depth of the print. History, both intimate and grand, unravels before us on these shining, shifting and shimmying surfaces. The music whispers out from their edges."
————————
Denise Mickilowski -Florals

 (3 Hydrangeas)
When: On view through September 29th, 2012
Where: Arden Gallery, 129 Newbury Street, Boston, MA 
How: Official Website
————————
Marine Art Show: Distant Shores

(Beacon Marine Color, Judith Monteferrante)
When: On view through October 4th, 2012
Where: Copley Society of Art, 158 Newbury Street, Boston, MA
How: Official Website
What/Why: "The Copley Society of Art is proud to host a juried member's exhibition of thrilling interpretations of the sea, titled Distant Shores. The juror for this exhibition was distinguished Marine Art Fellow  and current President of the American Society of Marine Artists, Russ Kramer. "
————————
Out of the Ruins:
Reimagining the Romantic Tradition

(Ryan McLennan)
When: On view through October 12th, 2012
Where: New Art Center, 61 Washington Park, Newtonville, MA 02460
How: Official Website
What/Why: "Out of the Ruins is an exhibition of work by artists working more than two centuries after the Romantic Movement first began. Romanticism emerged out of late 18th century Northern Continental Europe and represented a philosophical, literary and artistic reaction to the Enlightenment. The Romantic tradition emphasized the idea of a transcendent sublime, the figure of the artist as a lone genius or wanderer, the cult of originality, and the privileging of emotion as an artistic starting point. These ideas remain art historical touchstones. So many art historical "isms" over time, including surrealism and abstract expressionism, can be read as either endorsing these concepts or ostensibly rejecting them, often while retaining them in another form.
With time comes clarity, and today we understand that many of the theoretical assumptions underlying Romanticism have problematic implications. Many of the great Romantic masterpieces represent cultural tastes that have been clichéd for centuries. Nevertheless, even as artists working today strive to be contemporary, contemporary artistic concerns are very much informed by the Romantic legacy. This exhibition brings together the work of artists who engage with the tradition in an open-minded way, either by referencing Romantic subject matter or by explicitly addressing Romantic concepts.
While all of the artists shown in this exhibition can be understood through the lens of the Romantic tradition, they are actively reimagining it.  Instead of being burdened by a blindly sentimental celebration of the Romantic tradition or a dogmatic repudiation of it, these artists take a pragmatic approach. Mindful of history, they use what they need from the Romantics to create something that has personal resonance today."
————————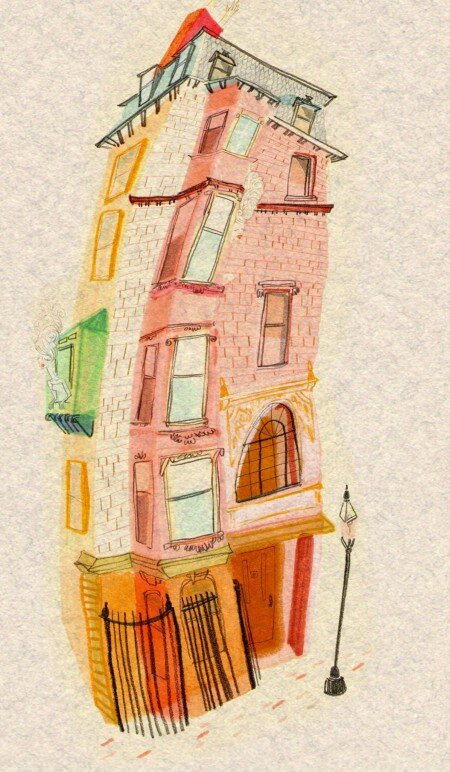 (detail from poster for Three Fam designed by Sarah Gay)
When: On view through October 12th, 2012
Where: Boston City Hall, Scollay Square Gallery, Boston, MA
How: Official Website
What/Why: "This project is a deep look into the strange, odd, unique dynamic of the Three Family home in the city of Boston. Each Rifrákt member will do an original interpretation of a Three Family house that explores the role and significance of the "Three Fam" in the City of Boston. The density and diversity of a typical Three Family housing situation is endlessly fascinating. Within a relatively small area there are many different lives unfolding, each one believing it is the most important and each one having scant knowledge of what is going on around them. The architectural form, structure, color and density combine to make each home as unique as the individuals who reside within. It is fascinating how so many people can live so close together yet have such limited knowledge and interaction of one another. The purpose would be to represent the dynamic and diversity of different living situations. By having multiple artists interpret their feeling and relationship towards the "Three Fam" it will produce a rich and cohesive body of work consisting of photography, illustration, painting and printmaking. The range of styles and mediums will serve to reflect the diversity in structure and humanity that meld together to become the "Three Fam."
————————
Travel Without  Travel
Featuring the Work of Esther Eder Garcia and Andrew Fish

(Speed of Sound, Andrew Fish)
When: On view through October 6th, 2012
Opening Reception: Friday September 14th, 7-9PM (Artist Reception: October 5th, 2012)
Where: Voltage Coffee & Art, 295 3rd Street, Cambridge, Massachusetts
How: Official Website
What/Why: "From time to time, we all feel the urge to travel. We seek to be in motion—to escape, to get lost, to be on the proverbial road. Often, we have a destination. Though sometimes not.
As we go through the journey, we openly or guardedly partake in the experience. And we return home bottled with impressions and carrying recordings, be it photographs, jottings, mementos…
Frequently, this is when the real travel truly begins, well after the physical journey is over. As we revisit these recordings, we piece together observations, judgments, and anecdotes to find our way into the stories.
The Travel Salon is an invitation to engage in this last form of travel. It is a way to travel without travel. It is an interactive experiment to recollect and reframe your travel stories—and to share them in the context of art and literary works on the topic.
Andrew Fish and Esther Garcia Eder, whose work is featured here, find raw inspiration in their travel memories and recordings. In Garcia Eder's "Flying to Argentina," the artist finds a way to return to her country of origin in spirit, through the act of traveling in her imagination. It is her memories, too that transport her back to a Buenos Aires street scene, where a child is thoroughly absorbed in playing hopscotch. While for Fish, the starting point is often a photograph, be it perfectly composed or accidentally captured. To quote him:
"I try to preserve the wonder and odd banality that arises in travel images. Sometimes I also preserve the errors and peculiarities we allow ourselves in image-taking while traveling, to remember an experience or to capture something unusual. A photograph can be taken with the best of intentions, and then turn out to be a terrible image. Unless deleted, it still exists as the definitive depiction of the experience."
His work captures the randomness and contrasts one experiences while traveling—be it in the sudden intimacy with strangers, in the tight confines of a plane in "Speed of Sound" or when encountering a bus with the sign "Thank You Lord Jesus" in Chennai, India, a Christian message "broadcast" to Hindus. And so, we are fully engaged in the act of travel. We are transported."
————————
Terrain

(Solar Riddle 9, Elise Wagner)
When: On view through November 16th, 2012
Where: Spoke Gallery @Medicine Wheel Productions, 110 K Street – 2nd floor, South Boston, MA 02127
How: Official Website
What/Why: "The Spoke Gallery exhibition, Terrain,  runs from September 22 – November 16th and it features the work of nine artists and one artists founded & run organization and is exploring the word terrain and all of its multiple meetings.  Although maps and traditional mapping methodologies/practices are some of the key threads of show's investigation, the show also encompasses non traditional mapping approaches such as emotional, impressionistic, abstractive, and/or inventive mapping."
————————
Chuck Webster

(Untitled)
When: On view through October 13th, 2012
Where: Steven Zevitas Gallery, 450 Harrison Avenue, Boston, MA 02118
How: Official Website
What/Why:"Since his 2010 show at the gallery, Webster's painting practice has become ever more intertwined with his intuitive drawing process, and one result of this quickening is that the paintings have become significantly larger in scale. While earlier paintings  tended to focus on a centralized "image," his latest work boasts nuanced surfaces activated by bounding, quivering lines; while earlier paintings were often given titles alluding to vague and personal image sources, his recent paintings all remain untitled, a decision which underpins Webster's interest in imbuing his work with a greater purity.
The beauty that Webster is able to conjure in his paintings is an unsettled one. Each painting is effectively a labored distillation of the visual phenomena that
catch his attention. While original source material may be hinted at, his finished paintings speak more about process than image. It is only through many "moves" that Webster eventually arrives at a final image. For Webster, these paintings are about: "The joy of making and how things can change one's view of the world. How one can look into them and see so far in the distance and so far into themselves at the same time. I like the way children look at paintings. I once had a child look at my work and say that it looks like the view from inside the heart going out  through the ribcage. My work is about knowing and not knowing, about being a civilized innocent."
Recent one–man exhibitions of Webster's work include shows at ZieherSmith in New York City and ACME gallery in Los Angeles. His work has been included in numerous group exhibitions, including a 2011 show at Kirk Hopper Fine Art in Dallas that also featured the work of Chris Martin, Andrew Masullo and Forrest Bess. Webster is included in the collections of the Baltimore Museum of Art, the Dallas Museum of Art, the Museum of Fine Arts, Houston, and the Whitney Museum of American Art, among others. Webster's work is included in the influential book "Painting Abstraction," published by Phaidon in 2010. This is Webster's third one-man exhibition at Steven Zevitas Gallery"
————————
Out of Necessity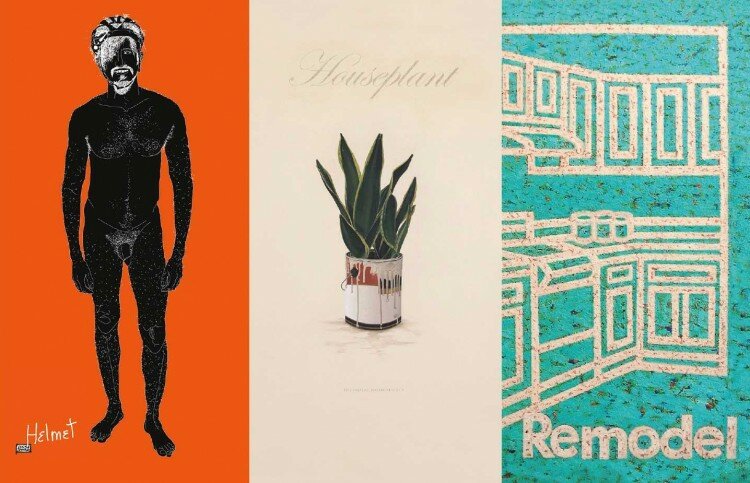 When: On view through November 9th, 2012
Opening Reception: Friday September 14th, 7-9PM
Where: 13 Forest Gallery, 167A Massachusetts, Arlington, MA 02474
How: Official Website
What/Why: "Featuring new work by, Louisa Bertman , Jack O'Hearn IV, Christiane Wallace"
————————
Tuesdays and Saturdays

When: On view through October 27th, 2012
Where: Samsøn, 450 Harrison Ave., Boston, MA 02118
How: Official Website
What/Why: "Featuring the work of Beverly Semmes & Nicole Cherubini"
————————
Turn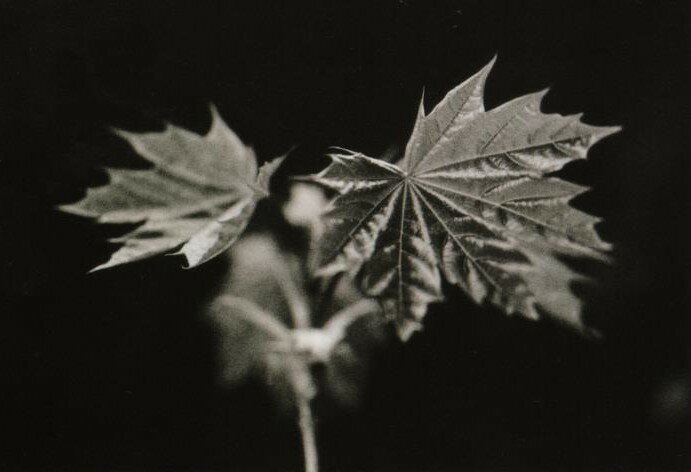 When: On view through September 30th, 2012
Where: Aviary Gallery, 48 South Street, Jamaica Plain, MA 02130
How: Official Website
What/Why: ""All of the images in "TURN," nearly 40 darkroom prints, were taken at the start of the past two Springs, always at twilight, shot with Strymish's Nikon F camera in grainy black and white film. In their own quiet way, the leaves pictured in "TURN" reflect not only the fading light of dusk but also a sense of hope, possibility, wonder and frailty that runs through every life."
————————
XXX

(Dwell: A Drawing Installation, The Zebra Suites, Ilona Anderson)
When: On view through September 30th, 2012
Where: Kingston Gallery, 450 Harrison Avenue, Boston, MA 02118
How: Official Website
What/Why: "In its annual group show, Kingston Gallery artist members celebrate the gallery's 30 year anniversary as an artist run gallery. On view will be drawing, painting, prints, sculpture, photography, mixed media and installation by artist members Sophia Ainslie, Susan Alport,Ilona Anderson, Joan Baldwin, Judith Brassard Brown, Linda Leslie Brown, Mary Bucci McCoy, Gail Erwin, Janet Kawada, Mary Lang, Karen Meninno, Barbara Moody, Jennifer Moses, Rose Olson, Sharon Pierce, Susan Still Scott, Elif Soyer, Hilary Tolan, Ann Wessmann, and Luanne Witkowski."
————————
Bill Jacobsen – Places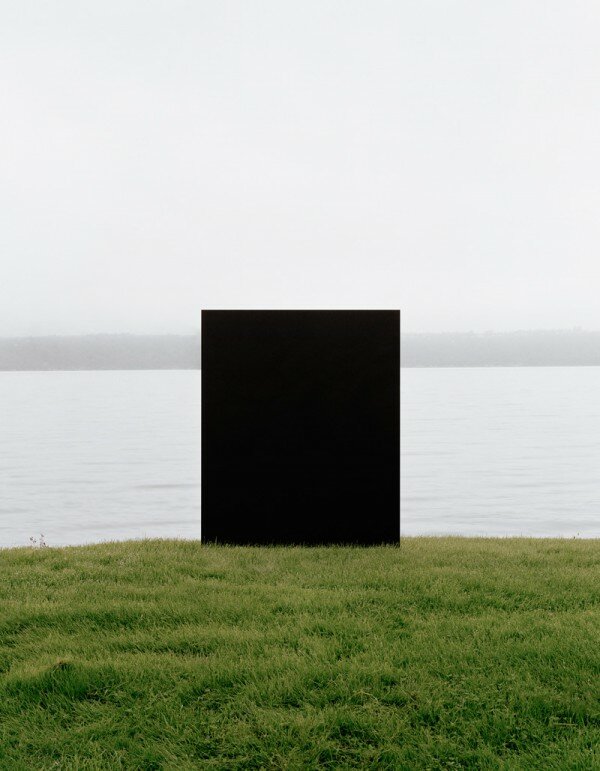 (Place(series) #425, Bill Jacobsen)
When: On view September 15th-October 27th, 2012
Where: Robert Klein Gallery, 38 Newbury Street, Boston, MA
How: Official Website
What/Why: "The Robert Klein Gallery was established in 1980 and ranks among the world's most prestigious showrooms of fine art photography."
——————————————————————————–
Oh, and one more thing..
FLUX. Presents Elsewhere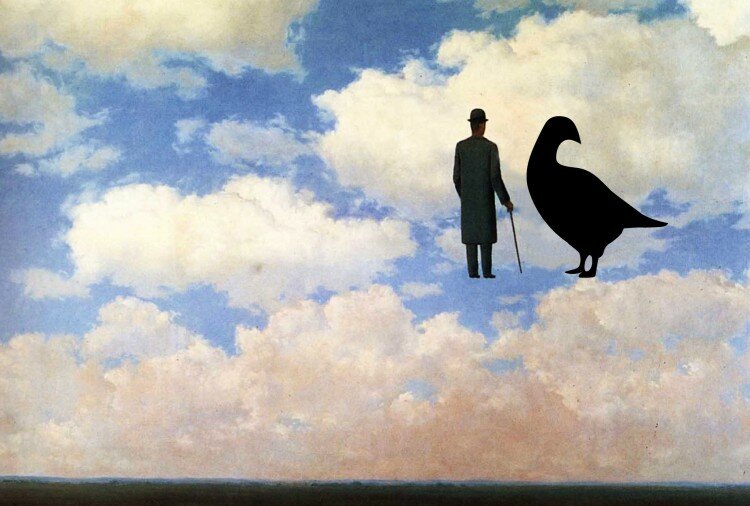 When: On view through October 26th, 2012
Opening Reception:
Thursday September 20th, 2012 7-9PM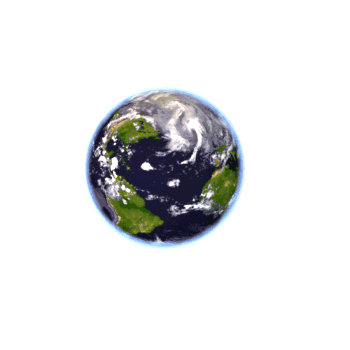 Where: Distillery Gallery, 516 E 2nd St, South Boston, Massachusetts 02127
How: Official Website
What/Why: "Sometimes it's nice to get away. For a moment. For an hour. For a weekend in the woods. Elsewhere presents the ordinary as less ordinary, re-imagines ideas of space, and encourages viewers to look at the world with a renewed sense of wonder. There is magic all around us. 
Site specific installations, sculptures, and works on paper and canvas imagined by local artists are threaded together through slightly surreal-realistic undertones and an intangible sense of etherealness. Elsewhere isn't about escapism – it's about discovery, exploring possibilities, and bringing to life that place inside where insight is gained through daydreams.
Elsewhere features the work of: !ND!V!DUALS Collective, Elizabeth Alexander & Todd Bowser, Aimee Belanger, Matt Brackett, Stephanie Cardon & Marc McNulty, Beth Dacey, Kat Ely, Chris Faust, Nathan Fried-Lipski, Judy Haberl, Scott Listfield, Molly Segal, Brenda Star, Juan Travieso, Evan Voelbel
Join us for the opening reception on Thursday, September 20th, from 7-9PM at Distillery Gallery in South Boston. "
Don't forget about the FREE rides to the show courtesy of Uber. More information here.
———————————————-
…I'm absolutely shameless.
This may be one of the longest wrap-ups I have ever compiled, but that is just a testament to the buzzing Boston Arts Community.
Hope to see you at the opening for 'Elsewhere' next Thursday.
It feels good to be back. ♥