Well, now that THAT is taken care of..
primordial x two feasts x double solitaire x glvbx x myths and metaphors
————
Double Solitaire: the Surreal Worlds of Kay Sage and Yves Tanguy
(Le Passage, Kay Sage)
When: On view through January 15th, 2012
Where: Davis Museum, Wellesley College, 106 Central Street, Wellesley, MA, 02481
How: Official Website
What/Why: "The Davis presents Double Solitaire: The Surreal Worlds of Kay Sage and Yves Tanguy, the first major touring exhibition to explore the dynamic exchange of ideas that shaped the astonishing landscapes of these Surrealist artists.
This groundbreaking exhibition, which features approximately 25 paintings along with selected ephemera by each artist, provides unprecedented access to the couple's intertwined artistic and personal lives.
Sage and Tanguy were inseparable throughout their 15-year marriage, sharing adjoining studios in Woodbury, CT and communicating only in French until Tanguy's untimely death in 1955. As Karen Rosenberg writes in the New York Times, this "fascinating" exhibition "intently explores the couple's sinister dreamscapes of polymorphous pebbles (his) and menacing monoliths (hers)." Both artists sought to create paintings that the French poet André Breton called "peinture-poésie," a style influenced by poetry and dream-like imagery."
—————————–
Glovebox Boston Website Launch Party
When: Friday October 21st, 2011 – 6:00pm – 11:30pm
Where: 15 Channel Center Street, Studio 219, Boston, MA
How: Official Website
What/Why:" Everyone is invited! Live blogging throughout the night! Music! Beer & Wine! Fun!
Glovebox will be presenting the brand spankin' new website along with an introduction to the new and improved Glovebox.
Key Boston Art Organizations, up-and-coming artists, professional artists, art appreciators and supporters of the arts will be in attendance. Introductions will be made throughout the night so be sure to get there early! Meet the Boston art scene in one place."
—————————–
Acton Open Studios
When: October 22nd-23rd, 12:00-5:00PM
Where: Acton, MA – Map of Participating Studios
How: Official Website
What/Why: "Acton Open Studios will be held on Saturday and Sunday, October 22 and 23 from noon to 5 pm each day. Artists will open their studios to the public where visitors can see how art is made, chat with artists, and explore a variety of creative working spaces. Most artists will offer work for sale in all price ranges."
—————————–
Holliston Mill Open Studios
(Wandering the City Streets, Arlene Chaplin)
When: Saturday October 22nd-Sunday October 23rd, 10:00AM-4:00PM
Where: 24 Water Street, Holliston, MA
How: Official Website
What/Why: "For the past several years, the artists at  Holliston Mill have hosted an Open Studios event where we welcome the public into our work spaces to view our recent work. The 2011 Open Studios will be held on the weekend of October 22nd & 23rd from 10 am to 4 pm.
You will meet resident and guest artists, learn from them about their process and inspirations and hopefully find a connection to the vibrant arts community we have here in Holliston.
The weekend is filled with great conversation, refreshments, music and perhaps the perfect piece to add to your collection. We welcome all ages and admission is free."
—————————–
Dorchester Open Studios
When: October 22nd-23rd, 2011
Where: Dorchester, MA – List of Participating Artists
How: Official Website
What/Why: "Open Studios 2011 will take place on the weekend of October 22nd and 23rd with the reception on Friday night, October 21st.
In addition to group sites featuring visual artists at First Parish Church, Pearl Street Studios, Humphreys Street Studios and Walter Baker Lofts, and individual home studios, this year's Open Studios is featuring two performance sites and a screening of three films."
—————————–
Feast Mass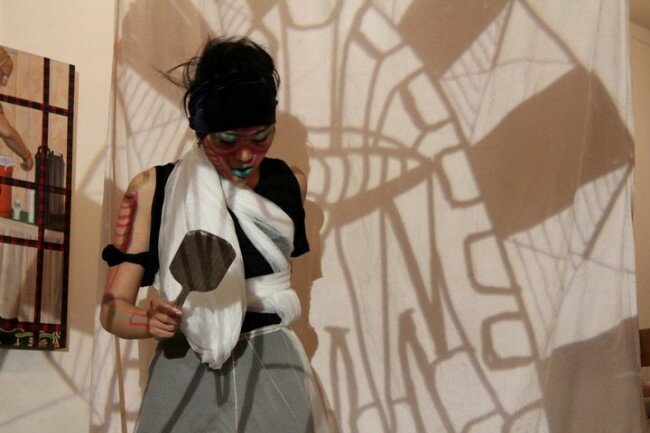 (Autumn Ahn participating in a previous Feast Mass)
When: Sunday October 23rd, 2011, 7-10:00PM
Where: 549 Columbus Ave, Boston, MA
How: Official Website
What/Why: "Feast Mass is a recurring dinner party in Boston. During the night, people present proposals for creative, community-based projects that need funding. Everyone votes, and the winner receives a grant funded entirely from the night's ticket sales."
—————————–
Field Guides
(I've seen the devil late at night, laying traps for wayward lovers, Joe Keinberger)
When: On view through November 12th, 2011
Where: 13 Forest Gallery, 167A Massachusetts Avenue, Arlington, MA
How: Official Website
What/Why: "New myths and metaphors for the season featuring drawings by Joe Keinberger and watercolors by Mark Luiggi"
—————————–
Feast for the Eyes
When: On view through November 28th, 2011
Where: Art at 12 Gallery, 12 Farnsworth St., Boston, MA 02210
How: Official Website
What/Why: "What does it mean to nourish or to seek sustenance? In contrast, what does food mean when it is able to tantalize, to be a moment that is savored, when it is able to provide us with the luxury of pleasing our senses? Feast for the Eyes is a visual exploration of the ways in which food captures our senses."
—————————–
Selections 11
When: On view through December 07, 2011
Where: Mass College of Art, Stephen D. Paine Gallery, 621 Huntington Ave, Boston, MA 02115
How: Official Website
What/Why: "Selections 11 features the exceptional work of 20 MassArt faculty members who are newly hired or returning from sabbatical. Representing all facets of the college, this exhibition highlights the multidisciplinary multimedia work of our multitalented faculty. Selections is a venue for faculty to show their work, often in experimental directions or media. Works on view will include installations, photography, wood and glass sculpture, paintings, and synesthetic experiments."
————————-
Distressed
When: On view through October 23rd, 2011
Where: The Loading Dock Gallery, 122 Western Avenue, Lowell, MA 01851
How: Official Website
What/Why: "Distressed" typically refers to being damaged or previously used, intentionally defacing orfading an object to convey an antique or used look, or to experience distress. At the Loading Dock Gallery, Distressed is an exhibit of artwork by Karen Bettencourt and David Hogan. Bettencourt and Hogan "distress" their artwork literally, but the artwork has also been apositive outlet for telling stories of distress. They each work with a mix of media and techniques. Bettencourt focuses on digital and material collage, assemblage, and fiber while Hogan works with drawing, painting, assemblage, and printmaking.Bettencourt uses mixed media to create artwork that responds to all forms of distress. She says"I have always been truly fond of that which is old, weathered, rusted or distressed. I search endlessly for old handwritten letters, paper, tickets, photographs, hotel bills, rusted metal, andaged or distressed wood and cloth." Bettencourt uses these found objects to create colorful,textured collage and assemblage.For Hogan, the artwork is about how nature and manmade objects like buildings are affected bynatural and human forces. He says "Everything we perceive is "distressed" to one degree oranother." The objects may not fit our preconceptions of beauty because they are "distressed,"but they can have their own integrity and beauty.Bettencourt and Hogan endeavor to translate the life experiences of people and objects intopieces of art. They use objects that they find, what they see around them, and experiences they have to tell stories with their artwork so that their meaningfulness is never lost. Their art will help you to see the beauty in an object or an experience that you might not have otherwise noticed."
————————-
7 Turkish Artists
When: On view through November 12th, 2011
Where: Photographic Resource Center, Boston University, 832 Commonwealth Ave, Boston, MA
How: Official Website
What/Why: "7 Turkish Artists engages the social themes that define contemporary Turkey, specifically examining the imagery of Mustafa Kemal Atatürk, its revolutionary leader after World War I. This show provides a critical visual exploration on the meaning of Atatürk's imagery and how it is used in Turkish society today. Between 1997 and 2010, artists Zakari and Mandel, one Turkish, one American, chronicle their experiences photographing people, secular and Western, or religious and conservative in appearance. They conducted interviews and collected found material from archives, gathering popular historical illustrations and found Atatürk postcards that span a thirty year period and illustrate the cult status of his image. The artists' recent book, The State of Ata, seeks to recognize the complex relationship in Turkey between secularists, the Islamist movement and military power."
————————-
Primordial Opening Reception
(Altar, Mylles Dunigan)
When: On view October 25th-November 27th, 2011
Opening Reception: October 25th, 2011 4:45-6:00PM
Where: Jewett Art Gallery, Wellesley College, 106 Central Street Wellesley, MA 02481
How: Official Website
What/Why: "PRIMORDIAL" examines artists who create new universes and life forms.  Themes and ideas of generation, evolution, and genetics, are explored by these artists in both new and traditional media.  Fabricated organisms ranging in scale from a microscopic to cosmic level become present and alive in these imagined worlds by their close resemblance to actual scientific imagery."
————————-
Fresh Figurines: A New Look at a Historic Artform
When: On view now through February 5th, 2012
Where: Fuller Craft Museum, 455 Oak Street, Brockton, MA
How: Official Website
What/Why: "Curated by Gail M. Brown, Fresh Figurinespresents the continually evolving traditions of figurative ceramics. Form, scale, the body as object, and the symbolic implications of the human form are explored by a number of artists working in ceramics today."
aside: I checked out some of Anne's other work, its pretty insane. in a good way.

(Big Baby)
babynightmaresforweeks
————————-
New Works by Nan Freeman
When: On view through October 29th, 2011
Where: NKGallery, 450 Harrison Avenue, Boston, 02108
How: Official Website
What/Why: "Nan Freeman has been fascinated by objects that embody social role and position, culturally constructed rituals, and societal practices. A Texan by birth who has lived and worked in Boston for more than 30 years, she is known for her dramatic large scale drawings of objects from all walks of life. Do the objects embody desire, longing, a sense of belonging, alienation, loss, or a distanced anthropologicall scrutiny of their roles in human existence? Do they embody a time and experience that no longer exists or has been lost? The viewer can decide for themselves what metaphorical meaning resides in these works. The multilayered complexity of meaning has no easy answer so the mystery that ensues from the creation of these objects remains for the viewer to experience. For Nan, the involvement of her mind and body connected to process is as important as the content."
————————-
Did I miss something? Let me know..
I hope you have an amazing weekend ♥