origin story x  girls with guns x the money issue x blame accountability 
—————-
Cynthia Consentino & Blair Thornley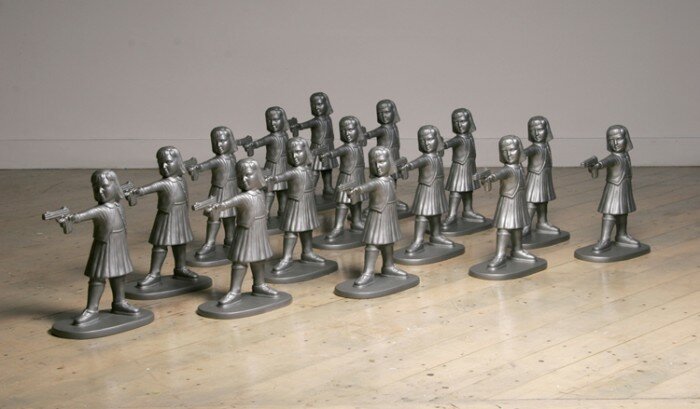 (Girls with Guns, Cynthia Consentino)
When: On view through August 18th, 2012
Opening Reception: Saturday July 28th, 2012 5-7PM
Where: Harmon Gallery, 95 Commercial Street, Wellfleet, MA
How: Official Website
What/Why: "Gallery owner and artist Traci Harmon-Hay along with gallery director and artist Vincent Amicosante, have purposefully set out to bring together a group of artists they respect and admire personally and professionally – some are emerging artists, some mid-career, as well as several established artists – all who work in a contemporary style, lending an almost urban flair to the Wellfleet gallery scene."
——————————–
Spirited Magazine $$ Live Installation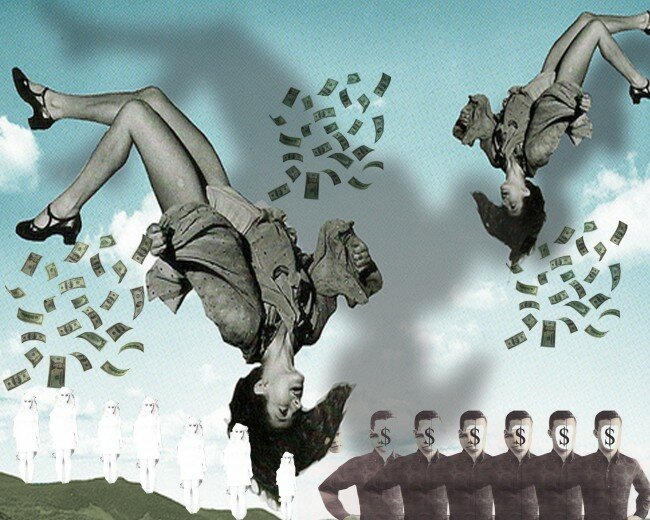 (Fireworks, Amanda Antunes)
When: Sunday July 29th, 2012 8PM
Where: Fourth Wall Project, 132 Brookline Ave, Boston, Massachusetts 02215
How: Official Website
What/Why: "Spirited is a dialogue between art, fashion and literature. Each issue is highly conceptual and features stories from different authors centered around one particular theme. It's a space where innovators can experiment and encourage you to engage this project on a deeper level. Spirited is pleased to announce the sixth issue with a live installation that will feature artists and collaborators whose works are included in the "$" Issue, Summer 2012. We created images and stories about value, possibilities, poverty, gold and imagination in a world of Time and Money."
Find out more about the artists involved here.
——————————–
Origin Story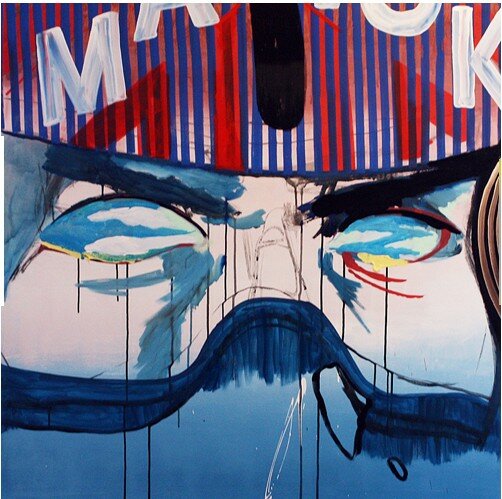 When: On view through August 31st, 2012
Opening Reception: Thursday August 2nd, 2012 10P-1AM
Where: Lily Pad, 1353 Cambridge Street  Cambridge, MA 02139
How: Official Website
What/Why: "Through large-scale paintings, Bradford Rusick explores the sum and accumulation of experience. 
Rusick's painting's are exciting explorations, the smallest of instances that can have the greatest of consequences. The result which defines some part of who we are.
Some of the biggest influences on this body of work derive from relational art, and most of all, a great appreciation for the lives we're given.
Paintings will range from 3x3ft to 8x8ft in size.
This is Bradford Rusick's first solo show in the Boston area. I hope that you'll join us to celebrate it! Thank you"
——————————–
Highland Free Fun Fridays

(Summer Palace, prior work by Patrick Dougherty who is currently on view at Springfield Museums-Michele & Donald D'Amour Museum of Fine Arts)
"Free fun fridays invites Massachusetts residents and tourists to visit designated cultural attractions every Friday this summer with free admission. No registration or tickets required. Visit and enjoy!"
Free attractions for July 27th, 2012:
COMMONWEALTH SHAKESPEARE COMPANY 
CHILDREN'S MUSEUM IN EASTON
SPRINGFIELD MUSEUMS
N.E. HISTORIC GENEALOGICAL SOCIETY
NEW REPERTORY THEATRE
———————-
Performing on Paper

(El Putnam)
When: Sunday July 29th, 2012 12-5PM
Where: Mobius, 55 Norfolk Street, Cambridge, MA 02139
How: Official Website
What/Why: "Drawing from live performance art.Performers: EL Putnam, Randy Pingrey. All levels of drawing ability MOBIUS is a friendly environment welcoming all levels of ability. If you would like some suggestions for your work, ask for it! Bring your own materials.To pre register contact:margaret@mobius.org"
——————————–
Seven: A Performative Drawing Project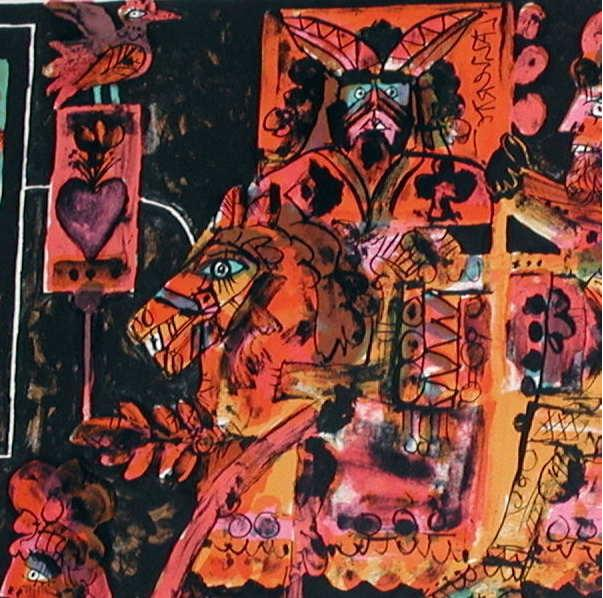 (Tarot Cards(detail), Prior work by Norman Laliberte)
When: On view through August 3rd, 2012//  July 30th – August 3rd, 2012
Norman Laliberté Reception: Thursday August 2, 4 – 6pm, Gallery Talk at 4:30pm
Where: Montserrat Galleries, 23 Essex Street , Beverly, Massachusetts 01915
How: Official Website
What/Why: "Seven weeks, seven walls, and seven artists invited to 'draw' directly onto the gallery walls. This project highlights the performative aspects of drawing and the individual nature of each artist's process. The gallery will be open during the making of the works, effectively putting the creative process on display. In this context, the finished drawings are the residue of the performance."
——————————–
Os Gêmeos Solo Exhibition

When: On view August 1st -November 25th, 2012
Where: ICA Boston, 100 Northern Avenue, Boston, MA 02210
How: Official Website  
What/Why: "This August the ICA will present the first solo exhibition in the United States of works by the Brazilian brothers Otavio and Gustavo Pandolfo. Best known as Os Gêmeos, the twins are a major force in graffiti and urban art. The twins have a deep bond; they are tireless collaborators and say that they often experience the same dreams. In an effort to share their dreams with the world, they depict their visions in surreal paintings, sculpture, and installations: human figures with removable faces, exploding bursts of color, and room-size heads installed with shanty interiors.
Os Gêmeos draw not only from dreams, but also from their surroundings, incorporating these elements to forge a unique visual style. Their narrative work is a visual synthesis of their everyday lives: the color and chaos of Brazil—particularly in their neighborhood in São Paulo, Cambuci—or yellow-skinned youth in red hoodies breaking into train yards and painting in subway tunnels. A common motif depicts several graffiti taggers garbed in brightly patterned clothes stacked atop one another to reach an impossibly high spot. In contrast to the more contemporary urban themes, rural Brazil has an equally significant presence in their work. Carnivals, music, and folk art fascinate the twins and inspire fantastical portraits of musicians and paintings of processions and festivals—all of which are based on their own photographs."
Be sure to stop by their mural currently being painted on the Greenway next to Dewey Square!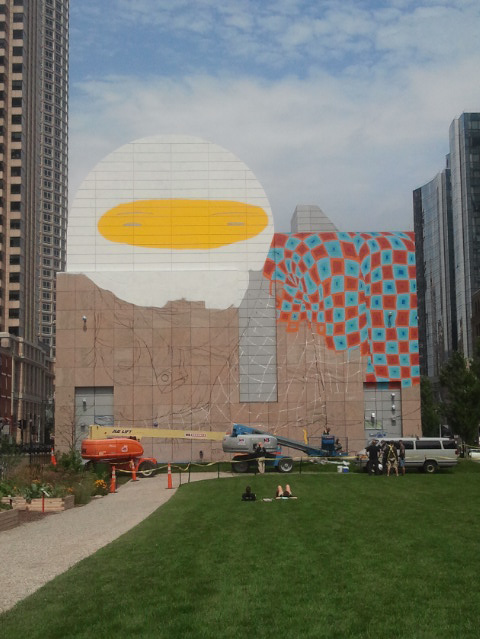 It's gonna be big.
More information here.
——————————–
4 Artists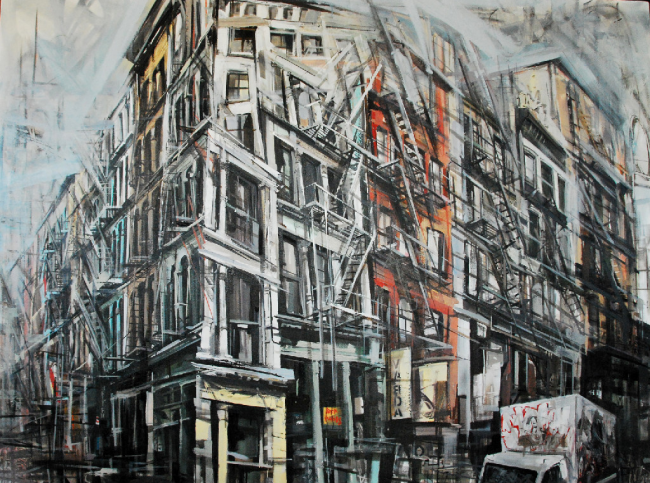 (NY Corners, Prior work by Sean Flood)
When: On view through September 2nd, 2012
Where: Zullo Gallery Center for the Arts, 456A Main Street Medfield MA
How: Official Website
What/Why: Sean Flood, Stephen Boczanowski, Felipe Miguel, Scott Francoeur-"The Zullo Gallery is a nonprofit, volunteer-run organization originally created by the Medfield Council on the Arts to support and promote the arts through the exhibition of a wide range of fine artwork. It is a place for art exhibition, art education and live music performances. When the renovation is complete, it will also include a cafe. The gallery began in 1988 as a volunteer project of the Medfield Council on the Arts as a way to bring a wide variety of professional art into town for exhibition."
——————————–
 The Office of Blame Accountability – Carla Repice and Geoff Cunningham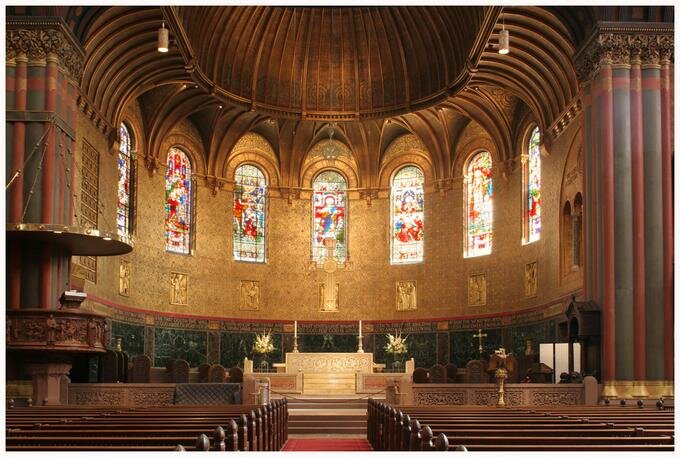 When: On view Friday July 27th(Copley Sq) 10:00AM-2:00PM -July 28th(deCordova)
Where: Trinity Church, Copley Sq, Boston, MA |deCordova Sculpture Park and Museum, 51 Sandy Pond Road , Lincoln, MA 01773
How: Official Website 
What/Why: "Who do you blame? And for what? And what are you accountable for in this predicament? The Office of Blame Accountability was established by political artist and activist collaborative team, Carla Repice and Geoff Cunningham to determine just that. Situated in the heart of Copley Square in front of Trinity Church on Friday, July 27 and sited as an interactive sculpture at the deCordova Sculpture Park and Museum on Saturday, July 28, Repice and Cunningham invite audiences to participate in their project by filling out forms that allow you to unleash your blame towards a person, group or system and then examine your role in the situation. At once humorous and serious, as well as contemplative and introspective, this public art project invites you to consider the agency of blame. Artist Lecture to follow at 2 pm"
——————————–
Percy 14e Wright – Recent Works: Sound and Form II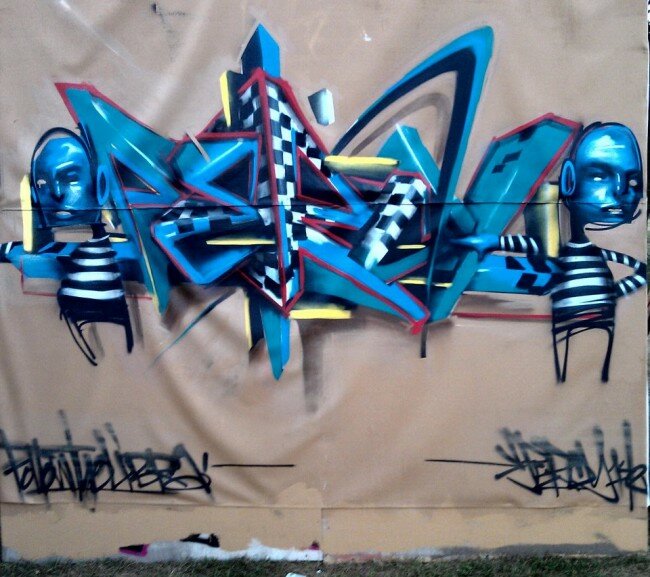 When: On view through August 3rd, 2012
Reception: August 3rd, 2012 7PM-12AM
Where: Ugly Gallery, 246 Union Street, New Bedford, MA
How: Official Website
——————————–
Magic Moments – Cliff Evans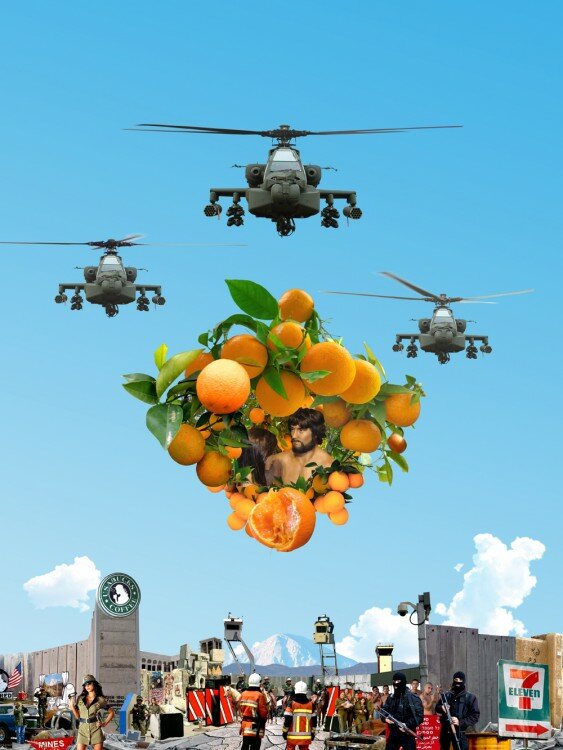 (Empyrean, (video still))
When: On view through July 30th, 2012
Where: Isabella Stewart Gardner Museum, 280 Palace Road  Boston, MA 02115
How: Official Website
What/Why: "Many Gardner Museum Artists-in-Residence work in the medium of film, video, and digital projection. During the summer months, the Museum will present a selection of nine projections in the Special Exhibition Gallery. Ranging in length from just a few minutes to almost an hour, the works will be shown in a continuous loop during open hours, highlighting a different work each week and providing a unique opportunity to view these works."
About Evans' work: Empyrean-"This film, which premiered at the Gardner Museum, creates a loose but provocative narrative around the subjects of power and population control, coded with interesting and often humorous subtexts. Empyrean's themes were developed through an absurd juxtaposition of both benign traditions and disturbing pathologies: wellness tourism, missionary practice, militaristic domination."
———————————
But really, where did July go?
Summer lovin', had me a blast. Summer lovin', happened so fast. ♥