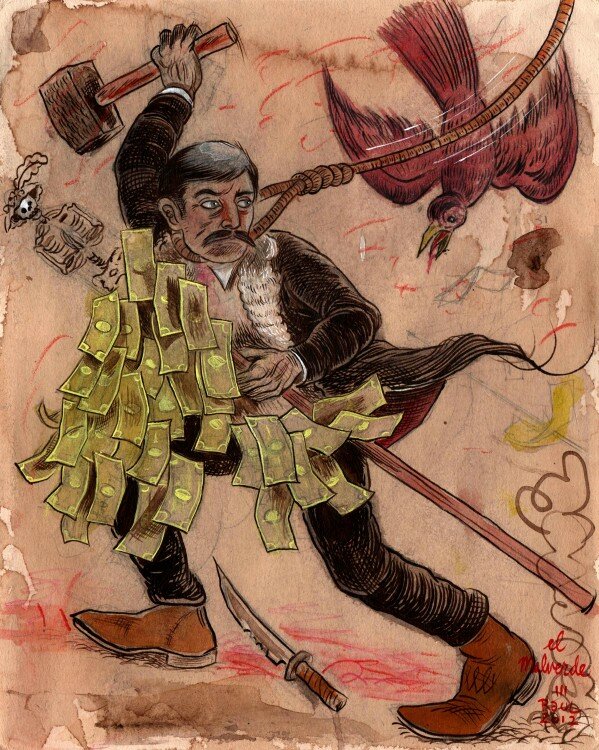 (El Malverde, Raul Gonzalez)
It's never too early to start thinking about the weekend.
Spirited Magazine will be celebrating the launch of their sixth issue, '$' next Sunday July 29th, 8PM at Fourth Wall Project in Kenmore.
"Spirited is a dialogue between art, fashion and literature. Each issue is highly conceptual and features stories from different authors centered around one particular theme. It's a space where innovators can experiment and encourage you to engage this project on a deeper level. Spirited is pleased to announce the sixth issue with a live installation that will feature artists and collaborators whose works are included in the "$" Issue, Summer 2012. We created images and stories about value, possibilities, poverty, gold and imagination in a world of Time and Money."
The summer issue holds a special place in my heart since it includes a feature I wrote for the insanely talented, Raul Gonzalez. Added bonus-The Belle of Boston Arts herself, Maggie Cavallo also gets some love in the '$' issue from editor-in-chief Amanda Antunes. Learn more about the rest of the featured artists and trail-blazers here and be sure to pick up a copy of the '$' issue when it hits stands August 1st.
(Money illustration by Molly Carlisle)
Get Spirited here. |$| Learn more about the '$' issue here. |$| RSVP for the event here.
♥