savage beauty x a woman's lens x move x infinite progress 
—————————————–
Infinite Progress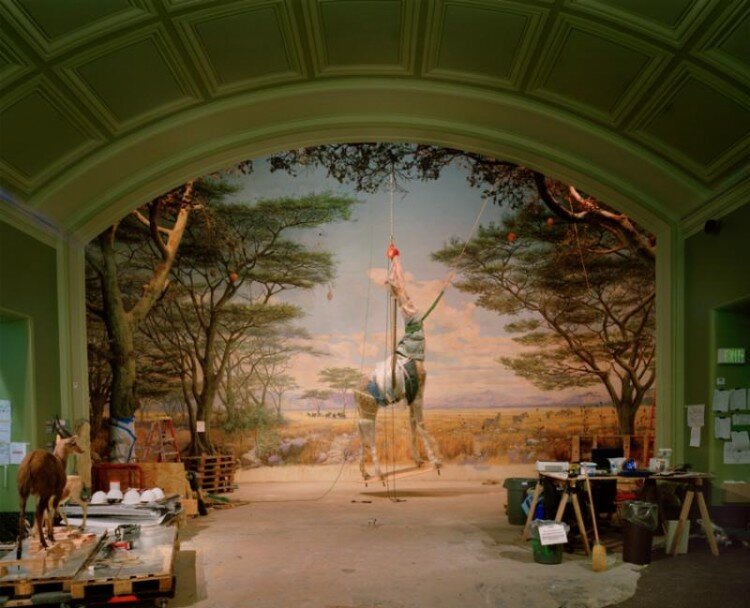 (Richard Barnes, Giraffe)
When: On view through mid-November, 2013
Opening Reception: Friday October 4th, 2013 5:00-9:00PM
Where: Miller Yezerski Gallery, 450 Harrison Ave(Room 309A), Boston, MA 02118
How: Official Website
What/Why: "Aint-Bad Magazine is hosting an exhibition at Miller Yezerski (formerly Howard Yezerski Gallery)'s new project space! Featuring images from our recent Issue of Aint-Bad Magazine: Infinite Progress
Artists Include: Richard Barnes, Céline Clanet, Cody Cobb, Thomas Gardiner "
———————-
MOVE: Recent works by Autumn Ahn
When: On view through October 31st, 2013
Opening Reception: Thursday October 10th, 6-9PM
Where: Fourth Wall Projects, 132 Brookline Ave., Boston, MA 02215
How: Official Website
What/Why: "Move. A show of recent works from the past two years. Drawings, video, performance and a new installation."
———————-
Elif Soyer: Artifact

When: On view through October 27th, 2013
Opening Reception: Friday October 4th, 5:00-7:30PM
Where: Kingston Gallery, 450 Harrison Ave, Boston, MA 02118
How: Official Website
What/Why: "Anything can be anything."
———————
Me Time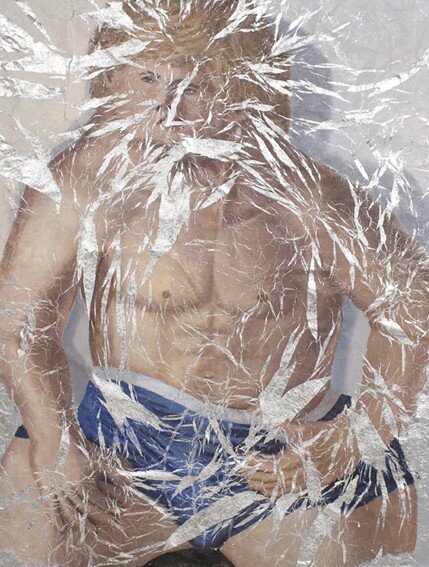 (Jessie-Unfolded, Lucy Kim)
When: On view through November 17th, 2013
Opening Reception: Friday October 4th, 5:30-8:00PM
Where: Laconia Gallery, 433 Harrison Avenue, Boston, MA 02118
How: Official Website
What/Why: "Lucy Kim, Susan Metrican, Ted Mineo, Kyle Nilan, Nicholas Sullivan, Albrecht Durer. Curated by Susan Metrican and Nicholas Sullivan.
The contemporary cultural climate is one defined by place-less information, a saturation of stimuli, and invisible forces whose powers remain unknowable and unchecked.  This post-tech period necessitates new ways to navigate the very new, and unknown spaces that have been created by these forces.  The social strata is being redefined, and in this, so is the collective understanding of time.  Work time, nap time, play time, and Me Time.  Me Time is an invented term born from an epoch defined by not turning off.
Me Time, will feature six artists who are examining and re-defining the term.  These artists absorb and percolate the very cultural forces which gave birth to the term Me Time.  By using understood modes of visual and auditory perception, the works of these artists in conjunction with one another illustrate attempts to navigate these forces while also re-examining the art object as the fruit of Me Time."
———————
Boriana Kantcheva: Make-Believe

When: On view through October 26th, 2013
Opening Reception: Friday October 4th, 6:00-8:30PM
Where: Bromfield Gallery, 450 Harrison Ave, Boston, MA 02118
How: Official Website
What/Why: "My work has always been about a varied cast of characters form hybrid shapes to fictional personages that exist somewhere between reality and imagination. 
As long as I can remember, creatures both terrifying and humorous have always been a part of my life. Monsters, ghost stories, horror movies and dreams have fascinated me since childhood. 
Other sources of inspiration include mythologies, folklore, faire tales and sci-fi movies, for they are filled with hybrid creatures and shape shifters. Essentially, my work is a search for a visual representation of this world inhabited by illusive yet familiar characters that could be beautiful and appealing, comical and at times terrifying and repulsive."
———————
barriers.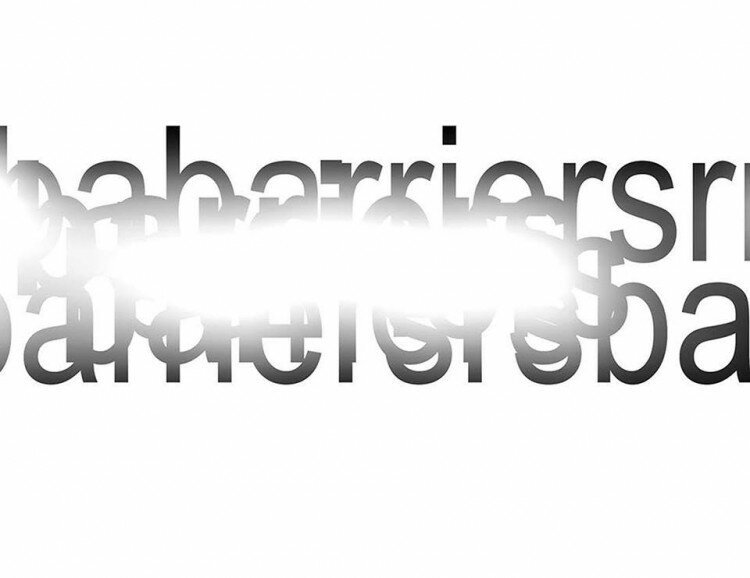 When: Saturday October 5th, 6-9PM
Where: Atlantic Works Gallery, 80 Border Street, Boston, Massachusetts 02113
How: Official Website
Cost: $10. Purchase tickets here.
What/Why: "Through the month of October, Bo Petran and Matthew Keller present an exploration of social, emotional, and physical obstacles to force new ways of thinking and destroy conventional ideas. 
In addition to the installation, Atlantic Works Gallery is pleased to present: socialbarriers
a microenvironment that will present itself as a pre-prohibition space. The performance inside will be executed by Tyler J Wang, (Kirkland Tap and Trotter, No. 9 Park) and the conversation will forced to follow the ideas of the artists. Seating is very limited.
Tickets for the socialbarriers performance ($10) will include a cocktail. "
———————-
The Magnetic Divine

When: On view through October 27th, 2013
Where: Galatea Gallery, 460 B-6 Harrison Ave., Boston, Massachusetts
How: Official Website
What/Why: "My work is a study of magnetism: repulsion, attraction, retreating, emerging. They cast shadows within planes of energy. Mirrored in the elemental universe, in oceans and earth, the sculptures resemble creature-like forms, meeting the other in symbiosis. The dialogue between areas of formation suggests the complexity of life, which generates the multiplicity of cells and organisms.-Marjorie Kaye"
———————-
About With & For

When: On view through December 1st, 2013
How: Official Website
Where: Mills Gallery at the Boston Center for the Arts, 551 Tremont Street, Boston, MA 02116
What/Why: "The artists in this exhibition – many of whom work collaboratively – articulate various aspects of Folklife as a cultural precedent. Folklife encompasses all facets of self-organized creativity, including boatbuilding, collective mending, parading, storytelling, foodways and interactions with the built and natural environment. The millenium-old rituals of street spectacle are re-imagined, an abandoned library-turned-art incubator fosters a multi-part installation, historic watercraft built from salvaged materials are rendered seaworthy, and folks who fix things do just that in About, With & For. Exceeding the specific concepts of the art world discourse, this exhibition revels in the expanded possibilities of cultural influence in contemporary life.
About, With & For features works by artists from New York and New England including Matt Bua, Dirt Palace, Clare Dolan/Museum of Everyday Life, Fixers Collective, HONK! The Festival of Activist Street Bands, Mare Liberum, National Bitter Melon Council and Jeff Stark."
Related programming..
Fixing Sessions with the Fixers Collective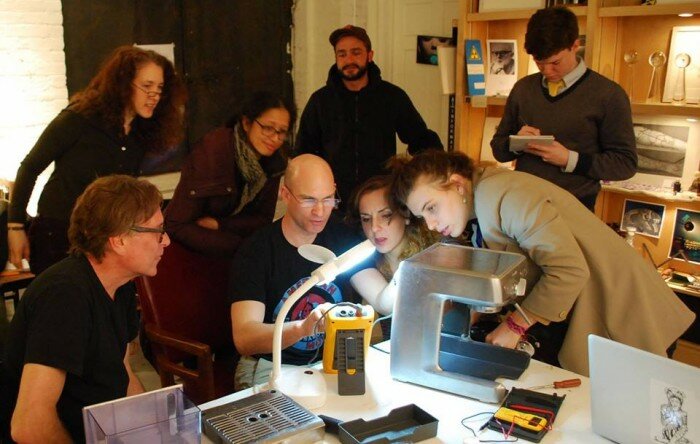 When: Saturdays, October 5 and November 2, 3-6pm
How: Official Website
What/Why: "Bring that broken lamp, torn pair of pants, or busted toaster to a fixing session and interact with a fixer who can help you get it back into use. Note: repairs and not guaranteed and drop off items are not accepted. Come early!"
———————-
Ieke Trinks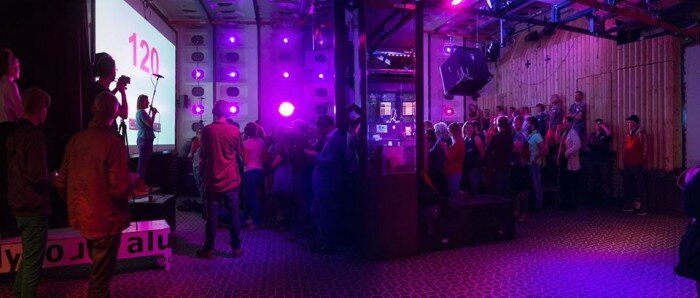 When: Saturday October 5th, 7:00PM
Where: mobius, 55 Norfolk St, Cambridge, Massachusetts 02139
How: Official Website 
What/Why: "Ieke Trinks from the Netherlands mainly focuses on live-art, which includes performance art, interventions in public space, and collaborative projects with artist and/or other participants. In previous years Trinks developed her work from the question 'what is performance?' and 'how does it relates to our every day life?' These questions have inspired the use of instructions, observations, and live actions made with every day objects and materials (such as cups, chairs, paper, shoes, doors, wood, plastic bags), combined and deconstructed.
These performances often result in absurd situations that play with interpretations and expectations in response to a particular written text. Trinks work illustrates the small changes that constantly emerge from the repetition we experience in life's daily routines. The work shows an attempt to control, to make sense out of chaos, to make rules, to create systems and to keep order. She concentrates on small details, which seems in the first place of no importance and without significants. 
This fall in Chicago she presented 'meetings' for 'Out of Site,' unexpected encounters of public performances in collaboration with Bernard Roddy. She is part of a performance collective called TRICKSTER that works with "emergent-form composition'", a practice on improvisation using sound, movement, objects, actions and text. Since 2009 Trinks is organizer and curator of PAE (Performance Art Event) in Rotterdam."
———————-
Autopic Illusion

When: On view through October 2013
Opening Reception: Saturday October 5th, 2013 7:00-11:00PM
Where: Thomas Young Studio, 469 W. Broadway 3rd Floor, Boston, Massachusetts
How: Official Website 
What/Why: "Thomas Young Studio presents AUTOPTIC ILLUSION: selected works by Aimee Belanger and Ria Brodell. 
With a shared affinity for negative space and commanding visuals, Belanger and Brodell produce complex narratives through deceivingly simple means. Using water based mediums (watercolor and gouache respectively), the richly painted subjects of Belanger and Brodell's work exist in contrast to the whitewashed dreamworld in which they reside. 
By presenting the subjects of their work without a discernable context, Belanger and Brodell rise above the trappings of illustration and create art."
———————-
Amy Sillman: One Lump or Two

(Ocean 1, Amy Sillman)
When: On view through January 5th, 2013
Where: ICA Boston, 100 Northern Ave  Boston, MA 02210
How: Official Website
What/Why: "Painting is perhaps more vital today than any time since the heyday of the New York School in the late 1940s and 1950s, and Amy Sillman one of its most influential practitioners and thinkers. Through her dramatic shifts in style, sophisticated writings, and her role as head of the painting program at Bard College's prestigious MFA program, she has proven that the basic building blocks of 20th-century painting are as relevant as ever.
Amy Sillman: one lump or two—the artist's first museum survey—follows her development as an artist from the mid-1990s to the present, as her work moved from drawing to painting to moving images, and from figuration to abstraction. Featured are more than 90 works, including drawings, paintings, 'zines (which she calls "a chance to present one's own epiphanies"), and the artist's recent forays into animated film.
Sillman's early works, characterized by cartoon lines and a riot of pastel and acid hues, move effortlessly from figure to landscape, playfully and often humorously exploring problems of physical and emotional scale with observations that are both wry and revealing.
In the mid-2000s, Sillman took a different track as she started to draw couples from life in intimate pencil, ink, and gouache drawings that she then translated from memory into paintings with bold brushstrokes and abstract blocks of rich color. These paintings, with their angular forms and unexpected palettes, proved to be a reinvigorated form of 21st-century abstract expressionism.
As artists started to question painting's role in an age of reproduction and mass media, many looked to photography. Sillman turned instead to the diagram, injecting into her lush, abstract fields of color the sort of stringent line so often used to communicate complex information. Most recently, Sillman has questioned whether painting needs paint at all, making drawings on her iPhone that she transforms into movies that bring back the neurotic figures of her early images while delving further into the current roles of abstraction, color, and the diagram.
"Sillman is central to the resurgence of public and critical interest in painting and abstraction today," says Jill Medvedow, Ellen Matilda Poss Director. "This exhibition is a long-awaited opportunity for a close encounter with the emotion, awkwardness, energy, and sheer beauty of Amy Sillman's art."
———————-
Fates and Furies: America

 (Hannah Verlin, When She Saw What She Had Done)
When: On view through October 6th, 2013
Reception: Friday October 4th, 5-8PM
Where: Boston Sculptors Gallery, 486 Harrison Ave, Boston, MA 02118
How: Official Website
What/Why: Read the press release here.
Also on view..
Benjamin Cariens-Interiors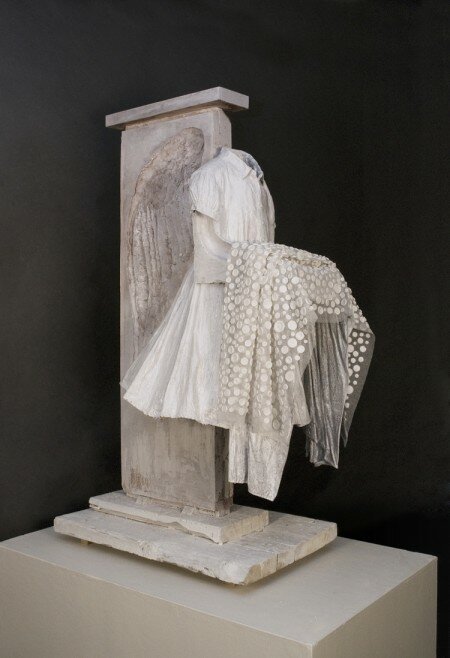 What/Why: Learn more here.
———————-
Tracing Narratives

When: On view through October 27th, 2013
Where: Studios at Porter Mill, 95 Rantoul Street Beverly MA 01915
How: Official Website
What/Why: "The Gallery at Porter Mill is pleased to present our October exhibition, Tracing Narratives featuring the artwork of Kyle Browne, Jenna Powell and Nina Samoiloff..
Tracing Narratives, curated by Jenna Powell, reinterprets the vernacular of a coastal region often characterized by quaint, historical imagery. Material and process provide the framework for the artist's investigations, which also utilize found objects and historic natural and industrial sites. Their work reveals a timeline of narratives that meet at an intersection of archiving, geography and history.
The artistic practices of Browne, Powell and Samoiloff include perfomative mapping that informs and connects their bodies with the matter they are working with. Browne and Samoiloff seek, sort and collect tidal detritus recalling the rhythmic toil of digging, gathering, and sorting shellfish. Powell works with historic sites and disappearing tools of industries and, like Browne and Samoiloff, restores the energy to abandoned rituals and sites by enacting the stages of invention and production."
———————-
Vivian Maier: A Woman's Lens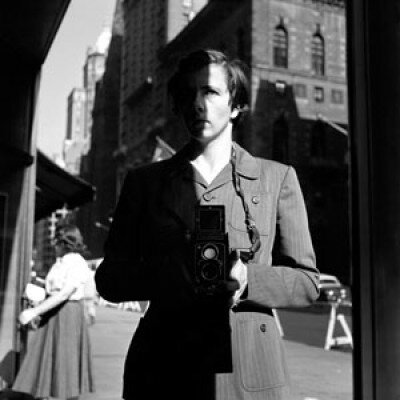 When: On view October 6 – December 18, 2013
Opening Reception: Sunday, October 6 from 4-7 pm, Curator's remarks around 5 pm
Where: Women's Studies Research Center, Brandeis University, 515 South Street, Waltham, MA
How: Official Website
What/Why: "Since the discovery of her negatives in a Chicago storage locker in 2007, Vivian Maier (1926-2009) has garnered international attention for her poignant street photography, almost none of which she printed during her lifetime. Including street scenes from Chicago and New York in the 50s and 60s, as well as striking self-portraits, Vivian Maier: A Woman's Lens will be the first showing of the mysterious photographer's work in the Greater Boston area. Don't miss this opportunity to view a rare talent whose rich, and little-known, life story is still unfolding. "
———————-
Bee Buzz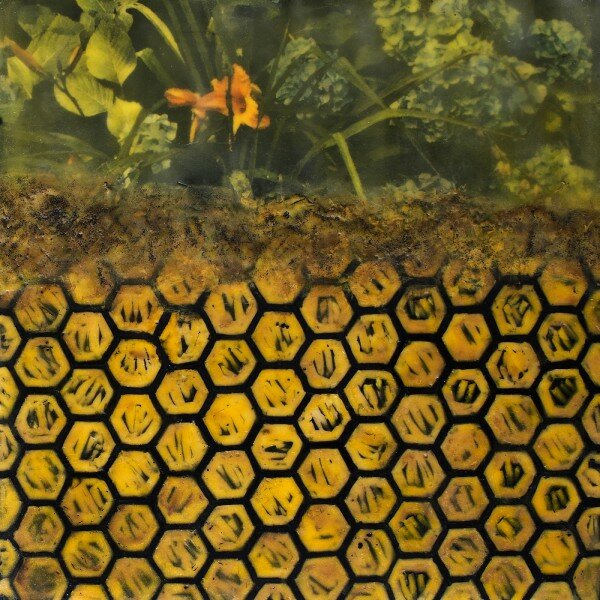 (View from Within, Scout Austin)
When: On view through October 6th, 2013
Where: Fountain Street Fine Art, 59 Fountain Street, Framingham, MA
How: Official Website
What/Why: "Austin's work focuses the viewer's attention on the essential honey bee by highlighting both the beauty of the honey bee's life and the serious threats to the honey bee's existence. By combining lush, bright color with contradictory, menacing darkness, Austin's work encourages the viewer to take a deeper look at a species in crisis."
———————-
Roxbury Open Studios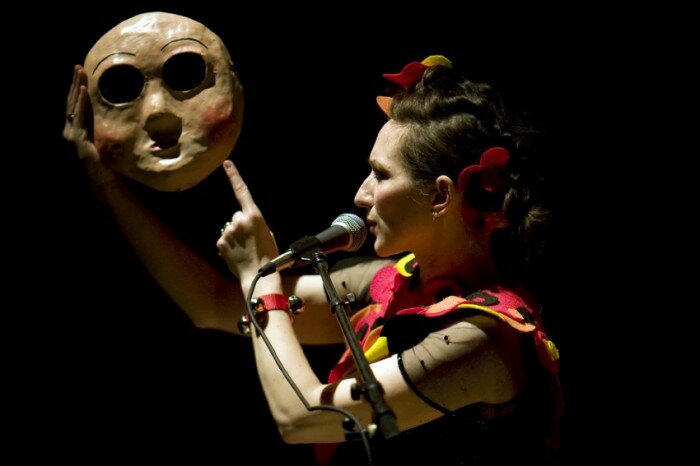 (Ian Doreian)
When: October 4th-6th, 2013 | Schedule of events here.
Where: Roxbury, MA | Map of locations here.
How: Official Website
What/Why: "All eyes on Roxbury Open Studios! This annual event is an opportunity for Roxbury's visual artists to welcome the public to view and purchase paintings, drawings, sculptures, textiles, jewelry and other studio crafts. The event also provides a means for individual creativity to play its part in the cultural and economic development of Roxbury."
———————-
Danna Ruth Harvey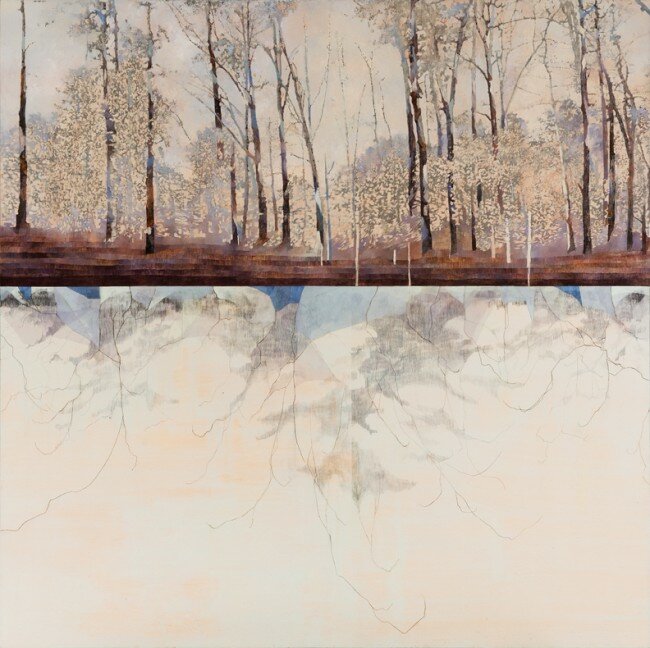 (Roots, The Law of Sacrifice)
When: On view through October 27th, 2013
Opening Reception: Friday October 4th, 6-8PM
Where: Chase Young Gallery, 450 Harrison Ave, Boston, MA 02118
How: Official Website
What/Why: "This year I am reading works by C. S. Lewis. He entitles one of his most intriguing metaphysical concepts, 'Transposition'. It occurs whenever a higher form is reproduced into a lower form. A familiar example takes place in the process of painting a landscape. The higher form, the original three dimensional landscape, is reproduced or 'transposed' into a lower form, a two dimensional flat sheet of paper or canvas. The concept becomes even more fascinating when Lewis takes the additional step of transposing abstract ideas (the higher form) into concrete everyday realities (the lower form). This is what mythology, fairy tales and folklore stories do. High ideals such as honor and loyalty, universal truths, morals, and first principles are transposed into narratives about particular people and things in interesting places and situations. Lewis writes, 'In the enjoyment of a great myth we come nearest to experiencing as a concrete what can otherwise be understood only as an abstraction.' The natural world is full of transpositions of universal principles. This group of paintings explores the concept of 'Transposition'."
———————-
Robin Reynolds – The Garden Series II – New Paintings
(Elisabeth's Flowers IV)
When: On view through October 26th, 2013
First Friday Opening: Friday October 4th, 2013 5:30-7:30PM
Where: Soprafina Gallery, 450 Harrison Ave, Boston, MA 02118
How: Official Website
———————-
Rania Matar: L'Enfant-Femme

(Clara #2, 8, Beirut, Lebanon)
When: On view through October 26th, 2013
Opening Reception: Friday October 4th, 2013
Where: Carroll and Sons, 450 Harrison Ave, Boston, MA 02118
How: Official Website
Also on view..
Tanja Hollander- The Landscapes of Are You Really My Friend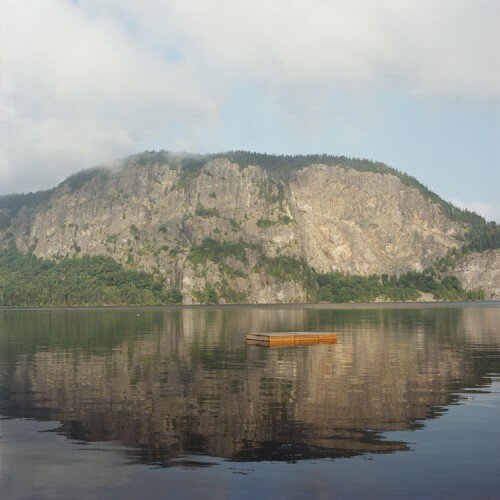 (Untitled 120404 (Moosehead Lake, Maine))
When: On view through December 21, 2013
Reception: Friday, October 4, 2013, 5:30- 7:30
———————-
Jessica Backhaus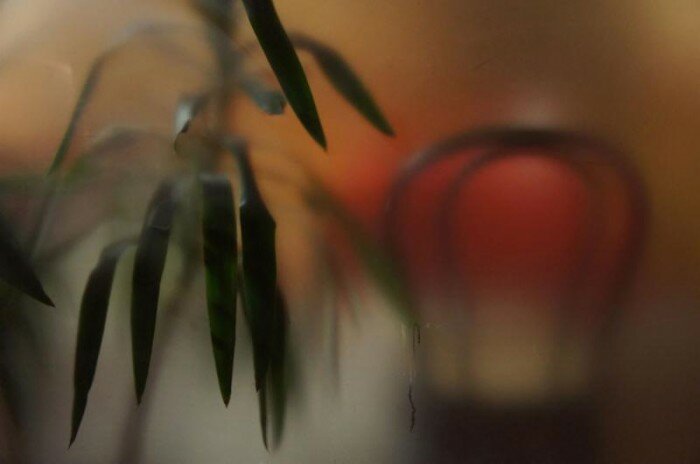 When and Where:
Reception at Ars Libri (500 Harrison Ave)
Friday, October 4, 5:30 – 7:30 PM
Reception at Robert Klein Gallery (38 Newbury St)
Saturday, October 5, 2 – 5 PM
How: Official Website
What/Why: "Join us Friday, October 4, and Saturday, October 5, to celebrate two concurrent exhibitions of photographs by German artist Jessica Backhaus. Work from the series I Wanted To See The World and Symphony of Shadows will be shown at Ars Libri from October 4 through October 26. A selection of images from Backhaus' 2012 monograph Once, Still and Forever will be on display at Robert Klein Gallery from October 5 through November 30."
———————-
PEDIGREE RELATED PROGRAMMING:
Best Dressed Signs Presentation and Gilding Demonstration

When: Thursday October 10, 2013 7:00-9:00PM
Where: New Art Center, 61 Washington Park, Newtonville, MA
How: Official Website
Cost: FREE.
What/Why: "As a part of the Pedigree exhibition at the New Art Center, Josh Luke and Meredith Kasabian of Best Dressed Signs will lead attendees through a discussion exploring the history of sign painting, applications and misconceptions of the craft, and its relevance today. The talk will coincide with a demonstration of gold leafing, a complex sign painting technique that is the cornerstone of the duo's installations."
More information here.
————————–
Synthesis

When: On view through October 20th, 2013
Opening Reception: Saturday October 5th, 2013 3-5PM
Where: The Cultural Center at Rocky Neck, 6 Wonson Street, Gloucester, MA
What/Why: "Montserrat College of Art & Endicott College Faculty and Student Exhibition."
———————-
Blind Contour Drawing Class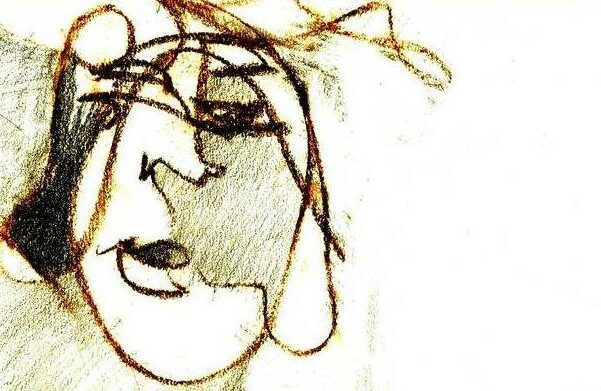 When: Monday October 7th, 2013 6:00-7:45PM
Where: Fuel America, 152 Chestnut Hill Avenue, Boston, Massachusetts
How: Official Website
Cost: $25, materials included
What/Why: "Monday evening art classes to be held at Fuel America. We at Fuel America are pleased to introduce you to Marlena Bocian Hewitt – a local Brighton abstract art teacher 
Marlena will be teaching her fun and unique "Blind Contour Drawing" class on October 7th. (Monday) from 6PM to 7:45PM at our coffeeehouse. This class is a fundamental tool that can help artists at all levels reacquaint themselves with the power of observation. It's fun and easy!"
———————–
Kara Walker: Harper's Pictorial History of the Civil War (Annotated)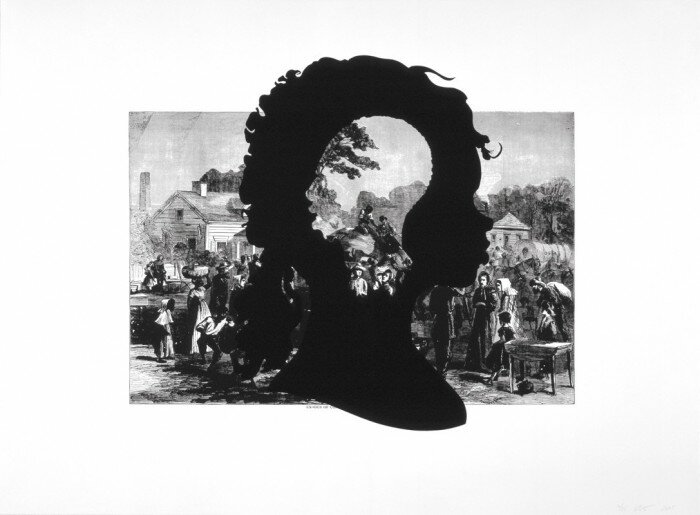 (Exodus from Confederates from Atlanta)
When: On view through October 28th, 2013
Where: 301 Gallery, 301 Cabot Street, Beverly, MA 01915
How: Official Website
What/Why: "This exhibition presents the complete series of Kara Walker's large-scale prints: Harper's Pictorial History of the Civil War (Annotated), 2007. In these works Walker brings together two distinct pictorial types: scenes from the 19th-century history book mentioned in the title and her own silhouettes. She also uses two distinct printmaking techniques to emphasize the difference between the images. Together these picture-making strategies highlight the central theme of the work: even as "official" narratives of the Civil War fade into the haze of history, the racial and gender tensions inherent in the War itself persist in contemporary experience. 
Walker uses lithography for the Harper's images in the background, enabling her to faithfully reproduce the lines of the original woodblock prints. This process also produces a slightly soft ink quality. The visual characteristics of lithography provide a stark contrast with the rich silk-screening technique she uses for her silhouettes, which offers a much bolder, densely black image.
The prominence of the silhouettes (both the scale and the dense inking) reinforces the sense of irony Walker introduces in the title for her project. Typically, an annotation is a brief comment about a text, often appearing in the margins. In Walker's hands, the annotations have taken over, unwilling to be marginalized. The characters she adds to the scenes are specters, black ghosts lingering over, and in some cases obscuring, every landscape. They are present and affective but do not participate. They echo the Civil War itself—a war that continues to haunt contemporary life in the United States as a palpable but largely invisible presence."
———————-
Savage Beauty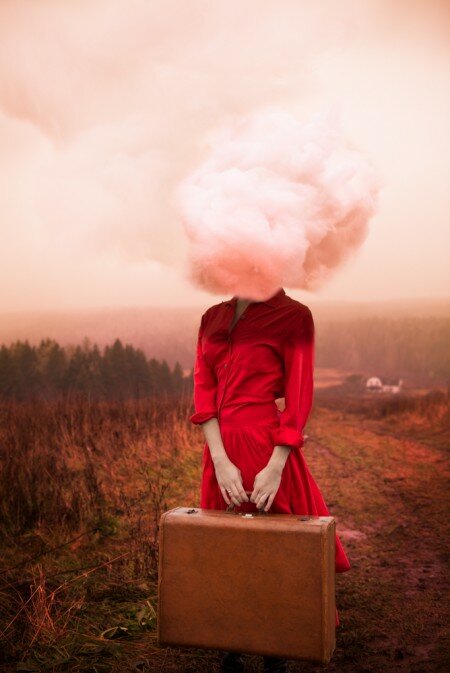 (Head in Clouds, Alicia Savage)
When:  On view through December 6th, 2013
Opening Reception: Friday October 4th, 6-8PM
Where: The Griffin Museum at Digital Silver Imaging, 9 Brighton Street, Belmont, MA
How: Official Website
What/Why: "Alicia Savage explores time, place and person through this series of self-portraits. Inner landscape is inspired by physical settings of locations such as the Nova Scotia farmhouse of her maternal grandmother, a lake front family homestead, and the odd hotel room encountered on her journeys."
———————-
Only 10 days left to see Pedigree at the New Art Center before it becomes a fond memory! The gallery will be open this Saturday 1pm-5pm. Also, be sure to stop by the Best Dressed Signs Presentation and Gilding Demonstration next Thursday 7-9PM.
Well, now that my shameless promotion is out of the way, let's get out of here!
Have a great weekend my dears. ♥