Easing into the work week one web distraction at a time..
———————

"Hello, my name is Andre De Freitas and I'm a photographer and illustrator. I studied in Full Sail University and got a Bachelor's Degree in Computer Animation. But oddly enough, the concept of stillness captured my imagination, and I focused more on illustration. Instead of just drawing, I tried to imagine myself taking photos of my subjects. That way the illusion of stillness would be a little more believable, almost like a photograph. After that, my insertion into the world of photography was almost based on instinct."
——————————-

(Smokey)
"Growing up between Detroit, Los Angeles, and New York, Laura Plansker got her start in photography as a child, taking pictures of dolls having tea parties and stuffed animals hanging from trees in her backyard. She continued her passion for photography through college receiving a BFA from The Center for Creative Studies in Detroit Michigan. She spent her fourth year studying in New York through the Alliance of Independent Colleges of Art Studio Program and interning at The Polaroid 20×24 Studio. In conjunction with photography she has spent many years set decorating and constructing miniatures for both film and commercials. It is through this combination of fields that her work has developed into the detailed world of photo-dioramas. Her overwhelming desire to jump the boats at Disney Land rides and live among the animatronic puppets or to climb inside the TV set to explore the worlds of Rankin and Bass' holiday films has been a great influence for creating her own magical worlds. Laura currently lives in Los Angeles and continues trying to create a photo-diorama that one day she might crawl into and never return."
——————————-

I would like to own this. See you next paycheck.
———————
Beauty is Embarassing 
—————————

(Toy Works)
"My name is Teodoru Badiu, I am a Freelance Artist and Creative Media Designer based in Vienna, Austria, was born in the town of Sibiu in Romania, and i live in Vienna, Austria since 1990. I was always interested in Arts but my real artist life has started in 1996 when i went to the Peoples Art School in Vienna where i have study Screen and Applied Art. After that i have discovered the wonderful possibilities give by computer and start to work with Photoshop, what i do until today. My work is influenced by the way i see my surrounding world, my life, my thoughts about life, my inner fight between rationality and mystic the way i think about religious questions, politics, environment, mythology, art everything could be a trigger that release a idea."
—————————————

(Drive)
"My artistic practice is based in figurative oil painting and is motivated by my interest in human experience and behaviour. The additive and subtractive process of painting allows me to invent characters to perform distilled tableaux on themes ranging from gender identity, power, sexuality, and relationships. Over the past number of years I have worked in thematic series, beginning each with a conceptual framework and then allowing the layered painting processes to determine the eventual form and content of the work. Examples of past bodies of work are the installation Peep: Beyond the Eye of the Beholder (1996) which addressed issues of power dynamics ; Stories of Girls which examined female adolescent experience and the development of socio-psycho-sexual identity; and the Karate Girl paintings(1996/7) which dealt with womens' negotiation of the urban environment. Ongoing has been my interest in sexuality, intimacy, and the persistance of desire in projects such as Dystopic Romances and Serial Romance Paintings"
———————————–

(More info on piece here)
————————————

(A Fay Joust)
"-A Collagist Manifesto-
If art is dead remix is its rebirth! Collage is not insemination, but reanimation. Its tools of production having more in common with those of Jack the Ripper than the fey artist. In the circle of life of the creative world collage artists are the endearing scavengers. We scour the public domain like circling vultures, and exhume from its tombs matter to piecemeal our frankensteins. Our resource constituency comprises obsolete adverts, morbid medical texts, bone atlases, and zoographic curios. Consequently, bone and exposed flesh are kindred to collage artists as they are our familiar inheritance, and it is mostly from these elements that I composed my creations."
———————————

(from Bruised series)
"I'm Peony. I currently live in Hong Kong. I am no professional photographer or designer or artist. Just drawing because it's the only thing I know and always had the heart for it."
——————————

(Lithuanian Love Song)
"Joshua Bronaugh is an artist that is originally from many places – he spent some years in Germany, before skipping through American mountains, forests, and salt flats, landing eventually in the south. His paintings, often large in scale, focus the obsessions of memory and emotion, almost always pushing the human figure to the edges of representation and, in some instances, far into abstraction.
In 2006 he studied art in Rome and Florence, Italy, and in 2007 taught art at the Pereyaslav-Khmelnytsky State Pedagogical University in Ukraine. During the same stay, he obtained special permission to visit the infamous reactor at Chernobyl's. This event in some ways reflects moments of his youth- he once lived at in the military installation known as Dugway Proving Grounds, a restricted location designed "to test US and Allied biological and chemical weapon defense systems in a secure and isolated environment." (US army)
I know from my conversations with Josh that his exposure to these events has taught him the utmost respect for the sublime, and simultaneously for the delicacy and unpredictability of life. I also know Josh feels a special affinity for the people and places of Eastern Europe- he's been three times to Poland and Ukraine, and a scattering of countries between the Balkans and the Baltics. In 2008, he was invited to lecture Siberia, Russia.
His portraits allow him to focus feelings of longing, and to develop intellectual elaboration. Interaction of color is always at the forefront of his work, and the elements shape and composition have their genesis in motion and peripheral vision. When these principles combine, we are presented with a constant state of vibration and emergence…"– Mikhail Hrovovsky, Prague, 2008
———————–

(Vessels and Shells)
———————–
Werner Reiterer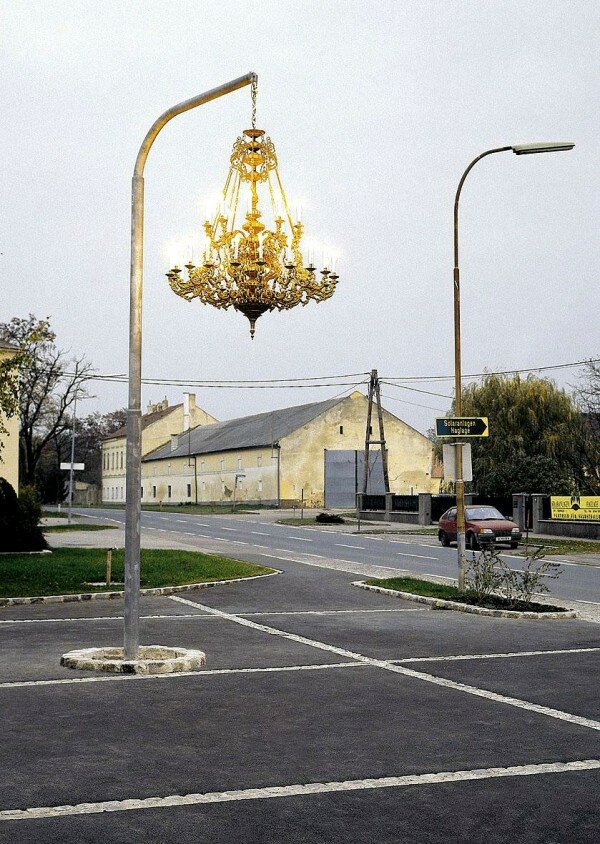 (Street Chandelier)
"Werner Reiterer's works walk a fine line between sense and nonsense, exploiting art's close proximity to life as a means of challenging literal descriptions of reality. In a manner that blurs the boundaries of art and humor, his richly engaging sculptures ask us to participate in their realization while his drawings disturb our expectations of the ordinary in imaginings of absurd proportion. And by scrambling the relationship of images and language he is able to turn our perceptions upside down and, in ways that are both entertaining and illuminating, reassert the power of art to change our lives." –excerpt via Artist Pension Trust, Berlin
———————————
OK. Back to reality!

Hang in there, only 4ish more days ♥