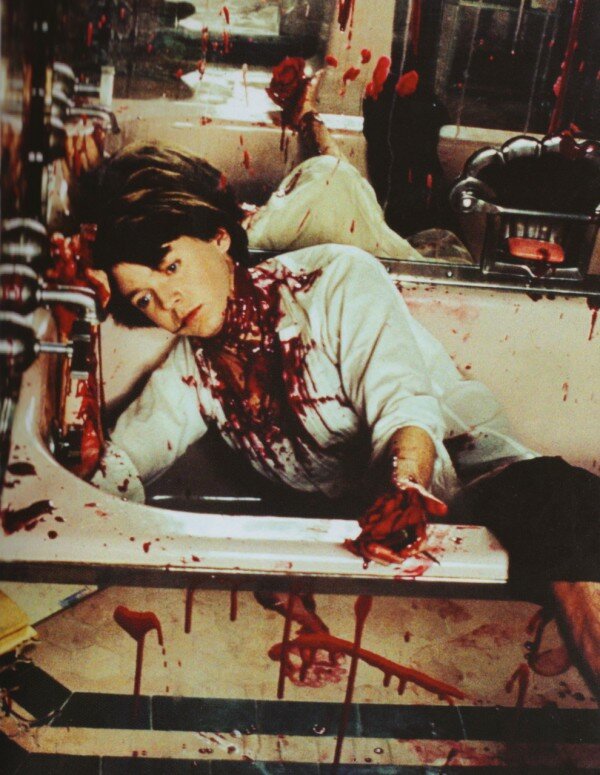 We made it!
Why do shorter work weeks always feel agonizingly longer?
points of impact x glass house x 406,700 kilometers away x initiation spell
—————————-
Points of Impact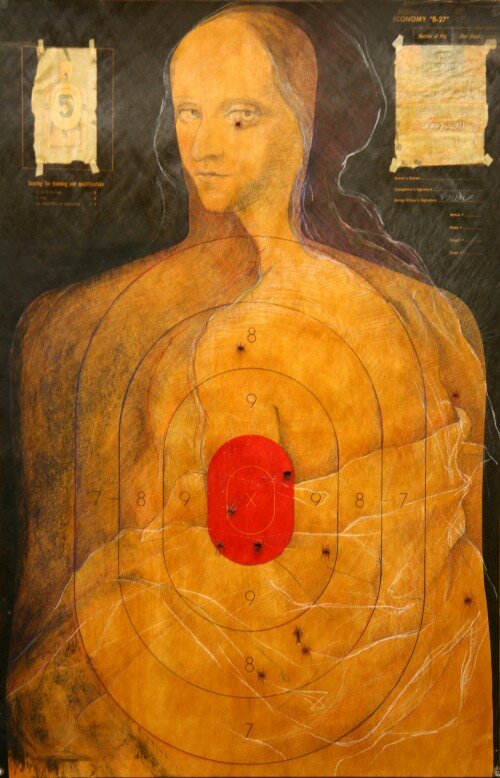 (Angel, Linda Burke)
When: On view through March 30th, 2012
Where: Medicine Wheel Productions, 110 K Street- 2nd Floor, South Boston, MA 02127
How: Official Website
What/Why: "Linda Burke is based in Ashland, MA. She has a BFA from Boston University and a Masters in Science in Art Education from Massachusetts College of Art & Design. Her work was mostly recently seen in a 2008 solo exhibition, Internal Landscapes, at the Dover Public Library. In 2011 she received the Distinguished Teacher Award from the Harvard Club. From 2008-10 she was a recipient of a  grant from the Massachusetts Cultural Council, Needham Education Association and the PTC to create a Public Sculpture Program, a Visiting Artists Program, and for producing new Public Sculpture for Needham High School. Linda works in a variety of media: watercolors, painting, drawing, sculpture, mixed media,  new media, and photography. For more information on her and her work, visit: www.lindaburke-art.com."
————————————–
Boston Does Boston V

(Constantine, prior work of Jennifer Moses)
When: On view through February 25th, 2012
Opening Reception: Saturday January 21st, 6-8PM
Where: Proof Gallery, The Distillery, 516 E 2nd Street, Boston, MA
How: Official Website
What/Why: "This year's Boston Does Boston will be open to the public from January 14-February 25. We invite you to attend the opening reception on Saturday January 21. Performances by Alice Vogler, Faith Johnson, and Maria Molteni will take place during the opening. 
Artists exhibiting in BDBV: Alice Vogler , Faith Johnson, Andrea Evans, Maria Molteni, Susan Scott, Jennifer Moses. If you can't make the opening, gallery hours are Thursdays, Fridays and Saturdays 12-5PM and by appointment. See you there!"
————————————–
Four Young Boston Artists 

(Neuroscience and Ethics, Kris Mortensen)

When: On view January 21st – February 24th, 2012
Opening Reception: Saturday January 21st , 6pm – 8pm
Where: LaMontagne Gallery, 555 E. 2nd Street / South Boston, Ma 02127
How: Official Website
What/Why: "Corey Corcoran "Drawing upon everything from science fiction to houseplants to "Honey, I Shrunk the Kids," I consider my recent body of work as visual ecosystems. Texture, color and pattern become the primordial soup from which notions of progress or evolution are born. The drawings begin as empty environmental niches, become populated, and diversify. Complex relationships form among elements: symbiotic, parasitic, and predator-prey. Patterns emerge from random marks, and forms are erased, obscured, or bled. My hope is that like an ecosystem, the work resonates on both a micro and macro level. Up close, vignettes illustrate the narratives of individual forms. From afar, the compositions suggest the delicate balance only achieved through a state of constant flux." — Artist Statement
Sean Downey's recent paintings combine sources, images, and fictions from American history and cinema to create allegorical, open-ended narratives. Downey uses the material, painterly process of image-creation to merge a history experienced only through books, movies, and photographs with autobiographical memories set in the leftover landscape of that history. Goldrush archetypes and frontier scenarios are conflated with the Artist and Art-making in an attempt to address the uncanny and absurd interaction of human-created objects and ideas with the non-human world.
Paul Endres Jr. received his BFA at Providence College in 2008 and his MFA in Painting from the School of the Museum of Fine Arts, Boston in 2011. His work was recently part of the Boston Young Contemporaries Exhibition at the 808 Gallery in Boston, MA. Cate McQuaid chose him as one of the "Top Five Young Artists to Watch" in an article published in The Boston Globe on April 29th, 2011. Paul Endres Jr.'s work has been focused solely on depicting the events of a fictional catastrophic event. This disaster is known as the American Burden.
Equal parts comedy and tragedy, the frenzied scenes are painted memorials to the events of this alternate reality. A botched foray into ghost hunting and the paranoid Mr. and Mrs. Daedalus serve as subject matter for the doomed hero artist, "P.J.Endres Jr.", who may be as flawed as the accomplices he paints."
————————————–
Shadow Initiation Spell

When: On view January 23rd through February 15th, 2012
Where: Harbor Gallery at UMASS Boston, 100 Morrissey Blvd, Boston, MA
How: Official Website
What/Why: "This provocative exhibit features the work of Vela Phelan –an internationally renowned performance, assemblage, sound, and video artist. Vela believes in magnifying the energy of objects, sounds and actions, blending subconscious with spirit and allowing the unknown to present itself. He enjoys transforming & altering modern and ancient energy's into a new unknown universal existence. 
Shadow Initiation Spell is a merging of Buddha and Baby Jesus, time and space, mind and body and life and death all in one energy form. A subconscious and earnest wish is the foundation for the alchemical transmutation taking place in the space. Random video-rhythm, sonic transmissions and flickering fleeting doors will open the portal beyond the symbolic and sensorial duality that the viewer will experience.
Shadow Initiation Spell has two live actions: the first one is a 3 hour action on the opening reception night January 26, 4:30 – 8pm the other is a six hour culminating action on Sunday February 5, 12 – 6pm. With these actions I hope to mutate this duality into a single energy form."
————————————–
Sibling Rivalry

(Polygonal Absract,  Lisa Hastings Moll)
When: On view through February 18th, 2012
Opening Reception: Saturday, January 21st from 7-9 p.m.
Where: Gallery Seven, 7 Nason Street, Maynard, MA
How: Official Website
What/Why: "Gallery Seven presents "Sibling Rivalry", an innovative show with a unique vision of three sibling painters: Lisa Hastings Moll, Edward Hastings and L. Christy Hastings. Traditional rivalry is normally competitive, for these siblings rivalry is more a call to challenge, to inspire, to learn and to revel in each other's work. They are always supportive first, and it is their greatest delight to "show" with each other. They paint together often, as they did as children. This happens most frequently in the six weeks they spend together in August along Maine's rocky mid coast.
Though the siblings all went on to different schools and professions and left artwork behind for a time, eventually each sibling rediscovered their very first love. Art. They are mostly self-taught, genetically gifted and they continue to draw inspiration from Maine and the galleries and museums of New England.
While their styles vary from representational landscapes done in watercolor to large acrylic abstracts to mixed media, their work all shares a common bond. All of their art transcends the conceptual and gets its power from these 3 wonderful artists ability to work with volume, space, shape, form and color."
————————————–
Opening of New Renzo Piano Wing at Gardner Museum

When: Open to the public as of January 19th, 2012
Where: Isabella Stewart Gardner Museum, 280 The Fenway  Boston, MA 02115
How: Official Website
What/Why: Review of new wing on Bloomberg Business Week.
FLUX. Aside: Go!
————–
Victory Garden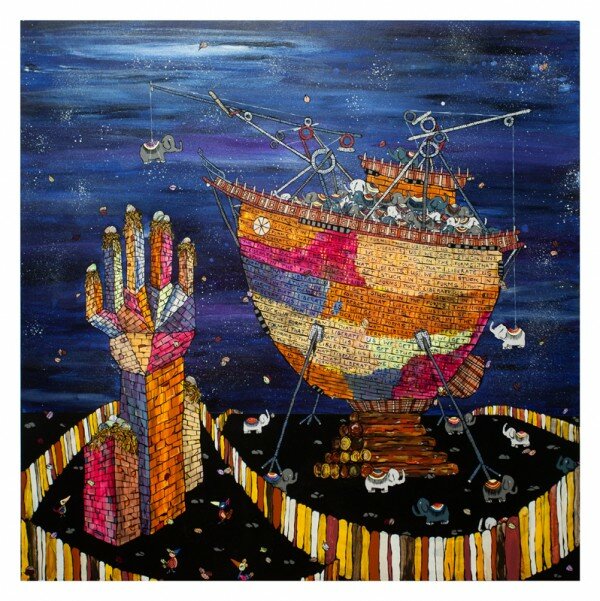 (We Get Stuck in the Forms that Liberate Us)
When: On view through March 16th, 2012
Where: Visiting Artist Gallery at the Center for the Arts, Endicott College, 376 Hale Street, Beverly, MA
How: Official Website
What/Why: "Endicott College is pleased to announce the solo exhibit Victory Garden by artist, writer, educator, Caleb Neelon in the Heftler Visiting Artist Gallery at the Center for the Arts, Endicott College, 376 Hale Street, Beverly from January 20 – March 16, 2012.  Gallery hours are Monday-Thursday, 9:00am – 8:00 pm; Friday, 9:00am – 5:00 pm; and Saturday and Sunday, 2:00-4:00 pm. The reception and lecture presentation for this exhibit will be held on Tuesday, March 6, with the reception starting at 5:00 p.m. and the lecture/presentation: "Forgiveness is Easier than Permission" to follow at 7:00 p.m.  The reception, lecture/presentation and exhibition are free and open to the public.
Victory Garden is a group of works exploring themes, symbols, and imagery of patriotism and faith.  Primarily comprised of mixed media paintings on panel, the majority of the works have been created for this exhibit. Mr. Neelon will be an artist-in-residence, creating a site-specific mural with Endicott students simultaneous to the gallery show. "
————————————–
Super Friends!

(Don't Smoke in Front of the Kids)
When: On view through March 2nd, 2012
Opening Reception: Friday January 20th, 2012, 7-10PM
Where: Voltage Coffee & Art, 295 3rd Street Cambridge, MA
How: Official Website
What/Why: "Work by Brandon Aguiar. Super heroes have the best stylists. I know my costume would definitely include over the knee 5 inch red boots and a golden headband that turns every man into Ryan Gosling with moves like Jagger.  Come join us at the Voltage Gallery for our super opening of artist MRBAs SUPER FRIENDS where you are bound to see familiar faces and some fab fashion. Glitter included. Dress your best and we'll see you this Friday. Show runs through March 2nd."
————————————–
To The Moon

(Installation View)
When: On view through January 23rd through March 23rd, 2012
Reception: January 30th, 2012 5:00-7:00PM
Where: 17 Cox Gallery, 17 Cox Court, Beverly MA 01915
How: Official Website
What/Why: "Works on paper by Johnny Adimando. I know that the moon or the word moon/Is a letter that was created to share/In the complex scripture of that rare/Thing that we are, both manifold and one. – Jorge Luis Borges
At its apogee the Moon is about 406700 km from the Earth, whilea single sheet of paper is about 0.01 cm high. It would take approximately 1,520,640,000 stacked pieces of paper to reach the Moon or a single sheet of paper folded on itself 42 times could reach the Moon's surface. This January at 17 Cox, artist Johnny Adimando will attempt the impossible: to reach the moon through conventional methods of paper folding and printmaking.
Attempting the impossible through limited means has been a fountainhead of ingenuity throughout time. The contemplation of reaching the moon's surface is an endearing and timeless quest: scientists, clerics, poets, philosophers and artists have all staked their claim on what the moon is and how best to reach it.
The urban myth that a single piece of paper cannot be folded more than seven times has been repeatedly disproven. In January 2002, while still a junior in High School, Britney Gallivan succeeded in folding paper in half 12 times. At the 12th fold, a single sheet of paper increases exponentially to 4096 layers or approximately 41 cm thick. Thirty more folds increases the height to 406700 km, the moon's distance from the earth.
Why has looking at the moon become so beneficiary, so soothing and so sublime? Because the moon remains purely an object for contemplation, not of the will. Furthermore, the moon is sublime, and moves us sublimely because it stays aloof from all our earthly activities… – Arthur Schopenhauer"
————————————–
Henry Schwartz, Unexhibited Paintings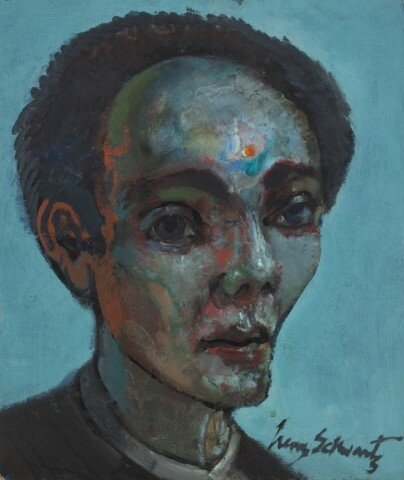 (Hamlet)
When: On view through January 28th, 2012
Where: Gallery NAGA,  67 Newbury Street, Boston MA 02116
How: Official Website
What/Why: Check out the Boston Globe review of the show here!
————————————–
Glass Houses: Lillian Harden
(The Main House)
When: On view through February 16th, 2012
Where: Montserrat College of Art, 23 Essex Street, Beverly, MA 01915
How: Official Website
What/Why: Such an interesting series/concept. View additional houses here.
————————————–
Jerry Uelsmann

(Untitled (Self-portrait as Robinson and Rejlander))
When: On view January 21st-March 3rd, 2012
Where: Robert Klein Gallery, 38 Newbury Street, Fourth Floor, Boston, MA 02116
How: Official Website
What/Why:"Before Photoshop allowed image makers to bend reality to their will with a single keystroke there was Jerry Uelsmann. He created surreal images the hard way — not with digital shortcuts, but working in a darkroom with seven enlargers and multiple negatives. Now that's layers." -Excerpt from Dec 2011 NYT Article
————-
Director's Choice: The Subject is Maine

(Croquet and Hats, Dorothy Eisner)
When: On view Saturday January 21st through March 3rd, 2012
Where: Acme Fine Art, 38 Newbury Street, Boston, Massachusetts, MA
How: Official Website
What/Why: "ACME Fine Art will welcome in the New Year with an exhibition of watercolors and oil paintings by four notable modern artists who chose the coast of Maine as their subject matter during the mid-twentieth century's revolutionary artistic heyday. The artists selected for this thematic group exhibition curated by Gallery Director David Cowan are: Maurice Freedman, Dorothy Eisner, Philip Malicoat, and Michael Loew. The exhibition will open with a reception from 3:00 to 5:00 p.m. on Saturday, 21 January 2012, and will remain on view through Saturday the 3rd of March.
The four artists whose work will be represented in the exhibition all demonstrate both and affinity and an appreciation for Maine's rocky coastline in their work; however, they also share a singularly modern artistic viewpoint on Maine as subject matter. Beyond subject, it is important to acknowledge that each of artist's body of work reveals a unique and highly personal point of view. The curatorial intent is that through the juxtaposition of this particular group of artists' distinctly different approaches to representational abstraction as demonstrated in the artwork selected, the intellectually and emotionally rich aspects of each will be brought into focus and highlighted.
Maurice Freedman's deliciously chromatic canvases are a paean to the Expressionist idiom and tradition of both American and Northern European modern art. Michael Loew's sensitively conveyed watercolors hover between Neo-plasticism and Expressionism, and the result is a kind of luminous, painterly poetry that reveals Loew's personal perspective on Monhegan Island. Dorothy Eisner's spirited paintings of her beloved Cranberry are intensely personal in a different way. They are a joyous riot of bold color and form that capture a place and this artist's world within it. Philip Malicoat's retreat in Jonesport Maine inspired canvases and watercolors that are carefully composed and quietly reflective. The quality of light and the distinctive viewing angle often taken by Malicoat give the artwork a moody, almost surreal quality, while at the same time creating a sense of timeless memory."
————————————–
David Martsolf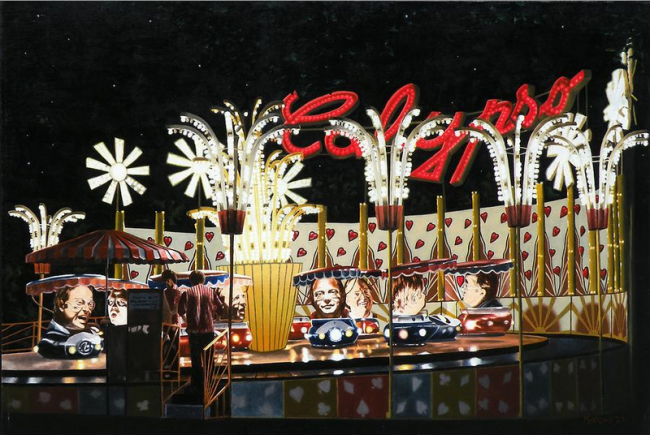 (Calypso)
When: On view through January 31st, 2012
Where: Galatea Fine Art, 460B Harrison Avenue, Boston, MA
How: Official Website
What/Why: "The artist's style remains both realist and surrealist in its general theme, though the means to the end has been a long walk-about through the mediums of raw physical media, such as oils, watercolors, and pencils, to the more technically-oriented media of computer-based art.  As Juror's Prize winner in the 1981 "UNH Revisited" Alumni Show juror Frederick P. Walkey wrote, "Martsolf is a descriptive surrealist with an unbridled imagination.  His work seems at first glance to be literary in content and descriptive.  The longer I looked at it, the more convinced I became that his visions were authentic, unique and highly subjective.  It is very rare to come across an artist who is apparently unknown, especially one who has such sweeping imagination and the technical skills to give reality to his visions.  He appears to be an excellent draftsman, a master of arbitrary space and a colorist of more than ordinary competence.  I could not tell from the slides the quality of the painting, the absolute purity of the drawing, nor whether he had the capability as Dali had early in his career of imparting magic to his canvases.  If my judgment is accurate, a new artist may have been discovered."January 27, 1981
 Martsolf experimented in the early tools of Bryce, Poser, Kai's Power Tools, and similar photo editing and photo manipulation products.  He was owner and artistic director of Damsel Software Group in the 1990′s as a producer of original content screen savers.Today, the artist has returned to handmade art.   He continues to believe that art can be a vehicle to communicate visceral yet at the same time cerebral thoughts and feelings in a single still image that can transport the observer to a dream reality that can be totally absorbing and alive with all manner of doorways to emotions and experiences never before realized.  Martsolf will be adding continuously to his watercolor pieces and is preparing a new generation of grand unified conceptual surreal oils.  "The ideas have never stopped flowing and now at last with brush in hand the visions can once again be brought to life."
Also on view..
Stephanie Angelo

(Here Comes the Sun)
"Where do we get our information?  How is information communicated to us?  What becomes informative and what ends up decorative?  These questions are looked at in the Decorative/Informative series.  Viewing a television without words calls us to take a closer look at the information we are receiving.  The days of the old newscaster giving us the cold hard facts in front of a stark background are gone.  We are bombarded with graphics and logos while set design seems to overwhelm the screen.  There is more pressure to be visually pleasing and keep up with our shortening attention spans.  Is any content of substance absorbed?  In an age where the sleek designs of televisions make them look like artwork, to the extent that they are hung aesthetically over a mantle in the living room, does appearance matter more than content?  Are paintings becoming superfluous?  People sit with their televisions now, the same way one use to sit and take in a painting at the museum.  By viewing the screen shots out of context and seeing them in the traditional art form of painting, I ask, is this the new way we are going to have art in our homes or have electronics killed painting?"
————–
2012 DeCordova Biennial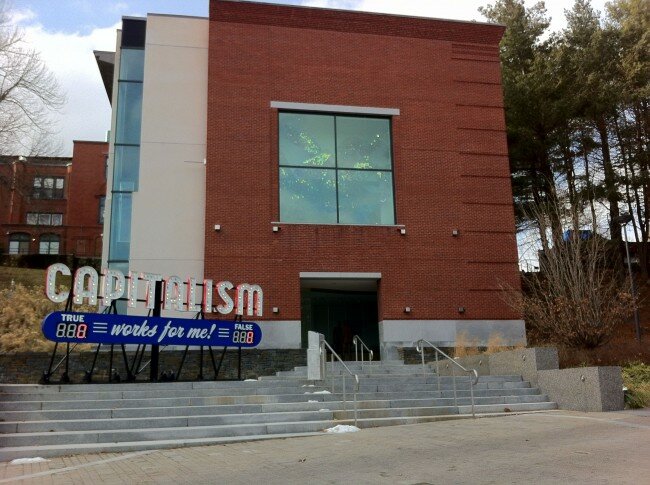 (Installation shot of Steve Lambert's piece, Capitalism Works For Me! True/False. Photo c/o artist)
When: On view January 22nd through April 22nd, 2012
Where: DeCordova Sculpture Park and Museum, 51 Sandy Pond Road, Lincoln, MA 01773
How: Official Website
What/Why: "The 2012 deCordova Biennial is a survey exhibition focused on emphasizing the quality and variety of work rather than any single or overarching theme. Highlighting artists from across New England, the exhibition displays a diverse range of approaches to media and content. The exhibition is co-curated by deCordova Curator, Dina Deitsch and Independent Curator and former owner/director of the Judi Rotenberg Gallery, Boston, MA, Abigail Ross Goodman. The 2012 deCordova Biennial features 23 artists and collaboratives and will occupy almost the entirety of the Museum and beyond—reaching into the park, Boston, and nearby communities through several public, off-site projects." List of participating artists here.
————–
So many great happenings this weekend! Decisions..decisions..
Only so many hours in the day.
Stay sweet. Go see art. Knock 'em dead. ♥