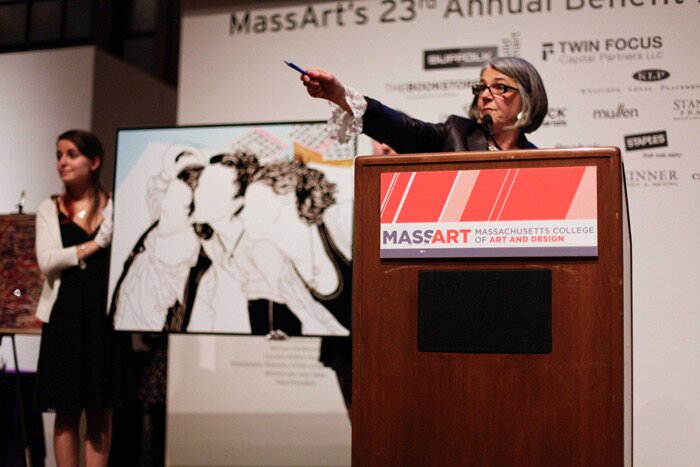 This Saturday April 9th, a room full of finely dressed folks will be raising their paddles at MassArt's 27th Annual Art Auction which supports student scholarships and academic programs. Last year they raised over $1,000,000 (!)
The live auction in the Bakalar & Paine Galleries boasts 36 pieces by internationally renowned artists and regional favorites, as well as over 300 works in the silent auction.
And the silent auction is currently live on Paddle8 with many of the works already selling out in advance of the big night! So in the event a secret benefactor is reading FLUX., I decided to post a few of my favorite auction items.
Ya nevah know.
———————————————-
N.B.: I like many things, in fact, too many things. Therefore, the professional criteria I used to compile this list is based solely on "things I could see on the walls/surfaces of my home". And while I love Murakami, I am not sure An Homage to IKB 1957 B would play nicely with others in my collection. But maybe yours?
——–

——————

(I mean, the name alone)
——————

——————

(To be honest, I can't even see this image, but based on the title I can use my imagination. And I'm a sucker for neon.)
——————

——————

——————

——————

——————

——————


——————

——————
Be sure to check out the full list of works here. You can bid online until 12:00PM on 4/8
Learn more about the auction here.
See you there. ♥