May was a bit sparse as far as I could see for art happenings, but June is packed!  Thought I would share some of the more notable events to come across my screen.
Solo Exhibition-Mis Amores: Catalina Viejo Lopez de Roda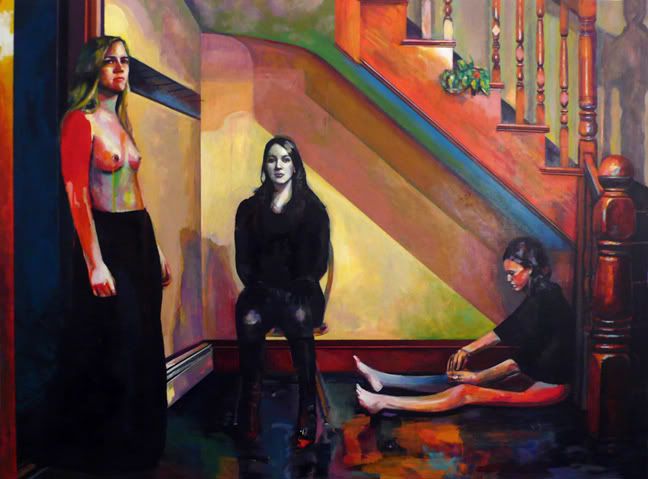 (La Amistad (The Friendship), 2009-Catalina Viejo Lopex de Roda)
When: June 01-June 29th
Where: Prudential Unlimited Realty
673 Centre Street
Jamaica Plain, MA
How: Official Website
Cost: Free
What/Why: From the Artist:"Now this is something to look forward to! I will be having my first SOLO show in the Boston area this June. As part of JP Thursdays I will be exhibiting all my recent large paintings and drawings at Prudential Unlimited Realty in Jamaica Plain. These are all my most recent paintings and I am very excited to have the opportunity to exhibit them. The show will be up all 1 June – 29 June and the opening is Thursday, June 3rd from 6-8pm. There will be refreshments and DJ Just Joan will be spinning an eclectic sound to set the mood. If you would like a postcard invite, send me an email with your address. The closest T stop is Green Street on the orange line. Come check it out!"

Opening Celebration of the International HarborArts Outdoor Exhibition of Large-Scale Artwork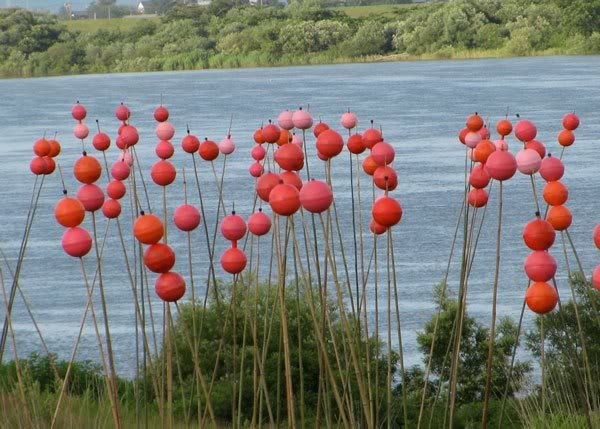 (Riverine-Stacy Levy)
When: Saturday June 12th, 2:00-5:00PM
Where: HarborArts Outdoor Gallery at Boston Harbor Shipyard
256 Marginal Street
East Boston, MA
How: Official Website
Cost: Free
What/Why:"Come and discover art at industrial site of Boston Harbor Shipyard on the Boston HarborWalk! The public is invited to attend the Opening Celebration of the new international HarborArts Outdoor Gallery at Boston Harbor Shipyard, open year-round. Meet the artists who installed over 25 large-scale 2D and 3D artworks throughout the shipyard. HarborArts employs the arts to raise awareness for issues effecting our waterways. Information will be available by the member organizations of the Massachusetts Ocean Coalition and the Massachusetts Ocean Partnership.
Music provided by Zumix. Refreshments will be available, sponsored by Dough East Boston, Scup's in the Harbor, La Fogata, El Paisa Restaurante, and Mehak Indian Cuisine. MBTA Blue Line Maverick Station. City Water Taxi, tel. 617.422.0392, from Long Wharf Marriott to Boston Harbor Shipyard is $15 roundtrip—a $2 savings. "
The Adventures of Innocence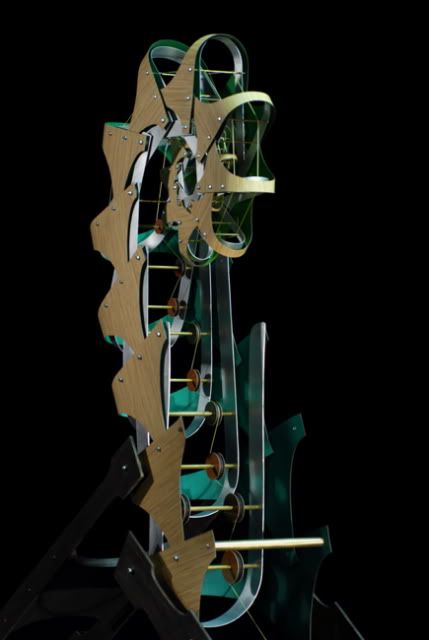 (Chris Fitch)
When: June 04-July 09th . Opening reception June 10th 5:00-8:00PM
Where:Fort Point Artist Community
300 Summer Street M1
Boston MA 02210
How: Official Website
Cost: Free
What/Why:"The artists Chris Fitch and Erica von Schilgen are known for their charming and eccentric mechanical creations. "The Adventures of Innocence" presents new work in a variety of media ranging from the silly to the serious that explores perspectives on personal and cultural relationships with the notion of Innocence in American society and how these perspectives evolve as we age. "
Path to Ground:  An Exhibition of Electronic Artworks curated by Dana Moser and Fred Wolflink

When: June 11-July 10th, Opening Reception-Friday, June 11th. Live Performance Night- Thursday, June 24th.
Where: Axiom Gallery
141 Green Street
Jamaica Plain, MA 02130
How: Official Website
Cost: Free
What/Why: ""Path to Ground" is an exhibition of interactive, kinetic, installation and sound art created by students working in the Electronic Projects curriculum of MassArt's Studio for Interrelated Media (SIM).  The title refers to a fundamental property of electricity: that it flows "to ground" through the path of least resistance. The term "ground" in an electrical circuit is a relative one, however, and has a variety of meanings. The works curated by Dana Moser and Fred Wolflink have a variety of artistic sensibilities: humorous, scientific, political and pop-cultural.
Artists in the show include: Olivia Becker, Alex Black, Patrick Chaney, Daniel Mooradian, Kim O'Toole, Paige Peterson, Jacky Sharp, Matej Vakula, and Joseph Wight"
On Green-Jamaica Plain Arts Council Annual Juried Exhibition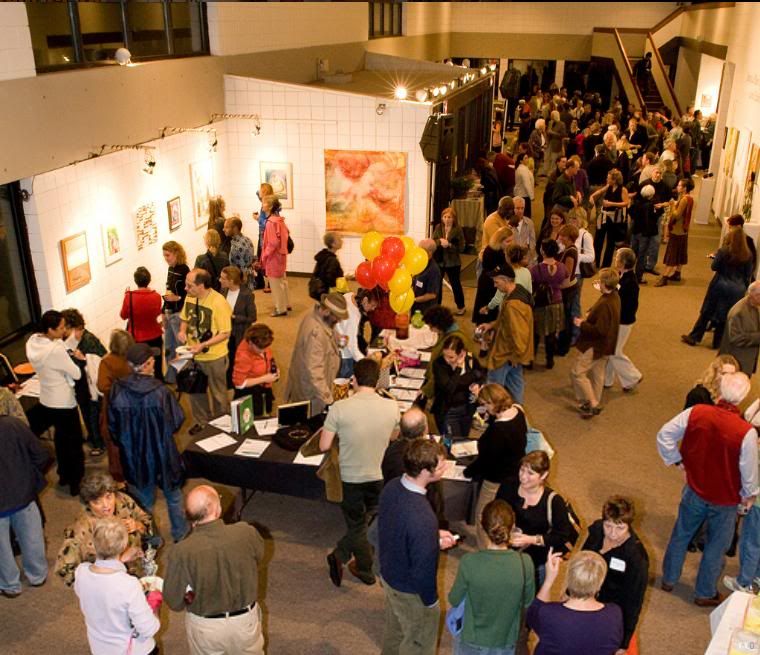 When: June 19-July 12th. Gala Reception and Silent Auction-Saturday June 19th 7:00-9:00PM, Special Preview Party June 19th 6:00-7:00PM
Where: Maliotis Cultural Center Helenic College
50 Goddard St
Brookline, MA 02445
How: Official Website
Cost: $20
What/Why: "Green is everywhere these days – in the news, politics, fashion, and pop culture. More than ever, products and services are touting their eco-consciousness, foods are organic or natural, and companies are staking claims that they support sustainability.
In plain terms, Green is simply a color found in minerals, chemicals, and plants. Green also has broad and sometimes contradictory cultural implications – symbolizing hope and wealth on the one hand, or sickness and envy on the other. It has been adopted symbolically to represent political and environmental movements at home, and it plays a prominent role in many flags of the Islamic world.
Jamaica Plain, often referred to in the 19th century as "the Eden of America," is literally one of the greenest neighborhoods in the city of Boston. Residents have access to over 800 acres of green space at their doorstep around Jamaica Pond, and at the Arnold Arboretum, Franklin Park, Olmsted Park, and the Forest Hills Cemetery.
But what else does Green mean to Jamaica Plain artists who have access to extensive public transportation and two major bicycle paths, New England's first urban curbside recycling program, and one of the city's most renowned Irish pubs?
This exhibition provides an opportunity to reflect and reconsider what green means to each of us in the context of Jamaica Plain. "
Ilha Ardente/Ember Island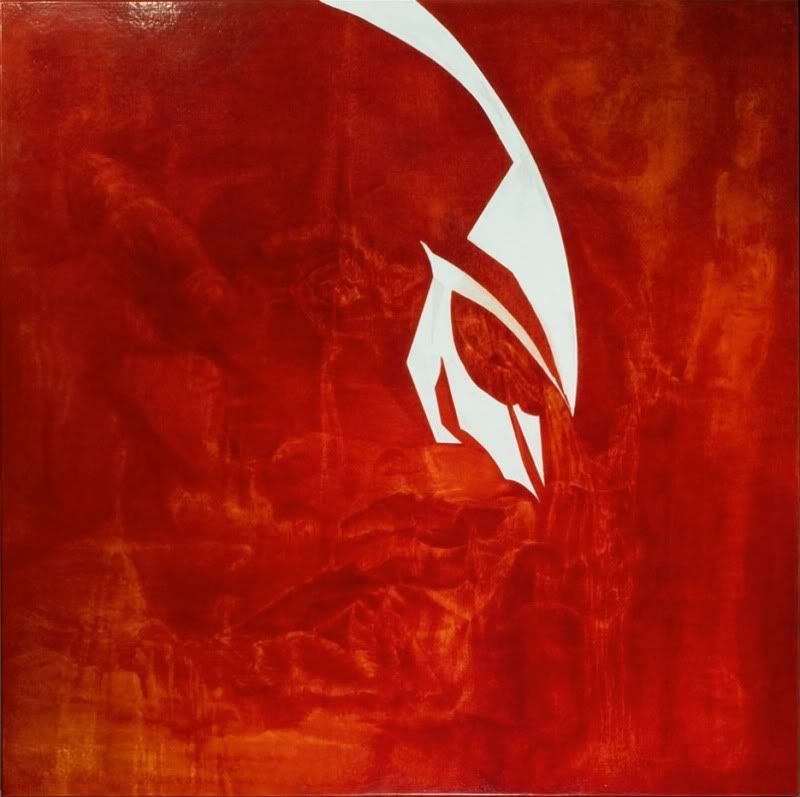 (Left Behind Mascarades 2, 2008-Christine Arveil)
When: June 01-June 11th
Where: Boston State House, Doric Hall
Beacon Street at Park Street
How: Official Website
Cost: Free
What/Why: "Since 2005, Boston-based artist Christine Arveil has been creating an imaginary volcano expressed through writing and painting. The Volcano Project was first installed in 2009 in the Azores. Key pieces of her artwork have been returned to Boston and will be on view at the Massachusetts State House. Once the expression of the imagination of a singular artist, The Volcano Project has met the Azorean collective memory of an historical event — the eruption of the volcano — that is part of the identity of the new American-Azorean generation. Arveil's striking artwork assembles paintings in vibrant shades of red, sculptures incorporating Azorean deep-black basalt stones, and drawings of stones."
Current Exhibitions: Julie Vinette(Gallery 1)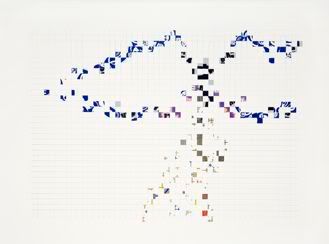 (Nike(of Samothrace), 2008-Julie Vinette)
When: June 02-June 26th
Where: Bromfield Gallery
450 Harrison Ave
Boston, MA 02118
How: Official Website
Cost: Free
What/Why:"Julie Vinette uses a range of media—oil paint, encaustic, paper, pencil, video and sculpture—to explore the fragile characteristics of memory and time. She considers the finite purpose of everyday artifacts and reworks them so that their intrinsic meaning is lost. Whatever the medium, Vinette's work is hazily representational, brimming with color and movement. "
————————————————————————————————————————
And finally just for good measure…you know..if an extra ticket magically appeared…and you needed a date… -drags toe around in dirt- …
Classic Noir Summer Party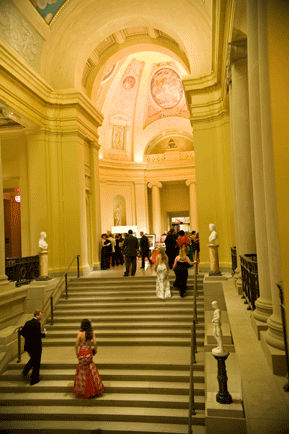 When: Saturday June 12th, 2010
Where: Museum of Fine Arts
How: Official Website
Cost: Members of the Museum Council or Patron Program: $100
Nonmembers: $150 per person
What/Why:" Please join us for cocktails and hors d'oeuvres, dessert and dancing, and a juried silent art auction. Kick off the summer with a Classic Noir Summer pARTy inspired by the photography of iconic Hollywood film stars by artists Yousuf Karsh and Edward Steichen from the outstanding collection of the Museum of Fine Arts, Boston. The Summer Party promises to be a festive evening to ring in summer amid works of art, music, and friends. "
——
Hope you get to enjoy some of the fun happenings this month!