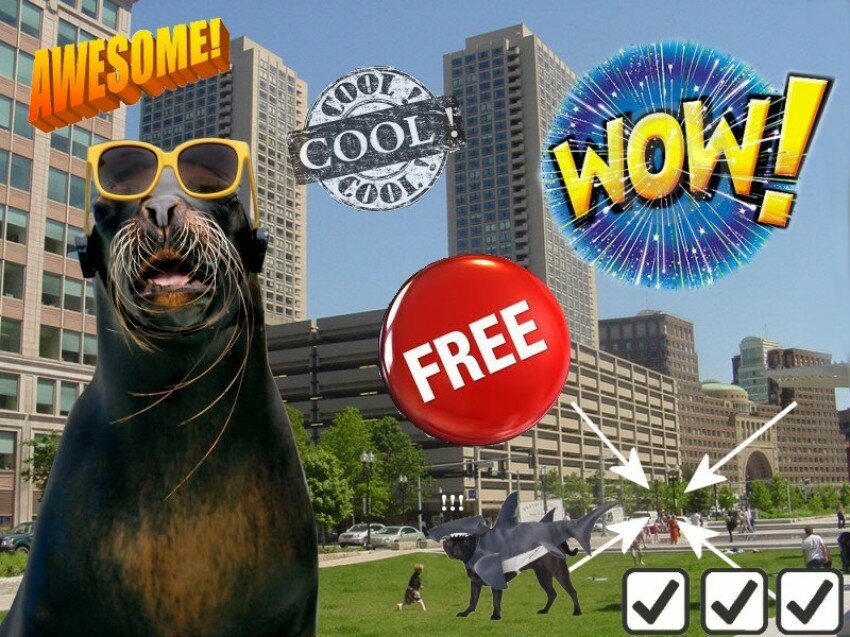 Oh, let me have my fun.
Last night I received an email from the BRA regarding two vacant spaces on the ground floor of the Harbor Garage in downtown Boston, directly in front of the aquarium, that could be used for a gallery and/or retail space.
Best of all, these spaces are rent free.
———————-

Overview:
"Two FREE vacant storefronts are available for immediate occupancy  in the ground floor of the  Harbor Garage in Downtown Boston facing Atlantic Ave and out to the Rose Fitzgerald Kennedy Greenway for arts/craft gallery or craft retail store. The goal is to get these spaces occupied before the holiday season."
Prime Real Estate:
"The New England Aquarium is behind the building, close to Financial District, 10 minute walk from Downtown Crossing, the North End, the Greenway Carousel, near Rose Wharf and next to Harbor Towers residential buildings."
The Spaces:
"900 square feet & 1,500 square feet in each of the two storefronts:  large windows, great light, many walls for hanging art work.  Outdoor sidewalk space for a cafe or display may be available. Each space has a bathroom and one space has a full kitchen too."
But like, "FREE" Free?:
"The Arts tenant will pay only insurance and utilities; rent is free, month-to-month basis. (Spaces will probably be available for 2 years )"
Nitty-Gritty:
All improvements are at the artists expense and is done by the arts group: painting walls, cleaning rugs, keeping the space clean, daily sweeping of sidewalk
Should have retail experience running a retail operation or gallery
Must be open 5-6 days a week from 10-7 PM
Windows need to be open and lights on the space in the PM.
Work should be juried by the operator.
2 people should be in the retail space at all times.
Have marketing experience & knowledge of social media.
Ideally the space will be open by Thanksgiving.
Exterior signage to be approved by BRA
Deadline for Proposal:
November 15th, 2013 (next week!)
——————————-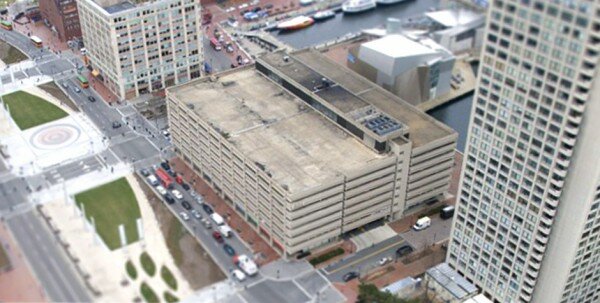 VERY interesting opportunity. Unfortunately, I went to bed having gallery staffing nightmares. And I'm not sure how my already forgiving employer would feel about me screaming, "I DON'T CARE IF YOU ARE HUNGOVER, IT'S YOUR SHIFT!!" all day..so I am passing the torch on to you.
Just know that 23 year old Liz (during my unemployment era) would have been all over this.
A few questions you might want to consider if you apply:
How much would insurance(probably general liability + fine arts) be?
How much are utilities? (remember: lights on in the P.M.)
How much will it cost to make the space look decent?
"Spaces will probably be available for 2 years " isn't extremely reassuring. Would you be OK if a month from now the gallery was taken away?
Speaking of, I did a little digging and it looks as though The Chiofaro Company, the owners/developers of the building, are actively discussing the future of the garage.
In fact, they met in September to go over some ideas..
"The conceptual ideas ran the gambit from traditional park-like plazas and cafes to pools, beaches and even hot tubs."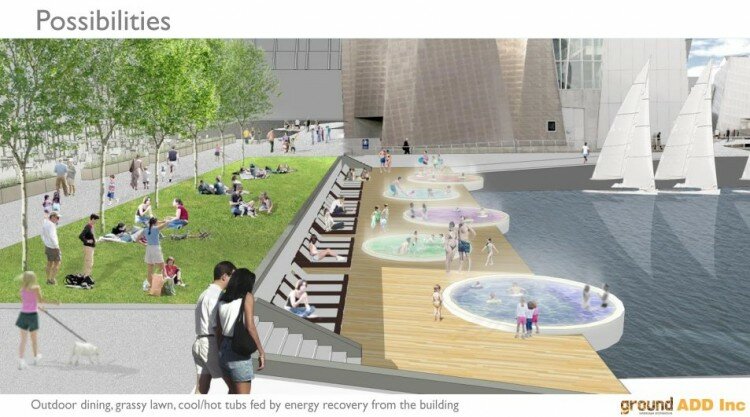 Communal hot tubs?! Absolutely not. And is that dog on the left missing a head?
Anyway, I hope something ephemerally wonderful comes from this Harbor Garage opportunity.
If you are interested in submitting a proposal for one of the two gallery spaces, drop me a line and I will send you the official notice and contact information for the project.
And when you are approved, invite me to your openings. ♥