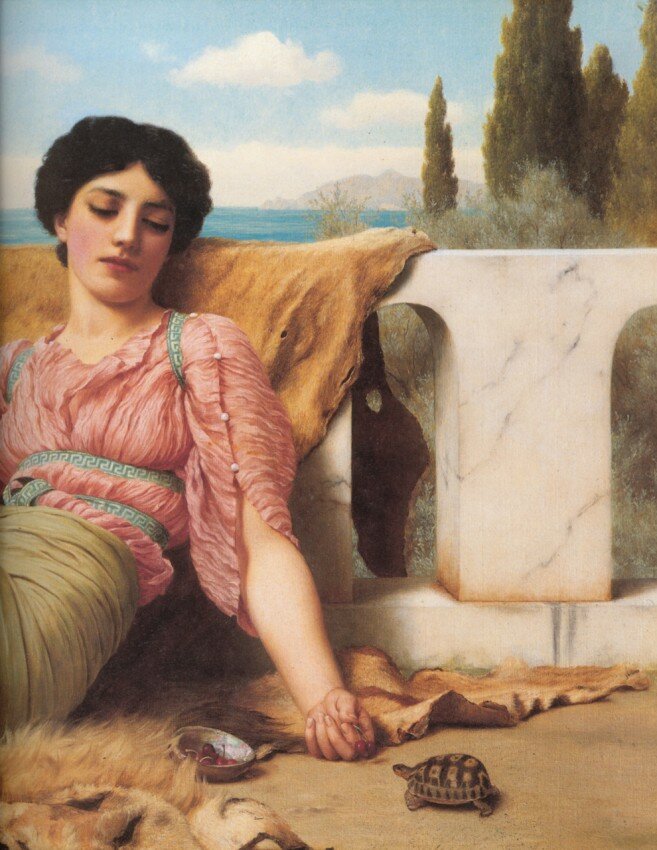 beyond human x another utopia x missing stories x expanding glow
————————
Floor van de Velde: Score for a Color Field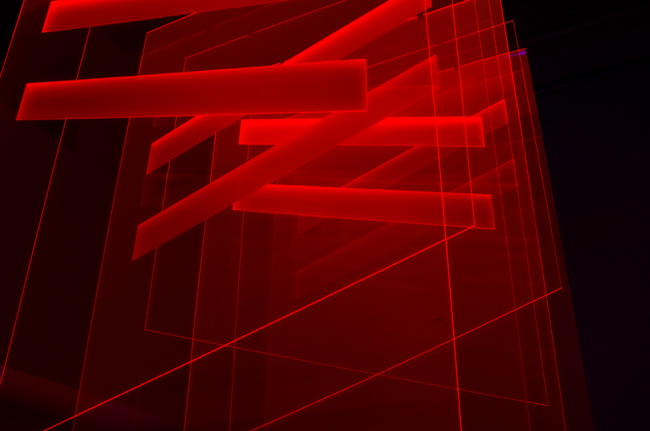 When: On view January 2nd, 2014
Where: 17 Cox, 17 Cox Court, Beverly, Massachusetts 01915
How: Official Website 
What/Why: "Score for a Color Field is an exhibition of Floor van de Velde's recent installations exploring light, space, sound and color. This exhibition includes three works that confound the viewer's sense of perception and depth of field. Van de Velde's piercing color, understated mechanics and use of light and sound as the core materials place her alongside contemporary artists like Chul Hyun Ahn, Yann Novak and Eric Michel. Precursors for this movement, like Robert Irwin, James Turrell and Dan Flavin broadened the realm of art to include works with no clear 'object' except the viewers experience of the immersive installations in which they found themselves. Van de Velde expands this experience of traditional projected image by taking advantage of recent technological advances in both hardware and software to combine light, non-pictorial visuals, color and abstract geometric forms into three-dimensional environments."
———————–
Inspired by Winslow Homer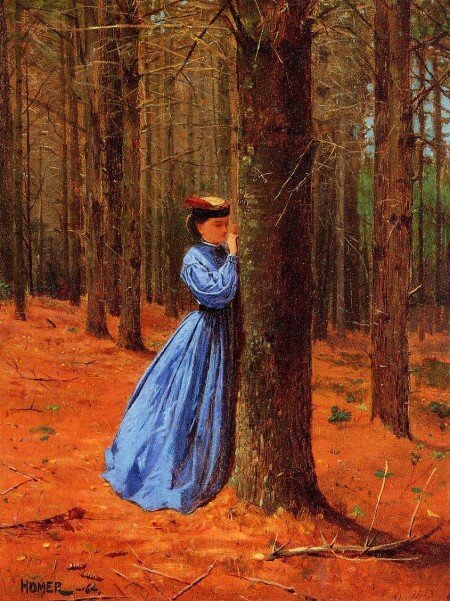 (The Initials, Winslow Homer)
When: On view through December 15th, 2013
Where: Belmont Gallery of Art, 19 Moore St, Belmont, MA 02478
How: Official Website
What/Why:"Winslow Homer (1836–1910) is considered one of the greatest American artists of the 19th and 20th centuries. He along with his family were Belmont residents beginning in the late 1850s and he often summered at the William Flagg Homer House owned by his Uncle. The house is currently managed by the Belmont Women's Club. A number of Homer's early works, including many illustrations, the 1860s croquet paintings and the 1872 Boys in a Pasture, are Belmont-based. 
Largely self-taught, Homer began his career working as a commercial illustrator. He was a realist and his artistry expressed his independence and originality throughout his career. Work "Inspired by Winslow Homer," as defined by the show, should represent one of Homer's popular themes of Men (Women and Children) and Nature, and should be created in a media used by Homer including Illustration, Printmaking – woodcut prints, Watercolor, and Oil Painting."
—————-
Visual Dispatches from the Vietnam War

When: On view through November 11th, 2013
Where: Currier Museum of Art, 150 Ash St, Manchester, NH 03104
How: Official Website
What/Why: "This exhibition presents 35 iconic photographs that brought the Vietnam War to the dinner table of every American household. Photographers Horst Faas, Henri Huet, Eddie Adams, Larry Burrows and Don McCullin provided the definitive visual record for one the most important events in 20th century American history. They laid bare the horrors of combat with directness never before seen, causing many to question the morality of war. That these images influenced public opinion of the Vietnam War and hastened its end is a testament to the visual power and authority of the medium and the courage and artistry of their makers, many of whom died on the battlefield."
—————-
Queens: A Senior Thesis Show 

When: On view through November 8th, 2013
Where: 301 Gallery, 301 Cabot Street, Beverly, MA 01915
How: Official Website
What/Why: "Montserrat College of Art is proud to present the work of six graduating seniors in the upcoming exhibition Queens: A Senior Thesis Show. The seniors, Jacob-Michael Corvelo, Kelsey Hebert, Angie Hill, Elizabeth Laskey, Katharine J. MacGregor, and Rebecca Wallace all have something to share with viewers; a new twist on a princess story, a trek across Boston, silhouettes of burned memories, habits and how they are formed, illustrations from inspiring words, and a bond between two people. "
Also on view(next week)..
Game Over: A Senior Thesis Show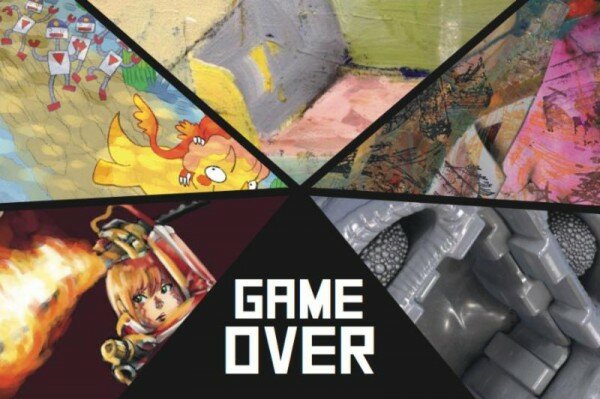 When: On view November 11th-15th, 2013
Reception: Wednesday, November 13, 5-8 pm
 What/Why: "Montserrat College of Art proudly presents the second exhibition of senior work Game Over: A Senior Thesis Show. The artists, working in a variety of different media, each have something distinctly to offer viewers. Morgan Farrar exhibits a playable beta level, alongside concept art, for her colorful game concept "Dinomine." Taylor Clough creates acrylic paintings that investigate familiar forms, the space that surrounds them, and explores the marriage between representational objects and abstraction. Michael Scaramuzzino is an illustrator, 3D modeler and designer who creates by integrating art, technology and science, to bring forth new ideas and concepts. Ben Potts designs a cast of characters for a fighting game, each based on one of the different classical elements. Jessica Abella incorporates a variety of techniques in her work, such as screen-printing, collaging and painting in order to integrate mediums onto photographs. 
—————-
Glovebox Short Film & Animation Festival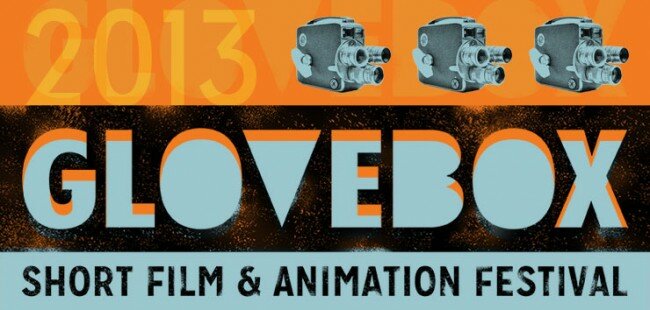 When: Saturday November 9th, 2013 2:00PM
Where: Regent Theatre Arlington, 7 Medford Street, Arlington, Massachusetts 02474
How: Official Website 
Cost: Purchase tickets here.
What/Why: "Gather friends and family for a day of short films and animations at the historic Regent Theatre in Arlington, MA on November 9, 2013. The Glovebox Short Film & Animation Festival is an all-day event that brings together an array of up-and-coming filmmakers to showcase their talents on the silver screen. Out of 150 submissions, 40 films were hand-selected by an all-star jury of producers, writers, filmmakers, and artists. "You can expect to see everything from music videos, animations, and comedies to dance films, dramas, and zombie attacks" states Glovebox co-founders, Liz Comperchio and Jodie McMenamin. "The annual Glovebox Short Film & Animation Festival provides an arena for 'art films' to be unabashedly 'artsy' and commended for being so."
—————-
Andrew Mowbray: Another Utopia

When: On view November 9th through December 21st, 2013
Opening Reception: Saturday November 9th, 2013 6:00-8:00PM
Where: LaMontagne Gallery, 555 East Second St., Boston, Massachusetts 02127
How: Official Website
What/Why: "LaMontagne Gallery is proud to present Andrew Mowbray's new exhibition, "Another Utopia".
The idea for this project started with the artist's grand vision of creating sustainable modular building blocks grown from molded lagenaria gourds. In recent times these gourds have been used as decorative birdhouses and art, but they have also served as functional vessels for thousands of years by cultures spanning the globe. They are believed to be one of the earliest cultivated plants.
Although these architectural gourds have been the main focus of his recent work, Mowbray also begins to scrutinize and question his own relationship to the process and domestic setting in which the work is being created. His critique is employed by using the traditional birdhouse architecture as an embodiment of the nuclear family ideals, as well as Gordon Matta-Clark's 1973 Splitting, as stepping stone and departure point from traditional notions of domestic architecture and the monumentality of structures.
Similar to many of Matta-Clark's original works, Mowbray's modular work is created from inexpensive construction materials and fragments of reclaimed and recycled building materials. However the work differs in its non-monumental scale and also its relationships to gardening, quilting and decorative pattern. These aspects contained within Mowbray's work bring into question the masculine gestures contained within Matta-Clarks original documentation.
In the end Mowbray's grown and created forms unintentionally aesthetically resemble objects produced by early modernism. This observation causes him to question the imposition of his own vision of architecture and design on his backyard flora and fauna, and the problematic structures of any utopian idea."
—————-
Impressionists on the Water

(Sailboats on the Seine, Claude Monet)

When: On view November 9th through February 17th, 2014
Where: Peabody Essex Museum, 161 Essex St, Salem, MA 01970
How: Official Website
What/Why: "As an artistic subject, there could be no better match for the Impressionists than the element of water.  The play of light, sense of atmosphere and physical experience of floating in a groundless world were irresistible for artists like Monet, Renoir, Sisley, Signac and Caillebotte  (an accomplished sailor in his own right)  — key Impressionists who spent many hours at sea, on river boats, leisure craft and floating studios.
These artists painted in gestural techniques to suggest movement and the ephemeral, yet also frequently made specific notations of changing configurations of hull, sail and rigging. In the process, they celebrated the experience of gently drifting on a riverboat, or braving the elements on a ship at sea.
Through nearly 60 oil paintings, works on paper, models and small craft, this exhibition illuminates the importance that access to the sea and France's extensive inland waterways played in the development of one of the world's most enduring artistic movements.
This exhibition is organized by the Fine Arts Museums of San Francisco. Support provided by the East India Marine Associates of the Peabody Essex Museum. Supported by an indemnity from the Federal Council on the Arts and the Humanities. "
Also on view..
Beyond Human: Artist-Animal Collaborations

(Platform Shoes, William Wegman)
How: Official Website
What/Why: "The redesigned Art & Nature Center features new exhibition spaces, art studios, interactive stations and amenities for young families. Dynamic and welcoming, PEM's Art & Nature Center features special programs, activity stations, multimedia elements and annual exhibitions that highlight the vital connections between human creativity and the natural world. The center's premiere exhibition, Beyond Human: Artist–Animal Collaborations, features nearly 40 paintings, installations, photographs and audio and video recordings by artists who co-create or investigate art with live animals. From bowerbirds that create elaborate displays to Asian elephants that have learned to paint and Weimaraners that patiently pose for photographs, Beyond Human explores the varied ways in which contemporary artists interface with animals to create original and surprising works of art. "
—————-
The Irony of Movement: Three Artists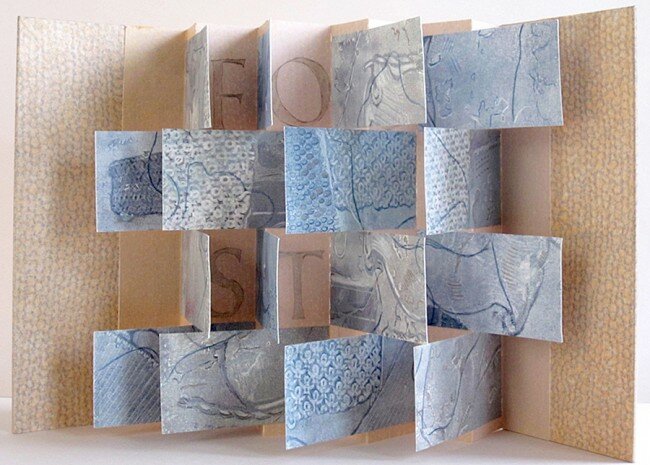 (Jan Powell)
When: November 6 – December 4, 2013
Opening Reception: Friday, November 8th, 5:30-7:30pm
Where: Cambridge Art Association, Kathryn Schultz Gallery, 25 Lowell St. Cambridge MA 02138
How: Official Website
What/Why: "Small Group Show featuring work by Vladimir Barsukov, Jan Powell & Timothy Wilson. There is an irony between actual physical motion and its expression as movement in art. Three visual artists work with this ironic tension through mono prints, photographs and mobiles, making a continuum of movement from implied to actual, or from conceived to expressed. 
Timothy Wilson, a photographer, uses a literal moment of photographic time to envision and then record an image by way of a digital device.  Jan Cadman Powell, a printmaker, transforms her ideas to a plate and fixes what must be an eternal moment in the turning of machinery, creating a dramatic distillation of time in thought in a single print. Vladimir Barsukov transforms metal and other solid materials from a mass to a feather, from flatness to a waving petal. Through his mobiles, these materials are further transformed from expressed into actual motion. Though the media through the which the force of movement happens in the work of these three artists are very different,  it works together to form a cohesive statement of process and resulting movement." 
—————-
Rose Olson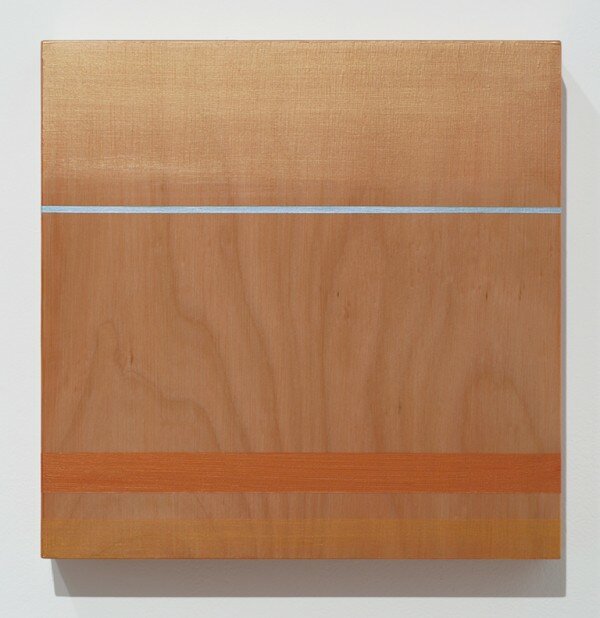 (Expanding Glow)
When: On view through December 1st, 2013
Where: Kingston Gallery, 450 Harrison Ave, Boston, MA 02118
How: Official Website 
What/Why: "You could call me a Minimalist because my work is reductive, but I am also a dedicated colorist. Both of these elements are inseparable. I paint veils of color on wood. The grain of each panel is carefully considered before I begin, applying the many transparent layers of different hues intuitively until the final effect is achieved.
Formalist structure holds everything in place but not rigidly. The hard mathematical banding creates a tension with the soft brush strokes and natural wood. It also offers me an opportunity to make the painting come alive, in a sense, because I mix and layer paint in such a way that the colors often change, as the viewer moves, or the light shifts. I am conscious of the interplay between the suggested and the material. Iridescence and luminosity contribute to how my work holds the space. I want my colors to be so complex that they appear to hover over the surface, drawing the viewer in for closer inspection.
These paintings reflect my passion for color and its interaction with the beauty of natural elements. I want the combination of these new liquid hues and the grain of the wood, to create something as unique as a thumbprint."
—————-
Missing Stories: Artwork by Shelah Horvitz

When: On view through November 29th, 2013
Opening Reception: Saturday November 9, 6–9PM
Where: Atlantic Works Gallery, 80 Border Street, East Boston MA 02128
How: Official Website
What/Why: "When people look at Horvitz's paintings, they want to know the story. What is the bear looking at? Where is the owl going? Why? We make sense of the world through the stories we tell ourselves about our lives. Our stories reflect our passions, show our outlooks, and reveal our blind spots. The stories we tell are our self-portraits.
Horvitz's paintings remind us of cave paintings, of children's book illustrations, of religious paintings. They allude to times when our belief is pure and raw. But they have no easy answers. Her animals are neither cuddly nor vicious, they just are, trying to get by on their own terms, as we are. Her landscapes are open and full of menace or potential, depending on how you look at them. The story her painting triggers is your story, and it will change from view to view.
So when you look at one of Horvitz's paintings, you may find yourself looking at yourself, at your most vulnerable, and at your most heroic. The story continues beyond the painting."
—————-
Light Years: Jack Whitten 1971-1973

When: On view through December 15th, 2013
Where: Rose Art Museum, 415 South St, Waltham, MA 02453
How: Official Website
What/Why: "Light Years is curated by the Rose's new Curator at Large, Dr. Katy Siegel, Professor of Art History at Hunter College, CUNY.  Jack Whitten (b.1939) began his earliest experiments in painting during the 1960s, inspired by Abstract Expressionism.
This exhibition is the pioneering artist's first solo exhibition in New England, and features several never-before exhibited monumental canvases in the early 1970s. 
For Whitten, 1970 marked what he calls a "time of reckoning" in his painting, a decisive moment when he erased the hand of the past and moved into his own present. Whitten began a course of experiments with paint that expanded, quite literally, the scale of painting on canvas. Gesture was removed; the paint and canvas were "processed", produced through large troughs of paint dragged across the canvas with tools including , squeegees, rakes, and combs.
In addition to Whitten's monumental works, the exhibition includes experimental drawing studies and small works on canvas made with slices of dried acrylic paint, among the first collages ever made using paint."
—————-
Odd Jobs

(Installation Box, prior work by John C. Gonzalez)
When: On view through November 30th, 2013
Where: sübsamsøn, 225 Friend Street, Boston, MA 02114
How: Official Website
What/Why: "Each artist working for Yayuan Art Co. in Dafen, China was hired to paint a 4 x 4 inch canvas with their favorite color and instructed to write what that color reminded them of on the back of each painting. The project utilized the company's manufacturing infrastructure, which is the production of hand-made oil paintings for export to create 51 oil paintings (one by each artist).
Odd Jobs is a collection of recent work by John C. Gonzalez, a Boston-based artist whose work involves ongoing collaborative projects. For this exhibition, Gonzalez presents a series of fragmented groupings of objects that connect to notions of work and embody a sense of extended relationships with Art History, himself, and others."
—————-
Social Acupuncture/Social Meditation: All the Bandages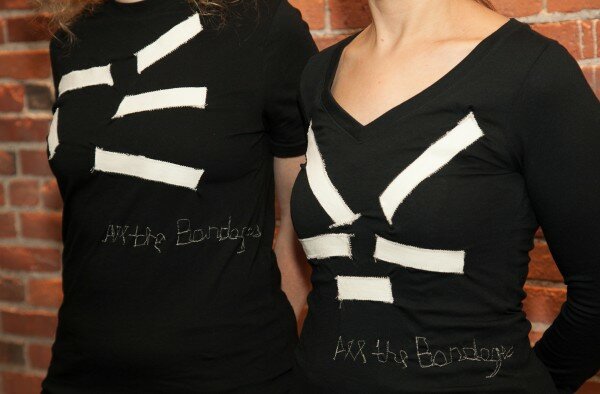 When: On view through November 30th, 2013
Opening Reception: Thursday November 14, 5-7pm
Where: Made in Fort Point, 30 Channel Center Street, Boston, MA 02210
How: Official Website
What/Why: "Made in Fort Point will be featuring a cross installation/wearable show by Alys Myers for the month of November. Social Acupuncture/Social Meditation: All the Bandages is an installation with a wall of T-shirts with "bandages" and sewn on "scar tissue" representing the pain in the life of 15 individual people you may walk past each day.
"You may be one of them, in fact, I'm sure you are one of them, as am I.  We all have internal scars and baggage which makes us who we are.  What if we could see this damage on everyone as they pass us in the street? Would you react to them differently?"
This show addresses each individual's human condition and our ability to tolerate, accept and have empathy for one another's past history of pain.
Alys Myers is primarily a sculptor who works in steel and textiles with a bit of conceptual work thrown in. She began as a filmmaker, migrated to sculpture and furniture making, and worked primarily in textiles after her master's degree in African art. She now lives by the whim of her inner self-expression, which as of late has been telling her to confuse people."
————–
One X One: A Tribute to the Human Spirit

When: On view through January 6th, 2013
Opening Reception: Friday November 8th, 7-9PM
Where: Athan's European Bakery & Cafe, 1621 Beacon Street, Brookline, MA 02446
How: Official Website
What/Why: "One X One: A Tribute to the Human Spirit".  The exhibit is a tribute to last year's Boston Marathon and celebrates the endurance and determination of the human spirit! 
The show features encaustic & mixed media art works from nine New England artists including Paul Kline, Barb Cone, Lola Baltzell, Amalia Tagaris, Constance Bigony, Catherine Rogers, Otty Merrill, Linda Widstrand and HeidiCerullo!"
—————-
Allston Open Studios

(Two Wild And Crazy Guys, BJ Comerford)
When: Saturday November 9th-10th, 12:00-6:00PM
Where: Allston, MA | List of locations here.
How: Official Website
What/Why: More information about the 27th Annual Allston Open Studios here.
————————
Blood Mass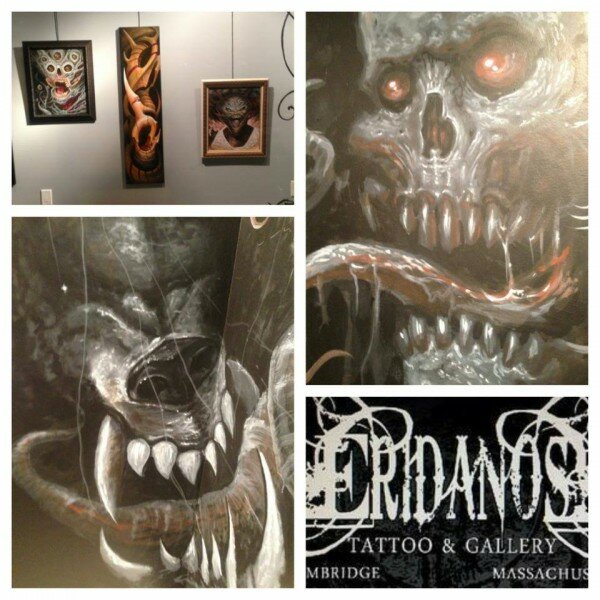 When: Saturday November 9th, 2013 7:00-11:00PM
Where: Eridanos, 36 Prospect St., Cambridge, Massachusetts 02139
How: Official Website
What/Why: "Eridanos Tattoo and Gallery would like to invite you to our first annual "Blood Mass" and Grand Opening party for our tattoo studio and contemporary fine art gallery in Cambridge, MA. on November 9th from 7-11pm.
This opening exhibit brings in some of the top artists from around the world, featuring a collection of various pieces from in-house and guest artists including:
Mark Blanchard,Cris Gherman,Timothy Boor, Stefano Alcantara, Hector Cedillo, Christian Perez, Josh Duffy, Ty McEwen,Jose Perez, Jason Maybruck, Marvin Silva, John Clue, George Perham, Raquel Cude, Alex Harris Come see great minds collaborate over canvas as we showcase a unique Art Fusion live painting show throughout the night. Wine and beer will be provided while supplies lasts. Come out, celebrate, show your support and enjoy some of the finest artists at our new Central Square location!"
—————————–
Janine Antoni

(Lick & Lather, Janine Antoni)
When: Thursday November 14, 2013 6:30pm
Where: CFA Concert Hall, 855 Commonwealth Ave., Boston, MA
How: Official Website
What/Why: "Janine Antoni is a contemporary artist working in performance art, sculpture and photography. Antoni's work is process-driven, and relates deeply to the artist's body as both subject and mode of production. She has made drawings with her eyelashes, used her hair as a paintbrush, cast full body self-portraits in soap, and slept in a gallery for 28 days. Her seductive, culturally loaded materials—chocolate, cosmetics, the artist's own body—reveal an interest in identity, power, and representations of the feminine in contemporary society. Her work is constantly evolving, pushing the boundaries that separate art from everyday life and objects, while simultaneously challenging her viewers' assumptions about the world around them."
—————-
Say hi:
EMAIL | TWITTER | FACEBOOK | INSTAGRAM | PINTEREST
Did you hear about the free(ish) gallery opportunity downtown?
Proposals are due by next Friday November 15th– get on it! ✉ ☑
Enjoy the weekend, I hope you see lots of lovely things.  ♥