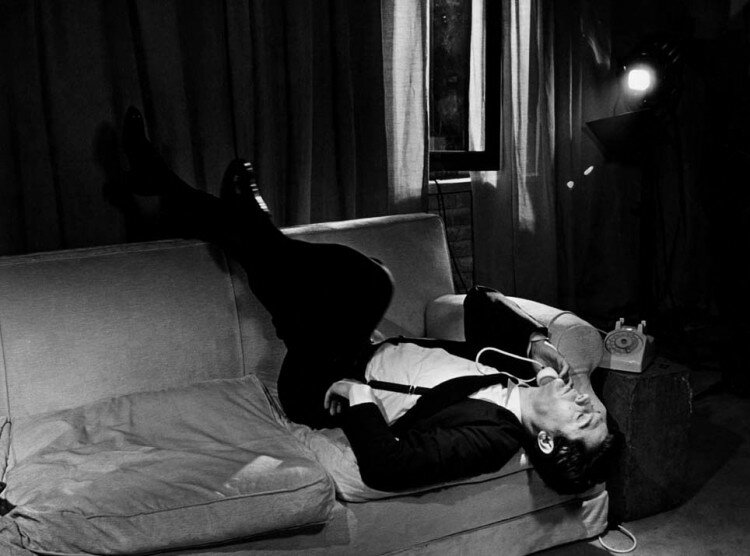 magic moments x lies are fine x boundaries x migration x moving on
—————————-
Big Screen Classics: Jurassic Park
When: Monday July 23rd, 2012 , 7PM
Where: Coolidge Corner Theater, 290 Harvard St , Brookline, MA 02446
How: Official Website
Cost: $9
What/Why: "Huge advancements in scientific technology have been able to create an island full of living dinosaurs. John Hammond has invited four individuals, plus his two grandchildren to join him at Jurassic Park. But will everything go to plan? Especially when one of the parks own workers attempt to steal the dinosaurs embryos, and have to shut down all the electricity in the process. It's now a race for survival with everyone located all over the island."
Yes.
——————————
Highland Free Fun Fridays

(Higgins Armory)
"Free fun fridays invites Massachusetts residents and tourists to visit designated cultural attractions every Friday this summer with free admission. No registration or tickets required. Visit and enjoy!"
Free attractions for July 20th, 2012:
BUTTONWOOD PARK ZOO
MASS AUDUBON VISUAL ARTS CENTER
HANCOCK SHAKER VILLAGE
PILGRIM MONUMENT AND PROVINCETOWN MUSEUM
HIGGINS ARMORY MUSEUM
———————-
Seven: A Performative Drawing Project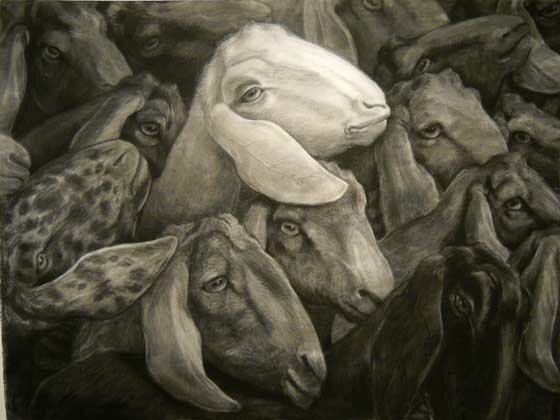 (Moving On, Prior work by Barbara Moody)
When: On view through August 3rd, 2012// Barbara Moody July 23rd-27th
Barbara Moody Reception: Thursday July 26, 4 – 6pm, Gallery Talk at 4:30pm
Where: Montserrat Galleries, 23 Essex Street , Beverly, Massachusetts 01915
How: Official Website
What/Why: "Seven weeks, seven walls, and seven artists invited to 'draw' directly onto the gallery walls. This project highlights the performative aspects of drawing and the individual nature of each artist's process. The gallery will be open during the making of the works, effectively putting the creative process on display. In this context, the finished drawings are the residue of the performance."
—————————-
Magic Moments – Henrik Hakansson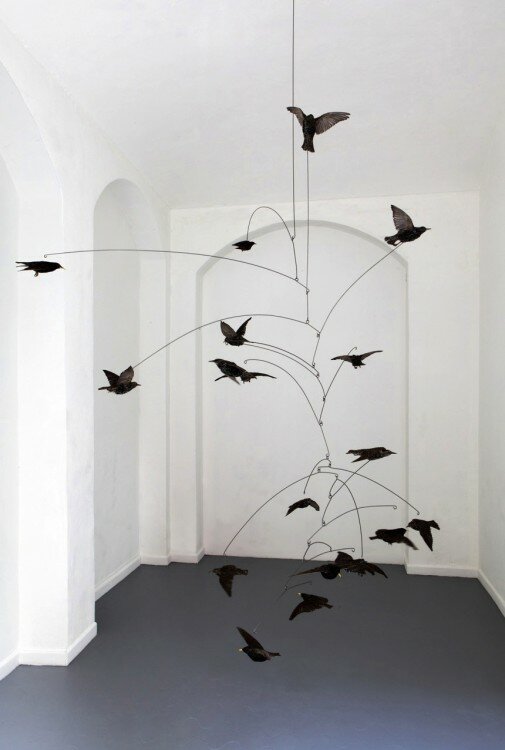 (Vertical Swarm, prior work of Henrik Hakansson//note: The 12th of Never (Extract from the Void) will be on view at ISGM)
When: On view through July 23rd, 2012
Where: Isabella Stewart Gardner Museum, 280 Palace Road  Boston, MA 02115
How: Official Website
What/Why: "Many Gardner Museum Artists-in-Residence work in the medium of film, video, and digital projection. During the summer months, the Museum will present a selection of nine projections in the Special Exhibition Gallery. Ranging in length from just a few minutes to almost an hour, the works will be shown in a continuous loop during open hours, highlighting a different work each week and providing a unique opportunity to view these works."
About Henrik's work: "The 12th of Never (Extract from the Void), 2000 / 20 min. 
Made in the jungles of Trinidad, this haunting and enigmatic work documents the artist's attempt to communicate with insects."
———————————
From Daguerreotype to Digital Anthropology and Photography
Where: Peabody Museum of Archaeology & Ethnology, 11 Divinity Ave. , Cambridge, MA 02138
How: Official Website
What/Why: "Anthropology and photography have a long history together, dating back nearly to their origins in the mid-nineteenth century. Photography was embraced by anthropologists and others seeking new ways to portray human physiognomy, culture, and experience. Each technical innovation allowed anthropologists to expand their examination of human existence around the world, from early daguerreotypes to today's digital photographs and video. The exhibition is curated by Lisa Barbash, Associate Curator of Visual Anthropology."
——————————
Twelve Artists, Twelve Objects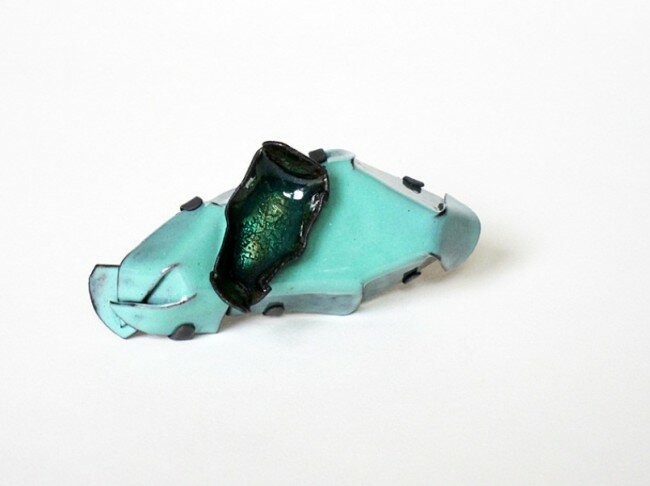 (Barnacle No. 09, Kate Bauman)
When: On view through August 25th, 2012
Where: SAC Exhibition Gallery, 175 Newbury Street, Boston, MA 02116
How: Official Website
What/Why: "Twelve Artists, Twelve Objects, 2012 brings together MFA graduates from the Metals program at The State University of New York, New Paltz. The idea for this exhibition developed out of a project assigned at New Paltz where the objective is for students to have a limited amount of time to create a concise body of work. The project becomes an exercise in sketching, material explorations and trusting ones intuition.
Each artist has created twelve discrete pieces to be exhibited. The imposed parameters gives each artist the opportunity to take a step back from their regular practice to participate in a process oriented, idea generating exercise. The spectrum of working styles from object makers to installation artists to jewelers will ensure that a diverse and interesting collection of art is presented."
——————————
Play Ball!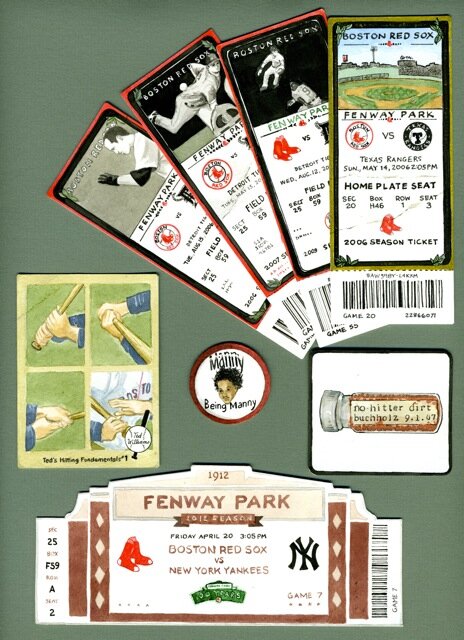 (The work of Laura Davidson)
When: On view through October 26, 2012
Where: The Gallery at Atlantic Wharf, 290 Congress Street, Boston MA 02210
How: Official Website
What/Why: "Fort Point artists honor 100 years of Boston baseball works by: Laura Davidson, Leslie A. Feagley, Joanne Kaliontzis, Ian Kennelly, Andrew Kirby, Elisa H. Hamilton, Jean Hangarter, Karen McFeaters, Danny O, Sylvia Stagg-Giuliano, Anne Welch 
Atlantic Wharf is open daily 7am-10pm"
—————————–
The Work of Jeff Cohen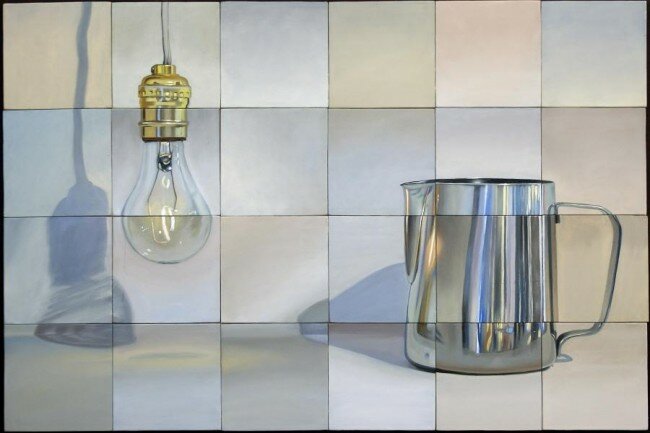 (Bulb and Pitcher)
When: On view through August 2012
Where: Gold Gallery, 655 Tremont St., Boston, MA 02118
How: Official Website
What/Why: "Gold Gallery is the new contemporary art project in Boston's historic South End. Founded by entrepreneur, Adam Gold, the gallery is an art experience rooted in education, innovation, and discovery."
——————————
Ocean Frontiers 

When: Tuesday July 24th, 7PM
Where: Northeastern University Marine Science Center, 430 Nahant Rd , Nahant, MA
How: Official Website
What/Why: "This new film, Ocean Frontiers, takes us on an inspiring voyage to seaports and watersheds across the country to meet an intermingling of unlikely allies of industrial shippers and whale biologists, farmers and fishermen, snorkelers and many more, all of them embarking on a new course of cooperation in defense of the seas that sustain us. Topics to be discussed include invasive species, habitat destruction, marine protection, wave and tidal energy, etc. There will be a post-film discussion led by Winston Vaughn, of the Conservation Law Foundation. All films will be screened in the Murphy Bunker at the Marine Science Center. Light refreshments will be served half an hour before the start of the program, and most films last for 1-1.5 hours. The MSC is ADA-accessible, and no reservations are required."
——————————
APONOVICH 52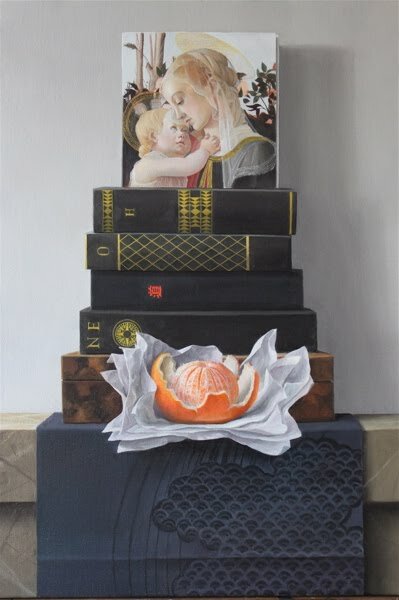 (Still Life with Stacked Books)
When: On view through July 28th, 2012
Where: Clark Gallery, 145 Lincoln Road , Lincoln, MA 01773
How: Official Website
What/Why: "A Painting Marathon: 52 Weeks / 52 Paintings. The painter, best known for his still lifes, undertook to createa new canvas every week for an entire year. Working within such rigid parameters, Aponovichbuilt a body of work that investigates the act and ritual of painting.
"With APONOVICH 52, James has entered a new terrain for painters of his genre. With his strict conceptual time-based premise of completing one painting each week during the past year, his painting methodology become part performance, part ritual and part obsession. In directing all of his thoughts and efforts to complete a painting each week, Aponovich 52 is a work of profound contemplation on art and the act of painting: transcendent , inspirational and visionary." –Dana Salvo, Clark Gallery"
——————————
ArtBeat: Migration

When/Where: July 20 Friday evening: Seven Hill Park 6-10:30pm | July 21 Saturday day: Davis Square 11am-6pm
How: Official Website
What/Why: "On July 20 & 21, we will present one of the area's largest and most innovative arts festivals, complete with two stages of music with over 15 bands, dance troupes, 100 craft and community vendors, food and migration-themed activities. 
Migration evokes many ideas: movement, immigration, Monarch butterflies fluttering en masse and New England snowbirds heading to Florida's balmy shores. "
—————————–
Lies Are Fine
When: Friday July 20th, 2012, 7:30PM
Where: Industry Lab, 288 Norfolk Street, 3rd Floor, Cambridge, MA 02139
How: Official Website
What/Why: "An evening of performance and installation at the Industry Lab Gallery, featuring: Trisha Holt, Matt Glass, Seah Joseph Patrick Carney"
—————————–
Boundaries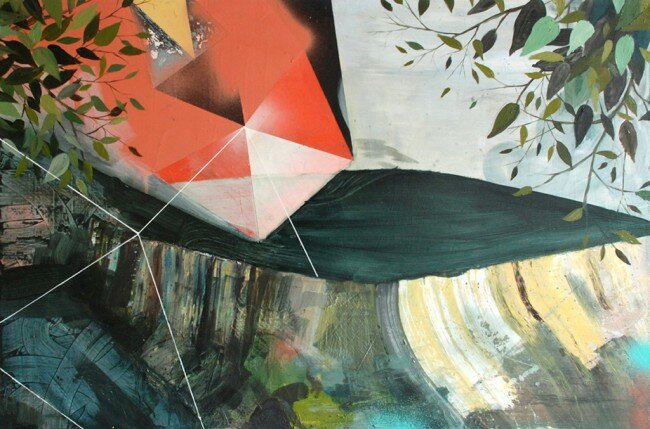 (Tyler Scheidt)
When: On view through July 29th, 2012
Where: 225 Friend Street Gallery, 225 Friend Street Boston, MA 02114
How: Official Website
What/Why: "The exhibition Boundaries features the work of five artists, Mairikke Dau, Sarah Fleming, Youjin Moon, Vicki Piron, and Tyler Schiedt. The exhibition divides the language of painting into five thematic sections, color, shape, light, material, and space. Mairikke's vibrant use of color investigates pictorial perception with actual visual conflict. Sarah folds her canvas' into specific shapes to call attention to the physical interaction of painting as object. Youjin manipulates projected image to create a sensory experience of painting with light. Vicki infuses the art-making process with the variously faceted languages of her materials. And Tyler's use of space focuses on the fleeting moments of our world, specifically on individual relationships to the environment. By combining these elements we begin to break down the threshold between painting and viewer. The exhibit is centered primarily on how the viewer's interaction with the work will effect their perception of painting."
—————————–
What did I forget? Tell me.
Pack it up. Move it out. ♥