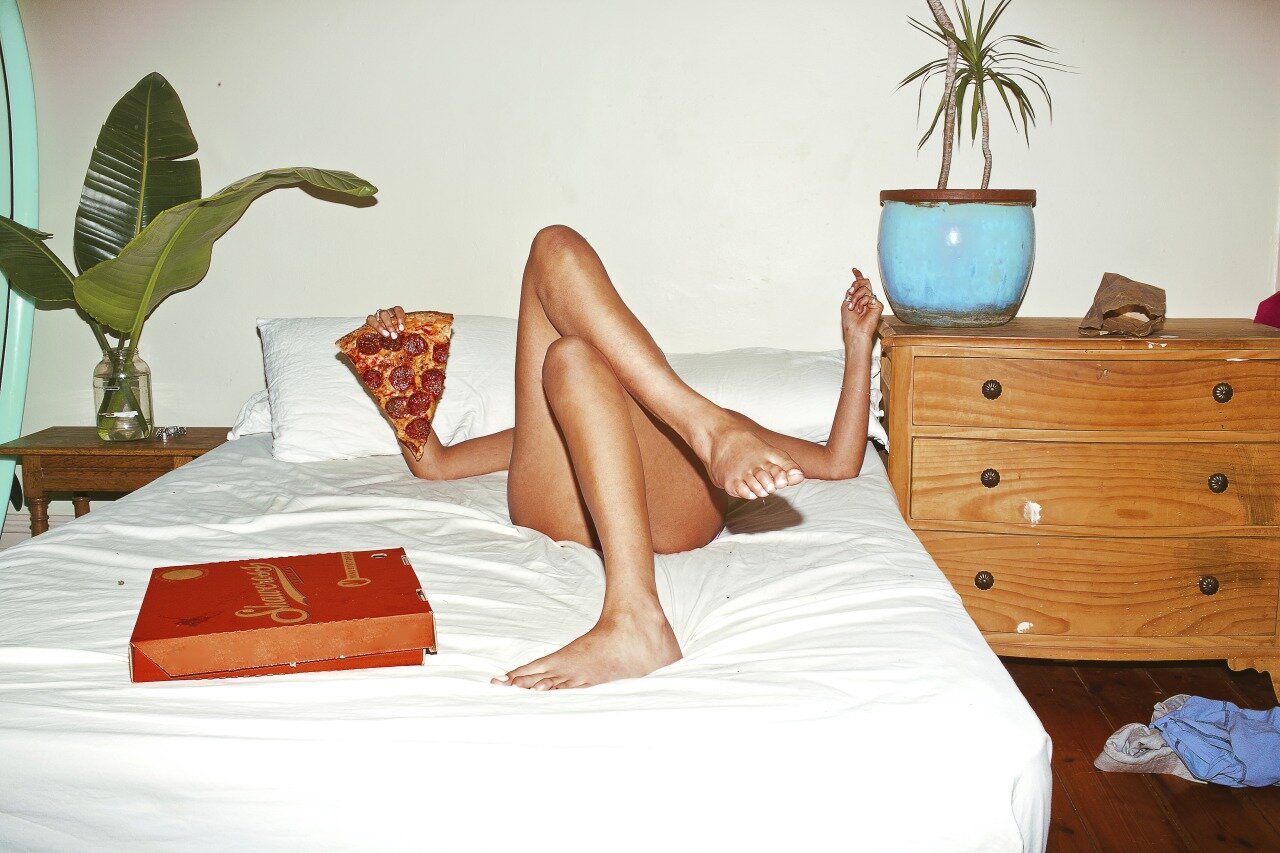 work worth doing x worlds within worlds x a sense of timelessness
——————————————–
Susan Alport: Juxtaposed
When: On view March 2-27, 2016
Opening Reception: Friday, March 4, 2016, 5:30-8:00 pm
Where: Kingston Gallery, 450 Harrison Ave, No. 43, Boston, MA 02118
How: Official Website 
What/Why: "In her mixed media installation, Juxtaposed, Susan Alport invites viewers to ponder how new combinations of familiar and repurposed images and materials can change perceptions of how and what we see. Using original, appropriated, found, and altered photographs, drawings, objects, and text, Alport explores visual recognition by juxtaposing seemingly improbable pieces and parts to find inklings of an answer. Other of Alport's new work was recently shown at Maud Morgan Arts Chandler Gallery in the 2015 juried exhibitions Text & Image and Images of Grief and Healing."
——————–
Brice Marden: Prints from 1972 to 1998
 When: On view through March 12, 2016
Where: Barbara Krakow Gallery, 10 Newbury Street, Boston, MA
How: Official Website
Also on view..
Cornelia Parker: Thirty Pieces of Silver (Exposed) 
 When: On view through March 12, 2016
Later in the month…
Richard Smith: Works from the 1970's
When: On view March 19, 2016 – April 23, 2016
——————–
June August: Images of Women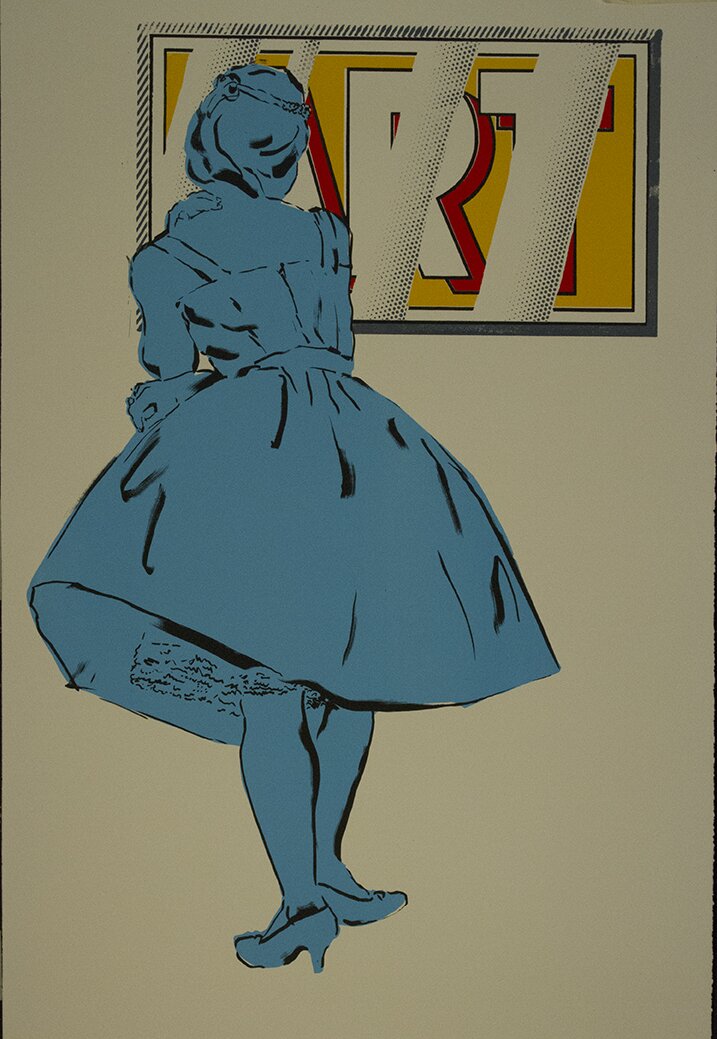 When: On view through March 31, 2016
Where: Boston City Hall Galleries,  The Mayor's Gallery, 5th Floor, 1 City Hall Plaza, Boston, MA
How: Official Website
What/Why: "A Midwesterner living in Boston, June August makes multidisciplinary artworks integrating printmaking, painting, installation and performance. Awards of artist residencies and exhibitions in the USA, Ireland, France, Finland, Germany, Belgium and Japan have shaped her work. She was awarded a Fulbright to France. An MFA graduate of School of the Museum of Fine Arts Boston/Tufts University, she had a one-year research fellowship at Tokyo National University of Fine Arts, Japan. Since then she had residencies at the Cite Internationale des Arts in Paris, Frans Masereel in Belgium, Lower East Side Printshop in New York and Kala in San Francisco. In 2008 she had a Visiting Artist grant to Cork, Ireland. The Museum of Fine Arts Boston among other institutions has her work in their Permanent Collection.
Statement: One of the primary themes of my work is art about art to which I am particularly attracted. This theme is largely informed by working as a visiting artist in Europe and Asia, particularly my time spent in Japan. This exposure has encouraged me to make connections among art works and artists of ostensibly disparate media and historical eras with different social, cultural and political concerns."
——————-
Color & Contrast: A Rotating Group Exhibition
When: On view through February 2016
Where: Chase Young Gallery, 450 Harrison Ave, No. 57, Boston, MA 02118
How: Official Website 
——————–
Rodrigo Valenzuela, Hedonic Reversal
When: On view through March 19, 2016
Opening Reception: Friday, February 5, 2016, 5pm
Where: Steven Zevitas Gallery,450 Harrison Avenue #47 , Boston, MA 02118
How: Official Website 
——————–
Jackie Nickerson
When: On view through March 26, 2016
Opening Reception: Friday February 5, 2016
Where: Samson Projects, 450 Harrison Ave, Boston, MA 02118
How: Official Website 
——————–
Jacob Collins: Recent Paintings: Landscapes and Still Lifes
When: On view March 4th through April 10th, 2016
Opening Reception: Friday March 4th, 2016
Where: Adelson Gallery, 520 Harrison Ave, Boston, MA 02118
How: Official Website 
What/Why: "A leading figure in the contemporary revival of classical painting, Jacob Collins was born and received his formal training in New York, and also studied in Paris. He embraces a variety of subject matter and is equally adept at portraiture (his sitters have included J. Paul Getty Jr., President George Herbert Walker Bush, and Supreme Court Chief Justice Warren Burger) as he is at painting landscape, still-life and figural themes. Collins, who has said he aims to "paint with the skills of past masters while still feeling fresh," relies on meticulous observation, careful draftsmanship, and dramatic use of darkness and illumination to create works that — while set in the present — exude a sense of timelessness. "
——————–
Laura Evans: The Aching Web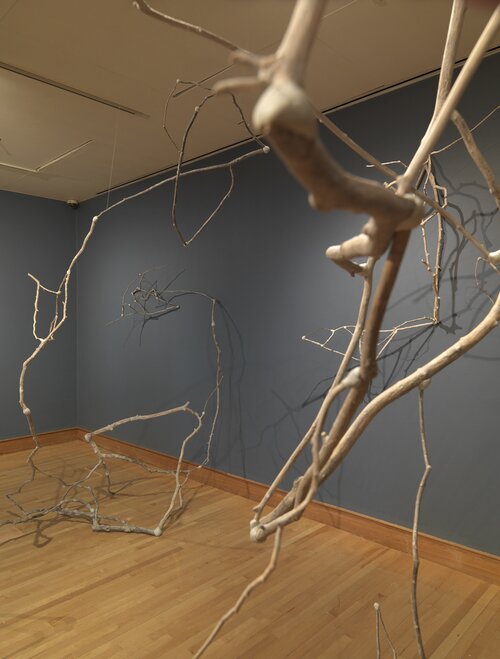 When: On view February 24th-March 27th, 2016
Opening Reception: Friday, March 4, 5:00 – 8:00 PM
Where: Boston Sculptors Gallery, 486 Harrison Avenue, Boston, MA 02118
How: Official Website 
Also on view..
Christopher Frost: Mutation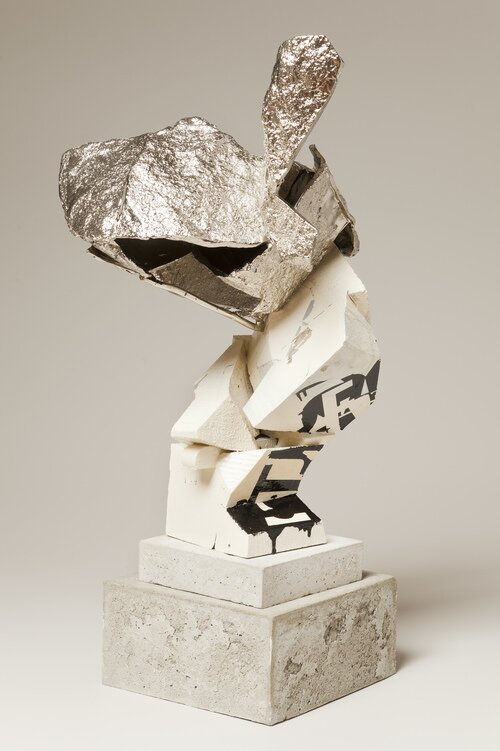 ——————–
Worlds Within Worlds :: Phil Fryer, Faith Johnson, Trevor Powers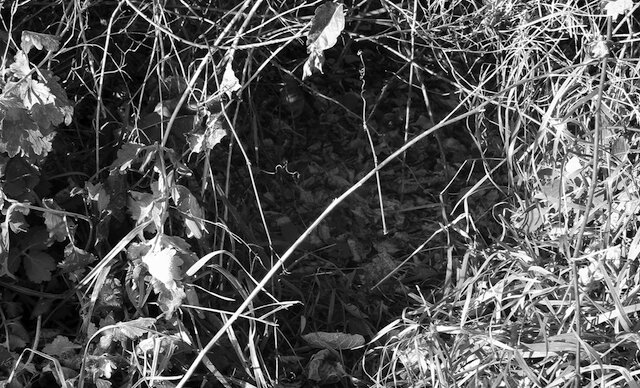 When: On view March 5th – April 16th
Opening Reception: March 5 from 6-8pm
Where: Proof Gallery,  516 E. 2nd Street, South Boston, MA 02127
How: Official Website 
What/Why:"Proof Gallery is thrilled to present Worlds Within Worlds an exhibition which operates on the premise that the present moment is a world unto itself, bookended by the infinite moments that have come before and those that will follow. Through objects, environments, photographs and performances Trevor Powers, Faith Johnson and Phil Fryer position audience or viewer as participant – to co-create shared experiences, and by extension worlds.
Trevor Powers depicts a conversation between domestic and wild nature through black and white photographs of dog holes. His delicate images create portals into a secret language; canines alter their environments and leave a legible imprint. Powers documents the end result of these interactions, capturing these impermanent and fleeting worlds.
The performance work of Philip Fryer opens a portal to the expanse of his internal worlds. His work is intuitive and time based and leaves physical evidence of his poetic actions. He will be creating 2 new performances for this exhibit: Wave (one) and Wave (two) which will performed at the opening reception and on the last day of the exhibit. He will also exhibit physical remnants of the performance.
Faith Johnson's work unfolds into the world of the communal through her interactive installations that navigate a collective dream space. She will be exhibiting the body of work Objects for Remembering – an installation that will be activated through facilitated interaction with participants at the opening reception and on the last day of the exhibit. Both the installation and the actions create doorways into collectively envisioning and co-creating the worlds we wish to dream into being.
Worlds Within Worlds is collectively organized by Phil Fryer, Faith Johnson and Trevor Powers."
——————–
Bromfield Friends Celebrate the Life of Rob Reeps
When: On view March 2 – 27, 2016
Opening Reception: Friday, March 4th, 6-830 pm
Where: Bromfield Gallery, 450 Harrison Ave, Boston, MA, 02118
How: Official Website 
What/Why: "A memorial gathering of friends and Bromfield colleagues to celebrate the life and exceptional art of Rob Reeps. Robert Baart Pennie Brantley Maria Coppola Jemison Faust Petri Flint Tom Hall Erica Licea-Kane Robert Morgan Wendy Prellwitz Rob Reeps — Bringing worlds down to size at the Urdang by Cate McQuaid Excerpted from The Boston Globe, January 15, 1998   Rob Reeps: Recent Paintings   When he was 21, Rob Reeps lay back on the hood of his car in southern California and closed his eyes to the sun. The pulsing color he saw against the dark of his eyelids set him on an epic visual journey, in which he has tried to depict everything from the throb of the universe to the rhythm of an atomic particle. Now 47, Reeps makes paintings that act as a funnel for the stuff of life.   His new work at the Beth Urdang Galery hop-scotches from microcosm to macrocosm, landing every so often on scales in between – like human and oceanic. The central image in Milky Way II is the cloudy lavender sparkle of our own galaxy. A painterly storm of blue and red swirls above it on the vertical canvas. But shooting over the entire surface of the painting, like a map of the Freedom Trail gone haywire, are whirling, arcing dotted orange lines depicting the trajectories of a subatomic particle. They weave around chartreuse maps of oceans, which appear brilliant and flat against the galactic depths. To the right, a sunlit cumulus cloud floats like a beacon, something viewers can grab onto to bring us closer to our own scale.   Reeps connects us more solidly to things of our own size in a series of red-on-blue diagrams that runs along the bottom of the painting: the empty face of a clock or compass, a heart, a human brain housed in a skull, a scattering of X and Y chromosomes. The diagrams fit because everything this artist depicts is as much sign as signified.   The painting PG 1613 refers to a point on a grid astronomers have mapped out over the cosmos. Here, a quasar (that's a quasi-stellar object, for those not in the know) burns like a hot coal over the right side of the canvas. The left is filled with a sea of brick-red paint, where the Pacific and Atlantic oceans float. The Atlantic appears again, tilted at a slightly different angle, above the quasar. The red paths of subatomic particles whip loops around the oceans, and the same human-scale diagrams run along the top and bottom, creating a grid.   The science in Reeps's paintings is merely a tool, a handy structure through which the artist can pour the pulse of life, from particular to universal. But it's by way of these tools – these maps, these signs, these paintings – that we come to imagine our universe and ourselves."
Also on view..
Ted Ollier: A Difference of 8 Protons
What/Why: "If you've ever set foot in a science class, you've seen the shape: the stacked boxes of the periodic table of the elements, arranging the building blocks of matter in a sequence that has technical — and mystical — connotations. Mystical? Well, here are the physical materials at their most basic, with their vital statistics dryly tabulated. But the shape is symbolic, the numbers are rhythmic, the chemical symbols Kabbalistic, and, once you get away from the familiar names of common or useful entries, the pseudo-Latin appellations become alchemical, incantatory. Men in robes bent over bubbling crucibles and smoking retorts to learn these dry facts. There is occult meaning here. That is the basis for this exhibition. These are little installation poems based on the difference in properties between chemical elements separated by eight steps of the periodic table — a difference of eight protons residing in the atomic nucleus. But I am not concerned with terminology or theory in this exhibition — what people think of as "science", boring old classroom "science". I wish to show the basis for science and scientific exploration: the variety and beauty inherent at the most basic state of matter. A difference of eight protons is what makes the difference between black crumbly carbon and gray brittle silicon, between gaseous clear oxygen and solid yellow sulfur. It is small enough that it cannot skip an entire period; it is large enough to have definite effects. Some installations are only one jump; others include more. Some elements are common; others are exotic. Each involves the juxtaposition between state, color, form and containment. And each juxtaposition gives a direct, visceral impression of the inherent magic that drove the mystical alchemists to become physical chemists — in order to tease that magic out into science."
Also also on view..
TRANS
What/Why: "Ten New England artists imaginatively explore the meaning of TRANS–transition, transsexual, transportation, transcendent–in a wide variety of media. Dan Dowd James Dye Rebekah Lord Gardiner Melody Hadap Craig Lupien Nat Martin Maggie Nowinski Zoe Perry-Wood Connie Saems Cassandra Zampini "
——————–
Fred Liang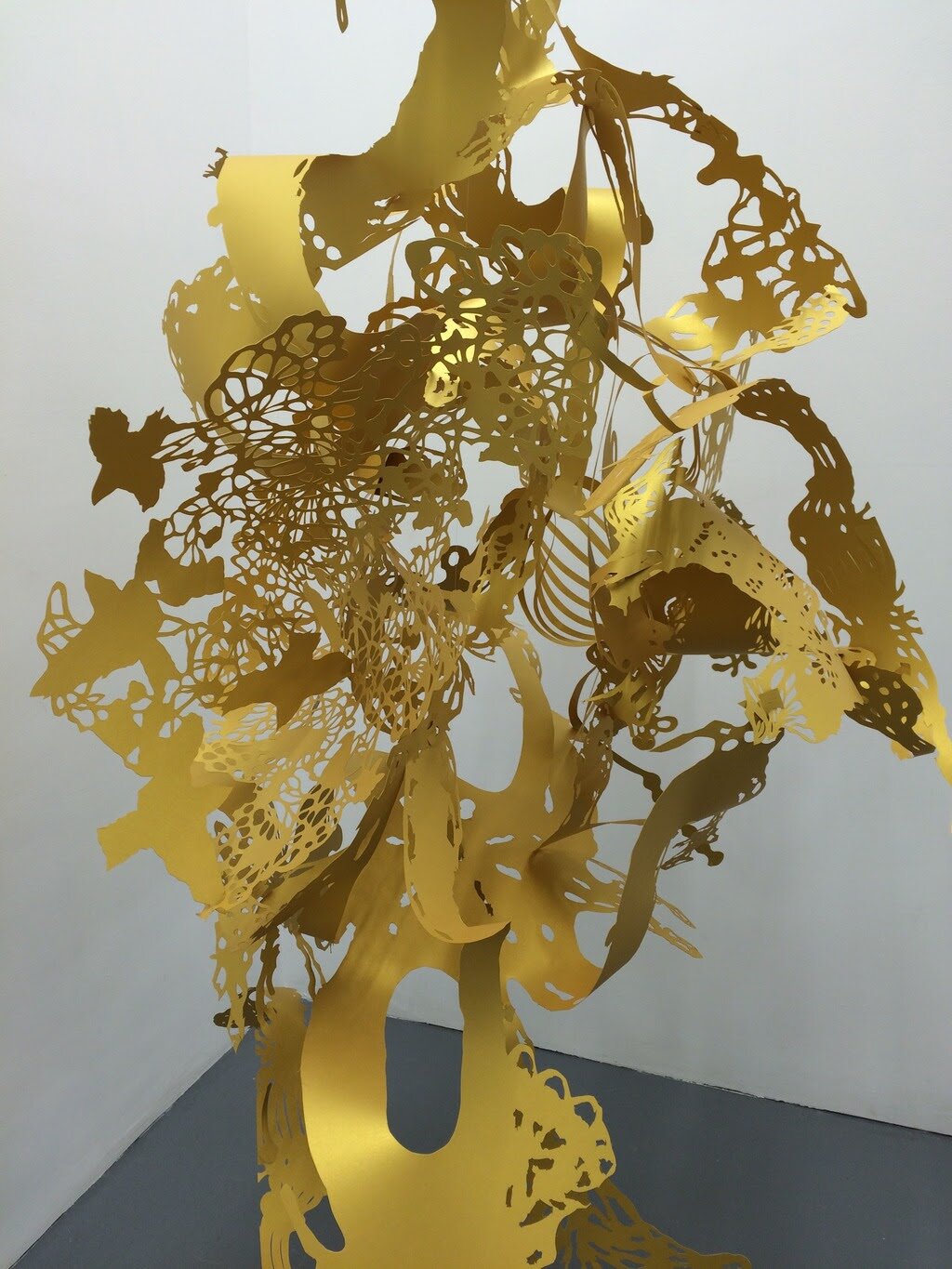 When: On view March 2 – April 16
Opening Reception: March 4, 5:30-7:30PM
Where: Carroll and Sons Gallery, 450 Harrison Ave, Boston, MA 02118
How: Official Website 
——————–
Morgan Bulkeley
When: On view through March 15th, 2016
Where: Miller Yezerski Gallery, 460 Harrison Ave, Boston, MA, 02118
How: Official Website 
——————–
Dualisms

When: On view March 4th through March 27th, 2016
Opening Reception: Friday March 4, 2016 from 5 – 9 p.m.
Where: Abigail Ogilvy Gallery, 460 Harrison Ave, C7, Boston, MA 02118
How: Official Website 
What/Why: "This collective exhibition explores a multiplicity of interpretations of dualism. The artist address conceptual divisions between opposed or contrasted perspectives in religion, philosophy, art and design.  A group show featuring: Safarani Sisters, Sarah Malakoff, Will Russack, Daniel Barreto, Eben Haines"–
——————-
Matthew Keller | Carolyn Letvin | Amy Rizzico

When: On view through March 27th, 2016
Opening Reception: March 4th, 6-8PM
Where: Galatea Fine Art, 460 Harrison Ave, Boston, MA 02118
How: Official Website 
——————–
Dylan Nguyen: Work Worth Doing
  When: On view March 4-27, 2016
Opening Reception: Friday, March 4, 6-9 PM
Where: Uforge Gallery, 767 Centre Street, Jamaica Plain, MA
How: Official Website
What/Why: "I believe creating is a way to feel in touch with being human more than it is about the product. Engaging with the world through manipulating materials, images, text, and machines provides me with a sense of agency. It is a non-linear thinking process developed through observation, trial and error, and repetition– draw, write, think, draw, make, review, scrap, write, make, sketch, doubt, sketch, and share. My recent work has developed in several parallel series. The fragmented drawings of Things I Did and Did Not Own explore familiar objects from various points in my life, where as my work on distraction deals with relationships between people and time. Although each of these series is unique, both dissect and reassemble aspects of reality as a way to better understand their significance. This exhibition is sponsored by the Eliot School of Fine & Applied Arts as part of a series showcasing their faculty. The Eliot School inspires lifelong learning in craftsmanship and creativity for all."
——————–
Asia in Amsterdam: The Culture of Luxury in the Golden Age
When: On view through June 5, 2016
What/Why: "Amsterdam in the 17th century was a vibrant city with global connections. The largest and most powerful trade and shipping company in the world, the Dutch East India Company (VOC) filled Dutch homes with Asian porcelain, lacquer, sumptuous textiles, diamonds and spices. Inspired by these novel imports, Dutch potters, textile designers and jewelers created works of art we now perceive as distinctly Dutch. Artists such as Rembrandt, Willem Kalf, Jan Steen and Pieter Claesz were also quick to incorporate these luxuries into their paintings. Co-organized by the Peabody Essex Museum and the Rijksmuseum, Amsterdam, this exhibition of 170 superlative Asian and Dutch works of art explores the transformative impact that Asian luxuries had on Dutch art and life in the 17th century, bringing new perspectives on the Dutch Golden Age and its relationship to Asia."
Also on view..
Intersections
When: On view February 6, 2016 to July 10, 2016
Where: Peabody Essex Museum, East India Square (161 Essex St) Salem, Massachusetts 01970
How: Official Website 
What/Why: "Intersections is an immersive single room installation that bathes the visitor in a geometric array of light and shadow. Inspired by traditional Islamic architectural motifs, Pakistani-American artist Anila Quayyum Agha's laser-cut steel lantern conjures the design of the Alhambra Palace in Granada, Spain, a historic site of cross-cultural intersection where a thousand years ago Islamic and Western cultures thrived in coexistence. Agha, an internationally renowned, award-winning artist, creates mixed media works that engage topics ranging from global politics and cultural multiplicity, to mass media and gender roles."
——————–
Walid Raad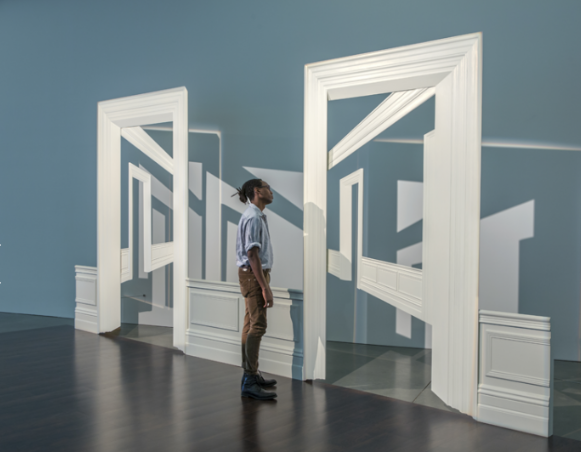 When: On view through May 30, 2016
Where: ICA Boston, 100 Northern Avenue, Boston, MA
How: Official Website
What/Why: "This exhibition will be the first comprehensive North American museum survey of the internationally recognized artist Walid Raad (b. 1967, Lebanon), whose work in photography, video, sculpture, and performance in the last 25 years investigates the distinctions between fact and fiction and the ways we represent, remember, and make sense of history. Dedicated to themes exploring the veracity of archives and photographic documents in the public realm, the role of memory and narrative within discourses of conflict, and the construction of histories of art in the Arab world, Raad's work is informed by an upbringing in Lebanon during the civil war (1975–1990) and recent socio-economic and military policies that have shaped the Middle East in the past few decades. The exhibition will feature a selection of works produced in the past 25 years in photography, video, and sculpture. "
Also on view..
Diane Simpson
What/Why: "Chicago-based artist Diane Simpson's (b. 1935, Joliet, Illinois) elegantly constructed sculptures evolve from a diverse range of materials, clothing, and architectural sources. While elements of her creations appear to effortlessly hang and fold, they are in fact the result of a rigorous approach to construction techniques, reveling in passages of pattern, joinery, and skewed angles that are by turns humorous and psychologically-charged. This concise survey of over 30 years of work will include a suite of preparatory drawings and sculptural work made from the early 1980s to the present in materials ranging from corrugated cardboard and medium-density fiberboard to aluminum, wool, polyester, poplar, faux fur, fleece, mahogany, brass, copper, and steel.  This will be the artist's first solo museum exhibition on the East Coast."
—-
#Techstyle
When: On view March 6, 2016 – July 10, 2016
Where: Museum of Fine Arts, Avenue of the Arts, 465 Huntington Avenue, Boston, Massachusetts 02115
How: Official Website 
What/Why: "Clothes that respond to the environment, dresses you can tweet, and garments that come off a 3-D printer ready to wear—all of these innovations are poised to have a profound impact on the future of the fashion industry. Designers have embraced these innovations and "#techstyle" explores how the synergy between fashion and technology is not only changing the way designers design, but also the way people interact with their clothing. The exhibition draws on the MFA's collection of contemporary fashion and accessories, and features key pieces from innovators in the field including a digitally-printed dress from Alexander McQueen's Plato's Atlantis collection (Spring/Summer 2010/2011) and Iris van Herpen's 3-D printed dress (2013) produced in collaboration with MIT designer and assistant professor Neri Oxman. Visitors experience the cutting edge of hi-tech fashion with special commissions created by CuteCircuit, Hussein Chalayan, Kate Goldsworthy, and Somerville-based Nervous System."
Also on view..
The Idea of North – The Paintings of Lawren Harris
When: On view March 12, 2016 – June 12, 2016
What/Why: "Lawren Harris (1885–1970) was a pioneering modernist whose visionary paintings have virtually defined 20th-century Canadian art. His scenes of an evocative northland, isolated peaks, and vast expanses of shimmering water are considered essential images of the country. This exhibition—guest curated by collector, actor, writer, and musician Steve Martin and organized by the Hammer Museum (Los Angeles) and the Art Gallery of Ontario (Toronto)—will include approximately 30 major paintings of Harris's idealized northern landscapes from the 1920s and 1930s, one of the most significant periods of the artist's career. The exhibition draws from the AGO's substantial holdings, as well as from major public and private collections across Canada—including the National Gallery of Canada and the McMichael Collection—and is the first major solo exhibition of Harris's work to be shown in the United States."
——————–
Remix: Illustrated Products by Emily Dumas
When: On view through March 5, 2016
Where: Montserrat College of Art, 23 Essex Street, Beverly, MA, 01915
How: Official Website 
What/Why: "Montserrat College of Art is pleased to present Remixed: Illustrated Products, a solo exhibition featuring Emily Dumas, in the Carol Schlosberg Alumni Gallery. Dumas is an illustrator, surface designer and hand letterer based north of Boston. Her on-trend, whimsical imagery presents a light-hearted world, with friendly whales, crabs, and octopi inhabiting nautical themes, sushi arrayed in pleasing pastels, and adorable monsters saying phrases that recall beloved pet internet memes, such as "I can has hug?" In Montserrat's Carol Schlosberg Alumni Gallery visitors will find access to two sides of Dumas' creative expression. One area focuses on production, with a clustered arrangement of original drawings beside a neatly lined shelf of framed prints. The other section translates the original, flat imagery into three dimensions. Dumas decides which of her designs to print onto specific products, including magnets, tea towels, socks, and throw pillows. The pastel hues and friendly, buoyant patterns create an inviting, shop-like effect for the gallery display. "I'm looking forward to having my friends and family see this exhibition, because I think it will help them understand what I actually do," said Dumas during the installation. In a world of screens, and with imagery that is well-adapted to being viewed as pixels, rather than in person, Remixed offers insight into the process that goes into making custom items. In addition to surface design, where Dumas adapts her original drawings to a line of products, she also runs Flowers in May, a paper and gift company. Dumas has a BA in Graphic Design from Salem State University, where she currently teaches design and illustration. Dumas has been featured in publications such as: States of Terror, Chroma, and Work/Life. Recently, Dumas illustrated her first picture book Unicorn Park in collaboration with authors Chris and Sophia Lee."
——————–
Gone and Now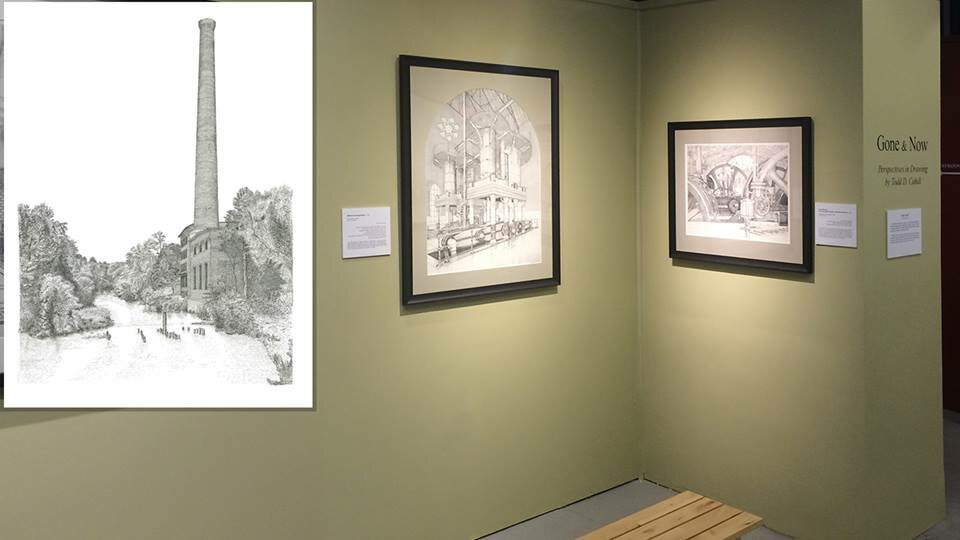 When: On view through May 8, 2016
Opening Reception: March 10, 6:00-9:00PM
Where: Charles River Museum of Industry and Innovation, 154 Moody Street, Waltham, MA
How: Official Website
What/Why:"An exhibition of six large scale pen-and-ink architectural drawings by steam machine artist and sculptor Todd D. Cahill is now up through May 8, 2016.
A sculptor by training and inclination, Todd Cahill pushes beyond the childlike engineering of toy worlds and constructs through to the visual investigation of drawing.
"Gone & Now" explores the journey of Todd's creative process from its origins to where he is today. Devoid of human form, these drawings are very much about people—people he has known, friends that have left and are no more.
His conscious or unconscious metaphoric choice of subject matter reveals a transcendental connection between what is gone and what is present now.
An exhibition of six large scale works. Selected prints are for sale at the Museum.
Regular Museum hours are 10:30-3:30 on Thursdays and Fridays and 10:30-2:30 on Saturdays and Sundays. Regular Admission is $10 for adults, $5 for children, students, seniors, and active duty service personnel.
The March 10th Artist's Reception is free. Refreshments will be served. – No admission, no tickets required."
—————————–
Mags Harries: Precautionary Tales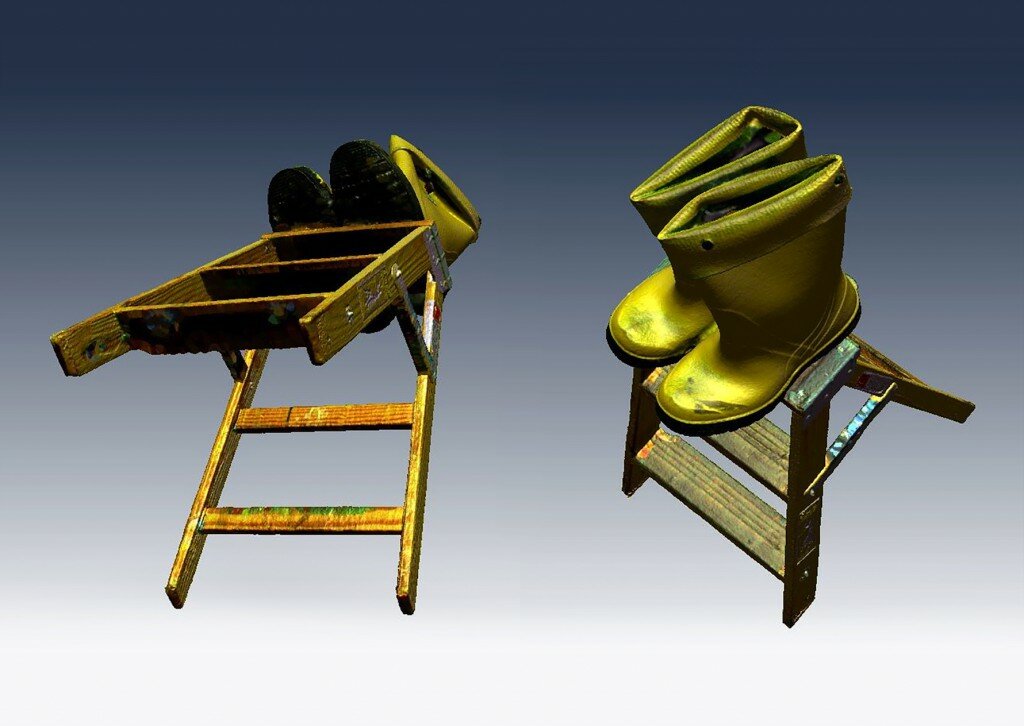 When: On view March 4 through April 9, 2016
Opening Reception: Friday March 4, 5:30-8:00PM
Where: Gallery Kayafas, 450 Harrison Ave, Boston, MA
How: Official Website
What/Why: "As a sculptor I have become fascinated with the idea that instead of modeling and casting objects,  I can collage objects together through the process of 3D scanning. I can re-imagined the objects through their relationships, changing their proportions, scale, color and merging the forms. I can be more playful at the same time be in control of the content, as in a conversation. 
The process is 3D to 2D and back to 3D and in the case of the flying boots back into 2D again. In the process of creating the 3D object it can be viewed from any angle, defying gravity.
The hay bales were taken at the Baer residency in Iceland. I was there over the summer Solstice, the sun never dropped below the horizon and I found it hard to sleep.
These massive stacked hay bales were piled up in the field and the white plastic wrap reflected the light of day within the 24 hour period. As I could not sleep I photographed them through the 24hours, each time marveling at how they changed from body to landscape."  Mags Harries
—————————–
Imago works by Allison Bamcat and Caterina Urrata
  When: On view through March 2016
Opening Reception: March 4th 6 – 8:30
Where: Lens Gallery, 524 Harrison Ave, Boston, MA
How: Official Website 
What/Why: "Growing up is supposed to mean taking on all kinds of arbitrary attributes, from a rejection of play to a specific set of aesthetic standards that ostensibly equal sophistication. We're supposed to put away the bright colors and bold forms of youth and cover our bodies and homes in sensible white, black and gray- maybe a "pop" of color here or there. Imago is the final stage of metamorphosis, from larval form to adulthood. It's this juncture, this moment of dramatic change that we are examining in this month's exhibition. Alison Bamcat and Trina Urrata challenge the assumption that maturity means shedding the things that we love, the form and color that we are attracted to despite the judgement from the minimalists among us.  Bright, brash colors, a full embrace of the decorative, the soft forms of a stuffed animal – Alison and Trina's art draws on sources as varied as tattoo culture, scientific illustration and childhood toys and offers an alternative, more human view of our ongoing transformation, suggesting that we can take some of what had made us who we are, into the future of what we will be."
——————–
Truth to Power
When: On view March 10 – 29, 2016
Opening Reception: Friday, March 11, 6-8pm
Where: Cambridge Art Association, 25 Lowell St, Cambridge, MA 02138
How: Official Website 
——————–
TRIIIBE: Same Difference
When: On view through June 5th, 2016
Where: Fitchburg Art Museum, 185 Elm Street Fitchburg, MA 01420
How: Official Website 
What/Why: "Fueled by a common interest in identity, performance artists Alicia, Kelly, and Sara Casilio (identical triplet sisters) and National Geographic photographer Cary Wolinsky joined forces in 2006 to form TRIIIBE – an artistic collective that often expands to include family, friends, and fellow artists.  TRIIIBE's painstakingly staged photographs, performances, and videos play up the sameness of the sisters to provoke cultural conversations about gender, equality, and difference, while traversing hot-button social and political issues.  Behind each TRIIIBE endeavor is a clever, satirical, and egalitarian exchange of ideas and an elaborate cluster of costumes, wigs, props, and make-up. TRIIIBE: same difference begins by welcoming FAM visitors into a fantastical, faux dressing room, awash in the actual clothing and accessories worn by the Casilios to bend gender and slip through stereotype.  The photographs visitors will see in FAM's main galleries are the result of countless hours of sketching, planning, costume changing, and fine-tuning by all members of the group, collectively.  Wolinsky is an integral part of this creative process and in his hands the camera, too, becomes a collaborator, rather than just a documentary tool.  Every shot, every tableau is shaped by TRIIIBE with and through the camera's lens.  Wolinsky and the sisters then scrutinize hundreds of possible images, poses, and variations before reaching consensus about the final photo to print.  This labored, democratic approach results in unique conceptual photographs that are highly theatrical, stylized, forceful, and refined."
——————–
What Is Left: 2014-2015 Award Recipients of the Wellesley College Alice C. Cole Alumnae Fund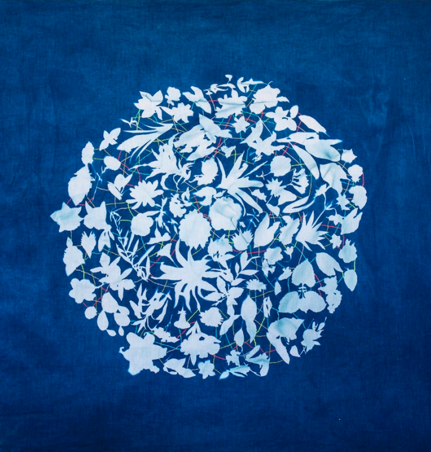 When: On view through March 20, 2016
Where: Laconia Gallery, 433 Harrison Ave, Boston, MA
How: Official Website 
What/Why: "This exhibition brings together a collaboration between Wellesley College and Laconia Gallery to feature new work from six recipients of the 2014-15 Wellesley College Alice C. Cole Alumnae Fund – Laura Cincotta, Jennifer Cawley, Becky Parker, Eliza Murphy, Mary Mullaj, and Alexandra Olivier. This fund provides project-based support to recent Wellesley alumnae for the development, production, and exhibition of new projects in painting or sculpture, broadly construed. What Is Left weaves together the work of these six artists under a mutual theme of impermanence. Whether tracing the land, a memory, a dream, translating an impression, or a fleeting moment, each artist explores through their own process, narrative and experience What Is Left."
——————–
 Pools of Fir: A solo Exhibition by Caitlin Macbride
 When: February 18-March 19, 2016
Where: GRIN Gallery, 60 Valley St #3, Providence, RI 02909
How: Official Website
What/Why: "We treat desire as a problem to be solved, address what desire is for and focus on that something and how to acquire it rather than on the nature and the sensation of desire, though often it is the distance between us and the object of desire that fills the space in between with the blue of longing.-Rebecca Solnit GRIN is pleased to announce Pools of Fir, a solo exhibition of new painting and photography by Brooklyn based artist Caitlin MacBride."This body of work is a series of paintings and photos investigating fragmentation and the study of desire. I'm curious about the way fragments can be understood as a whole… the way disparate elements are joined to construct a series of possibilities. In this way the distance between pieces becomes an examination of desire. I'm interested in painting as an archeological site for moments of longing. By cropping and reframing moments I decide where the moment of desire exists.My practice has been primarily as a painter for my last nine years in New York. I am currently focused on a body of work that studies both intuition and the transformational interpretations of objects.I'm interested in the way these works can perform a monologue for two, the object and the subject.  My practice engages an overlap between the object of object relations and the literal object, an inanimate something, put on a table and observed. My recent paintings employ the gathering of affective movement via a process of viewing, drawing, and painting displays of fabric and archeological remnants. The process of still life painting is scattered and reframed in new formats. The fragments plays a role as a solid point of departure that then leads into a place of personalized improvisation."
——————–
David Borawski | "Blast"
When: On view March 1 through March 31
Opening Reception: March 5, 6-8:30P
Where: EBK Gallery, 218 Pearl Street, Hartford, CT
How: Official Website 
What/Why: "I create conceptually driven work that seeks to exploit our collective memory of politics, pop culture, art history, scandal and war, invoking visual and cognitive signs, or "clues", that elicit a (sub)conscious nostalgia, building multiple layers of information to be considered and processed. For the exhibition BLAST, digital "clip art" of explosions that were found on the internet are transformed into analog drawings of ink on tyvek. With the media bombardment of images on the web depicting war zones, riots and protests, environmental and space disasters, the iconic image of the smoke plume is forever etched upon our minds."  -D.B."
——————–
JENNIFER AVERY | Beast Boutique
When: On view through March 12, 2016
Where: Yellow Peril Gallery, 60 Valley St, Providence, RI 02909
How: Official Website 
What/Why: "Yellow Peril Gallery is pleased to announce Beast Boutique, born out of Jennifer Avery's Artist Residency with the Hermès Foundation, from January 16 – March 12, 2016. As the first American artist chosen for this prestigious program, Avery collaborated with seamstresses from the Holding Textile Hermès and their fabric printing facilities for four months and created 300 performative objects from opulent gold, silk, cotton and fleece fabrics printed with her drawings, photocopies, and repurposed trash from Hermès. The Providence establishment of Beast Boutique is its second iteration in the United States after Avery's first solo presentation at SATELLITE Miami Beach 2015 during Art Basel Week."
——————–
Coalesce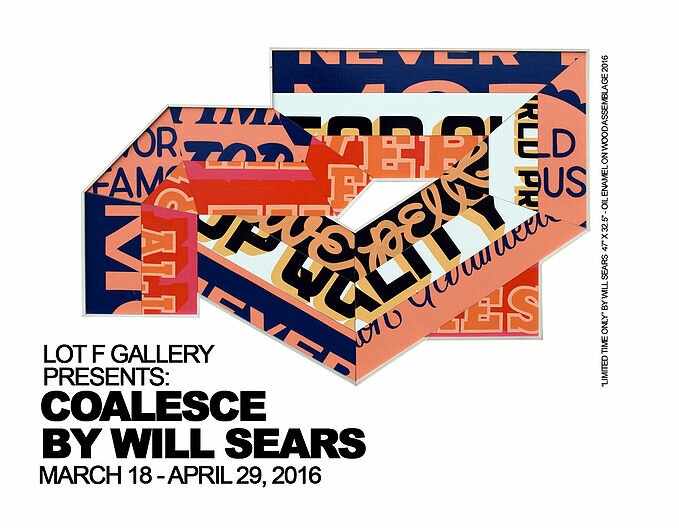 When: On view March 18-April 29th, 2016
Where: Lot F Gallery, 145 Pearl St, Boston, MA 02110
How: Official Website 
——————–
Fragments
When: On view through April 23, 2016
Opening Reception: March 4 from 5 – 9 PM
Where: Gold Gallery, 460C Harrison Ave, #18, Boston, MA 02118
How: Official Website 
What/Why: "Fragments is a group show featuring works by Tom Brydelsky, Jeff Cohen, Christie Scheele, Douglas Schneider and Ryoko Tajiri. The artists share a similar approach to making their images, where the entire composition is made up of smaller, unique units. The artists achieve fragmental images through the use of brush strokes, panels, or areas of meticulous masking. This way of working allows the viewer to make his or her own connections between the pieces' fragments."
——————–
Generating Environments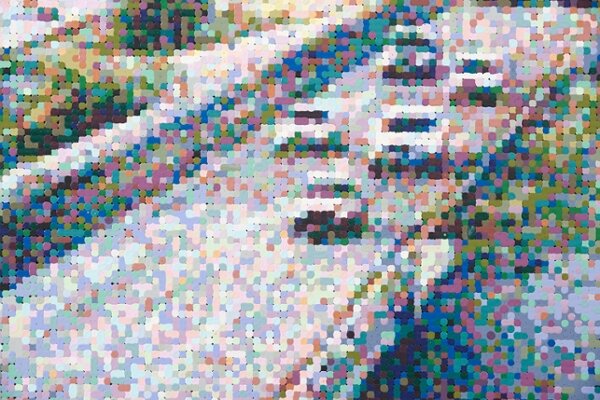 When: On view March 3 through May 23th, 2016
Where: Rose Art Museum, Brandeis University, 415 South St, Waltham, MA 02453
How: Official Website 
What/Why: "Organized by the museum's curatorial interns, Generating Environments addresses the intersection of modern society and technology using a variety of media, including photography, video, and sculpture."
——————–
The Game Worlds of Jason Rohrer
When: On view through June 26 2016
Where: Davis Museum, Wellesley College, 106 Central St, Wellesley, MA 02481
How: Official Website 
What/Why: "This spring, the Davis Museum proudly presents The Game Worlds of Jason Rohrer, the first museum retrospective dedicated to the work of a single video game maker. Rohrer's work is deft, engaging, and often surprisingly moving. It refers to a diverse set of cultural influences ranging from the fiction of Borges to Black Magic; at the same time, it also engages pressing emotional, intellectual, philosophical, and social issues. Rohrer's substantial recognition, which has included feature coverage in Wired, Esquire and The Wall Street Journal, as well as inclusion in MoMA's initial videogame acquisition, has been built on a singularly fascinating body of games. These range from the elegantly simple—such as Gravitation (2008), a game about flights of creative mania and melancholy—to others of Byzantine complexity.  The exhibition will feature four large build-outs that translate Rohrer's games into unique spatial experiences, alongside a section dedicated to exploring a large body of his work."
——————–
Veiled Aleppo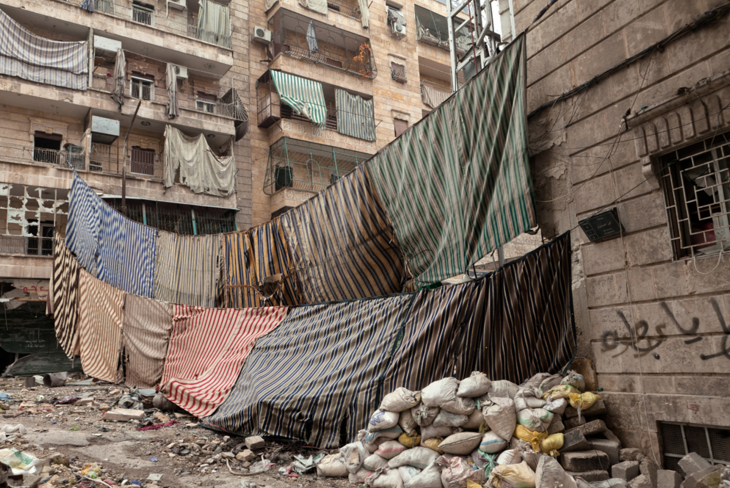 When: On view through June 5, 2016
Where: Worcester Art Museum, 55 Salisbury St, Worcester, MA 01609
How: Official Website 
What/Why: "Sheets line the devastated streets of Aleppo, Syria, acting as shields to obscure Free Syrian Army soldiers from the view of Bashar al-Assad's security force snipers. Before the war, these sheets served a very different purpose as residents used them for privacy or to protect their homes from harsh weather. This exhibition features the work of Milan-based photojournalist Franco Pagetti, who worked in Aleppo at the start of the Syrian civil war."
——————–
New Color Messages

When: On view through April 2nd, 2016
Where: 555 Gallery, 555 E 2nd St, Boston, MA 02127
How: Official Website 
What/Why:"555 Gallery is pleased to share with you our current exhibition New Color Messages.
In this exhibition the drab dead of Boston winter meets glorious color in new work by photographers
Patty Carroll, Mary Ellen Strom, Sarah Szwajkos, Jeffrey Heyne and Sakura Kelley
Each artist has developed diverse projects, but all share with us an undeniable message about color
that is an unexpected side effect of their latest work."
——————–
Off the Wall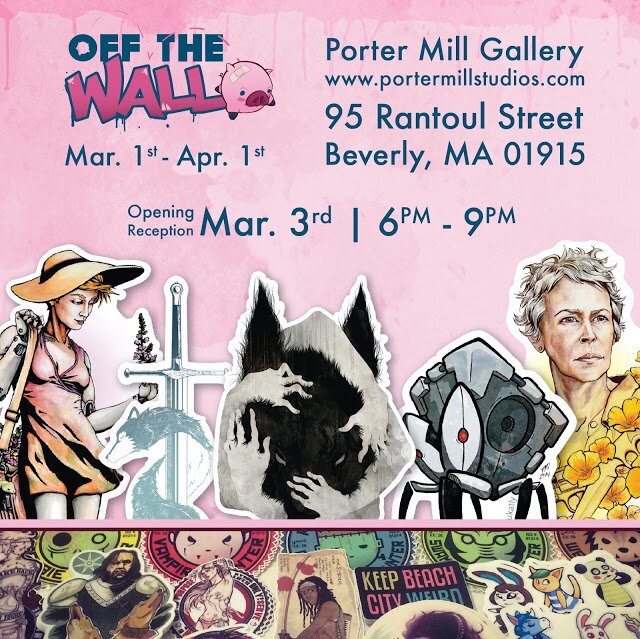 When: On view through March, 2016
Opening Reception: March 3rd, 6-9PM
Where: Studios at Porter Mill, 95 Rantoul Street, Beverly, MA 01915
How: Official Website 
What/Why: "Off the Wall" is a month-long exhibition featuring work by contributors of the guerrilla art operation, Pig Kicker Stickers. This exhibition celebrates the creation and mobility of vinyl artwork, with the intention of making beauty affordable and accessible. Featuring original pieces and never-before-seen production sketches alongside finished products, "Off the Wall" offers new insight into the making of durable, stickable art."
——————–
Construct, Belief and Nostalgia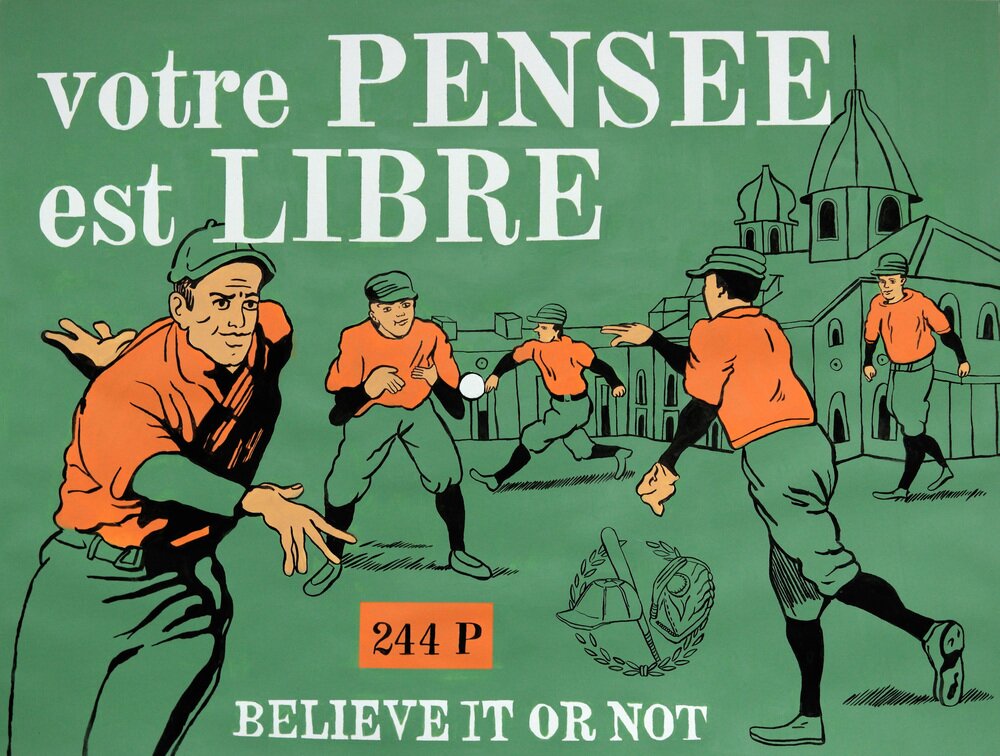 When: On view March 19 – May 13, 2016
Opening Reception: Saturday, March 19, from 4 to 6 pm
Where: 13 Forest Gallery, 167A Massachusetts Ave, Arlington, MA 02474
How: Official Website 
What/Why: "13FOREST Gallery is pleased to present 5 to 9: The double lives of commercial artists, an exhibition featuring the work of contemporary artists Daniel Benayun, Josh Luke, Kenji Nakayama, James Weinberg and Nina Wishnok.
As the title suggests, each of these five artists leads something of a double life, balancing his or her fine art practice with the world of commercial design. By removing the stigma so often applied to artists who take on commercial work, 5 to 9 celebrates artists' ability to satisfy their creative pursuits, both on the clock and off.
In addition to the fine art pieces highlighted in 5 to 9, work by Benayun, Luke, Nakayama, Weinberg and Wishnok can be seen throughout the Boston metro area. In this way, 13FOREST Gallery complicates the seemingly arbitrary distinction between what constitutes fine and commercial art. By reflecting the ease with which these artists transition from the urban to the gallery space, 5 to 9 underscores Boston's prominent role as a city with an inherent connection to design culture. "
——————–
 Olga Antonova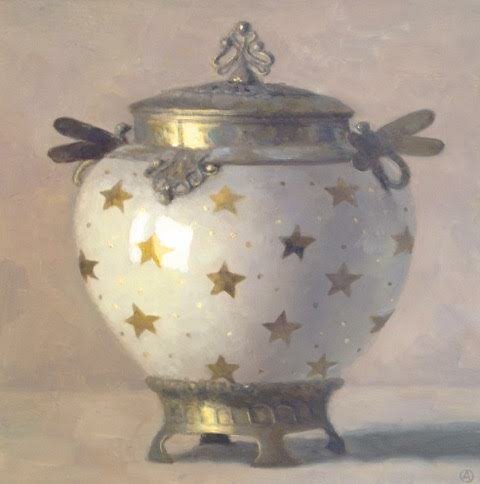 When: On view through March 19, 2016
Opening Reception: Friday March 4, 5-8PM
Where: Beth Urdang Gallery, 460 Harrison Ave, Boston, MA 02118
How: Official Website 
——————–
O'POCADONZ 2
When: On view through March 2016
Opening Reception: March 4th-7-10PM
Where: Aeronaut Brewing Company, 14 Tyler St, Somerville, Massachusetts 02143
How: Official Website
What/Why: "6 years of collaborations by KDONZ and Adam O'Day"
——————–
Gertrude's Salon: A Brief History of Video Art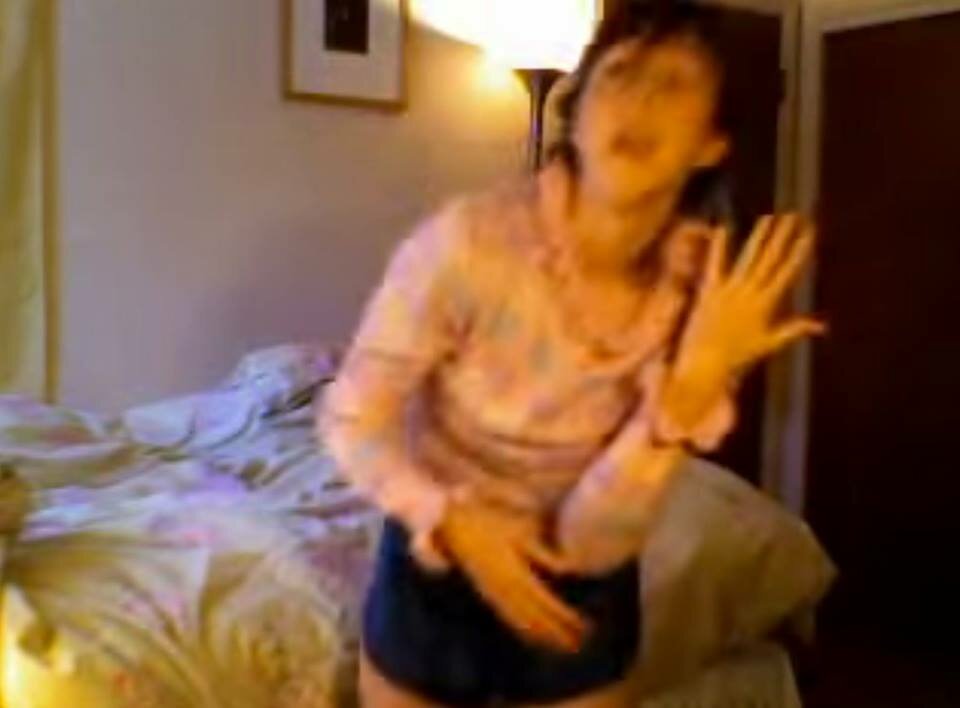 When: March 10, 6-8:30PM
Where: Mills Gallery, 539 Tremont Street, Boston, MA 02116
How: Official Website
What/Why: "What is video art, anyway? This session will focus on the rapidly expanding genre of video. We'll start by viewing a few excerpts of video art from the past and present, after which we will open the floor for other participants in the conversation to share their own videos. Please come with a favorite video or two in mind so that we can view and discuss it together (we can queue it up as long as it's online). This can be any kind of video: a music video, a cat video on YouTube, or a piece of video art you might see in a gallery. We would like this to be an open discussion, but also hope to explore a few key ideas, including what exactly we like about watching videos, how recent technology has changed the art form, and what the future of video art might look like.
About our hosts: Kat Bossi and Tamara Al-Mashouk are second year MFA candidates at the School of the Museum of Fine Arts. They work primarily in video and co-produce exhibitions and events together. Bossi is a Somerville native whose work explores the performance of gender, sexuality, and identity on the internet. Al-Mashouk uses video to find new perspectives on various subjects, from the body to her life growing up in Bahrain.
GERTRUDE'S Artists Salon at the Mills
The artist lounge and lab at the Mills is the site of informal, semi-monthly artist-generated/artist-hosted conversations. Join us for idle conversation, heated exchange and the sporadic, sometimes-thematic exploration of ideas that grow out of and into art."
——————–
Remi Thornton: JCC Ranch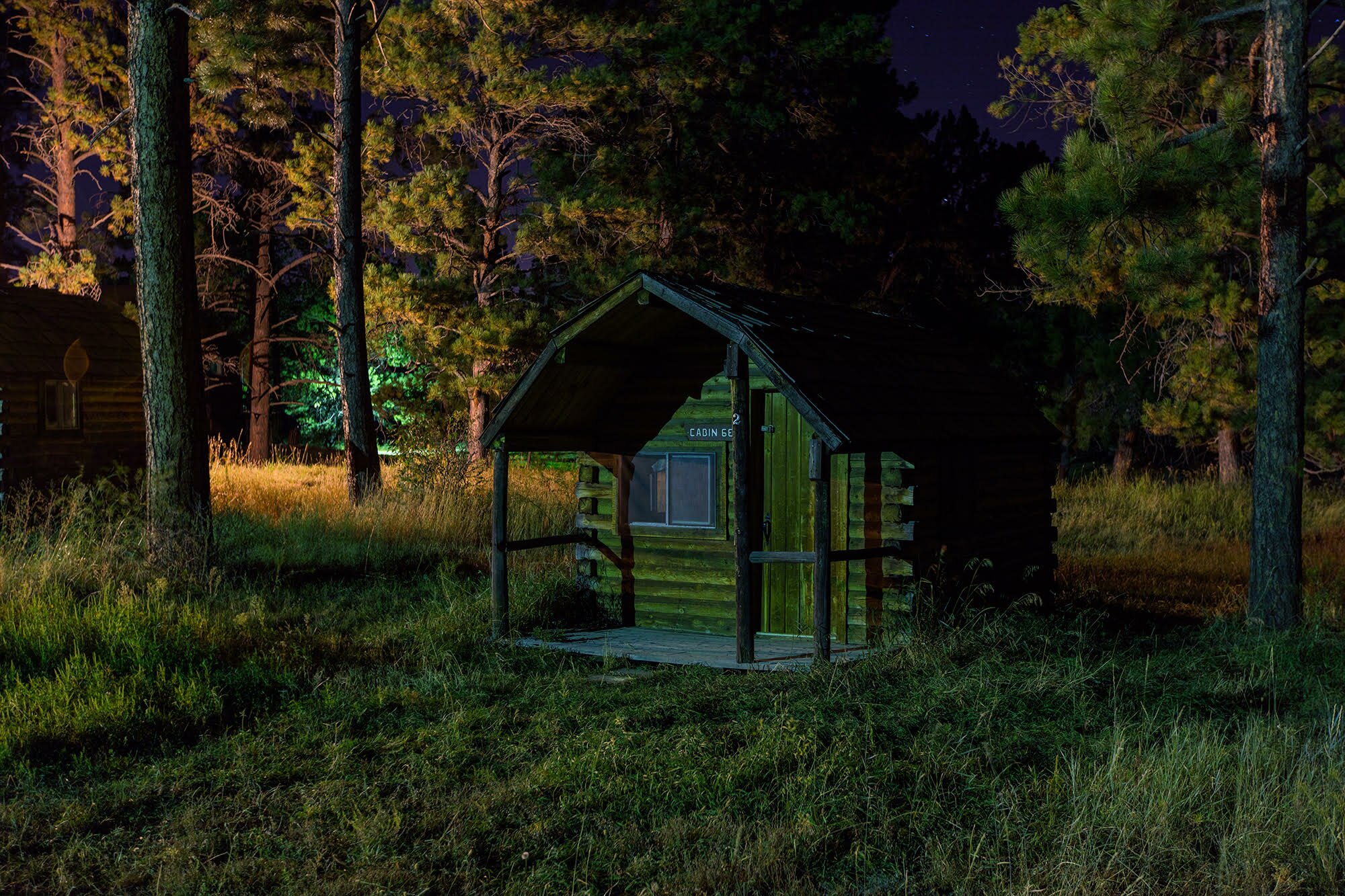 When: On view March 18 – April 3, 2016
Opening Reception: March 18, 2016
Where: 267 Western Avenue, North Allston, MA 02134
How: Official Website
What/Why: Presented by Miller Yezerski Gallery and made possible by Harvard University."I would get to know the after hours landscape at Ranch Camp because of my insomnia. After my friends and cabin mates would fall asleep, I would silently leave the cabin and sit outside with the counselor on overnight duty. We'd usually sit on the picnic bench next to the boys' bathroom until I was advised to give sleeping another shot. 
Like most places, the camp had an entirely different personality at night. The inner 40 acres of the 400 acre property would take on a distinctive look, sound, and feel once the sun went down. Playful and safe became mysterious and strange.
This transformation is something that I've been exploring for a long time through photography. This past September I returned to the camp situated in the Black Forest of Elbert, Colorado, for the first time in 25 years. I spent almost 4 hours photographing the empty property in the middle of the night. Given my love for my old sleep-away camp, and continual exploration of shooting in the dark, it made sense for me to return to camp and document the silent side, as I remember it."  
——————–
Domingo Barreres: Paintings, Drawings and Prints with Lingering Vibrations from Spain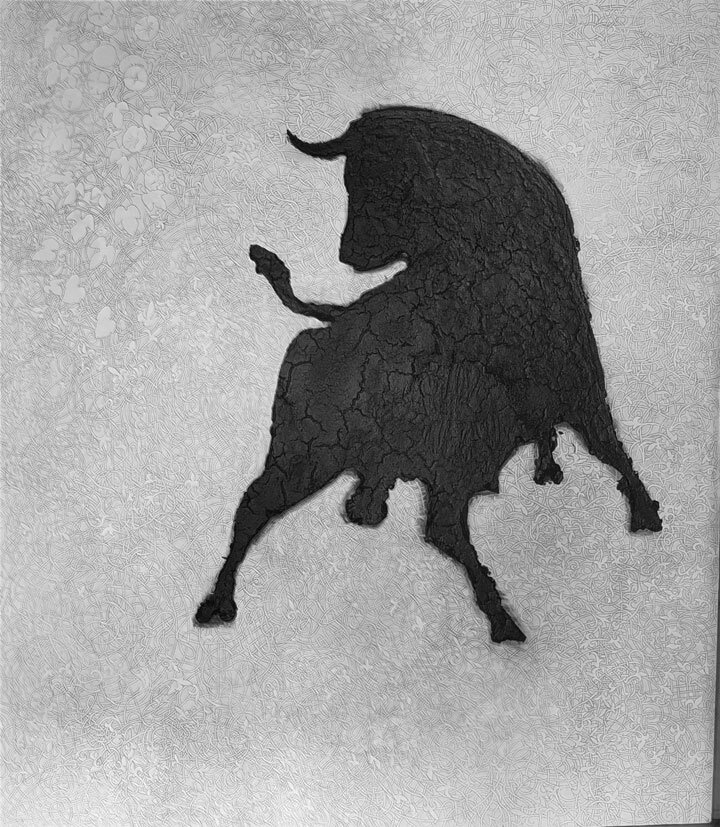 When: On view through March 28, 2016
Where: 249 A Street, Boston, MA 02210
How: Official Website
What/Why:"Some (many) say that painting is no longer relevant in the 21st century because it has exhausted all it could do during its long, long history. It is a convincing proposition and they may have a point. But the challenge is so good, so tempting. So at the dawn of the 21st century I thought I would like to try to make paintings that elicit the sense of awe that has been painting's traditional pedigree."-Domingo Barreres
——————–
Fresh Media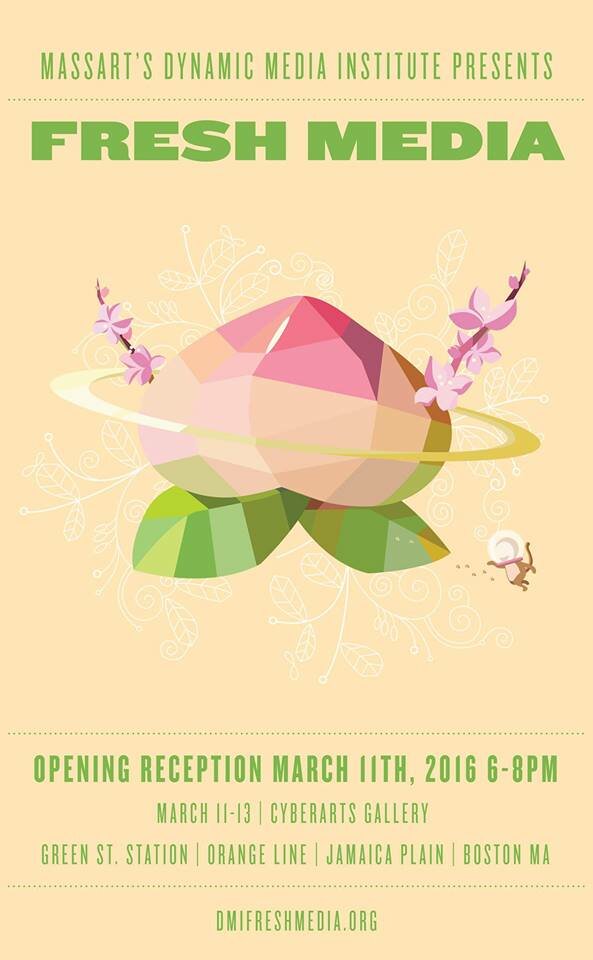 When: On view March 11-13, 2016
Opening Reception: March 11, 2016, 6-8PM
Where: Cyberarts Gallery, Green Street Station (Orange Line), Boston
How: Official Website
What/Why: "The Dynamic Media Institute (DMI) at Massachusetts College of Art and Design is a Master's Program in Design made up of a diverse group of educators, computer programmers, engineers, fine artists, graphic and industrial designers. The projects and collaborative work produced by DMI students aim to explore the role of media technologies within the fields of art, design, interactivity, and communication. The main focus is on designing experiences with extreme empathy for users and participants, so the success of DMI projects rely heavily on research, user testing, and reflection. Tangible results not only provide the designers with a better understanding of the projects, but the feedback also aids in expanding the field of interaction design as a whole.
Emphasizing thought-provoking technology issues which affect so many of our lives, the experience of Fresh Media 2016 is far from the framework of a standard, non-interactive gallery exhibition. This hands-on gallery event encourages playful participation, whether it is interacting with visually pleasing projections, creating your own musical composition, or challenging your perception of social norms. Fresh Media is for experimenting, feeling, dancing, and exploring the future of communication design. Please join us for the interactive, user-focused, design phenomenon that is Fresh Media 2016!
ARTISTS INCLUDE:
Sixten Abbot, Liz Carre, Amanda Schuermann, Reem Alfaiz, Philip Gedarovich, Anne Sisto, Pat Davivongsa, Andrew Ringler, and Bing Lin"
——————–
Opening Reception: The Uncanny Home of our Imagination

When: On view March 19-April 9, 2016
Opening Reception: Saturday, March 19at 6 PM – 9 PM
Where: Nave Gallery Annex, 53 Chester St, Somerville, Massachusetts 02144
How: Official Website 
What/Why: "This show is a fleeting exploration of the home as concept and lived material space in which taste, anxiety, and desire take shape. Playfully using the concepts of the uncanny and the "uncanny valley" as points of reference, selected objects and their placement within a house-turned gallery are meant to call attention to the act of attaching emotions to the things that populate our inhabited domestic spaces. The home takes on a special role as site of origin and desired return – an (extra)ordinary domestic environment filled with art that may provoke empathy or aversion.
Each artwork experiments with common items such as silverware, clothing, and drinking vessels that simultaneously maintain their likeness to everyday things, while also marking a deviation from their original role or look. Each object plays with the frustrations that accompany our desires, our conflicting sensations of attainment and loss, of agency and impotence, of safety and fear through the representations of objects caught in the act of divergence."
——————–
Liz Gargas and Brent Ridge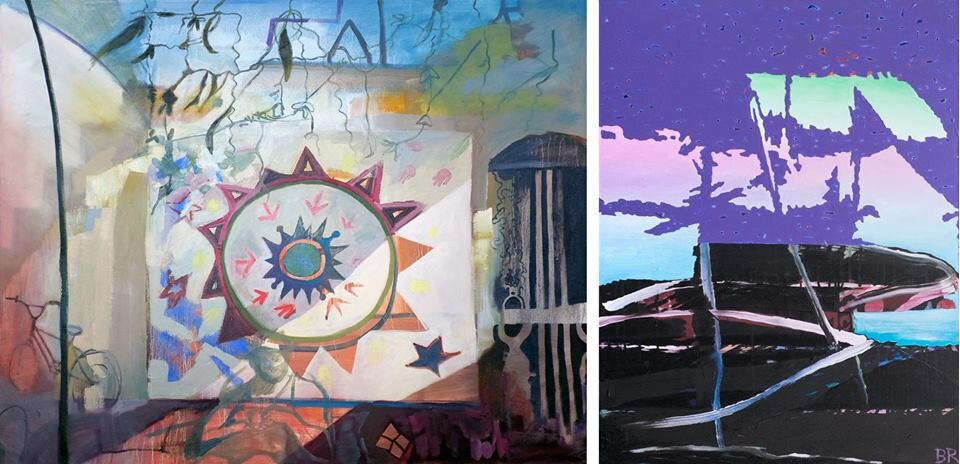 When: On view through March 2016
Opening Reception: Friday March 4, 6PM
Where: New Art Center, 61 Washington Park, Newton, Massachusetts 02460
How: Official Website
What/Why: "The New Art Center in Newton (NAC) is pleased to present Liz Gargas and Brent Ridge. This exhibition explores the relationship between painting, storytelling, and the decorative arts. It brings together new works in a space shared by domestic trappings to consider how a good painting, like a good roommate, is something you can live with.
Gargas, an NAC student, creates narrative environments composed of deeply personal monuments and icons. Ridge, an NAC faculty member, operates in a land of abstraction rooted in appropriation, landscape, and post-industrial aesthetics. Together, their varied processes reflect on contemporary painting practice."
——————–
Richard Nonas: The Man in the Empty Space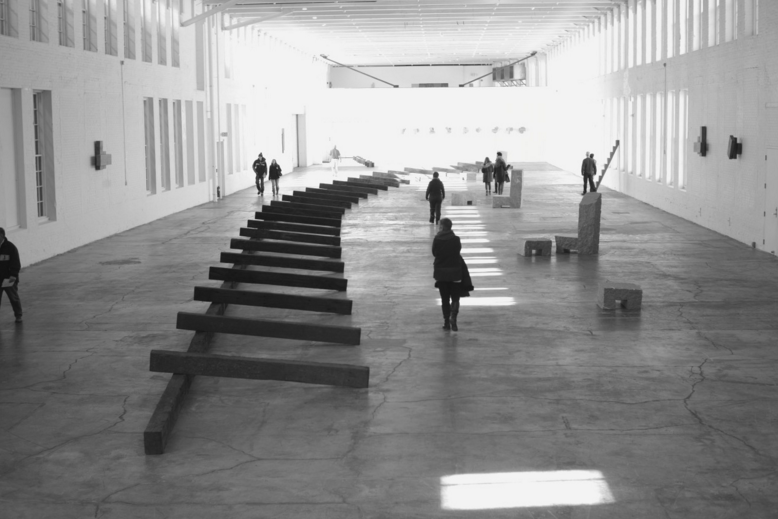 When: On view through October 13, 2016
Where: Mass MoCA,  87 Marshall St, North Adams, MA 01247
How: Official Website
What/Why:"For five decades, Richard Nonas has created a body of work whose terse, reduced vocabulary belies its power to fundamentally alter our sense of space, time, landscape, and architecture. His totemic sculptures—made from earthy and industrial materials that have a timeless character (wooden railroad ties, granite curbstones, massive boulders, and thick steel plates)—have reimagined space and terrain all over the world. With horizontally oriented, ground-based, and wall-mounted works executed in a wide range of dimensions and weights, Nonas has developed a vocabulary of serialized geometric forms that both command and alter their environments, while retaining an intimate, human scale.
In one of his most ambitious projects to date, the artist's quietly powerful sculpture will occupy and transform MASS MoCA's Building 5, the museum's signature gallery, nearly a football field in length. The museum's history as a manufacturing plant makes MASS MoCA a particularly fitting venue for Nonas, who, since his early career—when he and his peers presented guerrilla exhibitions in alternative spaces—has often been drawn to raw industrial buildings. Nonas has created a major new work specifically for the trussed, window-lined Building 5, to which he has added a selection of existing sculpture."
—————————
Sting XXII: ES Log Art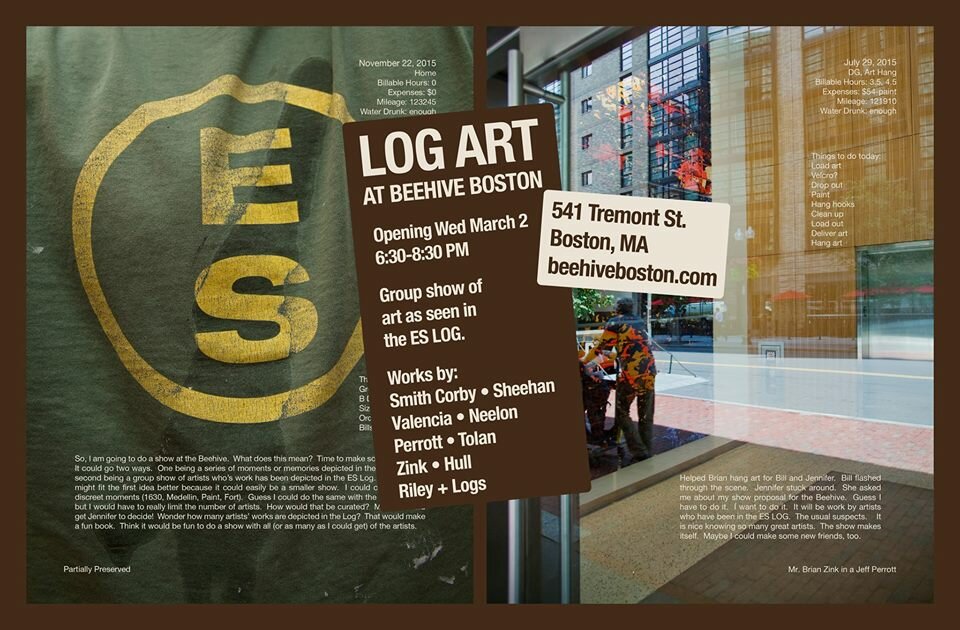 When: March 2, 2016, 6:30-8:30PM
Where: Beehive, 541 Tremont Street, Boston, MA
How: Official Website
What/Why: "On Wednesday, March 2, 2016 from 6:30PM – 8:30PM, The Beehive's co-owner and resident curator Jennifer Epstein and guest curator Doug Weathersby of ENVIRONMENTAL SERVICES are pleased to present the next installment in The Beehive's continuing art series entitled Sting! 22: ES LOG ART, featuring nine artists work, and a selection of ES Log entries depicting the artists' work and a look into their relationship with ENVIRONMENTAL SERVICES.
The ES LOG has been helping Doug to keep track of all there is to do and what there is to see each and every day at ENVIRONMENTAL SERVICES since September 4, 2009. Doug has worked with and for many artists, collectors, and art institutions over the life of the ES LOG. Thus many artists' works have been documented in the ES LOG's "pic of the day". Here is a very small sampling of such artist's work. ES has received a sense of connection, knowledge, and energy from its relationships with artists and their work. This collection of work is meant to celebrate those gifts."
—————————
Without Issue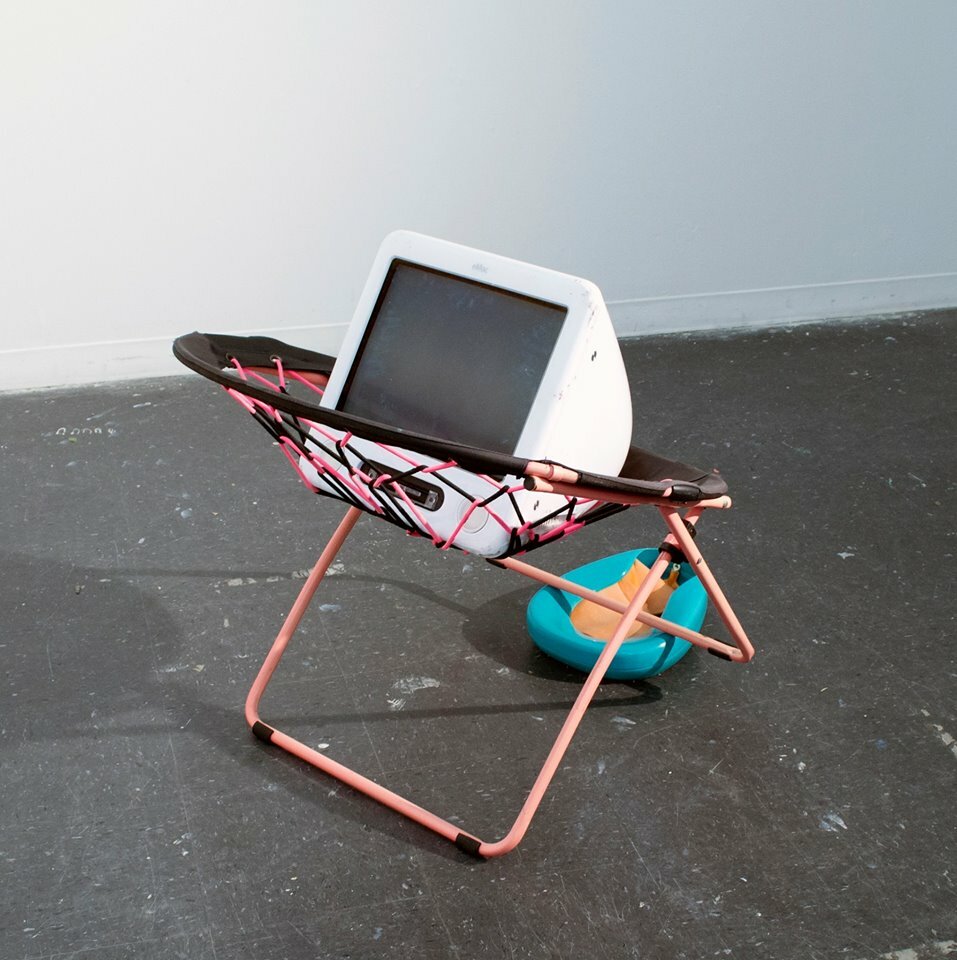 When: On view March 5, 2016 – April 2, 2016
Opening Reception: Saturday, March 5, 6-8PM
Where: Dorchester Art Project, 1486 Dorchester Ave, Boston, MA
How: Official Website
What/Why: "Exhibiting Artists: Caroline Dahlberg, Furen Dai, Jeremy Endo, Max Kaplan, Caleb Smith & Jonathan Weiskopf
Without Issue features six Boston-based artists resuscitating, regurgitating and reinterpreting formal strategies derived from conceptual, minimal, and post-minimal art; the degree of imitation varies from artist to artist. Jonathan Weiskopf's witty language-based paintings play on Ed Ruscha's iconic text pieces, while the endearing performances of Caroline Dahlberg are contemporary takes on the grotesque and the feminine seen earlier in the work of performance artist Carolee Schneemann. Furen Dai's egg-like pieces, alluding to the slumped anti-form objects of Eva Hesse share space with Caleb Smith's found object sculptures that take Jeff Koons' Hoover vacuum sculptures as their point of departure. Max Kaplan's photographic objects draw from Film Noir, while Jeremy Endo's sculptural painted pieces are deeply influenced by Japanese Manga comics and anime culture. 
Without Issue illustrates a moment in contemporary art where artists, makers, curators and exhibitions can exist in the paradoxical space between distanced critique and culpable participation. The six artists here simultaneously parody their art historical predecessors while knowingly demonstrate a camaraderie with them. Contradiction and indulgence become important characteristics of this exhibition. 
Operating in the space formerly occupied by the Howard Art Project, the Dorchester Art Project is dedicated to fostering a collaborative environment for critical discourse and creative engagement for emerging artists. Located in the Fields Corner neighborhood of Dorchester, DAP provides studio and communal space to artists, while programming our gallery space with regular exhibitions of critically engaged, emerging local artists, as well as artist talks and lectures. DAP aims to engage a wide audience, and bridge the gap between urban residents and the critical art establishment."
—————————
Sojourn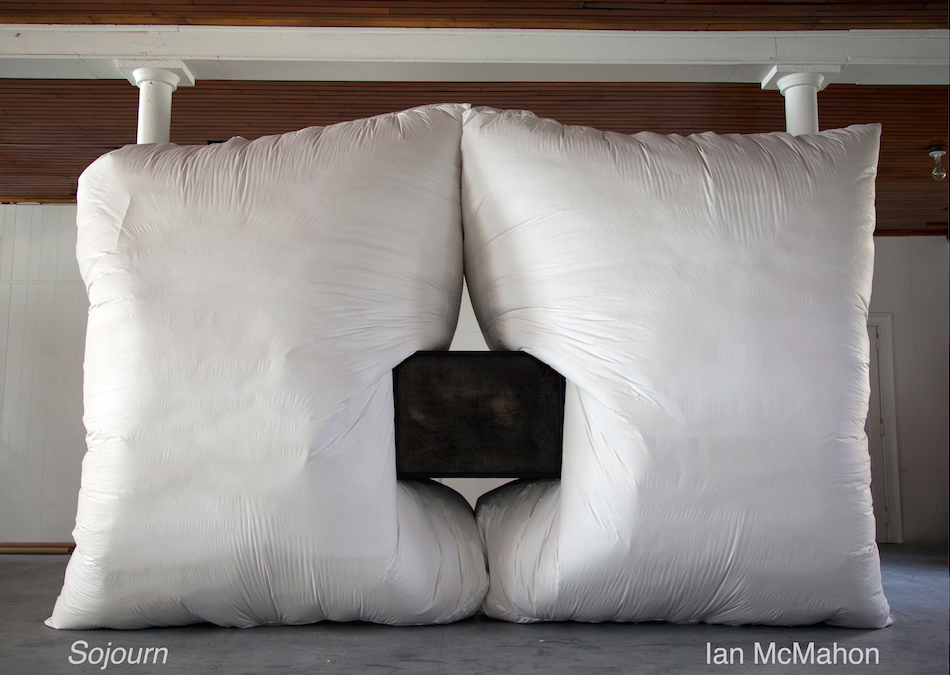 When: On view through April 22, 2016
Opening Reception: Friday March 4, 6:00-8:00PM
Where: T+H Gallery, 460 HarrisonAve, c19+C20, Boston, MA
How: Official Website
What/Why: "T+H Gallery is pleased to announce Sojourn, a solo exhibition of new and recent work by Ian McMahon, comprised of a large-scale sculptural installation and process drawings and video. His sculpture challenges the permanence of art and the permanence of place through performative and materially focused temporal constructions. This is his first show in Boston, on view at 460 Harrison Ave, C19 & C20. 
For twelve days, McMahon overtook T + H Gallery to produce Sojourn, a new installation by the artist. Billowing white forms peer out at visitors through the glassed-in corner of the gallery, poised within like a ship in a bottle. An arena of amassed, voluminous, objects fills a large portion of the space, their billowing nature cinched into place by a corral of pipes and hardware. What at first appear to be seven pliable and soft forms, are in fact rigid casts intertwined and trapped within their metal stockade and the surrounding architecture. Their materiality points directly to the temporal nature of the work, framed by its inevitable destruction. 
Cast into place, Sojourn's presence transforms T + H gallery into a stage, the only kind upon which it will exist, highlighting the labor of process and elaborate engineering along with the unique life span of the work. A suite of drawings and a video in the adjacent galley present McMahon's investigation into architectural space and the theatrical and sensory elements intertwined within his material investigations and constructions. "
—————————
Post-Gay?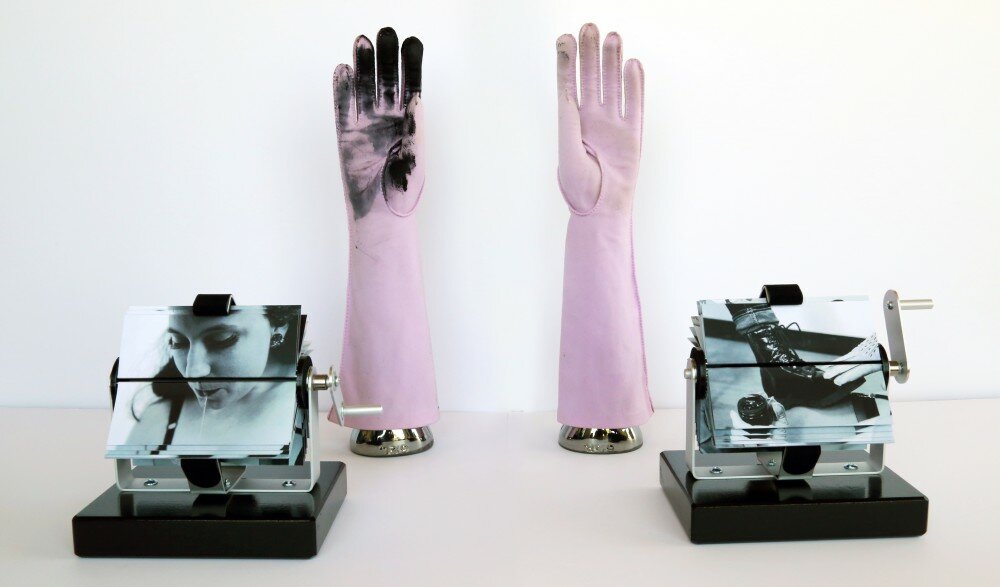 When: Friday, March 18 – Saturday, April 16, 2016
Opening Reception: Friday, March 18, 7 – 9 pm
Where: Distillery Gallery, 516 East 2nd Street, Boston, MA
How: Official Website
What/Why: "The Boston LGBTQIA Artist Alliance (BLAA) is pleased to present Post-Gay?, a group exhibition at the Distillery Gallery in South Boston.
Post-Gay? considers the consequences of assimilation and progress. Where does growing mainstream acceptance leave more marginalized queer identities, and how do the myriad of LGBTQIA identities conceptualize themselves in the face of shifting cultural opinion? Who gets represented?
The twenty artists in this show are in contestation and dialogue with the idea of received representations, and are doing and undoing their own ideas of self and desire. Post-Gay? emphasizes the inventiveness of the LGBTQIA community as thinkers and artists who have the capacity to reshape society with new propositions. There are daring and confident assertions by the artists to paint new realities and lives, to re-imagine gender and sexuality in playful, thoughtful ways."
—————————
Say hi:
EMAIL | TWITTER | FACEBOOK | INSTAGRAM | PINTEREST
Finding time to write creatively/breathe has been tough, but I'm feeling optimistic about March!
Just a few more #bosarts applications to get in with a dash of standardized begging that will hopefully result in good news to share at a later date.
In the interim, please enjoy this tiny sleeve rat eating easy mac.
Are we friends on Twitter? I can usually be found there. ♥