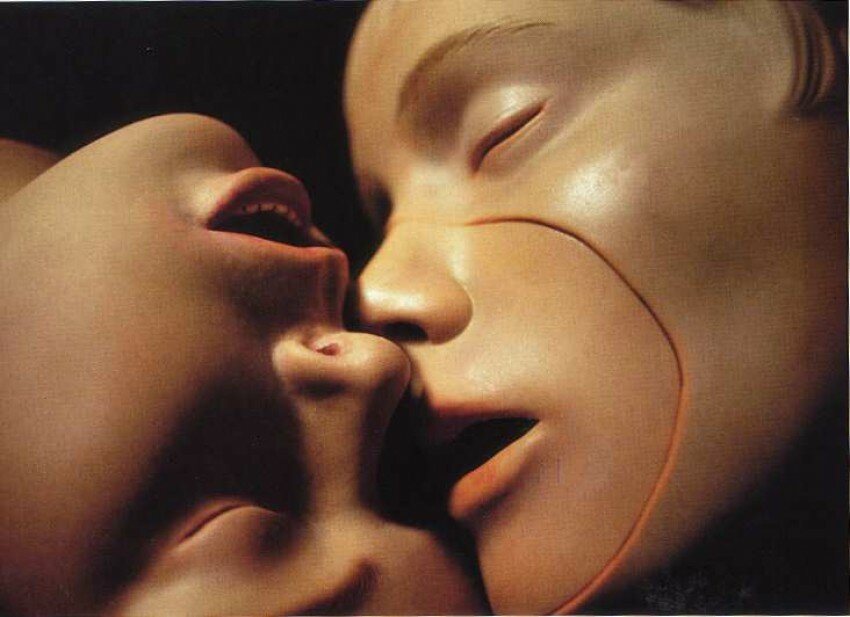 dark city x beast boutique x void filler x at peace
——————-
Jackie Nickerson
When: On view through March 26, 2016
Opening Reception: Friday February 5, 2016
Where: Samson Projects, 450 Harrison Ave, Boston, MA 02118
How: Official Website 
——————–
Rodrigo Valenzuela, Hedonic Reversal
When: On view through March 19, 2016
Opening Reception: Friday, February 5, 2016, 5pm
Where: Steven Zevitas Gallery,450 Harrison Avenue #47 , Boston, MA 02118
How: Official Website 
——————–
Color & Contrast: A Rotating Group Exhibition
When: On view through February 2016
Where: Chase Young Gallery, 450 Harrison Ave, No. 57, Boston, MA 02118
How: Official Website 
——————–
Director's Selection
When: On view February 5-February 29, 2016
Opening Reception: Friday February 5, 2016
Where: Adelson Gallery, 520 Harrison Ave, Boston, MA 02118
How: Official Website 
——————–
Johnathan Derry : Void Filler
When: On view through February 21, 2016
Opening Reception: Friday, February 5, 5:00 – 8:00 PM
Where: Boston Sculptors Gallery, 486 Harrison Avenue, Boston, MA 02118
How: Official Website 
What/Why: "The Boston Sculptors Gallery presents Void Filler by new member Johnathan Derry. This sculptural series sources from the objects and detritus that are the residue of our material world. This is offset by more classically sculptural forms such as figurative elements like human limbs. Void Filler explores the social, cultural and personal implications of using found and domestic objects. A multidimensional relationship between form and meaning arise when potentially disparate objects exist within the work. Void Filler examines the notions of masculinity and gender through the use of color, shape and material. These act as a stand-in for cultural representations of boyhood. The manipulation of materials often suggests an underlying sense of purpose or utility. A handle, wheels or pull chain suggest function. This intentionally creates a paradox or discordant moment that creates the opportunity for humor to co-exist with more somber elements."
Also on view..
Hannah Verlin : What Began, What Remains
What/Why: "In April 2015 I traveled to 3 countries (Germany, the Czech Republic, and Poland) and 17 cities, seeing 6 ossuaries, a monastery of embalmed monks, over 16 bejeweled skeletons of pseudo saints, a chapel ornamented intricately with bones, and innumerable relics, representing over 120,000 individuals in all. These skeletal remains quite literally bear the scars of history. Looking carefully though I found similar scars all around me: in the absence of peoples and cultures displaced or extinguished; in the buildings razed and rebuilt as though nothing had changed; in the simmering news of the Greeks and Germans squaring off over debt with talk of reparations for WWII. How deep go the wounds? To Napoleon? To the Roman Empire? I feasted on the past. I thought about the present. From these thoughts and experiences comes What Began, What Remains. Verlin's artwork appears simple. Shapes are limited to basic geometries. The color palette is restrained to black and white with the occasional burst of color. The materials are familiar—paper, cloth, and string. However, the intense process behind the art shatters the sense of simplicity and gives the art a scintillating and restless quality. Whether bound in tight handwritten text or thousands of knotted strings, time and the artist's hand are ever present. "
——————–
Wish You Were There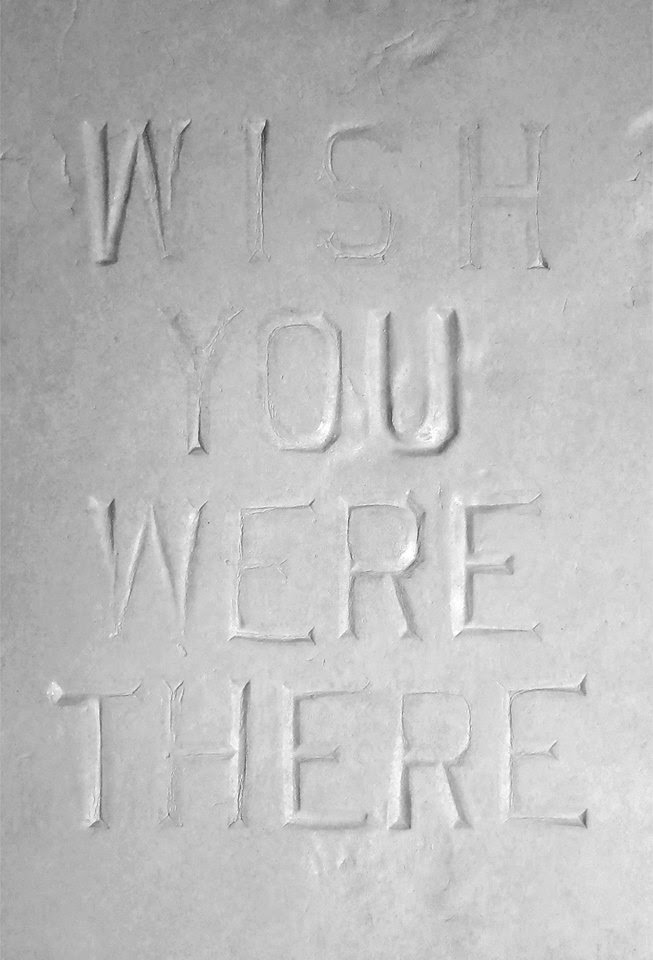 When: On view February 5 – March 12, 2016
Opening Reception: February 6th, 7-9PM
Where: Distillery Gallery, 516 E 2nd St, Boston, MA 02127
How: Official Website 
What/Why: "The title of the show is a riff on Pink Floyd's 1975 album Wish You Were Here. That seminal album was composed of songs that expressed loss and disenchantment, much of which was directly about the absence and tragic life of Syd Barrett. Wish You Were There was chosen because of its power to suggest the past tense, alluding to an event that once was. Perhaps an event that was missed can never truly be understood or appreciated by the absent individual(s). The collective works in this exhibition strive to re-create or examine a shared experience that is hard to quantify or represent. These experiences all come from populist events such as: live music, theatre, film and sporting events.
Featuring:
David Armacost
Melanie Bernier
Jason Kalogiros
Middle Kingdom
Okay Mountain
Rhonda Ratray
Organized by Jack W Schneider"
——————–
Boston Does Boston 9
When: On view through February 20, 2016
Where: Proof Gallery,  516 E. 2nd Street, South Boston, MA 02127
How: Official Website 
What/Why: "Now in it's ninth iteration, three Boston-based artists each invited another artist, with whom they share interests, to exhibit work alongside for Proof's annual Boston Does Boston. The resulting exhibition displays a wide range of styles and materials, highlighting the diversity of the Boston arts community."
——————–
Not Exactly Flat
When: On view Feb 3 – 28, 2016
Opening Reception: Friday, Feb 5 6-830 pm
Where: Bromfield Gallery, 450 Harrison Ave, Boston, MA
How: Official Website 
What/Why: "Works by Bromfield Gallery artists that explore the notion of 3D in painting, prints, mixed media and collage.
Laurie Alpert, Carlos Alvarez, Gayle Caruso, Jennifer Day. Jemison Faust, Tim McDonald, Ted Ollier, Vivian Pratt, Elizabeth Strasser"
——————–
Tseng Kwong Chi, Ambiguous Ambassador 1979-1989
When: On view through February 27, 2016
Where: Carroll and Sons Gallery, 450 Harrison Ave, Boston, MA 02118
How: Official Website 
Also on view..
Sandy Litchfield: Filterscape
——————–
Jamal Thorne: Phantasmal Espionage
When: On view February 3 through February 28, 2016
Opening Reception: Friday, February 5, 2016, 5:30-8:00 pm
Where: Kingston Gallery, 450 Harrison Ave, No. 43, Boston, MA 02118
How: Official Website 
What/Why: "Phantasmal Espionage, a solo exhibition by Jamal Thorne, includes a selection of monochromatic representational drawings, as large as six by four feet, and a site-specific drawing. The site-specific drawing will encompass an entire wall of the Main Gallery, and take many hours to create. Visitors will have the opportunity to meet Thorne and observe his process during a live performance at the exhibition opening. Frontally-oriented faces fill the entire visual field of Thorne's drawings. He draws ribbons of paper that illusionistically tear away in ribbons to reveal characteristics, such as malice or despair, that are typically kept hidden in public."
——————–
New York: Three Views
Peter Kayafas: People in New York
Aaron Rose: The Last Days of Penn Station
Lynn Saville: Dark City
When: On view through February 27, 2016
Opening Reception: Friday, February 5, from 5:30 – 8:00pm
Where: Gallery Kayafas ,450 Harrison Avenue #37 Boston, MA 02118
How: Official Website 
What/Why: "New York City is the most populous city in the United States. It is known for being the best, having the best, producing the best – the acknowledged center of iconic architecture, art, culture, fashion and finance.  It is fast-paced, globally influential and is often referred to as the cultural and financial capital of the world.  These three artists, all residents of the city, share with us their views of New York City – its energy, its changes, its quiet."
Learn more about each artist's work here.
——————–
Robert Chamberlin: Light my Fire
When: On view through March 15, 2016
Where: Miller Yezerski Gallery, 460 Harrison Ave, Boston, MA
How: Official Website 
——————–
The Language of Lines
When: On view through February 28, 2016
Opening Reception: Friday, February 5, 2016, 5:00pm  9:00pm
Where: Abigail Ogilvy Gallery, 460 Harrison Ave, C7, Boston, MA
How: Official Website 
What/Why: "A solo show featuring Concord, MA based artist, Holly Harrison"
——————–
Brenda van der Beek: Paradoxical Daydreams
Diane Novetsky: EARTHSHIFTER
Connie Bigony and Yvonne Lamothe:Fauvistically Speaking
When: February 3-28, 2016
Opening Reception: February 5, 2016, 6-8pm
Where: Galatea Fine Art, 460B Harrison Ave., #B-6 Boston, MA 02118
How: Official Website 
——————–
Pan Verdadero (True Bread) by Neil Leonard
When: On view through February 19, 2016
Where: Boston Cyberarts, 9 Myrtle St, Jamaica Plain, MA 02130
How: Official Website 
What/Why: "Boston Cyberarts Gallery is proud to present Pan Verdadero (True Bread), an 8 channel sound installation containing two video projections. Focusing on los pregoneros, the street vendors of Cuba, True Bread reconstructs the sonic environment of urban Cuba that emerged following the recent liberalization of policies toward small businesses. The installation's loudspeakers present voices of pregoneros and incorporates minimal sound design to evoke the antiphony of the ancient phenomenon of street vendors calling out to attract business. Each pregonero performs a highly personal chant with a sense of spontaneity that is absent from the formulaic music and commentary that dominates the island's airwaves. Vendors chant self-made product slogans and carry wares in homemade carts. Products range from masonry skills, flowers, baked goods, produce, mattress springs and gold purchasing. Highly stylized brand songs are heard in voices that are reminiscent of the famous singers, Celia Cruz or Mayito Rivera.
"Neil Leonard … has … an installation in Stoyanov's lower gallery. Called "Pan Verdadero (True Bread)," it consists of video clips of Havana street vendors who, with only semi-legal status, travel the city by bicycle selling baked goods from door to door and calling out their wares as they go. The combination of their voices and interwoven music by Mr. Leonard creates a haunting, rhythmic, chantlike score, secular spiritual music for a New World. After leaving the gallery I kept hearing it, with delight, in my head, on the street, all afternoon."   – Holland Cotter, New York Times, September 26, 2013"
——————–
River of Fundament, a film by Matthew Barney and Jonathan Bepler
When: On view February 3-February 14, 2016
Where: Museum of Fine Arts, Boston, 465 Huntington Avenue, Boston, MA 02115
How: Official Website
Cost: Ticket packages for all three acts are $22, $18 for MFA members. Tickets for each act are $11
What/Why: "River of Fundament by Matthew Barney and Jonathan Bepler (USA, 2014, 350 min.). Starring Paul Giamatti, Maggie Gyllenhaal, and Ellen Burstyn, this six-hour video opera by art icon Matthew Barney (The Cremaster Cycle) and composer Jonathan Bepler is inspired by Norman Mailer's 1983 novel Ancient Evenings. While Mailer's book was set in pharaonic Egypt, Barney and Bepler's adaptation combines documentation of three live acts performed across the American landscape with scenes set in a reconstruction of Norman Mailer's brownstone apartment in Brooklyn Heights. Barney and Bepler reimagine Mailer as his own protagonist who reincarnates three times in different bodies by magically entering the womb of his wife Hathfertiti. With each incarnation, the undead Norman emerges from a river of feces that runs beneath his Brooklyn Heights apartment.
River of Fundament is a graphic film for adults only. To prepare for the experience, we recommend watching the trailer and Charlie Rose's interview with Matthew Barney. You may also like to visit the River of Fundament Official Website, where you can view Barney's sculptures related to the film and read a complete synopsis.
River of Fundament is 5 hours and 50 minutes long. It screens in three acts with a 20-minute intermission between each act.
Special after-hours screenings on February 7th and 14th offer an alternative to traditional Valentine's Day and Superbowl Sunday fare. These events will feature a bar, snacks, and live entertainment."
——————–
MIT List Visual Arts Center 30th Anniversary Print Portfolio 
When: On view through March 12, 2016
Where: Barbara Krakow Gallery, 10 Newbury Street, Boston, MA. 02116
How: Official Website 
What/Why: "Fall of 2015 marks the 30th anniversary of the List Visual Arts Center, MIT's renowned contemporary art museum.  
In recognition of this historic milestone, the List Center's four directors since 1985 – Kathy Halbeich, Katy Kline, Jane Farver, and Paul Ha – invited fifteen of the many exceptional artists who have previously exhibited at the List, to provide work for a portfolio that celebrates the critically acclaimed programming presented by the List Center.
This is an extraordinary collection of contemporary prints, representing an eclectic variety of techniques and styles.  By purchasing an edition you will support the List's continuing mission to produce the kind of exemplary exhibitions and programs it has become known for over the past 30 years.
Also on view..
Ursula von Rydingsvard: Crossed Mirage
——————–
Camera Obscura
When: On view February 5-28th, 2016
Opening Reception: Friday February 5, 2016 6-9PM
Where: Uforge Gallery, 767 Centre Street, Jamaica Plain, MA
How: Official Website 
What/Why: "Uforge Gallery presents an invitational photography exhibition for the month of February, titled Camera Obscura.
As a medium, photography has gone through a vast range of technical changes, becoming more and more available so that now almost everyone has access to a camera. As an art form, it has gone through seemingly every style, moving from photojournalism and portraiture to surreal experimentation and digital collage. To celebrate this stylistic diversity, Uforge has invited a group of local photographers to display their own range of subjects and techniques. Whether through spontaneous street photography or staged scenes, the exhibit represents how photographers can capture almost anything. Works include minimalist seascapes by Erica Baptiste and Michael Calienes, striking abstractions by Elizabeth Bean and Vanessa Thompson, and fantastical composites by Matt McKee and Richard Fomo.
"Uforge is always looking to create new opportunities for local artists, and we are excited to once again host an all-photography show," said Brian Crete, Director of Uforge Gallery. "Pieces were selected by a member committee, allowing the gallery collective to work together and reach out to new artists to bring into the space."
——————–
Intersections
When: On view February 6, 2016 to July 10, 2016
Where: Peabody Essex Museum, East India Square (161 Essex St) Salem, Massachusetts 01970
How: Official Website 
What/Why: "Intersections is an immersive single room installation that bathes the visitor in a geometric array of light and shadow. Inspired by traditional Islamic architectural motifs, Pakistani-American artist Anila Quayyum Agha's laser-cut steel lantern conjures the design of the Alhambra Palace in Granada, Spain, a historic site of cross-cultural intersection where a thousand years ago Islamic and Western cultures thrived in coexistence. Agha, an internationally renowned, award-winning artist, creates mixed media works that engage topics ranging from global politics and cultural multiplicity, to mass media and gender roles."
——————–
Ramin Haerizadeh, Rokni Haerizadeh, and Hesam Rahmanian : The Birthday Party
When: On view through March 27, 2016
Where: ICA Boston, 100 Northern Avenue, Boston, MA
How: Official Website
What/Why: "Ramin Haerizadeh (b. Tehran, 1975), Rokni Haerizadeh (b. Tehran, 1978), and Hesam Rahmanian (b. Knoxville, 1980) live and work communally in a shared house in Dubai. The three Iranian artists—two brothers and their childhood friend—combine their individual work, and that of other artists, in sculpture, painting, drawing, and video, to generate probing and beautiful environments. The ICA invites the trio to create an on-site installation in the gallery, joining the intimacy of the artists' collective lifestyle with their critical engagement of a globalized contemporary culture."
Also on view..
Diane Simpson
What/Why: "Chicago-based artist Diane Simpson's (b. 1935, Joliet, Illinois) elegantly constructed sculptures evolve from a diverse range of materials, clothing, and architectural sources. While elements of her creations appear to effortlessly hang and fold, they are in fact the result of a rigorous approach to construction techniques, reveling in passages of pattern, joinery, and skewed angles that are by turns humorous and psychologically-charged. This concise survey of over 30 years of work will include a suite of preparatory drawings and sculptural work made from the early 1980s to the present in materials ranging from corrugated cardboard and medium-density fiberboard to aluminum, wool, polyester, poplar, faux fur, fleece, mahogany, brass, copper, and steel.  This will be the artist's first solo museum exhibition on the East Coast."
——————–
Frida Kahlo: Dos Mujeres
When: On view through March 1, 2016
Where: Museum of Fine Arts, Avenue of the Arts, 465 Huntington Avenue, Boston, Massachusetts 02115
How: Official Website 
What/Why: "The Museum of Fine Arts, Boston, has acquired Dos Mujeres (Salvadora y Herminia), 1928, by Frida Kahlo (1907–1954). The painting depicts two Mexican women set against dense tropical foliage. Held privately in the United States since 1929—when it was purchased directly from the artist—the portrait was the first painting ever sold by Kahlo. It is now the first work by the artist to enter the Museum's collection.
"The painting presents the dignified likeness of two maids, whom the artist had known since childhood. This major work will enable the Museum to tell the story of modernism in the Americas more broadly and inclusively, greatly enhancing its Art of the Americas collection. Rarely on view before now, it is the first Kahlo painting acquired by any museum in New England, and one of a select few by the artist to have entered a public collection in the US," said Matthew Teitelbaum, Ann and Graham Gund Director at the MFA. "Frida Kahlo's work is a 20th-century touchstone, and we're proud to be able to count this remarkable acquisition among the MFA's masterpieces of art of the Americas. As our community continues to grow and evolve, we're committed to representing the diverse experiences of artists in our galleries."
The work is on view from January 27 to March 1, 2016, in a special presentation in the Carol Vance Wall Rotunda. After conservation treatment, it will be re-installed in the Art of the Americas Wing later this year.
Dos Mujeres depicts two women, Salvadora and Herminia, who were maids in Kahlo's mother's household, the Casa Azul (Blue House). Remarkable in its graphic power, the painting's heroic iconography of two workers is in keeping with Kahlo's Communist sympathies. An early and intimate image, it displays Kahlo's intent to capture Salvadora and Herminia as individuals, editing out their aprons and other such details as she painted.
The reverse side of the canvas also tells a story. Inscribed by the artist and various friends, signatures marking the sale of the work include that of painter Diego Rivera—who would become Kahlo's husband just one month after the painting was sold. The work was acquired by Jackson Cole Phillips in 1929. He was an American industrialist and lifelong friend of the artist and Rivera. It remained in the Phillips family until purchased by the MFA."
Also on view..
Marilyn Arsem – 100 Ways to Consider Time
When: On view through February 19, 2016
What/Why: "Marilyn Arsem: 100 Ways to Consider Time" debuts a new performance by Boston-based artist Marilyn Arsem (born in 1951). For six hours a day, every day, for 100 days, Arsem will be present in Gallery 261, inserting her living presence into the Museum. Her performance is an invitation to pause and experience the present moment, providing a temporary respite to the frenetic pace of our modern lives.
Like time itself, performance art is ephemeral. All that remains following a performance is how it is subsequently recalled through memory and retellings. Arsem and the MFA invite you to further engage with "100 Ways to Consider Time" by contributing reflections on how you experience time in your own life via letter, e-mail, Twitter, or Instagram throughout the course of the exhibition. Your submissions will become part of the documentation of Arsem's performance, and a selection will be published by the MFA.
——————–
Brink v.2: Space and Intimacy
When: On view through March 26, 2016
Where: Boston Center for the Arts, Mills Gallery, 551 Tremont Street, Boston, MA
How: Official Website 
What/Why: "Boston Center for the Arts (BCA) presents BRINK v2: Space and Intimacy, the second exhibition in the BRINK series, dedicated to introducing trends found in the work of innovative emerging artists based in the Northeast.
BRINK v2 is focused on sculptors… or then again, not. It presents a convocation of six artists who are developing their practices in a media-rich and medium-agnostic art world. In the current art climate, the concepts "sculptor" and "emerging" have come to indicate market positions rather than states of being. Though the works being shown are sculptures, these artists are indifferent to traditional sculptural materials and designations. BRINK v2 casts its curatorial eye on how else contemporary physicality in art is coming into being, and what kind of being that might be.
What can be seen to unite these artists is their desire to claim space, using materials to push, pull and layer meaning in space. How the work does this is as important as the component materials. Whether responding to their surroundings, enveloping things or leaning against other things, or extending into the room and receding into the wall again, these works construct platforms for their messages. Using non-traditional sculptural materials and novel production methods, they contemplate current subjects like the politics of housing, adjuncting, religion, painting's process, measurement, gender binaries and family.
BRINK v2: Space and Intimacy includes the work of Johnny Adimando, Samantha Fields, Coe Lapossy, AJ Liberto, Steven Pestana and J.R. Uretsky"
——————–
Commons
When: On view through February 19th 2016
Opening Reception: Friday, February 5th 6:00 – 8:30
Where: Lens Gallery, 524 Harrison Ave, Boston 02118
How: Official Website 
What/Why: "Commons with work by Victoria Marie Barquin and Wen Yu explores color, texture, and layers through printmaking and painting.  Barquin layers images of domestic objects, bright scribbles of color, and blind contour drawings; exploring memory through personal subject matter from her childhood.  Yu's work is much more abstract and is built through silkscreen, paint and drawing layer in a laborious process to bring us striking fields of texture with boldly colored geometric shapes."
——————–
What is Left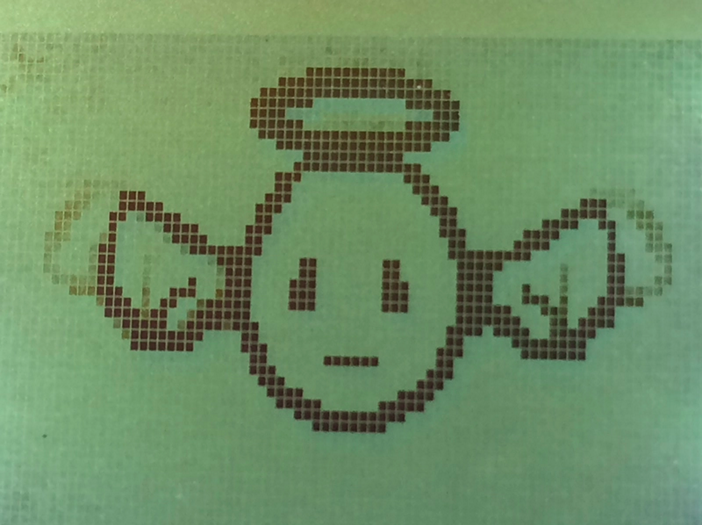 When: On view through March 20, 2016
Opening Reception: Friday February 5, 6-8pm
Where: Laconia Gallery, 433 Harrison Ave, Boston, MA 02118
How: Official Website
What/Why: "This exhibition brings together a collaboration between Wellesley College and Laconia Gallery to feature new work from six recipients of the 2014-15 Wellesley College Alice C. Cole Alumnae Fund – Laura Cincotta, Jennifer Cawley, Becky Parker, Eliza Murphy, Mary Mullaj, and Alexandra Olivier. This fund provides project-based support to recent Wellesley alumnae for the development, production, and exhibition of new projects in painting or sculpture, broadly construed.
What Is Left weaves together the work of these six artists under a mutual theme of impermanence. Whether tracing the land, a memory, a dream, translating an impression, or a fleeting moment, each artist explores through their own process, narrative and experience What Is Left."
——————–
You Are Here
When: On view through March 26, 2016
Where: New Art Center, 61 Washington Park  ·  Newtonville, MA 02460
How: Official Website 
What/Why: "Darek Bittner | Dan DeRosato | Kevin Frances | Mark Hoffmann | Emma Hogarth
You Are Here presents place as both physical and conceptual geographies. The exhibition title references the subjective phrase commonly found on directory maps, used to orient and help navigate people within public places. To pinpoint a specific location on a map is easy, but how we interpret place is an unpredictable variable. The artists exhibiting in You Are Here present place as physical, liminal, or psychological spaces through the mediums of: digital glitching, painting, sculpture, video, and collage."
Also on view..
All Roads Lead Home
When: On view February 2-27th, 2016
What/Why: "Join artist Ben Jundanian in the studio as he creates an intricate wall drawing using only a marker. Visitors of all ages are invited to learn his simple drawing technique as they assist in the creation of this gigantic illustration. In this project, Jundanian engages with the aesthetics and iconography of maps to create an expansive and highly developed doodle, with characters and narratives that continue to unfold the longer you look. The piece's bustling roadways, bike paths, railroads and waterways converge on a point in the center of the wall, an indicator of home. As Jundanian describes, "This has a special meaning for me because, for six months last year, I drove around the country on the road trip of a lifetime! To me, no matter where I'm heading, I'm always on the road back home."
——————–
Besides
When: On view through February 13, 2016
Where: GRIN Gallery, 60 Valley St #3, Providence, RI 02909
How: Official Website 
What/Why: "Besides is the second installment of a two-part exhibition focused on subtle, persistent revolt. Through the implementation of pale, muted, and pastel colors the artists reference the mundane aesthetic commonly associated with necktie collections, tupperware parties, office climate or holiday decorations. These interdisciplinary works feel familiar and reveal an underhanded, yet delightful rebellion upon continued investigation. By splitting the exhibition into two parts,  curators Corey Oberlander and Lindsey Stapleton are able to explore two separate manifestations: the mental and the physical rejection of domestic urbanity.
The five artist exhibition includes Eddie Villanueva, Keegan Grandbois, Allison Baker, Sandra Erbacher and Jessica Lawrence. Focusing on a tangible rejection, this installation will include objects, environments and activities that fail to adhere to their usual responsibilities – finding surprising elements of defiant personality in otherwise stereotypical places. Unagressive, aesthetically pleasing, and slightly ambiguous, the pieces in this exhibition will be presented in an unassuming manner – laid out like a casually furnished living space. The work in the show will sit firmly between the familiar and the rebellious, asking the viewer to reassess their understanding of their place within the artists' environment. Tonally, expect anti-jokes and anti-art; the lack of punchline becomes the punchline without wavering into either criticism or traditional humor. "
And then later in the month…
Pools of Fir
When: On view February 18-March 18th, 2016
Opening Reception: Friday February 19, 6-9PM
We treat desire as a problem to be solved, address what desire is for and focus on that something and how to acquire it rather than on the nature and the sensation of desire, though often it is the distance between us and the object of desire that fills the space in between with the blue of longing.
-Rebecca Solnit
GRIN is pleased to announce Pools of Fir, a solo exhibition of new painting and photography by Brooklyn based artist Caitlin MacBride.
"This body of work is a series of paintings and photos investigating fragmentation and the study of desire. I'm curious about the way fragments can be understood as a whole… the way disparate elements are joined to construct a series of possibilities. In this way the distance between pieces becomes an examination of desire. I'm interested in painting as an archeological site for moments of longing. By cropping and reframing moments I decide where the moment of desire exists.
My practice has been primarily as a painter for my last nine years in New York. I am currently focused on a body of work that studies both intuition and the transformational interpretations of objects.
I'm interested in the way these works can perform a monologue for two, the object and the subject.  My practice engages an overlap between the object of object relations and the literal object, an inanimate something, put on a table and observed. My recent paintings employ the gathering of affective movement via a process of viewing, drawing, and painting displays of fabric and archeological remnants. The process of still life painting is scattered and reframed in new formats. The fragments plays a role as a solid point of departure that then leads into a place of personalized improvisation.
——————–
Jennifer Avery | Beast Boutique
When: On view through March 12, 2016
Where: Yellow Peril Gallery, 60 Valley St, Providence, RI 02909
How: Official Website 
What/Why: "Yellow Peril Gallery is pleased to announce Beast Boutique, born out of Jennifer Avery's Artist Residency with the Hermès Foundation, from January 16 – March 12, 2016. As the first American artist chosen for this prestigious program, Avery collaborated with seamstresses from the Holding Textile Hermès and their fabric printing facilities for four months and created 300 performative objects from opulent gold, silk, cotton and fleece fabrics printed with her drawings, photocopies, and repurposed trash from Hermès. The Providence establishment of Beast Boutique is its second iteration in the United States after Avery's first solo presentation at SATELLITE Miami Beach 2015 during Art Basel Week."
——————–
Paul Sattler: New Paintings
When: On view through February 24, 2016
Where: Alpha Gallery, 37 Newbury St, Boston, MA 02116
How: Official Website 
——————–
Totem: Wolftits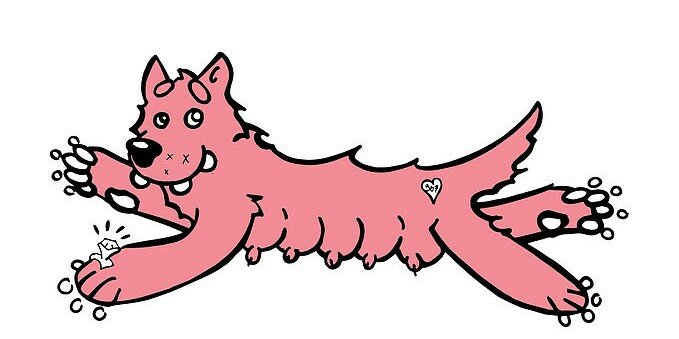 When: On view through February 26, 2016
Where: Lot F Gallery, 145 Pearl St, Boston, MA 02110
How: Official Website 
——————–
Selections
When: On view through March 5, 2016
Where: Mass Art Galleries, 621 Huntington Ave, Boston, MA 02115
How: Official Website 
What/Why: "Selections features the remarkable work of MassArt professors who are newly hired or returning from sabbatical. A venue for faculty to showcase their work, often in experimental directions or media, this exhibition is a perennial favorite. Representing all facets of the college, Selectionshighlights the work of our multitalented faculty. Exploring aesthetic, sociopolitical, cultural, and design issues, faculty members have developed a diverse range of works: from an affordable water pump for subsistence farmers and important statements on social injustice to sumptuous explorations of nature, enamel self-parodies, and collaborations with young rappers who perform interventionist critiques of art museums. Works on view include site-specific installation, photography, video, sculpture, painting, and works on paper."
——————–
Rosalyn Drexler: Who Does She Think She Is?
When: On view February 12 through June 5, 2016
Where: Rose Art Museum, Brandeis University, 415 South St, Waltham, MA 02453
How: Official Website
What/Why: "An historic, monographic exhibition, Who Does She Think She Is? is a long-overdue retrospective of Rosalyn Drexler's multidisciplinary practice. Showcasing Drexler's major paintings and collages as well as her captivating early sculptures, award winning plays and novels, and photographic and video documentation of the artist's wild and varied theatrical career, the exhibition is co-curated by Rose Curator-at-Large Katy Siegel and Curatorial Assistant Caitlin Julia Rubin.
Drexler has been an active participant in New York's artistic scene, and her collages and large format paintings—which borrow imagery from movies, advertisements, and newspapers of the 1960s—reverberate with the Pop art of her contemporaries. Yet Drexler's work unfolds personal and social conflict with a political consciousness rare in the cool art of that moment and an explicitness that fearlessly courts vulgarity. A vivid portrait of both Drexler's singular artistic persona and the artistic circles of which she was a vibrant and fluid part, Who Does She Think She Is? shows Drexler to be both a sharp critic of and a joyful participant in American culture of the past 50 years."
Also on view..
Sharon Lockhart / Noa Eshkol
What/Why: "In this multi-channel film installation, Los Angeles-based artist Sharon Lockhart explores the extraordinary work of Noa Eshkol (1924–2007), the Israeli dance composer, theorist, and textile artist whose achievements include the development in the 1950s of a revolutionary dance notation system that categorized movements of the body through numbers and symbols. Although the two women never met—Lockhart only discovered Eshkol's work during a 2008 trip to Israel—the project is conceived as a two-person exhibition, highlighting a fascinating artistic convergence between past and present, as a contemporary artist activates the work of a modernist composer through her archive. Collaborating with Eshkol's students as well as a newer generation of dancers, Lockhart staged and filmed performances of Eshkol's choreography in a minimal, gallery-like setting punctuated only by Eshkol's remarkable wall carpets, rotated from dance to dance like elements in a stage set. In the final work, films of five different dances are projected simultaneously on freestanding walls, allowing visitors to reflect upon their own movement as they traverse the exhibition space. "
Also Also on view..
Rose Video 08 | Ben Hagari
What/Why: "Ben Hagari's Potter's Will (2015) melds the prehistoric art of pottery making with contemporary video art, reconfiguring primordial myths related to creation and destruction, life and death. In this multimedia installation, organized by Faculty Curator Gannit Ankori, a potter's rotating studio is on display as both a physical site and a projected sight, inviting the audience to engage in an immersive experience.
The first part of the video documents the transformation of a lump of clay into a beautiful pot, molded by the masterful hands of Paul Chaleff. The potter's wheel – like the eye of the storm – is strangely still within the whirling set. The next section follows the pot's metamorphosis into a clay-covered human being, confronted by the kiln's fire. Deliberate allusions range from Adam and the serpent of Genesis to ancient Egypt's divine potter Khnum. Additional archetypal references include the four elements (water, earth, wind and fire), geometric symbols (squares that transform into circles) and the tail-biting snake, the Uroboros."
——————–
The Game Worlds of Jason Rohrer
When: Feb 10 2016 – Jun 26 2016
Opening Reception: February 10, 2016 6-8:00PM
Where: Davis Museum, Wellesley College, 106 Central St, Wellesley, MA 02481
How: Official Website 
What/Why: "This spring, the Davis Museum proudly presents The Game Worlds of Jason Rohrer, the first museum retrospective dedicated to the work of a single video game maker. Rohrer's work is deft, engaging, and often surprisingly moving. It refers to a diverse set of cultural influences ranging from the fiction of Borges to Black Magic; at the same time, it also engages pressing emotional, intellectual, philosophical, and social issues. Rohrer's substantial recognition, which has included feature coverage in Wired, Esquire and The Wall Street Journal, as well as inclusion in MoMA's initial videogame acquisition, has been built on a singularly fascinating body of games. These range from the elegantly simple—such as Gravitation (2008), a game about flights of creative mania and melancholy—to others of Byzantine complexity.  The exhibition will feature four large build-outs that translate Rohrer's games into unique spatial experiences, alongside a section dedicated to exploring a large body of his work."
——————–
Hassan Hajjaj: My Rock Stars
When: On view through March 6th, 2016
Where: Worcester Art Museum, 55 Salisbury St, Worcester, MA 01609
How: Official Website 
What/Why: "Hassan Hajjaj: My Rock Stars presents a video installation by Moroccan-born, UK-based artist Hassan Hajjaj, along with a related series of photographs, in a salon installation designed expressly for the exhibition. The video, My Rock Stars Experimental, Volume I (2012) pays tribute to individuals who—though they may not all be famous—have inspired the artist personally. The video features nine separately filmed performances by an international group of musicians and singers whose influences include hip-hop, jazz, as well as Gnawa (traditional north African spiritual songs by descendants of enslaved west Africans). This exhibition was organized by the Newark Museum."
——————–
Launch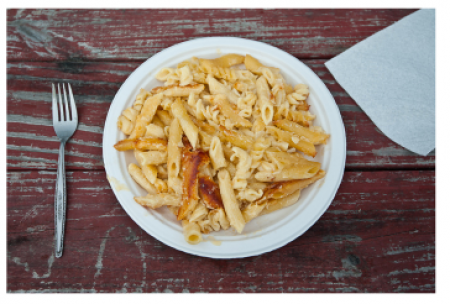 When: On view through February 20, 2016
Where: 555 Gallery, 555 E 2nd St, Boston, MA 02127
How: Official Website 
What/Why: "The Launch Exhibition is a group exhibition featuring work by several current and new gallery artists. The Launch Project is an opportunity for new and seasoned collectors making the breakthrough to collecting the work of a favorite artist or piece of their work, and building on it in an affordable purchasing program. Fine Art Photographs are being offered in small editions, in some cases of 2, 3 or 4 only, in prices from under $200 to under $500, as well as full size artist's framed work in the gallery at traditional gallery prices.
Launch features new or rarely exhibited work by artists:
Bob Avakian, Deb Ehrens, David Mattox, Jim Nickelson, Neal Rantoul, John Rizzo, Gail Samuelson, Heather Evans Smith, Jean Sousa, Mary Ellen Strom, Sarah Szwajkos, Christine Triebert, Jane Yudelman"
——————–
Colorblind

When: On view through February 2016
Opening Reception: Saturday February 13th 7pm-9pm
Where: Studios at Porter Mill, 95 Rantoul Street, Beverly, MA 01915
How: Official Website 
What/Why: "We're still getting ready here at the Porter Mill for the "Sillage" reception this Thursday February 4th 6pm – 8pm but we've got something else special planned this February in the gallery as well. Coming this February 11th we have the artist collective The Collab hanging their first show "COLORBLIND". This exciting new show highlights the artwork of the illustration group along as acting as a launch party for their publication. Colorblind; a bi-annual art zine— the first publication of many. Witness the beginning of a documented collection of beautiful and grungy Illustration and Photography. Featuring the talented works of Haig Demarjian, Adam Miller, Peter Bergamo, Will Pottorff, Rory Bastille, Val Toukatly, and Krista Perry.
The opening reception will be held on Saturday February 13th from 7pm to 9pm with wine and hor d'oeuvres being provided free for attendants, along with live music being performed by local musician Mean Teeth. An exciting show with great art, great music, at one great local gallery. Come on down to the Mill!"
——————–
Construct, Belief and Nostalgia
When: On view through March 9, 2016
Where: 13 Forest Gallery, 167A Massachusetts Ave, Arlington, MA 02474
How: Official Website 
What/Why: "13FOREST Gallery has a 500 square-foot exhibition space with movable walls that make it versatile. For Construct, Belief and Nostalgia we're calling playful attention to the gallery environment by setting up the exhibition space as three "rooms" that allow the artists to develop separate themes. While our intention is for the show's work to be viewed and interpreted alone, in such a small space it's impossible not to consider it as a whole or within the broader context of work by other artists in the rest of the gallery. It might befit the exhibition to remove the comma from its title to form "construct belief and nostalgia" since viewers will easily form associations and meanings over which the artists have no control.
In addition to our exhibition we are presenting short documentaries on each of the three artists in Construct, Belief and Nostalgiaby filmmaker Nick Noyes. The documentaries will explore each artist's process, personal history and thematic focus within the exhibition. On Saturday, February 27, 4-6 pm, we will host a reception with a special screening of the documentaries and an artist talk starting at 4:30 pm."
——————–
Elizabeth Harris: Entanglements
When: On view through February 29, 2016
Where: Clark Gallery,145 Lincoln Road, Lincoln, MA 01773
How: Official Website 
——————–
Remi Thornton: Free Air 4 You
When: On view through February 7, 2016
Where: Carol Schlosberg Gallery, 23 Essex Street (Hardie Building), Beverly, MA
How: Official Website 
What/Why: "Free Air 4 You is a solo exhibition featuring photographer, Remi Thornton. Using only atmospheric street lighting, Thornton has developed a style that has been described as capable of capturing, "that emotion that has been chased by writers, poets, film makers, artists forever.
Titled after one of the prints in this exhibition, Free Air 4 You features recent works, as well as, two debut images from his latest body of work, "Ranch Camp" (2015)."
———————————-
Say hi:
EMAIL | TWITTER | FACEBOOK | INSTAGRAM | PINTEREST
Not sure where January went, but hopefully 2016 has been off to a great start for you.
I'm currently working on a template that will make creating the wrap-up easier (only took me 8 years to think of this?), so if you have a gallery / arts venue I may not know about, email now or forever hold your peace.
Tossing around a few offline projects..hopefully the rewarding ones will get green-lit and the ones that will send me to an early grave will see themselves out.
New lunchtime post coming soon, so just keep hitting refresh on your computer for the next week or so.
Oh, and happy Valentine's Day.
♥