A friend of mine recommended I watch The Art of the Steal on Netflix, because it seemed 'up my alley'.
So I decided to queue it up one dark and stormy night.
Not only is it up my dirty needle and rat riddled alley, it is a film that I think many people, not only those plugged into The Arts, can really enjoy. The Art of the Steal is shot with careful aesthetic considerations, integrates incredible source material, and is whisked along a dynamic timeline making it an extremely engaging watch.
The documentary is so powerful(and admittedly partisan) that I hopped on the Friends of the Barnes website afterwards and signed their petition.
Here is what the New York Times had to say..
"Money, power, race, a mansion stuffed with treasure, a city plagued by scandal — about all that's missing from 'The Art of the Steal,' a hard-hitting documentary about a high-cultural brawl, is a hot woman with a warm gun."
————————

(Note: The below text is from the New York Times review as well)
At the heart of the movie, energetically directed and argued by Don Argott, is the celebrated Barnes Foundation, which houses a private collection in suburban Philadelphia (here, a city of brotherly love and loathing) groaning with European masterworks, African sculptures, Asian prints, American Indian ceramics, among other items. The foundation even owns a farmhouse furnished with decorative arts, and its surrounding 12-acre arboretum is filled with rare flora from around the globe.

(Postman, Vincent Van Gogh)
It isn't the Chilean monkey puzzle tree, though, that has had curators, academics, journalists and politicians pointing fingers and crying foul in recent years: it's the art, especially the post-Impressionist and early Modernist paintings signed by the likes of Cézanne, Picasso, Renoir, Degas, Manet, Monet and Van Gogh.

(Albert Barnes)
Amassed by a working-class striver turned collector named Dr. Albert C. Barnes (1872-1951), these paintings are the glittering prizes in the foundation that bears his name and that in total has been valued at more than $25 billion, though the collection is sometimes breathlessly described as priceless. In his will Barnes stipulated that the collection was to remain in its original locale, far from the reach of the Philadelphia elite he despised.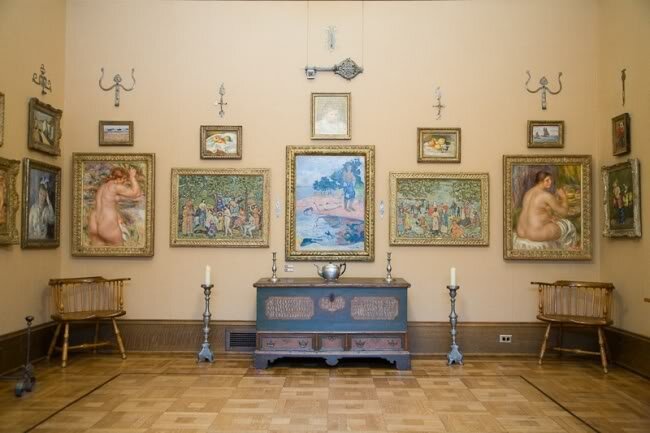 (Not without a sense of humor, Barnes has positioned two wider-than-average chairs below these particular Renoir nudes. Note also the curvy metal works hanging above.)(via The Tarpeian Rock)
But contracts can be broken, wills challenged, legacies dismantled. And in the years after Barnes's death, the collection became the focus of a fascinating fight among an array of interests. Much of the louder part of the battle involved its location: some wanted it to stay put, thereby honoring Barnes's wishes.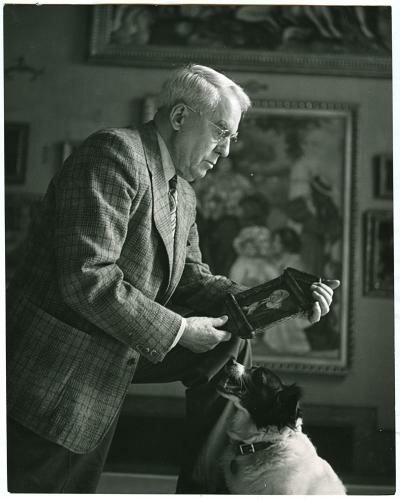 Others wanted it moved to Philadelphia, where it would be more accessible and, of course, could become a desirable, lucrative tourist attraction. Mr. Argott(the producer) wisely doesn't pretend that any of this is a mystery: shortly after some introductory text, he shows the former Philadelphia mayor John F. Street announcing the foundation's planned relocation to the city, joking how he had biked past the original site recently and waved, "See you soon."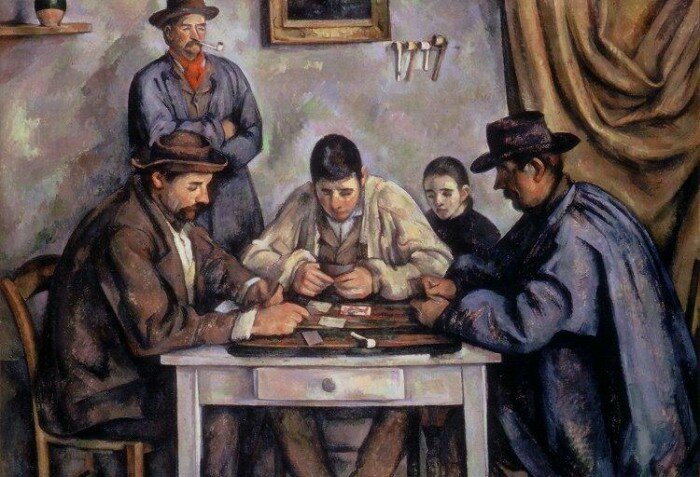 (Cardplayers, Paul Cezanne)
"The Barnes Foundation is the only sane place to see art in America." –Matisse
——
I know it may seem like with every film I put up on FLUX. it's a "go see it!" kind of deal, but in this case, no really, go and see it.

♥