It's the last weekend in July.
If you haven't had a summery weekend yet because of work, life, tennis elbow, crippling agoraphobia..now is your chance.
Show me what you're workin' with.
Pentagonal Pods x L.A. Style x A Place Where Rushing is Not Required x Let's Go
————————————–
Free Fun Fridays 2011

(Grace and Glamour: 1930s Fashions, currently on view at The American Textile History Museum)
"Free fun fridays invites Massachusetts residents and tourists to visit designated cultural attractions every Friday this summer with free admission. No registration or tickets required. Visit and enjoy!"
How: Official Website

Free attractions for July 29th, 2011:
BOSTON CHILDREN'S MUSEUM
308 Congress St – Boston
AMERICAN TEXTILE HISTORY MUSEUM
491 Dutton Street – Lowell
NEW BEDFORD WHALING MUSEUM
18 Johnny Cake Hill – New Bedford
*SHAKESPEARE ON THE COMMON
Boston Common – Boston
——————-
Boston Handmade Marketplace
When: Saturday July 30th, 2011, 3:00-7:00PM
Where: Union Square, Somerville, MA
How: Official Website
What/Why: "The Boston Handmade Marketplace is an outdoor art & craft show featuring New England artists & members of the nonprofit arts organization Boston Handmade. This exhibition promotes local independent businesses & individuals creating one-of-a-kind & limited edition handmade art. Artists, artisans, and craftspeople will be showing & selling handmade jewelry, ceramics, textile art, handspun yarn, paper goods, hand blown glass, & more in Union Square Somerville, Saturday, July 30, 2011, 3-7pm, with a rain date of Sunday, July 31. In addition to the exhibitors at the 2011 Boston Handmade Marketplace there will be live performances by local musicians, One Happy Island, and the Weisstronauts, along with craft demonstrations throughout the day featuring the Common Cod Fiber Guild and The Stitch House"
——————-
Industrial Strength: Benefit Event -Art, Beer and Wings

(The work of Jennifer Wood)
When: July 30th, 2011 5:00-8:00PM
Where: Fountain Street Fine Art, 59 Fountain Street, Framingham, MA 01702
How: Official Website
Cost: $20 in advance, $25 at the door
What/Why: "Join us at Fountain Street Fine Art Gallery in Framingham MA on Saturday, July 30, 2011, from 5pm to 8pm for an Industrial Strength benefit sponsored by Berkshire Brewing Company, Paper City Brewery and Simply Serving to benefit tornado victims in Central Massachusetts.
Come view the INDUSTRIAL STRENGTH exhibit, a group show, juried by Howard Yezerski of Boston's Howard Yezerski Gallery, which reflects the rugged intensity of its location in a gritty factory building. While you're here, enjoy a side of wings and sample some of Western Massachusetts' best local brew.
Net proceeds of ticket sales and half of the gallery's commission for any art sales during the evening will be donated to the Salvation Army's tornado relief efforts in the Central Massachusetts region."
——————-
Moment of Pure Seeing
(Threshold, Linda Dunn)
When: On view now through August 28th, 2011
Where: Loading Dock Gallery, 122 Western Avenue, Lowell, MA 01851
How: Official Website
What/Why: "Lowell was once the place for manufacturing textiles, but now it is a destination for textile art. Venues range from the American Textile History Museum to the New England Quilt Museum. This summer, the list includes Moment of Pure Seeing, a mixed media textile art exhibit of work by artists Linda Branch Dunn and Sonja Lee-Austin at the Loading Dock Gallery opening July 29. Dunn and Lee-Austin have been creating textile art in Lowell for many years. Lee-Austin opened Friends Fabric Art with her mother, Ann Lee, in downtown Lowell in June 2002. Dunn was among the first artists to join Lowell's Western Avenue Studios when it opened in 2005. Both artists continue to create their art in Lowell at their studios at Western Avenue Studios.
Dunn works primarily with abandoned textiles. Using these as her canvas, she layers dye, paint, paper, and fabric. Images include her own drawings, as well as found text and personal photographs. The resulting pieces range from icon-like miniatures to large wall quilts. In Moment of Pure Seeing, Dunn focuses on the change brought with age. "I work regularly with the very old now. Listening to them reminds me how short and intense our lives are." Her work explores the interconnections between nature, life, and memory.
For Lee-Austin, creating art is a form of meditation. "My mind stops incessantly talking while I create art. I focus on what I am creating, what I am seeing." In Moment of Pure Seeing, Lee-Austin exhibits a combination of art quilts and mixed media pieces. For her art quilts she starts with photographs she took of peaceful, inspiring places like Glacier Bay, Alaska or the Boston Public Garden. She prints these onto fabric and uses them to create art quilts. The quilts are enhanced with hand-stitching. Lee-Austin's mixed media pieces are more whimsical meditations. She plays with branches and wire to create leaf-like shapes which she weaves and wraps with threads, ribbons, and other materials.
Moment of Pure Seeing invites the viewer to a place where rushing is not required, to contemplate what is meaningful and significant in each day."
——————-
Passing the Torch-The Inauguration of JFK
When: On view through August 26th, 2011
Where: JFK Library, Columbia Point , Boston, MA 02125
How: Official Website
Cost: Adults $12.00, Seniors (62 and over) and Students (with valid college ID) $10.00, Ages 13-17 $9.00
What/Why:"In the 1960 campaign, John F. Kennedy pledged "to get this country moving again," and offered voters a new generation of leadership.  He challenged his fellow citizens to join him in the struggle for freedom in the perilous years of the Cold War.  On Inauguration Day, January 20, 1961, nearly one million people in the nation's capitol braved the subfreezing temperatures to catch a glimpse of the new President they had elected.  A snowstorm had left the city glittering in the winter's light.  The hard issues of the day—the Communist threat, a nuclear arms race, racial unrest, and economic distress—awaited the President and the nation.  But January 20th would be a day of celebration—all sunshine and possibility—when a bold, young leader took to the world stage and stood poised at the edge of a promise.
This exhibit includes the top hat and gloves the President-elect wore during that cold January day, the evening gown Jacqueline Kennedy wore to the gala, and a series of photographs — never before seen or published — showing the people who braved the subfreezing temperatures of January 20, 1961, to catch a glimpse of the new President and First Lady."
——————-
Painting the American Vision
(The Course of Empire: Destruction, Thomas Cole)
When: On view July 30, 2011 through November 6, 2011
Where: Peabody Essex Museum, East India Square, 161 Essex Street, Salem, MA
How: Official Website
Cost: Adults $15, Seniors $13, Students $11, Youth (16 and under)
What/Why:"In the mid-1800s, a loosely knit group of American painters-now known as the Hudson River School-forged an "American" landscape that regarded the natural world as a resource for spiritual renewal and an expression of cultural and national identity. Drawn from the celebrated collection of the New-York Historical Society, this exhibition features 45 magnificent landscapes, including Thomas Cole's iconic series of monumental paintings, "The Course of Empire," as well as works by Albert Bierstadt, Frederic Edwin Church, Jasper Francis Cropsey, Asher B. Durand and others."
Check out a great write-up of the exhibit on Skinner Auctioneer's blog.
——————-
Urban Scenes, Buildings, and Places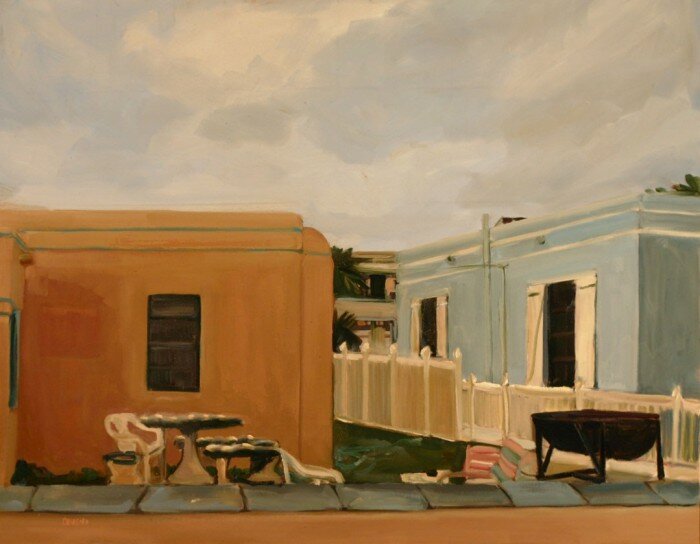 (Barbeque in Florida, Nancy Deveno)

When: On view now through September 1st, 2011
Where: Zullo Gallery, 456A Main St. Medfield, MA 
How: Official Website
What/Why: "The Zullo Gallery is a nonprofit, volunteer-run organization originally created by the Medfield Council on the Arts in 1988 to support and promote the arts through the exhibition of a wide range of fine artwork. It is a place for art exhibition, art education and live music performances."
——————-
Magnetic Chain: PreCollege Faculty

(Umbel, Stacy Thomas-Vickory)
When: On view now through August 5th, 2011
Where: Montserrat College of Art, Carol Schlosberg Alumni Gallery, 23 Essex Street, Beverly, MA 01915
How: Official Website
What/Why: "Montserrat College of Art's PreCollege Summer Program is a high school student's first introduction to the rigors and practices of college-level visual art courses. Magnetic Chain is an exhibition of works of art created by the PreCollege Faculty that demonstrate their skill and talent as professional visual artists.
The exhibition title Magnetic Chain refers to Socrates' story Ion where he describes the nature of inspiration as a magnetic rock, which magnetizes a chain of metal rings. "The gods are the first rock and the poet and audience are like the following rings of iron. As each subsequent ring is magnetized, the force of inspiration is transferred through them." Socrates relates that artists are catalysts who transfer inspiration from greater forces to their audience i.e. students."
——————-
Wooly Fair
When: Saturday July 30th, 2011 2:00PM-1:00AM
Where: The Steel Yard, 27 Sims Ave., Providence, RI
How: Official Website
What/Why: "For many weeks now, The Woolies have been building and planning, making sure that Wooly Fair VII, To the Moon! will be a wild spectacle of galactic proportions. On July 30th, we'll be rocketing you into a lunar wilderness, full of games, live music, spontaneous theater, and, of course, the WOOLY SPACE STATION. The Space Station will be comprised of 21 pentagonal pods, which are being created for the sole purpose of entertaining and inspiring you via shimmering, interactive, artist-made installations."
——————-
L.A. Style: Printmaking at Gemini G.E.L., 1966-1976

(Radio/Aether, Wallace Berman)
When: On view through September 11th, 2011
Where: Smith College Museum of Art, Elm Street at Bedford Terrace , Northampton, MA 01063
How: Official Website
Cost: $5 Adults, $4 Seniors (65+), $3 Students (13+ with ID)
What/Why: "The revolution in American printmaking, begun in the late 1950s with the founding of professional print shops, reached a new apex of productivity and innovation in the 1960s and 1970s. Founded in Los Angeles in 1966, Gemini G.E.L. (Graphic Editions Limited) was at the forefront of artistic and technical innovation during this vital time in American printmaking. Featuring 50 prints and multiples by the ground-breaking artists of the day including David Hockney, Roy Lichtenstein, Ken Price, Jasper Johns, Robert Rauschenberg, and Ed Ruscha, among others, "L.A. Style" will also celebrate the bequest of Irene Mennen Hunter, class of 1939, of 70 works editioned and published by Gemini G.E.L. during the late 1960s and early 1970s."
——————-

Plenty to do! So pack up your belongings, go outside, and make this weekend count.

♥