Looking for inspiration in all the right places..
————–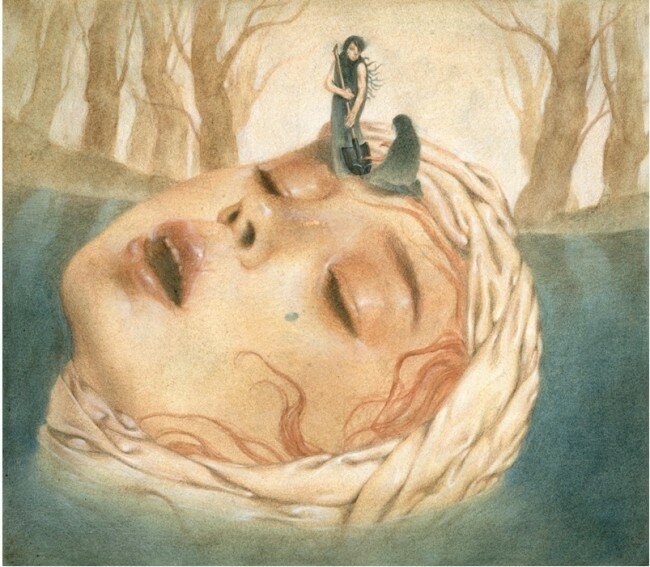 (Nurturing a Shoveled Mind)
"I find interest in illustrating the universal emotions we come across in everyday living–emotions that are tucked away, deep inside our psyches."
—————————————–
(Girl Inclined)
"The delicate poise and unexpected historical adornments of her youthful subjects creates an environment of playful stillness. Many of the facial expressions of her pale skinned subjects reflect a calm reverie, proving that while her neo-realistic technique invokes the past, it is firmly rooted in the psychological landscapes of the modern world." (via Hi-Fructose)

————————-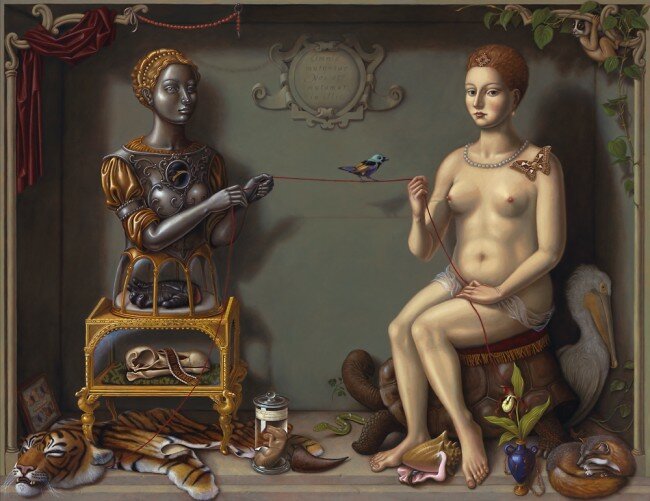 (The Red Thread)
In your early development as an artist, who/what inspired you?
Although as a child different things attracted me than do at the present, my aesthetic sensibility has actually been rather consistent. I have always appreciated things that looked old and slightly arcane. I loved the beauty inherent in mystery…I used to spend a lot of time looking for secret passages in the flat where I grew up! During my childhood, there were three artistic discoveries which had great influence: the Carravaggio painting of Christ being lowered into the tomb, which I saw in the fifth grade when the Vatican Collection toured this country; the Helga Pictures which I saw at the same museum two years later; and a tiny book of Hieronymous Bosch which some intuitive adult gave to me when I was about seven years old, which sits on my bookshelf to this day.

What about recent sources of inspirations?
I'm afraid that's difficult to narrow down! But here are a few of them: All the fifteenth century Flemish Masters, with van Eyck and Memling as particular favorites, but also David, Van der Weyden, Van der Goes, and several others. Bosch, Brueghel, Durer, and Grunewald. And all of the alchemical illustrators, whether engravers or manuscript illuminators. Most of them are unfortunately anonymous. I also have a passion for certain Surrealist artists: namely, Leonor Fini, Remedios Varos, Leonora Carrington, Hans Bellmer, and Ernst Fuchs.
Her technique page is really interesting.  So much patience…
——————–

(Anna)
'The buzz about Sam Greens art has grown steadily since he graduated with his Masters from Central St Martins College, his work breathes fresh air into traditional portraiture and figurative Illustration by combining highly detailed pencil work with digital embellishments'
'Vividly coloured or black and white, severly contorted or startingly realistic, the images that Sam Green creates span the border, whether waling the line of beautifully serene or the narrow pathway of the near avante garde they all retain an immense sense of individuality'
———————–
(Hundlinge 1)
"Moussa Kone is an illustrator living and working in Vienna, Austria. The entire body of work is really fascinating and beautiful, with illustrations that look like they represent the finding of a lost opera." -(via Juxtapoz)

(Hundlinge 2)
——————–

(Boy on a Rock)
"Gideon Rubin's paintings are replete with dichotomy. Their subject matter, taken from found early twentieth-century photos, is unapologetically nostalgic – yet the work is not saccharine.
Austere and elemental, the palate is subdued, subtle, seemingly faded. Forms are reduced to a few sure brushstrokes that suggest rather than describe a figure or landscape. Identifying facial features are lost, rendered in a swirl or smudge of paint. Areas of the picture have had the paint scraped away or have never had pigment applied to the raw, natural-colored linen. Yet for paintings of such compositional economy, they luxuriate in the sensuality of oil paint. Rubin's brushwork – energetic, thick and three-dimensional – is frankly joyful.
Figures of children, parents, a glimpse of landscape – with their lovingly rendered subjects, these paintings feel intimate. Viewing them might be a voyeuristic experience, but instead there's a sense of familiarity. It's like the memory of something that's at the point of fading completely, or remembering a history that you were told about but never actually experienced first hand. Though these are another family's pictures, they might have been your own. The insignificant moments represented are the stuff of collective memory – the minutiae that make up the meaningful part of our lives." (via Hosfelt Gallery)
——–
(Greenhouse Island)
Where does your inspiration come from?
The core of my inspiration primarily comes from two things: nature (specifically landscapes and seascapes) and architecture (both primitive forms and contemporary). I've been compelled to paint greenhouses and icebergs because they both seem to blur the line between landscape and architecture.
How would you describe your creative process?
I work on 50-60 smaller paintings at a time (which is what I post on Etsy) and choose a handful I want to continue researching to make larger works from. These larger paintings are heavily worked through generations of paint and varnish where I intermittently sand and scrape away to reveal past layers and textures. I try and make work with the notion that my paintings may have been dragged up from the bottom of the ocean. I'm just as interested in a painting being an object as I am with it being a rendering of space. (via etsy feature)
—————
"Superficiality is tiring and on the other hand surgical interventions are intimidating. Caught in between, English ceramist Beccy Ridsdel is trying to demonstrate to the world that behind every white façade is hidden a flowery reality, an eternal spring that is ready to impress us with its colors. Ridsdel has worked as ceramics technician at York College for nearly 10 years and recently discovered her love of bone china and porcelain – not necessarily for its translucency, but for its fine whiteness. For her it's like a blank canvas to work on. Inspired by her mother, who is also a ceramist, Ridsdel is constantly exploring new forms and possibilities.
She says about it: "My latest work was originally an installation set up as an interrupted laboratory experiment. Traditional ceramic domestic ware was laid out on a table. To the left were stacks of intact plates, mugs and jugs, in the centre a surgical experiment was taking place – the ceramics were being dissected, like an autopsy, to find out what lays beneath the surface. To the right was a huge pile of discarded dissections. It is evident by looking at the cut surfaces that the ceramics is craft through and through – but the scientist has kept on trying."
Beccy Ridsdel forms part of a larger community of ceramists/artists that have found in craftsmanship an inspiring shelter. But where starts art and where ends craftsmanship? Ridsdel explains: "This work forms part of an exploration of the differences between art and craft, and ceramics' relationship to them. After a lot of research I realized that despite the best efforts of many ceramicists, in most people's minds working with mud is pretty much always seen as craft, and therefore somehow lower than art. This work is a wry look at this attitude".
"I am currently working on domestic variations of these pieces; the irony of which isn't lost on me…" (via Yatzer)
————————————————


Happy Web Lurking ♥