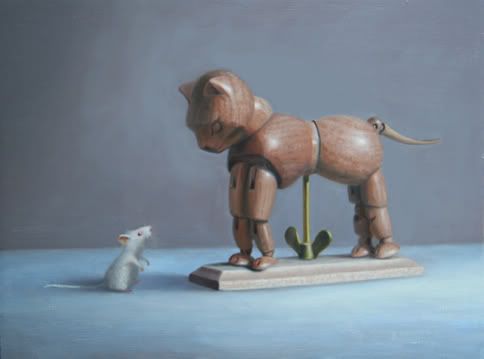 (Brave Soul-Stuart Dunkel)
Had a great time at the South End Open Studios this weekend. I was only able to make my way through the 450 Harrison Avenue building because there was just too much to see!
(ps. if you missed the open studios, 450 Harrison is open at night the First Friday of every month, and the foodtrucks/crafts/open market/vintage fair are present every Sunday)
The four floors of the 450 Harrison building I am beginning to understand like the back of my hand from First Fridays. Aside from knowing which rooms serve up the best humus, cupcakes or decanters of wine, on this visit I really had a chance to speak with some artists I had been silently admiring for some time.
Most notably,I had a chance to steal some moments with: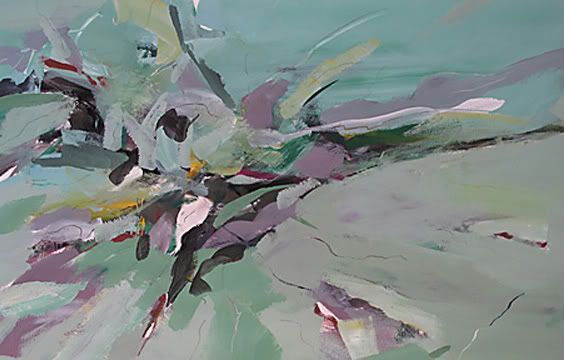 (Swoop)
(15 Birches)
(Green Chair)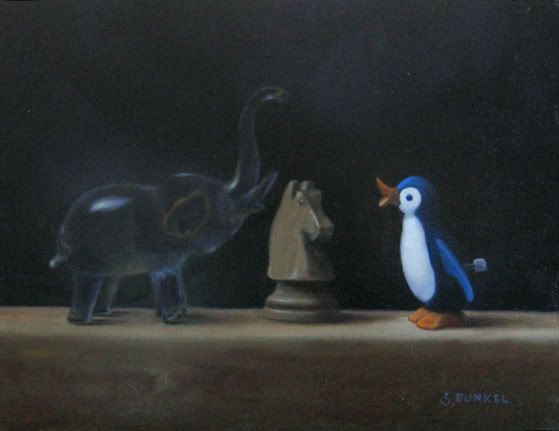 (The Debate)
It seemed like every time I left a room, I found myself mouthing to my co-pilot "Oh, my god! They are so nice/cute/friendly/creative/_insert additional flattery here_" Everyone I spoke with was surprisingly down to Earth and had the opportunity to learn about their creative process, techniques, inspirations, and share a bit about FLUX. and how I would love to help give artists like them the exposure they deserve as this site begins to grow.
In a stroke of luck I was able to meet Stuart Dunkel who is not a regular fixture at SoWa, but was simply watching a studio for a friend who suggest he bring over some of his own work. I was completely floored. His range sweeps across landscapes, food, still lives, and an amazing series of mice paintings. I ended up purchasing one of his paintings, which will result in me eating chik patties everyday for the next month, but well worth it. I plan on dedicating a post to Stuart after reading through his book he gave me(and signed!) first.
The open studios are a great way to see artists in their space, how they work, learn about their process, and get to see these local celebrities up close and personal.  A few takeaways I learned on the business end of things is that as an art collector, it is best to go to one of these events as opposed to a gallery because an artist's work can sometimes skyrocket 2 or 3x their original intended price to cover gallery commissions, fees, etc etc. Also, work in an artist's studio is uncensored, raw, and it gives them a chance to really showcase the full range of their skills. Whereas when galleries come into play, the curators in many cases pick what suits their business model or what they deem to be marketable.
Just thought I would wrap this up with an observation. I heard a few artists talking about how they were frustrated by the amount of window shoppers. I think it is essential for artists to keep plugging away at what they do(and hopefully love) even in the face of "poor sales", because one never knows what will come of a highly trafficked event such as the open studios.  I understand there is a pressure to sell your product if this is your primary source of income, but every business card someone picks up, every piece someone sees, could be future business. If someone were to ask me where they could find a modernist oil painting, about 5'x5', depicting fruits in the Boston area, I might be able to suggest 10 studios for them to check out, even if those works weren't my cup of tea.
Which also ties into my thoughts on art and galleries as a whole. I think art should be accessible and non-intimidating. You are allowed to like something just because you think it looks nice, I promise. And to that effect-I do not think curators/dealers/artists should judge the people traipsing through their space based on age, dress, or any sort of preconceived notion. Because anybody can be a potential buyer. Someone who is 20 now, could win the lotto tomorrow, or become a big time investor someday, remember your work, and want to buy the entire collection. I imagine this happens more times than you think, and for someone like me, who is fairly new to the game, I know I have my ear to the ground, and a willingness to occasionally invest my limited discretionary income in the work of an emerging artist. And even with the established artists, be nice to everyone, because you never know who will think of you when they make their first million and come strolling through your door.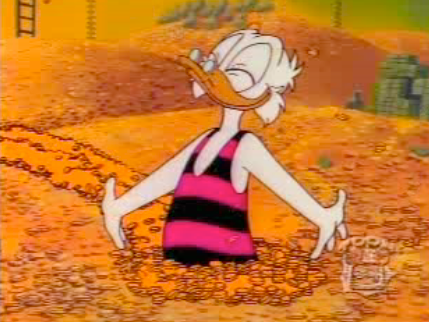 For all you design nerds, PechaKucha 19 is taking place tonight in Boston, at Mantra(yes, THAT Mantra) from 6:00-8:00PM. Free event. Cash bar. More details can be found here.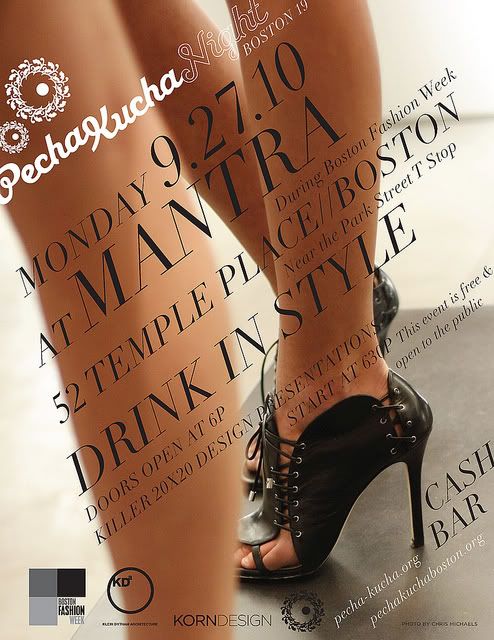 "PechaKucha Night was devised in Tokyo in February 2003 as an event for young designers to meet, network, and show their work in public. It has turned into a massive celebration, with events happening in hundreds of cities around the world, inspiring creatives worldwide. Drawing its name from the Japanese term for the sound of "chit chat", it rests on a presentation format that is based on a simple idea: 20 images x 20 seconds. It's a format that makes presentations concise, and keeps things moving at a rapid pace."
♥