Last weekend, I was cleaning out my home and discovered an unused itunes giftcard worth $25 shoved in between yellowing NSTAR bills.  Obviously there for safe keeping.  From 2004? 2002? Regardless, these babies do not expire and I have decided to educate myself by renting some must-see art documentaries instead of purchasing the new Rihanna album and 2.4 seasons of Top Chef.
This shouldn't be too difficult as I have seen a paltry amount of mainstream classics let alone art-house stuff.  To give you a better idea: I have not seen The Godfather, Rocky, Gone With the Wind, or Terminator III.
And so, I begin my Phantom iTunes Project(PIP) with Herb and Dorothy: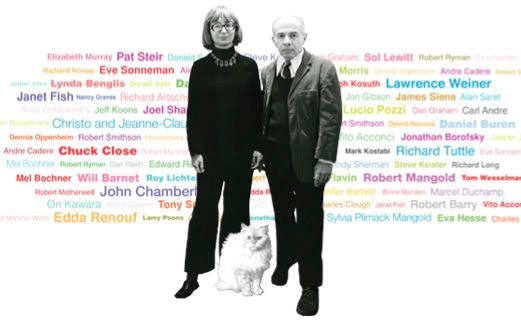 "He was a postal clerk. She was a librarian. With their modest means, the couple managed to build one of the most important contemporary art collections in history. Meet Herb and Dorothy Vogel, whose shared passion and disciplines and defied stereotypes and redefined what it means to be an art collector. "
Despite their success, the couple maintains a modest lifestyle in a small NY apartment that is filled to the brim with art.  Their taste in work is another interesting aspect of the movie, as they have a penchant for affordable minimalist pieces that can fit in their living room—so much of their apartment is covered in a bent wire piece here, a small snippet of rope there, a field painting shoved underneath a couch-but it speaks to them.  Completely endearing art hoarders.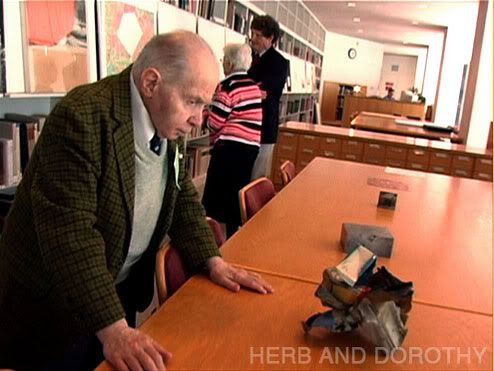 You get to hear Herb and Dorothy Vogel's story straight from the collectors themselves, the artists they patroned, and the institutions they collaborated with.
According to a semi-serious google search of "best art films", I have found a few lists, some of which I discredit since they host ads for "WANT A FLAT STOMACH? CLICK HERE TO FIND OUT WHAT OPRAH IS RAVING ABOUT" and "OBAMA WANTS MOMS TO GO BACK TO SCHOOL!"
So, I ask you dear reader what should I watch next?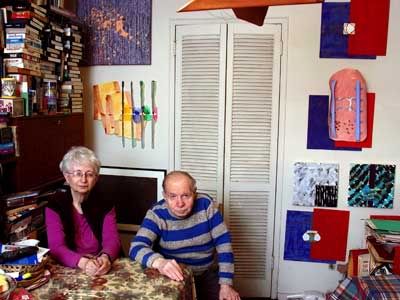 This picture is missing something…hm…
Oh, I know!
mew. ♥