This summer the Rockport Art Association, an almost century-old arts organization and not a young buck contemporary space, was the unexpected catalyst for change in this coastal community. The historical gallery was home to out of bounds, a dynamic group show curated by Bob and Jill Whitney Armstrong of iartcolony featuring the work of 18 faculty and alumni from the School of the Museum of Fine Arts.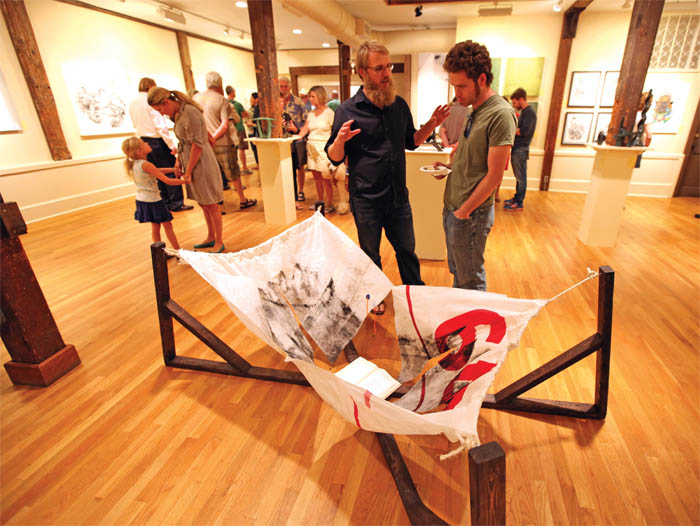 The relationship between the two organizations runs deeper than shared aesthetic interests as several founding members of the RAA were artists and SMFA alumni themselves. The partnership between the forward-thinking arts association and enthusiastic curatorial duo was further enhanced by the expertise of Paul Kotakis, who spends his days nurturing young talent at the SMFA and supporting students long after they leave the nest. After several months of planning and hard work, the exhibition opened with a crowd of more than 350 from Boston, Cape Ann and across New England.
From the outset, out of bounds was laid out with Goldilocks sensibilities: a balanced exhibition spanning a cross-section of ages and media, installed in a way that wasn't crowded, but rather, just right. Despite the differing media, it was easy for the eye to rove around, absorb the diversity yet not feel distracted or overwhelmed. Damien Hoar de Galvan's wall sculpture of kaleidoscopic-colored fragments transitioned neatly into uncanny digital imagery from Matthew Gamber's Basic Ingredients of a Complex World series. Even Peter DeCamp Haines' tiny minimalist sculptures seemed to dance around the gallery's columns.

Alex Hamrick and Greg Lookerse were so inspired by the exhibition's premise, they created site-specific work that responded to Cape Ann itself. These innovative approaches to the idea of seascape gave a nod to the past, but pushed contemporary ideas vigorously forward.

Hamrick's untitled blockbuster installation of joined wooden planks rested against the gallery's back wall, its material inspired by the nearby shoreline of Pigeon Cove and its poetic text divined from a garbled phone conversation with a friend, spoke of the overwhelming power of the sea. Fellow SMFA alumni Nikki Rosato approached the history of Cape Ann with a more delicate touch, using cut maps of the region to fashion a pair of dainty and intricate silhouettes of two local residents.

Out of bounds marked many firsts for the RAA, while also demonstrating how far the organization has come in showing new media. Photography, a medium that seems like a natural fit given the region's noted scenery, has only been welcomed into the fold in recent years. Mindful of this shift that still has people abuzz, the curators took care to incorporate the work of several photographers, highlighting traditionalists as well as those with a flair for the contemporary.
Featured artist Linda Pagani approaches photography with a clean eye and an emphasis on simplicity. Stillness presents viewers with a stark landscape of white that is gently interrupted by the faint outline of a doorway threshold, the image's quiet presence amplified through a sleek appliqué of plexiglass. This domestic setting, albeit subtle, speaks to a larger narrative for Pagani. A lifelong dream of becoming a photographer, once hampered by the chaos of daily life, has finally been realized after studying at the SMFA. No longer a casual pursuit, Pagani has added a Springborn Fellowship and Karsh Prize in photography to her resume and attracted the attention of global collectors.

While out of bounds was certainly a summer arts highlight based on its visual strengths alone, its impact transcends the work itself. This survey fleshed out the narrative of Rockport, Cape Ann and the creatives who call it home, underscoring the region's role as a thriving and multi-dimensional beacon of culture. It also challenged other New England organizations to think beyond the status quo. Change can be scary, but "good enough" is far more terrifying. In pushing outside its own comfort zone, the RAA not only welcomed new audiences and collectors through its doors, it built bridges where none existed—bridges not only between the SMFA and the communities surrounding Cape Ann, but between the region's cultural past and the ideas and issues that may affect its future.