earth's touch x dissolving the pearl x ritual to redirect the gaze of the viewer
——————– 
SMFA Art Sale

When: Thursday, November 20, 2014 (10 am – 8 pm) – opening celebration from 5 – 8pm
Friday, November 21, 2014 (10 am-8 pm)
Saturday, November 22, 2014 (10 am-8 pm)
Sunday, November 23, 2014 (10 am-5 pm)
Where: School of the Museum of Fine Arts, Boston, 230 The Fenway Boston, MA 02115
How: Official Website
What/Why: "SMFA's celebrated annual sale has become a destination for art collectors and for those who simply love art. With thousands of works on a changing rotation, priced by the artists and sold to benefit student scholarships, the SMFA Art Sale is your opportunity to discover the exceptional caliber of work produced by SMFA students, alumni, faculty, and affiliated artists, and to take home a masterpiece of your very own."
—————
Performing Illness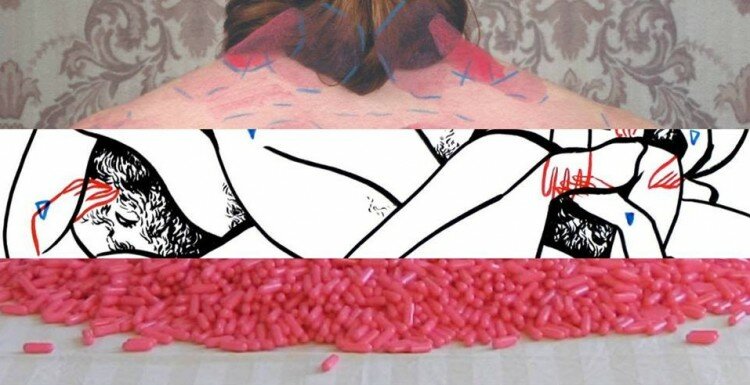 When: On view November 15th through November 29th, 2014
Opening Reception: Friday November 21st, 2014 6-9PM
Where: Howard Art Project, 1486 Dorchester Ave, Boston, Massachusetts 02122
How: Official Website
What/Why: "In Performing Illness, three contemporary artists dealing with chronic medical conditions use data, repetition and ritual to redirect the gaze of the viewer and make meaning of their lived experiences."
—————
International Fine Art Show

When: On view through November 16th, 2014
Where: The Cyclorama, 539 Tremont Street, Boston, MA 02116
How: Official Website
What/Why: "The Boston International Fine Art Show is New England's premier show and sale of historic, modern and contemporary fine art.  A show like BIFAS requires the participation of hundreds of individuals and businesses to bring you one spectactular weekend.  We especially thank our Exhibitors, without whom there would be no show.  Please support their efforts through your purchases and keep the finest in fine art coming to Boston!"
Of note..
New Collectors Salon

"Fusco & Four–We are very excited to announce that Trefler's will be sponsoring the "New Collectors Salon" at the 18th Annual Boston International Fine Art Show at The Cyclorama, Boston Center for The Arts.
The Boston International Fine Art Show will open its doors from 5:00PM to 8:00PM on Friday, November 14 to introduce new collectors to the joys of collecting fine art. As the premier event of the New Collectors Salon, Trefler's will present an on-site panel discussion entitled Caring for Your Collection. There will also be booth talks and opportunities to meet the artists throughout the evening.  Guests can reserve their complementary admission to the New Collectors Salon on Eventbrite at www.fridaysalon.eventbrite.com."
———————-
Artist Talk: Narrative-Non Narrative

When: Friday November 14th at 6:30pm, Moderated by Kaveh Mojtabai
Exhibition on view through December 4th
Where:  FPAC Gallery, 300 Summer Street M1, Boston, MA 02210
How: Official Website
What/Why: "The Fort Point Arts Community Gallery is pleased to announce the second exhibition for the 2014/15 season, Narrative/Non-Narrative: Two Artistic Approaches, featuring the work of Mario Kon and Beverly Sky. The show was juried by Andrew Witkin, Gallery Director of Barbara Krakow Gallery. 
Narrative/Non Narrative features the work of long time Boston Artists, Beverly Sky (Boston Center for the Arts, Artist Studio Building) and Mario Kon (Fort Point Arts Community), who approach art-making from two distinctly different perspectives and concerns.  Ultimately, giving form to a particular truth is what both artists work towards.
Beverly Sky's work aheres to the precept that a picture is worth a thousand words. Ms. Sky utilizes Fabric Collage as a medium to express ideas and stories that engage her aesthetic and intellectual curiosity. Quoting the artist Chuck Close… "Art is a way of accessing a symbolic vocabulary from the deep parts of ourselves that go beyond words and to touch others in that same place." 
Mario Kon's work follows a non-narrative approach, rejecting the assumption that art should be didactic and rational and instead rely on a direct visual experience of the work. Mr. Kon approaches his work with an organic and spontaneous energy. Whether sculpting, carving or painting on wood, he creates visual tensions that transform the surfaces geometrically. To quote the painter Mark Rothko…"Silence is so accurate."
———————-
SHEER PANIC: Senior Thesis Exhibition
When: On view through 14th, 2014
Where: Montserrat College of Art Galleries, Montserrat College of Art, 23 Essex Street, Beverly, MA 01915
How: Official Website
What/Why: "SHEER PANIC, is a cross discipline show, featuring the work of Joanna Carey (Haverhill, MA), Keisuke Eguchi (Kanagawa, Japan), Casandra LaFlamme (Beverly, MA), Allison Myers (Boston, MA), Ivy Neff (Cambridge, MA), Amy Titus (Groveland, MA), and Chelbi Wade (Westbrook, CT).
The show incorporates paintings, drawings, and sculptures. SHEER PANIC features large scale work, collections, and installations, in which the viewer can be transported into a different way of seeing. Much of the work encourages looking closer at the world around us, whether this be in relation to nature, political issues, or everyday subjects. Many of the artists' work draws influence from nature's beauty and details, such as types of growth."
———————-
Stuck In Amber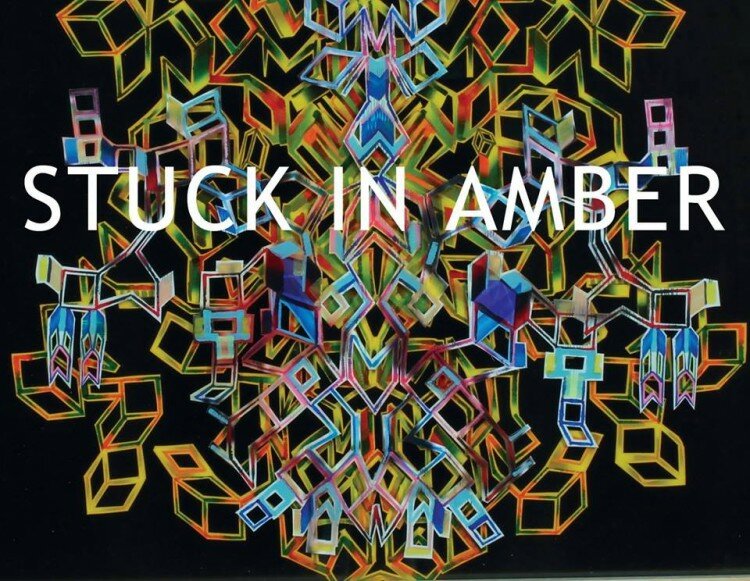 When: On view through December 2014
Opening Reception: Sunday November 16th, 5-7PM
Where: lilypad, 1353 Cambridge St, Cambridge, Massachusetts 02139
How: Official Website
What/Why: "Works by Vanessa Irzyk. Featuring Vanessa Irzyk's latest work of intricate almost symmetrical works on paper suspended in between colored plexiglass."
———————-
Merger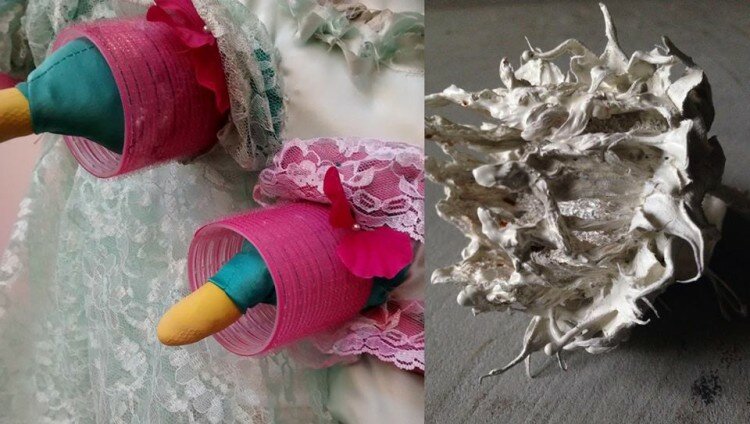 When: On view through November 28th, 2014
Opening Reception: Merger Celebration (the big day) with cake, costumes & surprises: November 15, 2-5pm -black tie optional-
Where: 43 Main Street, Easthampton, MA
How: Official Website
What/Why: "We ( Elizabeth Alexander and Alicia Renadette ) have been psychically communicating through art-making while hunched over our worktables in separate cities for the past several years. Responding to our environments using techniques of deconstruction and reconstitution, our patterns and processes often overlap. It only seems fair that our work should finally meet "in person".
We bring you: "Merger", an exhibit of works that interrogate the multi-layered messages of gender compliance and classist aspirations marketed through the Wedding Industry (that of the magazine rack-ready-traditional-hetero-normative-WASP-y …variety). This exploration has resulted in a dream-scape of decadence including dissected china sets, illusions of indulgent meals, over-sized swans, sad flowers arrangements and heightened delusions of grandeur. The exhibit will come alive on November 15 for the main celebration of this union where we will indulge your ears, eyes, and taste buds. We look forward to seeing you! -Alicia and Elizabeth"
———————-
Ivana George: Artist Talk

When: Saturday November 15th, 2014 1pm
Where: Panopticon, 502C Commonwealth Ave, Boston, Massachusetts 02215
How: Official Website
What/Why: "We will be hosting a gallery talk with photographer Ivana Damien George on Saturday, November 15th. She will be discussing the images from her series Glacial Waters. These images were taken during a journey to the Andes mountain range in Peru, where she was studying the affects of climate change on their ecosystem."
———————-
Mother Brook Open Studios

When: November 15th(10a-6p) and 16th(12-6p), 2014
Where: Mother Brook Arts & Community Center, 123 High St, Dedham, Massachusetts 02026
How: Official Website
What/Why: "Join us for the weekend of November 15 & 16 as Mother Brook Open Studios showcases the work of resident and guest artists. The weekend will also feature artist demonstrations, children's art activities, food trucks, and musical performances, including a Boston Symphony Orchestra Community Chamber Concert. Come be a part of the festivities!"
———————-
An Appeal to Heaven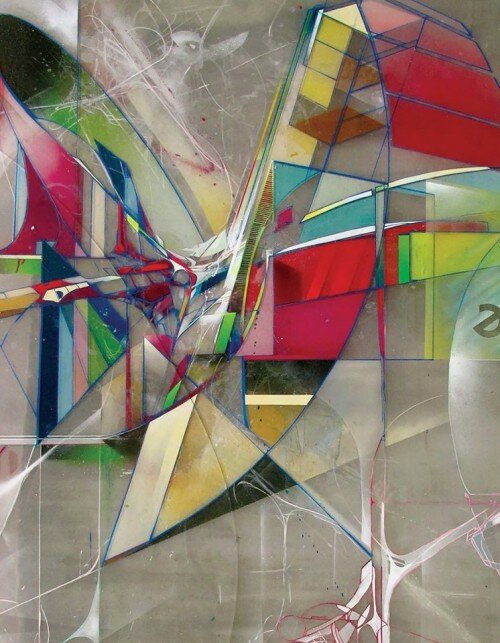 When: On view through December 31st, 2014
Opening Reception: Friday November 14th, 7-11P
Where: Lot F Gallery, 145 Pearl St, Boston, Massachusetts 02110
How: Official Website
What/Why: "Lot F Gallery is getting futuristic this fall, and welcomes Stephen Holding's return to the Boston exhibition space in November. Holding, known for his precise, colorful compositions will debut a new body of work. Layers of fluid, lucid brushwork, incorporated seamlessly into his mixed media works, will line the walls in what will be Stephen's second solo exhibition at the Boston gallery."
———————-
Art, Learning & Social Change: A Discussion

When: Saturday Saturday at 5:00pm – 7:00pm
Where: The Urbano Project, 29 Germania Street, Building F, Boston, Massachusetts 02130
How: Official Website
What/Why: "In this open conversation with leaders in the field of arts learning, we will uncover how it is that we learn with and through the arts and identify the ways in which arts learning is being applied to artistic practice and social change. 
Key Questions include: how do we learn with and through contemporary art, what does this look like and how is it facilitated? How are teaching and learning integrated as media in contemporary artistic practice? And how can the application of arts learning incite meaningful social change? 
Join Urbano Founder Stella Aguirre McGregor, Project Zero Senior Researcher Edward Clapp, Museum of Fine Arts Head of Gallery Learning Brooke Digiovanni Evans, Artist and Educator Sandrine Schaefer and AS220's Director of Youth Programming Anjel Newman for a dynamic conversation mapping how and where arts learning takes place and its potentiality to be a catalyst for social change."
———————-
Fenway Open Studios

When: Saturday, November 15th and Sunday, November 16th 11am-5pm
Where: Fenway Studios, 30 Ipswich Street, Boston, MA 02215
How: Official Website
What/Why: "This event provides a rare opportunity to meet and talk with artists as well as to see the inside of this National Historic Landmark. This is the oldest purpose built structure in the country designed soley as artist studios.
During open studios, a raffle is held and funds raised are used to promote the building and restoration efforts.
The Open Studios committee also uses this event as an opportunity to solicit donations to the Greater Boston Food Bank.  Visitors are asked to bring a non-perishable food item, which the artists then deliver to GBFB. The drive has been a great success. 
Find out more about the GBFB's most needed items."
———————-
Art School Slide Swipe: Speed Dating Meets the Artist Talk

When: Thursday, November 20at 7:00pm – 8:30pm
Where: Boston Center for the Arts, 539 Tremont St, Boston, Massachusetts 02116
How: Official Website
What/Why: "Come and discover what art students in Boston are really doing! The BCA's Mills Gallery showcases local art students and their practices, in a format inspired by Pecha Kucha, a rapid-fire style of presentation."
——————————
Ariel Freiberg: Earth's Touch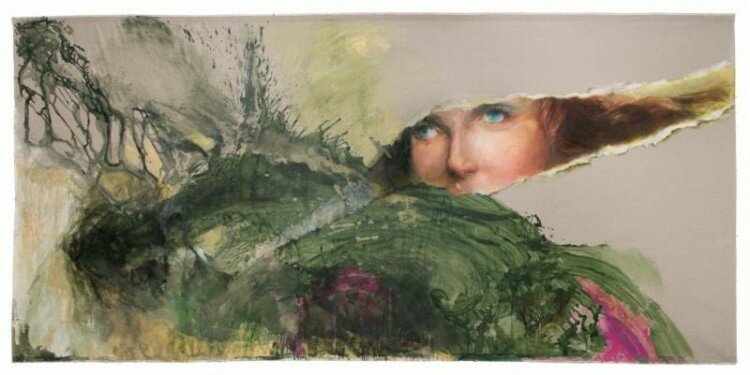 When: On view through December 17th, 2014
Where: Frame 301 Gallery, 301 Cabot Street , Beverly, MA 01915
How: Official Website
What/Why: "Earth's Touch is a one-person exhibition for the window front gallery space.  Earth's Touch, a mural size painting, is cataclysm pollinated with a romantic vignetted face. The face could be from a billboard, a fashion advertisement, or an 18th century portrait painting. The passage with the face looks like ripped paper, employed by "urban trickery" or trompe l'oeil. The ground, or substrate space of the canvas, is a stark contrast to the delicately painted face. The open space of the painting is stained and aggressively treated, as to reference earthiness and decay. "
———————-
Say hi:
EMAIL | TWITTER | FACEBOOK | INSTAGRAM | PINTEREST
"When we remember we are all mad, the mysteries disappear and life stands explained."
— Mark Twain
I wish I could be everywhere at once.
Enjoy the weekend! ♥