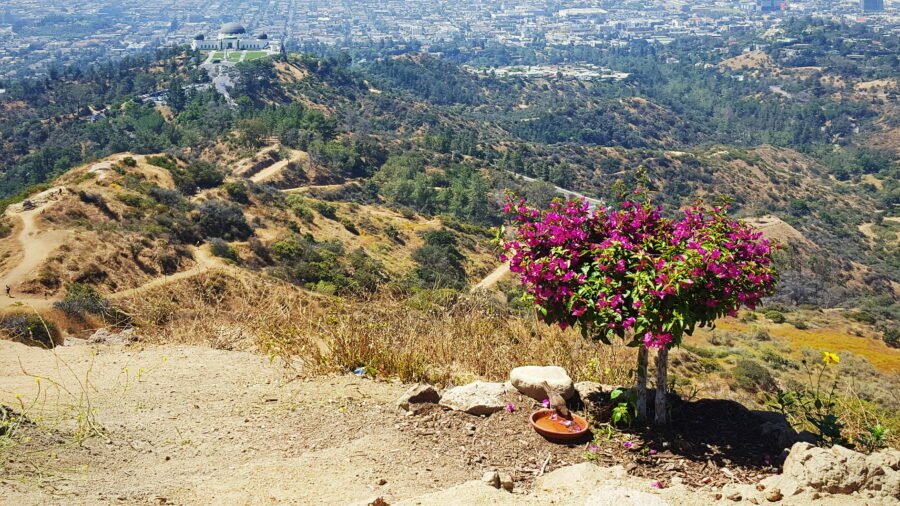 It's no surprise I fell in love with Los Angeles, it's easy on the eyes.
I had just always assumed my affections would stem from a superficial place; a self-fulfilling DailyMail prophecy of sorts.
As if each morning on my way to grab coffee, like a scene from Westworld, I was sure to pass Kylie Jenner, head-to-toe in #spons merchandise fleeing a sea of feral paparazzi..and not long after, Hugh Jackman would turn a corner and tell me it's OK to pet his french bulldog, Dali.
And I would squint my eyes at everyone I met, trying to reconcile their face with some minor role they had in a CW show from my youth.
Is that?.. -snaps fingers- ahh, yes "Waiter #7" from Season 3, Episode 10 of the O.C.
But as soon as I touched down in Los Angeles, my tween fever dreams and predated snark began to dissipate: the people were warm and friendly, the food was amazing, the cloudless skies made the world look more vibrant, and you could walk far more than I had been told.
The unofficial LA A.D. tagline of the trip became "everyone is just having a great time", and I wanted to share some of the places I personally found exciting with you dear reader, should you want to make a week/month/year out of a future trip out west.
————
●ART
MUSEUMS
The Getty Center

Where: 1200 Getty Center Dr, Los Angeles, CA 90049
How: Official Website 
What/Why: "The J. Paul Getty Museum seeks to inspire curiosity about, and enjoyment and understanding of, the visual arts by collecting, conserving, exhibiting and interpreting works of art of outstanding quality and historical importance. To fulfill this mission, the Museum continues to build its collections through purchase and gifts, and develops programs of exhibitions, publications, scholarly research, public education, and the performing arts that engage our diverse local and international audiences. All of these activities are enhanced by the uniquely evocative architectural and garden settings provided by the Museum's two renowned venues: the Getty Villa and the Getty Center.
The J. Paul Getty Museum at the Getty Center in Los Angeles houses European paintings, drawings, sculpture, illuminated manuscripts, decorative arts, and photography from its beginnings to the present, gathered internationally.

The J. Paul Getty Museum at the Getty Villa in Malibu opened on January 28, 2006, after the completion of a major renovation project. As a museum and educational center dedicated to the study of the arts and cultures of ancient Greece, Rome, and Etruria, the Getty Villa serves a varied audience through exhibitions, conservation, scholarship, research, and public programs. The Villa houses approximately 44,000 works of art from the Museum's extensive collection of Greek, Roman, and Etruscan antiquities, of which over 1,200 are on view.

With two locations, the Getty Villa in Malibu and the Getty Center in Los Angeles, the J. Paul Getty Museum serves a wide variety of audiences through its expanded range of exhibitions and programming in the visual arts."

————-
The Marciano Art Foundation

Where: Marciano Art Foundation, 4357 Wilshire Boulevard, Los Angeles, CA 90010
How: Official Website 
What/Why: "The Marciano Art Foundation is a space to discover and engage with contemporary art. Through exhibiting a diverse and compelling collection, built by a family that is passionate and dedicated to the arts, and initiating special projects by artists working in all areas of artistic production, MAF aims to encourage curiosity and contemplation of art and the ways it impacts and enriches our lives."

My 2¢: FREE but timed entry so reserve a time in advance. Aside from the incredble collection of contemporary work, other selling points include 1.) The foundation is housed within an old Masonic Temple. The former occupants mistakenly left mason-y things behind, and these findings have been compiled into a pretty amazing relic room on view. 2.) The art collectors behind the Marciano Art Foundation are the FOUNDERS👏OF👏GUESS👏JEANS👏. #why
——
The Los Angeles County Museum of Art

Where: The Los Angeles County Museum of Art, 5905 Wilshire Boulevard Los Angeles, CA 90036
How: Official Website 
What/Why: "Since its inception in 1965, the Los Angeles County Museum of Art (LACMA) has been devoted to collecting works of art that span both history and geography, in addition to representing Los Angeles's uniquely diverse population. Today LACMA is the largest art museum in the western United States, with a collection that includes nearly 130,000 objects dating from antiquity to the present, encompassing the geographic world and nearly the entire history of art. Among the museum's strengths are its holdings of Asian art, Latin American art, ranging from pre-Columbian masterpieces to works by leading modern and contemporary artists; and Islamic art, of which LACMA hosts one of the most significant collections in the world. A museum of international stature as well as a vital part of Southern California, LACMA shares its vast collections through exhibitions, public programs, and research facilities that attract over a million visitors annually, in addition to serving millions through digital initiatives, such as online collections, scholarly catalogues, and interactive engagement at lacma.org. Situated in Hancock Park on over 20 acres in the heart of Los Angeles, LACMA is located between the ocean and downtown."
—————
The Broad
Where: 221 S Grand Ave, Los Angeles, CA 90012
How: Official Website 
What/Why: "The Broad is a contemporary art museum founded by philanthropists Eli and Edythe Broad on Grand Avenue in downtown Los Angeles. The museum is designed by Diller Scofidio + Renfro in collaboration with Gensler and offers free general admission. The museum is home to the 2,000 works of art in the Broad collection, which is among the most prominent holdings of postwar and contemporary art worldwide, and has launched an active program of rotating temporary exhibitions and innovative audience engagement. The 120,000-square-foot, $140-million building features two floors of gallery space and is the headquarters of The Broad Art Foundation's worldwide lending library, which has actively loaned collection works to museums around the world since 1984. Since opening in September 2015, The Broad has welcomed more than 1.2 million visitors."

My 2¢: Kusama Infinity Room Tip – Arrive at the Broad as soon as it opens and make a beeline for the installation queue. If you can get in, great, otherwise add yourself to the ipad waitlist which may scare you with the following confirmation message: "Hi Elizabeth, your Kusama reservation is in approx 269 minutes. We will text you when you are almost due" even if your name is not Elizabeth.

———————–
La Brea Tar Pit Museum

Where: The La Brea Tar Pits and Museum, 5801 Wilshire Boulevard, Los Angeles, CA 90036
How: Official Website 
What/Why: "Located in the heart of metropolitan Los Angeles, the La Brea Tar Pits are one of the world's most famous fossil localities. The newly named La Brea Tar Pits Museum (located in the George C. Page Museum building) displays Ice Age fossils — including saber-toothed cats, dire wolves and mammoths —  from 10,000 to 40,000-year-old asphalt deposits. But visitors can also watch the processes of paleontology unfold. Every day inside the glass-enclosed Fossil Lab, scientists and volunteers prepare fossils including "Zed," a recently discovered male Columbian mammoth.
The La Brea Tar Pits and Museum is currently excavating and studying a cache of recently unearthed fossils known as Project 23, an endeavor that could double the Museum's already tremendous collection of more than three million Ice Age specimens and inform decades of new research. Outside the Museum, in Hancock Park, the Pleistocene Garden and iconic life-size replicas of extinct mammals depict the life that once grew, and roamed, in the Los Angeles Basin."
———————–
Hammer Museum

Where: Hammer Museum, 10899 Wilshire Blvd. Los Angeles, CA  90024
How: Official Website 
What/Why: "The Hammer Museum, which is affiliated with the University of California, Los Angeles, is an art museumand cultural center known for its artist-centric and progressive array of exhibitions and public programs. Founded in 1990 by the entrepreneur-industrialist Armand Hammer to house his personal art collection, the museum has since expanded its scope to become "the hippest and most culturally relevant institution in town."[1] Particularly important among the museum's critically acclaimed exhibitions are presentations of both historically over-looked and emerging contemporary artists. The Hammer Museum also hosts over 300 programs throughout the year, from lectures, symposia, and readings to concerts and film screenings."
————–
GALLERIES
The 14th Factory

Where: 440 N Ave 19, Los Angeles, CA 90031
How: Official Website 
What/Why: "The 14th Factory is a monumental, multiple-media, socially engaged art and documentary experience conceived by the Hong Kong-based British artist Simon Birch. Taking over three acres of an empty industrial warehouse and lot on the outskirts of downtown Los Angeles, the location has been transformed into a factory where Birch and his 20 creative collaborators work and manufacture their art, creating an ever-changing immersive environment of 14 interlinked spaces comprised of video, installation, sculpture, paintings and performance.

In entering The 14th Factory, the visitor is transformed into a central player in a collaboratively fabricated adventure and motion picture that engages and unfolds, uniting individuals to the creative process and to each other. The experience challenges the current political climate by celebrating creative diversity, unity and the act of overcoming obstacles and challenges as a global society.

This underlying theme informs the work of collaborating artists, which include Beijing multimedia and performance artist Cang Xin; Hong Kong-based filmmaker Wing Shya; photographer and graphic designer Stanley Wong (anothermountainman); ceramic artist Sara Tse; New York composer Gary Gunn; UK video artists Scott Carthy and Doug Foster; British punk rockers Penny Rimbaud of the band Crass; Jello Biafra of the Dead Kennedys and Pauline Black of The Selector, who appear in paintings by Birch and in interviews within the project.

The complete list of collaborators, which forms a global community of interdisciplinary artists from China, Hong Kong, the United States, the United Kingdom and Canada, include: Simon Birch, Cang Xin, Devin Liston, Dominique Fung, Doug Foster, Eric Hu, Gary Gunn, Gloria Yu, Li Wei, Lily Kwong, Movana Chen, Paul Kember, Penny Rimbaud, Peter Yuill, Prodip Leung, Sara Tse, Scott Carthy, Scott Sporleder, Stanley Wong, Wing Shya, Yang Zhichao."
I'm not one to pick favorites, but..






My 2¢: This was certainly a highlight of my trip. Reserve your tickets in advance. Although, I don't know how much there is left to see at this point..

#oops
———–
Subliminal Projects

Where: 1331 W. Sunset Blvd.,Los Angeles, CA 90026
How: Official Website 
What/Why: "Subliminal, was originally created by Shepard Fairey and Blaize Blouin as an artist collective in 1995. The group played an integral part in introducing skateboarding culture and design to the art world, showcasing artists such as Phil Frost, Thomas Campbell, Mike Mills, Dave Aaron, and Mark Gonzales.

Amanda and Shepard Fairey continued to host and curate exhibitions that featured artists such as Ryan McGinness, HunterGatherer, David Ellis, Doze Green, Aesthetic Apparatus, Space Invader, Jim Houser and Andrew Jeffery Wright. In 2003, the SUBLIMINAL PROJECTS gallery was officially opened in the Los Angeles offices of Studio Number One. The scope of the gallery remained true to its roots while embracing new forms of graphic art, illustration, photography and time-based media.

Now located in the historic Los Angeles neighborhood of Echo Park, Subliminal Projects continues to offer a platform for artistic exploration and innovation. The perennial schedule includes art exhibitions by established and emerging artists, as well as a lecture series, workshops and artist publications."
—————–
Gregorio Escalante

Where: 978 Chung King Rd, Los Angeles, CA 90012
How: Official Website 
What/Why: "ESTABLISHED IN 2015…Gregorio Escalante Gallery endeavors to present a selection of the most influential artists working today, particularly in the areas of underground, street, and lowbrow art. Located on Chinatown's historic Chung King Road in Los Angeles, the gallery's mission builds on the tradition of Juxtapoz Art Magazine, co-founded by owner and curator Greg Escalante, with the intention of giving a voice to art movements ignored by the mainstream. Many of the artists featured have helped to give rise to a celebration of an alternative art world,bridging both underground and institutional contexts."
——————
Zevitas Marcus

Where: Zevitas Marcus, 2754 S La Cienega Blvd, Los Angeles, California 90034
How: Official Website 
What/Why: "Opened in September of 2015, Zevitas Marcus is a contemporary art gallery founded by Steven Zevitas and Richard Marcus and located in the heart of Los Angeles' gallery district, Culver City. Zevitas is the publisher of New American Paintings magazine and the owner of Steven Zevitas Gallery, which has operated in Boston since 2004. Marcus is a Los Angeles-based entrepreneur, filmmaker and collector with a deep commitment to the arts. The gallery programming focuses on emerging and mid-career artists with an emphasis on the medium of painting."
My 2¢: This is the West Coast counterpart to Boston's very own Steven Zevitas Gallery in SoWa. 
——————
Corey Helford Gallery
Where: 571 S Anderson St (Enter on Willow St), Los Angeles, CA 90033
How: Official Website 
What/Why: "Corey Helford Gallery (CHG) was first established in 2006 by Jan Corey Helford and her husband, television producer and creator, Bruce Helford (Anger Management, The Drew Carey Show, George Lopez,The Oblongs) and has since evolved into one of the premier galleries of New Contemporary art. Its goals as an institution are the support and growth of young and emerging, to well-known and established artists, the production and promotion of their artwork, and the general production of their exhibits, events and projects.

CHG represents a diverse collection of international artists, primarily influenced by today's pop culture and collectively encompassing style genres such as New Figurative Art, Pop Surrealism, Neo Pop, Graffiti and Street Art, and Post-Graffiti. The gallery has exhibited at important art fairs including SCOPE Miami Beach, SCOPE New York, LA Art Fair, and more. In 2010, CHG also partnered with Bristol's City Museum & Art Gallery for the transatlantic collaboration "Art From The New World," a world-class United Kingdom museum exhibition, showcasing work by a celebrated group of today's most notable American artists. After nine years in Culver City, CHG re-located in December 2015 to a robust 12,000 sq. ft. building in Downtown Los Angeles, where it continues to host exhibitions within the heart of the city's art community. The current space boasts three separate galleries, each of which house individual artist and group exhibitions, whereas the main gallery offers 4,500 sq. ft., providing total immersion for its attendees. New exhibitions are presented approximately every four weeks."
——————
Gallery Nucleus

Where: 210 East Main Street, Alhambra, CA 91801
How: Official Website 
What/Why: "Since October of 2004, Nucleus has strived to be a welcoming gathering place for the art loving community by offering quality art, art-related goods, and rarities. Focusing primarily on gallery exhibits, we have also had benefit auctions, product signings, music events, and artist lectures.

Having exhibited both local artists and artists from abroad, and catering to an international customer base, we offer an extensive collection of original contemporary, illustrated, graphic, commercial, and narrative art – all of which are carefully catalogued on our website.

Always open to the public, we welcome art collectors and the general public alike to visit us."
——————
Gallery 1988

Where: 7308 Melrose Ave, Los Angeles, CA 90046
How: Official Website 
What/Why: "Gallery 1988 has quickly become one of the world's most talked about art galleries. Opened in 2004 on the famous corner of Melrose and La Brea, by California natives Katie Cromwell and Jensen Karp, the gallery has become the nation's number one destination for pop-culture themed artwork and the premiere venue to witness the rise of emerging artists before they break.

Openings at the gallery have seen upwards of 2,500 people attending in one night, including celebrities such as Jessica Alba, Nicole Richie, Good Charlotte, Seth Rogen, DJ AM, Paul Wall, Seth Green, Samuel L. Jackson, Jonah Hill, Michael Rappaport, Linkin Park, Swizz Beats and Joss Whedon admiring the walls. An annual show at G1988, "Crazy 4 Cult" receives worldwide press (faced by the show's hosts, filmmakers Kevin Smith and Scott Mosier) and over 1,000,000 website hits on the day of the opening reception. In addition, Gallery1988 has collaborated with Stan Lee and Beastie Boys to create the annual tribute show, "Under the Influence," which pays homage to these inspirational icons and their influence on our generation. In 2011, Karp and Cromwell expanded G1988 with a new location in Venice Beach, CA.

The galleries have been featured in dozens of magazines including US Weekly, Jutxapoz, JANE, COMPLEX, The Los Angeles Times, FHM, The Washington Post, and The National Post. They've also received press from the CNN, G4 network, KTLA, KTTV, CNN.com, MSNBC.com, KROQ, Power 106 and publications in the United Kingdom, Japan, Sweden, Germany and Italy. G1988 has also created unprecedented partnerships with corporations like The Walt Disney Company, Capcom and Mattel to produce art shows inspired by their products and history. In 2009, Gallery1988:LA worked hand in hand with Tyson/Givens Design & ABC television show "LOST," to create a promotional campaign and art show that has changed the face of television marketing as a whole. For the past 6 years, Gallery 1988 has helped nurture and create a collective of artists who call 1988 their homebase allowing collectors to purchase affordable artwork from art stars on the rise, before their price range skyrockets."
My 2¢:  Did you know the expertly painted astronaut above is by Boston's very own #bosarts celeb, Scott Listfield? It's true.
—————
Hauser & Wirth

Where: Hauser & Wirth , 901 East 3rd Street, Los Angeles CA 90013
How: Official Website 
What/Why: "Hauser & Wirth is an international gallery devoted to contemporary and modern art, founded in Switzerland by Iwan and Manuela Wirth and Ursula Hauser in 1992."
————–
Coagula Curatorial

Where: 974 Chung King Rd, Los Angeles, CA 90012
How: Official Website 
What/Why: "Coagula Curatorial is a contemporary art gallery founded in April 2012 by Mat Gleason, Los Angeles art critic & curator. From 1992-2011, Gleason published Coagula Art Journal, a free zine-style publication on contemporary art, which gained notoriety for its "no holds barred" critique of the contemporary art world."
————-
Thinkspace

Where: 6009 Washington Blvd, Culver City, CA 90232
How: Official Website 
What/Why: "Gallery showcasing rotating exhibits of contemporary art by young & emerging artists."
—————-
La Luz de Jesus Gallery

Where: 4633 Hollywood Blvd, Los Angeles, CA 90027
How: Official Website 
What/Why: "One of the most important, ground-breaking galleries in LA, which quickly garnered a considerable reputation with collectors, galleries, & artists around the world; & gave birth to a genre of California art that would come to be known as Lowbrow."

—————–
Cordesa Fine Art

Where: 941 E 2nd St #208, Los Angeles, CA 90012
How: Official Website 
What/Why: "Established in 2015, Cordesa is a fine art gallery that backs an international roster of emerging and midcareer artists. We support individuals who inspire and test contemporary culture."
—————–
Iam8bit

Where: 2147 Sunset Blvd, Los Angeles, CA 90026
How: Official Website 
What/Why: "Founded in 2005, iam8bit is a creative production company that refuses to be pigeonholed, having crafted unique and memorable experiences for a broad spectrum of brands like HBO, Nintendo, PlayStation, Disney, MTV, Activision, Universal, Capcom, Interscope, Warner Bros., Machinima and countless others. These attentively cultivated experiences come in many forms — from events to one-of-a-kind mailers to commercials and films. In addition, iam8bit is currently developing several original IPs for feature, TV and digital distribution — as well as curating regular exhibitions at their Los Angeles-based gallery. The company is co-owned by Jon M. Gibson and Amanda White."
—————–
●SHOP
Giant Robot

Where: 2015 Sawtelle Blvd Los Angeles, CA 90025
How: Official Website 
What/Why: "Retail store dedicated to Asian-inspired toys, clothing, bags, pop art, books & stationery."
Related..
GR2 Gallery

Where: 2062 Sawtelle Blvd Los Angeles, CA 90025
How: Official Website 
What/Why: Current exhibition info here.
—————–
Memento Mori

Where: 2209 Sunset Blvd, Los Angeles, CA 90026
How: Official Website 
What/Why: "Memento Mori is an award winning, beautifully curated, curiosity shop featured on such shows as, Bravo's Million Dollar Listing Los Angeles and A&E's Storage Wars. The Echo Park shop, embraces a Victorian hunting lodge feel, showcasing the most unique curiosities, oddities and treasures in Los Angeles. Witness the wonder and studio experience with a Gothic edge. Damask walls line the shop with macabre art, vintage photography and signature insect mounts. Explore the many curio cabinets filled with skulls, candles, antiques and one of a kind gifts. Home decor for the most eclectic tastes like taxidermy, vintage clocks, lamps and accents."
————-
Japan LA

Where: 7320 ½ Melrose Ave. (don't type the ½ in your GPS), Los Angeles, CA 90046
How: Official Website 
What/Why: "JapanLA is a unique retail shop that caters to adults who love "kawaii" or "cute" character goods. We carry toys, gifts, apparel, accessories, art, and more, all inspired by Japanese and Los Angeles Pop Culture. Jamie Rivadeneira started the store, in 2006. Many items are imported from Japan!

JapanLA is a clothing brand! We manufacture official licensed clothing from brands like Sanrio, San-X, tokidoki, and Artist collaborations. There is a gallery space in the back of the store, showcasing the best in cute art from all over the world. We also feature special Pop-Up shops with local brands and brands from Japan.

JapanLA is a lifestyle brand. We curate theme parties and art shows, including the most recent Hello Kitty Exhibition Art Show, at the Japanese American National Museum, in L.A.

JapanLA encourages people of all ages to embrace their love of cute things and share it with friends! Join the Cute Culture!"
——————
Spitfire Girl

Where: 7401 Melrose Ave, Los Angeles, CA 90046
How: Official Website 
What/Why: "A gift/boutique/all around awesome store" -self proclaimed
————-
Tokyo Japanese Outlet

Where: 114 Japanese Village Plz Mall, Los Angeles, CA 90012

How: Official Website 
What/Why: "Every day, our customers enjoy browsing the store because they find new and amazing items.  You will continually be surprised to find interesting items to amaze you, your friends and family.   You must visit the stores to appreciate the diverse items available for browsing and purchase.  Because there are over 4000 items in the JLS and JO stores, you may need more than a day to view all the interesting items.

Please visit the store, I am sure that you will find items to amuse and amaze you."
————-
●EATS
In-N-Out

Where: 9149 S Sepulveda Blvd, Los Angeles, CA 90045

How: Official Website 
What/Why: "In-N-Out Burger is an American regional chain of fast food restaurants with locations primarily in the American Southwest and Pacific coast. It was founded in Baldwin Park, California in 1948 by Harry Snyder and his wife Esther Snyder."
My 2¢: Believe the hype. I went to the location closest to the airport and nothing says "Welcome to Los Angeles" quite like planes landing among palm trees while you shovel animal fries in your face.

—————–
Dialog Cafe

Where: 8766 Holloway Dr, West Hollywood, CA 90069
How: Official Website 
What/Why: "Family-run cafe & coffee shop with large windows serving breakfast, sandwiches & housemade gelato."
————
Egg Slut

Where: 317 South Central Market, Los Angeles, CA
How: Official Website 
What/Why: "Casual, egg-centric food stand in the Grand Central Market offering omelets & other American grub."
My 2¢: When this notification pops up at work:

Related..
Grand Central Market

Where: 317 South Central Market, Los Angeles, CA
How: Official Website 
What/Why: "Emporium hosting food vendors & florists, plus game nights, movies & other events, since 1917."
—————-
Blu Jam Cafe

Where: 7371 Melrose Ave, Los Angeles, CA 90046
How: Official Website 
What/Why: "Bustling American cafe popular for sustainable, creative & Euro-accented breakfasts served all day."
My 2¢: BREAKFASTS👏SERVED👏ALL👏DAY👏I noticed that chilaquiles (tortilla chips, scrambled eggs, braised chicken, tomatoes, cilantro, chipotle, black beans, onions, cheddar cheese, pico de gallo, sour cream) seemed to find their way onto every Los Angeles menu, and Blu Jam Cafe is where I finally caved. Absolutely no regrets.
————–
Lollicup

Where: 988 N Hill St, Los Angeles, CA 90012
How: Official Website 
What/Why: "Chain cafe serving Taiwanese bubble teas & snacks such as fried popcorn chicken"
—————-
Manuela

Where: 907 E. 3rd Street, Los Angeles CA 90013
How: Official Website 
What/Why: "Manuela, helmed by Chef Wes Whitsell, is the new onsite restaurant at Hauser & Wirth Los Angeles. Heavily influenced by Chef Whitsell's culinary roots and upbringing in rural North Texas, the menu highlights artisanal techniques including in-house smoking, fermenting, preserving and pickling, and celebrates locally-sourced seasonal ingredients. Named for and taking inspiration from the co-owner and gallery co-President Manuela Wirth, renowned for her exceptional hospitality, the restaurant will provide guests with a convivial, distinct experience where art, community, sustainability and food converge."
—————-
Home

Where:  1760 Hillhurst Ave, Los Angeles, CA 90027
How: Official Website 
What/Why: "Hipsters fill up on heaping plates of homestyle comfort grub plus cocktails on the big heated patio." – thanks google
My 2¢: I mean..

————
Angel City Brewery

Where: 216 Alameda St, Los Angeles, CA 90012
How: Official Website 
What/Why: "Angel City Brewery is an LA-based craft brewery located in the heart of Downtown Los Angeles."
————–
1642

Where: 1642 W Temple St, Los Angeles, CA 90026
How: Official Website 
What/Why: "Local hangout offering wine & craft beers in a stylish, low-key setting, plus live music nights."
—————–
The Pie Hole

Where: List of Locations Here 
How: Official Website 
What/Why: "Our mission is simple: happiness one slice at a time. The Pie Hole has five locations: Hollywood, Arts District, Pasadena, Orange County and Glendale. The Pie Hole offers sweet and savory pies along with other baked items that complement our organic coffee program featuring our house blends which are organic and Rainforest Alliance Certified and then roasted to exact specification. We strongly believe working local provides better relationships and the freshest and most delicious pie and coffee possible."

—————
Randy's Donuts

Where: Randy's Donuts, 805 W Manchester Blvd, Inglewood, CA 90301
How: Official Website 
What/Why: "Built in 1953, World Famous Randy's Donuts is consistently named one of the top donut shops in the country for over 60 years.   One of the most iconic locations in Los Angeles attracting visitors from around the world to take pictures of the giant rooftop donut and enjoy the best donuts in the world!"
——————–
Something for all you Real Housewives fans out there..
PUMP Los Angeles

Where: 8948 Santa Monica Blvd, West Hollywood, CA 90069
How: Official Website 
What/Why: "TV celeb Lisa Vanderpump's spot for upscale New American dining & drinks in ritzy garden environs."
———-
●SIGHTS
Old Los Angeles Zoo
Where: Griffith Park Drive, Los Angeles, California, 90027

What/Why: "In a quiet area of Griffith Park in Los Angeles, you can picnic in a bear grotto and climb inside abandoned monkey cages. If you have ever wondered what you appear like to the animals in the zoo, this abandoned LA zoo is your chance to find out.

The site of the first Los Angeles zoo, it opened in 1912 with 15 animals. Many of the enclosures were built in the 1930s by Works Progress Administration crews and were made in the iron bars/pacing animal-style that was standard for zoos of that era. The zoo was abandoned in 1966 when the current LA zoo opened.

Today the cave enclosures are outfitted with picnic benches and grills. A trail leading up from the caves gives you a zookeeper's view of the lion's den and leads to ever more abandoned cages, offering an eerie feeling of what it is like to be on the other side of the bars."
———–
Griffith Park Observatory


Where: 2800 E Observatory Rd, Los Angeles, CA 90027
How: Official Website 
What/Why: "Griffith Observatory is a facility in Los Angeles, California, sitting on the south-facing slope of Mount Hollywood in Los Angeles' Griffith Park. It commands a view of the Los Angeles Basin, including Downtown Los Angeles to the southeast, Hollywood to the south, and the Pacific Ocean to the southwest. The observatory is a popular tourist attraction with an excellent view of the Hollywood Sign, and an extensive array of space and science-related displays. Since the observatory's opening in 1935, admission has been free, in accordance with the benefactor's will, after whom the observatory is named – Griffith J. Griffith."

————–
Church of Scientology


Where: 4810 Sunset Blvd, Los Angeles, CA 90027
How: Official Website 
What/Why: "It is with great pride we welcome you to the Church of Scientology of Los Angeles.
Originally founded in 1954, our Church will forever hold its place in history as the first Church of Scientology in the world.
Since 1977, we have served Los Angeles and the oldest and largest Scientologist community on Earth from our landmark building on Sunset Boulevard.
Today our home stands transformed into a model Scientology Church—one that realizes Scientology Founder L. Ron Hubbard's vision that all Churches of Scientology become what he termed Ideal Organizations (Orgs). Ideal Orgs not only provide the ideal facilities for Scientologists on their ascent to higher states of spiritual freedom, but they also serve as a home for the entire community and a meeting ground of cooperative effort to uplift people of all denominations.
We look forward to working together with every individual and group in Los Angeles dedicated to achieving our shared dream of a drug-free, crime-free and flourishing future for all.
Our doors are open. Our help is yours."
My 2¢:  ;;;;;;;;;;(((((((( #leahreminiwasright
—————
Santa Monica Pier

Where: 200 Santa Monica Pier A, Santa Monica, CA 90401
How: Official Website
What/Why: "The Santa Monica Pier is a large double-jointed pier at the foot of Colorado Avenue in Santa Monica, California. With an iconic entrance, the pier is popular with residents and visitors as a landmark that is over 100 years old. "

—————————

●GET LOST
You will certainly need a car to enjoy all that LA has to offer, but once you lock down a parking spot, you can spend hours getting lost; in the neighborhoods and enclaves of Little Tokyo and Chinatown, strolling down Melrose or the Sunset strip, exploring the dusty hills surrounding the Hollywood sign, or peeking down countless Arts District alleyways.
If you enjoy mural-gazing as I do, you will find yourself in a city that warmly welcomes the art form; nearly every neighborhood is enlivened by painted walls. However, finding information about where exactly to find these en plein air masterpieces is surprisingly difficult. The LA Times has a decent map of 11 LA Freewalls in the area, but the best overall resource proved to be instagram, you can find murals by searching particular locations/hashtags ie: #LAMurals #LAArts #LAArtsDistrict
Here are a few walls I'm a fan of:





———–
●THE END (?)
Much like the above murals that are here today, gone tomorrow, LA's allure (for me) seems linked to its ability to be bold and wholehearted even when approaching the most ephemeral of endeavors. It's a curator's dream; everyday something new and exciting sprouting up on an alley wall, inside a warehouse, or outside city limits. Consider the recent appearances/disappearances of the Mirage House, Pink Houses, and the Museum of Ice Cream. It's nothing short of magic.
There are very few places in my life I have wanted to return to before I even left, and Los Angeles certainly has my heart. I look forward to my next journey out west and sharing Parts 2, 3, 4.. of this list with you.









Los Angeles, I'm yours ♥