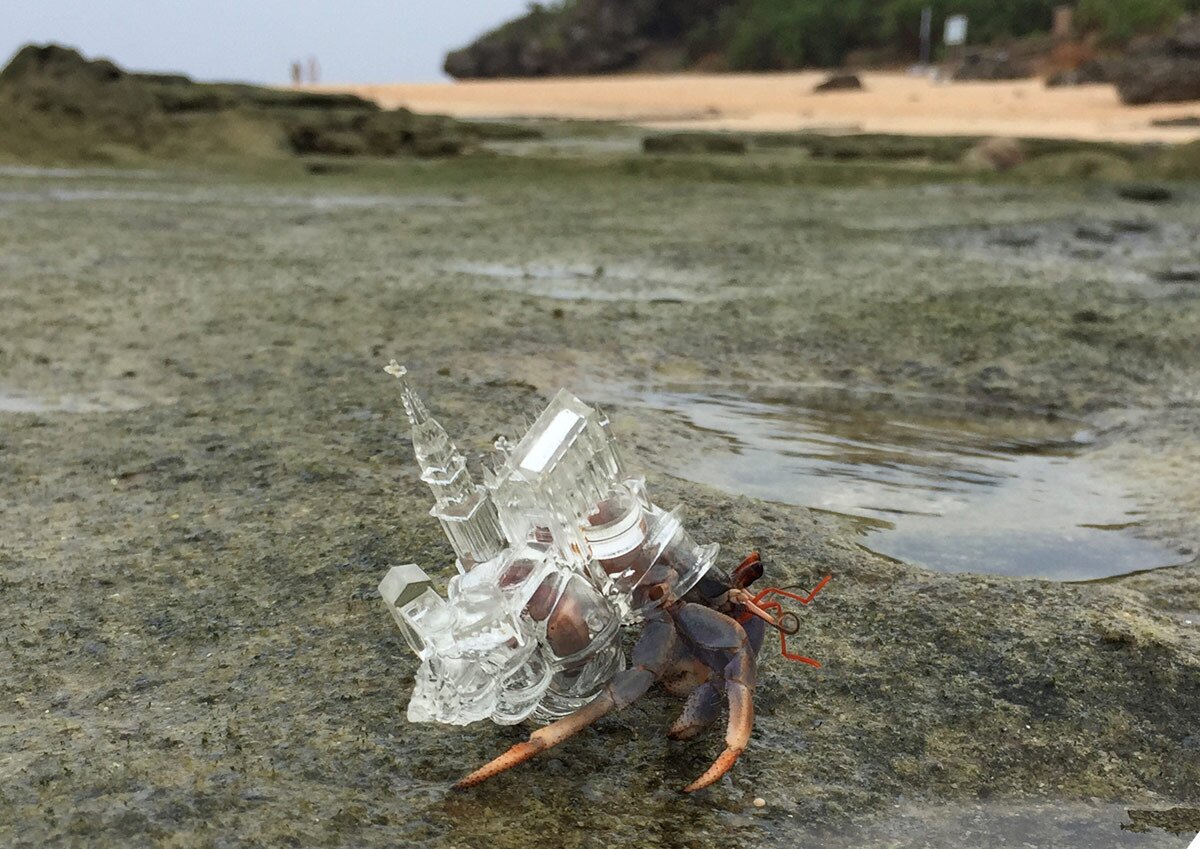 my inheritance x all the flowers are for me x nearly not there x rolling through the shadows
——————
China's 8 Brokens Puzzles of the Treasured Past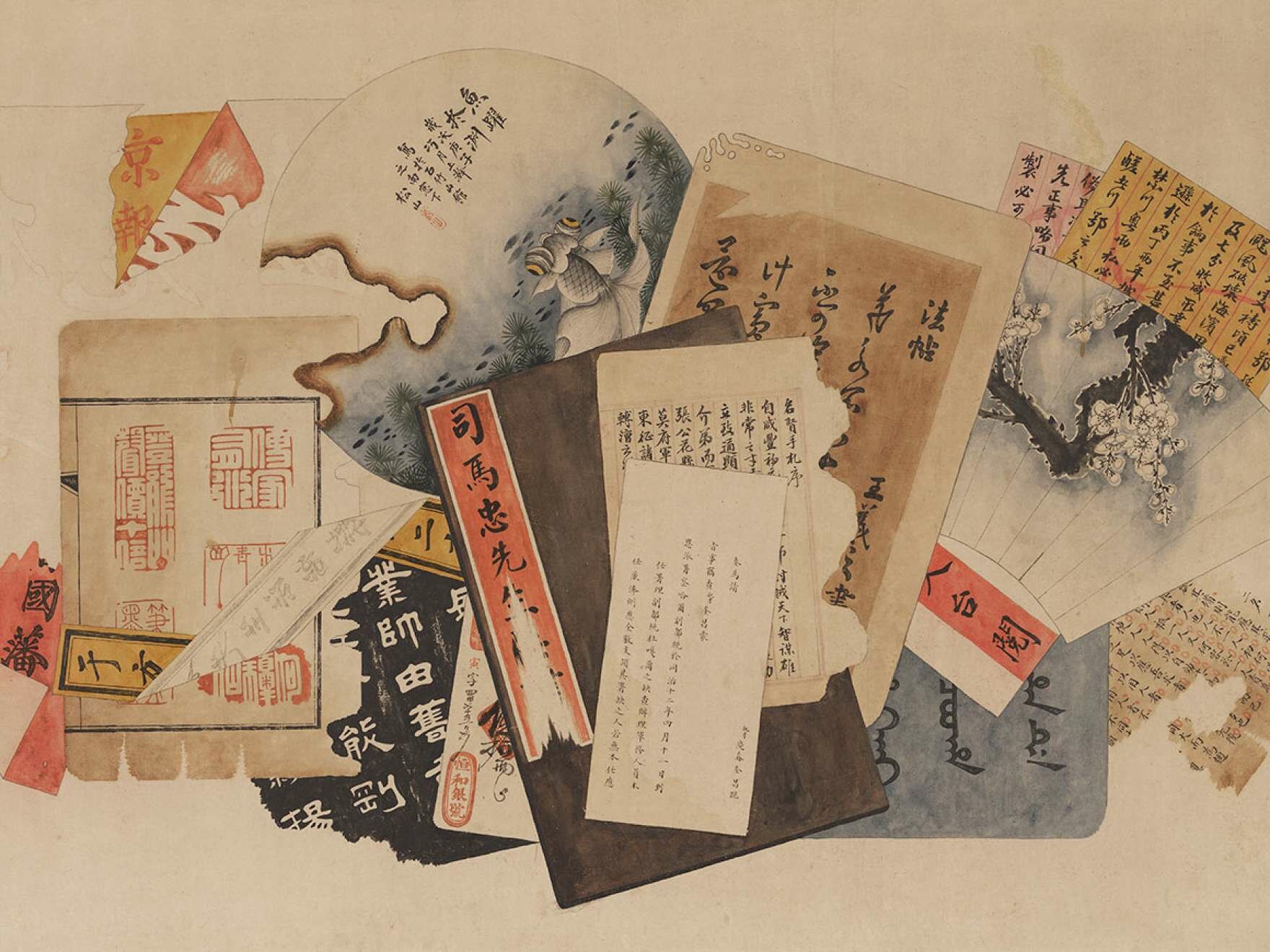 When: On view through October 29, 2017
Where: Museum of Fine Arts, Avenue of the Arts , 465 Huntington Avenue , Boston, Massachusetts 02115
How: Official Website 
What/Why: "The first-ever exhibition dedicated to bapo (or "eight brokens") painting, a revolutionary artistic genre that emerged in China during the mid-19th century
Eight is a lucky number in Chinese culture, and bapo refers to the damaged cultural ephemera hyper-realistically depicted in the paintings—worm-eaten calligraphies, partial book pages, burned paintings, remnants of rubbings and torn-open letters. They are usually arranged in a haphazard, collage-like composition, created with Chinese ink and colors on paper or silk. When bapo emerged, this unexpected imagery was radically distinct from classical Chinese landscape and figure painting, and became popular among an aspiring urban middle class delighted by its visual trickery and sophistication. After 1949, the art form was largely forgotten, but has recently been rediscovered by contemporary artists and collectors. The rediscovery of bapo has prompted curators to now decipher the puzzle of the meaning of the images. This exhibition presents some of the finest examples of bapo paintings dating back to the 19th century, as well as a contemporary work by artist Geng Xuezhi, and includes new acquisitions and loans from museums and private collections located in the United States and Asia. They are interspersed with three-dimensional decorative and functional objects that display bapo imagery."
—————-
2017 Boston Young Contemporaries Exhibition

When: On view through July 21, 2017
Where: Boston University, Faye G., Jo, and James Stone Gallery located within Boston University at 855 Commonwealth Avenue.
How: Official Website 
What/Why: "The 2017 BYC participants have been selected by juror Steve Locke. Mr. Locke is a Boston-based artist born in Cleveland, Ohio and raised in Detroit, Michigan. " Learn more about the exhibition here!
———————-
HABITAT/ion 4th Biennial Juried Alumni Exhibition

When: On view through July 15, 2017
Where: Mass College of Art, Sandra and David Bakalar Gallery, 621 Huntington Avenue, Boston, MA 02115
How: Official Website 
What/Why: "The fourth juried biennial alumni exhibition, HABITAT/ion showcases the breadth of talent and excellence embodied by MassArt's alumni. This exhibition features the work of 80 artists whose work finds inspiration from the themes of habitat and habitation in a wide array of media and disciplines.
Juried by Dina Deitsch, Director and Curator, University Galleries, Tufts University and SMFA at Tufts; Abigail Newbold '02, Director of Exhibitions, ICA Boston; and Sam Toabe '11, Gallery Curator, University Hall Gallery, UMass Boston."
—————–
Lowell Boyers: Garden of Here and Now

When: On view through July 26, 2017
Where: KABINETT. 467 Shawmut Ave, Boston, MA.
How: Official Website 
What/Why: "Featuring mixed media paintings on canvas and paper, this new body of work draws on the artist's long-term engagement with Buddhist philosophy and practice. Tom Healy, writer and former Chairman of the Fulbright Board and President of the Lower Manhattan Cultural Council, has written that "Boyers' paintings radiate outward. It's as if we were witness to the moments following internal combustions, as if Boyers had just broken a barrier between us and some inner world. The surfaces are so liquid that color stains that world, saturates it with brilliance, but never seems to fix it into a rigid image. There is no ground, no sky, no horizon in these paintings. We look through cloud color, breath, vapor toward the glow of some inner space."
The paintings are accomplished through a process of "collaging multiple events on the same plane portraying the way we experience the world…beginning with a timeless open space that allows images to emerge from spills of paint." Boyers has commented that in these works, he "wants to portray a moment in and beyond time, as if I could freeze in one frame the invisible network of all qualities of one's moments, inside and out." Eager to find and allow process to define the substance and form of his work, Boyers began to spill paint on his empty canvases and paper, "taking my hand's expertise just a little out of the picture, allowing the tiniest bit of chaos." But nothing is accidental in the work, and Boyers is quick to point out that "the paintings are manufactured and manipulated chaos." Interested in how images take shape and evolve as he allows the ink and the paint to flow and spill and move and mix and coagulate and gel, Boyers does not begin with or impose the figures, instead allowing them to emerge from the events of the process. "In the landscape of my paintings there is no distinction between the inside and outside of the figure or person. The body is like a piece of music, just a texture to elicit reflection, swirls and diaphanous pours of paint, veils of inner and outer textures of the figure's current moment. The poured paint is blood, circulatory system, bodily fluid, and at the same time images seem to appear and disappear in the paint as water turns into fire, heart into head, head into landscape, landscape into lung tissue, lung tissue into wind. Everything is constantly changing. I try to use paint and painting to examine that phenomena."
——————
Contemporary Craft New England Juried Exhibition juried by Lindsay Miś

When: On view through July 21, 2017
Where: Brookline Arts Center, 86 Monmouth Street, Brookline, MA 02446
How: Official Website 
What/Why: "The Brookline Arts Center is pleased to present Contemporary Craft, a New England exhibition juried by CraftBoston Director Lindsay Miś, June 16-July 21, 2017.
Since the 1800s, New England has long been at the center of American craft from silversmithing to woodwork to textiles. In recent years, the craft movement has defied boundaries and gained recognition as an art form in its own right. Contemporary Craft examines what defines studio craft today and how artists navigate between function and fine art.
Contemporary Craft is an exciting exhibition of 21 artists showcasing work in fiber art, stoneware, woodwork, mosaic, glass, metalwork and more.
Selected artists include John Bassett, Sue Colozzi, Jean Cummiskey, Cassie Doyon, Deb Elliot, Jeanne Garrison, Jo Goiran, Joseph Hoyt, Sarah Hudson, Edward Jacob, Michelle T. Lapointe, Bette Ann Libby, Elizabeth Menges, Zev Rejman, Chelsea Revelle, Judy Ross, Tatyana Scott, Rebecca Skinner, Joshua Vaughan, Brian Whalen and Joan Wheeler.
A public reception will be held Friday, June 16 from 6:00-8:00pm at the Brookline Arts Center.
We are a visual arts center committed to bringing the community meaningful experiences in the arts through classes, exhibitions and outreach.
————–
Hydra Effect

When:  On view through July 14th, 2017
Where: Midway Studios, 15 Channel Center Street, Boston, MA
How: Official Website 
What/Why: "Hydra Effect: The hydra effect or hydra paradox owes its name to the Greek legend of the Lernaean Hydra which grew two heads for each one cut off, and is used figuratively for counter-intuitive effects of actions to reduce a problem which result in stimulating its multiplication.
Boston, MA (May 8, 2017)- The Boston LGBTQIA Artist Alliance's (BLAA) latest exhibition, Hydra Effect, opens June 5th at the Midway Studios Gallery in Fort Point, and features the work of 17 Boston area artists working in a range of media.
Hydra Effect is an exploration and celebration of the cultural value and significance of the arts in the current political climate, and a testament to the determination and resilience of LGBTQIA artists who have continued making work over the years despite hostile conditions. Harking back to the "NEA Four" and the conservative establishment's attack on arts funding in the 80s/90s, the imminent future promises to be a historical moment in which the arts are again directly challenged. History repeats itself. This multimedia exhibition serves as a platform for LGBTQIA artists to engage with this moment in their own unique and distinctive voices. Work ranges from revolutionary to visionary, from angry to celebratory, from local to global.
How do we make art when there are urgent political crises taking place around us? What makes art important and vital, to ourselves and to others? When our resources are cut off, how do we combine forces and propagate our ideas? How do we respond when threatened? Overall, the show functions as part of a larger collective conversation about the necessity of the arts in society.
The show runs June 5- July 14, 2017 with a reception on June 9 from 8-10pm.
Artists- Lauren Alindogan, Dave J Bermingham, Leah Corbett, Nicholas Costopolous, Jamieson Edson, Ena Kantardzic, Anna Keyes, Topher Lineberry, Jill Ma, Kenneth Murphy, Kolin Perry, Joey Phoenix, Mary Provenzano, Renee Silva, Oona Taper, Dennis Tsai, and Abigail Wamboldt.
About the Juror- Silví Naçí is a curator and artist living and working in Boston. Her family moved to the U.S. from a war zone (formerly Communist) for a better life in 2001, two months prior to 9/11. Naci studied at the Instituto Cultural de Oaxaca (Oaxaca, Mexico 2004), Studio Art Centers International (Florence, Italy 2008), and graduated from the New England School of Art & Design at Suffolk University with a dual degree in Fine Arts & Graphic Design (2011). She was a curatorial intern at MIT's LIST Visual Arts Center (Cambridge, MA), the Cloud Foundation (Boston, MA) and Artists for Humanity (South Boston, MA). Naci served as Assistant Director at Samsøñ (Boston, MA), Art Director at the Liquid Art House (Boston, MA) and curator at the Fourth Wall Project (Boston, MA), the Distillery Gallery (South Boston, MA), and the Blanc Gallery (Dorchester, MA). Currently, Naci works on her studio practice, as independent curator, staff writer and editor at Big Red & Shiny.
About BLAA- The Boston LGBTQIA Artist Alliance is an artist run, volunteer organization that is dedicated to building community through exhibition opportunities, events, workshops, artist talks, performances, and other creative social outlets.  We welcome all who identify under the LGBTQIA Spectrum, or produce creative work that falls under these categories. Learn more at www.blaa.us
———————–
You Don't Know My Horizon

When: On view through July 09, 2017
Where: David Winton Bell Gallery, 64 College St, Providence, RI 02912
How: Official Website 
What/Why: "Thread on plywood, smoke and foliage, cast pigment on drywall, nail polish on slip-cast porcelain, and electroplated grapevines. Kim Faler's art is an alchemy of everyday things, cultivating empathy for our ability to apprehend and appreciate beauty in the fleeting moments of life. Through sculpture, installation, photography, and drawing, she makes the mundane mysterious and the common uncanny.
Faler's works draw inspiration from moments of congruence and beauty in the day-to-day. She transforms and exaggerates patterns, tones, forms, and textures noticed in quotidian moments, in order to draw our attention to the tension between being present, holding on and letting go as the moments pass. A precarious pile of rocks becomes slip-cast porcelain faced with brilliant color in The Wait. In Excuse Me, aerial views of an ocean tide become snapshots of froth and murk filling the frame as flocked graphite and mica on Mylar. In Sonder, grapevines are electroplated and fused together with what looks like pink bubblegum to become a shimmering cloud.
You Don't Know My Horizon brings together select works by Faler from the last ten years, featuring signature projects from residencies with the Robert Rauschenberg Foundation in Captiva, Florida and Artpace in San Antonio, Texas. The exhibition also includes a restaging of one of her earliest performance works as well as a new site-specific installation for the Bell Gallery. In this work, the artist explores glass for the first time in collaboration with the assistance of Cindy Del Rio and support from the Rhode Island School of Design Glass Department."
———————————
Rolling through the Shadows

When: On view through August 27, 2017
Where: Leica Gallery, 74 Arlington St, Boston, MA 02116
How: Official Website 
What/Why: "Featuring photography by Anthony Acosta, Arto Saari, Atiba Jefferson, Dennis McGrath, Ed Templeton, Fred Mortagne, Grant Brittain, Greg Hunt, Jerry Hsu, Joe Brook, Jon Humphries, Ray Barbee, Thomas Campbell and Tobin Yelland.
Leica Gallery Boston is proud to present "Rolling Through the Shadows," a collaborative exhibition consisting of fourteen icons of the skateboarding community brought together for this unique exhibit. This collaboration of fourteen icons of skateboarding is historically brought together by their mutual passion for Leica photography. "Rolling Through the Shadows', premiered at Leica Gallery Los Angeles in 2016 and debuts in New England exclusively at Leica Gallery Boston."
——-
Reusable Universes: Shih Chieh Huang

When: On view through November 12, 2017
Where: Worcester Art Museum, 55 Salisbury Street, Worcester, MA 01609
How: Official Website 
What/Why: "Reusable Universes: Shih Chieh Huang features the work of Shih Chieh Huang, who combines his longstanding fascination with technology and the materials of modern life to transform mundane manufactured objects into novel and remarkably complex sculptural forms. Huang elevates circuit building, transistor rewiring, and other hardware operations into an art that connects not only with our senses but our sense of humanity between today's virtual and analog existence.
At the Worcester Art Museum, Huang plans to create his most ambitious immersive environment to date—a kinetic sculptural installation consisting of over one hundred various-sized elements. In addition to the exhibition, the artist will create onsite his Organic Concept, an infinitely scalable sculpture made from rolls of painter's plastic and box fans. The creation will be a public performance in the Museum lobby on July 20, 2017. Afterwards, Organic Concept will be temporarily installed in the Renaissance Court.
Reusable Universes resonates with the spirit of innovation and curiosity that continues to ground Worcester today. Huang's art also will provoke the viewer to consider society's rapidly changing relationship with technology. By constructing grand works of "low-tech" art made from high-tech parts that are intentionally built to look unfinished, Huang endeavors to recapture the curiosity and wonder of early technology that will inspire visitors to likewise experiment and build anew."
—————-
Aqueous Perceptions

When: On view through July 2017
Where: Chase Young Gallery, 450 Harrison Ave, No. 57, Boston, MA 02118
How: Official Website 
——————-
Black & Brown People | White Problems

When: On view through August 19, 2017
Where: Samson Projects, 450 Harrison Ave, Boston, MA 02118
How: Official Website 
What/Why: Latifa Echakhch, Steve Locke, Tala Madani, Richard Mosse, Keris Salmon, Josh Smith, Henry Taylor & William Villalongo. Learn more about the exhibition here 
——————–
Sam Earle | Pulp

When: On view through July 30, 2017
Where: Adelson Gallery, 520 Harrison Ave, Boston, MA 02118
How: Official Website 
What/Why: Learn more about the exhibition here 
——————–
Jennifer Day: Small Business

When: On view through July 30, 2017
Opening Reception: Friday, July 7 6-8:30 pm
Where: Bromfield Gallery, 450 Harrison Ave, Boston, MA, 02118
How: Official Website 
What/Why: "Mixing medieval technology with contemporary concepts of sustainable energy, Jennifer Day crafts miniature worlds scaled at 1/8 inch to a foot. Taking cues from today's exigencies to restore, recycle and repurpose, the artist builds all manner of gears, vehicles and machinery from backyard sticks, toothpicks and scraps from her own frame-making. These worlds encapsulate the work of the inventor , turning it into an impossible possibility."
——————
Erica Licea-Kane: Over & Over

When: On view through July 30, 2017
Opening Reception: Friday, July 7, 2017, 5:30-8:00 pm
Where: Kingston Gallery, 450 Harrison Ave, No. 43, Boston, MA 02118
How: Official Website 
What/Why: "Erica Licea-Kane creates her artwork with a most unusual implement: a pastry bag filled with paint, exemplified by her latest series, Over & Over. With this unconventional painting tool Licea-Kane builds a density of surface by piping lush lines of paint in seemingly endless layers to make what she calls "object-paintings," which address formal concerns of traditional abstract painting. Grounded in her background of fine art textiles, the Over & Over series can be experienced as an invocation of fabric or enlarged weaves. Licea-Kane's manipulation of the material, the visible and underlying grids, present almost unrecognizable, obscured surfaces prompting questions about process and time invested. An outgrowth of a childhood spent in fabric stores with her mother and exploring her grandmother's linen chest, Licea-Kane became enamored with the nuances of cloth, the subtitles of woven color and the "hand" of fabric. Through her sensitivity to textiles and her painting techniques, Licea-Kane manipulates her medium so that it challenges the viewer to define the enticing textures she creates.
Also on view..
Brian Littlefield: Drawings

What/Why: "Observation, memory, and imagination are at the heart of Drawings, a new series of works on paper from guest artist Brian Littlefield. With charcoal, and occasionally an oil bar, Littlefield marks his large paper drawings without a predetermined image in mind. Littlefield's richly worked surfaces are the result of a naturally evolving process where he begins each piece with structural ideas, but then lets the work take form through a continuing response to the image as it develops. For Littlefield, working with charcoal fosters a direct approach to creating his work. The material is equally malleable and stubborn, delicate and inelegant, definite and imprecise. Charcoal's distinctive marks and smudges give integrity to the artist's observation of small things."
ALSO on view..
Joan Baldwin: E. Orleans

What/Why: "I constructed a diorama like format for impressions of E. Orleans, the popular vacation town at Cape Cod. The pieces hang on the wall but are three dimensional, with the background of each terrarium painted in oil on Masonite with sculptural collage elements added to complete the habitats. In the show there is also a hanging installation of a mother and newborn moths emerging from a cocoon, that is representative of the emerging life at the Cape during the spring and summer."
——————–
Echo
Sepideh Behrouzian – Samira Abbassy
Roya Farassat
Maryam Hoseini – Elnaz Javani – Armita Raafat
Anahita Vossoughi
Curated by Azita Moradkhani

When: On view through July 08, 2017
First Friday Reception: Friday July 07, 2017 5:30-8:00PM
Where: Gallery Kayafas, 450 Harrison Avenue #37 Boston, MA 02118
How: Official Website 
What/Why: "We are pleased to announce Echo, an exhibit featuring the work of seven Iranian women artists curated by Azita Moradkhani. Echo focuses on the role of embodiment in contemporary art, reflecting upon the impact of the environment on the body and mind and expressing internal conflicts between pleasure and pain, public and private. Moradkhani, a gallery artist, was born in Teheran. She received both her MA and MFA from Boston's School of the Museum of Fine Arts & Tufts University. Her most recent Gallery exhibit, Victorious Secrets, was in 2016.
Sepideh Behrouzian looks to a prehistoric time in which the human body was directly exposed to nature, free of artifice or man-made invention. Her quiet paintings transport the viewer into an alien landscape devoid of human interference.
In Samira Abbassy's paintings and sculptures of human/animal hybrids, distinctively Persian characters are merged with mythological animals. Drawing from multiple spiritual traditions, her work comments on the complex history and culture of Iran and other societies.
Inspired by Rorschach inkblots, Roya Farassat's paintings created with bleach and white acrylic markers are a response to her fears, as embodied by insects and birds. By imagining arrangements of husks and appendages, her work organically connects animals and insects to humans in often humorous ways, such as "The Mother of The Bride" in which insectile parts and white paint ultimately form the image of a woman wearing a pearl necklace.
The colorful naked figures in Maryam Hoseini's paintings inhabit a drama shifting continuously between the erotic and traumatic: plants grow into and out of orifices piercing the boundaries of the body. The paintings themselves are not limited to the canvas but migrate off their supports into the gallery space itself.
Elnaz Javani represents the sensuous and the emotional body through her figurative stitching on canvas. Skeins of crimson thread simulate geysers of blood or cascades of red hair, evoking the burdens of her own identity and memories.
While not overtly figurative, the bodily scale of Armita Raafat's architectural sculptures makes them relatable on a human level. The modular patterns in these works are inspired by "Muqarnas," stalactite-like ornaments installed over entrances to Islamic shrines.
Anahita Vossoughi's sculptures resemble organs living, as she says, in a "sci-fi phantom culture of [her] own creation." Using unique materials and found objects, Vossoughi explores the abstracted female body internally and externally, dissecting the ways in which it has been represented over the course of history.
In addition to the works on display, there will be live music, featuring a composition created for this exhibition by Bahar Royaee, performed at the opening on June 2 and the closing on July 7. More details about the performance will be provided at a later date."
Later this week…
STAND UP!

When: On view July 10 – July 13, 2017
What/Why: "50+ women artists involved.
(Women: Anyone who identifies as cisgender, genderqueer, trans women, femmes, & non-binary people of all cultures and experience) Curated by Silvi Naci."
——————–
Animal As Metaphor

When: On view through August 08, 2017
Opening Reception: Friday, July 7, 2017, 5 – 8 pm
Where: Miller Yezerski Gallery, 460 Harrison Ave, Boston, MA, 02118
How: Official Website 
What/Why: "Karl Baden
Morgan Bulkeley
Holly Lynton
Sally Moore
Frank Noelker
Shelley Reed
John O'Reilly
Donald Shambroom
Joe Zane"
——————–
The Garden

When: On view through August 13, 2017
Opening Reception: July 07, 2017 7-9PM
Where: Abigail Ogilvy Gallery, 460 Harrison Ave, C7, Boston, MA 02118
How: Official Website 
What/Why: "Abigail Ogilvy Gallery is proud to present The Garden, an exhibition of nine artists whose recent work addresses themes of growth, transformation, and the natural world through unique processes and use of Medium. Ola Aksan uses her paint pouring technique to create a bed of otherworldly blossoms, while Adria Arch's bright, organic shapes make an abstracted allusion to the floral patterns with a nostalgic palette. Kate Holcomb Hale's mixed media installation extends off the wall like a growth, enveloping the space it occupies as part of the piece, a representation of the way our identities can shift and change form when faced with trauma. Michael Gordon analyzes the development and transformation of urban spaces with the self-reflective practice of meditation, juxtaposing a collage of found signs, posters, and flyers with glossy blocks of polymer resin to examine the relationship between decay and opulence in growing Cities. Julia S. Powell's dream-like landscapes highlight the beauty and emotional resonance natural spaces carry, depicting imagined scenes of wilderness altered by the artists' perspective. Holly Harrison continues her layered mixed-media work, combining photo transfers, painting, and collage, in a series depicting endangered species anthropomorphized in the style of Renaissance and Flemish portraits like family members of generations past, reminding the viewer of the precarious position of the environment. Marie Najera combines different styles and techniques to depict a shifting netherworld beyond her canvas in abstract paintings that show the constant change the artist's inner life undergoes in the process of painting, each layer imparting a singular aspect of her psyche. Kristina McComb pieces together fragments from different photographs in her light box installation, Present, to create an overlapping scene, that demonstrate the way time and memory changes experience, and the choices that determine the shapes we take. Nicole Patel incorporates nature itself into her minimal work, preserving and emphasizing the integrity of her organic materials by subtly integrating color into fabrics using herbs and spices. Together, they compose a flourishing garden of style and concept, each growing beyond conventions of technique into a greenhouse of ambitious artwork."
——————–
Highland Street Free Fun Fridays: July 07, 2017

When: Friday July 07, 2017
Where: Various locations across Massachusetts listed below..
How: Official Website 
What/Why: "Participating Locations:
Isabella Stewart Gardner Museum
New England Historic Genealogical Society
Ventfort Hall Mansion and Gilded Age Museum
Mahaiwe Performing Arts Center
Amelia Park Children's Museum
Falmouth Museums on the Green
Pilgrim Hall Museum
Children's Museum in Easton
The Hall at Patriot Place"
——————–
SPACE

When: On view through July 28, 2017
Where: Barbara Krakow Gallery, 10 Newbury Street, Boston, MA
How: Official Website
What/Why: "SPACE, featuring works by John Baldessari, Sylvia Plimack Mangold, Stephen Prina, Ed Ruscha, Fred Sandback, Kiki Smith, and Shellburne Thurber, sets out to engage the relationship between formalism, architecture and psychology. Visually, the guiding connections are a muted palette, a focus on the off-kilter and the significance of the unknown, unsaid or otherwise psychologically engaged."
——————–
Ocean Liners: Glamour, Speed, and Style

When: On view through October 09, 2017
Where: Peabody Essex Museum, East India Square (161 Essex St) Salem, Massachusetts 01970
How: Official Website
What/Why: "From the mid-19th century through the mid-20th century, ocean liners were floating showcases of technology, opulence and social sophistication. As icons of modernity and aspirational living, artists, engineers, architects and passengers all vied for influence and access in the creation and enjoyment of these man-made islands at sea.Ocean liners were intricately constructed pieces of culture — in the appearance of their design, the elegance of their engineering and the division of their social space — and each with its own distinct personality. Drawing from international institutions and private collections, the exhibition brings together nearly 200 works including paintings, sculpture, models, furniture, lighting, wall panels, textiles, fashion, photographs, posters and film. The exhibition is co-organized with the Victoria and Albert Museum, London.Share your impressions with us on social media using #OceanLiners.Ocean Liners: Glamour, Speed, and Style is organized by the Peabody Essex Museum and the Victoria and Albert Museum, London. Fiduciary Trust Company is the lead sponsor and Eaton Vance Management is a major sponsor. The exhibition is supported in part by a grant from the National Endowment for the Arts. Carolyn and Peter S. Lynch and The Lynch Foundation provided generous support. The East India Marine Associates of the Peabody Essex Museum provided additional support."
Also on view..
All the Flowers Are for Me

What/Why: "Persian and Turkish architecture, textiles and miniature paintings inspire the precise, stylized floral forms that compose Anila Quayyum Agha's sculptural chamber of light and shadow. This luminous installation provides an opportunity to contemplate the differences and commonalities that shape our lives and relationships. Originally from Lahore, Pakistan, and now living in the US, Agha is acutely attuned to the social codes that inform the lives of Muslim women and all immigrants. She describes this work as her effort to create a sense of how women can reclaim and safely open up private space to welcome others."
——————–
Brendan Macallister

When: On view through July 17, 2017
Where: Frame 301 Gallery, 301 Cabot Street, Beverly, MA 01915
How: Official Website 
What/Why: "My work is rooted in a brutish, naive style and focuses on the absurdity of people and the human condition. Using metaphors, symbols, allusion and colorful figures I create a visual narrative usually meant to disassociate, but also speak personally. I use dark humor to speak on otherwise taboo subjects in a lighthearted way, offering hidden underlying meaning through obscurities and curiosities.
Brendan MacAllister is a recent graduate of Montserrat College of Art and currently lives and works in Beverly, Massachusetts. He has recently exhibited at Montserrat College of Art, Beverly, MA, Porter Mill Gallery, Beverly, MA, Distillery Gallery, Boston, MA, and Nahcotta Gallery, Portsmouth, NH."
——————–
2017 Summer Exhibition | Emerging Artists

When: On view through July 28, 2017
Where: Cambridge Art Association, 25 Lowell St, Cambridge, MA 02138
How: Official Website 
What/Why: "The term 'emerging artist' refers to someone who is in the early stage of his or her career, but who does not yet have an established reputation among art critics. Emerging artists help shape the dynamic and constantly changing landscape of Contemporary Art."
Prizes Awarded at 7pm at the Kathryn Schultz Gallery. Prizes selected by artists Jenny Brown, Providence, Caleb Cole, Boston, Lavaughan Jenkins, Boston, Brittany Marcoux, Boston, and Stephanie Vovas, Los Angeles."
Also on view..
Scapes | Presented at University Place Gallery

When: On view through August 31st, 2017
What/Why: "Before it can ever be a repose for the senses, landscape is a work of the mind. Its scenery is built up as much from strata of memory as from layers of rock.' ~ Simon Schama
'It is the soul that sees; the outward eyes present the object, but the Mind descries.
We see nothing till we truly understand it.' ~ John Constable Learn more about the exhibition here 
——————– 
Clive Moloney: Breathe. Pause. Breathe.

When: On view through July 30, 2017
Where: Contemporary Arts International, 68 Quarry Road, Acton, Massachusetts 01720
How: Official Website
What/Why: "Breathe, pause, Breathe", a large scale sculptural, kinetic installation with multi-media projection in the Gallery and in the main Hall, Clive Moloney is creating an environment consisting of skin, air and a life support machine. The life support machine sustains a closed system in perpetual motion and attempts to breath life into pseudo organic entities. Air gives form to and animates these entities, also know as inflatable latex sculptures. Additionally this habitat contains site specific skin sculptures, bulging walls and light sources, all created to slow the viewer. A frozen moment, a state of becoming, subliminal decay and perpetual motion create a slowness within the environment
Latex is an organic material which decays very slowly over time. Using latex allows me to create life like pseudo organisms with very zoomorphic or anthropomorphic physical characteristics. The latex in the inflatable sculptures acts like a skin similar to our own. Human skin is paradoxical, it is a barrier yet it's porous, it's internal and external. We touch and are touched simultaneously. Because the inflatables consist of only skin and no 'flesh' beneath, we perceive an ever changing form and not matter. Something Buddhists might call 'Rupa'.
The life support machine (a motor, wooden gears, conveyor belt and bellows pump) actively inflates and deflates several latex inflatables and circles back on itself to also inflate part of the machine. These 'non human forms' are not created in a direct manner. By using a particular process I am giving up a huge degree of control and allowing the form to emerge organically. Ultimately the air creates the form. I eventually give up complete control to the machine but only after I configure it. In other words i attempt to remove myself (as Dr. Frankenstein did from his wretch), unlike Frankenstein I am interested in observing my wretch perform."
————————
Painting Library: Work by John Gonzalez

When: On view through August 11, 2017
Where: Essex Art Center, 56 Island Street, Lawrence, MA 01840
How: Official Website
What/Why: "Considering the product of labor as the language of a 21st century society that is organized by financial markets and global commerce, how can creativity or the act of making artwork sustainably fit within a capitalist framework? And for that matter, if not for its monetary value, how is the value of expression determined?
Painting Library includes 20 new paintings created specifically for this exhibition. Hanging on the walls of the Beland Gallery in a grid, the works are available for visitors to borrow from the collection. Each 10 x 8 inch work is created to be loaned to patrons of the gallery and the community of Greater Lawrence, who are then invited to enjoy the works by re-hanging them in their places of residence, work, or leisure. Included, as part of the show, is a binder where the names of visitors appear next to their borrowed works.
"Artwork" is what we call the product of our creative efforts. How, and with whom it is made and exhibited, have been at the center of John Gonzalez' recent work. Much of this work involves collaboration, with individuals and institutions, as a central mechanism to examine these questions. In this sense, for John Gonzalez, the art object points to its labor, not only within its construction, but also in its presentation. The context of where and how these objects are shown have an equal expenditure of resources and time associated with their exhibition, ultimately influencing their value.
Painting Library should then offer a possibility for us to interrogate the labor relationship within how we choose to see this show and potentially ask what the value of these works might be within a the context of our everyday lives."
——————————–
Steven Seidenberg, Pipevalve: Berlin

When: On view through July 30, 2017
Where: Laconia Gallery, 433 Harrison Ave, Boston, MA
How: Official Website 
What/Why: "Photographer Steven Seidenberg chronicles objects and systems that are both out of sync and integral to the rhythms of modern life. His large format photographs, rich in the saturated colors of worn paint, rust, moss, and decay or filled with the geometric and biomorphic compositions of paint stains, faded adhesives, and found objects, document parts of networks that have lost their centrality. Examining Berlin apartment blocks, Tokyo subway platforms, or Czech cemetery dumpsters, Seidenberg captures features nearly lost in margins of our urban worlds. His photographs uncover the pictorial and the politic of materials that are cared for and attended to, yet often unseen by those who live beside them. As viewers, we are presented with things both foreign and familiar, exotic and commonplace, mesmerizing and readily overlooked — and ultimately offered the feeling of living in a new state of attention to the edges of reality.
Seidenberg trains his camera on objects and surfaces that survive the indifference of their surroundings. He draws upon the traditions of modernist urban and industrial photography, post war conceptual photography, and the anthropological impulse that has fueled documentary traditions from the 19th century to the present. The resulting images remind us that change occurs in the spaces we call home, to the objects we use daily, and is shepherded by the people with whom we share our cities.
Pipevalve: Berlin is an exhibition of photographs that revolve around a specific body of Seidenberg's photography documenting a curious vestigial feature in the Berlin cityscape. While in Friedrichshain, Berlin, Seidenberg encountered an odd architectural detail, a cast iron cleaning valve in drainage pipes on city buildings. Fascinated by the uniformly totemic affect and yet radically variable material character of these Reinigungsöffnung, he photographed the five or six located on the same block as his studio. As he walked further he realized the valves were concentrated in an area of only .5 square km that had been confronting the forces of gentrification overtaking the former east. Like the work of social historians or contemporary archaeologists, Seidenberg's photographs show the transformation of urban life and mark the effort that people put into the care and feeding of the world, whether through makeshift repair, natural decay, or expert maintenance. The exhibition conveys the aesthetic and ethical payoff that comes with looking and understanding the effort of maker and recorder."
——————–
Nearly Not There: Aimee Odum + Hannah Newman

When: On view through July 29, 2017
Where: GRIN Gallery, 60 Valley St #3, Providence, RI 02909
How: Official Website 
What/Why: "Never in the history of the human race has the world been so small. The ache to experience is almost crippling- turning into more of a panging obligation than an interest in adventure. It's unsurprising that so many words across languages define these feelings. Among countless others, take, for example, fernweh, a German word for an intense longing for far off places, or the latin Novaturient, the feeling of knowing you are not living the life you could be and the urge to go out and find it, or Onism, coined by Jon Koenig in his Dictionary of Obscure Sorrows, which is the frustration of being stuck in just one body, that inhabits only one place at a time, knowing how little you'll be able to experience.
Nearly Not There, a collaborative exhibition by Hannah Newman and Aimee Odum, presents a series of tangible manifestations of such wanderlust-fueled languishing, but also offers an extension of that ever-present itch; the added burden of managing digital and technological could-bes; the constant and expanding familiar unknowns that are a veritable Shrodinger's cat of real-life experience.
Through arrangements of video and sculpture, Aimee Odum proposes that there is no distinction between experiencing the natural world and the digital world. Her disjointed objects and filmed atmospheres of forest, sea, and sky demand a "nowness" in the same way a screen of moving pixels and technological mediations elicit an attentive presence. Merging characteristics of the wilderness with filtered, faded colors and manipulated imagery, Odum turns dreamlike wonder into bodily beings. Here, she considers the malleable nature of video and clay alongside the impressionable nature of both our environment and ourselves; both transformations often assisted by the development of the digital frontier.
With a more deliberate crossover of the day-to-day digital and natural experiences, Hannah Newman pairs common tech-based moves with natural objects to create personal, recognizable imagery that breaks the wall between the screen and the landscape beyond it. On a wall-mounted iPad next to a stone tablet, we see a cursor navigating around a stock image of a desert, laboriously searching for clickable-links that may lead to a new experience. Newman's work in Nearly Not There offers seemingly unlimited potential for discovery and further adventure, but that is quickly subverted by the familiar disappointment and boredom of unanswered messages and unfulfilling visual teasers.
As tensions to resolve the yearning for place, belonging, and contentment rise, a rippling effect of uneasiness moves through and towards the human body, technology and the natural world. Alternating between blunt and poetic, Newman and Odum give physical shape to the formlessness of this longing. Pointing to the impossibility of defining the shifting shapes of cultural and personal desire, Nearly Not There provides earnest gestures towards reconciling the physical, fantasized, and digital worlds."
——————–
Kevin Horan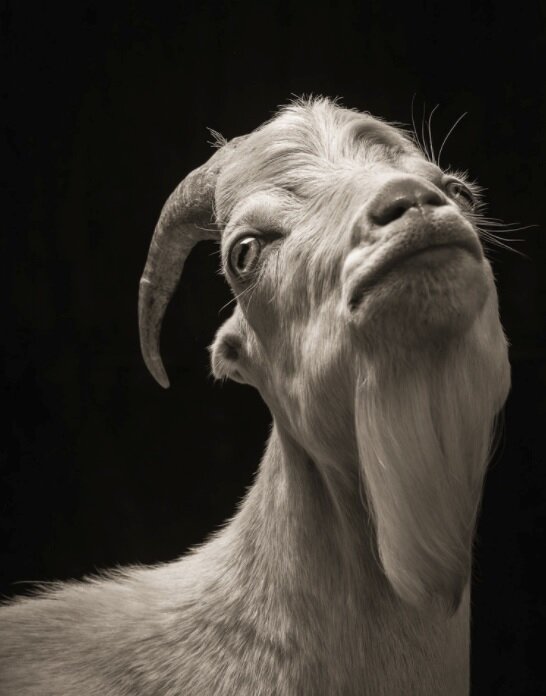 When: On view through August 2017
Where: EBK Gallery, 218 Pearl Street, Hartford, CT
How: Official Website
What/Why: Learn more about the exhibition here
——————–
Bradley Wester: Discourse #3: Velvet Rope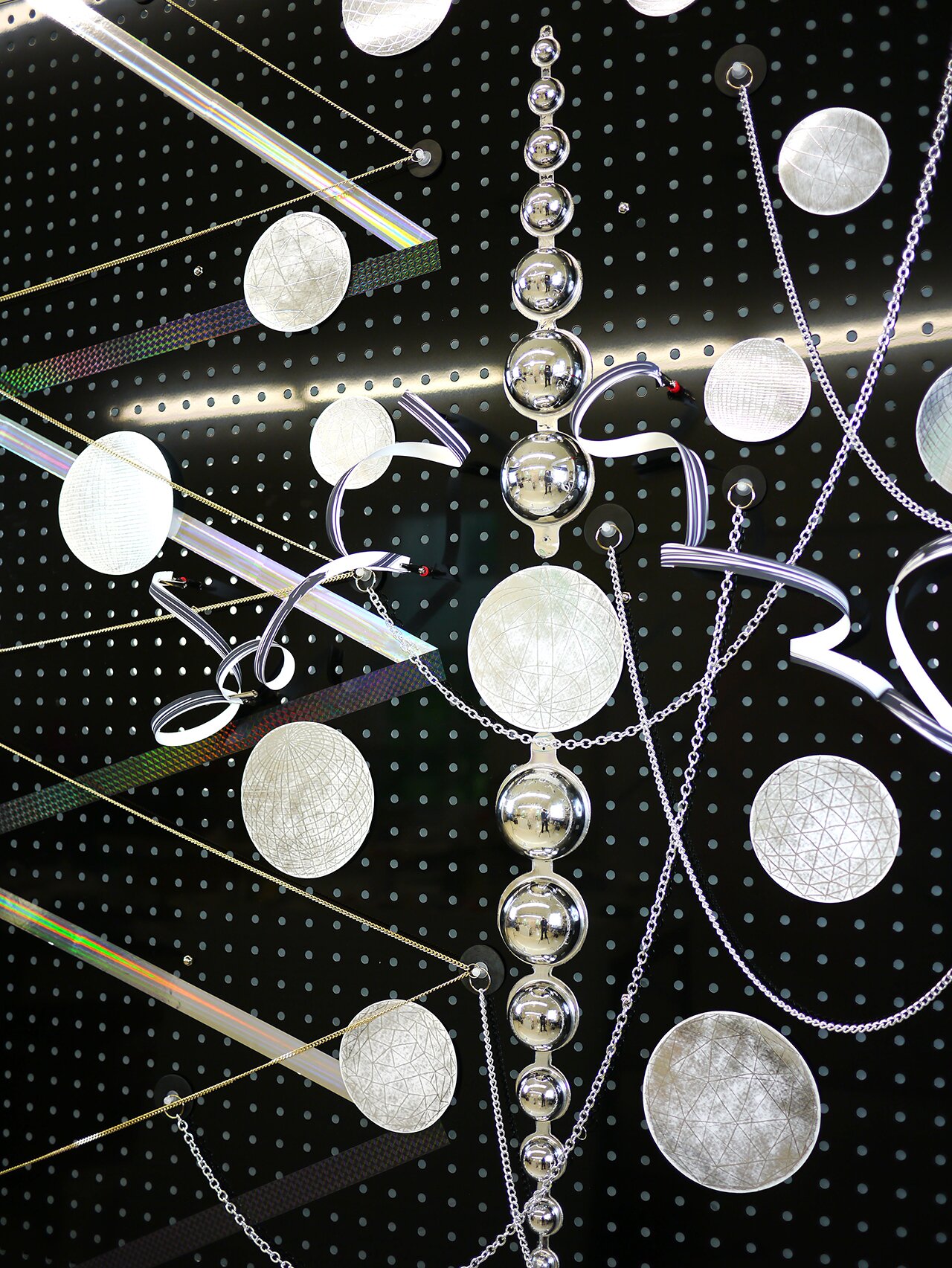 When: On view through August 19, 2017
Where: Yellow Peril Gallery, 60 Valley St, Providence, RI 02909
How: Official Website 
What/Why: "Yellow Peril is pleased to present DISCOurse #3: Velvet Rope, Bradley Wester's third iteration of the impact of early disco on queer identity from July 1 – August 19. Wester's work has evolved into a hybrid practice that combines painting, drawing, collage, sculpture, and photographic digital imaging into larger works/installations. This exhibition is generously supported by the Foundation for Contemporary Arts Emergency Grant. The opening reception is Saturday, July 1, from 6PM – 9PM.
"DISCOurse imagines, in the here and now, a utopian futurity that is diverse, optimistic, joyous and fun — it puts the disco back into critical discourse," Bradley Wester shares. "I use the site of early disco — a rehearsal for diversity, and the disco ball itself —'queer mirror', a pixelated globe, as a way between spaces. I am interested in our refracted image, in androgynous spaces, where potentiality lies."
In Velvet Rope, Wester uses custom made pegboards, either white, black enamel coated metal, or reflective Mylar pegboard as the conductive substrate for other materials and objects such as paint, smaller paintings, disco balls, digital prints, found photos, holographic tape, dichromatic acrylic, tube lights, pipe cleaners, leather, and chain to be attached and arranged. "The evenly perforated panels are like large computer motherboards each with a unique 'form factor' by which the connected components or circuits communicate," Wester explains. "Often mirrored or shiny, the mother-pegboard makes all external reflections components too."
Wester may work on a body of work for up to 10 years, based on a combination of interests that are material, conceptual, and theoretical. "First and foremost," he stresses, "I am a maker. The art objects themselves are the physical manifestation of the synergy between the studio practice—how my materials act when acted upon, combined with my conceptual, political, and theoretical interests that may be inspired and supported by my writings or the writings of others."
The opening reception for DISCOurse #3: Velvet Rope at Yellow Peril is Saturday, July 1, from 6PM – 9PM. The exhibition will conclude August 19. This is Bradley Wester's second solo exhibition at Yellow Peril. His first solo exhibition was DISCOurse #1: Pin-Up in 2014. DISCOurse #2: Shine was presented at Pavel Zoubok Gallery in New York City in 2015.
About Bradley Wester
BRADLEY WESTER recently moved his studio from Brooklyn, NY, to Bristol, RI, about 30 minutes southeast of Providence and North of Newport. His 990SF studio is located in the old Byfield schoolhouse on the town green, complete with old slate chalkboards. He spends his time between Rhode Island and New York. For more info about Bradley Wester, visit bradleywester.com.
——————–
Dialogue: New Paintings by Joerg Dressler and Ryoko Tajiri

When: On view through July 30, 2017
Where: Gold Gallery, 460C Harrison Ave, #18, Boston, MA 02118
How: Official Website 
What/Why: "We are thrilled to announce the two-person show Dialogue: New Paintings by Joerg Dressler and Ryoko Tajiri. Both painters deal with contrast within their work. In his new collection, Dressler deals with tranquility and chaos, energy and stillness. Tajiri's paintings are quiet but bold, simultaneously intense and subdued. The concept of pairing Dressler and Tajiri's work was born out of this dialogue within each artist's project and how in tackling similar challenges an exchange is inspired between them."
——————–
Inherent Vitality

When: On view through July 21, 2017
Where: 555 Gallery, 555 E 2nd St, Boston, MA 02127
How: Official Website 
What/Why: "Not only do seasons affect weather, growth and agriculture, they also play a role in human mood and consciousness. This exhibition is inspired by ideas of warmth, growth, water and immersion in the vitality of summer."
——————–
Vanishing in Plain Sight

When: On view through July 29, 2017
Where: Robert Klein Gallery, 38 Newbury St, Boston, MA 02116
How: Official Website
——————–
Monolith: A Solo Exhibition of Recent Work by Kevin Frances

When: On view through July 16, 2017
Where: How's Howard, 450 Harrison Ave, Suite 309c, Boston, MA 02118
How: Official Website
What/Why: "How's Howard? is pleased to present "Monolith", a solo exhibition of recent work by Kevin Frances. "Monolith" consists of small edition woodblock prints and miniature sculptures of common domestic objects and interiors. Frances constructs a unique and layered path, transitioning from one medium to another, for instance from sculpture to photograph to woodblock print.
Frances collects images from locations that trigger a cascade of memories, including tight corners where he regularly eats meals, worn parquet floors, awkward corridors and thresholds he routinely encounters. These mundane images pile up and become the subject of these meticulously layered woodblock prints, saturated with a quiet personal narrative and mysterious familiarity.
The intricate process of arriving at the composition of each woodblock print begins as Frances assembles a scene of miniature sculptures. Next, Frances uses a vintage slide projector to project images onto the surfaces of the miniature installation. Frances then photographs this layered scene at close range, from varying perspectives. Each photograph manipulates scale, conveying a monolithic presence to each object. Photography is an intermediary step in the development of the final composition for each woodblock print.
Images repeat in sculpture and print form throughout the exhibition, sometimes rendered realistically, other times in incongruous materials, like a corner of a room made out of speckled clay. In his unassuming and highly technical manner, Frances unpacks the deep significance of contemplative space and in the process a series of almost irrational scenarios emerge in these elegant, large-scale, woodblock prints."
——————-
Denise Driscoll and Kay Hartung

When: On view through July 30, 2017
Opening Reception: Friday July 07, 5-8PM
Where: Fountain Street Fine Art, 460-C Harrison Avenue, Suite #2, Boston, MA 02118
How: Official Website 
What/Why: "Conceal and Reveal includes paintings from two longstanding investigations of the unseen and unknown. Both artists obscure fully rendered patterns and trust what lies below to re-emerge as they scrape, carve, sand, torch, incise and otherwise manipulate their materials.
Denise Driscoll layers color and mark over repeating shapes to create playful diagrams that map the relationship of part to whole across multiple perspectives. Physical experience intermingles with intangible ideas, world events, literature, memory, and dreams. Driscoll is a SOLO2017 winner at Bromfield Gallery and her paintings and collaborative projects have been shown throughout New England. She teaches at Lesley University College of Art and Design and maintains a studio in Framingham.
Kay Hartung works with microscopic imagery, creating colonies of cellular shapes that migrate, flow, and multiply. Her process builds layer upon layer of biomorphic forms, suggesting growth, development, and movement. Hartung reveals the beauty of this mysterious world, inviting us to contemplate the impact these minute forms have on our lives. Her work has been exhibited nationally and is in many private and corporate collections. She has been the recipient of grants from Somerville Arts Council, Malden Arts Council, and the Ford Foundation. Hartung's studio is at ArtSpace Maynard."
—————————
Artist Residency 2017
When: On view through July 29, 2017 (residency duration)
Where: Gallery 263, 263 Pearl Street, Cambridge, MA
How: Official Website
What/Why: "ARTISTS IN RESIDENCE: Emily Brodrick | Kwang Choi | Kelly Knight | Daniel Zeese
Cambridge, MA — Gallery 263 is pleased to announce the four artists selected for our Summer 2017 Artist Residency Program: Emily Brodrick, Kwang Choi, Kelly Knight, and Daniel Zeese. This year's cohort represents a variety of creative trajectories that intersect in their engagement with fiber media. Each artist's practice holds a unique connection to fiber – some are just beginning to embrace it, some are hoping to push their fiber practice in new directions, and others are looking to branch out, away from fiber, towards other sculptural, 2D, or time-based media. Outside of their shared interest in yarn, thread, garments and textiles, the artists come from diverse backgrounds, work in disparate ways, and grapple with a variety of questions about what it means to be human, have a human society, a human history, and human hopes and dreams.
Interspersed into the Residency are two public critique sessions, during which we will discuss process, intention, and resolution. After six weeks in the studio, the artists will showcase new and in-progress works during the final week of the Residency.
Visitors are welcome to stop in to Gallery 263 and chat when the Artists in Residence are working throughout the Summer."
————————
Small Wonders: The Monotype Guild of New England's Juried Exhibition (MGNE)

When: On view through August 25, 2017
Where: Hopkinton Center for the Arts , 98 Hayden Rowe St. , Hopkinton, MA
How: Official Website
What/Why: "The exhibit features 34 monotypes and monoprints juried by artist and art educator Lynn Peterfreund."
————————
Fafnir Adamites | Holding Remnants
John Christian Anderson | My Inheritance


When: On view through July 23, 2017
Opening Reception: Friday, July 7, 5:00 – 8:00 PM
Where: Boston Sculptors Gallery, 486 Harrison Avenue, Boston, MA 02118
How: Official Website 
What/Why: Learn more about the exhibitions here 
——————–
Say hi:
Hi! How was your June? Did I miss anything in this week's wrap-up?
Since the sun has been out and DC is on fire, I have been AFK as much as possible.
That being said, until the next lazy river beckons, I am present and accounted for, bringing you the best of #bosarts. (#fairweatherflux)
Currently, I am working on a fun 'Make a Week of It' guide which should go live sometime this month if I can stop hemming and hawing. Be on the lookout.
Q for you: Is there a topic I should cover on FLUX.? A resource I can provide/link to? A guide I should write? Let me know!
And that's about it. Wear sunscreen, be kind to one another, and I'll see you next week.

♥