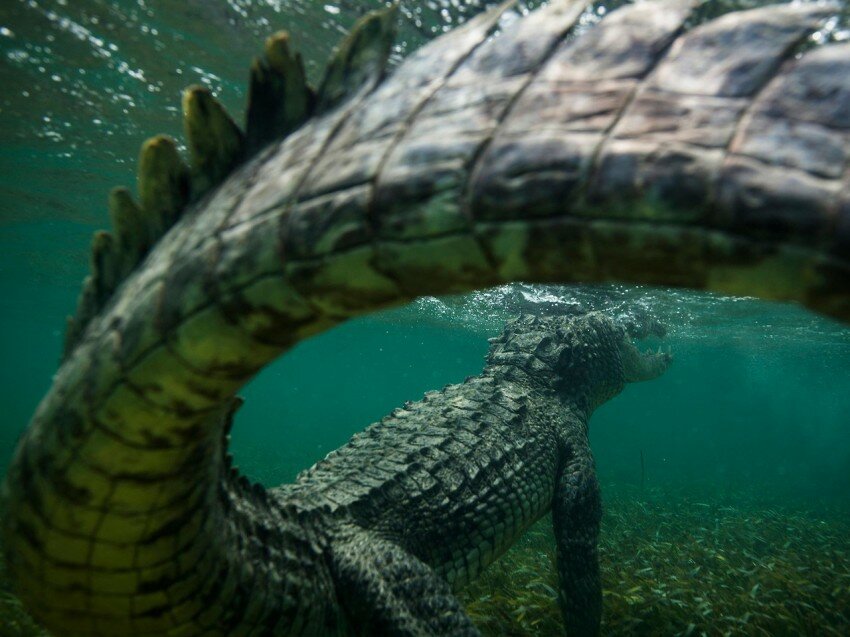 new view x more human x dead see x troubled paradise
—————————————
Reverb: New Art from Greece

When:  On view through October 18th, 2014
Where: School of the Museum of Fine Arts, Barbara and Steven Grossman Gallery, Boston, 230 The Fenway, Boston, MA 02115
How: Official Website
What/Why: "Greece's recent political and social turmoil has had profound effects on the country's cultural landscape, creating shifting notions about its identity. September 9–October 18, 2014, the School of the Museum of Fine Arts, Boston (SMFA), will showcase eleven emerging and mid-career Greek artists for the exhibition "Reverb: New Art from Greece" in the School's Barbara and Steven Grossman Gallery.
"Reverb," guest curated by SMFA alumna Eirene Efstathiou and independent curator Evita Tsokanta, will present a wide range of artistic forms and trends illustrating the way artists interpret the reverberations of social, political, and economic conditions during this crucial time in Greece's history. Exploring themes such as the appropriation of history and found objects, "Reverb" will present an authentic view of the way citizens of Greece have experienced recent history, in stark contrast to the way the media and political leaders have depicted the situation.
The eleven artists, many of whom live and work in Athens, will exhibit both existing work and pieces specially commissioned, including photography, video, painting, and mixed media installations.  A series of parallel events will promote exchanges between the artists and the SMFA community, such as a special film screening of "History Zero" and conversation with Stefanos Tsivopoulos, who represented Greece at the 2013 Venice Biennale; video chats; curatorial talks; and more."
————————
New View: 2014 Faculty Show

When: On view September 17th-December 21st, 2014
Where: Davis Museum, 106 Central St, Wellesley, MA 02481
How: Official Website
What/Why: "This fall, the Davis is proud to present New View, a survey of recent work by eleven faculty artists. Known to students in their classrooms and studios, the members of the faculty featured in this exhibition are at once educators, mentors, and active, professional artists. Their work is regularly shown in galleries and museums across New England, throughout the country, and in many cases internationally. This exhibition offers visitors the unique opportunity to explore the extraordinary talent and broad scope of art production within the faculty of Wellesley College.
Participating artists include Carlos Dorrien, Bunny Harvey, Candice Ivy, David Kelley, Phyllis McGibbon, Salem Mekuria, Qing-Min Meng, Andrew Mowbray, David Olsen, and Daniela Rivera from the studio art faculty and Nicholas Knouf from Cinema and Media Studies. Capturing their extensive range, the exhibition includes paintings, prints, and sculpture, as well as video and mixed media installations."
Also on view..
Sigalit Landau: DeadSee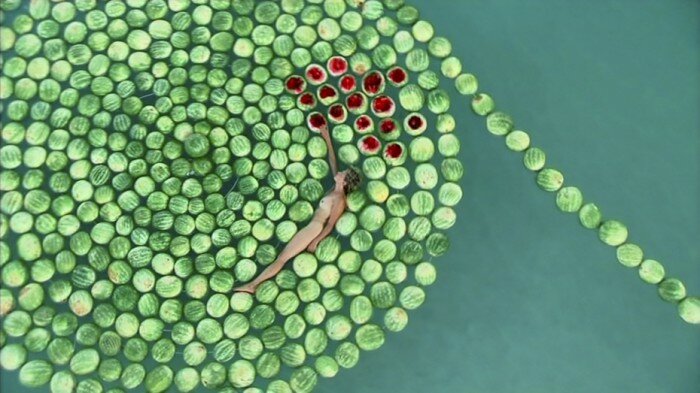 What/Why: "Known for a performative art practice that explores the landscapes of Israel, Sigalit Landau works in video, installation, sculpture, and drawing. Her elegant video, DeadSee, embeds the artist's nude body within a spiral of 500 floating watermelons, gradually unfurling in the buoyant waters of the Dead Sea. The piece reinscribes the representational tradition of "still life" with unexpected layers of reference and movement. Landau uses forms and sites that link the ancient and contemporary worlds; the spiral, the body, and the watermelon—with their allusions to antiquity—float in waters cited in the Bible and that today create common border among Israel, Jordan, and the West Bank. With the green skins and hot red interiors of the melon, the pale figure curled in their midst, and the brilliant cyan surface, Landau composes a refined study in formal contrasts. Yet she also creates an image of interdependence: both fruit and flesh are largely comprised of water, dynamic and organic, yet vulnerable in the harsh salinity of the sea."
————————
Troubled Paradise

(Still Life with Insects #1)
When: On view through October 4th, 2014
Where: Gallery NAGA, Gallery NAGA, 67 Newbury Street, Boston MA 02116
How: Official Website
What/Why: "Kang's work appears as delicate, ornamental drawings presented in crisp white frames.  If one looks more closely, however, the drawings reveal grotesque and mutated flora and fauna.  Often presented as bouquets or table arrangements one might see in the Victorian era, they teem with three-winged butterflies, two-headed caterpillars, and featherless roosters.  The line separating animals from plants has all but disappeared. There's a sense of foreboding and darkness inherent in these drawings, done with a Bic ballpoint pen.  In the newest work, Kang examines the effect the Fukushima nuclear disaster had on the waters separating Korea from Japan.  Shells, flowers, mutated animals and sea life — including a sea urchin shrouded in a scrap of plastic  — become the basis of the new compositions.
Kang comments on her work, "By drawing mutated animals and plants, I question nature's place in the modern context. What is nature? What is natural? The subjects I portray in my drawings reflect the ambiguity of the possible definitions. They show that I feel at a loss to describe what is natural in our present day. Cross-breeding, genetic engineering—the ways in which humans can control and reconfigure the natural process—become more abundant as technology advances. Should the results of such human developed processes be construed as a part of nature, or should nature exist independently of human progress?"
————————
Member Collective Showcase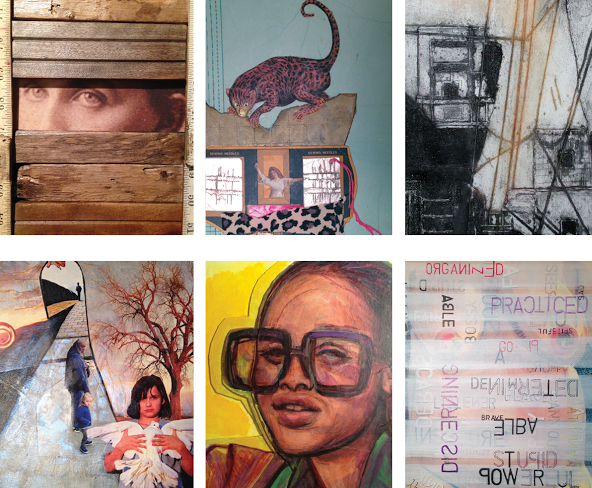 When: On view through September 28th, 2014
Where: UFORGE Gallery, 767 Centre St in Jamaica Plain, MA
How: Official Website
What/Why: "UFORGE Gallery is excited to announce the launch of its membership collective, introducing its new artist members with a group showcase.
In the summer of 2014, UFORGE Gallery expanded its offerings with new types of exhibits, from its first solo exhibition to its first juried show. Now, the gallery presents the work of its first members, a talented group of local artists working in diverse media. This program has been established with the intention of bringing artists together to share resources, exhibit their works, reach new audiences, and reach their goals. Members bring with them a range of personal backgrounds, artistic techniques, and inspirational sources that will combine and develop over the course of their collaborations. Gallery director Brian Crete says, "We at UFORGE are so excited to launch this new initiative as a way of expanding both our services to local artists and our presence in Boston's artistic community. We believe the membership collective will be a fantastic way for artists to reach the next level in their careers within a supportive, professional environment."
This showcase serves as an introduction to members' work, ranging from meditative collagraphic prints and introspective assemblages, to lively layered collage and colorful, energetic portraits. For artists like painter Anne McCaffrey, the exhibit is an opportunity to experiment and move in new directions. She says, "After a prompt from UFORGE's 'Identity' exhibit, I was encouraged to work text-based elements into my painting, which I've developed into a series after feedback within the membership. The experience has been helpful as I try out new ideas and share them with the other artists, and can start showing the works together at the gallery."
————————
Kathi Packer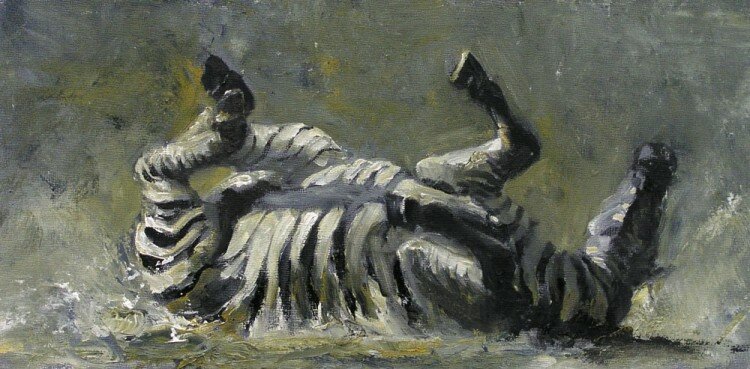 When: On view through September 13th, 2014
Where: EBK Gallery, 218 Pearl St, Hartford, CT
How: Official Website
What/Why: "I never intended for my safari trip in Africa to radically redirect my creative sensibilities. At the outset, it was simply a long anticipated voyage of discovery. Only later in my studio did I realize how profoundly this experience affected me."
Since 2008 my work has focused almost exclusively on images of wildlife I photographed while in Africa. This "truly great migration" of over a million wildebeest and half as many zebra follows a millennium circular pathway through Kenya and Tanzania. In search of water and food, their compelling story is on display from beginning to end. The contrast of opposites has long been an interest of mine and is a natural fit with this subject matter. Palette knife, brush, rags and paint once again transport me to a world of sensations: of cool shade and intense sunlight; bleached grass and puddles of water; stillness and movement. I've become the accidental tourist stumbling around in a world of knowing and not knowing where one stroke is deliberate and another happenstance. Both describe my work, and the subject. K.P.
————————
Seeing Things

(Kitchen Sink)
When: On view through September 20th, 2014
Opening Reception: Saturday September 13, 2014, 5pm – 8pm
Where: Carol Schlosberg Alumni Gallery, 23 Essex St. Beverly, MA 01915
How: Official Website
What/Why: "If you stare at something long enough it will start to look unfamiliar, alien even. Anthony Palocci Jr. paints ordinary things in such a way that they seem foreign. Whether an object is tightly cropped or viewed at a distance, in the light or masked by a hovering shadow, he just sees things differently. Seeing Things presents a mixed media collection of work connecting the relationships between things if you stop to really look.
Palocci has described his subject matter as "blue collar" in that they are common, run of the mill objects (keypads, the kitchen sink, shadows cast across a room). But he does not just paint them, he deconstructs their every plane. Palocci's perspective is push and pull, zooming in and out to change the perspective of each object. For some, the subject is cropped just enough to abstract their commonalities. Others are an entire form that make connections between the two, pulling it all together. Something as basic as a keypad appears dynamic and geometrical through Palocci's eyes.
One wall of Seeing Things gathers a collection of oil and charcoal details of a keypad. Each key's presentation is minimal, allowing it  to "breath" on its own. The wall directly facing the fluid thread of pale greens and blues of the keys, provides insight into Palocci's studio practice and how he sees his subject matter through various stages of production. For example, Chair (2012) is a tightly cropped view of the back of a wooden chair. Line and after line, the back slats of the chair give way to luminous shades of yellow and orange. Now look to the left, where a tiny paper study of a chair in full view hangs. Near this, Sink (2012) portrays a kitchen faucet. Its cane neck mirrors the shadow of a finger pressing a key on the charcoal sketch just beside it.
This is how Palocci sees things. He views relationships of form, shape and shadow all around us. Palocci often stops to take a snapshot of a completely arbitrary space such as an air conditioning grate or a corner shadow, recognizing their potential for intrigue. The objects and scenes themselves are not what sticks out (although they are beautiful) because it's not what Palocci sees, it's how he paints it."
———————–
Mel Bochner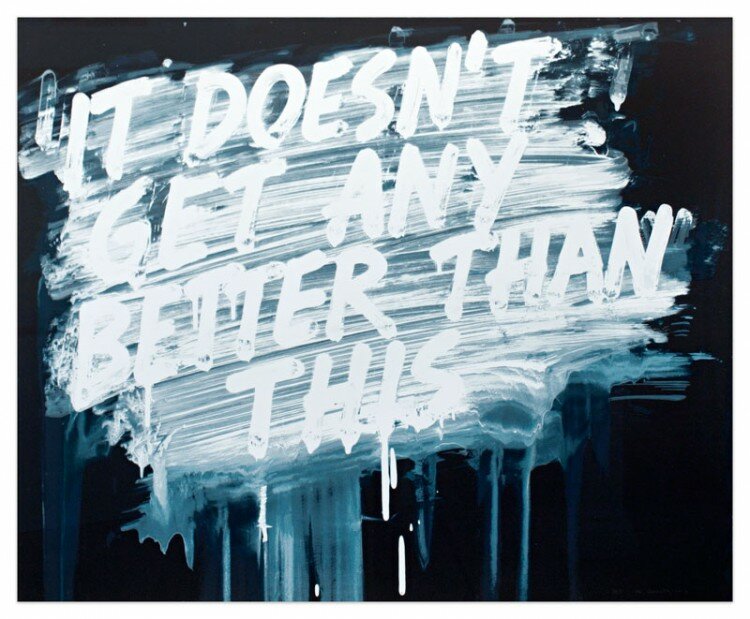 When: On view through October 18th, 2014
Where: Barbara Krakow Gallery, 10 Newbury Street, Boston, Massachusetts 02116
How: Official Website
What/Why: "Barbara Krakow Gallery's current exhibition of Mel Bochner's work is a survey of his editioned works from 2007 to the present, including 7 brand new works.  
Mel Bochner came to prominence in the 1960's as a writer (working on his own and collaborating with such luminaries as Robert Smithson), curator (Working Drawings and Other Visible Things on Paper Not Necessarily Meant to be Viewed as Art) and as an artist. 
Prior to the current work, Bochner had been beginning to explore the intersection of color and language through a body of work, if the color changes, inspired by a text by Ludwig Wittgenstein.  This work offered clues to the artist on how to subvert the reading of a text.
In 2001, Roget's Thesaurus began including slang.  This served as the spark for the current body of Bochner's work.  For the artist, the thesaurus is "a warehouse for words", a mine of readymade text for his work and, with the new additions to the thesaurus, he is now able to juxtapose the vernacular and the proper, the formal and the vulgar, and the high versus the low.  With these juxtapositions laid out visually, Bochner enmeshes the cerebral and visual associations of words in order to expand the possibilities of language as image, medium and subject matter, all as humorous, layered, powerful and succinct works of art."
Also on view..
Popolo

What/Why: "POPOLO looks at the intersection of assumption, people and the "Pop" movement.  All three artists in the exhibition are tangentially related to "Pop", whether through imagery (John Wesley), association (George Segal) or aesthetic influence (Julian Opie), yet none of them can defined just by it.  Repetition, removal and the importance of human interaction are key traits in all three artists works and hopefully through their juxtaposition, further artistic conversations may occur."
————————
 Nancy Selvage: Forecast

When: On view through October 5th, 2014
Where: Boston Sculptors Gallery, 486 Harrison Ave., Boston, MA
How: Official Website
What/Why: "Nancy Selvage is exploring the intersection of dematerialized space and visceral substance. This juxtaposition has an existential and visual complexity that resonates with her impetus to capture fleeting insights from the flux of life. By altering and concentrating the experience of space and substance, she strives for visual intensity, moments of clarity, and the creation of environments and objects that engage herself and others in a discovery process."
Also on view..
Larry Pollans: In Relief: Sculpture and Drawing 
 
————————
249 A Street: The 30th Anniversary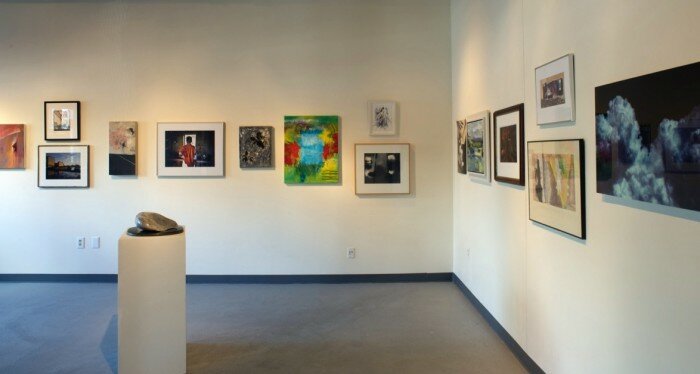 When: On view September 15th through October 24th, 2014
Opening Reception: Wednesday September 17th, 2014 5:30-7:30PM
Where: 249 A Street, Fort Point, Boston MA 02210
How: Official Website
What/Why: "The 249 A Street Cooperative celebrates its 30th anniversary with an exhibition of works by the current members of this still thriving artists' building. Resident artists are showing paintings, prints, sculpture, drawing, photography, mixed-media and ceramics.
The Co-operative was the first artist-owned, live/work, limited equity Co-op in Massachusetts, and continues to serve as a model for artists' housing throughout the nation."
—————————–
#GLVBXAOTM 

When: On view through October 19th, 2014
Opening Reception: Friday September 12, 2014 7:00pm – 9:00pm
Where:  Voltage Coffee & Art, 295 3rd St, Cambridge, Massachusetts 02142
How: Official Website
What/Why: "Glovebox Artist of the Month Show featuring the work of Agent X, Jodie Baehre, Melanie Bernier, Kate Castelli, Michael Crigler, Stephanie Custance, Ian Dingman, Ari Hauben, Steve Javiel, Joanne Kaliontzis, Keegan Luttrell, Keith MacLelland, Kati Mennett, Adam O'Day. Jessica O'Hearn
All of the artists have been featured on GLVBX's blog series over the last 3 years. Learn more about the show and the artists on GLVBX.com"
————————
More Human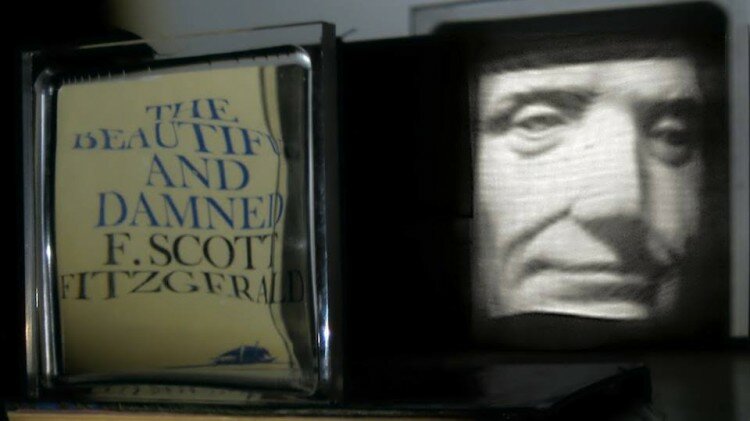 When:  On view through October 26th, 2014
Opening Reception: September 12th 6:00pm-9:00pm
Where: Boston Cyberarts, 141 Green St, Jamaica Plain, Massachusetts 02130
How: Official Website
What/Why: "The exhibition, Collision21: More Human will be at the Boston Cyberarts Gallery September 13-October 26, 2014, with an opening on Friday, September 12th from 6 to 9pm. This is a group show dealing with two closely-related concepts: human self-modification and the humanmodification of our environment. Formed by artists and technologists, the COLLISIONcollective is premised on the sometimes abrupt intersection between art and technology."  
————————
Bradford Washburn: Vintage Photographs

When: On view through January 13, 2015
Opening Reception: Friday September 12th, 5:30pm – 7:30pm
Where: Panopticon Gallery, 502C Commonwealth Ave, Boston, Massachusetts 02215
How: Official Website
What/Why: "We're delighted to be exhibiting a collection of 100 vintage contact prints by Massachusetts native Bradford Washburn. Many of these images from the mountain ranges of Alaska have never been seen by the public, exhibited, or printed in books. For the first time, Panopticon Gallery will be mounting an exhibition of this work along side "colossal" images, courtesy of the Washburn Estate and the Decaneas Archive. This exhibition opens to the public on September 12th."
————————
Far From Indochine

When: On view through October 18th, 2014
Opening Reception: Friday September 12th, 2014 6:00-8:30PM
Where: New Art Center, 61 Washington Park, Newtonville, MA 02460
How: Official Website
What/Why: "Including the work of: Dewey Ambrosino, Patty Chang and David Kelley, Frédéric Sanchez
2015 will mark the 40th anniversary of the end of the Vietnam War. The New Art Center's next Curatorial Opportunity Program exhibition Far from Indochine presents three contemporary projects about Cambodia, Laos and Vietnam that engage with the myths and ideas that formed the backdrop of the war. Through film, photography, painting and sculpture, four artists from France and the United States contemplate the modern and the global in Southeast Asia."
—————————–
Circus

When: On view through October 14th, 2014
Opening Reception: Friday September 12th, 2014 6:00-8:00PM
Where: Adelson Galleries Boston, 520 Harrison Avenue, Boston, MA 02118
How: Official Website
What/Why: "Sam Earle's mixed media paintings are composed of tediously layered, hand-painted transfers on hollow-core wood panels. He embellishes some images with tacks that are painted over, and then glazed with acrylic. The extensive process of his paintings reflects the eclectic nature of the artist's inspirations. Earle's works range in subject from circus themes to elements of antiquity mixed with his own icons and invented symbols. The work recalls the layering of Jasper Johns with the playful imagery of Claes Oldenburg. His work can be found in many private and public collections, including the DeCordova Museum and Sculpture Park and the Museum of Fine Arts, Boston. The exhibition, Circus, plays with the concept of advertisements for a once revered pastime. The work recalls an entertainment industry that produced crowds seeking to quench a curiosity for the unusual and extraordinary."
—————————–
Today Boston

When: Saturday September 13th, 3:00PM
Where: The Lawn on D, 420 D St, Boston, Massachusetts 02210
How: Official Website
What/Why: See the entire schedule of events here.
—————————–
Retina Riot

When: On view through October 2nd, 2014
Where: The Trustman Art Gallery, Main College Building, Fourth Floor, 300 The Fenway, Boston, MA 02115
How: Official Website
What/Why: "Simmons College presents Retina Riot, an exhibit of paintings by Andrew Fish and Nancy Hayes from September 4 – October 2 at the Trustman Art Gallery, located on the fourth floor, Main College Building, 300 the Fenway in Boston. A reception from 5-7 p.m. will be held on Thursday, September 11. The exhibit and reception are free and open to the public.
Andrew Fish and Nancy Hayes are gifted colorists. Their paintings are saturated with an intense interplay between complementary colors and values while displaying consummate understanding of placement so that our retinal cone cells (the color receivers) are working overtime. But they do more – color's siren call beckons us to enter their worlds intrigued by their push-pull compositions and manipulation of spatial relationships. Both artists evoke multi-layered responses with their imagery."
—————————–
Artists and Their Sketchbooks: Process Visible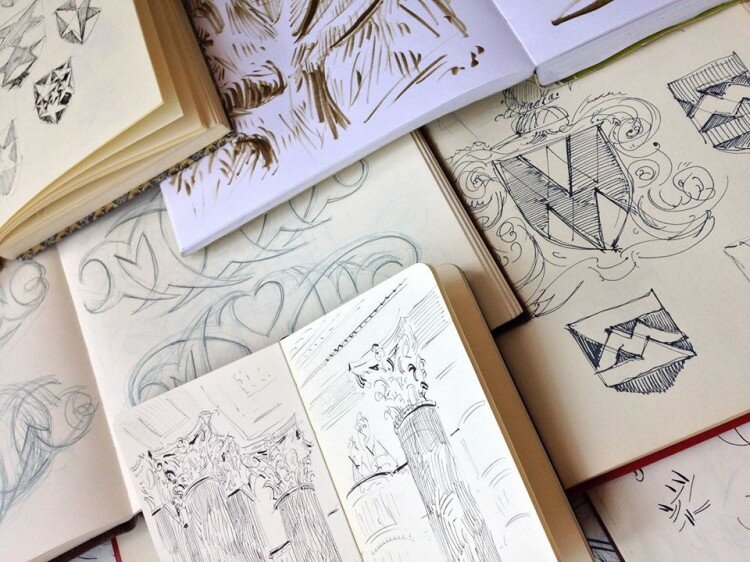 When: On view through October 10th, 2014
Opening Reception: Thursday, September 18 from 5:00 – 7:00 p.m
Where: Suffolk University Gallery, 75 Arlington St, Boston, Massachusetts 02116
How: Official Website
What/Why: "Suffolk University Gallery is pleased to present Artists and Their Sketchbooks: Process Visible, from September 4 – October 10, 2014. 
A reception will be held Thursday, September 18 from 5:00 – 7:00 p.m. The exhibit is co-curated by Karl Benner, recent Gallery Ambassador and NESAD '14 graduate and Deborah Davidson, Gallery Director.
Artists and Their Sketchbooks: Process Visible explores the rich territory and importance of drawing, especially as a way of thinking and making notation. For centuries, the artist sketchbook (or the writer's notebook) has been a window into the creative process, normally a private enterprise; the artists in the exhibit generously share with the viewer their private musings, observations and development of ideas.
The exhibit is divided into several parts – sketchbooks by professional artists, journals and notebooks by NESAD student artists, and a reading area with sketchbooks and facsimiles from a private collection and Suffolk University Library, which offers an historical look at how process leads to the manifestation of ideas.
Also featured are works – drawings, paintings and videos – by the artists included in the exhibition."
—————————–
P3SF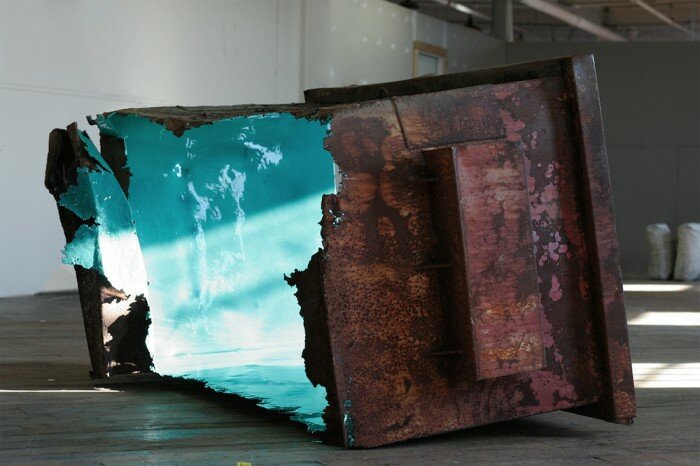 When: On view through October 31st, 2014
Where: Wheaton College, Haas Concourse & Lobby, Watson Fine Arts, Norton, Massachusetts 02766
How: Official Website
What/Why:  "This group exhibition by Wheaton studio art faculty will include work by Claudia Fieo (printmaking), Kelly Goff (sculpture), Andrew Howard (photography), Patrick Johnson (film) and Patricia Stone (painting & printmaking). All faculty have exhibited their work nationally and many have work in public and private collections."
—————————–
Say Hi:

EMAIL  | TWITTER | FACEBOOK | INSTAGRAM | PINTEREST
Meeting adjourned.
Wow. What was once a crazy summer, has now morphed into a crazy fall.
I've been doing some heavy lifting in the background for a few projects that will be unleashed in 2015–beyond excited!
I will tell you all about them once the involved parties have signed their names in blood.
In the meantime, I'm working on a post for next week about current arts opportunities (exhibitions, curatorial, employment, call for art, grants, etc etc) any thoughts ?
Stay sweet and enjoy your weekend! ♥