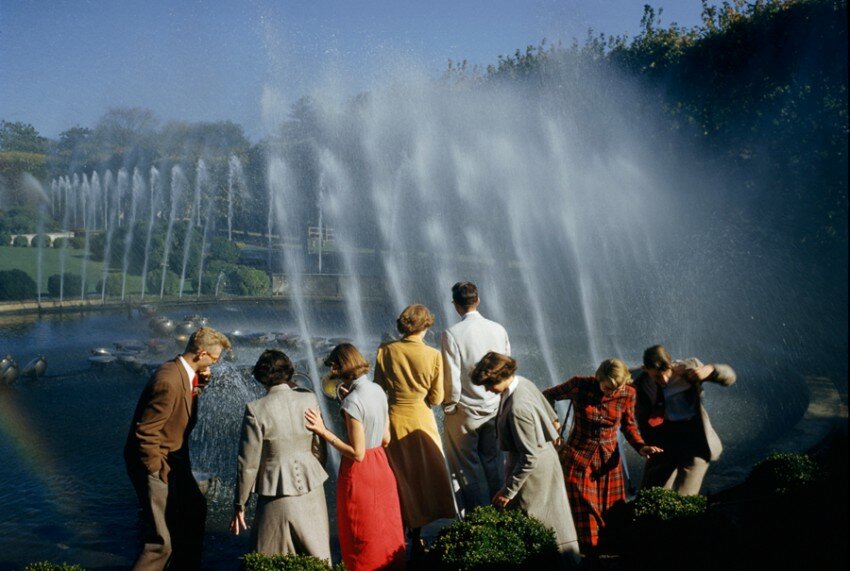 on first contact x archways x the possible inevitable x bound for extinction
—————–
Gifted

(Dining Room Table, New Boston, NH, Mary Lang)
When: On view through September 29th, 2013
Opening Reception: Friday September 6th, 5:00-7:30PM
Where: Kingston Gallery, 450 Harrison Ave, Boston, MA 02118
How: Official Website
What/Why: "This year, the annual members' exhibition is curated by Kingston Public Relations and Curatorial Consultant Deborah Davidson and is inspired by the concept of the gift. Lewis Hyde, in his groundbreaking book The Gift, expresses the idea of the artist as a gift maker and that art is received as a gift, giving it meaning. To quote the author: "The gift we long for, when it comes, speaks commandingly to the soul and irresistibly moves us."
In the purest sense, a work of art is an emanation of its maker's gift; thus the object is imbued with meaning – but open-ended meaning, which each of us receives as we will. This month the space of the gallery itself and by extension, the synergy between the twenty-five members themselves, is the site of a conversation on the idea of gift."
————————–
Confabulation
(Amar, Edie Bresler)
When: On view through October 3rd, 2013
Opening Reception: Thursday September 12, 5-7
Where: Simmons College, Trustman Art Gallery, 300 The Fenway, Boston, MA 02215
How: Official Website
What/Why: "Simmons College presents Confabulation, an exhibition of photographs, video, sculpture, paintings and prints by Edie Bresler, Jaclyn Kain, Colleen Kiely, B. Lynch, Helen Popinchalk and Guhapriya Ranganathan from September 5-October 3 at the Trustman Art Gallery, located on the fourth floor, Main College Building, 300 the Fenway in Boston. A reception from 5-7 p.m. will be held on Thursday, September 12. The exhibit and reception are free and open to the public.
The Department of Art and Music studio faculty practice a wide spectrum within the arts. Their work is individualistic and rigorous. As educators they are committed to enriching their students' contextual and creative process. The exhibit is an extended visual conversation about art, why it matters and the methods a person can employ to problem solve. Additionally, the gallery will present a dvd of background material on the artists which will feature the pianist Gregory Slowik, a department member, on the sound track."
————————–
Imi Hwangbo

(Lepidoptera)
When: On view through October 22nd, 2013
Where: Miller Yezerski Gallery, 460 Harrison Ave, Boston, MA 02118
How: Official Website
What/Why: "Imi Hwangbo received her M.F.A. in sculpture from Stanford University, where she studied with the Bay Area Expressionist Nathan Oliveira. She has been the recipient of numerous artist fellowships, including residencies at the Camargo Foundation in France, the American Academy in Rome, and Yaddo. Her constructed drawings have been exhibited internationally, with a large scale commission for the Peninsula Hotel in Hong Kong, and shows at Brown University, the Pavel Zoubok Gallery in New York City, and the Weatherspoon Art Museum in North Carolina. Articles and reviews of her work have appeared in Art in America,Sculpture Magazine, The Boston Globe, The Washington Post, and The Atlanta Journal-Constitution.
Her current work explores the notion of constructed drawings. The pieces are fabricated with translucent mylar that is colored, cut in elaborate patterns, and layered in such quantity that sculptural forms are created. Her imagery is based on the ornamentation of Buddhist temple doors and Italian cathedrals. In her work, these traditional patterns are reconfigured and expanded into space. Light is used a medium to convey the image, with patterns gaining depth through the translucent layering of light and shadow. As art critic Lilly Wei has written: "Hwangbo's geometric motifs and lacy botanicals are related to traditional designs, filtered through a modernist syntax of diamonds, circles, and squares configured as infinitely expandable systems in which solids and voids are similarly important and mind and dream intertwine."
Hwangbo's constructed drawings are created with a combination of digital technology and labor-intensive hand processes. Her Spire Series was digitally printed and obsessively cut out by hand; her most recent work, "The Verso Variations," is lasercut and painstakingly handcolored. With color schemes from Renaissance painting, "The Verso Variations" incorporates patterns of line that appear to be drawn in space and cast a delicate shadow. This series, which is handcolored on translucent paper, recalls the luminous effect of stained glass."
————————–
 Lisa Jeanne Graf: Don't Fence Me In

When: On view through September 2013
Opening Reception: Friday September 6th, 6:00-8:00PM
Where: Galatea Fine Art, 460B Harrison Ave, Boston, MA 02118
How: Official Website
What/Why: "The work done for this show started with the piece "Don't Fence me in." It was created in response to a need to have more space to roam around in the bigger world and not be boxed in by roles and expectations.
In this painting I left the fences ambiguous. The main fence in the foreground has an opened gate. Is it about to open or close? In the distance is another fence up on a mountain. If one is no longer trapped by one fence will you just realize that you are just trapped inside of another? Is real freedom possible or an illusion? Also how necessary is complete freedom? Can fences also be there for safety and a sense of where your boundaries are? I wanted the meaning to be open to interpretation.
Also on a parallel path I want my bright, sweet, and creative 4 year old daughter to feel free to be herself and find her own way as she grows up. I don't want anyone to fence her in! My working method is quite varied. Images start as sketches that come from various sources – photos, 3d renderings and drawings. My sister provided a photo of snowdrops, and my husband created 3d models that I arranged in 3D modeling software. So this has been a family inspired project in many ways. The majority of the final pieces are egg tempera paintings on clayboard panel. The water based images are a combination of watercolor, colored pencils, and caran d'ache crayons.  – Lisa Jeanne Graf"
Also on view..
Betty Glick-Archways

What/Why: "The current show, "Archways", is an exploration of a subject especially dear to me: the spaces created by the medieval and  gothic architecture of the monasteries, churches, city squares and hilltowns of Spain and Italy.  These places have always seemed magical and luminous to me, catching the light in unexpected ways, their shapes cascading into infinity, their passageways leading mysteriously into dark tunnels, or opening suddenly into a sunlit square. I have been privileged to spend a large part of my life living or traveling in these ancient places and these paintings are a tribute to the rich cultural traditions that created them over the centuries." – Betty Glick"
————————–
 Fates and Furies: America

 (Hannah Verlin, When She Saw What She Had Done)
When: On view through October 6th, 2013
Where: Boston Sculptors Gallery, 486 Harrison Ave, Boston, MA 02118
How: Official Website
What/Why: Read the press release here.
Also on view..
Benjamin Cariens-Interiors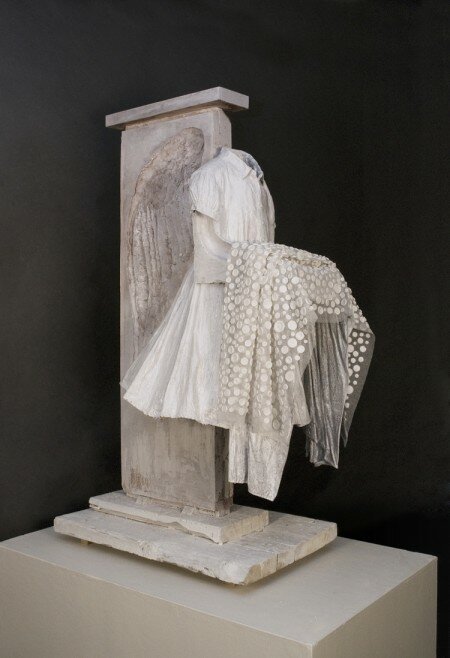 What/Why: Learn more here.
————————–
Ben Sloat – One Blast

When: On view through October 12th, 2013
Opening Reception: Friday September 6th, 5:30PM
Where: Steven Zevitas Gallery, 450 Harrison Ave, Boston, MA 02118
How: Official Website 
What/Why: "Sloat's artistic practice has always involved a wide range of media and conceptual directions. For One Blast, Sloat focused his energies on painting, while consciously jettisoning the weight that comes from the medium's long history. The exhibition consists of eleven new paintings and one room-sized installation. Sloat is interested in the role that technology plays in generating contemporary aesthetic structures. The group of paintings that he presents in One Blast are essentially experiments in layering and materializing data imagery. For the large painting, Swell (New Dawn Fades), Sloat conflated an image of a dazzle ship (a World War I vessel that, by virtue of its shape and color, was difficult to track) with a visualization of pulsar signals which comprise the waves. This painting was then photographed and inverted digitally, creating a visual template for the companion painting, Swell (Midnight Rises). The inability of the computer to select the water imagery evenly resulted in a new visual form for the waves, and in doing so exposed innovative methods of artistic production in the midst of technological failure.
Similarly, in Transmission, a series of six paintings with imagery taken from analog video stills from the 1980's, new visual structures are generated due to interference from a live transmission. The room-sized installation, One Blast, began as a photograph of a broken window near the artist's studio in Boston. Imagining the lines of the cracks extending into an entire environment, Sloat began the piece by drawing a series of lines from the photo print, which he then digitized and pixilated. Architectural rendering software was subsequently used to turn the imagery into three-dimensional forms. The room was finally transformed using laser cut masonite panels. The title, One Blast, which is an anagram of the artist's name, relates to the idea of a single explosion event creating an immersive shattered environment, but also refers to the first art and literary magazine of the Vorticists, BLAST 1, which posited new idealized aesthetic and social roles for the technological future."
————————–
Brian Mark's Haunting of the Harbor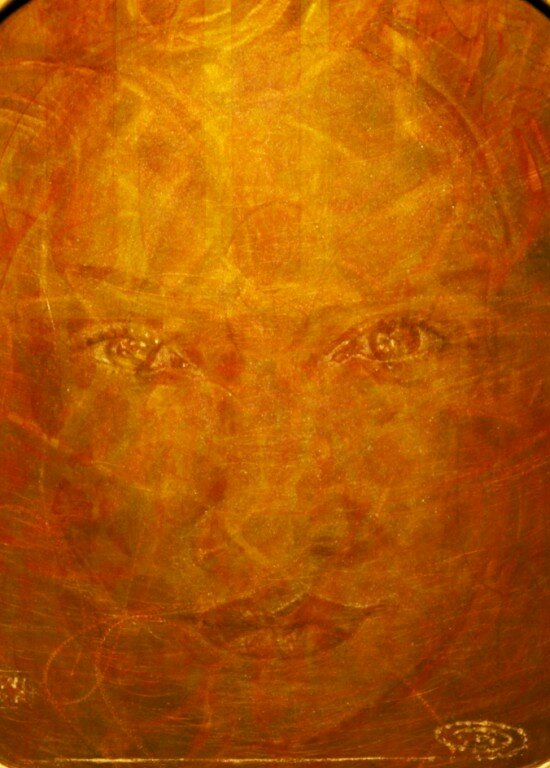 When: On view through October 31st, 2013
Opening Reception: Fri, September 6, 5pm – 8pm
Where: Harbor Square Gallery 374 Main Street Rockland, ME. 04841
How: Official Website
What/Why: "Artist Brian Mark uses the ghostly and beguiling medium of precious metals bathed in acids to take viewers on a haunting search for the epiphany as a faint ghost of an idea evolves from the subconscious and merges into the conscious mind. This unique medium defies the usual categories of art and has been described as "there's a feeling of peacefulness and reverence for life, and the simmering quality speaks of magic, ghost, prayers, jewels"
————————–
Framed: Identity and the Photographic Portrait

(Ocean Breeze (Seven), Lorenzo Triburgo)
When: On view through October 12th, 2013
Where: PRC Boston, 832 Commonwealth Ave, Boston, MA
How: Official Website
What/Why: "Portraiture has been a part of photographic representation as early the announcement of photography's invention in the 1830s. With the rise of the profession of photography and establishment of portrait studios by John Plumbe and Albert Sands Southworth and Josiah Hawes (known as "Southworth and Hawes") in the 1840s, Boston, in particular, distinguished itself as a leader in the field of studio portraiture. Though not limited to artists practicing in Boston, Framed returns to the popular subject of portraiture and features contemporary photographic portraits.
Portraiture has developed rapidly and significantly in the past seventy years. Even in the past thirty years, since Roland Barthes' statement, it has transformed dramatically. As a means of exploring issues of identity, contemporary artists have been using photography to examine aspects of themselves and others. In the age of the Internet, avatars, online personalities and profiles, as well as obsessive online documentation of one's activities and characteristics, identity has become more fluid, pluralistic, multifaceted, detailed and yet, at times, illusive and elusive. The artists featured in Framed rely on photography's promise to present "truth" or "reality" to explore, reveal and conceal aspects of the complex subject of identity. In some cases, the artists rely on photography's promise to present "reality" to create and authenticate fictitious identities or role-playing. In other cases, the artists use themselves or others to reveal and interrogate aspects of identity. Framed is not an exhaustive exhibition on identity, but rather showcases three fresh and ambitious approaches to portraiture. Overall, the artists in this exhibition challenge our beliefs and assumptions about identity and the photographic portrait."
————————–
The Village AMP!

(CEO #8, Warren Croce)
When: Sunday September 9th, 12:30-5:00PM
Where: 543-537 Massachusetts Ave, West Acton Village, MA
How: Official Website
What/Why: "West Acton Village is AMP-ing it up, and you're invited! The Village Arts + Music Project (Village AMP!) is a celebration of the rich local culture that's blooming in West Acton and the region. Wander through a pop-up art gallery and enjoy performances by local musicians, face painting, and a relaxing chair massage. Cool off with locally-made ice cream, craft brews, and raw-bar. Be sure to check out the artists' market and pick up some locally-grown art."
————————–
Aaron Stephan-Art Handling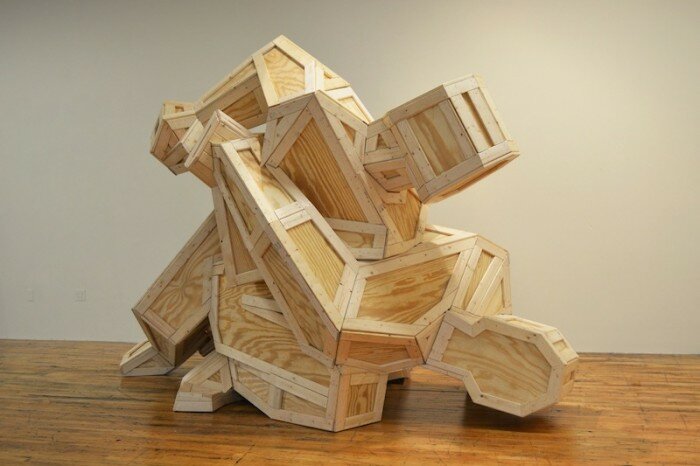 (The Possible Inevitable)
When: On view through October 19th, 2013
Where: Samson Projects, 450 Harrison Ave, Boston, MA 02118
How: Official Website
What/Why: "Samsøn is pleased to present a solo exhibition, Art Handling, by Aaron Stephan.
The centerpiece of the exhibition, The Possible Inevitable, appropriates the form of the Uffizi Wrestlers, a Roman copy of a Greek sculpture that no longer exists. The Roman version has been copied multiple times throughout the past 500 years and can be found in institutions of high culture and popular culture. A copy of a copy, The Possible Inevitable speaks to the complex and varied history of western art, questioning what is carried forward and what is left behind. The gesture can be seen as a moment between violence and intimacy, power and vulnerability.
Alongside the monumental sculpture, Stroke and Stretcher and Choice Strokes are drawn from the relationship between painting, sculpture and the physical support structure behind it. These works share two components: brush strokes (all exactly the same form) and some sort of support for the brush stroke. "…the visual impression of all of these come from form rather than off a flat plane." With these works, Stephan responds to a conversation with Duchamp, Jasper Johns, Rauschenberg and Warhol among others, where the mundane and pedestrian are tested against the high mindedness of modernism."
————————–
Festival of Sound Art and Performance Art

When: September 7th-8th, 2013
Where: The Quarry, 68 Quarry Road, Acton Massachusetts 01720
How: Official Website
Cost: Purchase tickets here.
What/Why: "Eighteen of the region's leading sound artists and performance artists will be featured in this First Biennial Festival at the Quarry, the arts campus of Contemporary Arts International Inc. The program includes:
​SOUND ARTISTS
Evan Ziporyn, Keith Fullerton-Whitman,Viktor Lois, BUMPR, Jed Speare/Tim Fenney/Ernst Karel, Reuben Son, Flandrew Fleisenberg/Loren Groenendaal, Walter Wright, Andrea Pensado, Dei Xhrist/ BiRdOrGaN. 
​PERFORMANCE ARTISTS​
Marilyn Arsem, Vela Phelan, Jeff Huckleberry, Karen Dolmanisth, Jeffu Warmouth, Ellen Wetmore, Geoffrey Koetsch, Zach Hoffman and Rob Saulnier"
————————–
Jeff Chase

(After the Rain)
When: On view through September 29th, 2013
Opening Reception: Friday September 6th, 2013 6:00-8:00PM
Where: Chase Young Gallery, 450 Harrison Ave, Boston, MA 02118
How: Official Website
————————–
Word Play

When: On view through September 29th, 2013
Where: UFORGE Gallery, 767 Centre Street, Jamaica Plain, MA
How: Official Website
What/Why: ""Word Play" features artwork inspired by the use of text and linguistics, from photography to mixed media.  The show includes many New England artists, ranging from their technical skills, enthusiasm, and engagement with the art of linguistics."
———————-
Irrational Painting – Marcus Reichert
(Woman with Green Hair)
When: On view through October 13th, 2013
Where: Adelson Gallery, 520 Harrison Ave, Boston, MA 02118
How: Official Website
What/Why: "Reichert was born in 1948 in Bayshore, Long Island, grew up in rural Pennsylvania, and spent summers with his grandmother in Levittown, New Jersey.  In the early 1960s, Reichert toured Paris and the south of France, where he currently resides and works.  During the Vietnam War, Reichert attended the Rhode Island School of Design in the Independent Study program.  He had grown up painting in the period during abstract expressionism, but was seeking something more literal.
There seemed to be an element of truthfulness in the obscurity of paintings by artists such as Alberto Giacometti and Francis Bacon, and Marcus embarked to find his own path in this trajectory of contemporary painting.  Working out of New York and Bridgehampton in the 1970s, Reichert lived among painters Willem de Kooning, Larry Rivers, and Jack Youngerman. According to Reichert, "My determination was to take gestural painting into a new area of figuration which would be both spiritual and poetic, and without social or political connotations."
Reichert exhibited his paintings for the first time when he was twenty-one at the Gotham Book Mart and Art Gallery in New York (1970). Since then, he has had several museum and gallery exhibitions in the United States and Europe. In that time, Reichert has also published three novels and created the film, Union City, which premiered at the 1980 Cannes Film Festival and is now held in the archive of the Museum of Modern Art, New York. Although he has also worked extensively in poetry, prose, and photography, he considers himself primarily a painter.
Our exhibition, Irrational Painting, is an introduction of Reichert's work to Boston. We hand-selected the works from the artist's studio in the south of France, where he has lived for the past eight years. The paintings have all been completed within the past eleven years. This group of paintings exemplifies the artist's variety of subject matter and encompasses his painterly and unorthodox technique."
———————-
New Bedford Open Studios

When: September 7-8th, 2013 11am-6pm
Where: 675 Orchard Street 3rd Floor, New Bedford, MA
How: Official Website
What/Why: "Join us for the first of three Fall events showcasing some of the amazing artists residing in the Greater New Bedford area. "
———————-
(con)TEXT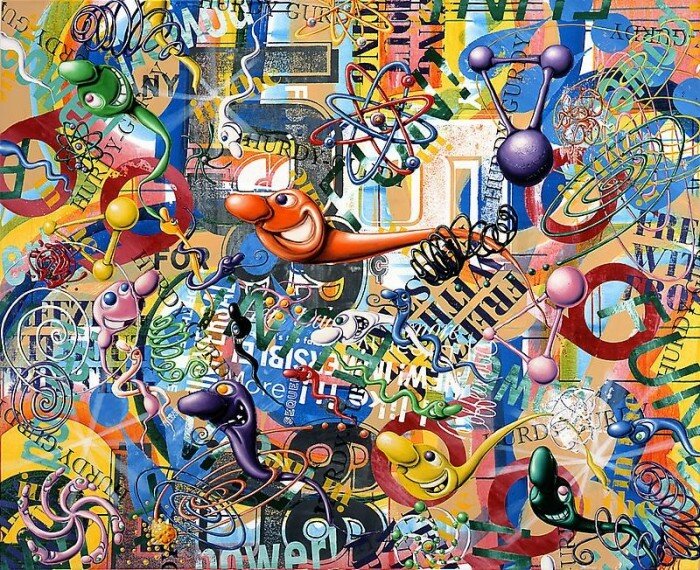 (Hurdy Gurdy, Kenny Scharf)
When: On view through October 25th, 2013
Opening Reception: Friday September 6th, 2013 5-7pm
Where: Sharon Arts Center, 30 Grove Street, Peterborough, NH 03458
How: Official Website
What/Why: "Whether it is repurposing found letters, bombastic political statements, documenting intimate details or elusively abstracting a phrase, text incorporated within art offers a profound purpose by both redefining our perception of what language can be and what it can do. Often, by manipulating its context, text is freed to become a vehicle that allows us to take into consideration what was previously concluded."
———————-
Bound for Extinction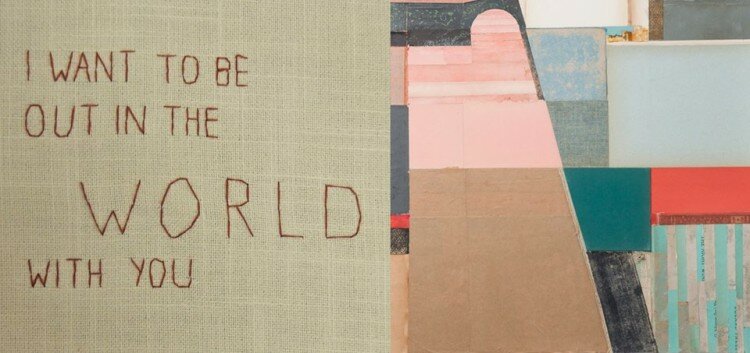 When: On view through September 2013
Where: Studios at Porter Mill, 95 Rantoul Street Beverly MA 01915
How: Official Website
What/Why: "The Gallery at Porter Mill is pleased to present it's September exhibition, Bound for Extinction, featuring the work of Beverly based artists Emily Pardoe and Conny Goelz-Schmitt.
Emily Pardoe creates collages, fabric pieces and video that explore the relationships between human beings, and her own relationship to others. Employing words and narratives Pardoe uses her artwork to find and express her most honest and vulnerable emotions. Her work is at times funny, sad, angry or passive – but always relatable.
Conny Goelz- Schmitt creates paper collages and found object sculptures (out of old books) that explore the relationship between the past and present. While playing close attention to the formalities and aesthetic of a piece, Goelz-Schmitt looks to create something contemporary and relevant out of yesterday's discarded materials.
Both artists celebrate the evidence of the artist's hand and do not seek to remove themselves from the process of creation, or hide from the viewer. Pardoe exposes her own history, while Goelz-Schmitt exposes the history of her materials."
———————-
Trouble

When: On view through September 10th, 2013
Where: Hallway Gallery, 66a South Street, Jamaica Plain, MA, 02130
How: Official Website
What/Why: "All 185 original, black and white drawings from Tim McCool's new book TROUBLE will be showing at The Hallway Gallery through September 10th. A limited number of his books will also be available for purchase."
———————-
On First Contact

(Candlestick, Adam Katseff)
When: On view through January 14th, 2013
Opening Reception: Thursday September 12th, 2013 5:30PM-7:30
Where: Panopticon Gallery, 502c Commonwealth Ave, Boston, MA 02215
How: Official Website
What/Why: "On First Contact is not a sci-fi themed exhibition, rather an exhibition of film-based images much smaller than the contemporary norm. Panopticon Gallery will be hosting this exhibition fromSeptember 12 through January 14, 2014 which will feature many local, national and international artists including Agnieszka Sosnowska, Keith Carter, Adam Katseff, Neal Rantoul, Stephen DiRado, Brian Kaplan, Frank Armstrong, Frank White, Cheryle St. Onge, Herb Greene, Stanley Forman, Douglas Prince, Elizabeth Ellenwood, Allison Smith, Samuel Quinn, Erik Schubert, Christine Baczek, Amber Wachtl, Ivana George, and Greg Norstrom."
also on view..
No Thoughts Magazine

(Alyssa and Hua Mu During the Blizzard, Michael J. DeMeo)
What/Why: "From the Founder and Editor of NO THOUGHTS MAGAZINE, Michael J. DeMeo has curated a group of photographers that will be on display in the Emerging Artist FEATURED corner from September 12 – January 14, 2014.
Founded in August 2009, the magazine features emerging and established photographers from around the world and strives to be an influential voice in the international photography community.
Come meet the artists and members of No Thoughts Magazine at the opening reception onThursday, September 12th from 5:30-7:30pm."
———————-
Rose Olson: Paintings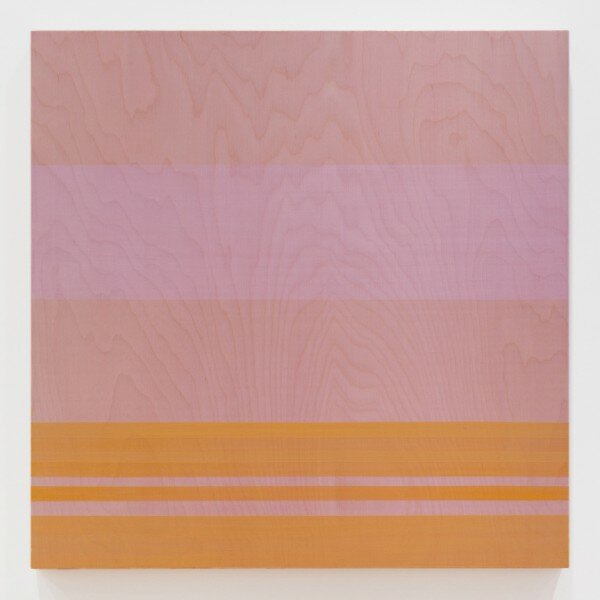 When: On view through September 27th, 2013
Where: Susan Maasch Fine Art, 4 City Center, Portland, ME, 04101
How: Official Website
———————-
Dmitri Cavander New Paintings

(Amelia with Play Doh)
When: On view through September 28th, 2013
Opening Reception: Friday September 6th, 2013 5:30-7:30PM
Where: Soprafina Gallery, 55 Thayer Street, Boston, MA 02118
How: Official Website
What/Why: "Soprafina Gallery is pleased to announce the third solo exhibition of works by Dmitri Cavander. The exhibition will include thirteen of Mr. Cavander's new paintings.
Mr. Cavander graduated from the University of California at Berkeley attaining Phi Beta Kappa on graduation. He later attended and graduated from the School of the Museum of Fine Arts, Boston. Cavander has drawn since the age of four and began oil painting as an undergraduate in Berkeley, where he studied under Christopher Brown. Some key influences to his work include Richard Diebenkorn and Wayne Thiebaud with their attention to light and approach to realism. Others include Fairfield Porter and Alex Katz with their simplification of form. Cavander also studied with Boston based artist George Nick and drew inspiration from the urban landscape, interiors and highway scenes."
————————–
WordPress and I are not on speaking terms this week(I have been trying to post since 11am). But you and I are!
So let me know if I missed an important happening:
EMAIL | TWITTER | FACEBOOK | INSTAGRAM | PINTEREST
The opening reception for Pedigree is 2 weeks away(!!) With each new install I am more and more blown away with what is taking shape. I am one proud parent curator.
Will I see you on September 20th to celebrate? I hope so!
✉ RSVP ✉  ♥