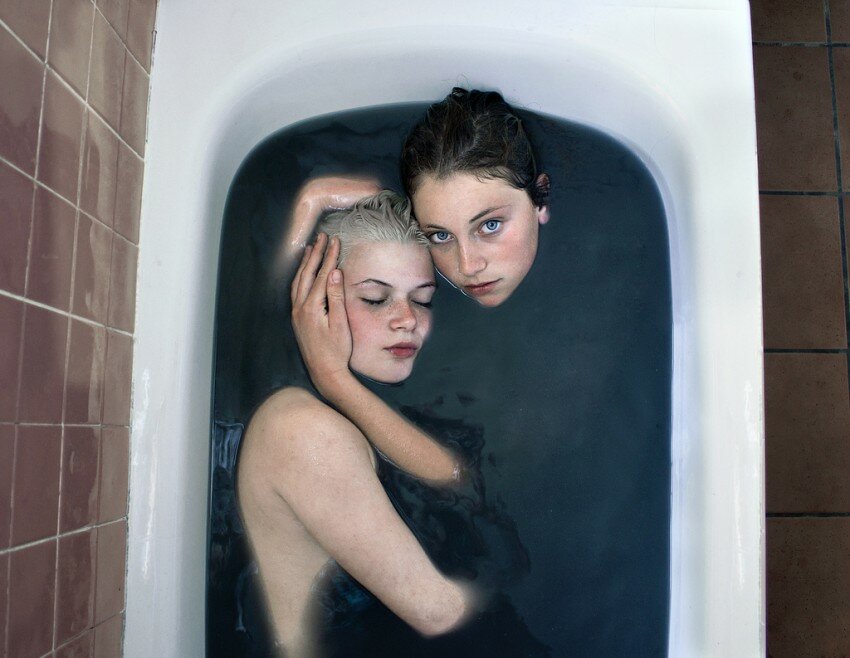 conflict & resolve x through & through x feels right
——————————
Aaron Williams: Construction

When: On view through October 2013
Opening Reception: Thursday, September 19th 6-8PM
Where: La Montagne Gallery, 555 East 2nd Street, BOSTON, MA, 02127
How: Official Website
What/Why:"The exhibition will feature a large, multi- panel installation as well as a group of smaller, monochrome photographs. Williams is exploring dual natures of the notion of construction, as well as questioning his own creative history and ideas surrounding abstraction. Leaving behind traditional, painterly modes of working, Williams is investigating new visual and conceptual strategies as well as the relationship between hand-made and machine generated mark making."
More information here.
—————-
Conflict and Resolve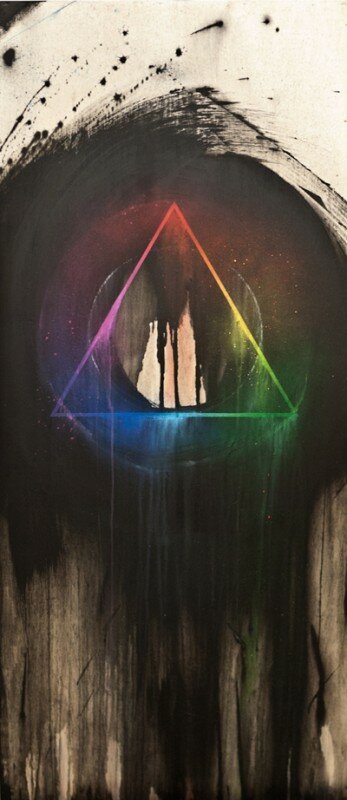 (Feels Right)
When: On view through October 4th, 2013
Opening Reception: Friday September 13th, 2013
Where: Lot F Gallery, 145 Pearl Street, Boston, Massachusetts 02110
How: Official Website
What/Why: "Dana Woulfe has made quite a splash in the Boston Arts Community. After two highly acclaimed duo shows with former studio mate Kenji Nakayama, an Installation/Residency at Montserrat as well as an exhibition at Hellion Gallery in Portland, Oregon, Lot F Gallery is proud to announce Conflict and Resolve a solo exhibition by Dana Woulfe. Raised in Rhode Island, Dana Woulfe was inspired by his grandmother, Betty Jehan, a RISD graduate and life long artist. In the mid 90's, while attending Mass College of Art, Woulfe became interested in graffiti, which has greatly influenced his current style. Using aerosols, oil paint and collage, he develops crisp, rich color palettes and dynamic compositions.  Dana's work continues to evolve, reflecting his maturity as an artist and his progression through experience. Recently forming his new studio space Studio Fresh with artists Josh Falk and Jay LaCoutoure; Dana has taken on a number of large scale murals and commercial projects. Largely abstract his paintings often are created from the forms of letters, words and handstyles which take on an organic and natural quality. His careful use of color and composition create breathtaking works that are truly his own."
—————-
Third Thursdays: Jazz AfterHours

When: Thursday September 19th, 2013 5:30PM
Where: Isabella Stewart Gardner Museum, 280 The Fenway, Boston MA, 02115
How: Official Website
Cost: Purchase tickets here.
What/Why: "This month, we're partnering with our neighbors at Discover Roxbury for an evening of jazz. Participate in a colorful studio activity with guest artist Destiny Palmer, sip champagne by the courtyard, and explore art and music connections in the galleries."
—————-
Enzo & Nio

When: Thursday September 19th, 5:00PM
Where: Firebrand Saints, 1 Broadway St, Cambridge, MA
How: Official Website
What/Why: "Firebrand Saints is proud to announce that on Thursday, Sept 19th, Brooklyn-based street artists Enzo & Nio will be in the house showcasing their indelible talents at – 1 Broadway St, Cambridge, MA.
The creative universe of Brooklyn-based street artists Enzo & Nio is a vast expanse. Departing from the traditional artistic practice of developing a singular style or progression, Enzo Sarto and Nio Gallo instead employ a variety of mediums and approaches to create their work. The pair works endlessly using photography, graphic design, block printing, stenciling, spray and brush painting, computer animation and any other means necessary to relay their messages of humor, fear, prophecy, philosophy, religion, politics and nonsense. Then under cover of darkness they place their work on city streets and back alleys."
—————-
John Cederquist: Indecision of Upholstery
(Special Delivery from Japan)
When: On view through September 28th, 2013
Where: Gallery NAGA, 67 Newbury Street, Boston, MA 02116
How: Official Website
Also on view..
Mary Kocol: Ice Gardens-The Poetics of Nature     

(Roses, Past)
ALSO on view..
Garry Knox Bennett: Just Some Lamps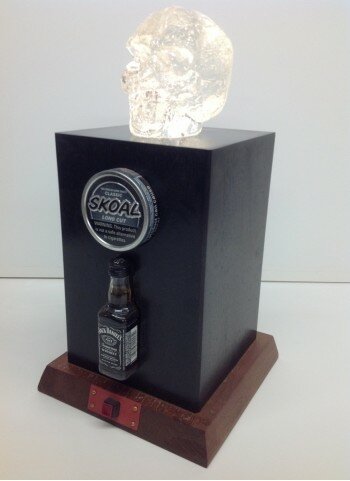 (Self Portrait)
—————-
SMFA Dilated Biography: Contemporary Cuban Narratives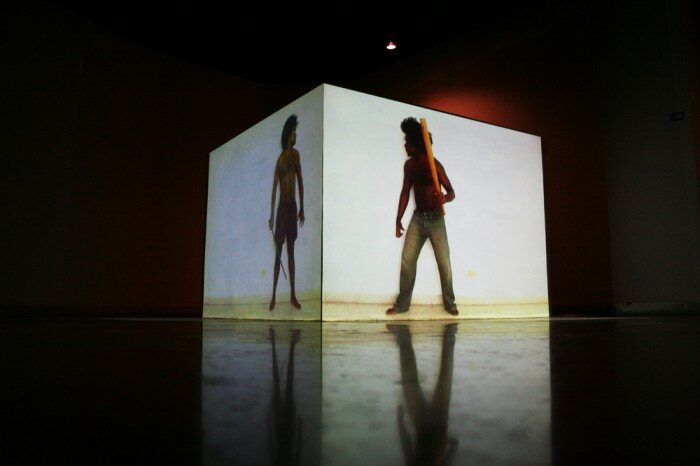 (White CorerAlexandre Arrechea)
When: On view through October 19th, 2013
Where: SMFA, Barbara + Steven Grossman Gallery, 230 Fenway, Boston, MA
How: Official Website
What/Why: "Guest curated by Jorge Antonio Fernández Torres, "Dilated Biography" features 15 Cuban artists who will examine the culture, politics and history of their native country through the lens of their personal experiences: Alexandre Arrechea, Javier Castro, Felipe Dulzaides, Juan Roberto Diago Durruthy, Luis Gárciga, Luis Gómez, Tony Labat, Dennis Izquierdo, Susana Pilar Delahante Matienzo, Reynier Leyva Novo, Tatiana Mesa Pajan, Eduardo Ponjuan, Wilfredo Prieto, Diana Fonseca Quinones, Grethell Rasúa."
—————-
Bahar Yurukoglu: Melting North

(
Black Lake Purple Sky, Bahar Yurukoglu)
When: On view through September 22nd, 2013
Opening Reception: Wednesday, September 18, 6-8pm
Where: 301 Gallery, 301 Cabot Street, Beverly, MA 01915
How: Official Website
What/Why: "Montserrat College of Art is pleased to welcome Boston area artist Bahar Yurukoglu to the 301 Gallery in her first solo exhibition, Melting North. The artist describes her work as a merging of light, color and space. The exhibition investigates how light interacts with the natural and manmade landscape through the combination of photography, sculpture and moving image. 
The photographs in Melting North were taken during an artist residency completed in Iceland where Yurukoglu collected scraps of brightly colored Plexiglass and arranged them into still lifes documenting the extreme Icelandic landscapes. 
In Melting North, Yurukoglu blurs the lines between the two and three-dimensional. A moving projection of images created in Wyoming earlier this year will be paired with pieces of Plexiglass protruding out from the wall to form a site-specific installation, entitled Parhelion. The result is a vivid interior landscape, which the artist has named a neoscape. The viewer will be able to walk throughout this space and become a part of the piece; bringing to light questions such as, what is real and what is not. 
Yurukoglu's work inspires the viewer to take pause and reflect. Not only because of the thoughtfulness behind the compositions, but due to the multidimensionality of each piece, which echo our complex connection to the natural environment. "
—————-
The Enormous Tiny Art Show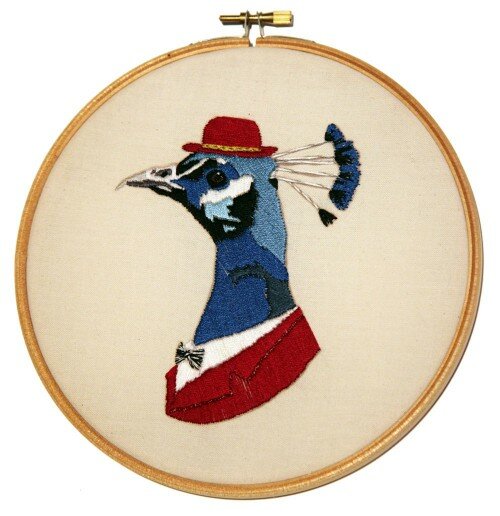 (Peacock, Ryan and Lucy Berkley)
When: On view through September 29th, 2013
Where: Nahcotta, 110 Congress Street, Portsmouth, NH 03801
How: Official Website
What/Why: "Enormous Tiny Art is a curated collection of original "tiny" (10″ x 10″ and smaller) artwork by artists all over the world, shipped directly to your door."
—————-
Prolegomenon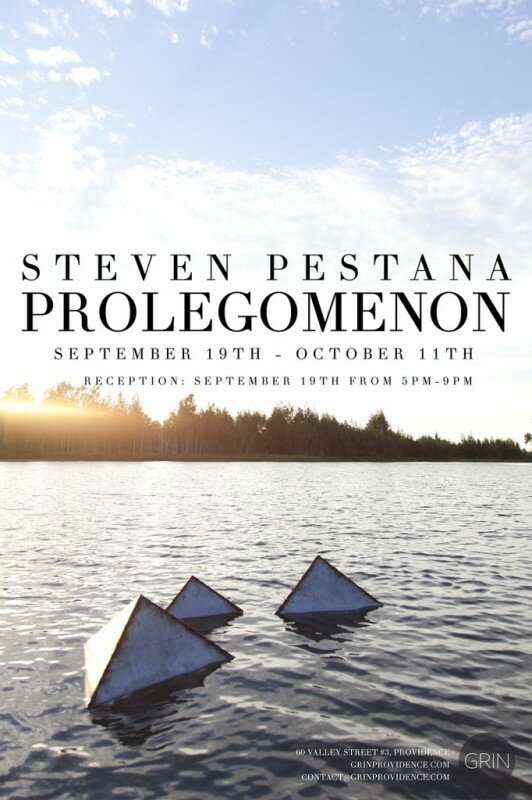 When: On view through October 11th, 2013
Opening Reception: Thursday September 19th, 2013
Where: GRIN Providence, 60 Valley St. #3, Providence, RI
How: Official Website
What/Why: "A solo exhibition of sculpture and installation by Steven Pestana,investigating how the scientific discipline of Complexity Theory translates into creative practice."
—————-
Through and Through

When: On view through September 2013
Opening Reception: Thursday September 19th, 2013
Where: Atlantic Works Gallery, 80 Border Street, Top Floor, Boston, Ma
How: Official Website
What/Why: Featuring the work of Nick DiStefano and Kristen Freitas "Concepts of identity and personality, specifically the different personas that we can choose,adorn, or project. Those presentations can be fragile, ghosts of words and images appear, only to dissolve as they are glimpsed and new impressions are made. Like finding a new place, they suck you in driving to search deeper to learn more. New layers highlight words and images,signaling pauses and turns in the narrative. They act as masks, both revealing and hiding. The process makes each representation removed from the original image so that the mask takes over. The mask confronts us. Confrontation and intimacy are an important aid in releasing, uncovering, and discovering who we are and who we can be."
—————-
Reality Check

When: On view through December 7th, 2013
Where: Mass Art, Bakalar and Paine Gallery, 621 Huntington Ave, Boston, MA
How: Official Website
What/Why: "Clicking the shutter is just the beginning of the photographer's touch. Whether adding ectoplasmic forms to Spiritualist photographs, creating false narratives in Communist political propaganda, or airbrushing unattainable ideals of feminine beauty, photographers have manipulated their images throughout the history of the medium. Thus, viewers must question every picture's verisimilitude. Digital technologies have now given photographers even more control in constructing imagery-and we have learned to trust our eyes even less.
Reality Check brings together seven artists whose work strikes the present-day viewer as digitally altered. However, the exhibition's extraordinary images are the results of other, often slow and painstaking, non-digital processes. Despite many viewers' jaded expectations of retouching, the artists in Reality Check capture intriguing moments and phenomena in the world around us. The works on view expand our vision, challenge our preconceptions of contemporary photographic processes, and celebrate that, even as the digital world occupies more of our lives, there are innumerable strange, surprising, and magical quirks left to be discovered in the real world."
—————-
Image Machine 

(Cheryl Tiegs, Andy Warhol)
When: On view through December 15th, 2013
Where: Rose Art Museum, 415 South Street, Waltham, MA
How: Official Website
What/Why: "Iconic American artist Andy Warhol (1928 – 1987) created much of his art from photographs—those he collected from mass media and those he shot himself. Image Machine, which is drawn largely from the Rose Art Museum's permanent collection, focuses on how Warhol used photography throughout his career as source material, medium, and subject matter. The phrase "image machine" refers to both the artist himself—he produced tens of thousands of photographs over his lifetime—and the technologies he employed. Warhol adopted the image-making machines of popular culture, including still cameras, movie cameras, and commercial silkscreen printing."
—————-
Student Loan Art Program Exhibition and Lottery

When: On view through September 15th, 2013
Where: MIT List, 20 Ames Street Building, Cambridge, MA
How: Official Website
What/Why: "The MIT List Visual Arts Center presents the annual Student Loan Art Program Exhibition and Lotteryfrom September 3-15, 2013. Through this popular loan program MIT graduate and undergraduate students have the opportunity to borrow original works of art from the collection for their living and work spaces. The exhibition features over 500 framed prints and photographs by leading modern and contemporary artists. New works available for loan this year include pieces by Sonia Almeida, Geoff Hargadon, Damien Hirst, Matt Rich, Sarah Sze, and Walid Raad, among many others.
In conjunction with the exhibition the List Center will host a public reception Sunday, September 8 at 11 a.m. The reception will feature refreshments and a tour of the exhibition. In addition, a reception for MIT graduate students will be held on Tuesday, September 10 from 5-7 p.m. Although only MIT students can borrow art, the exhibition is free and open to the public. As MIT List Visual Arts Center director Paul C. Ha states, "One of the List's important ongoing annual programs is our Student Loan Art Program. It is where MIT students participate in caring for and living with art, experiencing first hand what it is to be a contemporary art collector. The List is proud to host this program as it continues to grow in participation and in collection."  
—————-
Say hi:
EMAIL | TWITTER | FACEBOOK | INSTAGRAM | PINTEREST

Pedigree is coming…
09.20.13 ♥