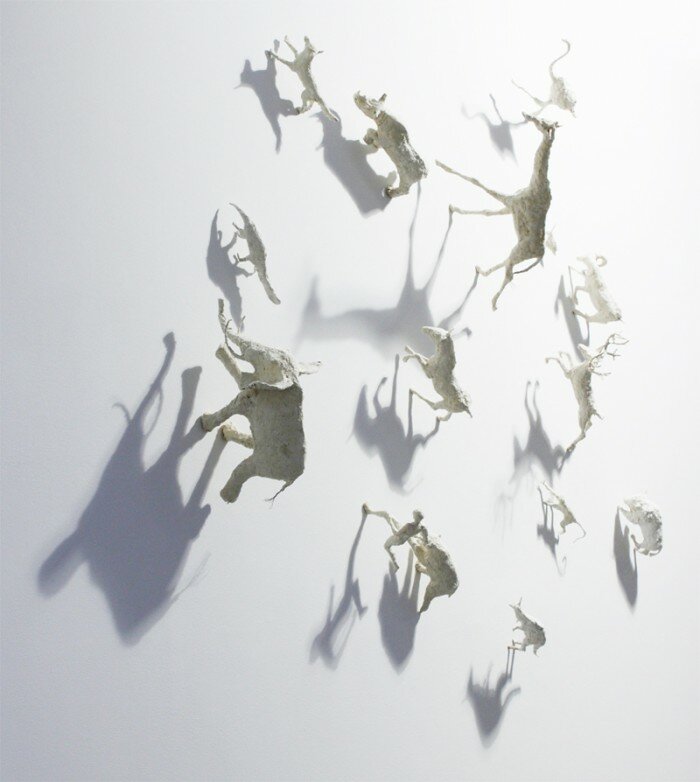 (No Ark, Sally B. Moore, currently on view at the Barbara Krakow Gallery)
I think they are on to something.
Flights of Fancy x Human/Nature x Chronicler of the Absurd x The Exploding Company Man
——————————–
The Exploding Company Man and Other Abstractions
("The Last Post"(still), Shahzia Sikander)
When: September 19th-November 26th, 2011
Where: Mass College of Art and Design, Sandra and David Bakalar Gallery, 621 Huntington Avenue, Boston, MA
How: Official Website
What/Why:"Throughout her artistic practice, Shahzia Sikander culls and explores elements of Indo-Persian miniature paintings, interweaving references to the past with reflections on everyday life and its contemporary forms.
Her visual motifs, drawn from a rich mental archive of imagery, repeat and reinvent themselves across various media—from drawing and painting to digital formats. Although her primary materials include graphite, ink, and gouache on paper, in 2001 she began working in digital animation, setting her miniatures into motion. This use of animation, as well as her layered images and the play between representational and abstract forms, de-stabilizes Sikander's representations and visually embodies her central concerns of transformation, societies in flux, and disruption as a means to cultivate novel associations.
This exhibition features five of her recent animations and numerous paintings, both small and large scale, along with a jewel box-like installation of drawings."
————————
Paper Chase 100
When: On view through September 29th, 2011
Where: FPAC Gallery, 300 Summer Street M1, Boston, MA
How: Official Website
What/Why: "The Fort Point Arts Community (FPAC) is proud to present "Paper Chase 100″, a group exhibition to benefit FPAC. The exhibition will be comprised completely of unframed works on paper by FPAC Members, all priced at $100 each. This is the first exhibition of its kind that FPAC has produced. The hope is that this exhibition will engage the community in a new way by making art accessible to a broad range of art lovers and allowing artists and viewers to play an active role in supporting the arts in Fort Point."
————————
Resa Blatman: Ultimate Whorl
(Woven(Detail), Resa Blatman)
When: On view through October 18th, 2011
Opening Reception: Saturday September 17th, 3:00-5:00PM
Where: Ellen Miller Gallery, 38 Newbury Street, Boston, MA, 02116
How: Official Website
What/Why: Read Artist Scott Listfield sing Resa's praises here.  (There is also another familiar face in the post). Shameless.
————————
Edition Release Party: New Woodcuts -Matt Rich and Joe Wardwell

(Woodcut by Matt Rich)
When: Friday, September 16th, 2011 6 pm – 9 pm (woodcuts on view through October 21st)
Where: ningyo editions 83 Spring Street Watertown, MA
How: Official Website
What/Why: "For the arrival of fall, ningyo editions brings you two spectacular new woodcuts…one by Matt Rich, whose recent exhibitions include the James and Audrey Foster Prize Exhibition at the Institute of Contemporary Art, Boston, and The Thingness of Color at DODGEgallery in New York. Matt is represented by samsøn projects – see more at mattrich.com.
…one by Joe Wardwell, fresh off Untied We Stand, his current solo exhibition at Heskin Contemporary in New York. Joe is represented by La Montagne Gallery, and was recently featured in Seeing Songs at The Museum of Fine Arts, Boston. His website is joewardwell.com.
Be among the first to see this new work, available for purchase during the release party at pre-publication prices. Editions are small, so those unable to attend are encouraged to make an appointment or drop by during gallery hours.
Also on view will be the original woodblocks and other materials/ephemera from the production."
———————-
Art Since the Mid 20th Century
(Great American Nude #36 (detail), Tom Wesselmann)

When: Now on view
Where: Worcester Art Museum, 55 Salisbury Street, Worcester, MA 01609
How: Official Website
What/Why: "A new installation of the Museum's collection of art since the mid-20th century features approximately fifty works of art displayed in renovated galleries, and presented in three thematic installations: The Persistence of Abstraction, Revivals of Figuration and Portraiture, and Cultural Signs.
This presentation chronicles the past seven decades as still-evolving chapters which illustrate how artists across disciplines, generations, and geographies respond to the experiences of their time by revising the visual languages and genres they have inherited. The integration of all media offers an encounter that foregrounds how materials are often signifiers of meaning, demonstrating how an artist's choice of medium can be a critical conceptual strategy in the art-making process.
Examples from mid-century through the 1970s, including iconic works by Grace Hartigan, Alex Katz, Ellsworth Kelly, Franz Kline, Robert Matta, Joan Mitchell, Louise Nevelson, Jackson Pollock, Andy Warhol, and Tom Wesselmann provide visitors with landmarks from which to explore more recent contributions by artists including Louise Bourgeois, Chuck Close, Tony Feher, Annette Lemieux, Iñigo Manglano-Ovalle, Beatriz Milhazes, Elizabeth Murray, Nam June Paik, Sigmar Polke, Doris Salcedo, Cindy Sherman, Yinka Shonibare, and Kiki Smith.
In conjunction with this focus on the Museum's holdings from the late 20th century, a major stripe painting from 1967 by Kenneth Noland, one of the central figures of Color Field painting, is on view in the Museum's library. Also in the collection, Bill Viola's Union, a color video diptych from 2000, will remain on view in the Medieval gallery."
————————
Re-Sound//Inventions, Contraptions, and Flights of Fancy
(Daedalus, David Lang)
When: On view through October 2nd, 2011
Where: Boston Sculptors Gallery, 486 Harrison Avenue, Boston, MA, 02118
How: Official Website
What/Why: Laura Baring-Gould- "Laura Baring-Gould's work originates from the belief that understandings of place, culture and collaborative potential satisfy deep and buoyant needs. Creating museum/gallery based installations, public artwork and small works of cast bronze, Baring-Gould's projects employ elemental materials and archetypal forms in ways that catalyze memory and awareness.  Her epic sculptural and architectural works are often developed in a highly collaborative context within networks of public and private partnerships to revitalize collective potential and the transformation of place."
David Lang- "Although he has been very active as a painter and sculptor many years, for the past five years his work has been mostly very delicate, interactive, kinetic and narrative sculptural contraptions, inventions and flights of fancy.  The work explores very unlikely and unexpected relationships between machine and the observer.  It appears to be both busy and elegantly simple at the same time."
————————
South End Open Studios
When: September 17th+ 18th, 2011, 11:00AM-6:00PM
Where: Various locations in the South End. Participant Map
How: Official Website
What/Why: 25 years and going. "All of the studios at 450 Harrison Ave. will be open for South End Open Studios on September 17 and 18 from 11am until 6pm. It's a great opportunity to spend extra time visiting the studios and meeting the artists. All of the artists have been busy and there will be lots of new work to see. Start your day at 450 Harrison Ave. where there will be the most artists in one location." (via SoWa Artists Guild)
———————–
Hyde Park Open Studios
(Cliffs, Selma Bromberg)
When: Sunday September 18th, 2011, 11:00AM-5:00PM
Where: Four Locations in Hyde Park, Boston
How: Official Website
What/Why: "The 9th Annual Hyde Park Open Studios is scheduled for Sunday, September 18 from 11 AM to 5 PM at four locations in Hyde Park, Boston: 65 Sprague Street, the Menino Arts Center, 1 Westinghouse Plaza, and 1391 Hyde Park Avenue. With over sixty artists participating, visitors can expect to see a variety of work, including photography, painting, sculpture, printmaking, glass, textiles, mixed media, jewelry, drawing and decorative arts. Artists will be present to answer questions about their art, their studios, and their working methods."
————————
Human/Nature

(Trophy, Sally B. Moore)
When: On view through October 15th, 2011
Where: Barbara Krakow Gallery, 10 Newbury Street, Boston, MA
How: Official Website
What/Why: "The tension between humor and bleakness, beauty and rawness, captivates our human nature"
"human/nature" is Sally B. Moore's third exhibition at Barbara Krakow Gallery.  Previous themes of balance, chaos, control, order and psyche have now been added to by narrative, strength and community.
Working with a variety of materials, from wood castaways to various forms of paper, wire and string, as well as bamboo and semi-identifiable electronic components, Sally's works collapse time, comprehension and provide for empathetic and distancing experiences simultaneously.  While previous works were primarily cantilevered from walls and ceilings, this new exhibition balances free standing 'totums' with wall works."
————–
Zach Lanoue:Wrong Clothing

When: On view through September 30th, 2011
Where: Yes.Oui.Si., 19 Vancouver Street, Boston, MA
How: Official Website
What/Why: "I hope that someone like my 12-year-old self might see it and be comforted to know that he's not a freak and that whatever you're into is good. You should follow your freak."-Zach Lanoue. Read more about the exhibit on The Dig
————————
The Work of Varujan Boghosian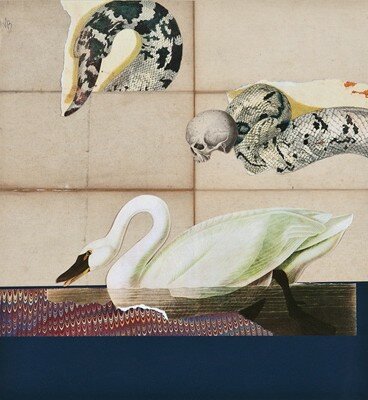 (Swan and Serpent)
When: On view through October 29th, 2011
Opening Reception: Saturday September 17th, 2011, 3-5PM
Where: Victoria Munroe Fine Art, 161 Newbury Street, Boston, MA
How: Official Website
What/Why: "To kick off our season, Victoria Munroe Fine Art is pleased to present the collages of Varujan Boghosian, opening September 15 and running through October 29.  Boghosian is an accomplished collage and assemblage artist who lends his own aesthetic to a process branded by Braque and Picasso in Paris in 1912 and reinvented in the Dadaist and Constructivist collages of the 1920s.  German artist Kurt Schwitters brought commonplace materials into the picture plane later to be revisited by Rauschenberg in his combine paintings of assemblage in the 1960s. Boghosian has a passion for material culture.  His studio is an archive of the 20thcentury: souvenirs and artifacts, papers and books culled over fifty years from antique shops and small-town yard sales.  Drawn to objects with particular histories – a vermillion billiard ball, a painter's palette, a sheet of music or a print of the constellations, Boghosian creates a new tableau for each player to act upon.  His combinations of divergent subjects create new associations and open the viewer's imagination.  He ignites our subconscious with elegant ease."
———————
Action Evolution
When: On view through September 25th, 2011
Artists Reception: Friday September 16th, 2011, 6:00-9:00PM
Where: Loading Dock Gallery, 122 Western Avenue, Lowell, MA
How: Official Website
What/Why: New Paintings by David J. LeBlanc "The Loading Dock Gallery is a Cooperative Gallery representing more than 50 members of the Western Avenue Studios Artist Association. The coop was formed in December of 2007 and took possession of the gallery space on the 2nd floor of the A-Mill of the Western Avenue Complex. The 1,450 sq. foot gallery space is divided into two sections, the Main Gallery which carries original artwork, jewelry, and reproductions of work by Gallery Members and the intimate Showcase which features month long one and two person exhibits focusing on the work of members."
————————
The Clock: Christian Marclay
When: On view through October 10th, 2011
Where: Museum of Fine Arts, 465 Huntington Avenue Boston, MA
How: Official Website
What/Why: "A compelling new work created by world-renowned artist Christian Marclay, The Clock (2010), an ode to time and cinema, comprises thousands of fragments from a range of films that create a 24-hour, looped, single-channel video. The Clocktells the accurate time at any given moment, and wherever it is screened it is synchronized to the local time zone, so that it is literally a working time piece. The Clock, a recent Museum acquisition, screens to coincide with the opening of the MFA's new Linde Family Wing for Contemporary Art."
—————————————
Whiting Ourselves Out

When: On view through September 24th, 2011
Where: Atlantic Works Gallery, 80 Border Street, Top Floor, East Boston, MA
How: Official Website
What/Why: "An exhibition of sculpture and drawings by Richard Dorff and Michael St. Germain"
————————
Tomi Ungerer, Chronicler of the Absurd

(The Three Robbers)
When: On view through October 9th, 2011
Where: The Eric Carle Museum of Picture Book Art, 125 West Bay Road, Amherst, MA 01002
How: Official Website
What/Why: "This exhibition celebrates Ungerer's 80th birth year. A trilingual author, Ungerer has published over 140 books ranging from his much loved children's books to his controversial adult work. Ungerer's career, like contemporaries Leo Lionni and Eric Carle, was multi-faceted, encompassing advertising and political commentary. Prior to leaving America, Ungerer arranged for the Free Library of Philadelphia to acquire a substantial portion of his work up until that point."
————————
Are we between seasons?  The weather can't seem to make up its mind. Maybe I should pick apples in a bikini, or carve a pumpkin while listening to California Girls. Yes.
Have a great weekend! ♥