to you. ♥
———————–
Last Friday was absolutely amazing.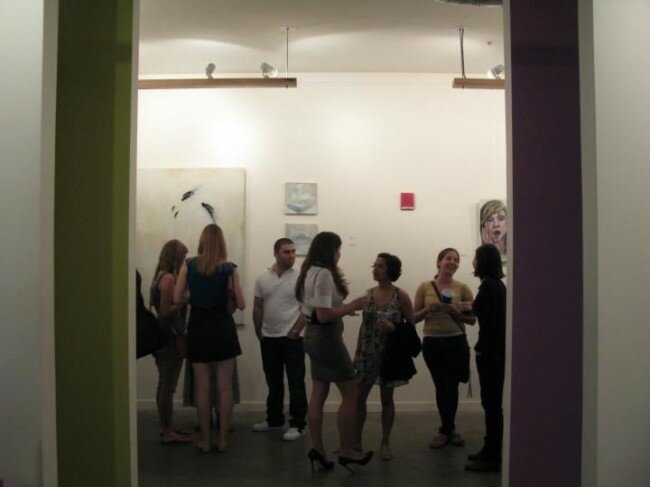 (Mixing and Mingling at FLUX. Offline. Picture c/o Jen Lewis)
I won't lay into you with the goop, but it really means a great deal to me that you came out to support the work of local artists and FLUX. last week.  Offline was FLUX.'s maiden voyage in the physical realm, and just hearing all your feedback on the quality of art and the event itself made the past 3+ months of work well worth it.

(Nick Ward's "Bored Nude". SOLD.)
But I couldn't have done it alone..
Thank You:
North End Fish for supplying the 3 platters of sushi and shrimp cocktail. They were gone in a flash.  Be sure to visit them in the North End for sushi, the freshest fish this side of the Mason-Dixon line and for oyster shucking lessons(date night?)
Jack's Abby Brewery for the schlepping over freshly brewed growlers of their amazing beers.  I hung out with the 'Copper Legend' seasonal lager for the evening, and was thrilled to learn two of their beers are already on tap at Meadhall with a third in the works.
The guy and gal playing paparazzi for the evening were Miss Rewan Al-Haddad and Mr. Gregory Parker.  I will let you know when you can catch a glimpse of your gorgeous face online. (Aside: If you took pictures, please send them my way so I can include them in the album!)
Thanks to DM Stroh of Alfonso Alrura, for providing the tunes, being his charming self, and teaming up with Ross Foniri for on-the-fly beer runs mid-soiree.
The Artists. Autumn Ahn, Brian Daly, Corey Corcoran, Elizabeth Grammaticas, Jakob Fioole, Jennifer Lewis, Jessica Liggero, Kenji Nakayama, Nick Ward, and Polly Becker. Thank you all for being wonderful.
Lucy Valena, owner of Voltage for allowing me to violate her cafe/gallery walls with nails GORGEOUS ART, and letting me take a stab at this whole curatorial thing.
Speaking of.  One of the biggest thank you's to Anna Schindelar, curator extraordinaire of Voltage for allowing me to share her crown for the evening.  Anna tirelessly produces some of the most engaging exhibitions in Cambridge/Boston on a monthly basis. I don't know how she does it.  I thank her for the hand holding, the wine drinking, and the humoring of my inane questions and concerns, but we did it! I look forward to living out the rest of our days exchanging kitten youtubes instead of discussing optimal eye hook sizes and hanging systems.

(Opening night c/o Jen Lewis)
So what do we do now?
Posts posts posts, studio lurking, new and exciting content, and more shows or some other manifestation of FLUX. offline.  It was great talking to some of you about collaborations, let's make it happen.
Thank you for coming out Friday and if you missed the opening, not to worry! The artwork will be up and available for purchase until October 22nd(extended date!), so be sure to check it out.

(DM Stroh. The morning after)
Now I just need a few days to catch my breath, drink a cocktail, and I'll BRB with new posts, new interviews, and new ways to celebrate the art/artists that are in our own backyard(and beyond!)♥