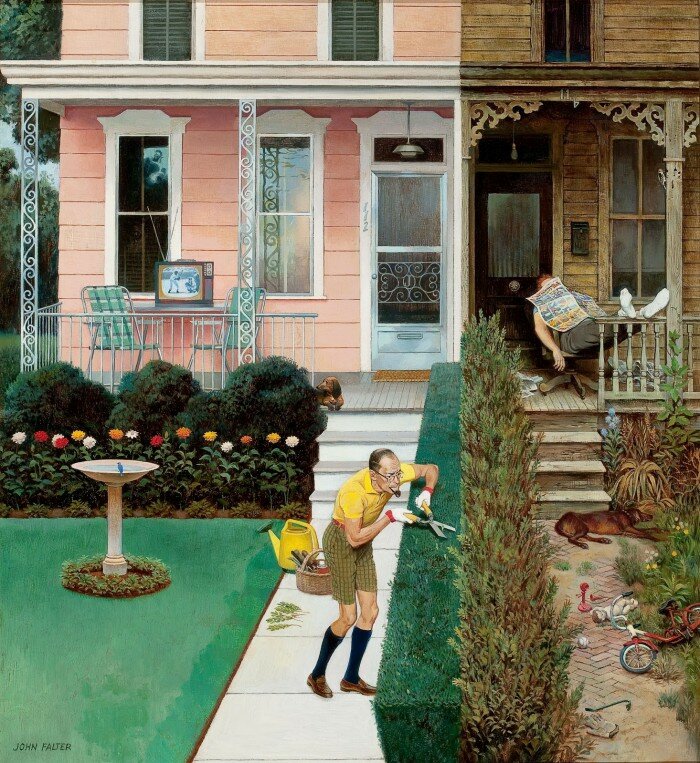 games and players x flesh and bone x hurt and damage x perfect couples
————————————
 Flesh and Bone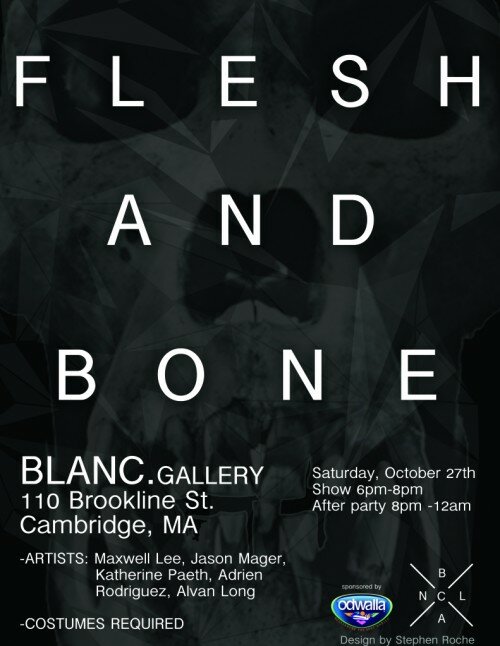 When: Saturday October 27th, 2012 6:00-8:00PM, Afterparty 8:00PM-12:00AM
Where: Blanc Gallery, 110 Brookline St. , Cambridge, MA
How: Official Website 
What/Why: "Featuring the work of Maxwell Lee, Jason Mager, Katherine Paeth, Adrien Rodrigues, and Alvan Long."
—————————
Hurt and Damage | Where You Are

(Hurt & Damage (detail 11), Elizabeth Kostojohn)
When: On view through November 15th, 2012
Opening Reception: Thursday, Nov. 1, 2012, 5-7 p.m.
Where: Wheelock College, Lower Level of Wheelock Family Theatre,180 The Riverway, Boston, MA 02215
How: Official Website 
What/Why: "This exhibition features the work of Boston area artists ElizabethKostojohn and Barbara Milot. Elizabeth Kostojohn exhibits a series of intimate and highly detailed drawings on mylar, titled Hurt and Damage.  The drawings are metaphorical placeholders that allow for the viewers interpretation of the images before them and generate questions about vulnerability"
—————————
Everything That Creeps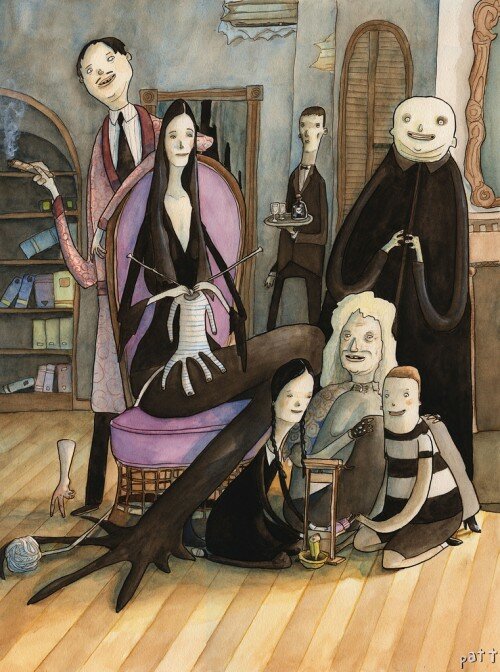 (Patt Kelley)
When: On view October 26th through October 31st, 2012
Where: Lincoln Arts Project, 289 Moody St., Waltham, Massachusetts 02453
How: Official Website 
What/Why: "A Special Halloween Exhibition Featuring Illustrative Paintings and Sculpture by Patt Kelley, 100 Theatrical Masks by Behind the Mask, Inkdrips by Walter Sickert, Strange Dolls by Beth Robinson, Creepy Art Dolls by Nicole Johnson Paintings by Amanda Clarke, Heather Rose, and more macabre, morbid, and mutant… Also featuring select original "B" Movie Horror Film Posters"
—————————
25 – The Issue Release

When: Saturday October 27th, 2012 6-10PM
Where: Studios at Porter Mill, 95 Rantoul Street, Beverly, Massachusetts 01915
How: Official Website 
What/Why: "For the month of October the Gallery at Porter Mill will be exhibiting the large scale original photographs and screen prints featured in the 25th edition of Steez, a magazine that highlights the talents of some of the best snow and skateboarders in the country and explores this subculture through editorials and interviews. Artists from across the country will be represented. This exciting exhibition will culminate in a release party at the end of the month. 
Join us on Saturday, October 27th to view the exhibition, experience outdoor movie premiers, and enjoy drinks, food, and prizes from the event sponsors: Vitamin Water, Kind Snacks, Narragansett and Deep Eddy Vodka. "
—————————
Pelle Cass – Strangers

When: On view through November 24th, 2012
Where: Gallery Kayafas, 450 Harrison Avenue, Boston, MA 02118
How: Official Website
What/Why: "Pelle Cass' re-imagining of portraiture led him to this series; Strangers. Eliminating the variable of identity, Cass has distorted faces in order to wipe out psychology and personality. In the places of the subject's initial physical traits and characteristics sits a distorted, sometimes grotesque being looking away from or past the viewer.
Viewing these images as "non-portraits", Cass' aim "is to use extreme photographic precision in a spontaneous, almost messily expressionistic way, to discover, perhaps, a whole new set of human emotions housed in a new anatomy, but also to explore something about the nature of the photographic portrait."
—————————
New Voices/ New Visions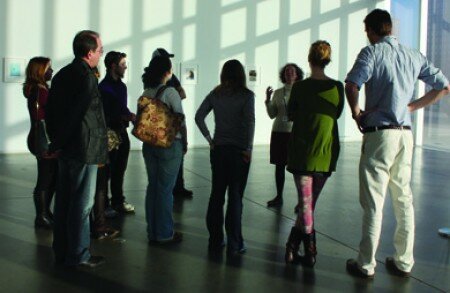 When: Sunday October 28th, 2012 – 2:00PM
Where: ICA Boston, 100 Northern Avenue  Boston, MA 02210
How: Official Website
Cost: Free with museum admission
What/Why: "The Boston Art Dealers Association is pleased to present New Voices/ New Visions at the Institute of Contemporary Art/Boston. This will be the first in a series of panel discussions dealing with issues relevant to the greater Boston art community. Since its inception in 1989 BADA has worked to create a vital and viable art community by engaging the various members of that community; including artists, collectors, critics, curators, gallerists, students, and the many people who attend museum and gallery exhibitions.
This first panel is made up of museum professionals new to Boston. We look forward to hearing their plans for the future and their views about the current Boston art scene. Please join us at the ICA Boston on October 28 at 2 pm.
The five panelists include:
Dina Deitsch, Curator of Contemporary Art, deCordova Sculpture Park and Museum
Lisa Fischman, Director, Davis Museum, Wellesley College
Paul C. Ha, Director, MIT List Visual Arts Center
Jenelle Porter, Senior Curator, ICA Boston
Trevor Smith, Curator of Contemporary Art, Peabody Essex Museum"
———————————–
Sam Trioli: Brumaire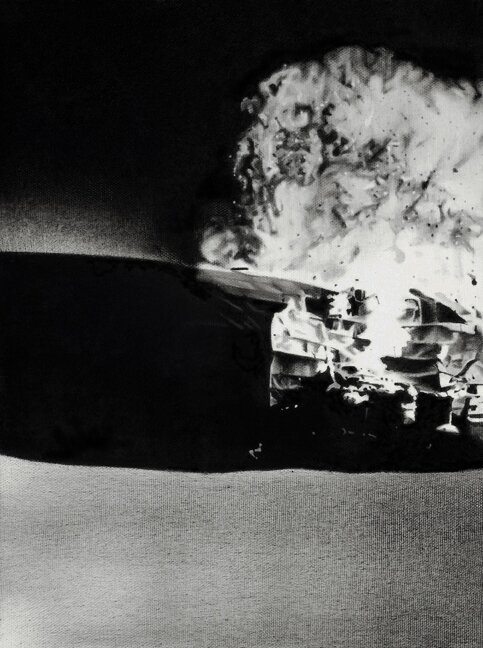 (Untitled (Melt))
When: On view through December 22nd, 2012
Opening Reception: Friday October 26th, 2012 6:00-8:00PM
Where: Howard Yezerski Gallery, 460 Harrison Avenue, Boston, MA 02118
How: Official Website
What/Why: "Howard Yezerski Gallery is proud to present Brumaire, an exhibition of new paintings by Sam Trioli. The paintings in Brumaire are an investigation of abstraction through the eyes of a photorealist painter. Absorbing the grainy details of an old photograph, the paintings seek an emotive response, pushing a historical moment to the tingle of Rothko and Richter.
Trioli's paintings recreate moments of material force. In these explosions, burning fields, and nuclear clouds, constant force becomes the composition as hyperrealist images fall into abstraction. Trioli is particularly interested in the abstract qualities of early photography; the grain and blown out light are abstract recordings of a moment. He continues the conversation of the ever more distant historical moments through their physical and material contexts.
Untitled (Melt) images the explosion of the Hindenburg in 1937. An iconic image cropped just enough to evade recognition, it steps away from its original context. No longer standing in for a tragic failure of technology, the image becomes about heat and contrast. The frame crumples into itself, white flames spreading into the black sky above, a dance between the detail of photorealism and the ambiguity of abstraction."
—————————
Let The Right One In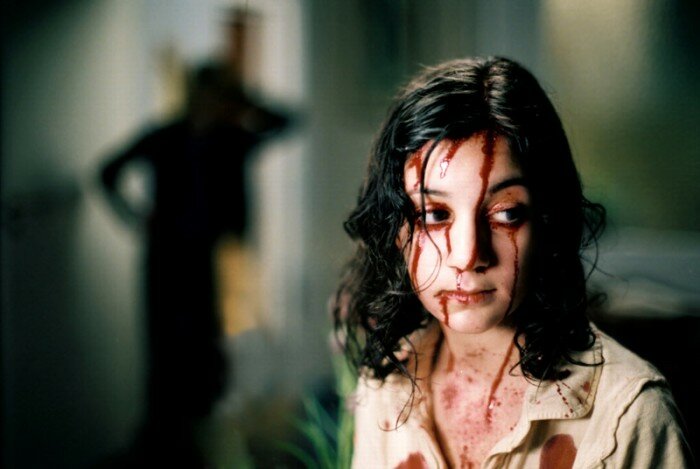 When: Saturday October 27th, 2012 -1:30PM
Where: Scandinavian Living Center/Library, 206 Waltham Street , West Newton, MA 02465
How: Official Website 
What/Why: "Set in the Blackenburg suburb of Stockholm in 1982, Oscar an overlooked and bullied boy finds love ad revenge through a 12 year old girl who happens to be a vampire (she has been 12 for over 200 years). Directed by Tomas Alfredson and based on the novel by John Ajvide Lindqvist, Let the Right One In (Låt den rätte komma in) is a "spectrally beautiful Swedish vampire movie" (Mahnola Dargis in the New York Times review) which won multiple international awards and nominations as well as rave reviews. Come to the Nordic Hall for this blood-chilling cinematic event in anticipation of a delightfully spooky Halloween! As always, the Kaffestuga will be serving Scandinavian refreshments."
—————————
Atlantic Works Gallery – Halloween Party/RIP Inspection House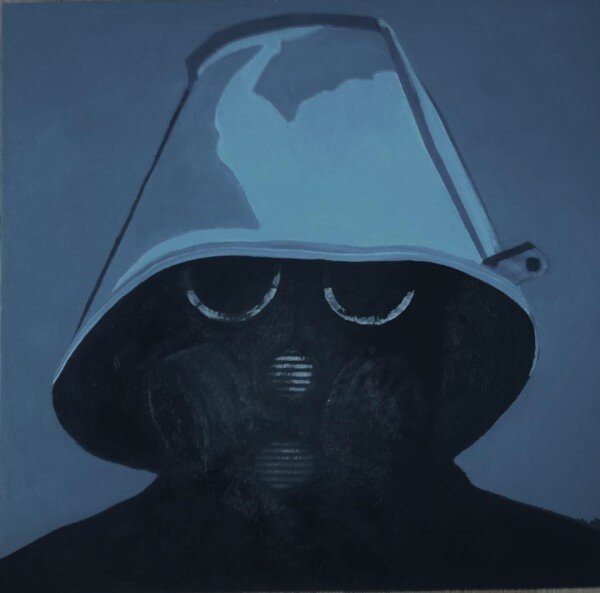 (The work of Martha Mccollough)
When: Friday October 26th, 2012 6:00-9:00PM
Where: Atlantic Works Gallery, 80 Border Street, Top Floor, East Boston, MA
How: Official Website
What/Why: "Atlantic Works Gallery would love to invite you to their Halloween Party this Friday the 26th of October. This event is to honor the passing of The Inspection House, and also to celebrate the coming of Halloween and countless other art shows! There will be scares, frights, and lots of booze and fun. Dress up, come to Eastie and have a spooky time! There will be a costume contest, best takes home some original art!"
—————————
Method of Exchange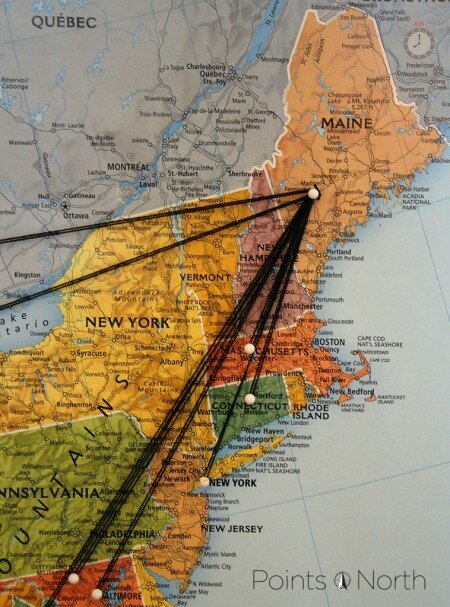 When: On view through November 17th, 2012
Opening Reception: Friday October 26, 7-9 pm
Where: Points North, 161 Croswell Road (Route 41), in Farmington, ME
How: Official Website
What/Why: "Due to rapidly evolving technology, the way in which we communicate and share information has become increasingly depersonalized. The days of sending handwritten letters and hardcopy mail appears to be disappearing. That decline is even more evident with the closures of post offices around our country. Each participant inMethod of Exchange was asked to provide an original postcard-sized work of art. While retaining his/her own visual language, the artist was to respond in some way to what he/she already knew about my current location in rural Maine. This interpretation could be as broad as the state of Maine or as specific as the features of the house that I live in. This information will vary for each artist depending on how well we know each other.
As the title suggests, this is an exchange—the artists send me a postcard, I send each of them one in return. Each artist was asked to include key words describing their current location/home in the message on the back of their postcard to me. The message could be as vague or specific as the artist desired and would aide in supplying the visuals for my response postcard sent back to each of them at the conclusion of the show. Sharing details of home and place, each participant allows viewers and myself into their most comfortable space whether I've physically been there before or not. The show is likewise my way of inviting these individuals to my home without the expense and inconvenience of travel. The convenience of social media is easy and quick, sometimes even thoughtless. Utilizing the straightforward function of the United States Postal Service, this show is an appreciation of this simple service for helping to conquer great distances and connect individuals through works of art."
—————————
Science on Screen: Edward Scissorhands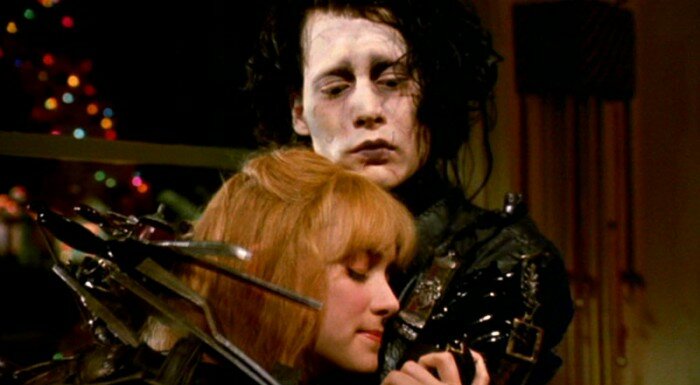 When: October 29th, 2012- 7:00 pm
Where: Coolidge Corner Theater, 290 Harvard St , Brookline, MA 02446
How: Official Website
Cost: $10
What/Why: "Tim Burton's richly imagined, bittersweet fantasy stars Johnny Depp as Edward, a young man assembled by an eccentric inventor (Vincent Price), who dies before he can finish his creation, leaving him with scissors in place of hands.
When a kindly Avon lady named Peg comes calling at the late inventor's Gothic castle and discovers Edward all alone, she brings him home to live with her family in the pastel "paradise" of suburbia. Not even Peg's expert application of Avon products can help with those nasty nicks Edward has given himself, and with his stark-white complexion, wild nest of black hair, metal extremities, and awkward gait, he cuts a rather alarming figure. But our hero, in spite of his inherent ability to harm anyone he touches with his razor-sharp digits, is a sweet, gentle soul who just wants to be loved. Soon, he wins the neighbors over with his exceptional talents in dog grooming, hair cutting, and topiary sculpting. But things start to go south when he falls for Peg's teenage daughter, Kim (Winona Ryder), whose bully of a boyfriend (Anthony Michael Hall) views him as "not even human." Depp, in his first collaboration with Burton, speaks only 169 words throughout the entire movie, using his eyes and body language to communicate his longing to be part of a world he can never truly know.
Edward Scissorhands raises the question of what it means to be human. Unlike Edward, we weren't built out of component parts in a crumbling castle atop a hill. But what's our own story? When and how did we come by the feet, hands, and brains that hold the key to the upright walking, tool-making, and higher-level thinking that define us as human? Recent discoveries tell a fascinating story of mosaic evolution, in which different parts of us reached their modern form at different times in our evolutionary history."
—————————
Mnemonic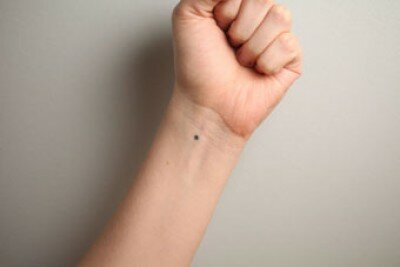 When: Friday October 26th, 2012
Where:  School of the Museum of Fine Arts, Barbara and Steven Grossman Gallery, 230 The Fenway, Boston, MA
How: Official Website
What/Why: "The School of the Museum of Fine Arts, Boston's current exhibition, "Something Along Those Lines," features modern and contemporary artists whose works draw on performative, sculptural and conceptual engagements with the line, including Gego, Felix Gonzalez-Torres, Sol LeWitt and more.
Delving further into this interdisciplinary dialogue, SMFA is hosting a two-day tattoo performance, Mnemonic, by Brooklyn-based artist Katrina Chamberlin on October 25 + 26. Visitors will have the opportunity to receive a permanent tattoo of a small blue dot on a location of their choice. The resulting identical, permanent marks—shared by a group of otherwise disconnected individuals—form an invisible network of interconnected points.Mnemonic functions as a performative response to LeWitt's Wall Drawing #118: Fifty random points all connected by straight lines."
—————————
Regional Painting Competition

(Octopus Study, Joshua O'Donnel)
When: On view through October 27th, 2012
Where: The Guild of Boston Artists, 162 Newbury St, Boston, MA 02116
How: Official Website 
What/Why: "The Annual Regional Painting Competition is a juried exhibition featuring the best of representational painting by New England artists who work in the realist tradition. "
—————————
The Shapes Project: Perfect Couples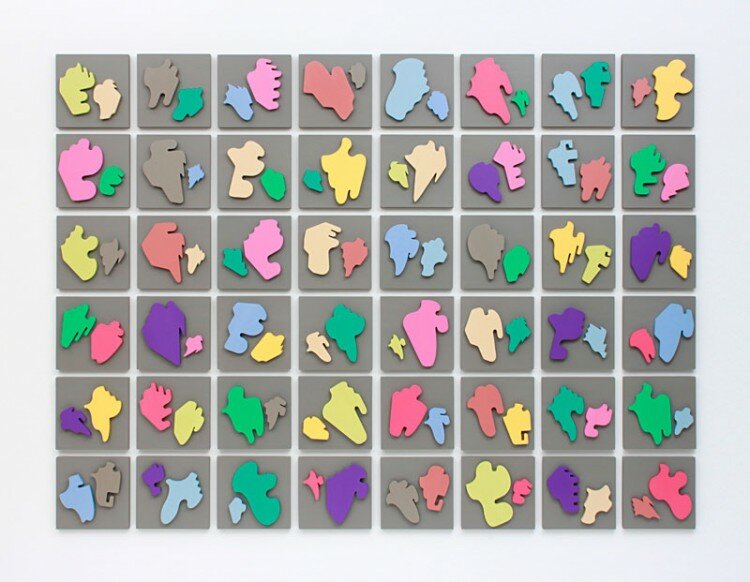 (The Shapes Project: Collection of Forty-eight Perfect Couples, Allan McCollum)
When: On view through November 24th, 2012
Where: Barbara Krakow Gallery, 10 Newbury Street, Boston, MA 02116
How: Official Website
What/Why: Information about the Shapes Project here.
————————-
Games and Players

(Cat Dancer)
When: On view through November 17th, 2012
Where: Adelson Gallery, 520 Harrison Avenue, Boston, MA 02118
How: Official Website
What/Why: "I've known Andrew StevovIch's work my whole life, so it is an honor to have his work in my inaugural gallery exhibition. The style of his work evokes the illusion that we are seeing the world through the artist's eyes; yet, the subject matter acts as mirrors to our own experience. Andrew's clean style and meticulous attention to composition puts the viewer in the place of a figure in the painting. I often assume that Andrew paints certain figures because he had felt a particular emotion; however, more often than not, I felt those emotions, and his paintings only reflected that emotion in me. Like many painters, Andrew paints from memories or dreams. Although the subjects that he depicts are particular moments in time, the subtle emotional qualities within each figure can be related to on a universal level. I am thankful to the staff of Adelson Galleries in New York for helping me with this first exhibition, and I am looking forward to seeing all of Andrew's Games and Players together in Boston."
——————————
Cruel Sea: Law of the Fishes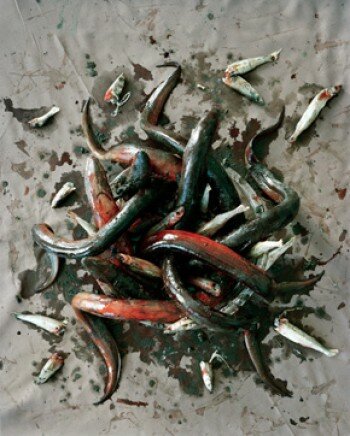 (Retribution, Tara Sellios)
When: On view through November 4th, 2012
Where: Danforth Museum of Art, 123 Union Avenue, Framingham, MA 01702
How: Official Website 
What/Why: "Work by Roberta Anslow, Hyman Bloom, Aileen Callahan, Tara Sellios, and Others"
—————————
Big Red Forum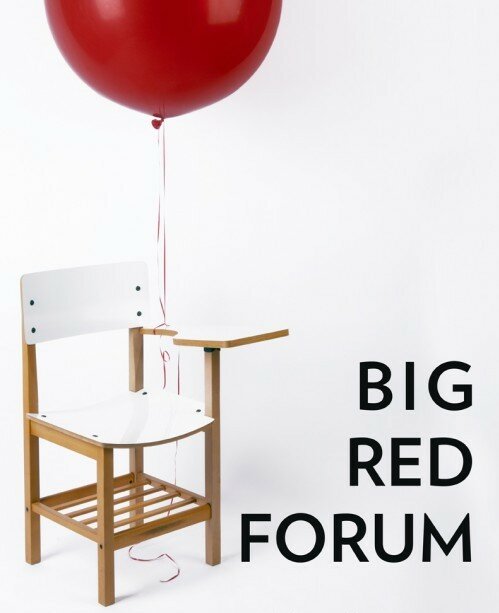 When: Saturday October 27th, 2012, 5:00-6:30PM
Where: MIT List Center, Bartos Theater (lower floor), 20 Ames Street Building E15, Cambridge, MA
How: Official Website
What/Why: "Join us for a spirited conversation on art & community moderated by Katherine French, Director of the Danforth Museum. Panelists include Louisa McCall (Artists in Context), Richard Graf (Fort Point Consulting), Jenny Gibbs (Associate Dean of Graduate Studies, MassArt).
Community art specifically refers to art that takes place within a community setting, but does this art also have to be in dialogue with its community? Artists living within housing coops can affect their surroundings, but is it their responsibility to do so? Social media enables us to reach a global audience, but does it limit meaningful collaboration with local participants? Boston is a city comprised of neighborhoods and perhaps uniquely positioned to inspire art that represents these neighborhoods. Resident artists sometimes create projects as catalysts for change, but should this be their primary goal? How can artists and institutions best work together to engage new audiences who have had no previous experience with art, and to ensure that engagement continues?"
————————-
Performance Art: Raphael Montañez Ortíz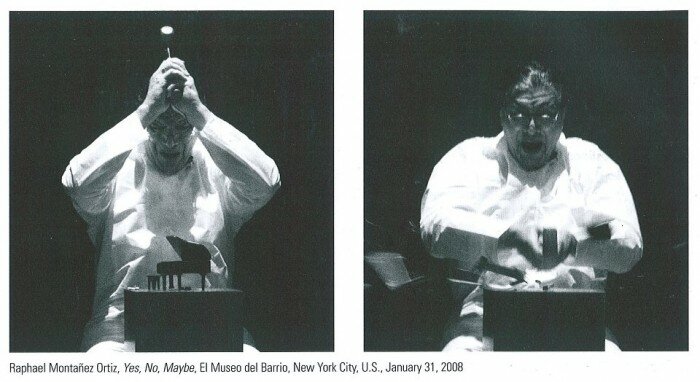 When: Wednesday October 31st, 2012, 7:00-9:00PM
Where: Museum of Fine Arts, Boston, 465 Huntington Avenue, Boston, MA
How: Official Website
What/Why: "Since the late 1950s, Raphael Montañez Ortíz has directly engaged with the violent and destructive tendencies of society through found objects and action-based art. A veteran of Fluxus and the Destruction Art movement of the 1960s, Ortíz is best known for his piano destruction concerts, but his practice encompasses film, video, sculpture, and subtler forms of performance art. At the MFA, Ortíz invites Boston-area performance artists, students, and the audience to engage in a new performance, which will be f
ollowed by a video screening of several rarely seen works.This is a FREE event, from 7-9 pm on Halloween night. Wednesday nights after 4 pm admission is by voluntary contribution (suggested donation $25). Arrive early to explore the galleries and visit Slippery Surfaces, a video art exhibition in the Krupp Gallery (264) that includes a mesmerizing laser scratch video by Ortíz: The Kiss, 1985."
————————-
Guerrilla Girls – Agents of Change: Art as Activism

When: Friday October 26th, 2012 8:00PM
Where: Montserrat Gallery, 23 Essex Street, Beverly MA 01915
How: Official Website
What/Why: "The exhibition will be accompanied by public programming, workshops and most notably an academic symposium: Agents of Change: Art As Activism with a keynote presentation by the Guerrilla Girls, which will be held on October 26 + 27. Keynote Friday, October 26, 8 pm. 
Symposium Prospectus: Art has long been a vehicle of protest and an agent for social change. In October 2012 Montserrat College of Art will welcome the Guerrilla Girls and other artists and academics to approach the topic of Art & Activism as it relates to art history, studio art and contemporary issues within artistic practice. Topics may include culturejammers, community artists, social and political graphics, activist printmaking, street art, murals, documentary film, environmentalist art, radical performance art and more."
————————-
Thrust: Everything Must Go #3

When: Saturday October 27, 2012, 7:00PM
Where: Anthony Greaney, 450 Harrison Avenue, No. 1, Boston, MA. 02118
How: Official Website
What/Why: "THRUST / EVERYTHING MUST GO #3 is one of a series of performances in which Keith Rocka Knittel explores the objectivity of his record collection by getting rid of it. In each performance a record is chosen from years of vinyl amassed while djing professionally and used as a starting point for a presentation on a theme connected to that particular record. 
THRUST / EVERYTHING MUST GO #3 employs Herbie Hancock's album "Thrust" to initiate a composition of contextually related records telling a new narrative of the creation of the universe. Images borrowed from the album covers are manipulated on micro and macro scales while a soundtrack made from elements of songs on the records recontextualizes their original sound and meaning. Through the process, reflecting our own understanding of the universe itself, time and space are rendered as an immeasurable unknown.
An accompanying pamphlet, THRUST / EVERYTHING MUST GO (Field Guide), will be available to read along with the presentation and serve as a re-telling of the story after the performance is complete. A fifteen song soundtrack will also be released digitally the day of the performance for free download.
At performance end, the records used become relics of the event and are available to the public. Viewers who wish to own a record can negotiate with the artist directly at any time after the presentation. All records come in a protective sleeve with a print, attaching a provenance to each object."
————————-
Within the Lines

When: October 26th-28th and November 3rd-4th, 2012 Full schedule of times here.
Where: SOWA Arts District, Boston's South End
How: Official Website
What/Why: "Within the Lines is a unique dance production, a "dance journey" taking place in six studios in Boston's South End. Audience members book their expedition, as dinner reservations, choosing from 1 of 4 times every night. Intimate groups of 20 audience members per show follow a cast of 45 dancers. The first gallery of the journey is at Adelson Galleries on Harrison Avenue and the last space is Urbanity's own studio at 280 Shawmut Avenue in the South End.
We're re-envisioning the way dance can be experienced. Each spectator's experience is unique as wayfarers make their way through six dance spaces in Boston's SOWA district. Thirty dancers create a visual feat for the senses, with eye-popping technique and artistry. Fashion, sets, videography, sound & journalism collide in a visual feast for the senses."
————————–
Serengeti Mara – A Memoir

When: Saturday, October 27 at 3:00 p.m.
Where: Cape Ann Museum, 27 Pleasant Street, Gloucester, MA 01930
How: Official Website
Cost: Free with Museum admission.
What/Why: "Comprised primarily of footage shot in the Maasai Mara National Reserve in southwestern Kenya in 1976, thisdocumentary film by Shep Abbott tells the story of the relationship he and the film's narrator Lisa Lindblad (Abbott's wife at the time) had with the Maasai people, the traditional inhabitants of this region. In this one-hour film, the subject of the gradual disappearance of migratory routes for over 1 million wildebeest and zebra serves as a focal point in a much larger story about conservation and the need to balance the demands of the modern world with those of indigenous populations.
The film is touchingly narrated by Lindblad, who at first celebrates, then ultimately mourns, the gradual disappearance of Serengeti Mara. Mike Nichols, director of such films as The Graduate, Wolf and The Birdcage, called the film "some kind of masterpiece." It is shot in 16mm color, which has since been digitized. This event is free for members and is included with Museum admission."
——————————
What did I miss?
Early Wrap-Up = I'm getting the Hell out of Dodge!

Off to a three day weekend in the woods.
See art.  Stay sweet. Hope you have a spooktacular weekend. ♥