(3:56 am Millwood Ave. and Eye #1(Flood)(Diptych), Alex Prager) 
plunge x splendid isolation x aesthetics as a way of survival x in the holocene
————————–
New work from SNAC at Middle East

When: On view October 8th through November 4th, 2012
Opening Reception: Saturday October 13th, 3:00-5:00PM (After Party BBQ 5-7PM at Out of the Blue Gallery, 106 Prospect St, Cambridge)
Where: Middle East, 472 Massachusetts Ave, Cambridge, MA
How: Official Website
What/Why: "SNAC is a collaborative movement where artists share ideas and resources to create exhibitions and art related projects. Our shows raise awareness in our communities. We exchange ideas, we refine our work, and we continue to foster new opportunities for local artists."
———————
In the Holocene
(Aesthetics as a Way of Survival(video still), Germaine Kruip)
When: On view October 18th – January 6th, 2013
Opening Reception: Thursday October 18th, 2012 6-8PM
Where: MIT List Center, Hayden, Reference, Bakalar Galleries, 20 Ames Street Building, Cambridge, MA
How: Official Website
What/Why: "The MIT List Visual Arts Center is pleased to present In the Holocene, a group exhibition on view from October 19, 2012, to January 6, 2013, that explores art as a speculative science, investigating priniciples more commonly associated with scientific or mathematical thought. Through the work of an intergenerational group of artists, the exhibition will propose that art acts as an investigative and experimental form of inquiry, addressing or amending what is explained through traditional scientific or mathematical means: entropy, matter, time (cosmic, geological), energy, topology, mimicry, perception, consciousness, et cetera. Sometimes employing scientific methodologies or the epistemology of science, other times investigating phenomena not restricted to any scientific discipline, art can be seen as a form of inquiry into the physical and natural world. In this sense, both art and science share an interest in knowledge, realism, and observable phenomena, yet are subject to different logics, principles of reasoning, and conclusions.
In aiming to expand the potential of what can be contained within the domain of artistic and scientific speculation, In the Holocene seeks to shift the understanding of aesthetics away from conventional ideas of pleasure, beauty, or taste. As conceived by Alexander Baumgarten in 1735, the term "aesthetics," as the science of sensible knowledge, attempted to place the realm of perception and sensation under rational principles, and so to raise it to the level of a science. Yet the aesthetic became linked instead to ideas of taste or judgment, rather than knowledge derived from aesthetic modalities. Situated between empiricism and enchantment, it was deemed in contrast to the domain of reason or thought, such as mathematics or logic. As an account of the world, can art expand the potential of speculative or scientific inquiry?
The exhibition takes its title from Max Frisch's 1980 novella, Man in the Holocene, in which the narrator gathers selections from encyclopedias and books to preserve knowledge as a deluge  threatens to destroy his village. Of particular interest to the narrator is information about our geological present, the Holocene, which includes the development of human civilization. The Holocene is thus our period of geological time, in which we attempt to understand the physical and natural laws that govern the universe and the origins of life, while also coping with the significant extent of our own impact on the Earth's ecosystems."
———————-
North Adams Open Studios

When: October 13th-14th, 2012 10:00am-4:00pm
Where: North Adams, MA. List of participating artists here.
How: Official Website
What/Why: "North Adams Open Studios opens its doors for you to come celebrate a weekend of art with over 100 artists exhibiting their work. Open Studios takes place on Saturday, October 13th from 10am-6pm and Sunday, October 14th 2012 from 10am-4pm. 
During this free event for the arts, established, mid-career and emerging artists working in a broad spectrum of fine art styles and craft media will open their studios to the public. We hope to see you there!"
———————-
Arlington Open Studios

(Going East, Gloria Calderon)
When: Saturday October 13th-Sunday October 14th, 2012 Noon-5:00PM
Where: Gibbs Center, 41 Foster Street, Arlington, MA
How: Official Website
What/Why: "80+ Artists & fine crafters working in…pottery, painting, photography, collage, fiber arts, handcrafted paper and books, jewelry, mixed media, sculpture, sumi-e brush painting, watercolor, woodcuts, wood turning, plus live music throughout the building"
———————-
Flood

When: On view October 18th-November 13th, 2012
Opening Reception: October 25th, 2012 5:00-7:00PM
Where: Nancy Lincoln Gallery, 791 Hammond Street, Chestnut Hill, MA
How: Official Website
What/Why: "Liz Nofziger is currently developing Flood, a new immersive site-specific installation for the Nancy Lincoln Gallery at Beaver.
Devoid of liquid, Flood will engulf the physical space of the gallery, engaging both visible and hidden elements of the architecture. By exposing the mundane and unseen, Nofziger's installation will challenge and expand the relationships we have to our constructed environments."
———————-
Second Friday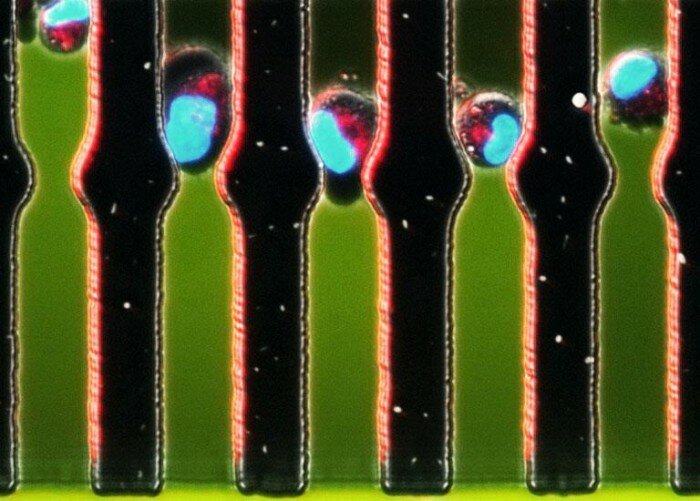 When: Friday October 12th, 5:00-8:00PM
Where: MIT Museum, 265 Massachusetts Avenue, Cambridge, MA
How: Official Website 
What/Why: "The Second Friday of every month is Free at the MIT Museum! From 5-8 p.m. on October 12th listen to distinguished speakers, participate in special activities, and enjoy full access to all the exhibits.
This month we focus on the ingenuity of MIT scientists and engineers. Some of their inventions and contributions include the electronic spreadsheet and PET scans. What happens when they tackle a family of diseases that causes 13% of deaths worldwide? 
Join researchers from the David H. Koch Institute for Integrative Cancer Research at MIT for a series of exciting talks and hands-on demonstrations of ideas with the potential to change the way the world thinks about, diagnoses, and treats cancer."
———————-
Constellations | Magnitude

(Coy, Marilu Swett)
When: On view through November 11th, 2012
Opening Reception: Saturday October 13th, 2012 4-6PM
Where: Boston Sculptors Gallery, 486 Harrison Avenue  Boston, MA 02118
How: Official Website 
What/Why: "Sally S. Fine's new solo sculpture exhibition,Constellations: connecting the dots, started with Fine's interest in the human nervous system, maps, charts, and constellations. She relates the point-to-point systems that exist in microscopic space to those in evidence on a grand scale in celestial configurations.
Fine's planar and linear sculpture works the space between two- and three-dimensional representation. She draws on the verbal and visual history of the night skies, ranging from ancient mythologies to recent space exploration.
"I like the irony of depicting deep space and time stitched together on a planar, plastic surface punctuated with holes and connected with copper and steel wires," says Fine. "The sky's domed palette provides me with questions, speculations, and stories."
For Magnitude, Marilu Swett employs her ongoing interest in biological systems to delve in some recent research on the heart, and on whales and the history of whaling.
Prompted by a Nature article on mammalian heart rates over time, the Heartbeats Project (www.heartbeatsproject.com) seeks a billion drawings of heartbeats to make visible a physical connection between us and all mammals, with whom we share the same number of allotted beats for our lifetimes. Swett shows the project and related work that addresses relative size and uses various media, including a hanging cast rubber sculpture on the scale of a blue whale's heart (it's big) and a bronze harpoon for "catching" a pygmy shrew (it's small)."
———————-
Plunge – Self Portraits by Clara Lieu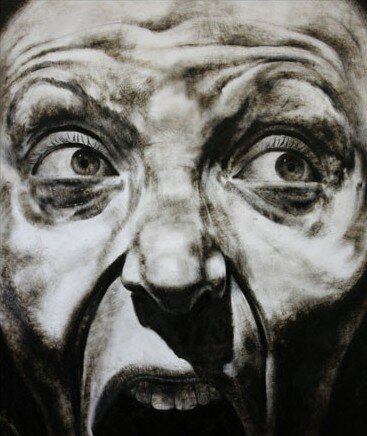 (Self Portrait No. 2)
When: On view through October 25th, 2012
Where: Babson College, Hollister Gallery, Babson Park, Massachusetts 02457
How: Official Website
What/Why: "Webster's definition of a self-portrait is "a portrait of oneself done by oneself". In her newest work,Plunges; self-portraits, rather than portray her own physical likeness, Lieu began the series by photographing an actress enacting her own remembered internal states of depression and anxiety. The resultant photographs were the basis for a series of 50 drawings done with Litho crayon and etching ink on 3ft x 4ft DuraLar. The drawings embody a powerful physicality in their use of material; the rich black etching ink is tacky where it has been layered thickly but leaves fine lined traces in the sanded surface where it has been wiped away, while fine white crosshatching has been scratched into the surface of the translucent Duralar. Lieu describes this physicality as reinforcing the intensity of the subject's emotions; at turns terrified, enraged, crushed, or even calm, as they cycle through the depression's timelines."
———————-
Harmonix Presents: Old School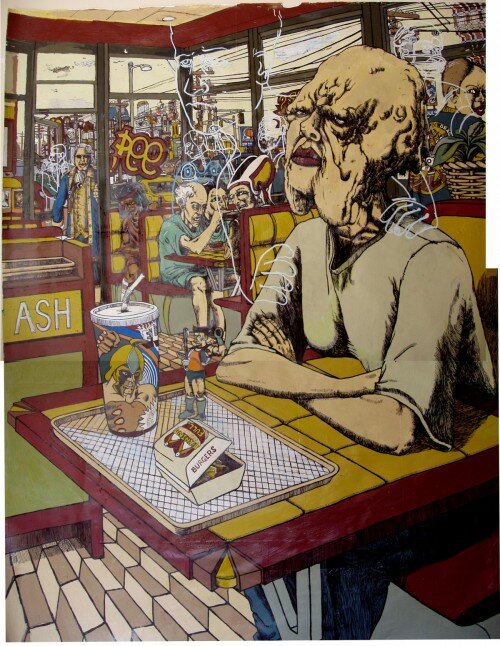 (Meltface with Ghost, Tony Astone)
When: On view through October 26th, 2012
Opening Reception: Friday October 12th, 2012 7-10PM
Where: Voltage Coffee & Art, 295 3rd Street, Cambridge, Massachusetts 02142
How: Official Website
What/Why: "Stretch out your joystick hand and pull your faded Oingo Boingo tee out of storage — video game artists from Harmonix are bringing "Old School": an Art Show and Gallery Opening to Voltage Coffee House in Cambridge, Friday, October 12th from 7-10 PM. 
Following last year's successful "UNDO," this year's show features new works from the artists responsible for the blockbuster video game franchises Guitar Hero, Rock Band, and Dance Central. The previously unreleased art appearing in "Old School" is a bona fi
de blast from the past, with styles ranging from 8-bit computer art and graffiti to airbrush paintings, fantasy heavy metal art, and many other unexpected inspirations.
Art will be available for purchase on a first come, first serve basis. The gallery opens in celebratory fashion on Friday, October 12 from 7-10 PM, with the show running from October 12th through October 26th. 
"Old School" is presented by Harmonix Music Systems, creators of the multi-million unit-selling Rock Band and Dance Central franchises. Harmonix is located at the heart of Central Square, Cambridge, but most employees are still too lazy to walk all the way to Mary Chung's for lunch."
———————-
Splended Isolation: Late Summers in Northern Maine
When: On view through October 27th, 2012
Opening Reception: Friday October 12th, 2012 7:00PM
Where: Washington Street Art Center, 321 Washington Street, Somerville, MA
How: Official Website
What/Why: "Photographer Lee Kilpatrick explores the "golden hour" in Splendid Isolation: Late Summer in Northern Maine at WSAC in October September 27, 2012 Somerville, MA –
In Splendid Isolation: Late Summer in Northern Maine, photographer Lee Kilpatrick examines the remote beauty of his native land. Through images of fields and skies captured at the "golden hour" before sunset, and of people alone and together, the artist invites the viewer to explore the farming region of Aroostook County.
"It's the type of place most people never experience – you wouldn't necessarily have a reason to go there," says Kilpatrick. "Maine is best known for its coast and its wilderness, and the farming areas in between are less appreciated."
During its heyday in the early 1900s, Aroostook County was the number one supplier of potatoes for the nation. While farming has declined from this peak, schools still close for the annual potato harvest – 65% of which now turns into French fries.
All photos were taken in August 2012. An unfinished church sits in a dirt lot; two bright red Maine hot dogs recline on a mound of baked beans; a tiny house's windows glow against the approaching night. A woman sits alone by a sunny window; light shines through bottles of blue windshield fluid stacked at a gas station; and heavy blue and orange clouds reflect off a damp rural road.
"Usually my photos are of people, with occasional landscapes," says Kilpatrick.
"But in this show a significant portion are landscapes. The focus is not nature, but rather the relationship between man-made structures and the much larger natural world."
———————-
30 Under 30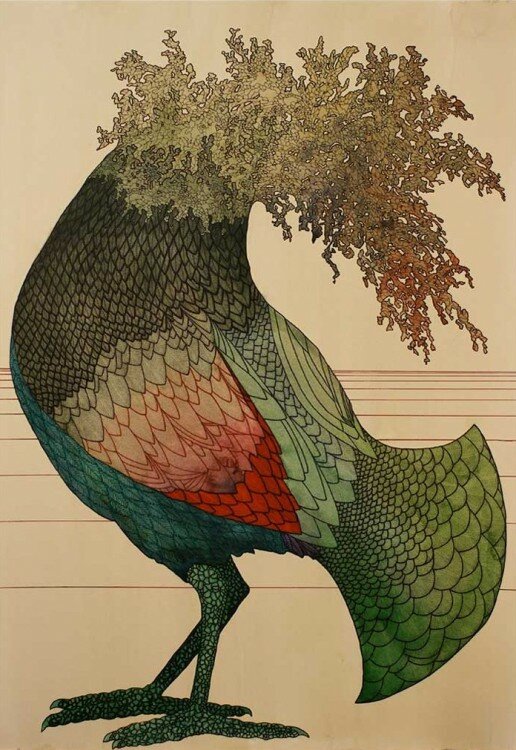 (Sean Dunstan-Halliday)
When: On view through November 10th, 2012
Reception: Thursday October 18th, 2012, 5:30-7:30PM
Where: Arsenal Center for the Arts, 321 Arsenal Street, Watertown, MA
How: Official Website
What/Why: "30 Under 30 is an exhibition designed to display and encourage the dialogue of 30 artists 30 years of age or younger in the Boston area. This exhibition will present a diversified look at emerging artistic talent in Massachusetts. Discover the voice of the next generation of great artists! Included in this exhibition are 6 artists, chosen to further investigate their point of view through more narrowly focused exhibitions taking place in the winter – so be on the lookout! Participating artists: Emily Abramovich, Joey Asal, Kevin Benisvy, Leah Brunetto, Kelly Burgess, Nabeela Chowdhury, Scott Coffrin, Robyn Day, Cathy Durso, Sean Dunstan-Halliday, Joseph Geary, Olivia Glennon, Amanda Gross, Rachel Hammerman, CJ Heyliger, Helena Hsieh, Vanessa Irzyk, Ariel Kessler, Mary Lydecker, Alison Matthews, Sarah May, Kati Mennett, Evan Morse, Grace Nicklin, Katelyn Paciulan, Bryan Ramey, Katharena Rentumis, Edith Shimel, Wesley Simon, and Sara Zielinski"
———————-
Sapphire

(Striated Iceberg, Tony Schwartz)
When: On view through November 7th, 2012
Where: Copley Society of Art, 158 Newbury Street, Boston, MA 02115
How: Official Website
What/Why: "The Copley Society of Art is proud to present Co|So Artists' Small Works: Sapphire, an exhibition of artworks by our membership. Dozens of artists' small paintings, sculptures, and photographs are for sale – perfect additions to growing art collections. Work from all media is represented, and styles range from traditional to contemporary."
———————-
Third Thursday – Jessica Dunegan

(Don't Turn on Yourself)
When: Thursday October 18th, 2012 5:00-7:00PM
Where: Gold Gallery, 655 Tremont Street, Boston, MA
How: Official Website
What/Why: "In our final Third Thursday of the year, Gold Gallery is delighted to feature work by Boston-based artist, Jessica Dunegan. Jessica explores a variety of themes in her multi-media works, capturing moments that seem to oscillate between serenity and profound unrest, simultaneously creating tranquility and tension. The nebulous nature of her figurative paintings draws us in as we search for answers to the questions that arise from her mysterious narrative. Her choice of the chandelier as a subject signifies a dialogue between the constant and the changing, as she makes reference to this fixture that has continuously existed in Southern estates throughout generations. Her work investigates a wide range of themes, but her use of mediums such as photography, painting and resin is the connecting thread between each piece. The static solidity of Jessica's mixed media process juxtaposes her visual interpretations of the ephemeral and fleeting."
———————-
Provisional Aesthetics, Rehearsing History

(An-My Lê, Patient Admission, US Naval Hospital Ship Mercy, Vietnam)
When: On view October 17th through January 11th, 2013
Where: The Davis Museum, 106 Central Street, Wellesley, MA, 02481
How: Official Website
What/Why: "Provisional Aesthetics, Rehearsing History brings together for the first time in the region Phil Collins, An-My Lê, and Dahn Vo—critically acclaimed international artists whose work complicates the realism associated with photography and video. Embracing the double bind between the real and the imaginary, these artists deploy performance, proposition, rehearsal, and play to dramatic and unexpected ends. Curated by David Kelley, Associate Professor of Photography in the Art Department, the exhibition has been generously supported by Wellesley College Friends of Art, with additional support from the Kathryn Wasserman Davis '28 Fund for World Cultures and Leadership."
——————————————————
What did I miss?
Have a great weekend! You earned it. ♥