strange encounter x linear expression x cinematic disobedience
———————————————————————
The Body In Lines
(Ariel #11, Michael Ahern)
When: On view June 5th-June 29th, 2013
Opening Reception: Tuesday, June 4,  6-9 pm
Where: Nave Gallery Annex (Davis Square), 53 Chester St, Somerville, MA
How: Official Website
What/Why: "Fragility, strength, and vulnerability are just some of the emotions captured in The Body In Lines, the Nave's first show focusing on the linear expression of the nude, and the use of lines to illustrate innate human qualities."
———————————-
Furniture with Soul II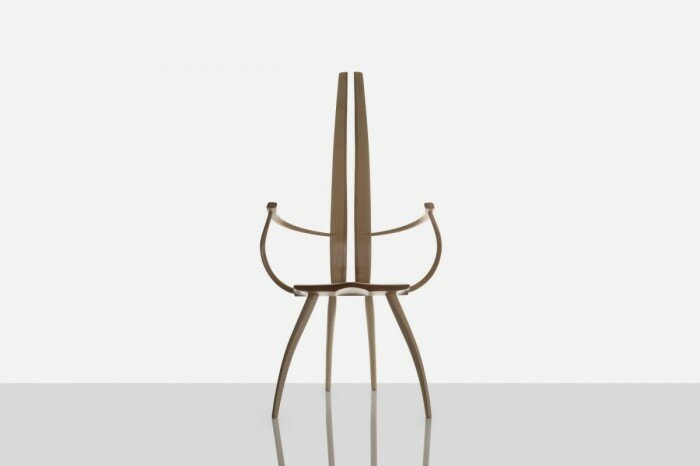 (Nimm Rae II, Alun Heslop)
When: On view through July 12th, 2013
Opening Reception: Friday, May 31 6 – 8 pm
Where: Gallery NAGA, 67 Newbury Street, Boston MA 02116
How: Official Website
What/Why: "Furniture with Soul II-Marc Fish, Tom Loeser, Alun Heslop, Michael Puryear, Yuri Kobayashi, Joseph Walsh,  Daniel Lacey, Waywood"
——————————
YARD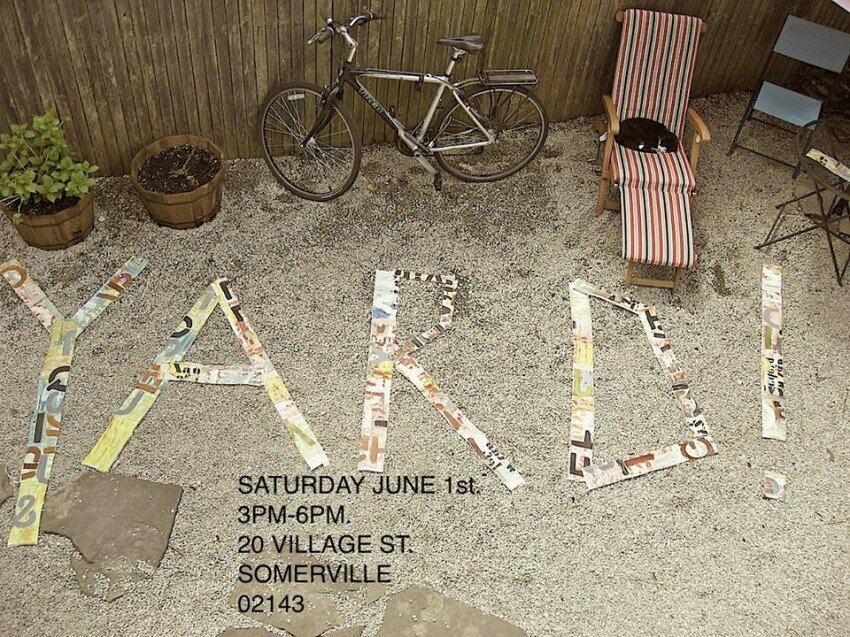 When: Saturday June 1st, 3-6pm
Where: 20 Village Street, Somerville, MA
What/Why: "A pop-up show organized by Robert Moeller, featuring the work of: Caroline Bagenal, Suzy Evans, Pat Falco, Carol Greenwood, Colleen Kiely, Masako Kamiya, Annette Lemieux, Robert Moeller, Andrew Neumann, Anthony Palocci Jr., Kristine Roan, Sandrine Schaefer"
————————
Create 2: 6 Artists, 6 Chefs, 1 Canvas

When: Sunday June 2nd, 2-5PM
Where: BCAE, 122 Arlington Street, Boston, Massachusetts 02116
How: Official Website
Cost: Purchase tickets here.
What/Why: "Six up-and-coming chefs will be challenged to create a composition based on the subject matter of six local artists. The results? Nothing short of a masterpiece.
The Chefs:
Michael Scelfo (Alden & Harlow)
Jason Cheek and Jade Taylor (Supper Y'all)
Brian Young (Citizen Public House)
Alex Crabb (Asta)
Steven "Panda" Oxaal (B&G Oysters)
Karen Akunowicz (Myers & Chang)
The Artists:
Mike Hammecker
Kevin Stanton
Nick Z
!ND!V!DUALS Collective
Edwin Marquez
Brian Gordon
Beverages by:
Ran Duan – Sichuan Garden
Ezra Star – Drink
90+ Cellars Wine
High & Mighty Beer"

————————
South Boston Open Studios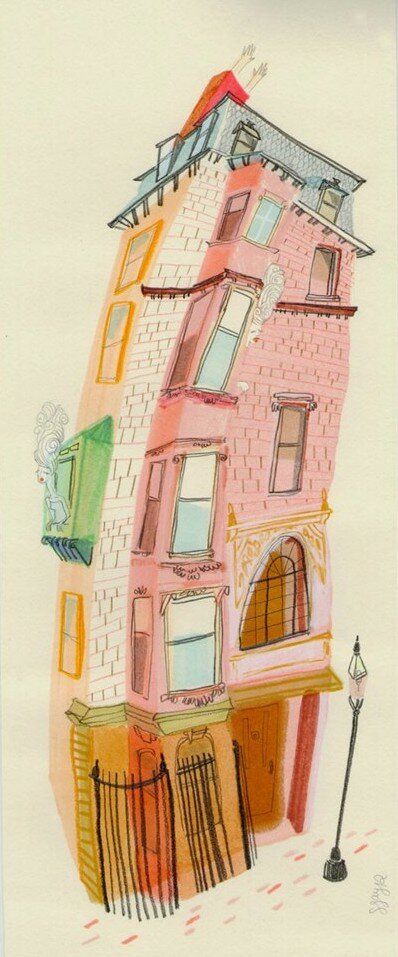 (Beacon, Sarah Gay)
When: Sunday, June 2nd from noon to 6pm
Where: The Distillery building, 516 E 2nd street in South Boston
How: Official Website 
What/Why: "Every spring, the artists and craftspeople of South Boston open their doors to share their work and their studios with the community. The Distillery is a beautiful mid-nineteenth century converted rum distillery where artists have been setting up shop for more than twenty years. As a hub of creativity and the arts, The Distillery has housed many nationally and internationally renowned artists and artisans. Located in the heart of South Boston, it includes two galleries, dozens of artists' studios and live/work lofts, as well as creative small businesses. As you walk through the building, you will notice that it comes alive with all of the creative energy and even the corridors serve as remarkable display spaces. As you explore the various studios, you'll notice that each one is unique, reflecting each artist's creative personality."
————————
Strange Encounter – Brandon Aguiar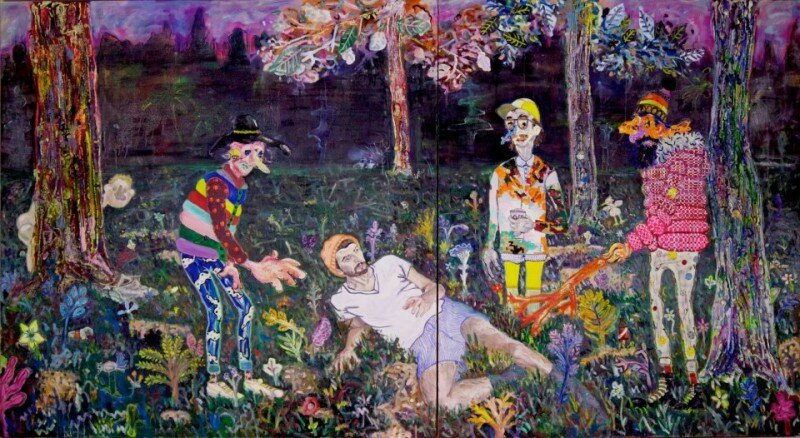 When: On view through June 29th, 2013
Opening Reception: Friday May 31st, 7-9PM
Where: Voltage Coffee, 295 3rd Street, Cambridge, Massachusetts 02142
How: Official Website
What/Why: "We welcome MRBA back to Voltage this month for his second solo show in the gallery. The May 2013 AIB graduate is bringing in his new works, where he continues to dive into his own vision of environment, technique and artistic expression. Brandon uses himself as the main character in these worlds to explore and interact with the visitors he meets on his way. Come join us on Friday, May 31st for our opening reception at Voltage. 
The artist in talking about the piece, Strange Encounter, 2013: "I see my world… to be [a] place that would be fun to actually go to. So I made a painting in which I somehow fell into and this is the moment in which my characters meet me for the first time. I know who they are but they have no idea who I am…"  Show curated by: Anna Schindelar"
————————
Manifold
(The work of Elizabeth Woodward)
When: On view through June 15th, 2013
Opening Reception: June 1st, 2013 3-5PM
Where: 301 Gallery, 301 Cabot Street, Beverly, MA
How: Official Website
What/Why: "Artist Professional Toolbox Student Exhibition. Featured Artists: Kathleen Gerdon Archer, Michele Bonner, Diane Bronstein, Liza Carter, Mary Anne Davis, Joanne Desmond,Randi Freundlich, Conny Goelz-Schmitt, Elizabeth Kostojohn, June Krinsky-Rudder, Lynne Schulte, Rachel Loischild,Andrew Memmelaar,  Marc Morin, Marcie Rae, Denyse Murphy, Dan O'Connor, Helen Payne, Ingrid Potenza, Shawn Salinger,Jennifer Toler, Elizabeth Woodward"
————————
The Creative Process

When: On view through June 16th, 2013
Opening Reception: Friday May 31st, 2013 5-7:30PM
Where: The New Art Center, 61 Washington Park , Newtonville, MA 02460
How: Official Website
What/Why: "The Creative Process features work by New Art Center faculty and students of all ages. Represting the outstanding quality of our education programs, The Creative Process highlights the work completed at the New Art Center during the past year."
————————
Hamburger USA

When: Sunday June 2nd, 6PM
Where: Studio Soto, 10 Channel Street, Boston, MA
How: Official Website
What/Why: "Cinematic Disobedience is back! This summer, we are focusing on questions of personal health, lifestyle, and ecological impact, which are, at least partially, within the realm of our control. 
What better way to begin than to survey the contents of our plates, 1970s-style? 
We'll learn about the mysterious origins of all-American foods: peanut butter, hamburgers, and mustard, with the help of Woody Allen and a funky soundtrack, and keep up with latest food industry technologies of 1975. 
Food safety and quality are as much a concern today as they were 40 years ago – but at least Food Sticks™ are no longer around.
Thematic Snacks Provided
Doors at 6pm, screening at 7. Suggested donation: $5-10. All films presented on 16mm unless noted. Big thanks to Liz Coffey at the Harvard Film Archive and Paul Shannon at the American Friends Service Committee for assistance with this screening. 
Program:
The Story of a Peanut Butter Sandwich (1971, 16 min)
Is a Career in Food Preparation for You? (1975, 13 min)
Hot Dog: How Do They Make Mustard? (1972, 3 min)
Eat, Drink, and Be Wary (1975, 21 min)
Hunger (early computer animation by Peter Foldès , 1973, 12 min)
Hamburger, USA (1978, slide show & cassette, 28 min)"
———————————————
Say Hi:
Run.
Well, I'm exhausted.
As you know, today was a big day in the land of FLUX.
Kick off your heels. Have a classy cocktail(x ∞). Stay cool. See you soon! ♥