(Part of the Catch series by Amy Montali on view at Gallery Kayafas)
We did it!
The end of May. The end of the week. And survived The End of Days.
Brilliant.
Let's wrap things up, it's time to kill and grill.
———————
The Workers
When: May 29th – March 15th, 2012
Opening Reception: Saturday, May 28, 2011, 5:30 pm
Where: Mass MoCA, 1040 MASS MoCA Way , North Adams, MA 01247
Cost: Members free/ $8 not-yet-members(aside: I like that term)
How: Official Website
What/Why: Opening Reception-"We can't promise you'll meet Rosie the Riveter but there will be many artists on site for the opening reception of The Workers, a timely and ideally sited exhibition featuring artists reflections on the state of labor today. Join curators Susan Cross and Carla Herrara-Prats as well as many artists for the opening celebration for our major summer exhibition."
Full description of the exhibition here.
——————————-
RETURN
(The work of Percy Fortini-Wright)
When: Friday May 27th, 2011
Where: LOT F Gallery, 145 Pearl Street #4 Boston, MA 02110
How: Official Website
What/Why: "Todd Roberston, Percy Fortini-Wright, Jamie O'Neill, William Long. New works from four highly skilled artists. Well received in our previous shows, this new collection will give insight into the evolving styles and direction of the artist. A mixed range of size and medium, exhibiting paintings, sculpture, bots and toys."
——————————–
Bits + Pieces
When: May 20th-June 26th, 2011
Where: Mills Gallery, 539 Tremont Street, Boston, MA 02118
How: Official Website
What/Why: "Bits + Pieces explores the collections of outsider, emerging and established artists with the purpose of illuminating the reasons and importance behind their collection and ideas of collecting, while gaining insight into their lives and often hidden compulsions"
——————————–
Matter, Medium and Meaning

(Trucks on a Sunday, Allan B. Hall)
When: On view now through June 28th, 2011
Where: Copley Society of Art, 158 Newbury Street, Boston, MA 02116
How: Official Website
What/Why: "A contemporary still life show in the Upper and Lower Galleries of the Copley Society."
——————————–
Adria Arch: On The Mark
(Pink Glyph Constellation)

When: On view through June 5th, 2011
Where: Danforth Museum of Art, 123 Union Avenue, Framingham, MA 01702
How: Official Website
What/Why: "Several years ago I looked through my son's discarded high school notebooks hoping to catch a glimpse of his inner world.  I discovered pages of exquisite, tiny geometrical drawings sandwiched between lecture notes, sprinkled in margins and crammed edge to edge on back covers.  Created in the unselfconscious state typical of doodlers, the shapes seemed to represent a secret, indecipherable language.
As I looked at the doodles, I realized that they could be geometric diagrams, hieroglyphs, or pictographs -some kind of mysterious language or alphabet. In an effort to decipher these shapes, I began to incorporate them as compositional elements in my work.  The viewer can walk into a dimensional space where the symbols spin, float or twirl. Some of my pieces are doors, others windows. They are all portals. I continue to use these symbols because they are a joyous and mysterious language that is somehow both deeply personal and universal."
——————————–
Someother Things
(All Dressed up, prior work of Susan Scott)
When: On view through May 29th, 2011
Where: Kingston Gallery, 450 Harrison Ave. #43 , Boston, MA 02118
How: Official Website
What/Why: New works of Susan Scott shown in the Back Gallery of Kingston Gallery.
——————————–
Deferral II
When: On view through May 28th, 2011
Where: Mobius, 725 Harrison Avenue, Suite One, Boston MA 02118
How: Official Website
What/Why: "Deferral" is a study of the trace and the temporality of the creative act through the presentation of a visual landscape made with light and memory.  Over the time of a week, EL Putnam will undertake a series of live performances that involve the creation of temporary "marks" on large "canvases" with her body and other materials including yarn, paper, glitter, and light.  These performances will be recorded and manipulated to form a multichannel, projected video installation.
——————————–
A Moment Collected and a Place to Stay/ Catch
(The work of Jess T Dugan)
When: On view now through May 28th, 2011
Where: Gallery Kayafas, 450 Harrison Avenue, Boston, Massachusetts 02118
How: Official Website
What/Why: The work of Jess T. Dugan and Amy Montali
——————————–
Jessica Straus: Keep/Hannah Verlin: Knowing Not Knowing
(Red Dress Series, prior work of Jessica Straus)
When: On view now through June 26th, 2011
Artists' Reception: Saturday, May 28th  4:00 – 7:00 pm
Where: Boston Sculptors Gallery, 486 Harrison Ave., Boston, MA 02118
How: Official Website
What/Why: "Working primarily in carved and painted wood and incorporating found objects, Jessica Straus explores the poetry of unexpected juxtapositions between recognizable and invented forms. Alternating between narrative and abstraction, Straus's well crafted sculpture is infused with a quirky, yet subtle humor and a finely tuned sense of aesthetics. Straus works out of her studio in the Brickbottom Artists Building in Somerville, MA. In addition to exhibiting her work at Boston Sculptors Gallery, Straus has shown at numerous galleries and museums including the Fuller Craft Museum, the Danforth Art Museum, the Duxbury Art Complex Museum, the deCordova Sculpture Park and Museum, the Addison Gallery of American Art, and the Berkshire Art Museum.
Looking at spaces, places, and people, Hannah Verlin's installations address the ways we understand our world and ourselves. How can the conventional— an everyday material, phrase, or a simple action—become not only new, but also provocative? The initial wonder of the work leads viewers to re-explore both the particular and the vastly universal. She has exhibited work in Sculpture Under McGrath in Somerville, Cryptic Providence, and at Boston's First Night festivities."
——————————–
Masterworks by Kaneto Shindo
(Still from Children of Hiroshima)
When: On view now through May 30th, 2011
Where: Harvard Film Archive, Carpenter Center for the Visual Arts, 24 Quincy Street, Harvard University ,Cambridge, MA 02138
How: Official Website
What/Why: "Throughout his remarkably prolific, long and fascinating career, Kaneto Shindo (b. 1912) has remained at the center of major trends and turns in Japanese cinema. A sought-after art director and apprentice to Kenji Mizoguchi in the 1930s, Shindo made a name for himself in the 1940s as a prolific and popular screenwriter before working as assistant director to such iconic filmmakers as Kon Ichikawa and New Wave titans Seijun Suzuki and Yazuo Matsumoro. In 1950 Shindo formed one of Japan's first independent production companies with actress Nobuko Otowa – who would later star in several of Shindo's key films – and began to direct politically outspoken features with a distinct class-consciousness, focused principally upon the struggle of the lower and working classes – an interest which would culminate in his extraordinary study of a rural 20th century peasantry The Naked Island, considered by many to be Shindo's masterpiece. Shindo's breakthough came earlier, however, with his controversial Children of Hiroshima, the first and among the most powerful Japanese narrative films to depict the atomic bombing of Shindo's hometown and its aftermath. Shindo's notable embrace of period ghost stories resulted in two important and influential films, Onibaba and Kuroneko, which maintained the critical Marxist stance of his early work and inspired a new interest in folk-tales and the "primitive" as a major theme. Like his contemporary Shohei Imamura, Shindo turned to the lower depths of Japanese culture and history to question the traditional perception – in Japan and abroad – of "Japanese-ness" and to discover within it a dark vein of raw, anarchic energy. At a spry 98 years old, Shindo remains active to this day with his latest film, the powerful anti-war drama Postcard, marking a return to the subject of Hiroshima's complex and troubling legacy."
———-
Phidias Gold Paper Toy Exhibit and Gallery Show
When: On view now through June 15th, 2011
Where: LAP Gallery, 289 Moody Street, Waltham, MA
How: Official Website
What/Why: "Phidias Gold is an art based apparel brand for artists by artists. Taking after the nine Greek muses which gave people the necessary inspiration for creating, Phidias Gold follows as the 10th Muse—The Muse of Visual Art. Come see our muse in paper toy form interpreted by some talented artists. Featuring over 30 local and international artists/Free beverages from Red Bull and Watch City Brewery/ Limited edition poster giveaway to first 30 guests at reception"
———-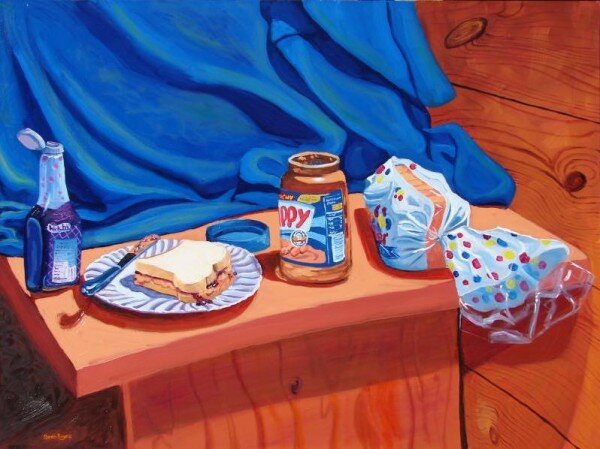 (The work of Sean Boyce currently on view at Copley Society)
Am I forgetting something?
(I'm kind of into the symbols from last week's wrap-up.)
For those of you with a 3 day weekend, enjoy and save me a hotdog! ♥