competition x fragmentation x o sangue x something new x with a french accent
——————
With A French Accent: French and American Lithography Before 1860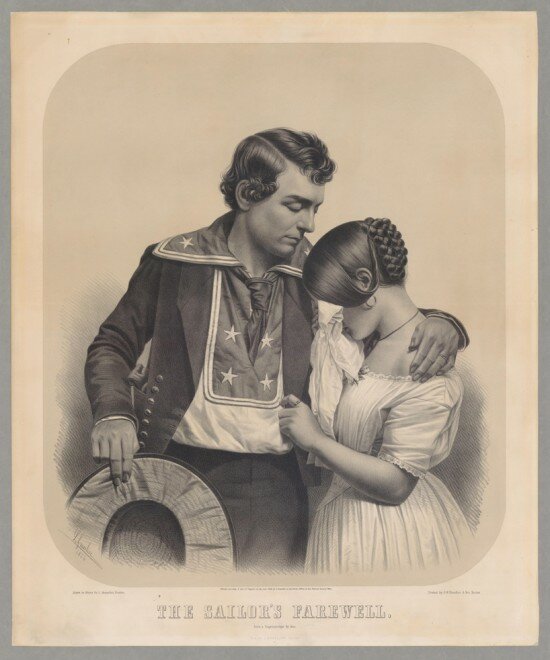 When: On view through June 11th, 2012
Where: The Davis Museum, 106 Central Street, Wellesley, MA, 02481
How: Official Website
What/Why: "Featuring some fifty French and American prints from the collection of the American Antiquarian Society in Worcester, Mass., With A French Accent explores the French roots of American lithography.  The exhibition and accompanying publication uncover several themes: the importance of French technology, the circulation and reproduction of French imagery, the stylistic contributions of French lithographic artists, and the reproduction of American genre paintings by French publishers for distribution in Europe and the United States.  The exhibition was curated by Georgia Brady Barnhill '66, Director of the Center for Historic American Visual Culture, and Lauren B. Hewes, Andrew W. Mellon Curator of Graphic Arts, both of the American Antiquarian Society, based on research supported by funds from The Florence Gould Foundation of New York.  At the Davis, this exhibition is made possible through generous support from the Marjorie Schechter Bronfman '38 and Gerald Bronfman Endowment for Works on Paper."
——————————–
Morgan Bulkeley-New Works

(Faces in Breeze)
When: On view through June 26th, 2012
Opening Reception: Friday June 1st, 2012
Where: Howard Yezerski Gallery, 460 Harrison Avenue, Boston, MA 02118
How: Official Website
What/Why: "Howard Yezerski Gallery is proud to present an exhibition of new work by Morgan Bulkeley. Quirky and smart, the paintings playfully address critical issues in contemporary society. We peer into a world constructed by Bulkeley, where meanings are manifested in characters who interact and play out the imagined stories. Bulkeley taps into a technique of visual narrative that goes back to illuminated manuscripts in which objects interact like turns of phrase, each an index of a much larger idea. Writer Gregory Whitehead notes that Bulkeley "finds a way of figuring the human body that is drained of specificity, abstracted, yet also identifiably human… arriving at an aesthetic of figurative abstraction." The goofy humanoids are blank slates for the artist's fantastical and critical world. As such, the paintings are packed with meaning to dissect and discuss, mull over and discover.
The scenes play out over lush hills, a homage to his beloved Berkshires. Nature is the constant force behind the absurd matrix of human interactions. George Washington is in a frenzy while Donald Duck leads a man into a trap and people are hunted by deer. The hills are a stage, delineating spaces within the painting within which scenes occur – grasshoppers dance with bones, family members take cover from machine guns. A dialogue between nature and man develops as the wings of birds fit carefully up against the angles of a flying piece of paper or of the lines of a bow and arrow. Patterns emerge and the objects move from foreground to background and back again. Birds fly above and below – observing and moving on."
——————————–
ZINE SHOW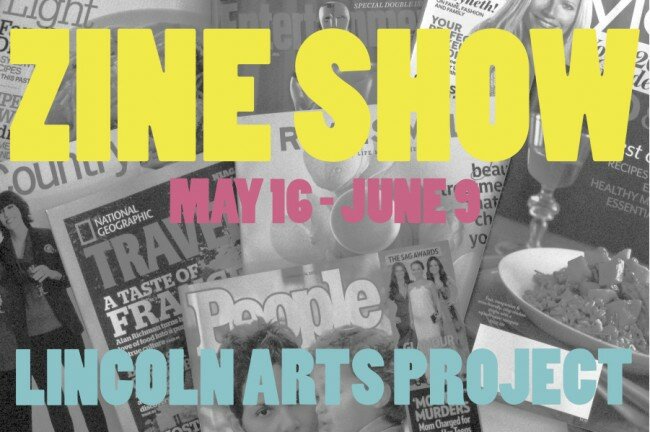 When: On view through June 9th
Opening Reception: Friday May 25th, 2012 7-10PM
Where: Lincoln Arts Project, 289 Moody St., Waltham, MA 02453
How: Official Website
What/Why: "Lincoln Arts Project presents Zine Show a collection of over 70 zines and self-published artist books. "
——————————–
RISD Graduate Thesis Exhibition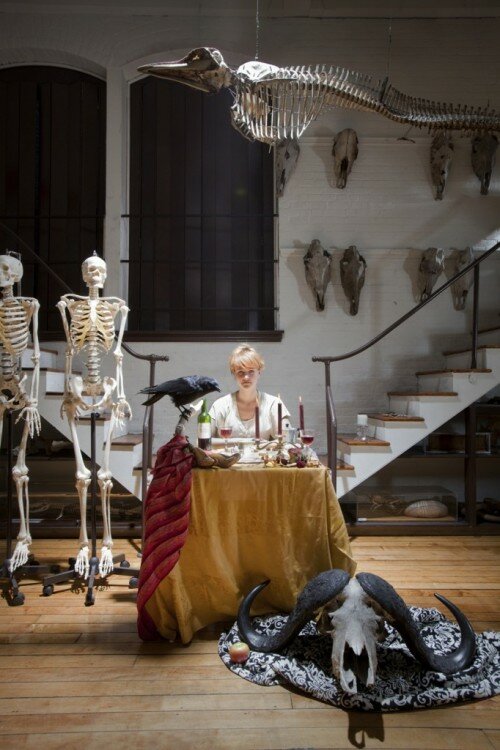 (Deutsches Requiem Reception, Beth Weaver)
When: On view through June 3rd, 2012
Where:  Sol Koffler Graduate Student Gallery, 169 Weybosset Street, Providence RI
How: Official Website
What/Why: "An annual event open to the public, RISD's Graduate Thesis Exhibition features a wide range of work by master's candidates who will graduate in June. More than 180 graduate students showcase entire bodies of work in disciplines ranging from the architectures (Architecture, Interior Architecture, Landscape Architecture), to the fine arts (Ceramics,Glass, Jewelry + Metalsmithing, Painting, Photography, Printmaking, Sculpture, Textiles), to design (Digital + Media,Furniture Design, Graphic Design, Industrial Design) and art education (Teaching + Learning in Art + Design).
With custom-constructed galleries within the large exhibition hall, students are given the opportunity to showcase multiple pieces or large installations from their thesis work – the manifestation of two or three years of research, experimentation, critical thinking and honing of their craftsmanship and expressive capabilities.
Approximately 400 graduate students are enrolled in RISD's 16 master's degree programs. They come to RISD to be part of an extraordinary creative community and to work with exceptionally dedicated faculty members who are also leading artists and designers in their respective fields. RISD's graduate programs were rated #1 in the country in the 2012 U.S. News and World Report's rankings of the best graduate schools for fine arts and design."
——————————–
Jasper Johns Cross-Hatch In Press: The Crosshatch Works and the Logic of Print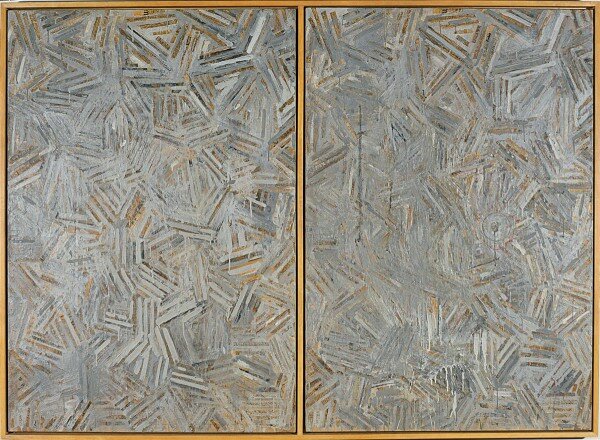 (The Dutch Wives) 
When: On view through August 18th, 2012
Where:Sackler Museum, 32 Quincy Street, Cambridge, MA 02138
How: Official Website
What/Why: "Centering on Harvard's collection of Johns's signature "crosshatch" works of the 1970s, this exhibition explores the impact of print on his oeuvre. It examines "print" and "the press" in terms not only of printmaking and Johns's celebrated experiments in that medium, but also in informational terms, tracing his frequent use of newspaper collage and its material, temporal, and political implications. Also featured is comparative material exploring Johns's relationship to the history of printing. Curated by Jennifer L. Roberts, Professor of History of Art and Architecture, Harvard University; with assistance from Jennifer Quick, PhD candidate, Department of History of Art and Architecture, Harvard University, and Agnes Mongan Curatorial Intern, Harvard Art Museums; Susan Dackerman, Director of Academic Programs, and Carl A. Weyerhaeuser Curator of Prints, Harvard Art Museums; and four Harvard College undergraduates: Jacob Cedarbaum, C. Andrew Krantz, Mary Potter, and Phillip Y. Zhang.
——————————–
Projection

(Image by Amanda Antunes)
When: Saturday May 26th-Sunday May 27th 7:00pm – 10:30pm
Where: 549 Columbus Avenue, Boston, 02118
How: Official Website
What/Why: "A new play by Allison Vanouse puts the noir mode into a claustrophobic interior space, deconstructing and reconstructing its parameters until they brush the limit of the form. Sam (Dimitri Papadimitriou) is a P.I. without a case, haunted by images, his mind saturated with the cinematic. PROJECTION is a world of his creation, where ghosts of the 1940s and the ever-present hum of a movie projector build a tenuous dreamscape. To this heady cocktail — half David Lynch, half Dashiell Hammett, a dash of the existential — Spirited Magazine's production introduces the hurricane-force of a femme fatale (played with aplomb by Alix Mauclere). Sitting on the edge of theatrical and performance traditions, PROJECTION is a basement-show chamber-play that consistently performs weird alchemy: two lovers – thirty minutes — one movie — one dirty mattress — a play of images between the filmic and theatrical — live scoring (by Jonathan Sibha) worthy of Eraserhead—and a strangely resonant takeaway that sits squarely between gritty realism and dreams. The play also restores the original ending of Dashiell Hammett's The Maltese Falcon. If you want to see just how, check out excerpts from the script in the most recent issue of Spirited: Noir Generation."
——————————–
Competition/Fragmentation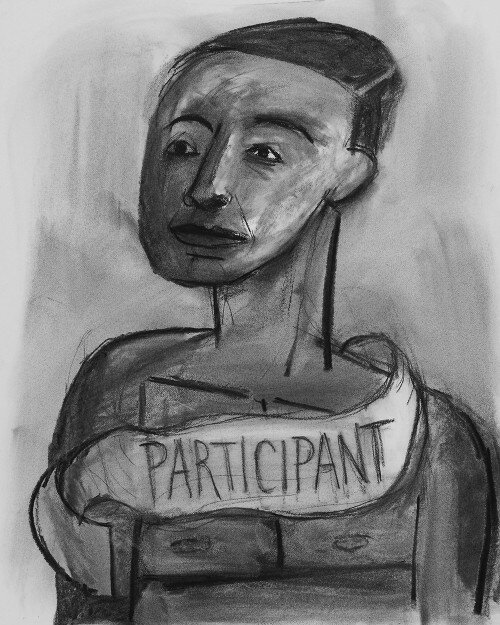 (Participant, Joel Moskowitz)
When: On view through June 10th, 2012
Where: Fountain Street Fine Art, 59 Fountain Street, Framingham, MA 01702
How: Official Website
What/Why: "Mary Spencer and Joel Moskowitz share an affinity for an expressionist sometimes dark view of emotional life set in black and white, shades of gray and sparks of color. They met at the Boston Visual Artists Union and have nurtured and critiqued each other's work for over 30 years as their styles have changed, both of them living in the Boston area. Joel's current work explores the theme of competition, depicting contestants striving, succeeding or failing, celebrating with a trophy or suffering defeat. His mediums are charcoal and ink on paper. Mary paints in oils on wooden panels, bringing together fragments from cave drawing, news photos, architectural views, landscapes, folding the elements over themselves and one another to achieve intriguing and enigmatic visions, a unified world of disparate parts."
——————————–
Abstract

 (Journal Page: Something New, Arlene Chaplin)
When: On view through May 26th, 2012
Where: Gallery Seven, 7 Nason Street, Maynard, MA
How: Official Website
What/Why: "Gallery Seven presents "Abstract" paintings by Arlene Chaplin, Becky Kisabeth Gibbs, Linda Grom, Wilson L. Hunt, Jr. and Heather McClurg. In this exhibition 5 artists display five unique abstract visions using a variety of techniques and inspirations."
——————————–
Blood (O Sangue)

When: On view through May 2012
Where:  Harvard Film Archive, 24 Quincy Street, Cambridge, MA 02138
How: Official Website
What/Why: "A lushly stylized romantic fable, Costa's auspicious debut demonstrates his love and knowledge of classical Hollywood and European art cinema. With poignant echoes of Nicholas Ray, Robert Bresson and F.W. Murnau, Costa explores the plight of two brothers and a young kindergarten teacher being pursued by some unseemly characters, including the boys' nefarious uncle."
——————————–
Living Treasures of North Carolina Craft

(

Black Fibonacci, Billie Ruth Sudduth)
When: On view through August 5th, 2012
Where: Fuller Craft Museum, 455 Oak Street  Brockton, MA
How: Official Website
What/Why: "Since its inception in 1986, the University of North Carolina Wilmington has celebrated the talents of individuals dedicated to the preservation and innovation of craft. The North Carolina Living Treasures award has recognized boatwrights, potters, luthiers, marqueters, blacksmiths, gunsmiths, weavers, and glass artist. Travelling for the first time to New England, this exhibition brings together a representative selection of the artists recognized by the award. "
——————————–
References to Salvador Dali Make Me Hot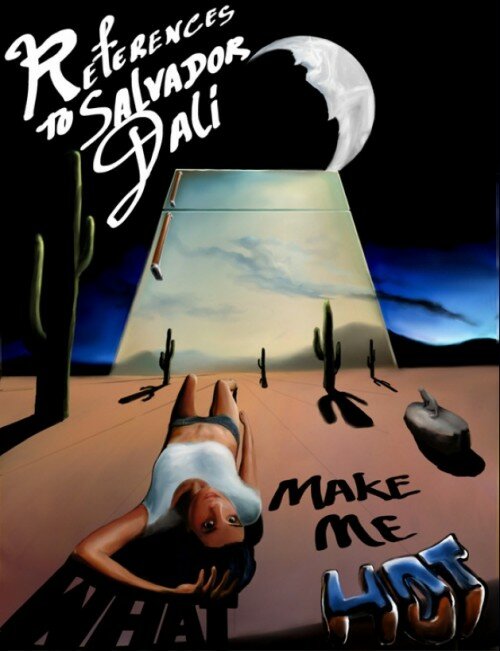 When: On view May 26th – June 9th, 2012
Where: Wellfleet Harbor Actors Theater, 2357 Route 6, Wellfleet, MA 02667
How: Official Website
What/Why: "Rivera's magical masterpiece finds Gabriela talking to the moon – played by a man in a Panama hat playing a violin on her refrigerator. When her husband Benito returns from war, the limits of love are tested, the desert comes alive like a surreal Dali painting, and Gabriela's housecat dances with a wily coyote. In this comic drama, the moon hovers over all, offering haunting music and dreamlike wisdom. Appearing with WHAT's seasonedactors will be the young, talented actors of Boston's TC Squared Theater"
——————————–
David Ratner: Artist and Teacher
(Still Life With Tensor Lamp)
When: On view through June 16th (closed this Saturday-Monday)
Where: Danforth Museum, 123 Union Avenue, Framingham, MA
How: Official Website
What/Why: "Established as a grass roots organization in 1975 by a committed group of citizens, the Danforth Museum of Art has grown to become a vital cultural resource. Located in Framingham, Massachusetts, 30 miles west of Boston, the Museum provides visitors with entertaining and educational experiences in the visual arts. The Danforth educates the public through its collection of American art, changing exhibits of contemporary artists, classes and workshops in the Museum School, and a variety of community outreach programs."
——————————–
Create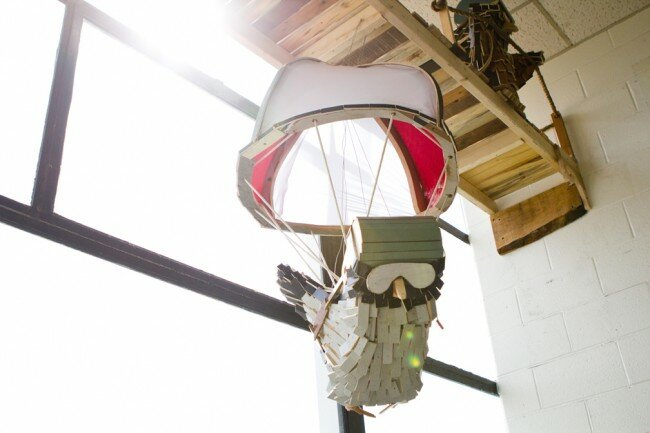 (What Goes Down.. , prior work of !ND!V!DUALS)
When: June 3rd, 2012 2-6PM (Please note this event is NEXT weekend. Just wanted to make sure you had time to get tickets before it sells out)
Where: Boston Center for Adult Education, 122 Arlington Street, Boston, MA 02116
How: Official Website
Cost: $75. Purchase tickets here.
What/Why: "On June 3rd, 2012, join Louis DiBiccari (Chef Louie Night, Storyville) and GILT City at the Boston Center for Adult Education for a unique event aiming to unite and celebrate the worlds of culinary and visual arts. Six up-and-coming chefs will be challenged to create a composition based on the subject matter of six local artists. The results? Nothing short of a masterpiece.
Artists: Dana Woulfe, !nd!v!duals, Josh Falk, Emily Lombardo, Miracle5, Edmund Amore/Rekloos
Chefs:Jason Cheek, KO Prime, Mark Sheehan, Brasstacks Boston, Suzi Maitland, Trina's Starlite Lounge, Douglas Rodrigues, Clio, Brandon Arms, Garden at the Cellar, Steve "Nookie" Postal, Boston Red Sox
Mixologists: Kevin Mabry, JM Curley, Bruno Prado, Storyville
Sponsors:Tito's Vodka, Island Creek Oysters, 90+ Cellars, Harpoon, Taza Chocolate, Open Blue Cobi"
——————————–
Memorial Day Weekend

When: Friday May 25th-Monday May 28th, 2012
Where: Anywhere but the office.
How: Official Website
What/Why: "It's a 3 day weekend, go outside and see some art!"
——————————–

(Bird Song)
"In the end, the painting is an attempt to discover a place somewhere between laughter and despair, between joy and anxiety, a place that will be habitable, even restorative, once entered."
                                                                                                – Morgan Bulkeley
♥