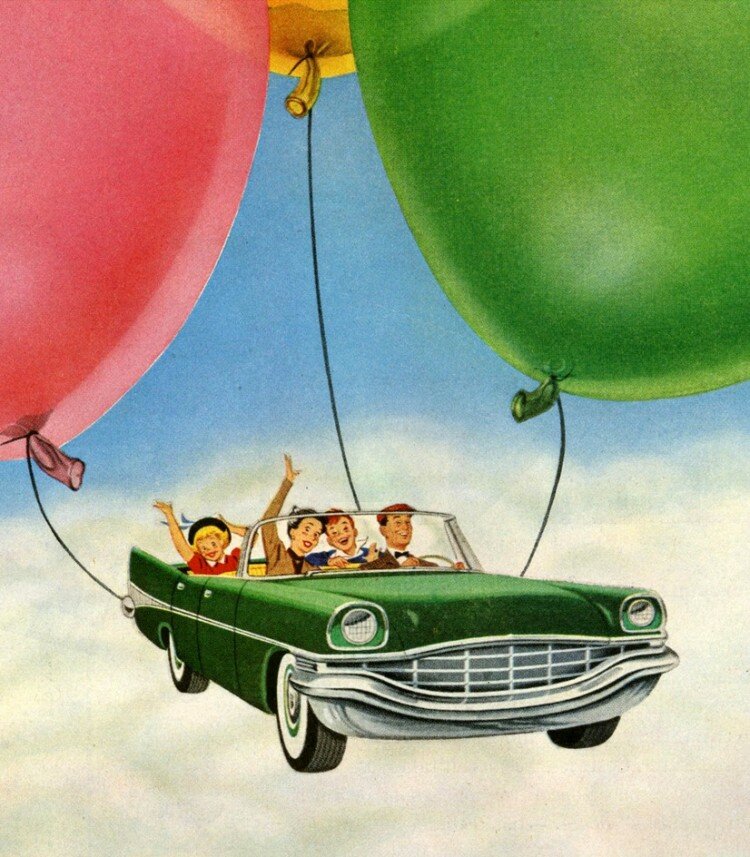 lived x laughed x loved x left
———————————————————-
The Line Between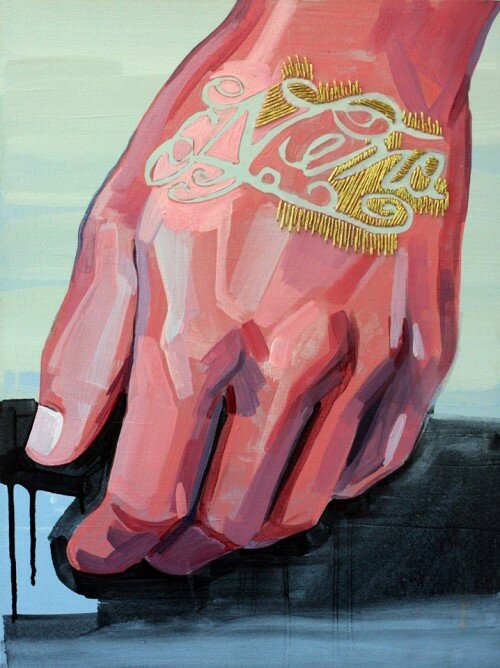 When: On view through June 29th, 2013
Where: SMFA, 230 The Fenway, Boston, Massachusetts 02115
How: Official Website
What/Why: The work of Jenna DeLuca–showing in conjunction with MFA students: Annie Blazejack, Chris Cavallero, Coe Lapossy and B Milder.
——————-
Open Studios at Porter Mill

(The Man in the Red Room, prior work of Peter Mack)
When: Saturday June 15th, 2013 10:00AM – 8:00PM
Where: Studios at Porter Mill, 95 Rantoul Street Beverly MA 01915
How: Official Website
What/Why: "10:00am – 4:00pm Explore the studios of fifty ceramists, painters, photographers, jewelers, musicians, printmakers and more! Meet the artists, ask questions, and purchase original works of art from the people who make them, where they make them. 
4:00pm – 8:00pm Join us on the first floor of Porter Mill for an evening celebration filled with art, food, drinks and music. A group exhibition featuring an artwork from each Porter Mill artist will be on display! Enjoy music by the fabulous Jay Daly Jazz Quartet!"
——————-
 Speed – Performance, Party, Fundraiser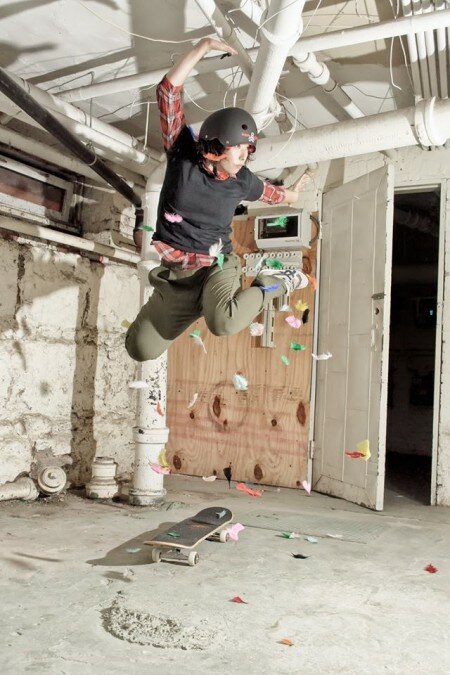 (sec Yuka Takahashi)
When: Saturday June 15th, 7PM
Where: Studio Soto, 10 Channel Center St, Boston, Massachusetts
How: Official Website
Cost: $20
What/Why: "Mobius will present an eclectic array of new works by Boston based artists. Come celebrate the last days of spring and help support Mobius. Light refreshments and a designer coffee bar will be set up for your enjoyment! 
Artists Include:Nathan Andary,BATHAUS + Magzilla,Jimena Bermejo-Black,Jessica Borusky ,Zayde Buti ,Callie Chapman,Ian Deleon,Ryan Hawk ,Sara June + Max Lord ,Jenn Pipp ,Tom Plsek + Randy Pingrey,Liz Roncka + Jason Sanford ,Matt Samolis ,Kirk Amaral Snow,Yuka Takahashi ,Tim Tsang "
——————-
History-Writer Meredith Kasabian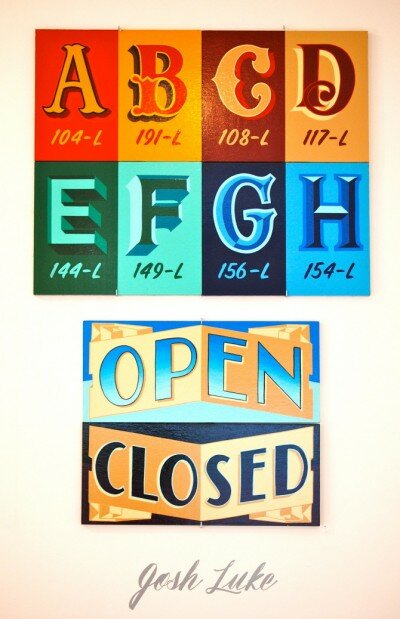 (Alphabet & Open Closed, designs by Best Dressed Signs)
When: Saturday June 15th, 2013 – 2:00PM
Where: ICA Boston, 100 Northern Ave  Boston, MA 02210
How: Official Website
Cost: Free with ICA Admission
What/Why: "Hand-painted sign historian, blogger, and co-founder of Boston's Best Dressed Signs and the Pre-Vinylite Society, Meredith Kasabian leads an introduction to the history of handcrafted sign painting in context with works on view in Barry McGee. Among her many distinctions, Kasabian and her business partner, Josh Luke, were awarded the "50 on Fire Award" by BostInno.com in 2013″
———————–
Collision 19: COmpress / DECompress
When: On view through July 28th, 2013
Opening Reception: Friday June 14th, 2013 6-9PM
Where: Boston Cyberarts Gallery, 141 Green Street, Jamaica Plain, Massachusetts
How: Official Website
What/Why: "Come join us at Boston Cyberarts Gallery for the opening of Collision 19: COmpress/DECompress. Featuring the work of Marios Athanasiou, Axes, Nathan Boyer, Zachary Clemente, Will Copps, Juan Escudero, Antony Flackett, Elizabeth Fuller, Rob Gonsalves, Nathaniel Hartman, Stephanie Hough, Bob Kephart, Paul Kinsky, Lauren McCarthy, Matteo Pasin, Hector Rodriguez, Jean-Michel Rolland, John Slepian, Mark Stock, Wayne Strattman, William Tremblay, and Emilio Vavarella"
——————-
A Sculptural Potluck

When: June 15th-16th, 2013 12-5PM
Where: Bartlett Yard on Saturday and HarborArts on Sunday
How: Official Website
What/Why: "The HarborArts & Bartlett Events partnership kicks off with a 2-day event on June 15-16 that will feature each space on its own day. 
What's a Sculptural Potluck? It's an event where you bring the art! We're asking everyone to bring empty spray paint cans to be turned into a temporary sculptural installation with the help of a local artist. 
BRING YOUR EMPTY SPRAY PAINT CANS! 
got a few spray cans lying around in the basement, studio, garage, or trunk of your car? have a backpack full of cans from your recent mural project at Bartlett's Mural Fest? BRING EM DOWN! We will be using the empty cans to create a community-built sculpture! 
We're also having an Art Swap! Bring a piece of art (whether you have made it or bought it) that you are ready to trade in and swap it for something brought by another participant.
Boston's own London Bridgez will be bringing her own unique brand of spoken word and soulful hip-hop"
——————-
Toxic Hollywood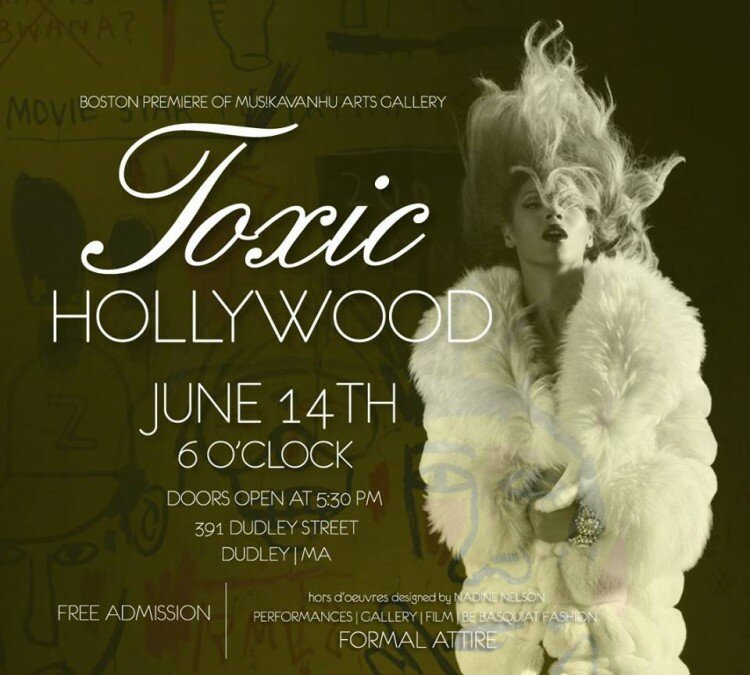 When: Friday June 14th, 2013 – 6:00PM
Where: Musikavanhu Arts Gallery, 391 Dudley St, Boston, Massachusetts 02119
How: Official Website
What/Why: "Mus!kavanhu Arts Gallery is a collective of artists from Roxbury and elsewhere drawn from a variety of arts discipline (i.e., visual, performing, and plastic arts, music, dance, theatre, photography, fashion design, martial arts, film, games, etc.), including artrepreneurs who have taught and written on the development of Small Business.
Strategically located along the Dudley corridor between Bartlett Place, Dudley Square, and Grove Hall, Mus!kavanhu Arts Gallery seeks to serve artists and residents across geographic areas thereby promote social stability for economic development. 
The mission of Mus!kavanhu Arts Gallery is to recognize, advance, and publicize the talent of our members; sustain the economic viability of urban culture; and support Roxbury artists as a business sector of the Creative Industries."
——————-
SEVEN: A Performative Drawing Project – Alexa Guariglia
(Alexa Guariglia and Ben Jundanian, Mural for Spirited Magazine at Fourth Wall Project, July 2012)
When: Artist-in-Residence, June 17-21
Opening Reception: Thursday June 20th, 2013 4-6PM
Where: Montserrat Gallery, 23 Essex Street, Beverly, Massachusetts 01915
How: Official Website 
What/Why: "Seven: A Performative Drawing Project, features seven artists who have been invited to draw directly onto one of seven walls in the Montserrat Gallery over a seven-week time frame between June 3 – August 8, 2013. This exhibit focuses on each artist's performative and personal approach to creating their site-specific artwork. During each installation the gallery will be open allowing for viewers to witness the artist's practice. " 
——————-
Gateway Art Presents!

(John, Kathleen Wells)
When: On view through August 24th, 2013
Where: Drive-By Projects, 81 Spring Street, Watertown, MA
How: Official Website
What/Why: "Drive-By Projects is proud to announce Gateway Arts Presents!, an exhibition that celebrates forty years of Gateway Arts creating careers for people with disabilities.
Gateway Arts is a studio art center in Brookline, MA where over 100 artists with disabilities come to work in a number of different art and craft disciplines. With assistance from professional artist/facilitators, individuals draw, paint, weave; make pottery, jewelry, wearable art and create sculptures from found materials. Most of the artists are self taught and have boundless creativity which is not hampered by artistic conventions.
Please join us in acknowledging the achievements of this internationally recognized organization and the artists it represents"
——————-
Sarah Smith – Gold Leaf Drawings and Sculptures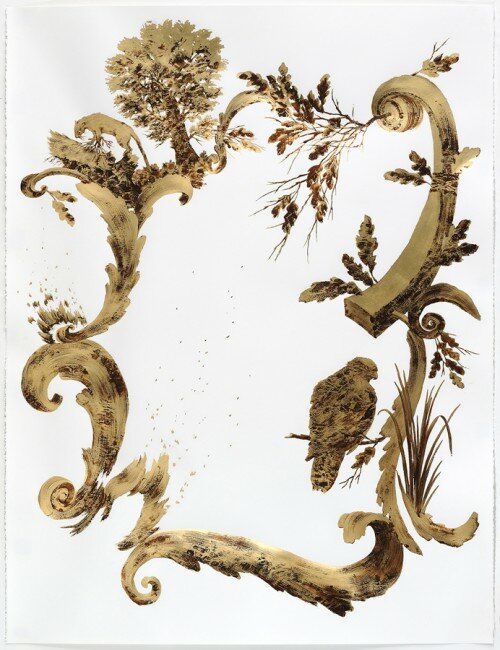 When: On view through June 15th, 2013
Where: Beth Urdang Gallery,  129 Newbury St. Boston, MA 02116
How: Official Website 
——————-
Guy Yanai: Lived & Laughed & Loved & Left

(Italy Losing)
When: On view June 20th through August 28th, 2013
Opening Reception: Thursday, June 20th 6-8PM
Where: LaMontagne Gallery, LaMontagne Gallery, 555 East 2nd Street, South Boston, Massachusetts 02127
How: Official Website
What/Why: LaMontagne Gallery is pleased to announce an exhibition of new paintings by Israeli artist Guy Yanai. -"For Guy Yanai, painting had always been related to looking, and hence the question "what are we looking at now?" At the moment, Yanai's answer is that we are looking at images through screens. Whether we are looking at tennis shoes or at a mountain in Japan, they are mostly absorbed in photographic form, mediated by a computer screen or that of an iPad or iPhone. In Yanai's case, they are later printed on sheets of A4 paper and hung in the studio, among other sources of inspiration. In fact, his subjects always exist in four formats simultaneously: in reality, on screen, in the studio, and on the support – so much so that one may say that the world outside relates to the studio in the same way that the digital screen relates to the canvas. And just like the screen and the studio that is enclosed between four walls – so is the canvas a rectangular, delimited, and disciplined space.
In Yanai's paintings, color underlies form. In his earlier works, the subject-matter was deconstructed into flattened and multi-layered constructs, and the paintings at large gave the impression of fortified walls, camouflaging the trace of the artist's hand. In their bold colors they expressed an optimism which was nonetheless misleading and even deceitful; and inasmuch as they externalized emotions and presented a reality, they concealed the very things they ostensibly expressed. In his current series, however, the color surfaces seem rather unfurled and melancholic. The brutality that was once hidden and repressed now surfaces to the foreground – a surface that is treated with only a single layer of color that seems at once spontaneous, mechanic, and rigid. The brushstrokes traverse the canvas in a multitude of stripes, evoking the artist's hand moving from left to right, automatic as a printer. If his eye is fixed on screens of digitally reproduced imagery, then his hand seems to reproduce on the canvas the mechanical process involved in making them. But it is precisely this attempt to achieve straight lines that betrays the hand-print of the artist, with the gradual weakening of muscles, the physical effort and inflamed tendon showing through – so much so, that the mimetic failure holds the very impact of the painting.
Yanai's paintings produce a system of tensions that, despite their inherent incompatibility, still insist on lodging side by side. His gaze wanders back and forth, moving between a micro- and macro-vision, a zooming-in and a zooming-out, with these aspects merged together in a way that a single tennis shoe looks remarkably like a mountain. The feral is mixed with the domesticated, and a boat sailing in an open sea may seem as artificial as the grass of a soccer field. Imagery derived from private and public realms are also mixed together, and, as both are subject to the same painterly regime, they both emit the same sense of alienation and closeness. Foreign places that the artist has never been to are given to the same gaze as the potted plant he once bought for the entryway of a building he once lived in.
In many respects, these are paintings of defeats: a single, isolated sports shoe, Italy losing, a grayish corner in a Shell station in an American suburb, well-kept artificial houseplants. Loneliness unravels its colors, which are both stark and melancholy, but through the distress evident on the surface we perceive a sense of liberty. It is, perhaps, because the painting itself has nothing more to lose; not quite defeated, it no longer fears its own failure and therefore prevails. – Hila Cohen-Schneiderman, May 2013″
——————-
Christopher Cavallero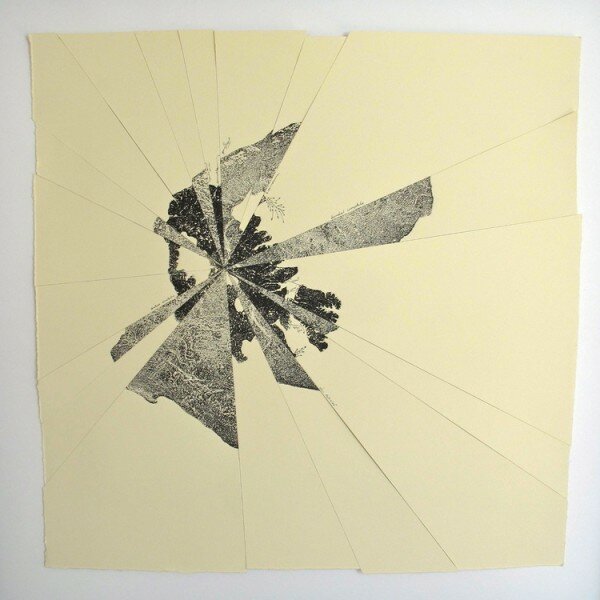 (Bimodal 1)
When: On view through June 29th, 2013
Where: SMFA, Barbara and Steven Grossman Gallery,  230 The Fenway, Boston, Massachusetts 02115
How: Official Website
What/Why: "Cavallero explores gaps and overlaps between science and art. His prints read like maps, graphite on panel as shifting diagrams, and stark drawings that capture moments in the history of space exploration are somber yet optimistic."
——————-
Painters Painting

When: Saturday June 15th, 2013 2 and 4PM
Where: MIT List Center, Bartos Theater, 20 Ames Street Building E15, Cambridge, MA
How: Official Website
What/Why: "Originally released in 1973 Painters Painting is considered by some to be the definitive documentary on the New York School of painters, from 1940-1970.  Director Emile de Antonio (Point of Order andMillhouse) interviews artists in their studios about their art from the periods of Abstract Expressionism, through Color Field painting to Pop Art.  Among the artists featured are Robert Rauschnberg, William de Kooning, Jasper Johns, Andy Warhol, Helen Frankenthaler, Frank Stella, Barnett Newman, Hans Hoffman, Jules Olitski, Philip Pavia, Larry Poons, Robert Motherwell, and Kenneth Noland.
This screening is presented in conjunction with the List's exhibition Alan Uglow: Standards and Portraits. This event is free and open to all."
——————
Serface: Summer Group Show

(installation view)
When: On view through July 23rd, 2013
Where: Barbara Krakow Gallery, 10 Newbury Street, Boston, Massachusetts 02116
How: Official Website
What/Why: "Featuring work by: Richard Artschwager, John Chamberlain, Jackie Ferrara, Sylvia Plimack Mangold, Liliana Porter, Robert Rauschenberg, Shellburne Thurber, Ana Tiscornia, Ursula von Rydingsvard"
Also on view..
Maggi Brown : New Paintings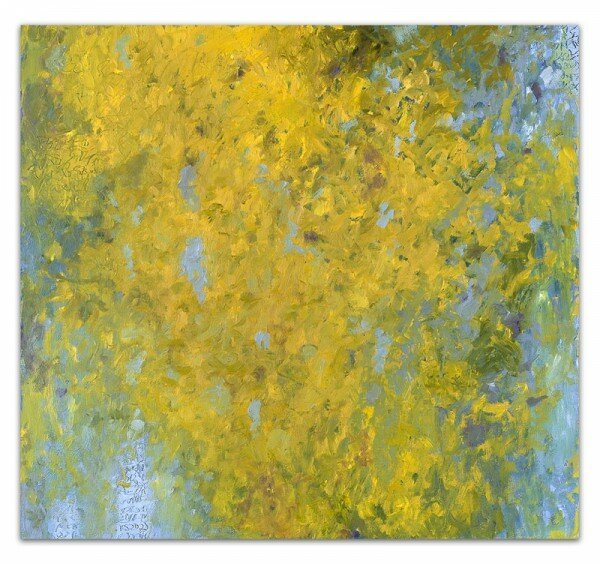 (Loose the Day Lilies)
——————-
Every Step You Take is Forever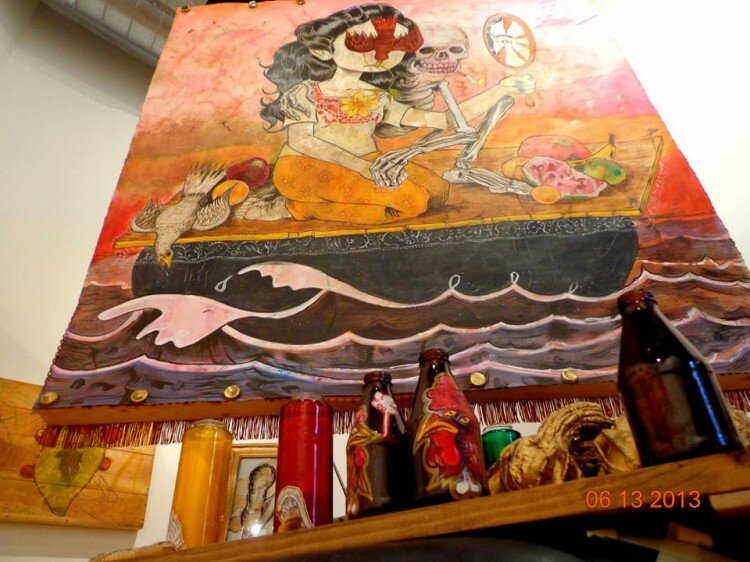 When: On view through August 15th, 2013
Opening Reception: Friday June 14 5-7pm (artist talk at 5pm )
Where: Essex Art Center, Elizabeth A. Beland Gallery, 56 Island Street, Lawrence, MA
How: Official Website
What/Why: "A site-specific installation by Raul Gonzalez with soundtrack by dieRadio"
———————————–
A Multi-Sensory Pop-Up Experience

(work of Percy 14e currently on view at Montserrat Gallery, photo via: Maggie Cavallo)
When: Friday June 14th, 8PM-Midnight
Where: Revere Hotel, Theater I, 200 Stuart Street, Boston, MA
How: Official Website
What/Why: "Art by: Jordan Piantedosi, Jay Forsythe, Percy 14E, and performances by: IN-Q, Nick Hakim, and Boston Tap"
——————-
Hi:
What a week!
I have some exciting news to announce on Monday about a whirlwind project I've been working on, The Foundry Equation.
Until then, save the last dance for me date: Next Saturday, June 22nd from 11-3PM.
Have a great weekend! ♥