elegant contortions x chimeric x mannerism x enduring visions
———————————
Elegant Contortions: Renaissance Prints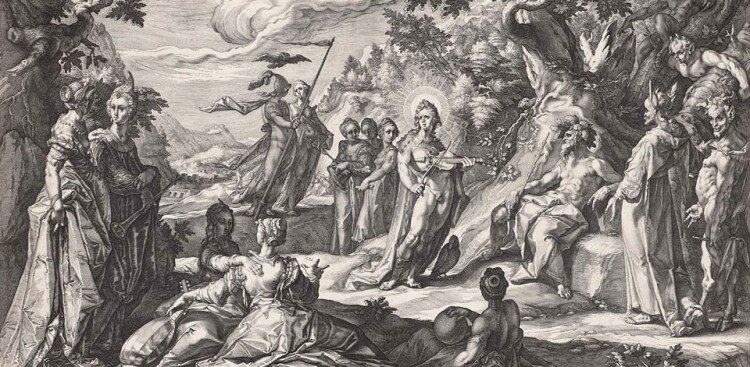 When: On view July 9, 2013–March 30, 2014
Where: Museum of Fine Arts, 465 Huntington Avenue, Boston, MA
How: Official Website
What/Why: "The international artistic movement known as Mannerism followed the High Renaissance. While the style of the early 16th century focused on serene balance, rational space, and proportion, Mannerism (popular between 1520-1620) was an art of extremes: elongated proportions, and exaggerated postures,  ultra-gracefulness, and titillating eroticism. This sophisticated and courtly style transformed printmaking as well as painting. Through the display of some 50 works from the MFA's collection, the exhibition will focus on Italian printmakers, such as Giorgio Ghisi; the French (and Italian) school of Fontainebleau; and Dutch engravers, such as Hendrik Goltzius, as well as the ultimate Mannerist printmaker, Jacques Bellange of Lorraine. Presented with support from the Benjamin A. Trustman and Julia M. Trustman Fund."
—————————
SEVEN: A Performative Drawing Project – John Gonzalez

(Family Meal)
When: Artist-in-Residence, July 8th-12th
Opening Reception: Thursday July 11th, 4-6PM
Where: Montserrat Gallery, 23 Essex Street, Beverly, Massachusetts 01915
How: Official Website 
What/Why: "Seven: A Performative Drawing Project, features seven artists who have been invited to draw directly onto one of seven walls in the Montserrat Gallery over a seven-week time frame between June 3 – August 8, 2013. This exhibit focuses on each artist's performative and personal approach to creating their site-specific artwork. During each installation the gallery will be open allowing for viewers to witness the artist's practice. " 
—————
 Michele Harvey | Steven Skollar | Anne Lilly

(The Fleets In, Steven Skollar)
When: On view through July 17th, 2013
Opening Reception: Friday July 5th, 7:00PM
Where: Rice / Pollak Gallery, 430 Commercial Street, Provincetown, MA
How: Official Website
What/Why: "The Rice Polak Gallery holds a prominent place in Provincetown, Massachusetts as one of the primary venues for contemporary art. Founded by Marla Rice and Richard Polak in 1992 the focus of the gallery is on the quality and context of artwork. Marla Rice assumed sole ownership of Rice Polak in 2005. The gallery represents a select group of emerging and established artists whose work is both contemporary and contemplative. The gallery is not media specific and shows a wide cross-section of artistic approaches, including, paintings, works on paper, sculpture, photography and installations. "
—————————
Pattern and Process

(Chevron & Copse 1 / Scape, Nina Tichava)
When: On view through July 28th, 2013
Opening Reception: Friday July 5th, 6PM
Where: Chase Young Gallery, 450 Harrison Ave, Boston, MA 02118
How: Official Website
What/Why: "A group show of gallery artists"
—————————
An Enduring Vision: Photographs from the Lane Collection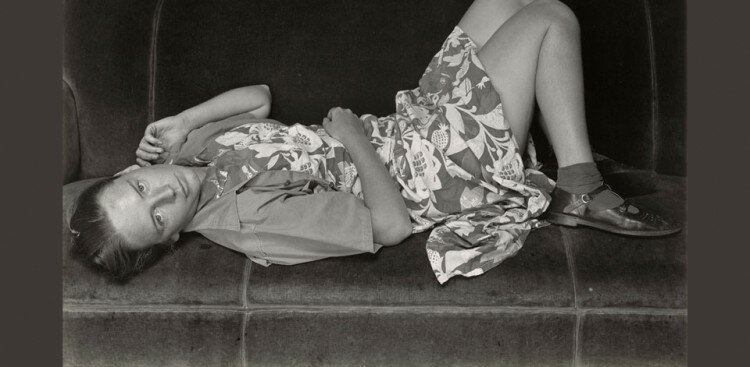 When: On view July 9, 2013–March 30, 2014
Where: Museum of Fine Arts, 465 Huntington Avenue, Boston, MA
How: Official Website
What/Why: "This exhibition celebrates the Lane Collection, renowned for its deep holdings of the work of major American modernist photographers, including Charles Sheeler, Edward Weston, and Ansel Adams—and given to the MFA by Saundra Lane in 2012. In addition to the early 20th-century American works assembled by William H. and Saundra B. Lane in the 1960s and '70s, the collection includes photographs that Saundra Lane acquired after her husband's death in 1995. This wide-ranging group includes works by early European master William Henry Fox Talbot, the 19th-century inventor of positive-negative photography, all the way up to contemporary artists, among them Robert Adams, Francesca Woodman, Kenro Izu, Irving Penn, and others working today. This exhibition—a lively mix of early and late—highlights both sides of the collection, as it juxtaposes classic modernism with 19th-century European images, turn-of-the-century soft-focus Pictorialism, and strong contemporary work, exemplifying the ways that a highly personal vision like the Lanes' is transformed over time."
—————————
Linda Leslie Brown: Chimeric

(Chimeric Young 2)
When: On view through July 28th, 2013
Opening Reception: Friday July 5th, 2013 5:00-7:30PM
Where: Kingston Gallery, 450 Harrison Ave, Boston, MA 02118
How: Official Website 
What/Why: "Linda Leslie Brown's sculpture and installations reimagine intersections of humans with nature. The work is biased toward process: growth, change, and falling apart. This installation, "Chimeric" signals transformation and interdependence as symbiotic modes of being joined with nature- in a world where many people imagine they are separate from it. The sculptures are literally alive, as habitats for growing plants rooted and clinging to their surfaces. Umbilical swags of Spanish moss connect the works in the installation to one another, to their smaller "young" and to the space they inhabit. These works display a deceptive insouciance, undercut by the strange hybridity they embody. They are chimeric: like mythological beasts or genetically engineered mutations, they are "trans" beings."
Also on view..
Rachel Thern: Curves

(Curves 5)
—————————
Abigail Anne Newbold: Crafting Settlement
(Home Maker Series II, prior work by Abigail Anne Newbold)
When: On view through July 14th, 2013
Where: Currier Museum of Art, 150 Ash Street, Manchester, NH 03104
How: Official Website
What/Why: "Abigail Anne Newbold melds a mastery of traditional craft techniques with a modern design aesthetic to create thought-provoking installations centered on themes of domesticity, self-sufficiency, and artisanal production. The Currier will host Newbold's first solo museum exhibition, Crafting Settlement, which will transform the museum's Scheier Gallery into a showroom of unique and finely made products for living on the fringes of organized society. Newbold's survival line of handmade and modified found objects will feature modular timber-frame dwelling structures, textile garments, elegantly crafted tools of wood and metal, and a covered wagon pulled by a bicycle. Evocative of high-end retail display and traditional museum period room tableaus, Newbold's installation will complicate the romantic vision of a self-sufficient lifestyle by including impractical and at times humorously absurd objects, such as a fashionable cropped fur jacket and a hand pump-powered fire hose. Synthetic materials will be prominent among the customized and handcrafted objects on display, overturning the notion of craft production as independent from industrialized society. Newbold's installation stages one visionary possibility for living within our complex socioeconomic environment and invites visitors to imagine their own.
Currently based in Massachusetts, Newbold has recently exhibited at the Society of Arts and Crafts, Boston; the Pennsylvania Academy of Fine Arts, Philadelphia; and the Museum of Contemporary Art Detroit. Newbold received a 2012 Artist Award from the Boston Society of Arts and Crafts and a 2009 Kresge Artist Fellowship, among other distinctions. Newbold earned a BFA from Massachusetts College of Art and Design in Boston and an MFA in Fiber from Cranbrook Academy of Art in Michigan.
The Contemporary Connections series features new work by early- and mid-career artists from New England made in dialogue with the Currier's collection, architecture, and regional histories and location. These projects offer museum visitors expanded perspectives on contemporary art making and invite them to consider the dynamic linkages between past and present art practices and cultural histories."
Also on view..
Poster Mania! Leisure, Romance and Adventure in 1890's America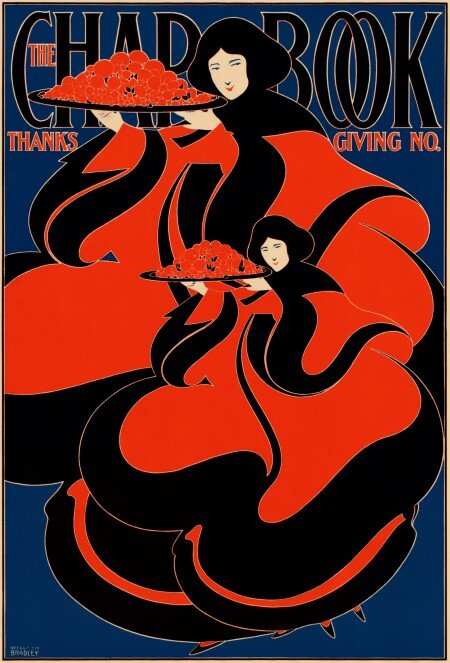 (The Chap-Book, Thanksgiving Number, William H. Bradley)
What/Why: "Edward Penfield created his first art poster 120 years ago to announce the April 1893 issue of Harper's monthly magazine. Magazine and book publishers rushed to follow Harper's lead producing a flood of bold and dazzling placards to announce their latest offerings. These artful, witty, often humorous graphic images inspired the poster mania that gripped the nation in the mid-1890s. The eager public clamored to collect, trade, display and critique the dramatic, ever changing designs. Artists became famous overnight for their personal styles, and they competed in poster competitions. One of America's most popular artists of the early twentieth century—Maxfield Parrish—first emerged as an award winning poster designer and is represented in the exhibition by several works, including two he did for the state of New Hampshire.
Posters captivated the booming urban middle class and their interest in leisure activities like reading, bicycling, golf and sailing. Competing publishers and their fashion conscious designers helped introduce the public to the avant-garde European art styles of the day. Posters by Edward Penfield and Will Carqueville reflected the influence of French post-impressionists in their use of areas of bold, contrasting color. The sinuous lines and elaborate patterns of designs by Will Bradley and Louis John Rhead were inspired by the trendy new styles of French art nouveau and English arts and crafts. Female artists like Ethel Read and Blanche McManus struck a chord with the rapidly growing population of women readers. Even paintings by artists like Frederick Remington and Everett Shinn were reproduced as posters.
This selection of more than 90 posters from the Currier's collection includes some of the most popular and sought after posters from the 1890s. Many are from the collection of Manchester resident Orien Dodge, who gave the Currier Museum 280 original posters in 1943."
—————————
In/Sight
(Light Eye Mind)
Opening Reception: Saturday July 6th, 2013 6:00-11:00PM
Where: Blanc Gallery, 110 Brookline Ave, Cambridge, MA
How: Official Website
What/Why:"IN/SIGHT evolved out of an interest in the alternative products of the art making process, those things created other than the art object itself. This interest led to an investigation of process driven art, participatory art, and art that produces innovations, scientific advancements, and a deeper understanding of our environment and ourselves.
The work chosen for this show is expansive. Each piece exists in multiple formats, exploring an idea through different modes, methodologies and media. They are not simply displayed but experienced. The viewer completes these works and in many ways the works are intended to remain with the viewer as well.
The broad range of styles and media represented is meant to highlight the array of new pathways that contemporary art has begun to forge. These artists are key players in the dialogues occurring between art and science, traditional and new media, artist and audience, creation and education. They represent the energy and passion driving the new form and place of art in the contemporary world.
These works require an active audience, viewers that are willing to join the conversation.  They are meant to incite your imagination and to leave you with some insight of your own. We invite you to immerse yourself in the experience and fully engage in the interaction. "
————————–
SNAC at Warwick Museum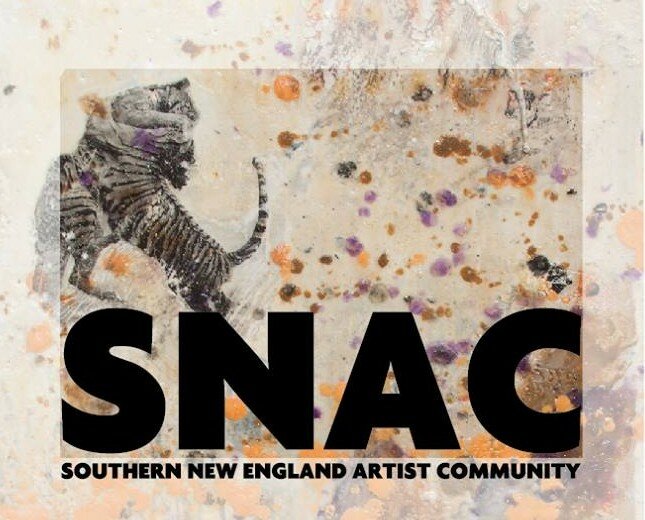 When: On view through August 1st, 2013
Opening Reception: Wednesday July 10th, 2013 6-8PM
Where: Warwick Museum of Art, 3259 Post Road, Warwick, RI
How: Official Website
—————————
Collection/Reflection
When: Saturday July 6th, 2013 11am-3pm
Where: White Ellery House, 244 Washington St., Gloucester, Massachusetts
How: Official Website
What/Why: "The Cape Ann Museum is pleased to present Collection/Reflection by Mary Rhinelander, a contemporary art installation at the White-Ellery House. This program is free and open to the public as part of Escapes North's 17th Century Saturdays. 
The installation will focus on an assortment of items Rhinelander has collected throughout her life. Bottle caps, Mussel shells, Aprons, Sea glass and Mirrors, among other things, will be carefully arranged. 
The White-Ellery House was built in 1710 and is one of just a handful of First Period (c.1620-1725) houses in Eastern Massachusetts that survives to this day.  It is a 2 ½ story "saltbox" structure with a massive central chimney that once serviced six fireplaces. Unlike other structures as old as this, the White-Ellery House has had very few interior alterations over the years. Stepping inside today, visitors enter much the same house they would have 300 years ago.
The house was built for the Reverend John White (1677-1760), brother-in-law of Cotton Mather, former Chaplain at Fort Saco, author of New England's Lamentations (1734) and Gloucester's first settled minister. It is on the National Register of Historic Sites because of its unique construction and important interior features."
—————————
Summer Color

(Obie Simonis)
When: On view through August 17th, 2013
Opening Reception: Thursday, July 11, 6 – 8pm
Where: Brickbottom Gallery, 1 Fitchburg Street, Somerville, MA 02143
How: Official Website
What/Why: "Artists include: Sherry Autor, Lois Blood Bennett, Marian Dioguardi, Kara Fall, Lois Fiore, Shannon Forrester, Jen Fries, Wally Gilbert, Kate Harmon, Charlotte E. Kaplan, Bill Kipp, Caroline Kipp, Katrien Kolenberg, Jerry Lainoff, Daniela DesLauriers, Pauline Lim, Piotr Parda, Ted Prato, Anne Russell, Erika Schwarz, Obie Simonis, William Turville, Tim Wilson, Gabriella Zlocki. Summer is about strong light and saturated color. Painting, photography and sculpture celebrates the brightness of the season."
—————————
MFA Thesis Exhibition

(The work of Lindsey Kocur)
When: On view through July 27th, 2013
Opening Reception: July 11, 6–8 pm; Artist talks: July 11, 5:30 pm
Where: Barbara and Steven Grossman Gallery, SMFA, 230 The Fenway, Boston, MA 02115
How: Official Website
What/Why: Featuring works by Lindsey Kocur, Emily Lombardo, Katrina Majkut, Heather Renken "This spring and summer, the joint Master of Fine Arts degree program of SMFA and Tufts University celebrates the work of its graduating students with a final thesis exhibition. Through in-depth presentations of artwork developed during the two-year program, these talented MFA students explain their creative process and development through artistic representation. With a robust class of over 60 graduates, SMFA-Tufts thesis exhibitions take place throughout the spring and summer at galleries around Boston. Admission to exhibitions and related events is free and open to the public."
—————————–
Highland Street Free Fun Fridays

(Okawa Village, Kochi Prefecture, Toshio Shibata)
"Free fun fridays invites Massachusetts residents and tourists to visit designated cultural attractions every Friday this summer with free admission. No registration or tickets required. Visit and enjoy!"
Free attractions for July 5th, 2013:
MASS AUDUBON'S BOSTON NATURE CENTER
CAPE COD MUSEUM OF ART
MARTHA'S VINEYARD MUSEUM
CHILDREN'S MUSEUM AT HOLYOKE
VOLLEYBALL HALL OF FAME
PEABODY ESSEX MUSEUM
—————————
Epoch

When: Friday July 5th, 2013 6:00PM
Where: Anthony Greaney, 450 Harrison Ave, Boston, MA 02118
How: Official Website
—————————
Wired to the World:
EMAIL | TWITTER | FACEBOOK | INSTAGRAM | PINTEREST
TGIAF?
I realize the week isn't officially over, but I don't feel like spending my Friday in front of a computer. Do you?
Didn't think so. B-)
Have a great weekend. Enjoy the fireworks. Stay Safe. See art! ♥