fallen x tunnel vision x the bride wore black x self illuminated
—————————————-
Water, Water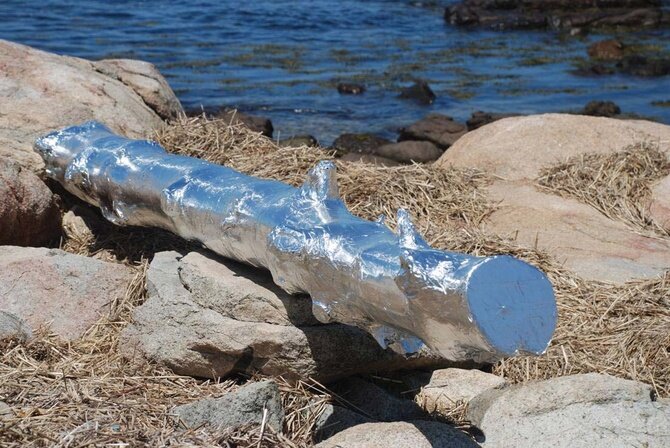 (Wrapped Stick N 42 degrees 39.770' W 070 degrees 40.811' , Sarah Hollis Perry and Rachel Perry Welty)
When: On view July 14th through September 30th, 2012
Where: Cape Ann Museum, 27 Pleasant Street, Gloucester, MA 01930
How: Official Website 
What/Why: "Water, water is the first collaborative museum show for mother-daughter artists Sarah Hollis Perry and Rachel Perry Welty. In addition to maintaining separate practices, Perry and Welty have been working collaboratively since they overlapped as students at the School of the MFA, Boston in 2000. They have two permanent sculptural installations at Tufts University in Medford, Massachusetts.
Perry and Welty organized and filmed their video performance "Drawing a Line with the Tide" in July 2011 using eighty volunteers from the seaside village of Annisquam in Gloucester, Massachusetts where they both live. Moving to avoid the inevitable, the performers demonstrate a futile attempt to control nature with its stubborn adherence to the circling of time.
Included in the installation are three short films in which the artists explore aspects of identity and the complexity of the mother-daughter relationship of dependence, independence, and interdependence."
————————————–
Tunnel Vision
When: On view through July 27th, 2012
Opening Reception: Friday July 13th, 2012 7-11PM
Where: Lot F Gallery, 145 Pearl St #4 Boston, MA. 02110
How: Official Website
What/Why: "Jamie O'Neill has always felt compelled to create bold, eye-catching images. In Tunnel Vision, opening July 13, 2012 at Lot F Gallery, O'Neill will show a new selection of train tunnel, freight train, and cityscape paintings. 
Drawing upon memories of painting trains in his youth, O'Neill conveys the impressive scale and saturated colors in his hyper-realistic paintings. The play of company logos and graffiti pieces on one canvas highlight the color relationships, and the variety of patterns, and textures found in both streamline worlds of graphic design and graffiti. O'Neill often paints seldom frequented urban areas. "There's a certain kind of atmosphere that pervades into discarded, or out of reach places" says O'Neill. Using extended perspective and without figures, O'Neill creates his own hyper reality. His deep knowledge of his subject and acute attention to detail bring these paintings to life, evoking a sense of awe and passion. Where realism falls short, bordering on reality, O'Neill's work seems to border on fantasy. 
Raised on Nantucket and the South Shore, Jamie O'Neill moved to Jamacia Plain in 1998. Spending the next ten years there, he earned his BFA from the Art Institute of Boston, and has shown at various locations around the city. After leaving Boston in 2008 he lived in San Francisco and then Brooklyn. Jamie has recently returned to the area with his wife and son."
————————————–
Fallen Cave Paintings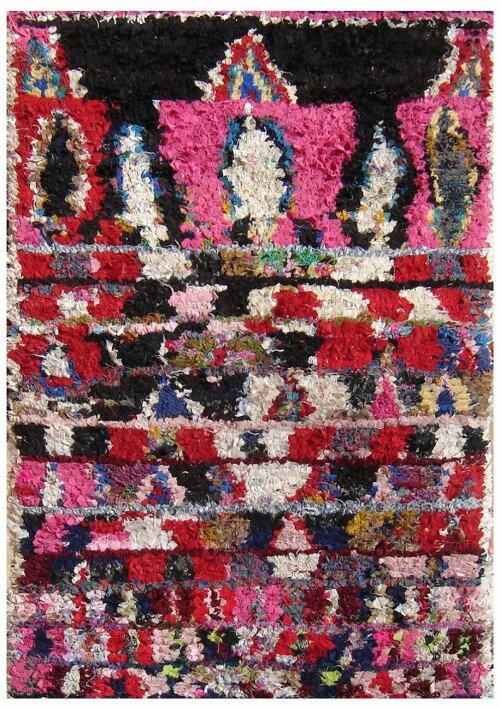 When: On view through August 30th, 2012
Opening Reception: Thursday, July 19th 5:30-8:30 PM
Where: FPAC Gallery, 300 Summer Street, Boston MA 02210
How: Official Website
What/Why: "A three-woman exhibition featuring the adventure art of American artist Terra Fuller ("Touria") and the hand woven carpets of her two nomadic carpet weaving mentors, Zahra Ait Eshu and Mouhou Boussine, a cave dwelling nomad and subsistence farmer from Morocco are presented together in the exhibition Fallen Cave Paintings: Mouhou, Touria, and Zahra  at the FPAC Gallery at 300 Summer Street. The FPAC Gallery is the final of four stops on The Moroccan Carpet Caravan, a tour that has the weavers traveling to New Orleans, Indiana, Santa Fe and Boston for a variety of carpet weaving workshops, sales, and exhibitions.
The gallery floor is covered with carpets, walls hung with drawings, collages and Fuller's documentary video Living with Barbarians and Cave Dwellers (31 minutes) is projected on the gallery wall. Gallery lights are focused on the floor and asks viewers to rearrange the common gallery space, shift our eyes downwards, and remove our shoes, symbols of humility and respect. The bare wooden floor, which is usually trodden upon and left dirty, is swept sparkling clean and is the center of attention. Viewers are encouraged to sit and walk upon the floor art if they remove their shoes at the entrance to the gallery.
The exhibition title evokes prehistoric cave paintings and modern day "untrained" artists, Lynda Benglis's dripped paintings that puddle on the floor and the deconstruction of painting, and the pairing of postmodern painting and ancient art of textiles. Amazigh (the indigenous culture of North Africa and Morocco, as opposed to Arabic language and culture) carpets often appear gestural, dripping, and spontaneous, though they take months to weave and require painstaking attention to detail. As slow paintings, viewers examine time and technique. Some are misshapen, often not standard squares or rectangles, because of lopsided wooden looms. The carpets are valued for their warmth for sleeping, not for their tight weave, as are Oriental carpets. Therefore, Mouhou's and Zahra's carpets are shaggy and expressionistic with an inventive array of textures, materials, designs and sizes.
The carpets are not created for art consumption or the commercial sphere but for their families, to be displayed as functional items in private spaces. In Morocco, girls waiting for a husband weave carpets to take to their future husbands home. Newlyweds sleep on the carpets, babies are conceived and are born on the carpets and the elderly pass away on the carpets. In other words, the entire cycle of life from conception to death takes place on these carpets."
————————————–
02127/02210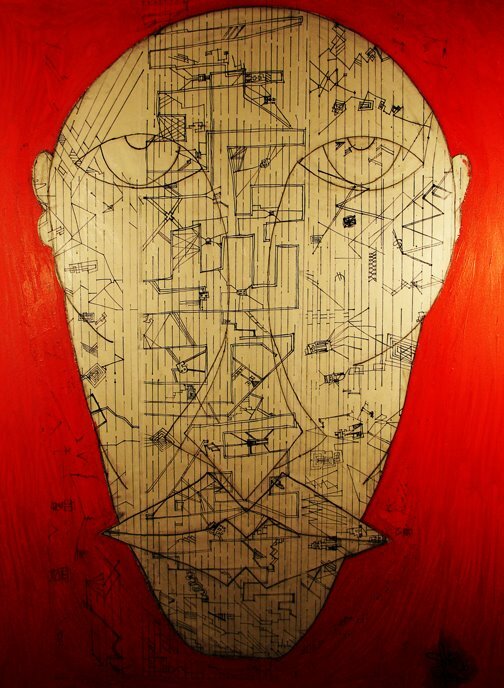 (prior work of Ivan Fernandez)
When: On view July 14th through August 20th, 2012
Opening Reception:  Saturday,  July 14th- 5pm to 7pm
Where: Medicine Wheel Productions, Spoke Gallery, 110 K Street, 2nd Floor, Boston, MA 02127
How: Official Website 
What/Why: "02127/02210 is an annual summer exhibition featuring the artists who live and/or have their art practice based in the zip codes of South Boston.
Last summer, Medicine Wheel Productions featured in its Spoke Gallery a photo exhibition entitled,Southie is My Home Town. It was a show of portraits of the diverse and amazing people who call South Boston their home. The images were taken by South Boston residents and Medicine Wheel affiliated photographers Richie Dinsmore and Brian McCarthy.  Several of the people featured in the exhibition were artists from 02127 & 02210. The 02127/02210 annual exhibition grew out of the Southie is My Home Town Project.
This first 02127/02210  is "tipping the hat" to twelve of the many artists who have been making South Boston's two zip codes a better place for art and culture (often times at the expense of their own studio time). Many of these participants run galleries based in the community, administer the annual open studios,  make a point to help other artists on a regular basis, have helped to found our area arts associations, serve on neighborhood boards/committees, and/or run our neighborhood arts organizations. Without their efforts, our community would  be a less vibrant place."
————————————–
Best In Show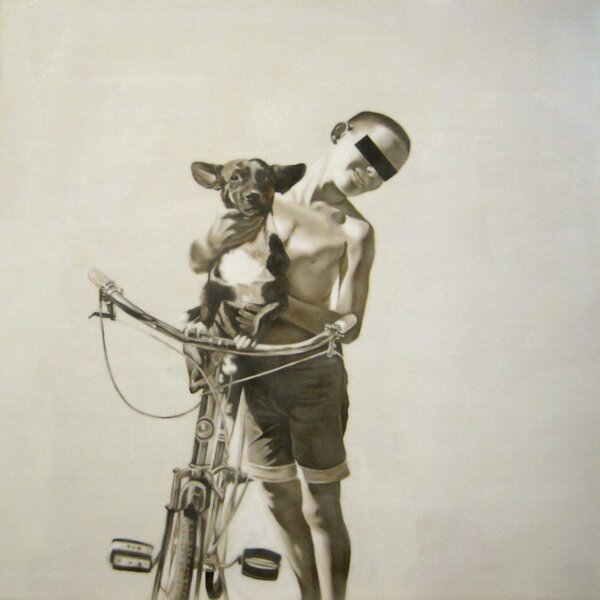 (Jhina Alvarado, Jojo the Wonder Dog)
When: On view through August 11th, 2012
Pet Friendly(!) Opening Reception: Saturday July 14th, 12-4PM at MSPCA Angell Animal Medical Center
Where: Lanoue Fine Art, 125 Newbury Street, Boston, MA 02116
How: Official Website
What/Why: "An exhibition and sale of paintings, sculpture, photography and mixed media to benefit the MSPCA-Angell Animal Medical Center"
——————————
Arts in the Park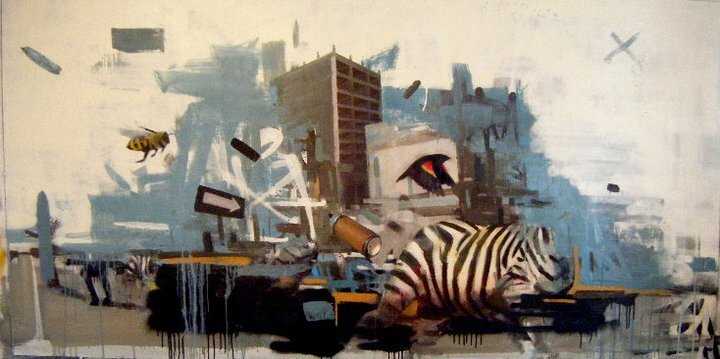 (prior work of Percy 14e Wright)
When: Saturday July 14th, 2012 3-8PM
Where: Washington Park/Malcolm X Park, Roxbury, MA
How: Official Website
What/Why: "Some call it Washington Park, others say Malcolm X Park…either way we will be there on July 14, with over 15 artists painting LIVE!!! As you add yourself to the attendance we will drop the names of the artists and entertainment! Here is the list of just some people that will be there painting! Adam Bullock, Stephen Hamilton, Amina Shaw Moss, Aziza Robinson-Goonight, Takii Samuels, Wilton Tejada, Nick Johnson, Shanti Williams, Leon Dorsainvil, Sneha Shrestha, GOfive Thethird, Gary Chen, Ian Stewart, Adahn Stewart, Edward Cabera, Sherwin Long, Acoma Colon, Percy 14e Wright, MerkThose, Joel Lewis, Lee Beard, Josh Durant, Destiny Palmer, Raodee Rekloos and more!"
——————————–
Bizzare Artist Happening
When: On view through August 18th, 2012
Opening Reception: Thursday July 19th 7­-10pm
Where: Atlantic Works Gallery, 80 Border Street, 3rd floor, East Boston, MA 
How: Official Website 
What/Why: "As featured by Ben Lewis in his TateShots video of the 2011 Venice Biennale, The Biennial Project mobilizes a posse of shit-kicking international artists for Bizarre Artist Happenings. Expect a rousing good time with The Biennial Project's cast of loonies, ne'er-do-wells, circus freaks, sex-workers, debutantes, opium-smoking rich eccentrics, aging hippies, pill popping Moms, gender rebels, lumberjacks, the gays, cold-hearted euro trash, dreadlocked trustifarians, horny Boy Scouts, gamers and burners, addicts and of course "'Americas' Next Top Models'."
————————————–
Let's Talk About Bikes

When: On view through August 31, 2012
Where: BSA Space, 290 Congress St, Boston, MA 02110
How: Official Website 
What/Why: "Bicycles are everywhere. The last two years have seen the rollout of a comprehensive bike-sharing program in Boston, along with enormous growth in bike infrastructure and ridership—developments that mirror trends in cities across the globe. BSA Space examines these changes in the urban realm with Let's Talk About Bikes.
The exhibition investigates themes of production, use and impact. The region's expanding collection of bicycle fabricators ranges from one-person frame shops to internationally recognized custom manufacturers. Admire the craft, beauty and innovation of bikes by Firefly Bicycles, Parlee Cycles, Royal H Cycles, Saila Bicycles and Seven Cycles. A Hubway bike, Montague's folding bike and MIT Media Lab's GreenWheel Electric Bicycle Electric Power Module demonstrate new ways the bike can have an impact on Boston's transit systems.
Let's Talk About Bikes explores the many urban cultures spawned by the bicycle: alternative societies such as SCUL; leisure riders and events like Hub on Wheels; community educational groups such as Cycle Kids; the work cultures of pedicabbies and bicycle messengers; and enthusiasm for cycling demonstrated through clubs, teams and races.
The expansion of urban biking raises broader transit-related questions about the relationship of bicycles to urban and environmental public policy. The exhibition examines this theme, from the Complete Streets movement to advocacy activism to concerns raised in Boston's larger community about roadway use. Let's Talk About Bikes presents many stories and outlooks in order to raise awareness and questions about the role of the bicycle in cities today.
The humble bicycle has become a major player in the ongoing international debate on urban change in the 21st century. Are we making too much of it? Or too little?
Also, please tell us why you do (or do not) cycle in Boston at letstalkaboutbikes.com. You will be entered to win a Montecore bike by State Bicycle.
Cambridge Seven Associates is a leading sponsor of exhibits at BSA Space. Atlantic Wharf is also a sponsor of Let's Talk About Bikes.
Exhibit curated and designed by Chris Grimley, Michael Kubo, and Mark Pasnik of over,under."
————————————–
Art of the White Mountains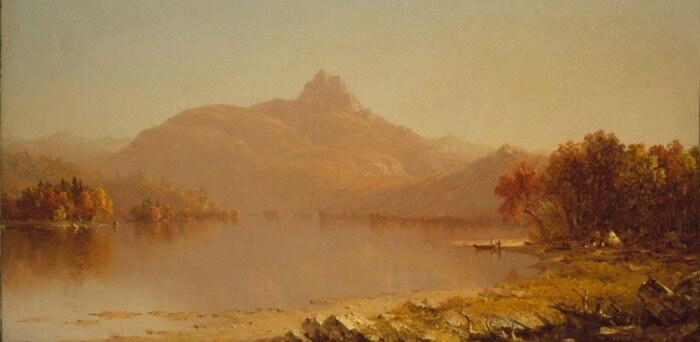 When: On view July 14th, 2012 through July 7th, 2013
Where: Museum of Fine Arts, 465 Huntington Avenue  Boston, MA 02115
How: Official Website 
What/Why: "Beginning in the first decades of the nineteenth century, artists and writers were drawn to the pristine beauty of north New Hampshire's natural wonders: majestic peaks in the Franconia and Presidential ranges crowned by Mount Washington, the highest summit in the northeast; Crawford, Pinkham, and Franconia "Notches"—dramatic, narrow passages between the mountain walls; and spectacular waterfalls such as the Flume Gorge. Early landscapists including Thomas Doughty, Thomas Cole, and Benjamin Champney, later masters Winslow Homer and George Inness, and twentieth-century modernists such as William Zorach, were all inspired by the singular topography of the White Mountains. Indeed, the list of painters who went there reads like a "who's who" of American art.
Drawn from the MFA's rich collection, "Art of the White Mountains" examines the allure of the area for artists for over a century and a half. Works ranging from exquisite, intimate sketches of the region's flora and geological formations to panoramic vistas of the expansive landscape will be featured in a selection of oil paintings, drawings, prints, watercolors, sketchbooks, photographs, and rare books.  This varied material offers the opportunity to consider the changing stylistic approaches as they evolved over time from Hudson River School painters to early modernists, the influence of legends or history on choice of subject, and issues such as the rise of tourism in the area and its impact on artists."
————————————–
 The World According to Derrick: Performative Objects in Formation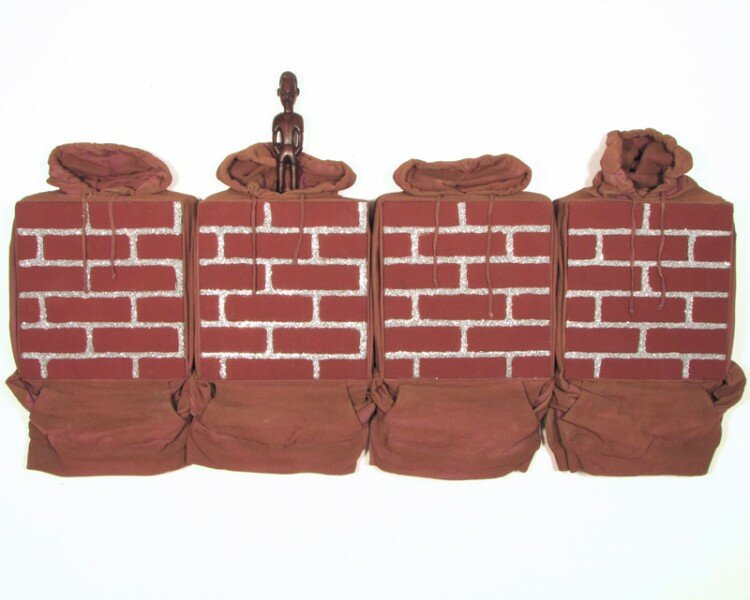 (Four In One (The Same League), Derrick Adams)
When: On view through September 23rd, 2012
Opening Reception: Friday July 13th, 2012 7-9PM
Where: Mills Gallery, Boston Center for the Arts, 539 Tremont Street, Boston, MA 02116
How: Official Website 
What/Why: "In his first exhibition in Boston, the New York based multidisciplinary artist Derrick Adams will display sculptural objects, photographs and video documentation from performances, along with performative-related sculptural works. This collection of diverse works, representing over a decade of artistic production, possesses the traces of human embodiment and its transformative nature. Visitors will not only experience the world from Adams' viewpoint, but also with a performative aspect that will bring the objects and artworks to life. Surpassing the limits of medium specificity, the artist's practice generates a network of subtle references, allusions and hints that tap into numerous registers of experience. Shedding light on persuasive, performative and often duplicitous identities, as well as on architectural objects and iconography, the work he creates also reflects the relationship between man and monument as they coexist in the landscape as representations of one another."
Feed Them With a Long Spoon – Friday, September 7 | 7pm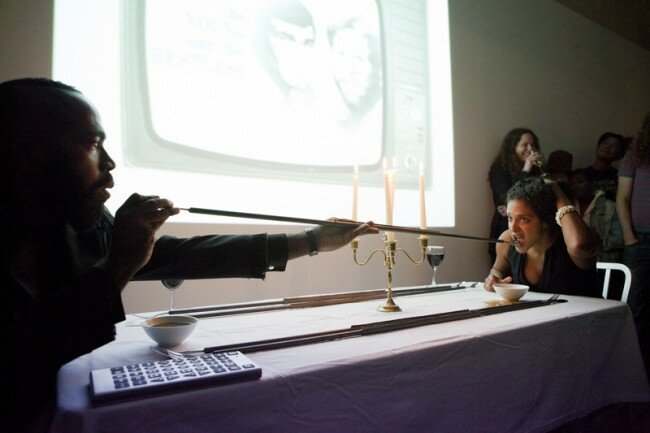 ————————————–
Seven: A Performative Drawing Project 

(Nothing Is True, prior work of Raul Gonzalez) 
When: On view through August 3rd, 2012// Raul Gonzalez III July 16th-20th
Raul Gonzalez Reception: Thursday July 19, 4 – 6pm, Gallery Talk at 4:30pm
Where: Montserrat Galleries, 23 Essex Street , Beverly, Massachusetts 01915
How: Official Website
What/Why: "Seven weeks, seven walls, and seven artists invited to 'draw' directly onto the gallery walls. This project highlights the performative aspects of drawing and the individual nature of each artist's process. The gallery will be open during the making of the works, effectively putting the creative process on display. In this context, the finished drawings are the residue of the performance."
————————————–
Dean Nimmer: Cloud 9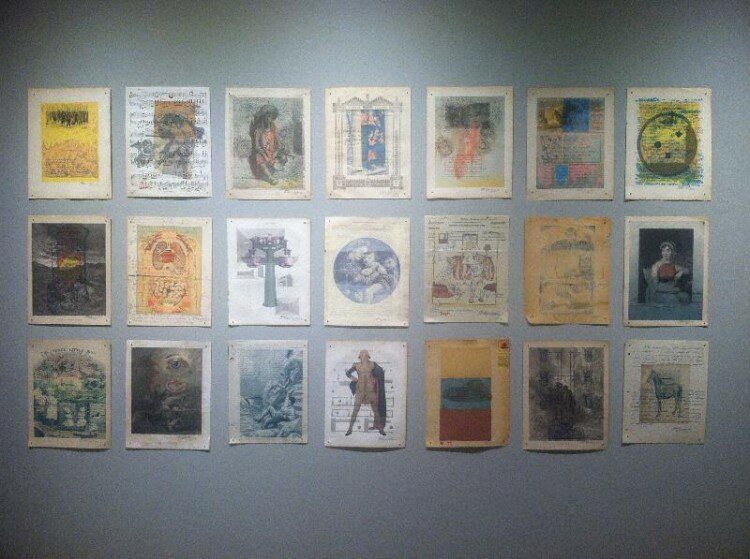 When: On view through August 9th, 2012
Where: Montserrat Galleries, Carol Schlosberg Alumni Gallery, 23 Essex Street , Beverly, Massachusetts 01915
How: Official Website
What/Why: "Cloud Nine by Dean Nimmer, an installation of 36 drawings from the 1000 Drawing series arranged in a grid upon the wall, as well as a grid of 21 mixed media printed works accompanied by 5 of Nimmer's recent mixed media paintings. Nimmer's works do not fit in the categories of abstract or expressionist painting in a traditional sense.  However, Nimmer prefers the phrase "intuition painting" because it is directly tied to the creative process itself.  Intuition is the wellspring and inner voice that guides throughout all aesthetic decisions, and this blind creative exploration allows Nimmer to be surprised by the outcomes.  The works are left open to viewer interpretation, as their impressions enrich Nimmer's own artistic experience, but his highest achievement is to have his audience see something in his work that inspires them to create."
————————————–
Earth Stories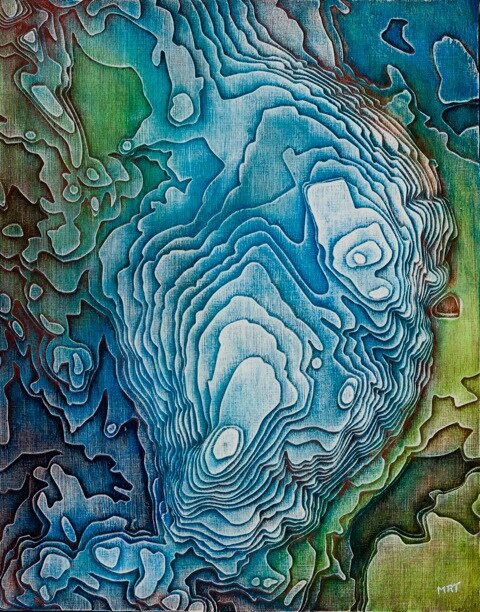 (Neutaconkanut Hill – Providence, Michal Truelen)
When: On view through August 30th, 2012
Opening Reception: Thursday July 19th, 2012 6-8PM
Where: Peregrine Gallery, 150 Waterman St. #6, Providence, RI 02906
How: Official Website
What/Why: "Peregrine Gallery is pleased to present "Earth Stories", a solo exhibition by artist Michal Truelen.  The exhibition runs from July, 9th, 2012 – August 30th, 2012 at 150 Waterman St #6, Providence RI.  Please come out for the opening reception July 19th from 6-8pm to meet the artist.  Peregrine Gallery is pleased to be part of Providence Gallery Night and the reception coincides with the July gallery night festivities.
   Truelsen's paper bas reliefs – layers of paper, cut, glued and coated with color and acrylic medium – are created from her interest in topographical maps of the earth.   Her work inspires viewers to pay a fresh kind of attention to the environment they live in by providing a masterfully colored giant's eye view of some very familiar places.  Included in this show are pieces based on areas of New Hampshire, Massachusetts and Rhode Island.  However, seen from such perspective each location takes on a new identity as patterns emerge that echo cells, blossoms and luminous oil stains.
  Truelsen has been a studio artist for more than twenty years, working in printmaking, drawing, collage, and mixed media. Her work has been shown in galleries around this country and in Italy. She was twice been Artist-in-Residence with the University of  Georgia Studies Abroad program in Cortona, Tuscany, and had a solo show in Cortona, sponsored by the city, in May 2004.  She currently lives and works in Lowell, MA"
————————————–
Self Illuminated
Opening Reception: Sunday July 15th, 2012 7-9PM
Where: Charles River Museum of Industry and Illumination, 154 Moody Street, Waltham, MA 02453
How: Official Website 
What/Why: "The Charles River Museum of Industry & Innovation will host Wayne Strattman, the world's foremost maker of kinetic plasma sculpture, in a major solo exhibition opening July 15. Strattman, known to millions via the high-voltage plasma he designed to light up the Borg ship in the Star Trek movies, will be showing off a (literally) luminous array of eye-dazzling works that pushes what's possible with light.
Although Strattman is represented in almost 1,000 museums worldwide, and has had over 4,000 private commissions, Self: Illuminated will be his first solo museum show, and the first to feature work not made for commercial or scientific contexts. The six month exhibit, with almost one hundred individual pieces grouped into ten installations, will be complemented by several events celebrating glass and technology-based art.
Wayne Strattman has been manipulating glass, gases and electricity for more than 25 years. He is personally responsible for pioneering many of the techniques now intrinsic to his medium. His book, "Neon Techniques", is still the industry standard reference book after 15 years of continuous publication. He holds a large number of innovative lighting patents, and his commercial clients include Disney, Osram-Sylvania, the Sam Adams Brewery, Sega Gameworks, casinos and motion picture companies.
Strattman's work is clearly rooted in his background of physics and engineering. However, as the show title intimates, the subject is human cognition, perception, and memory, not just the blaze of cool technology. Pieces range from a huge chess board that mimics the complexity of the human relationships to a forest of molecule trees. Tarot cards, woven wire faces, engraved snatches of conversation, and gold boxing gloves make appearances along with chemical phosphors. One installation will involve a thirty-four foot wall of his patented Luminglas®,  the electrically charged, lightning-filled panels commissioned of him by Paramount pictures for Star Trek's Borg ship."
————————————–
The Big Party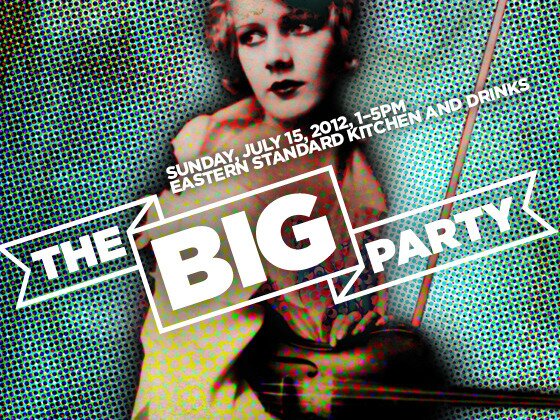 When: Sunday July 15th, 2012 1-5PM
Where:Eastern Standard Kitchen, 528 Commonwealth Avenue  Boston, MA 02215
How: Official Website 
Cost: $75
What/Why: "Opus Affair and Eastern Standard are throwing a fine arts cocktail celebration like Boston has never seen, transforming the entirety of Eastern Standard into a 1920s Gatsby-style garden party with games, food, cocktails, and live music.
Celebrating and supporting the community—We want to recognize arts organizations reaching out to young professionals and raise funds to support their work. Specifically, we're naming the following organizations as Big Party honorees, for the programs they have created to benefit young professionals:Young Partners of the Boston Ballet, Museum Council from the Museum of Fine Arts, H2 from the Handel and Haydn Society, 35 Below from the Huntington Theatre Company, Young Patrons from the Isabella Stewart Gardner Museum"
————————————-
Highland Free Fun Fridays

(Tom's Music, Gary Webb, currently on view at deCordova Sculpture Park and Museum)
"Free fun fridays invites Massachusetts residents and tourists to visit designated cultural attractions every Friday this summer with free admission. No registration or tickets required. Visit and enjoy!"
Free attractions for July 13th, 2012:
FRANKLIN PARK ZOO
CHILDREN'S MUSEUM AT HOLYOKE
DANFORTH MUSEUM OF ART
DECORDOVA SCULPTURE PARK AND MUSEUM
REAGLE MUSIC THEATRE
———————-
Present/Future: A Showcase of Emerging Artists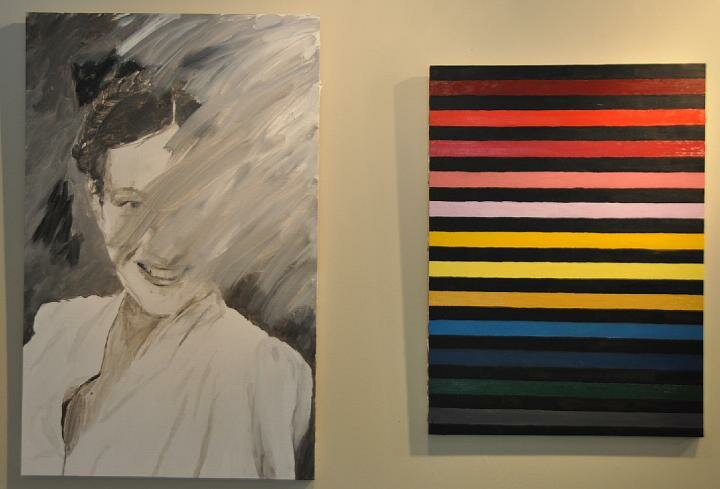 (Portraits, Series III,  Michelle Rawlings)
When: On view through August 15th, 2012
Where: Concord Art Association, 37 Lexington Road, Concord MA 01742
How: Official Website 
What/Why: "The exhibit features the work of graduate students from Rhode Island School of Design Fine Arts Department (RISD) and Boston University Master of Fine Arts Program (BU). The work in the exhibit represents each student's unique experience in 
the graduate programs at RISD and BU, which resulted in a body of work created to support their individual thesis. Students had several years to research, experiment, and develop their critical thinking, artistic skills and viewpoints.
"We are delighted to exhibit the work of these fine young artists. The work they have created is fresh, robust and makes us look at materials and processes in new ways," says Concord Art Association Director, Lili Ott.
Ilana Manolson, the show's curator and Concord Art Board Member states, "We strive to present quality work by artists throughout their careers – from high school students to mature adults. In addition to our annual juried member shows and independently-curated exhibits that feature mid-career artists, we also present the work of students from our local high school and from own our classes offered at Concord Art. Present/Future adds a critical and inspiring component to our programming as it's a reflection of contemporary work and critical thinking performed by graduating MFA students from two excellent art schools. We are pleased to host these artists and look forward to following their careers in the future." 
————————————–
17th Annual French Film Festival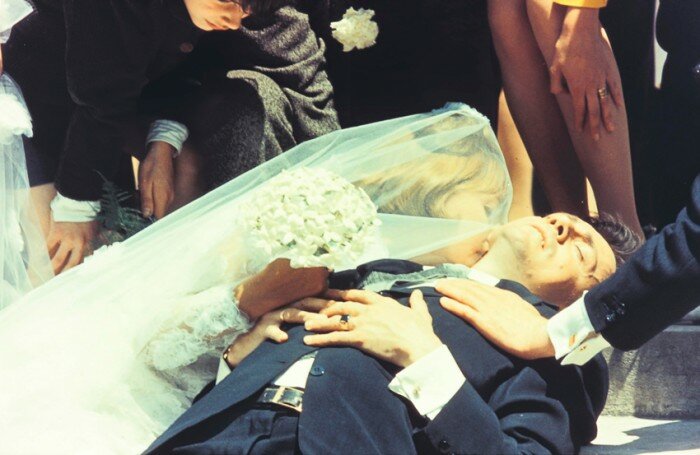 (Still from The Bride Wore Black)
When: Screenings through July 29th, 2012 |Times listed here.
Where: Museum of Fine Arts, 465 Huntington Avenue  Boston, MA 02115
How: Official Website 
What/Why: "Recognized as one of the best French film festivals in the country, the MFA brings together all your favorite French stars in this showcase of contemporary French cinema for Francophiles and cinephiles alike."
————————————–
Did I miss something? Let me know!
Things are looking up!* Announcement next week, several projects/collaborations in the works, and I've been waking up at 4am for the past week or so to curate fictitious shows in my head for galleries that don't exist.
¯\_(ツ)_/¯
Fruitful. Despite the sleep deprivation, I am pretty OK with things and I hope things are pretty OK with you as well.
Stay sweet. Have a great weekend! ♥
*famous last words