passing time x running the numbers x metaphorical body x rediscovered
—————————
 Running the Numbers: An American Self Portrait

(Over the Moon)
Note: Over the Moon Depicts 29,000 credit cards, equal to the average number of personal bankruptcy filings every week in the US in 2010
When: On view through April 4th, 2012
Opening Reception: Friday January 27th, 5-7PM
Where: Museum of Art, University of New Hampshire, Paul Creative Arts Center, 30 Academic Way,Durham, NH
How: Official Website
What/Why: "Chris Jordan is an internationally acclaimed artist and cultural activist based in Seattle. His work explores contemporary mass culture from a variety of photographic and conceptual perspectives, connecting the viewer viscerally to the enormity and power of humanity's collective will. Edge-walking the lines between art and activism, beauty and horror, abstraction and representation, the near and the far, the visible and the invisible, his work asks us to consider our own multi-layered roles in becoming more conscious stewards of our complex and embattled world. Jordan's works are exhibited and published worldwide."
———————————-
Films by Isaac Julien

(Still from Baltimore)
When: Sunday January 29th. Various times throughout the day.
Where: ICA Boston, 100 Northern Avenue  Boston, MA 02210
How: Official Website
Cost: Single Screening:$8 members & students; $10 nonmembers
Two Screnings: $13 members & students; $15 nonmembers
Three Screenings: $16 members & students; $20 nonmembers
What/Why: "Presented in conjunction with the exhibition, Isaac Julien: Ten Thousand Waves, this selection of Julien's earlier films includes 2001 Turner Prize–winnersThe Long Road to Mazatlán (1999) and Vagabondia (2000), as well as the acclaimed poetic documentary, Looking for Langston (1989). Julien's films relate experiences of black and gay identity by uniting elements of visual and performing arts to create powerful narratives."
———————————-
Native American Art at Dartmouth

(Apache Pull-Toy, Bob Haozous)
When: On view through March 11th, 2012
Where: Hood Museum, 4 East Wheelock Street   Hanover, NH
How: Official Website
What/Why: "The fourth in a series of exhibitions presenting the Hood's extensive and varied holdings, Native American Art at Dartmouth surveys the breadth and depth of the permanent collection of indigenous art from North America, from the historic to the contemporary. Guest curators George Horse Capture, Joe Horse Capture, and Joseph Sanchez each contribute unique experience and perspective as well as a discerning eye in the presentation of the Hood's varied holdings of Native art. This exhibition reveals the transformation of traditional iconography and showcases the use of non-Native media in contemporary artistic expression and visual narrative, including the work of former Dartmouth Artists-in-Residence Allan Houser, Fritz Scholder, T. C. Cannon, and Bob Haozous."
———————————-
VideoSur NYC

(still from LA PARTIDA (THE DEPARTURE) 2min 2008, Ana Silva, Chile)
When: Saturday January 28th, 6:30-8:30PM
Where: Montserrat Gallery, 301 Gallery, 23 Essex St  Beverly, MA 01915
How: Official Website
What/Why: "Video Art from Chile, Argentina and Brazil. Including: documentation of performance and art actions, noise video and stop motion animation Followed by a Q&A with the curators . Also including: a ton of popcorn

Co-curated by DiscordiaFilms curators Liz Munsell, Ivanna Bergese and Anabel Vázquez, VideoSur NYC consists of experimental shorts that range from documentation of performance and art actions, noise video, and stop motion animations from Chile, Argentina and Brazil. Inspired by the spirit of exchange in the Americas, VideoSur NYC conveys the complex cultural vision of Latin American artists working both in Latin America and as part of its diaspora. This screening will be follwed by a Q&A with curators Liz Munsell & Anabel Vázquez. 
DiscordiaFilms is a curatorial collective dedicated to the exchange and promotion of experimental video art made in the Americas. Since 2009 they have facilitated nine screenings with works by over 50 artists in the U.S., Chile, and Argentina."
———————————-
The Metaphorical Body

 (Head and Heart, Debbie Fong)
When: On view February 1st through March 23rd, 2012
Opening Reception: Wednesday, February 1, 2012 6pm – 9pm
Where: Rubin Frankel Gallery, Boston University, Hillel House, 213 Bay State Road, Boston, MA
How: Official Website 
What/Why:  "The story of human life surpasses the constraints of the form in which it is held: in this way the human figure becomes a metaphor. This is the 7th Annual Juried Student Art Exhibition, showcasing artwork of current students from around the entire Boston Metro area. Jurors: Harold Reddicliffe, Professor Emeritus at Boston University College of Fine Arts; Emily Corbato, independent artist and Scholar in Residence at the Brandeis Womens Studies Research Program."
———————————-
Public Artist Talk Joelle Dietrick

(Sherwin's Kinetic Contrasts 20)
When: Tuesday January 31st, 11:30AM-12:30PM
Where: Montserrat Galleries, 23 Essex Street & 301 Cabot Street, Beverly, MA
How: Official Website 
What/Why: "Working in two-dimensional and time-based artworks, Joelle Dietrick has successfully found away to unpack social data and events in a the context of fine art. Her recent work remixes images of foreclosed homes and data from California and Florida (two of the states hardest hit in the recent US Housing crisis), in painting, print and animation.
In her animations, the houses pass through Sherwin William' 2006 Color forecasts, with names like "balanced living" and "sultry origins", the company offered these color sets as comfort just before the bubble burst and the foreclosure epidemic began.
In her paintings the process, latex on canvas from computer-generated studies, mimics macro to microeconomic shifts. As global trends continue to affect local jobs, contemporary ideas about our relationship to place continue to shift. Reflecting our struggle to maintain identity in the face of tough economic times, the resulting artworks—full of domestic architecture stretching and morphing, adapting to a new era—revisits the American dream to obtain and maintain basic necessities."
———————————-
Edifice Amiss

When: On view January 30th – March 3, 2012
Opening Reception: Monday, January 30, 6:00-8:00 p.m.
Where: Stephen D. Paine Gallery, South Building, First Floor, Mass Art, Boston, MA
How: Official Website 
What/Why: "The artists and designers in Edifice Amiss: Constructing New Perspectives build sculptures and site-specific installations that challenge us to see our constructed world anew. Reinventing the ways in which we experience space, Lead Pencil Studio and David Henderson recontextualize architecture by manipulating scale, appropriating familiar motifs, or redefining myriad spatial relationships. Our relationship to buildings is often taken for granted, but the works in this exhibition – whether an abstracted abbey ceiling tilted on its side or an elevated evocation of a city street – reveal overlooked and sometimes hidden features of the architectural spaces in which we live and work."
also on view at Mass Art (Sandra and David Bakalar Gallery)..
Verdant

What/Why:"This exhibition explores the intersections between people and the natural environment; delving into the complexity of humanity's relationships with the landscape through the work of contemporary artists who use living plants in their art. Rather than simply drawing inspiration from the biosphere, these artists utilize plant matter as their artistic media, incorporate natural growth processes to create striking images, employ plants with pollutant-eliminating abilities in interactive sculptures to create healthy social spaces, and even embrace plants as active collaborators in their work."
———————————-
ESO ERES / MAREA: 

Maria Rondeau + Rafael Rondeau

(MAREA (detail video still))
When: On view through March 2nd, 2012
Opening Reception: Friday January 27th, 6-9PM
Where: Villa Victoria Center for the Arts, 85 W. Newton Street, Boston, MA 02118 
How: Official Website
What/Why: "Architect/artist Maria Rondeau and musician/composer Rafael Rondeau produce works that engage structure, image and sound. Video and sound installations reveal sequences of intimate moments—both familiar and unfamiliar. Projections on multiple screens create audiovisual landscapes that affect our perception and prompt us to re-examine the spaces we occupy."
———————————-
Passing Time

When: On view through March 4th, 2012
Opening Reception: Tuesday, January 31, 5pm to 7pm
Where: Ezra and Cecile Zilkha Gallery, Wesleyan University, 70 Wyllys Avenue, Middletown, CT
How: Official Website
What/Why: "The various meanings of the phrase "passing time"—spending time, time to die—are explored in the evocative imagery of the works in Passing Time—video, photography, sculpture and works on paper. Some artists turn to sport, some to music; some refer to nature and its rhythms to explore concepts of time—short term, long term and terminating. Others partner with time itself in their making of art. Time is a concept that philosophers and physicists ponder. Time provides a framework that orders, measures and defines. We spend time, we waste it, we keep it; time flies, it drags. It is elastic in its perception—long when we are young, gaining momentum as we age. The Passing Time exhibition explores the relationship between the time of our life and the time of the eons."
———————————-
Blue

(Blue(detail))
When: On view through March 2nd, 2012
Where: Brandeis University, Women's Studies Research Center , Epstein Building,  Waltham, MA
How: Official Website
What/Why: "Naoe Suzuki's psychologically complex works on paper reference imagery from circus animals and water to medical abnormalities and scientific technology. These highly detailed and meticulously executed works are created in mineral pigment and graphite, and the effects are a feast for the senses.
Suzuki's series Blue was created while she was at a residency at Blue Mountain Center in the Adirondacks, where she was able to swim in a lake every day. There, she experienced the cleansing and renewing power of water, and she also began thinking a lot about the terrible condition of water throughout the world.  In her paintings, the water is contaminated with debris, organs, cells, bottles, antiquated machinery, and more, all in exquisite hand-drawn detail.
Another recent series, Intueri, the Latin word for "to look inside," is the result of an intuitive process of drawing that begins with one or two small images of intestines or organs drawn with a fine-point pen. The images grow from there into microcosmic worlds that are dense with intestines, organs, and plant forms, inviting the viewer to "look inside" this complex world."
———————————-
Ronald Walsh: A Painter Rediscovered

(Our Family)
When: On view through February 18th, 2012
Opening Reception: January 28th, 2012, 5-7 pm
Where: AIB Gallery at University Hall , Porter Square, 1815 Massachusetts Avenue, Cambridge, MA
How: Official Website
What/Why: "The exhibit, "Ronald Walsh: A Painter Rediscovered," features paintings by Walsh, who for a decade – from 1952 to 1962 – devoted his time and talent to creating unique paintings influenced by Picasso and the avant-garde artists of Europe and America. In the early 1960s, Walsh joined Fannell Studio advertising company on Newbury Street in Boston, where his artistic talent quickly launched him from design team member to company president and head designer in just a few years.
Best known in the Boston area for his successful career at Fannell Studio, Walsh counted among his many clients prestigious firms such as jewelers Shreve, Crump and Low. What is less known about Walsh is that he was also a gifted painter, whose works reflect the experimentation occurring at the School of the Museum of Fine Arts in the 1950s when artists Arthur Polonsky and Jan Cox were among the faculty.
These leading artists, who were influenced by the avant-garde artists of Europe and America, clearly impacted Walsh's painting style. It was Cox who brought Walsh along with a few colleagues to see an exhibit of Picasso's work in Philadelphia in 1958 – a trip that would significantly influence Walsh's painting style and technique. Walsh's talent as a painter was recognized in his award of the 5th Year Prize in 1959, a prize that would provide a year of study abroad funded by the Museum School. Regrettably, the responsibilities of a young family prevented Walsh from accepting the prize.
Walsh continued to paint while working part-time at Fannell Studio; however, in 1962, his painting career concluded as he turned his full attention to his commercial art career in advertising design in order to support his growing family. His final painting, "Portrait of a Man," one of his most stunning works, marks the end of Walsh's painting career."
———————————-
Open Windows: Keltie Ferris, Jackie Saccoccio, Billy Sullivan, and Alexi Worth

(Lady Stardust, prior work of Keltie Ferris)
When: On view through April 8th, 2012
Where: Addison Gallery of American Art, Phillips Academy, Andover, MA
How: Official Website
What/Why: "Guest-curated by artist Carroll Dunham, this exhibition presents the work of four contemporary American painters: Keltie Ferris, Jackie Saccoccio, Billy Sullivan, and Alexi Worth. Representing distinct and varied approaches to painting from abstraction to realism, these artists' works will be set in counterpoint to modernist paintings chosen by Dunham from the Addison's permanent collection. By juxtaposing new and recent paintings by the four artists with historic works ranging in date from the 1930s to early 1960s by artists such as Franz Kline, Irene Rice Pereira, John Graham, and Reginald Marsh, to name a few, Open Windows reveals sometimes surprising affinities, influences, and contrasts among and between the twenty-first-century works and mid-twentieth-century paintings, opening windows on new possibilities and fresh ways of seeing."
———————————-
Raymond Pettibon:The Punk Years, 1978-86

(Flyer/handbill for gig by The Circle Jerks featuring artwork by Pettibon)
When: On view through February 17th, 2012
Where: University of Massachusetts Lowell,71 Wilder Street, Lowell, MA
How: Official Website
What/Why: "Raymond Pettibon: The Punk Years, 1978-86 taps into the steady stream of this California artist's early graphic arts production, before he appeared on the contemporary art stage. The exhibit includes over 200 examples of Pettibon's powerful designs made within that period, when he was immersed in the Los Angeles punk rock scene, doing the graphic design for Black Flag and other punk bands. While Pettibon remains a cult figure among underground music devotees for these early designs, over the past twenty years, he has acquired an international reputation as one of the foremost contemporary American artists working with drawing, text, and artist's books. Crossing back and forth between music and the visual arts, this project shows Pettibon's raw imagery, heavily shadowed technique, and characteristic visual punch in formation, and includes 44 zines, 120 fliers and posters, and a selection of album covers."
———————————-
Nerd Nite Boston presents CA$H FOR YOUR WARHOL!

When: Monday January 30th, 2012, 7-9PM
Where: Middlesex Lounge, 315 massachusetts ave, Cambridge, MA 02139
How: Official Website
What/Why: "Cash For Your Warhol will be presenting at Nerd Nite Boston. The title of the talk is "CFYW: The Evolution of a Prank." We'll have free stickers for everyone who gets in, and details on a genuine CFYW sign giveaway. I can't think of a better way to get in touch with your Inner Nerd.
The other talk will be "Frontier Nerd: Going it Alone in Western Montana" by Mattie Booth. 
Get there early, it nearly always reaches capacity and they have to turn people away. We hope to see everyone there!-Geoff Hargadon /Founder and CEO /CA$H FOR YOUR WARHOL"
———————–
Note: The following events/exhibitions have openings next Thursday before the February 3rd wrap-up goes live, but I wanted to include them here because everyone loves a party and I'd hate for you to miss a party!  ♥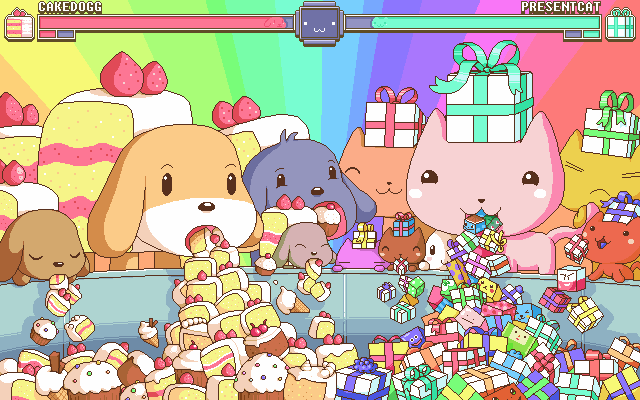 Anyway..
Random Access: Data as Art

(Discovery Channel Super Mario(Still), Reese Inman)
When: On view February 3rd through March 31st, 2012
Opening Reception: Thursday February 2nd, 2012
Where: Montserrat Galleries, 23 Essex Street & 301 Cabot Street, Beverly, MA
How: Official Website
What/Why: "Featuring Joelle Dietrick, Reese Inman, George Legrady, Nathalie Miebach, Casey Reas 
Each of the artists in this exhibition uses data as a source to define the visual outcome of the pieces. Random Access explores the stories that are revealed as data becomes visualized as works of art. Joelle Dietrick mixes data regarding foreclosed homes and Sherwin-Williams 2007 Color Forecast paints. Reese Inman uses mapping source imagery of an existing space and remixes it with the visual surface of another to create a visualization of the space between them. George Legrady focuses on aesthetic research through integrating data mapping, data visualization and self-organizing algorithms into interactive art installations. Nathalie Miebach translates scientific data related to astronomy, ecology and meteorology into woven sculptures. Casey Reas illustrates the forms, behaviors, and elements that are the foundation of software that combines drawing with generative processes to explore a network."
———————
The Salon

(installation shot of work by Lena Gustafson)
When: On view February 2nd through March 8th, 2012
Opening Reception: Thursday February 2nd, 2012 6-8PM
Where: Yes.Oui.Si., 19 Vancouver St. Boston, MA 02115
How: Official Website
What/Why: "An exhibition featuring paintings, drawings and prints by Alexa Guariglia, Lena Gustafson, Kira Leigh, Jordan Piantedosi, Stephanie Terelak "
————————
Roll-Out Party

When: Thursday February 2nd, 2012, 7-9PM
Where: The Distillery, 516 East Second Street South Boston, MA 02127
How: Official Website
What/Why: "After a month-long visit to the Distillery, The Rolling Gallery Project is going to roll onward to the next venue…Come join us for the closing reception & ROLL-OUT PARTY!"
————————
Control.Release.Transform

When: On view February 2nd–26, 2012
Opening Reception: Thursday, February 2nd, 6-9pm
Where: Atlantic Works, 80 Border Street, East Boston
How: Official Website 
What/Why: "At Atlantic Works, our new members show features three very different artists. Matthew Keller's installation, prints and drawings are about intimate and subtle power over others, ideas of practicing restraint, thoughts of regulation of the dangers to oneself. He explores the daily give and relinquishment of power in personal communications, and the struggle to understand unknown entities.
Paintings of windows and doors have always held a special fascination for Kelly Slater. According to Slater, "Whether clearly recognizable or only merely suggestive, depictions of windows, doorways and other portals convey a sense of hopefulness and possibility–inviting us to look out onto a new vista or to cross a threshold into a different world." In this series of abstract paintings and prints, Slater explores crossing over through the painted window and door.
In his kinetic sculptures, John Wilkinson uses common tools and materials to achieve a whole that is greater than the sum of its parts. Moving through space, propelled by subtle air currents often created merely by the movement of people within that space, these sculptures establish a delicate connection between the object and the viewer. This connection gives life to the mobile. And, adds John, "it is my hope that the mobile in some way returns the favor.""
———————————-
The Calender's Tales: Fantasy, Figuration, & Representation

(The Work of Raul Gonzalez)
When: On view February 2nd through March 31st, 2012 6-8PM
Opening Reception: Thursday February 2nd, 2012 6-8PM
Where: Boston University 808 Gallery, 808 Commonwealth Avenue, Boston, MA
How: Official Website
What/Why:"This exhibition presents the work of contemporary artists who invent mythological beings, fantastic creatures, allegorical  figures, fictional characters, and personal avatars to both humble and heroic proportions in order to critically engage and challenge concepts of otherness. Through pictorial strategies that encompass elements of fantasy and allegory, participating artists construct and explore diverse identity formations"
———————————-
That was a lot to take in, I know.

(Innamorato, by Tino Rodriguez will be a part of 'The Calender's Tales: Fantasy, Figuration, & Representation' show at BU's 808 Gallery next week)
Have fun. Be good. Dot your i's. Cross your t's. ♥