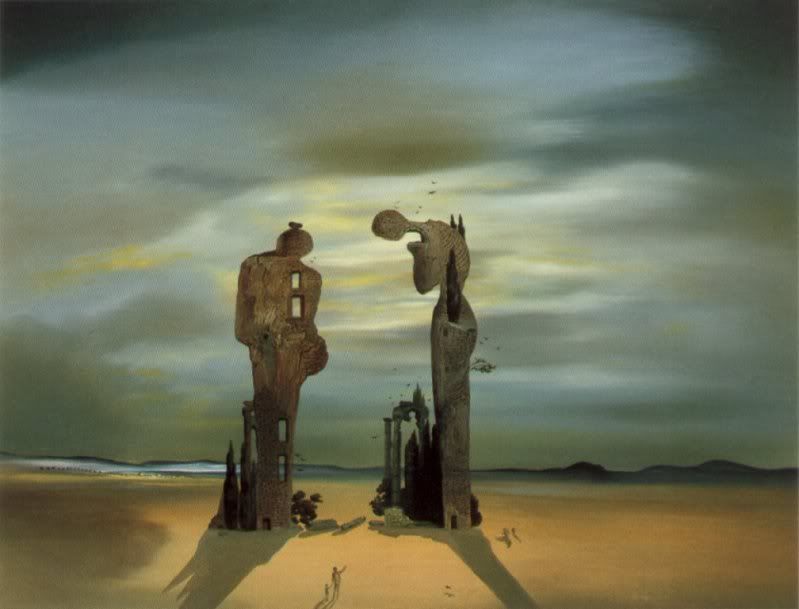 (Angelus, Salvador Dali)
While performing my CIVIL DUTY this week as a juror (aka my day spent in the waiting room that smelt of bodies) , it gave me a chance to contemplate my existence and get a head start on the weekly wrap-up!
I don't know if you have served in Massachusetts yet, but they make you watch a scrambled 80's VHS with a Barbara Waltersesque narrator(Fine. My lawyer friend, Kirs of Eiffel Designs, informed me its Maggie Marshall, former head justice of the Supreme Judicial Court. buzzkill) who tells you about your "woal as a juhwuh" .  I could barely keep it together.
That being said, enjoy the weekwee whap-up.
Millet and Rural France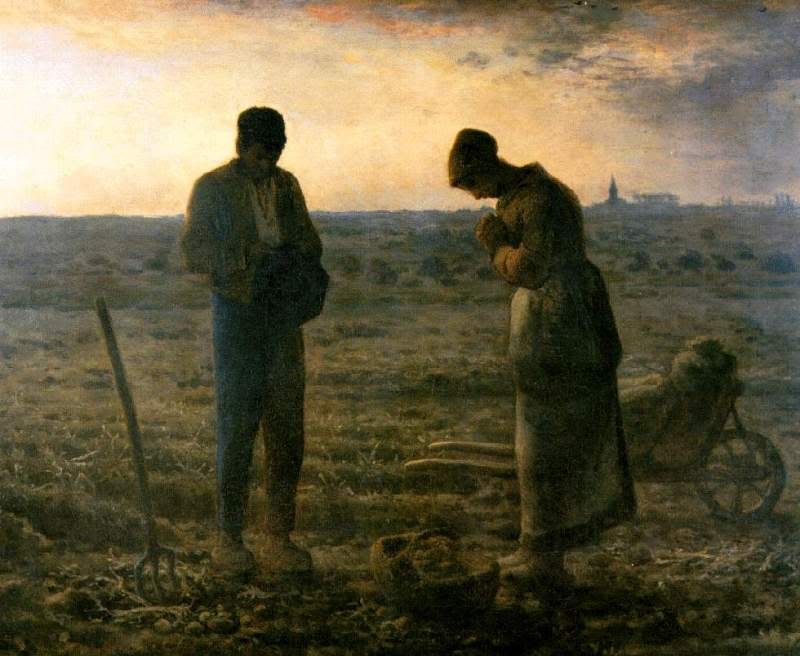 (Angelus, Jean-Francois Millet)
When: On view through May 30th, 2011
Where: Museum of Fine Arts / 465 Huntington Ave
How: Official Website
What/Why: "Jean-François Millet (1814–1875) is one of the great French artists of the 19th century. His images of rural life are among the most recognized and beloved in the history of art, and his innovative treatment of light and color anticipates Impressionism. This exhibition features a choice selection of some 46 drawings, pastels, prints, and paintings from the MFA's Millet collection, which is among the finest in the world. It includes the scenes of peasants in the fields and in humble domestic settings for which Millet is known, and it emphasizes his versatility in this genre, which he developed in a variety of techniques and media. Also highlighted in the exhibition are Millet's lesser-known portraits, as well as still lifes and nature studies, which demonstrate his remarkable sensitivity to the beauty of simple things, along with original landscapes that look back to Rembrandt and forward to van Gogh, Pissarro, and Seurat."
—————————————————
Trigger and Reconfigure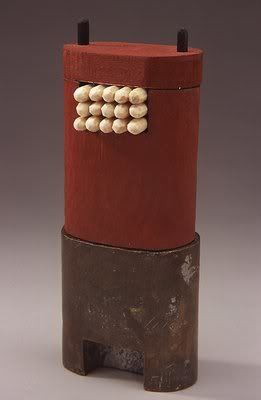 When: January 22nd-February 21st, 2011
Where: Jewett Art Gallery/ Wellesley College/ 106 Central Street Wellesley, MA, 02481
How: Official Website
What/Why: "A work of art begins with an encounter between an object or image and the artist. The found form, not necessarily interesting or beautiful to others, is so compelling to the artist that it must be engaged with, seized. Intuitively the artist understands the possibilities this form offers for reinvention. The making of art is a dialogue—grappling, coaxing, and nudging of form until a new light or life emerges."
——————————————————————————-
Afterlife: A Ghost Story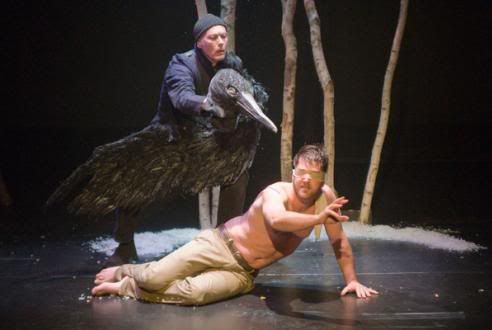 (image via timeoutboston)
When: Showing through February 6th, 2011
Where: New Repertory Theatre at Arsenal Center for the Arts/ 321 Arsenal Street
How: Official Website
What/Why: "An approaching storm forces a young married couple to come home to their empty beach house and batten down the hatches. When a giant wave comes crashing over them, they tumble into an alternate reality where both must confront the ghosts that haunt them and decide what their afterlife will be. This poetic and beautiful World Premiere by Steve Yockey is sure to captivate you."
———————————
Joe Fig: Inside the Painter's Studio
When: January 25–March 2nd, 2011  (note: this event is next week)
Where: Massachusetts College of Art and Design / 621 Huntington Ave, Boston
How: Official Website
What/Why: "Fig offers glimpses into the studios of art stars via detailed models derived from his artist interviews and documentation of their lairs. MassArt presents Fig's dollhouse-scaled replicas alongside original art by 20 of his who's-who roster of subjects, including Ross Bleckner, Chuck Close, Barnaby Furnas, April Gornik, Julie Mehretu, Matthew Ritchie, and Dana Schutz."
——————————
John La Farge's Second Paradise: Voyages in the South Seas, 1890-1891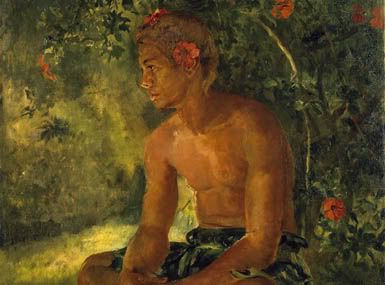 When: January 22–March 27
Where: Addison Gallery at Phillips Academy 180 Main St, Andover
How: Official Website
What/Why: "New York painter John La Farge, a romantic at the forefront of the then retro-facing Arts and Crafts movement, and best known in Boston for his stained-glass windows for Trinity Church in Copley Square, took off in 1890 for a year's sail to Hawaii, Samoa, Tahiti, Tonga, Fiji, and Java — about a year before Gauguin arrived to claim the territory for Paris Modernism. This show, organized by the Yale University Art Gallery, collects his paintings and drawings — including 11 previously unknown sketchbooks — of palm trees, volcanoes, islanders, and coconuts. "Nothing is ever pale," he wrote home to his son. "There is color everywhere."
————————————
White Matter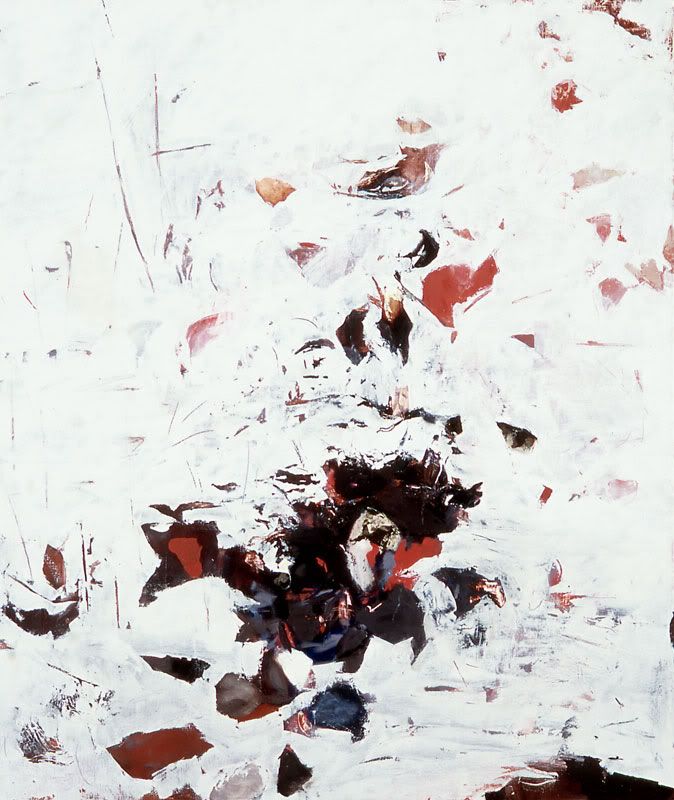 (Topologies #4 (not on view)Jennifer Caine)
When: On view through February 25th , 2011
Artist Talk: January 22nd 2:00PM
Where: FPAC Gallery / 300 Summer Street M1 Boston MA 02210
How: Official Website
What/Why: "The Western color of hope and purity; the Eastern color of mourning,white has a timeless cross-cultural significance. WHITE MATTER brings this color into focus as the subject of the paintings of three Boston area artists, Jennifer Caine, Jill Grimes and Rachel Hellmann.The paintings in White Matter explore the ability of white to be simultaneously simple and complex, densely opaque and atmospheric, quiet and bold. The paintings represent and acknowledge white as essential, elemental and a point of departure, not unlike the white gesso-ed canvas, the drawing paper, or the tone of the etching plate. Albeit in different ways, each artist investigates white's synonymous relationship with light, through juxtaposition of warm and cool tones, variation in value and subtle shifts in saturation. The paintings explore the transformative nature of white and it's potential to engage new ways of seeing."
—————————————-
Bernd Hausmann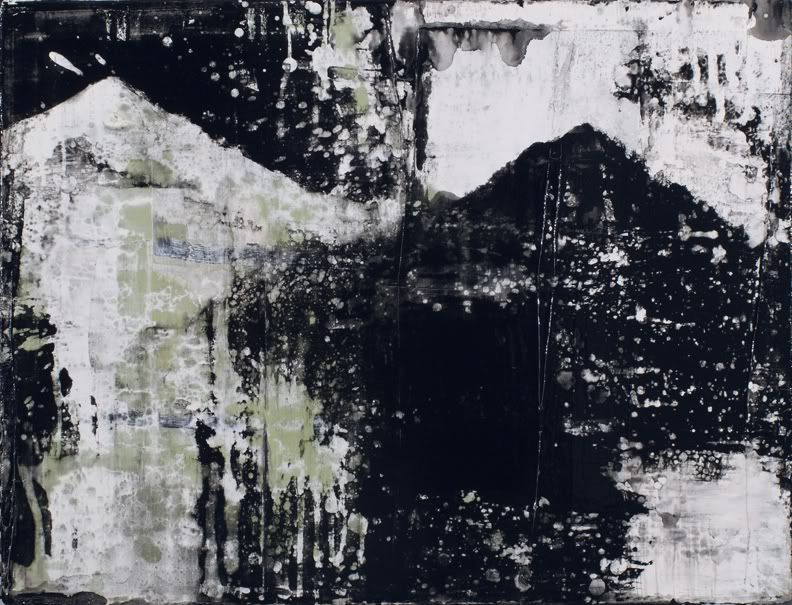 When: On view through January 30th, 2011
Where: Chase Young Gallery / 450 Harrison Avenue, No. 57
How: Official Website
What/Why: From the Artist's Statement:"My paintings are built up layer by layer of varied hues and imagery and then often scratched to reveal a strata of information and experience suggestive of the accumulation of life.My painting is not the visualization of a single string of thoughts releasing a single meaning but a multidimensional space in which a variety of thoughts and ideas coexist.A painting is only a painting until it becomes alive in the viewer's mind.Painting is not about what you see, it is about what you don't see."
————————————-
The Understudy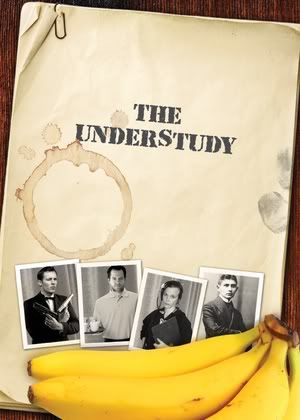 When: Showing through January 29th, 2011
Where: The Lyric Stage Company, 140 Clarendon Street, Boston MA
How: Official Website
What/Why: "Kafka just screams "Broadway material," right? That's the self-consciously silly idea behind The Understudy, Theresa Rebeck's comedy about a Hollywood hotshot trying to prove he can cut it as a serious stage actor. Directed by Boston comedy acting/directing/playwriting mastermind Larry Coen, the Lyric Stage Company's production should be a good way to ease into the new year."(write up via timeoutboston)
————————————-
Hysteria
When: Showing through January 30th, 2011
Where: Central Square Theater/ 450 Massachusetts Avenue, Boston, MA
How: Official Website
What/Why:" Why is there a naked woman in Sigmund Freud's closet?Salvador Dali arrives at Sigmund Freud's house for tea, but what he really wants is to paint the patron saint of Surrealism. But if Freud is convinced that all Surrealists are fools, why would he agree to meet with a lunatic? Meanwhile, a young, attractive student has also arrived, seeking the doctor's professional opinion, and she won't take no for an answer. Inspired by an actual meeting, Terry Johnson's Hysteria, or Fragments of an Analysis of an Obessional Neurosis is a demonic, farcical romp of hilarious misunderstandings about passion, self-control, and two of the world's greatest and most eccentric minds."
———————————-
Queen of the Mountain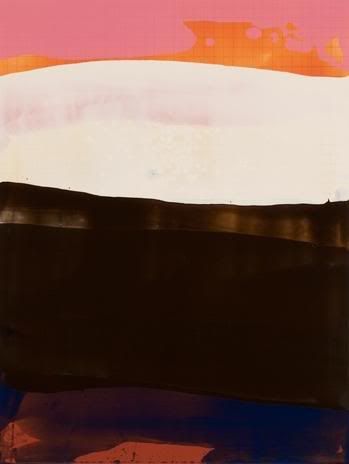 When: On view through March 6th, 2011
Where: Albright Art Gallery / Downstairs @ 32 Main St.Concord, MA 01742
How: Official Website
What/Why: An exhibition featuring the abstract works of Julie Vinette.
————————————
VIP Art Fair
When: January 22nd-January 30th, 2011
Where: ONLINE.
How: Official Website
What/Why: "VIP Art Fair is the first art fair to mobilize the collective force of the world's leading contemporary art galleries with the unlimited reach of the Internet. Its inaugural fair will take place exclusively online for one week only, January 22-30, 2011, at www.vipartfair.com.
An unprecedented event, VIP Art Fair gives contemporary art collectors access to artworks by critically acclaimed artists and the ability to connect one-on-one with internationally renowned dealers—from anywhere in the world and without leaving home."
————————————-
Project 301: Fish McGill
When: January 24th – February 11th, 2011 (note: this event is next week)
Where: Montserrat College of Art Gallery/ 23 Essex Street Beverly, MA 01915
How: Official Website
What/Why: "Priding himself on being "an artist devoted to drawing," Fish McGill's work uses characters to communicate and question his involvement in and perception of society. He focuses on robots as literal and metaphorical machines that convey ideas on what it means to be human. According to Fish the robots "are each trying to fit in as members of society, beyond their limited functionality. When asked about the robots questioning society, he answers, "you may think a robot is totally boring at first glance. But then you hang out and discover you both share an equal love of Prince or something else!"
——
On Monday I had the pleasure of checking out my first Opus Affair(as half-promised) event at Eastern Standard.  Opus Affair is a monthly gathering of artists and art enthusiasts(sound familiar?) who come together to discuss the arts in Boston, network, or in my case, invent new ways of fist-bumping.  It was a huge turnout and the herd essentially engulfed the restaurant. Although, the mass of people was a initially a bit daunting, three an Old Cuban cocktail helped coddle my social anxieties.  I always like to showcase local gatherings that take our predominantly online world offline because you never know who you'll meet!  Opus Affair gets the FLUX. seal of approval (.gif in the works.) I plan on going to more, so if you see me, say hi or shoot me a line beforehand/ tweet tweet so I know you're going!
Hope you have a great weekend, watch where you are walking, and stay warm. ♥