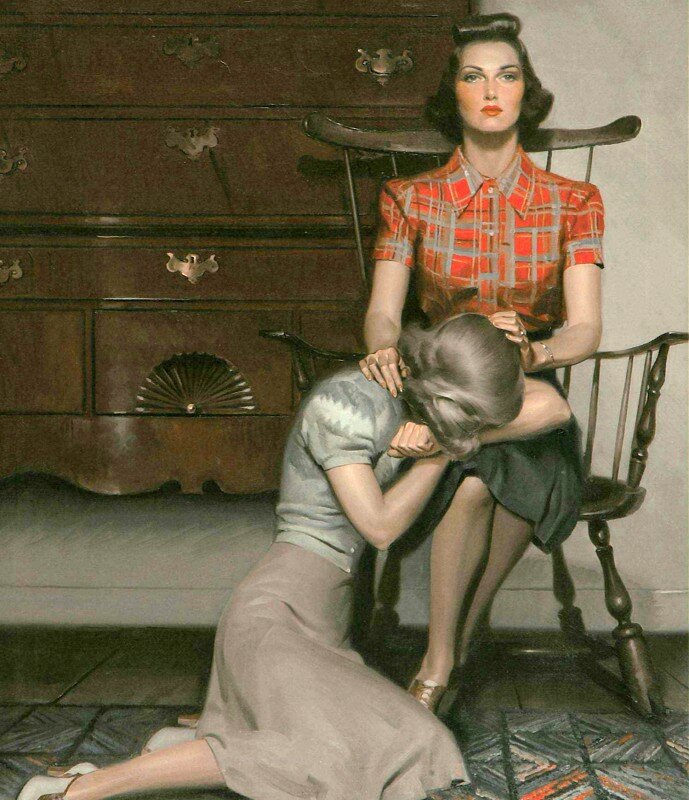 taunt and tear x break point x just dessert x sacred x hush
————————————–
PAINT JOB // Artwork by Bill Dunlap


When: On view through March 30th, 2013
Opening Reception: Friday February 22nd, 7-10PM
Where: LAP Gallery, 289 Moody Street, Waltham MA
How: Official Website
What/Why: "Bill Dunlap is an artist who tends to move between Western Maryland and New York City. Most of the art-making happens in Maryland. His work has been shown extensively across North America and Europe and is included in several permanent collections, including the library collection of the New York MoMA. He was recently the subject of a 10-page feature article in Juxtapoz Magazine, and will have his first retrospective this summer at the University of Maryland Art Gallery.
Paint Job is something of an experiment for Bill. He will be hanging two distinctly different styles of work together, combining them to make something more interesting to see than any one of them alone would offer. One style is dark and loose figure painting – The other is a kind of loose geometric abstraction based on Appalachian quilt patterns. The figurative work ranges from portraiture to crucifixion to paintings inspired by pornographic images from the internet."
Also on view..
HUSH // Artwork by Courtney McKenna & Mallory Biggins
What/Why: Born on the same day 26 years ago, Mallory April Biggins and Courtney Mckenna both studied Fibers with a small group of women at Massachusetts College of Art and Design. They are now employed at the same art studio for adults with disabilities and have found their professional and creative lives undeniably intertwined. Each individually exploring her experience of the peaks and pitfalls of womanhood, Biggins and Mckenna will present their work together in their first collaborative show, HUSH.
Courtney Mckenna uses subtle and elegant embroidery to explore the metaphysical connections between the interiors of a woman's body and the interiors of the homes they create. Quiet and suggestive, Mckenna combines traditional needlework techniques with naturally aged vintage linens which summon thoughts of dish towels and petticoats – cloth close to the body, and cloth close to the home. The artist's thousands of tiny, ornate stitches accumulate in vivid anatomical illustrations of pelvic bones and a developing fetus, both grotesque and beautiful pieces of a woman's physical body. Mckenna's work speaks to the energy and concentration we commit to things beyond ourselves, and the way the action of a woman's body is often dedicated to the good of the home.
Mallory April Biggins' work is a material investigation into the ways women hold both a domestic touch and the ferocious potential for large-scale change. Biggins amplifies the voices of activist icons like Mother Jones, Lucy Parsons and Emma Goldman into loud, bright pieces of fiber work buzzing with kinetic energy. Humbly functional objects like quilts, pillows and embroidered wallhangings emblazoned with provocative slogans and aggressive speech illustrate the way a womens' domestic identity is so often mismatched with her desire to be an agent of change. To snuggle up beneath a quilt loudly displaying Mother Jones' rallying cry is to illustrate the mysterious dichotomy of womanhood; that we are both the menders of stitched seams and, simultaneously, the swift, fierce hands that shred them apart."
—————————-
New Blue and White

(Pouran Jinchi, Prayer Stones 2)
When: On view through July 14th, 2013
Where: MFA Boston, 465 Huntington Ave  Boston, MA 02115
How: Official Website
What/Why: "Blue and white" means, at its simplest, cobalt pigment applied to white clay. Over the course of a millennium, blue-and-white porcelain has become one of the most recognized types of ceramic production worldwide. With roots in the Islamic world and Asia, and strong presence in Europe and the Americas, various cultures adapted blue-and-white, from the Willow pattern to isznik. Taking inspiration from global blue-and-white traditions, today's artists continue the story, creating works that speak to contemporary ideas. They tackle diverse issues, ranging from the public (the political landscape, cross-cultural interchange), to the personal (family, memory, the act of collecting), to the aesthetic (abstraction, pattern, the role of decoration). "New Blue and White" explores the ways in which contemporary makers, working in ceramics as well as other media ranging from fiber to furniture to glass, have explored this rich body of material culture. An international selection of artists and designers is featured in the exhibition, and recent acquisitions of work by the ceramic sculptor Chris Antemann and fashion designers Rodarte are drawn from the MFA's own collection."
—————————-
By Land or Sea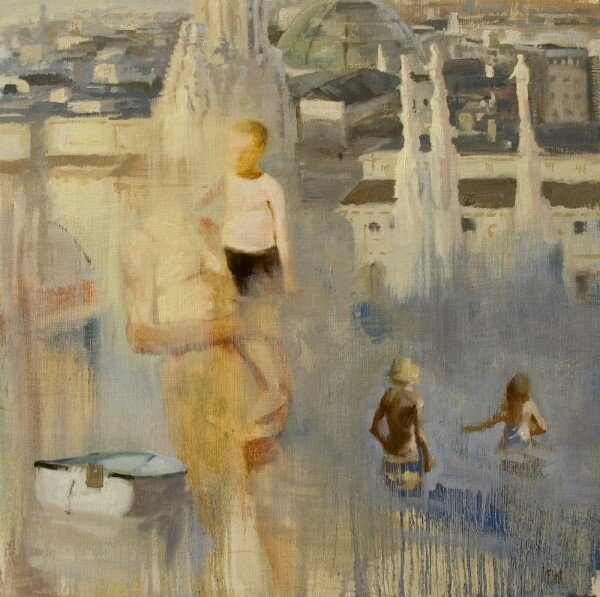 (Joshua Flint, Perfect Temperature)
When: On view through March 2013
Opening Reception: Friday February 22nd, 2013 6:30-9:00PM
Where: Sloane Merrill Gallery 75 Charles Street, Boston, MA 02114
How: Official Website 
What/Why: "Kicking off our spring exhibition schedule, 'By Land or Sea' will feature new landscapes and seascapes by Sloane Merrill Gallery painters Kathleen Dunphy, Joshua Flint, Geoff Krueger, Leo Mancini-Hresko, Terry Miura, and Jussi Poyhonen in addition to paintings by talented New England based artists Kyle Bartlett, Sally Ladd Cole, Phyllis Hewitt, Kevin Shea, Frank Strazzulla, Thomas Torak. A number of the artists will be in attendance for the opening reception!"
—————————-
Mags Harries: Levels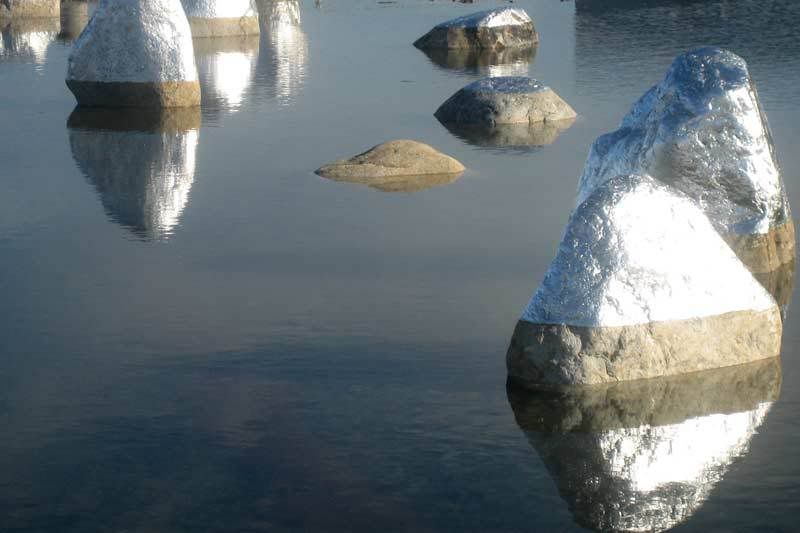 (Moontides(detail))
When: On view through March 3rd, 2013
Where: Boston Sculptors Gallery, 486 Harrison Ave. Boston, MA 02118
How: Official Website
What/Why: "In Levels, Mags Harries explores the idea of level and finding level through sculpture, installation, video, and drawing. Water, tide, time and light are all part of these explorations. Her artwork features humble and ordinary objects that she transforms through whimsy and references to a grander scale."
Susan Lyman: Sculpture in Wood

(Just Dessert)
What/Why: "Susan Lyman: Sculpture in Wood", an exhibit of sculpture and paintings, will open at the Boston Sculptors Gallery on Wednesday, January 30, and continues through Sunday, March 3, 2013. There will be a First Friday opening reception on March 1, 5-8 pm; a reception and artist talk on Saturday, February 9, 4-6 pm; and a First Friday closing reception on February 1, 5-8 pm. The receptions are free and open to the public.
British essayist John Fowles so aptly described the woods of his native land in his delightful ramble, The Tree, "…there is certainly something erotic in them." Susan Lyman laminates, carves, constructs and deconstructs her animated natural materials into sensuous hybrid relationships, often punctuated with color, that mimic the sensuality, the imperfections, the frailties of the human body.
The Cape Cod landscape has been a source of materials and inspiration in Lyman's sculpture and oil painting since 1984, when, with permission, she thinned her first truck load of bittersweet vine from an overgrown wood behind the house of Wellfleet shell fisherman Joe Francis. Since then Lyman has been scavenging for her materials at the beach, in the woods, at local tree dumps, gathering fallen wood with an eye for the twisted vine or root mass, the gnarled oak, the sinuous beech, even weathered wash-a-shore beach detritus from fires whose embers have long died out.
Lyman has been preoccupied with trees and woods in places as far-flung as the temperate rain forest in Washington's Olympic Peninsula and the venerable 1000-year-old English Oak pollards in the hunting grounds of Windsor Park in England. The photographs collected and a recent foray into collage has pushed her paintings into almost surreal landscapes whose unlikely inhabitants and natural forms are the stuff of her sculpture"
—————————-
Erica Daborn: Dialogues with Mother Earth

  (Funeral for the Last Elephant(detail))
When: On view through March 2nd, 2013
Where: Clark Gallery, 145 Lincoln Road, Lincoln, MA
How: Official Website
What/Why: "Clark Gallery is honored to present mural-size drawings by Erica Daborn and new paintings by Paul Stopforth. Both artists are active in the political discourse of the day and share a concern for the world around them and the issues affecting all of us. Daborn and Stopforth are esteemed members of the School of the Museum of Fine Arts faculty.
Daborn's epic mural-sized charcoal drawings, collectively entitled Dialogues with Mother Earth, address the potentially catastrophic themes and consequences associated with global warming. Rich in narrative, Daborn's massive drawings become cautionary tales with eq ual parts fable and folk-tale. The artist, a darker modern-day Mother Goose creates fantastic tableaus populated by anthropomorphized animals, mythical creatures, fairies, gnomes, and humans of various sizes and types. Grand in scale, Funeral for the Last Elephant, measures 73" x 158".  Central to the composition is an exquisite depiction of the great beast with an abundant flowering bouquet, flanked by a procession of animals, musicians, and picket-laden demonstrators all led by a robed and weeping Gandhi-like figure. Daborn's drawings, akin to theatrical backdrops in scale, inhabit the world of allegory. Her meticulous graven images rendered in black and white, with charcoal inscribed over gesso, symbolize both the hope and despair one faces when contemplating the future."
Also on view..
Paul Stopforth:  Break Point

(Morning)
What/Why: "Born and raised in South Africa, Paul Stopforth makes paintings that focus on fragments of history and memory. Central to Paul's first solo exhibition at Clark Gallery are Tidal Pool Bethesda I and Tidal Pool Bethesda III. Each painting measuring 18" x 80", reference Stopforth's continued appropriation of Robben Island as source and subject. Found off the west coast of Cape Town, South Africa, for over a century it happened to be an ideal place to send the mentally disturbed, chronically poor, and incurably sick. The island also has the dark distinction of being the location where Nelson Mandela spent 18 of his 27 years in prison. However, more specifically, Bethesda, refers to the Bath of Bethesda, where the custodians of Robben Island warehoused those afflicted with leprosy at the far end of the island. Perhaps, the seawater provided a powerful cathartic curative for those afflicted with the disease. The remains of the pool are still visible today, and the stagnant, black water that lies within the eroding retaining walls is an evocative echo of another era.  Set in thickly applied luxuriant layers of squeegeed (Richter-esque) gouache, Stopforth beautifully presents the angular formation of the bath's crumbling stonewalls jutting zigzagged through its reflective pool. In Stopforth's hands, the bath is transformed into a reservoir of intense aging splendor coupled with a powerful psychological warfare.  Closer to home, Paul has found Provincetown's breakwater, at the tip of Cape Cod, a subject for inspiration and investigation."
—————————-
Lucky Strike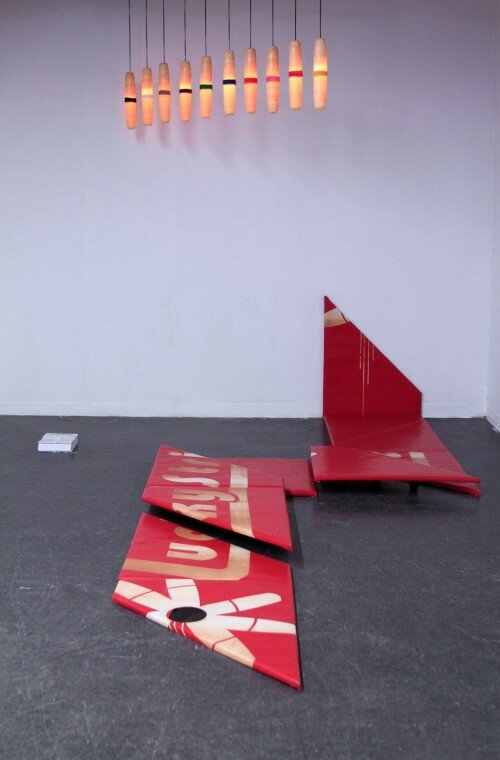 When: On view through March 6th, 2013
Opening Reception: February 22nd, 2013 6 to 9pm
Where: Howard Art Project, 1486 Dorchester Ave, Dorchester, MA
How: Official Website
What/Why: "Former Lucky Strike Lanes, a few blocks away from the Howard Art Project, closed almost a decade ago and is now in a state of transition. This solo exhibition features the MFA thesis project of Joe Joe Orangias. The project was initiated by his research at the Museum School and Tufts University on how architecture and design choreograph the body, and influence social experience. Focusing on the bowling alley as a distinct case of such structural influence, Orangias salvaged discarded materials from the former candlepin bowling alley. He has re-purposed these materials into a series of paintings or sculptures. In exploring the formal and environmental issues of this local infrastructure, he creates narratives and habitats that complicate understandings of art, intimacy, the body, and public space. The works depict a strong history, and simultaneously propose new futures."
—————————-
Anders Zorn: A European Artist Seduces America

When: On view February 28th -May 13th, 2013
Where: Isabella Stewart Gardner Museum, 280 Fenway, Boston, 02115
How: Official Website
What/Why: "The first historic exhibition in the Hostetter Gallery in the Gardner Museum's new Renzo Piano-designed wing will present new international scholarship about Anders Zorn, considered one of the most significant artists of the Belle Epoque. Although highly esteemed by contemporaries on both sides of the Atlantic, Zorn is little known in the U.S. today.
Anders Zorn: A European Artist Seduces America will investigate how Zorn became an international artist who set the groundwork for modern art, reveal his rapidly developing style from 1890 to the early 1900s, and his variety of subjects. The exhibition will be organized in five different segments, including "Zorn and Gardner," "Society Portraits," "In the City," "Country Life," and "Artist's Studios." Twenty-four paintings are featured together with twenty-two drawings, photographs, letters, and gifts that Anders Zorn gave Isabella Gardner in 1894.
Highlights include Isabella Stewart Gardner in Venice (1894) and distinguished loans that have never been shown in America, such as Night Effect (1895), on loan from Gothenburg Museum of Art, Göteborg, Sweden, and The Ice Skater (1898), on loan from Zornmuseet, Mora, Sweden. Additionally, major paintings will come together for the first time, including objects from the Metropolitan Museum of Art, New York and the Art Institute, Chicago. The exhibition will center on strong holdings in the Isabella Stewart Gardner Museum, highlighting the central role of Gardner as a most influential patron of Anders Zorn in America."
—————————-
Screening of "The Extravagant Shadows"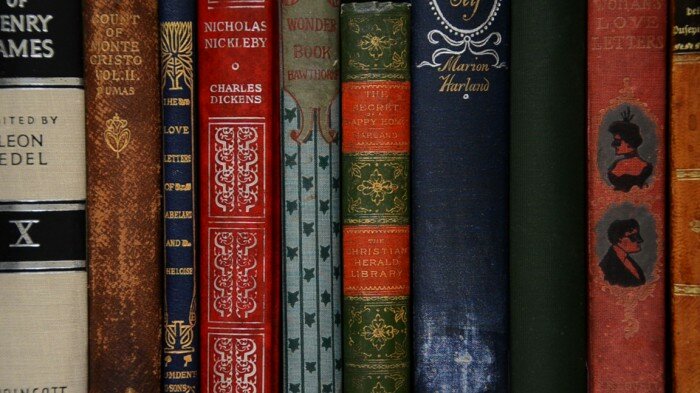 When: Saturday February 23rd, 2-6PM
Where: Montserrat Galleries, 23 Essex Street, Beverly, Massachusetts 01915
How: Official Website 
What/Why: "We are honored to host the screening of David Gatten's first digital film, The Extravagant Shadows. A beautiful discourse on language and time, Gatten's award winning project shows the filmmaker painting a window with different pigments in real time, while literary excerpts emerge onto the screen. A film not only to watch, but to truly read, this is not to be missed! 
Suggestion is the rock, and the physical evidence is the evanescent spray that breaks against the unseen. Transitive enharmonics of things touching in middair, an air which is Time—not an actual intersection, but with a consequence as powerful as predestination, a momentary fulfillment, a trail beyond mere pattern, like a streak of truth alive and uncontained, like something that runs through infinity slowing to leave condensation, sonority, a temperature. Lines crossing lines. Not there. There. Invisibilities smudging. Gesture and impression, optic suggestions, agents on and in the mind. Each with vibrations, dollops, whispers, throbs, particles and waves. A finger of pigment brushing a lip of language exchanging carriage supports, liquidities, fire. Moire of meanings. Micro settings in the heart. The time it takes. The very least one can say is to say The Extravagant Shadows is a major work. Humanly essential, adventurous and necessary.—Mark McElhatten"
—————————-
Mobilize Performance Series: Adina Bar-On, Israel

When: Friday, February 22, 7:00 pm
Where: Mobius, 55 Norfolk Street, Cambridge, MA 02139
How: Official Website
What/Why: "Adina's work holds a discourse about conflicts of identity and conflicting identifications.
Adina has been an active performer since 1973, starting as a student at the Bezalel Academy of Fine Arts and Design in Jerusalem.  Over the years, she has presented her work in Israel's major art museums and galleries. Making it her business to emphasize her political and social stands, she has insistently performed in social and political events.
In recent years, she has been felt the growing urgency to channel her creative talent towards educational initiatives as well.  Their purpose has been to promote another way of discussing Differences. The workshop under the title – Social and Cultural Manifestations in Art – has been an alibi to organize workshops for Polish and Israeli art students, Palestine and Israel art students"
—————————-
Glass Heart (bells for Sylvia Plath)
When: On view through June 9th, 2013
Where: Davis Museum, 106 Central Street, Wellesley, MA, 02481
How: Official Website 
What/Why: "It is with great pleasure that the Davis presents a newly commissioned interactive installation, Glass Heart (bells for Sylvia Plath), by Assistant Professor of Music Composition and Theory Jenny Olivia Johnson. Inspired both by Sol LeWitt's series of etchings, All Combinations of Red, Yellow, and Blue, with Scribbles, and the poetry of Sylvia Plath, Johnson has created an interactive musical instrument to share the gallery space with LeWitt's prints. Comprised of seven glass bell jars fitted with contact microphones and colored LED lights, the piece is triggered by touch, and combines light display with sound samples of a new composition written by Johnson for soprano, piano, cello, and percussion. Johnson's work, a daring foray into the potential of intersecting emotional undertones among distinct pieces of literature, music, and visual art, is linked to synesthetic experiences, in which certain sounds evoke particular colors in the mind. Curated by Elaine Mehalakes, Kemper Curator of Academic Programs, Glass Heart (bells for Sylvia Plath) has been generously supported by The Mary Tebbetts Wolfe '54 Program Fund and the Marjorie Baum Fund"
—————————-
Black Ink-Printmaking in Monochrome

When: On view through March 8th, 2013
Where: Nave Gallery Annex, 53 Chester St, Somerville, MA
How: Official Website
What/Why: "In this group exhibition curated by well-known Somerville lithographer Carolyn Muskat of Muskat Studio, blank ink transforms paper through the varied processes of printmaking.
Artists: Nancy Brooks, Elizabeth Cameron, Lisa Conrad, Christiane Corcelle, Nancy Diessner, Gary Duehr, Dominique Duroseau, Amy Kaufman, Jackie Miller, Elisabeth Nicula, Katie O'Brien, Damir Porobic, Anne Russell, Annie Silverman, Karl Stephan, Emily Trespas, William Turville, Katherine Vetne, James Weinberg"
——————————-
Taunt and Tear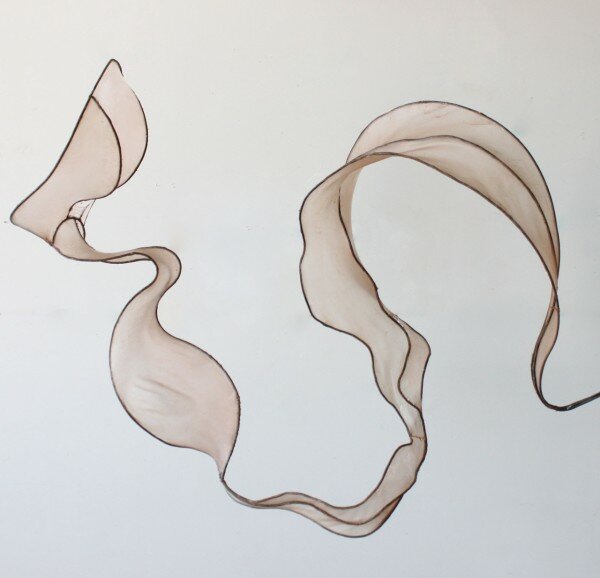 When: On view through March 1st, 2013
Where: Gallery 5, College of Fine Arts, Fifth Floor, Boston University, 885 Commonwealth Ave., Boston, MA
How: Official Website
What/Why: "Taunt & Tear features a tangle of wrought metal forms and billowing steel bodies, laminated by a taut, translucent skin. In an environment transformed by minimalist, geometric panels, Gallery 5 becomes a strange  new dwelling for Sarah Carmody's sinister yet seductive sculptures. Reflecting her interest in the dynamics that emerge from the interplay of sexuality and power, each element of the installation adopts roles of subservience or dominance."
—————————-
What am I forgetting?
Things just got real. Have a great weekend! ♥