(after Lillian Bassman, 1948 / Garry Winogrand, 1961., Frank Egloff)
"Frank Egloff titles his works 'after' followed by the photographers and subjects of the photographs that he uses.  Straightforward and full of attribution, Egloff's new works on/in/with paper compose, document, duplicate, examine, isolate, present, produce, repose and reproduce.  Using nothing new, he creates works that allow the viewer to see something new and also the old anew.  Egloff uses the images to bring awareness to methods of looking, all the while making that awareness the focus, thus compressing and expanding one's awareness."
————————————————-
(after Janice Guy, 1979 (self-portrait))
As the text suggests, Visible Merge at Barbara Krakow Gallery is straightforward in many respects–it's not looking to pull a fast one on you. But I was floored despite the simplicity and frankness, by the endless internal inquiries that were sparked by the clever recontextualizations.
On the most basic level–I really loved the images from this exhibition, and aesthetic admiration tends to be an impulsive response. But digging deeper, I always find it hard to put words as to the "why". Why did I like these photographs so much?
In considering my daily routines, would these images stop me in my mindlessly scrolling tracks if I saw them on tumblr? Or am I forced to physically halt and focus because they are shown in a gallery setting? Do they command more attention in this context because someone has deemed them worthy of an exhibition, let alone a second look?
Why did Egloff choose these particular images to remaster? Personal reasons? Aesthetic considerations?
Thinking about my favorite photograph from Visible Merge,"after Janice Guy, 1979 (self-portrait)" I wondered, was I admiring Guy's work? Or Egloff's?
Here is the original: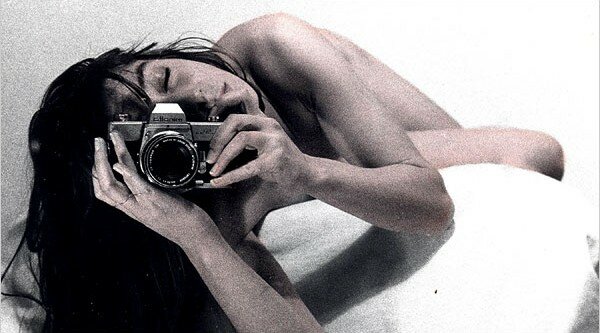 (Untitled, Janice Guy)
I prefer Egloff's interpretation on a composition/hue level, but then I'm reminded that this rendering wouldn't even exist if it hadn't been for Guy's original image.
Am I struck by these images because they are "different"? Are they intriguing because of their arrangement? Unpredictable? Is this re-imagining of traditional photographic techniques what gets me excited?
Everything old is new again.

(after Van der Elsken, 1956, Amsterdam (Girl with 'beehive'))
——-
In the end, this isn't a review of Visible Merge as much as it is a stream of consciousness and an exercise in overanalysis sparked by the exhibition. We often plow through our daily tasks with a certain degree of thoughtlessness that sometimes it's good just to slow things down–taking a moment to consider human nature and why we actually do the things we do or like the things we like, even if we never fully understand why.

Visible Merge runs through March 9th, 2013 at Barbara Krakow Gallery and can be seen both in person from Tuesday-Saturday 10:00-5:30 or on the web here. ♥
(Note: This post was originally written for Photo Nights Boston. Check out this and other entries on their photog blog here.)