beyond the stretcher x hall of flowers x otherworldly x remnants
——————-
Matt Siegle – Hall of Flowers

When: On view through March 16th, 2013
Opening Reception: Friday February 1st, 2013 6-8PM
Where: Anthony Greaney, 450 Harrison Ave, Boston, MA 02118
How: Official Website
What/Why: "Anthony Greaney proudly presents Hall of Flowers, a solo exhibition by Los Angeles artist Matt Siegle. Here Siegle continues his exploration of the pop-cultural and social history within the boundaries of counterculture, undertaken through experimental forms of performance and embodied politics. As is characteristic of Siegle's work, art objects and performed gestures stand in for one another, exploiting the slippage between documentation, ephemera, and lived experience, as well as between past and present. An essay by Travis Diehl accompanies the exhibition. 
Between January 2010 and June 2011, Siegle slowly transformed himself into a composite of countercultural nostalgia: a vexed hippie, goofy grunge rocker, queer rebel, and anarchist activist known simply as Cassady. At the project's height, Siegle not only looked but lived the part, growing his hair long, chain-huffing whippits on the couch at parties, exploring legal gray areas, and carrying himself with silent, fanatical intensity. This long-term artwork comprised a series of what Siegle calls gesture performances—actions embodied rather than enacted—including various projects in and around San Francisco. Some of these pieces were specifically scripted; others were improvised; some were not performed at all, yet are presented as artworks nonetheless. In keeping with the mutability of the scripted and the lived, Siegle chose some sites significant to the city's rich countercultural history, and others arbitrarily. The performances themselves brush against specific events in San Francisco's radical past, yet are tinted by memory loss and inaction. 
Hall of Flowers presents a portion of this project relating to the history of queer activism. On the main floor of the gallery, store-bought tables, chairs, and trashcans serve as pedestals for 22 drawings taking the sculptural form of the folded newspaper. The meticulously rendered text is sourced from an article from the June 18, 1977 San Francisco Chronicle relating an act of civil disobedience by an early form of the Harvey Milk Democratic Club. Downstairs, Siegle presentsPicnic Time, a 10-minute video projection shot in San Francisco's Dolores Park. Bracketed by the historically gay Castro neighborhood and the bohemian Mission District, Cassady and two friends drink champagne, eat packaged sushi and Wheat Thins, and casually discuss body politics and supermarkets. Performance in this case recurs as the artist edits the footage through hundreds of speedy cuts. In addition to these larger works, this show includes a short video of an ambiguous street demonstration in Hollywood, and two small collaged photos of the Hall of Flowers in San Francisco's Golden Gate Park—the site of the original Milk Club protest."
————————
Otherworldly

When: On view through March 3rd, 2013
Opening Reception: Thursday February 7th, 2013 5-9PM
Where: Studios at Porter Mill, 95 Rantoul Street, Beverly, MA
How: Official Website
What/Why: "A show curated by Montserrat College of Art's Bear Gallery, a student run organization that "bridge's the gap between art student and professional artist"
"Otherworldly" is a two dimensional exploration of the personal creativity of Montserrat students.
Every artist has a drive that keeps them creating, and oftentimes that drive is of a personal nature. This show will give Montserrat students the chance to show why they love art, what they live for, and to inspire others to create the art that they truly want to be making.
Work will include: original fantasy, science fiction, psychological spaces, extraordinary creatures, and exciting places.
Join us Thursday, February 7th from 5:00 to 9:00 pm
to celebrate the opening of and enjoy light refreshments.  Exhibit runs through March 3rd."
————————
(Sorry I changed your password to ____Face)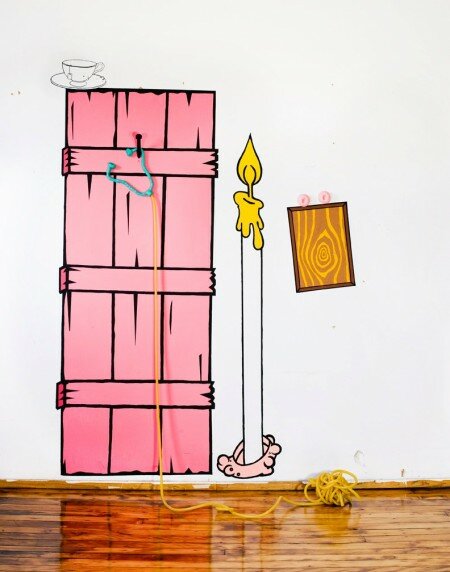 (Not This Side (detail), Emily Hurley)
When: On view through March 4th, 2013
Where: Frame 301 Gallery, 3 Essex Street, Beverly, MA 01915
How: Official Website
What/Why: "Hurley's installation, Untitled, (Sorry I changed your password to ____Face), will consist of a playful painting of parts, that are both plastic as well as organic, and which will be in continual conversation with one another. There will be flat illustrations painted to the window of Frame 301 as well as illustrations of items dangling for display. Hurley's images are typically fragmented items that often take on human traits and remain recognizable even though they are not completely whole."
————————
Sophia Ainslie – In Person

(Fragment Z, Sophia Ainsle)
When: On view through February 24th, 2013
Opening Reception: February 1, 5:00-7:30 pm
Where: Kingston Gallery, 450 Harrison Ave, Boston, MA 02118
How: Official Website
What/Why: "An artist-run gallery incorporated in 1982, Kingston takes its name from its original location on Kingston Street in Chinatown. In the mid-90s the gallery was one of the very first to relocate to Thayer Street, anchoring what has since developed into the vibrant SoWa arts district of Boston's historic South End."
————————
Paint Things: Beyond the Stretcher

(T
he Remnants, Katie Bell)
When: On view through April 21st, 2013
Where: deCordova Sculpture Park and Museum, 51 Sandy Pond Road, Lincoln, MA 01773
How: Official Website
What/Why: "PAINT THINGS navigates the recent direction of contemporary artists to expand painting beyond the stretcher into sculptural forms. This group exhibition focuses on the growing spatial and material freedom in painting as it merges with installation and sculpture. It invites viewers to collectively re-examine the age-old practice of painting in a new light and consider the limitless possibilities for the future of the medium and its physical context. Its expansion and spatial investigations by exhibiting artists asks us to think about painting as it relates to physical, social, political, and emotional space.
Featured artists include Claire Ashley, Katie Bell, Sarah Braman, Sarah Cain, Alex Da Corte, Cheryl Donegan, Franklin Evans, Kate Gilmore, Alex Hubbard, James Hyde, Sean Kennedy, Wilson Lawrence, Steve Locke, Analia Saban, Allison Schulnik, Jessica Stockholder, Mika Tajima, and Summer Wheat.
PAINT THINGS is organized by deCordova Curator Dina Deitsch and Guest Curator Evan Garza, Exhibitions and Public Programs Coordinator, School of the Museum of Fine Arts, Boston, former Editor-at-Large for New American Paintings, and co-founder of the Fire Island Artist Residency.
PAINT THINGS is made possible in part by the generous support of Donald and Jeanne Stanton and by additional support from Geoff Hargadon and Patricia LaValley. Additional funding has been provided by Manuel de Santaren and by Beth and Richard Marcus."
————————
Among From With Andrew Witkin: Platform 11

When: On view through April 21st, 2013
Where: deCordova Sculpture Park and Museum, 51 Sandy Pond Road, Lincoln, MA 01773
How: Official Website
What/Why: "Boston-based artist Andrew Witkin works with furniture, text, and various common objects to underscore the poetic in everyday life. Witkin collects, arranges and organizes things—skills pulled directly from his day job as a gallery director and curator—to further blur the boundaries between art and life, all the while underscoring the arbitrariness of any attempt to categorize the world. 
For PLATFORM 11, Witkin will create an installation in response to deCordova's fourth-floor Foster Galleries—a small cluster of spaces that were once part of the summer home of the Museum's namesake and founder Julian de Cordova. 
PLATFORM is a series of solo exhibitions by early- and mid-career artists from both the New England and national arts communities. These shows focus on work that engages with deCordova's unique spaces, both indoors and outdoors, and social, geographical, and physical location. The PLATFORM series is intended as a support for creativity and expression of new ideas, and as a catalyst for dialogue about contemporary art.
This project has been supported by a grant from the Artist's Resource Trust.  The 2012–2013 PLATFORM series is generously funded by James and Audrey Foster."
————————
First Fridays: Nordic Night

When: Friday February 1st, 2013 5-10PM
Where: ICA Boston, 100 Northern Ave, Boston, Massachusetts 02210
How: Official Website 
Cost: Free for members, $15 nonmembers
What/Why: "Cold? Well, winter just got a little cooler. 
Experience the work of Icelandic artist Ragnar Kjartansson on view in our galleries, then chill out to a mix of the best Scandinavian pop music of all time. Don't forget to try our signature cocktail at Nordic Night — the "Polar Bear." Brrrrrr.
SCHEDULE OF EVENTS
• Spotlight tours of Ragnar Kjartansson: Song offered every 30 minutes between 6 — 7pm. Signage in the galleries will indicate where the next tour will begin. Galleries close at 9 pm.
• Music
Looking for your fix of bands like Ace of Base and ABBA? You've come to the right place. The best of Scandinavian pop playing all evening long.
• Complimentary drink station available in the lobby. Redeem your drink ticket for a choice of our signature cocktail, the "Polar Bear," featuring Vikingfjord Vodka, or Harpoon's Winter Warmer. Guests will receive 1 drink ticket upon check-in, redeemable at the complimentary drink station only.
For more info and to purchase tickets, visit http://www.icaboston.org/programs/first-fridays/Feb2013_nordic_night/"
————————–
Amalia Pica

(Amalia Pica, On Education)
When: On view February 8th through April 7th, 2013
Opening Reception: Thursday February 7th, 2013 5:3-8PM
Where: MIT List Center, 20 Ames St  Cambridge, MA 02142
How: Official Website
What/Why:"The MIT List Visual Arts Center and the Museum of Contemporary Art (MCA) Chicago present Amalia Pica, the artist's first major solo museum exhibition in the United States.  The exhibition provides an in-depth look at the last ten years of this London-based, Argentinian artist's work and includes films, drawings, sculptures, installations, and performances. 
Using simple materials such as photocopies, light bulbs, drinking glasses, beer bottles, bunting, cardboard, and other found materials, Pica creates art works that address fundamental issues of communication—such as delivering and receiving a verbal or nonverbal message—and the various forms communicative exchange may take. In Babble Blabber, Chatter, Gibber, Jabber, Patter, Prattle, Rattle, Yammer, Yada yada yada yada (2010) a slide sequence spells out its own title using the semaphore alphabet.  A series of sculptural works Catachresis address "misapplication of a word or expression to name something else that might not have a name".  The titles of these sculptures come from metaphors referencing parts of the human body, i.e., the tongue of a shoe, the neck of a bottle, the legs of a table, the teeth of a saw, etc. In Acoustic Radar in Cardboard (2010-12) Pica refers to the outmoded, obsolete technology of an acoustic locator, the precursor to radar, to "make an image about listening, rather than making a functioning device".
Other works in the show reflect fleeting moments of shared experience, often incorporating the signifiers of celebration and communal gatherings with fiesta lights, party bunting, and confetti. Throughout the exhibition at MIT performers will enact Strangers (2008) a work where two people who have never met before hold a string of bunting for hours at a time in the exhibition space.
During the run of the exhibition Pica's nomadic sculpture I am Tower of Hamlets, as I am in Tower of Hamlets, just like a lot of other people are (2011) will be lent to members of the MIT campus community who've signed up to take care of the sculpture for one week, then passing it on to the next host.  Participants fill out a lending card, which serves as a record of the sculpture's travels. (For the List Center's presentation of this work the title will change to reflect the community interaction and location of the artwork.)
Born during Argentina's dictatorship and so-called "Dirty War"—a seven year campaign against suspected dissidents and subversives—Pica long ago became interested in what it means to have a platform from which to speak and the limits and failures of language. In Venn Diagrams (under the spotlight) (2011) the artist addresses the period of dictatorship in Argentina in the1970s where group theory and Venn diagrams were banned from primary school programs as they were deemed a model for subversive thought. Raising questions about individual speech versus collective speech, and extreme political situations such as those in 1970's Argentina, the artist shines light on how open communication is a protected, individual right in some regions of the world while a privilege in others."
—————————
Art in Boston: An Inaugural Exhibition from the Collection of Sinclair Hitchings

When: On view through March 1st, 2013
Where: Maud Morgan Gallery, 20A Sacramento Street – Cambridge, MA 02138
How: Official Website
What/Why:"This is a town in which our major museums, universities, and Pulitzer Prize-winning critics give short shrift to art made here. An example: the Institute of Contemporary Art has almost completely ignored Boston art since its last Foster Prize exhibit for talented locals in 2010 — and the next edition of the "biennial" show is scheduled to arrive nearly a year late. Instead of fostering a creative community, our leaders often stunt how far most locals can go here.
"Art in Boston" is part collection of Boston art, part research library. The goal: study, exhibit, publish, and promote local artists. Hitchings dreams of it evolving into its own "teaching museum." The fledgling collection is having its public debut at Maud Morgan Arts.
"There is a lot of good work being made in Boston," Hitchings insists. Building a collection is a way to make his point. "People are really only going to be able to get my message by seeing the art."
Hitchings began "Art in Boston" the year following his retirement from leading the Boston Public Library's print department for four decades, building its collection and a $10 million endowment. "The most ambitious of the projects was working with contemporary Boston artists," Hitchings says. "Eventually I built up a collection of more than 1000 Boston artists featuring more than 10,000 works on paper. . . . There is really no collection like it."
"I myself don't think of Boston as a provincial town," he says. "I think it is an academic town. And it's a funny town, because there's a lot of wealth here. . . . The money is here, but the imprimatur isn't here, the patronage isn't here."
Hitchings says, "There needs to be additional energy and some additional money in this town devoted to Boston artists."
So he's buying Boston art for the Cate and Sinclair Hitchings Collection, so far spending "out of my pocket." Plus, he has landed some gifts. The Maud Morgan show features works by Ken Beck, David Akiba, Andy Zimmermann, Rob Moore, Lois Tarlow, Jane Akiba, Maud Morgan Arts director Catherine Kernan, and others.
It's a modest beginning. But it used to be that when the art world felt vital work was being ignored, new museums got founded. Maybe Hitchings's idea arrives at a propitious time." (via The Phoenix)
—————————
Vestments
(Coney Island State of Mind series, Julia Csekö)
When: On view February 2nd – April 4th, 2013
Opening Reception: Thursday, February 7, 6 – 9 pm
Where: 17 Cox Gallery, 17 Cox Court Beverly, MA 01915
How: Official Website
What/Why: "Vestments is an exhibition of site specific installations from three MFA students at the School of the Museum of Fine Arts: Jess Anderson, Julia Csekö and Ingrid de Aguiar Sanchez. Titled after noted Henri Lefebvre's description of "vestments" in his treatise on the social construction of space, "The Production of Space" (1974), the exhibition offers three examples of large hand made surfaces. For Lefebvre, a "vestment" is a shroud or an attempt to conceal a structure's true identity through its outer surface, in doing so, the surface becomes a subject matter of its own.
Traditionally, artists use surface as a passage into their work, to reveal the inner qualities of their subjects, through metaphorical qualities of ornamentation and texture, or the connotations of different material surfaces. For Anderson, Csekö and de Aguiar Sanchez, the surface is used to disguise or postpone awareness of the subject. Anderson's faux wood is deceitful, its silkscreened wood grain patterns distract rather than describe. De Aguiar  Sanchez's collage is impactful, implying volume and chaos while it is nonetheless flat and rigidly patterned. Csekö's mural of Lawrence Ferlinghetti's work "Time of Useful Consciousness" is comprised of singular blocks of text so emboldened with color that they frustrate a linear reading of the whole."
—————————
Saul Chernick: A Skyward Gesture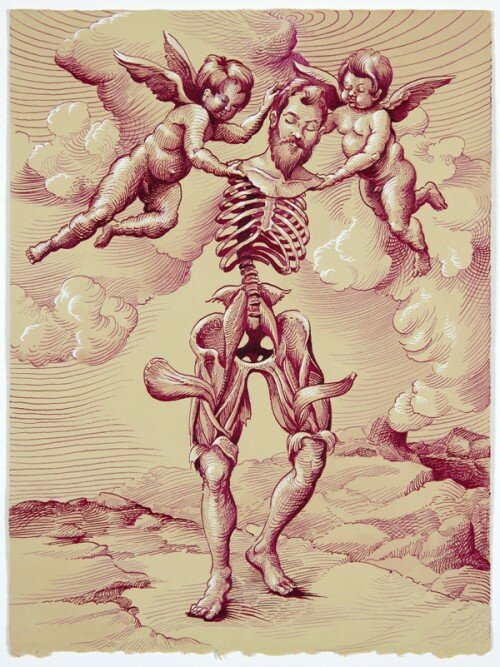 (Sleepwalker)
When: On view February 2nd-March 9th, 2013
Opening Reception: Saturday, February 2nd, 5-7 pm
Where: LaMontagne Gallery, 555 E. 2nd Street / South Boston, Ma 02127
How: Official Website
What/Why: "Saul Chernick treats the Medieval landscape as a siphon for contemporary culture. In the show's titular drawing "A Skyward Gesture," for example, a wiry old man touches his right hand to his right foot and lifts the other, palm out, toward the sky. The simple, yet explicit stance immediately shifts the character from the realm of Gutenberg and into that of recreational yoga, as though contemporaries. In the grand scheme of civilization, Chernick reminds us, they are. 
"A Skyward Gesture" also points to Heaven, where horizonless spaces, often populated by cherubs, sluff off any temporal or narrative continuity. The body itself exists in flux; in the drawings, the European landscape becomes an anatomical trading-place for mythical creatures, each monster absorbing a wing or a leg from another. Emotions, too, are disconnected. Even in the midst of being ripped apart, the figures stare blankly, seemingly elevated into another world. 
The prints introduce a new set of questions, comparing Medieval artists' fascination with heaven with the otherworldly space of the computer screen. In the same way that many of the earliest mass-produced images attempt to show divinity, Chernick's prints show the desktop as a pastoral breeding-ground where floating windows overlap, and framing devices mutate with the information they  are made to contain. Just as mythical characters walk and slither into clearings, frames in "Pangaea" float and overlap, merging rocky arches and Renaissance torsos with empty media players. 
Chernick considers the mark-marking itself a frame, to be freely mingled with the content. His marker mimics etched lines. As  they grow thicker and more pronounced, they evoke pixels, as though losing resolution upon enlargement. Chernick begs the question of what we're actually looking at: an antiquated space, or one that is deeply familiar."
———————
Caint to Caint – Work by Winfred Rembert
(Caint to Caint (Can't see when you go to work, Can't see when you get back))
When: On view through March 17th, 2013
Opening Reception: Friday, February 1st, 5:00 – 8:00 PM
Where: Adelson Galleries, 520 Harrison Avenue, Boston, MA 02118
How: Official Website
What/Why: "Adelson Galleries Boston is pleased to present Caint to Caint, a solo exhibition of Winfred Rembert (b. 1945).  The artwork will be on display from Friday, February 1st, 2013 through March 17th, 2013 in our South End gallery at 520 Harrison Avenue.
The title of the show is based on Winfred Rembert's painting, "Caint to Caint (Can't see when you go to work, can't see when you get back)," referring to working in the cotton fields before sunrise until after sunset during his days in Cuthbert, Georgia in the 1950s and 60s.  Winfred continues this work ethic – working from the early morning to late at night telling his life's story on leather sheets..
Having survived the hardships of bigotry, near lynching, and jail, Winfred has seen some of the ugliest moments in American history.  He retells these memories with a method that he learned in prison when he witnessed a man carving leather wallets.  He began practicing this technique, and later in his life, at the suggestion of his wife Patsy, Winfred took the practice to a new level by carving his life story into sheets of tanned leather that he colors with dye.  He does not depict the horror of his past; rather, he recaptures the feeling and vision of Cuthbert, Georgia in the 1950s and 60s.  One sees segregated pool
halls, church and town scenes that seem antiquated, yet they existed during this man's generation.  His amazing life story is not only an inspiration, but also an important part of American History. "
—————————
Eleanor Steinadler: Of Moody Beach: Impressions in Black and White and Color

(Moody Beach with Chairs #2, Eleanor Steinadler)
When: On view through February 24th, 2013
Opening Reception: Friday February 1st, 6-8pm
Where: Galatea Fine Art, 460B Harrison Ave., #B-6, Boston, MA 02118
How: Official Website
What/Why: "Eleanor Steinadler brings to us volumous, atmospheric photographs of the elements of the sea.  From the moody clouds rolling in over the ocean, to the water-logged ecosystems of what lies near the shore, these photographs document an adoration and observation of the relationship between earth, water and sky.
She writes:  "Some places touch you. Some places stay in your heart.  These visual impressions are of a moment in time, each distilled from multiple experiences and sensations, to convey something essential of the spirit of the place called Moody Beach.  The rising and falling of the sun, the coming and going of the waves, the tides, the shadows of the clouds, the seasons – on the sandy strip of land in Wells, Maine, known as Moody Beach – has become a part of me. I was sated with the sounds and smells, the joyous atmosphere of the sea and those who love her."
—————————
Under Your Skin// Screening  Jennifer Montgomery

When: Friday February 1st, 7-9PM
Where: Montserrat Galleries, 23 Essex Street, Beverly, Massachusetts 01915
How: Official Website
What/Why: "Art For Teachers of Children (1995, 16mm) 
A film by Jennifer Montgomery. Starring Caitlin Grace McDonnell and Duncan Hannah., Distributed by Zeitgeist Films
Based on the filmmaker's relationship with the photographer Jock Sturges, this experimental narrative feature film takes a questioning approach to the topic of underage sex. The cinematic style is a cross between social guidance film and boarding school melodrama, using a deadpan, seemingly objective style that deliberately downplays the outré subject matter, and leaves the viewer to decide what is meant by the age of consent. 
Under Your Skin: The Artist Body in Film
Curated by Filmmaker Tara Nelson, Under Your Skin is a series of screenings and visiting filmmakers considering the role of the artist's body and how it relates to moving image."
—————————
John Dempcy & Alicia Tormey

(Ophelia's Dream 2, Alicia Tormey)
When: On view through February 24th, 2013
Reception: Friday, February 1st 6 – 8PM
Where: Chase Young Gallery, 450 Harrison Ave, Boston, MA 02118
How: Official Website
What/Why: "My recent work is a series of paintings that relate to currents of air and water moving through landscapes. These images capture the motion of vegetation and the undulation of surfaces affected by natural forces. Many of my paint- ings reside between abstraction and realism and often feature an identifiable element such as a stream or a botanical form. The recognizable aspect allows the viewer to connect with the work and go deeper into the more abstracted areas of the composition. When I create a painting, I strive for an image that is fluid, intuitive and imbued with mystery. Ultimately, my intent is to leave the viewer longing for the newly discovered places within my work."
Also on view..
John Dempcy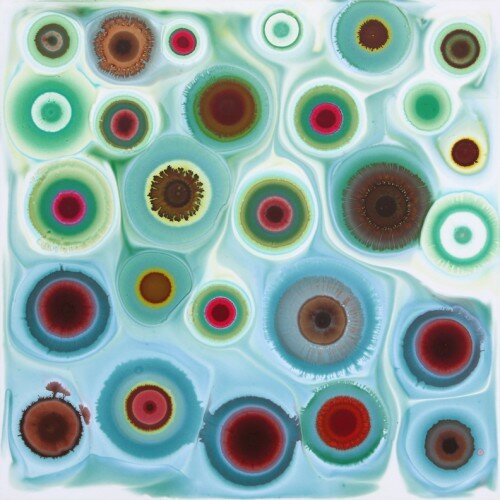 (Acid Drops)
What/Why:"Form follows process as drops of paint define a signature shape that evokes the organic building blocks of life. Subtle modulations of shape, color, and pattern animate a network of interrelated forms and unfolding processes that reverberate in nature. 
Within a limited framework, I explore concepts surrounding the development and perpetuation of biological life. Beyond a purely mechanistic reading of nature, I strive to convey a sense of the wonder I experience and observe in the miraculous process of life. Nature informs human consciousness and inspires us to create the life we imagine."
—————————
Prepared Box for John Cage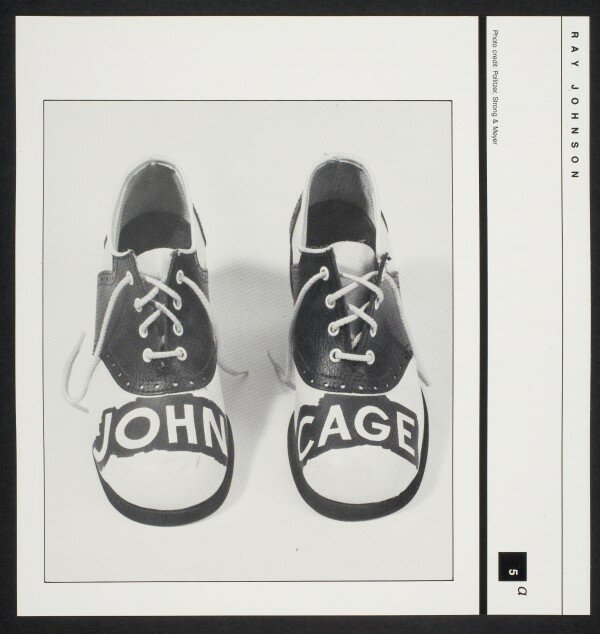 (Ray Johnson, Untitled from Prepared Box for John Cage)
When: On view through June 9th, 2013
Where: Davis Museum, Wellesley College, 106 Central St., Wellesley, MA
How: Official Website
What/Why: "In 1987, artist Allan Kaprow invited contributions to the catalogue for an exhibition honoring the seventy-fifth birthday of composer, artist, and innovator John Cage. The exhibition, organized by Carl Solway Gallery, was held at the Chicago International Art Exposition. Forty-five artists, composers, curators, and writers—members of the Fluxus group, proponents of Happenings, performers of sound poetry, and creators of mail art—responded to Kaprow's call with the poems, drawings, essays, photographs, games, and scores that make up Prepared Box for John Cage. This portfolio of eclectic material, presented in its entirety, explores the influence of Cage's teaching, writings, and music on twentieth-century visual art, music, poetry, dance, and film, with contributions by Robert Rauschenberg, Allen Ginsberg, and Nam June Paik, among others. The exhibition will also offer opportunities to see Cage's scores and listen to performances of his work. Curated by Elaine Mehalakes, Kemper Curator of Academic Programs, Prepared Box for John Cage is presented with generous support from the Sandra Cohen Bakalar  '55 Fund."
Also on view..
Festina lente: Conserving Antiquity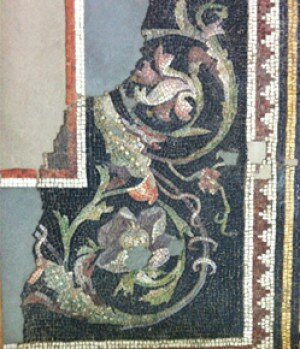 (Unknown, Rinceaux and Meander, 1st Century C.E. Mosaic (stone and glass tesserae, mortar))
When: On view through July 7th, 2013
What/Why: "Installed with the notion of "open storage" in mind, Festina lente offers an unconventional behind-the-scenes opportunity to survey the Greek and Roman holdings in the Davis Museum's permanent collections. Focused on collecting, conservation, and stewardship, the exhibition invites new research and scholarship regarding a range of objects—some, deeply beloved long-time fixtures in the Davis galleries, and others, hidden from view for decades.
As well, the exhibition and programs illuminate the particular challenges facing museum antiquities collections, including questions of attribution, provenance, and authenticity; the science of investigation; changing strategies and shifting aesthetics in restoration; the function of and framework for managing fragmentary objects; the search for traces in abraded and eroded surfaces; and trends in collecting over time.
Featuring vases and vessels of all sorts and designs, relief portraits and standing figures, mosaics, coins and jewelry, human and animal forms, the scope of the collection reveals tremendous vitality of form and function rendered in glass, terracotta, clay, metal, and stone.
The classical adage, Festina lente, greatly favored by the first Roman emperor, Augustus, seems particularly apt in relation to the collecting and conservation of antiquities—and, to the larger project of museums overall. To "make haste slowly," is to balance urgency and diligence, risk and caution—a perfect description for the dynamic focus on collecting, art history and archaeology, scientific research and conservation treatment that distinguishes this project."
—————————
The Space in Between

(Beach Colony, Stefanie Klavens)
When: On view January 28 – March 22, 2013
Where: PRC Satellite Exhibition at Boston Properties Atlantic Wharf Gallery, 290 Congress Street, Boston, MA
How: Official Website
What/Why: "The Space in Between features artwork that focuses on societal built environments in urban settings. The images capture supposedly empty or vacant scenes in public spaces where humans are present without being
pictured. The very absence of human subjects forces the viewer to contemplate the space in between these human-made structures. While firmly rooted in the 21st century, these photographs also portray a timeless feel, as if the artists froze the frame at the initial moment of abandonment, preserving a particular constructed expression of culture for generations to come. Curated by Erin Wederbrook Yuskaitis, PRC Program & Exhibition Manager"
——————–
Sound of Light: Photography and Sculpture from the Middle East and Massachusetts

(Untitled, Wael Kamal)
When: On view through February 15th, 2013
Reception: Thursday, Feb. 7 from 12 – 2 p.m.
Where: Dugan Gallery, 883 Broadway St., Lowell, Massachusetts 01854
How: Official Website
What/Why: "In his current exhibition at Dugan Gallery, Duy Hoang joins force with Wael Kamal, the Egyptian award winning photographer who is listed in the Egyptian National Art Encyclopedias, and Lars-Erik Miller, a current colleague sculpture student at Umass Lowell, to present an intricate bridge between photography and sculpture. They work together under the exhibition title Sound of Light to display their common thought process and ideas through a shift of materiality. Light and the experience of light are shaped by the controllability of darkness and the forms where it occupies."
—————————
Works on Paper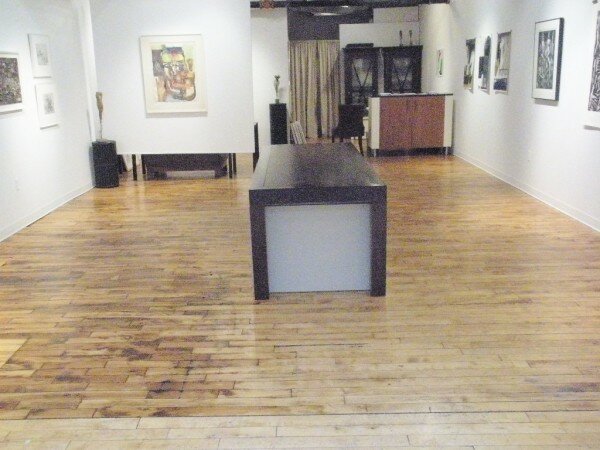 When: On view through February 23rd, 2013
Opening Reception: February 1st, 5:30 PM to 7:30 PM
Where: Soprafina Gallery, 55 Thayer Street, Boston, 02118
How: Official Website
What/Why: "Included are drawings, etchings and prints with works by Jennifer Caine, Claudia Goulette, Rachel Hellman, Nona Hershey, Donald Kelley, David Kupferman, Ruth Mordecai and Nancy Schieffelin."
—————————
Bruce Davidson: Witness
(East 100th Street (Couple Dancing at a Social Club, Harlem, New York))
When: On view through March 30th, 2013
Where: Ars Libri, 500 Harrison Ave, Boston, MA 02118
How: Official Website
What/Why: "The ROBERT KLEIN GALLERY and ARS LIBRI are proud to announce a twofold exhibition of photographs by BRUCE DAVIDSON, one of the most influential photographers of the 20th century. Modern and vintage prints from Davidson's best-known series, including Brooklyn Gang, East 100th Street, and Time of Change, will be shown at both venues simultaneously.Bruce Davidson: Witness opens at Ars Libri (500 Harrison Ave) on Friday, February 1; the Robert Klein Gallery exhibition will begin a week later, on Saturday, February 9. Both shows will run through March 30."
—————————
Mere Suggestions

When: On view through February 2013
Where: Movimiento, 450 Harrison Ave, # 61, Boston, Ma 02118
How: Official Website
What/Why: "I have a fascination with the concept of contrasts between opposites, and how this perceived "dualism" seems to exist in so many aspects of life, and how, in closer inspection, this dualism is simply a construct of the mind and that opposites actually exist only in relationship to each other. This has been, to a great extent, the concept that has inpsired my art in recent years. I also find that there are distinct parallels between these concepts on a large scale, and on a smaller one involving my day to day art making processes and the more formal concerns within the art itself. 
Having recieved my BFA at an art school where the underlying philosophy was strongly rooted in the visual aesthetic, it was eye-opening for me, when then entering the "art world" and being confronted with, in the more progressive galleries and museum exhibitions, work which was often much more conceptual in nature than anything I had been exposed to previously. My enlightenment to these dualistic philosophies has had a fairly profound effect on not only the way I perceive the art world as a whole, but also on my individual artistic evolution, and I decided fairly early on that an orientation based upon exclusivity was not for me. As a result I have walked the line between a philosophy rooted in the visual aesthetic, and in contrast, also maintains the importance of concept. My intent in making art is never about creating a "precious commodity", nor, on the other hand, is it exclusively about the "idea". For me, the existence of opposites and contrast within the same "organism" is complimentary and not detremental. This philosophy exists for me on other levels as well, such as politics, ideas about life/death, etc. These are the views that I attempt to assimilate into my art.
In parallel, on the day to day scale, there exist similar contrasts. For example, painting and sculpture can exist in my studio at the very same instant! I often move back and forth between the two disciplines, one difference being the materials I use and therefore the manner which I am able to convey a specific message. I find that with sculpture I often attempt to "construct" specific ideas, therefore giving it a more conceptual orientation, as opposed to my paintings in which impressions of feelings and more amorphous qualities prevail. In both, however, I am constantly experimenting with the concept of contrasts, such as light/dark, large/small, inside/outside, transparent/opaque just to name a few."
—————————
Ideology and Differences
(Mediates the Other)
When: On view through February 28th, 2013
Sneak Peek Preview Party: February 2nd, 3-7pm
Opening Reception: February 7th, 6-9pm
Where: Hallway Gallery, 66a South Street, Jamaica Plain, Massachusetts 02130
How: Official Website
What/Why: "Sinan Hussein graduated with a Bachelor of Fine Arts from the University of Baghdad in 2004. He is a member of the Iraqi Plastic Artists Society and the Iraqi Artist Association. Sinan has held solo and group exhibitions in Kuwait, Iraq, Saudi Arabia, Dubai, Amman and Turkey. His paintings can be found in various museums and private collections throughout the Middle East. 
Sinan, his wife, and son moved to Worcester, Massachusetts in the summer of 2011. This is his first solo show in the United States.
"His works depict the marriage of female and male figurines surrounded by members of their Tribe. Sinan has picked up a new thread of surrealistic Art with refreshing and renewed techniques, colors and materials, all in a delicate conceptual blend and expressive pictorial structure." Boushahri Gallary, Kuwait (MASHMOOM)
—————————
From the Peabody Essex Museum's Herwitz Collection

(Midnight to the Boom: Painting in India after Independence)
When: On view February 2, 2013 – April 21, 2013
Where: The Peabody Essex Museum, East India Square (161 Essex St) Salem, Massachusetts 01970
How: Official Website
What/Why:"When the clock struck midnight on August 15, 1947, India's independence from British rule fueled a revolutionary art movement that continued through the economic boom of the 1990s. Newly unfettered by traditional cultural expectations, three generations of Indian artists embraced their individual identities, stayed true to their roots and embraced the world's artistic community.
Nearly 60 works by 23 leading artists were selected from PEM's Chester and Davida Herwitz Collection — internationally recognized as one of the largest and most important collections of modern Indian art outside of India. They are presented alongside conversational groupings of key works by more familiar artists including Paul Cézanne, Marc Chagall and Andrew Wyeth, lending context to the development of this movement in the wider world of modern painting."
——————————
The Films of Stanley Kubrick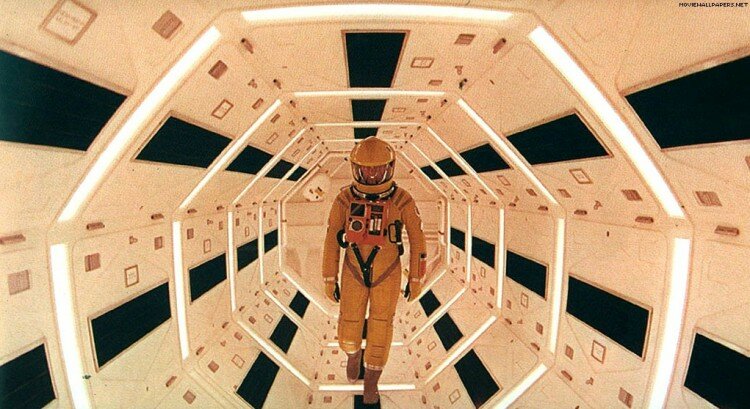 When: On view February 1st through February 24th, 2013
Where: Museum of Fine Arts, 465 Huntington Ave  Boston, Massachusetts 02115
How: Official Website
What/Why: "Join us for a complete, chronological survey of one of the greatest directors in film history. All films screen on 35mm, except where noted."
————————
Don't forget about B of A Museums on Us this weekend.
Stay Sweet. ♥