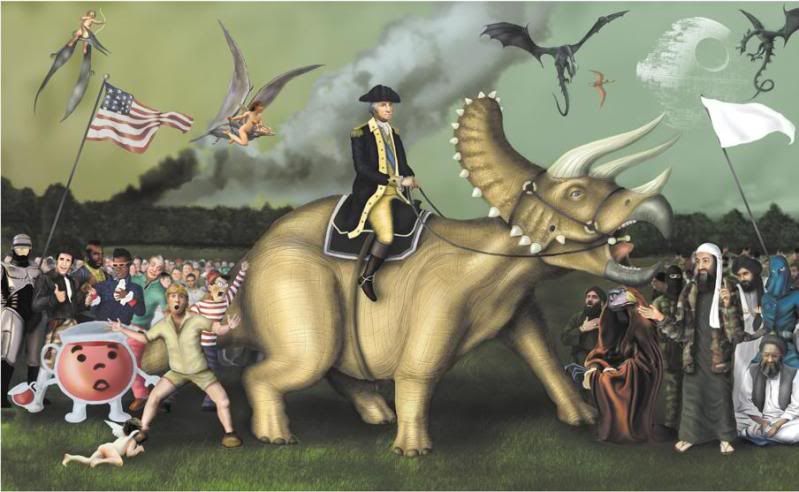 (The Surrender, Joseph Griffith)
I am thankful that George Washington was born on a day that isn't even next Monday and later rode on a Triceratops so that I may have this upcoming three day weekend.
Blessed be.
The Culture Intercom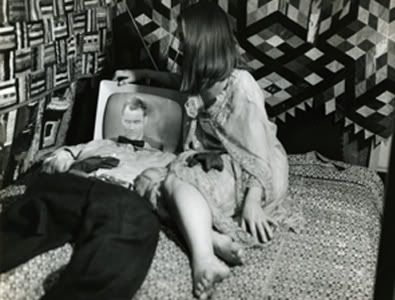 (Breathdeath)
When: On view now through April 13th, 2011
Where: MIT List Visual Arts Center, 20 Ames Street Building E15, Atrium Level
How: Official Website
What/Why: "The MIT List Visual Arts Center and the Contemporary Arts Museum, Houston, present the first museum survey of the work of media art pioneer Stan VanDerBeek, exploring his investigation of art, technology, and communication. Surveying the artist's remarkable body of work in collage, experimental film, performance, participatory and computer-generated art over several decades, Stan VanDerBeek: The Culture Intercom highlights the artist's pivotal contribution to today's media-based artistic practices. The exhibition features a selection of early paintings and collages, a selection of his pioneering animations, recreations of immersive projection and 'expanded cinema' environments, documentation of site-specific and telecommunications projects, and material related to his performance and durational work."
————————
Senior Thesis Exhibition
(Birds, Nick Sullivan)
When: On view through February 19th, 2011
Where: Fourth Wall Project, 132 Brookline Ave, Boston, MA
How: Official Website
What/Why: "The exhibition features select original work from over two-dozen senior theses, juried by faculty. Accompanying the original work will be documentation of process including research, sketch, and development. The Illustration Thesis Project is the most rigorous in Mass Art's illustration program. Students work intensely for longer than two semesters on projects that stretch them as artists— projects that often propel their lives after graduation in many ways. Each project includes a strong body of work, plus a bound graphic summary/artist book that documents the journey and creative process."
Check out photos from the exhibition here.
——————————
Elegant Enigmas: The Art of Edward Gorey
When: On view now through June 4th, 2011
Where: Boston Athenæum 10½ Beacon Street, Boston, Massachusetts 02108
How: Official Website
What/Why: From my last post I am sure you are well aware, but for good measure: "Carnivorous plants, falling masonry, and uninvited guests fill the imaginary world of artist and author Edward Gorey. His stories and accompanying illustrations maintain a delicate balance between the hilarious and the horrific. Gorey's voracious consumption of literature, his love of the ballet, and his off beat and wry view of the world resulted in a sardonic and witty oeuvre. This exhibition explores the diversity of Gorey's art through original pen and ink illustrations, preparatory sketches, unpublished drawings, and ephemera. Drawn from the holdings of the Gorey Charitable Trust, the exhibition comprises approximately 180 objects, including selections from The Gashlycrumb Tinies, The Unstrung Harp, The Gilded Bat, and other well-known Gorey publications. "
——————-
Strange Faces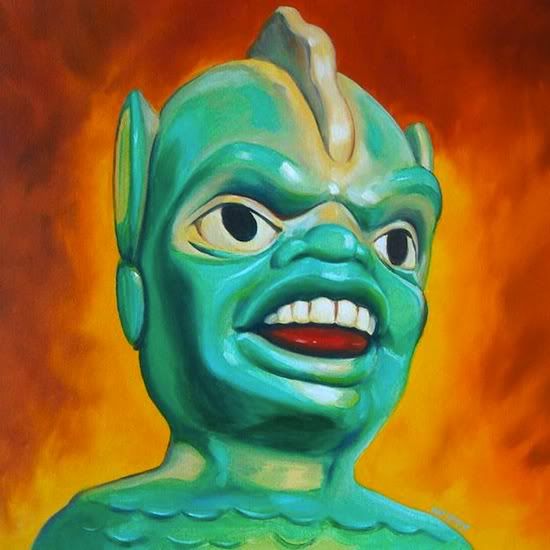 When: On view through March 6th, 2011
Where: Zuzu, 474 Massachusetts Ave., Cambridge, MA
How: Official Website
What/Why: "Video game character designer Robb Waters turns to oil paints for his solo exhibition at ZuZu. It's a portait series, but not one you'd expect; Waters' subjects are all childhood toys and action figures, painted on a grand scale. Because King Cobra missed you, too." (via timeoutboston)
—————————————
Destrukto
When: On view now through March 15th, 2011
Where: Howard Yezerski Gallery, 450 Harrison Ave, Boston, MA
How: Official Website
What/Why: "Howard Yezerski Gallery is pleased to present Destrukto, a recent series of photographs by artist Bill Burke. Burke's work is visceral and immediate, but behind the action and explosions, the exotic locales, gruesome scenes and outré material there is a rigorous examination of photographic conventions. Throughout his career Burke has continually called into question the idea that the camera is, or could ever be, a disinterested tool, objective recorder of events, or device for the scientific collection of data. Instead, he revels in the inherent subjectivity of the photographic image, making art and books with a vitality that comes from being as untidy and irreducible as the world around us."
————————-
A Debt to Pleasure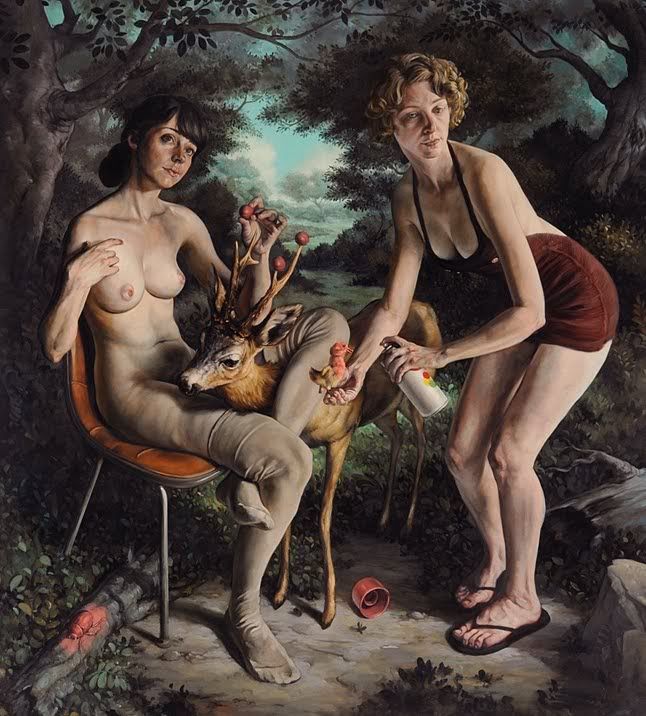 (Alterations, Erik Thor Sandberg)
When: On view now through April 2nd, 2011
Where: Montserrat Gallery, 23 Essex St, Beverly, MA
How: Official Website
What/Why: "Beyond their flawlessly rendered surfaces, the paintings in A Debt to Pleasure integrate the sensual and the sinister, the vulgar and the mysterious. Each artist explicitly references stylistic techniques and aesthetics of the past to create a provocative body of work that explores meaning making in painting. In a decidedly postmodern manifestation, allegorical realism is employed to investigate symbolism in contemporary art, dissemination of cultural history and the continued obsession with 'everything new'.
———————————————————-
Re-View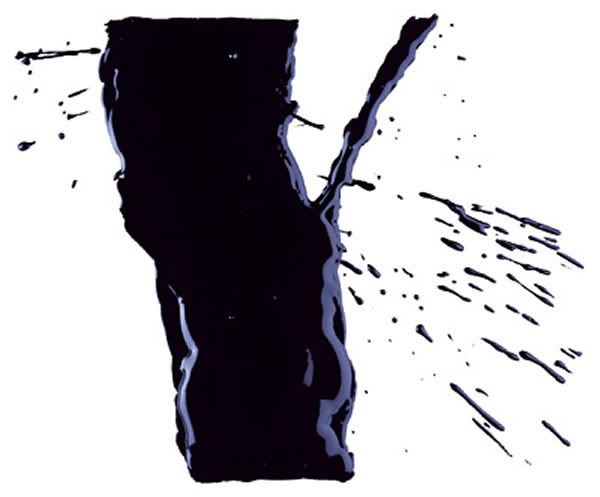 (After Motherwell, Vik Muniz)
When: Permanent Collection with rotating exhibitions
Where: Arther M. Sackler Gallery, 32 Quincy Street, Cambridge, MA 02138
How: Official Website
What/Why: "This survey features a selection of over 600 objects drawn from the collections of the Fogg, Busch-Reisinger, and Arthur M. Sackler museums that reflects the diversity and richness of the Harvard Art Museums' holdings. Well-known objects are included alongside rarely displayed works in thematic gallery spaces: European and American art since 1900 is on the first floor, Islamic and Asian art is on the second floor, and the fourth floor features Western art from antiquity to the turn of the last century. Re-View represents a powerful distillation of the collection, fulfilling a wish to make available important works—some of them familiar highlights and many of them integral to the Art Museums' core mission of teaching and research."
——————-
Types we Can Make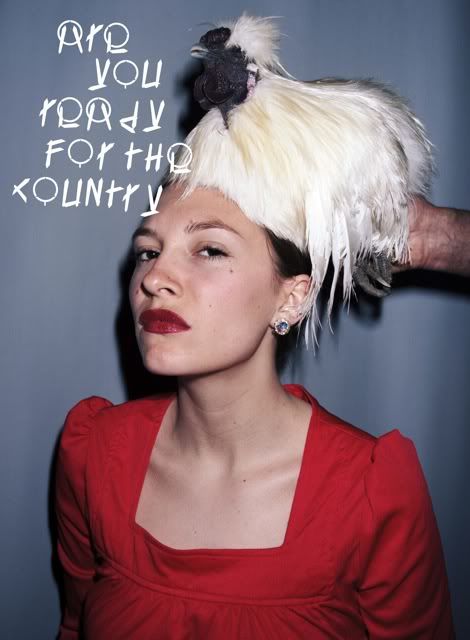 When: On view now through February 20th, 2011
Where: Compton Gallery, MIT Museum, 77 Massachusetts Ave, Boston, MA
How: Official Website
What/Why: "The exhibition presents a selection of new typography from Switzerland, where type design has been a high art form for generations. Young Swiss designers today confront this long tradition with irreverence, humor and boldy creative strokes using digital and traditional design tools. Represented in the exhibition are the font designs of Nicolas Eigenheer, Phillippe Desarzens, Matthieu Cortat, Emmanuel Rey, Jeremy Schorderet, Ian Party, Gilles Gavillet, David Rust and a dozen others, all graduates of the design program at University of Art & Design (ECAL) in Lausanne, Switzerland."
—————————
Diesel Cafe presents Rifrakt! A night of art & coffee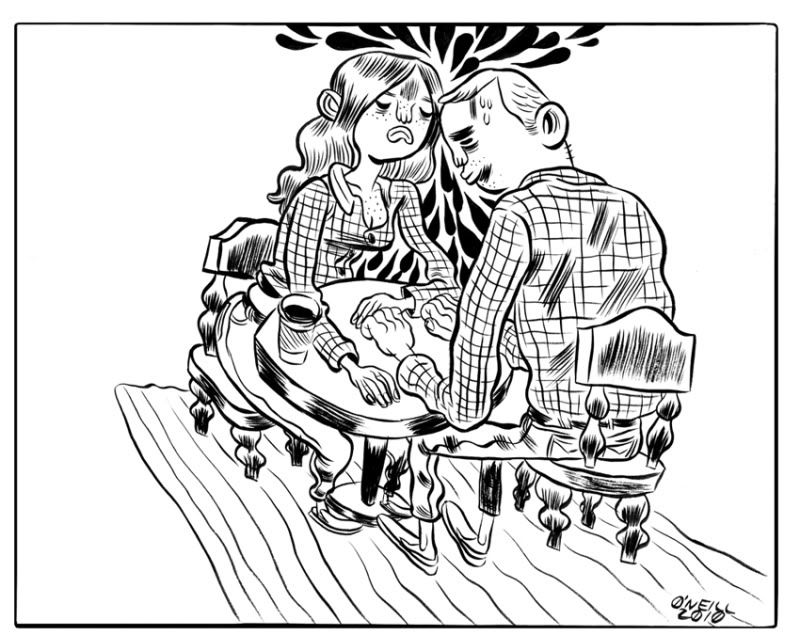 (Unhappy Couple, Chris O'Neill)
When: Friday February 18th, 2011 7:00pm –  10:00pm
Where: Diesel Cafe, 257 Elm Street, Davis Square, Somerville, MA
How: Official Website
What/Why: Rifrakt Artist Collective will be in Diesel Cafe for 2 months starting Feb 18.  For more information on participating artists check out Rifrakt's website.
————————————-
Drip Drop: New Work of Shannon Pierce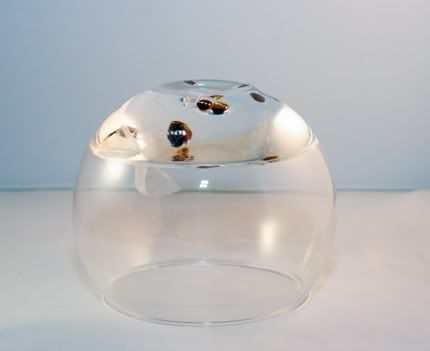 When: On view through February 27th, 2011
Where: Kingston Gallery, 450 Harrison Avenue #43, Boston , MA
How: Official Website
———————————————-
Portraits, Berenice Abbott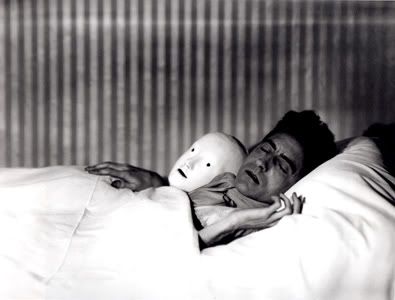 (Cocteau in Bed with Mask)
When: On view now through June 17th, 2011
Where: Dean's Gallery, 20 Ames Street Building E15, Atrium Level
How: Official Website
What/Why: "The Dean's Gallery presents eighteen black-and-white portraits by famed American photographer Berenice Abbott. These newly acquired works are part of the MIT List Visual Arts Center's Student Loan Art Collection. .. Most of the portraits shown here were made during Abbott's years in Paris. Among the figures she photographed were French surrealist writer René Crevel, American social activist and philanthropist Dorothy Whitney, early jazz drummer Charles "Buddy" Gilmore, Pulitzer Prize-winning poet Edna St. Vincent Millay, and prominent writer and artist Jean Cocteau."
————————
See art. Stay up late. Sleep in. Have fun ♥