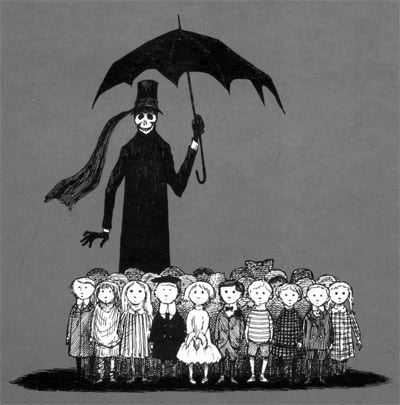 Last night I was invited to the Boston Athenæum Associates' Opening Reception for Elegant Enigmas: The Art of Edward Gorey exhibition.
I had fun. A little too much fun.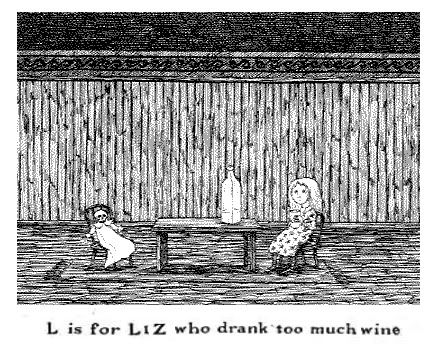 "Carnivorous plants, falling masonry, and uninvited guests fill the imaginary world of artist and author Edward Gorey. His stories and accompanying illustrations maintain a delicate balance between the hilarious and the horrific.
Gorey's voracious consumption of literature, his love of the ballet, and his off beat and wry view of the world resulted in a sardonic and witty oeuvre. This exhibition explores the diversity of Gorey's art through original pen and ink illustrations, preparatory sketches, unpublished drawings, and ephemera. Drawn from the holdings of the Gorey Charitable Trust, the exhibition comprises approximately 180 objects, including selections from The Gashlycrumb Tinies, The Unstrung Harp, The Gilded Bat, and other well-known Gorey publications. "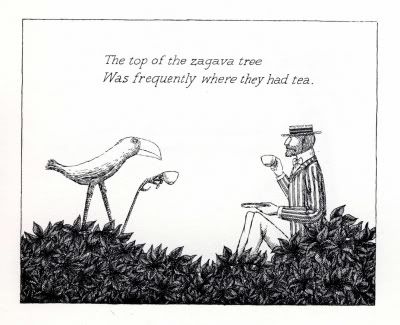 I particularly enjoyed the watercolored envelopes he mailed to his mother, some of The Gashleycrumb Tinies process sketches, various stuffed characters, and his miniature books.
A few members strolling around were getting REAL deep.  At one point, there was a couple standing next to me in the gallery and the girl was clearly enjoying the free wine.
They began discussing the following piece(it was in a series of 3):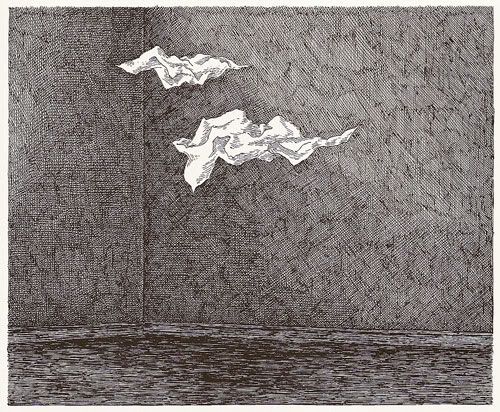 guy: I like this.
girl: Yeah…iz like, you can jus feel the spirit yknow? Like I can see a ghostn all of theze pigjures -motions with hand-
guy: Yeah? Where?
girl:….i gotta go.
The exhibition will be on view through June 04, 2011 and is a definite must-see for Gorey fans.
For even more macabre, be sure to check out the Edward Gorey House in Yarmouth Port, MA where you can tour the museum and purchase original etchings!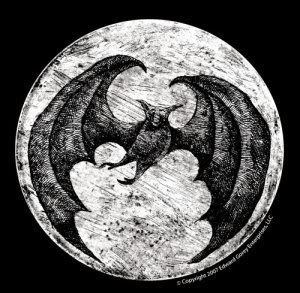 #95 please. ♥