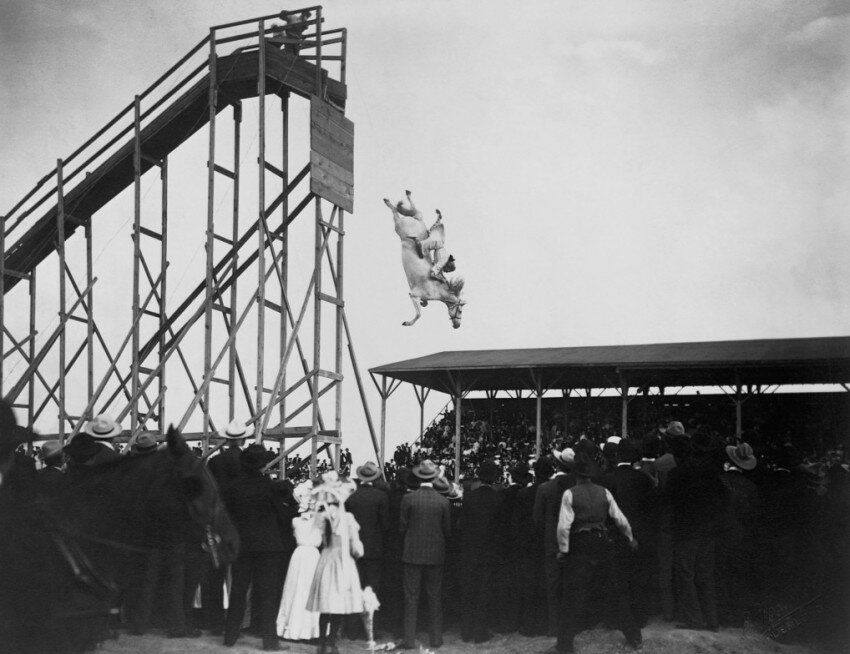 boxers & ballerinas x pixels & photons x design & chance x the visual journey
 ——————————
Boxers and Ballerinas

(Dancers at the Bar 3, Michael Costello)
When: On view through March 17th, 2013
Opening Reception: Friday February 15th, 6-8PM
Where: Gold Gallery, 655 Tremont Street, Boston, MA 02118
How: Official Website
What/Why: "Gold Gallery introduces a suite of drawings by Boston artist, Michael Costello. "Boxers & Ballerinas" explores our inherent duality and is inspired by graphic novels,  pop culture of the sixties, and the history of transvestitism in comedy. "
————–
Me Love You Long Time (MLYLT)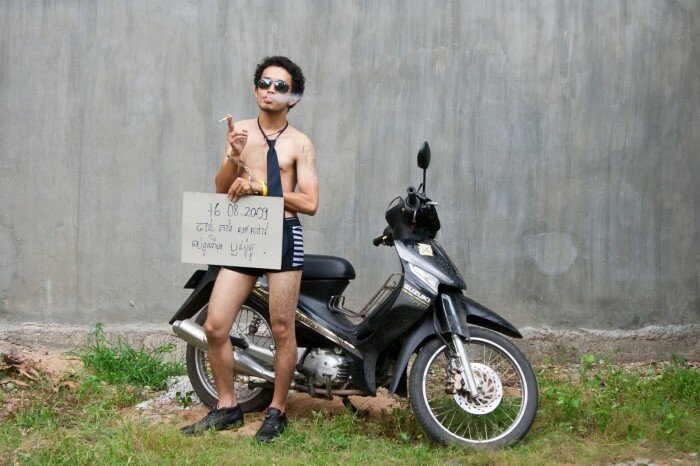 (Thief, Lim Sokchanlina)
When: On view through April 7th, 2013
Opening Reception: Friday February 15th, 6-9PM | Video Screening /Artist talk info here.
Where: Mills Gallery, 551 Tremont Street, Boston, MA 02116
How: Official Website
What/Why: "An intimate survey of contemporary art since the 1990s by artists primarily of Southeast Asian descent, Me Love You Long Timeincorporates various media and new visual strategies to explore or upend themes such as gender, sexuality, sex work, cultural tropes and subjectivity."
————–
Design and Chance: Three Approaches to Contemporary Printmaking

(Contain, Kristin Breiseth)
When: On view through March 15th, 2013
Where: 13 Forest Gallery, 167A Mass Ave, Arlington, MA
How: Official Website
What/Why: "Contemporary printmaking has gone far beyond the copper plate and the iron press. Although new and innovative techniques are constantly being discovered, that element of surprise the artist experiences when pulling the paper back from the plate happily remains. 
Design and Chance: Three Approaches to Contemporary Printmaking is an exhibition of new and recent work by three Boston-area printmakers who embrace new techniques with often unexpected results. Building on time-honored traditions, these artists employ methods as dissimilar as gelatin-plate printing, computer-based illustration and color photograms made in the darkroom. 
Modern in approach, Kristin Breiseth, Mark J. Stock and Laura Wulf show that skill and happenstance continue to play equal roles in an art form that seems to have no evolutionary limit."
—————————–
CU / ECU / MCU / MS / MLS / LS / ELS

When: Friday February 15th, 2013 7PM
Where: Sept/May Gallery,  92 Oxford Street, Cambridge MA 02138
How: Official Website
What/Why: "300 feet of 16mm film will playfully engage 300 square feet of space in anticipation of our collective creative desires to fill it in frame by frame with speculations, proposals and necessary conversations. The film produced within two hours this Friday by you and everyone else, an exquisite cinematic corpse par excellence, will have a single debut projection at the end of the evening.
Join us this Friday evening at 7pm for an equisite-decor-mise-en-scene or perhaps more simply described as a group with [2hrs and] 
a movie camera."
————————————
Frigid Phrases

When: Wednesday, February 20, 2013, 4–6:30 pm
Where: Greenway Wharf District Parks, Boston, MA
How: Official Website
What/Why: "Boston's Rose Kennedy Greenway park will host "FRIGID PHRASES," a free, participatory public art event from 4–6:30 pm on February 20, 2013. Created by two students at the School of the Museum of Fine Arts, Boston (SMFA), Kate Gilbert and Emily Lombardo, this all-ages event is about embracing winter in New England and celebrating Boston's creativity using the popular word game "Mad Libs."
 That afternoon, five large-scale poems written by local poets will hang in the Greenway's Wharf District Parks. Players will be given two mismatched gloves with single words printed on them and asked to make new poems using their gloves and following the rules of Mad Libs (e.g., replace a verb with a verb, a noun with a noun, etc.).
 The goal is to end up in possession of a matching pair of words, so participants are encouraged to swap gloves with other players and get involved by exchanging word-gloves within the large-scale poems. Players will be able to keep their gloves, a memento of the experience and a limited edition artwork by Lombardo and Gilbert. Participants can play as many times as they want throughout the duration of the event and free hot tea will be provided.
 "FRIGID PHRASES" began as an exploration into relational aesthetics, the term coined by author and curator Nicolas Bourriaud. "We wanted to take this idea of artists creating dynamic social environments beyond the classroom, galleries, institutions, and out into the real world," says Gilbert. "We hope people will gather after they've played, have some tea, get to know one another and appreciate Boston in the winter," says Lombardo. Both Boston residents for more than10 years, Gilbert and Lombardo will receive their Master of Fine Arts degrees from SMFA in May and August, respectively.
 The poems serving as the Mad Libs canvases were chosen from a public call for poetry earlier this year. The authors are: Jeremy Alliger (Executive Producer of Alliger Arts and founder of Dance Umbrella), Annie Colbert (Acton Boxborough Regional High School graduate currently at New York University), Pamela de Olivera-Smith (Jamaica Plain poet and writer), Shoshana Spencer (BFA candidate at SMFA) and 5th graders Leia, Kayla and Susan from the KIPP school in Lynn, MA."
—————————–
Martin Mugar and Paul Pollaro"Incommensurabilities?
Paint and The Expanded Real"

(Martin Mugar)
When: On view through February 23rd, 2013
Where: Bromfield Gallery, 450 Harrison Ave, Boston, MA 02118
How: Official Website
What/Why: "The paintings of Mugar and Pollaro explore the notion of a ground that goes beyond the canvas or board supporting the paint and becomes a metaphysical ground hidden beneath the visual. It is a harshly altered notion of the visual on the canvas.
The surface of paint does not just refer to itself but is the crust where the hidden becomes visual, but almost simultaneously withdraws.
Pollaro's notion of ground is mud, embodying a murky primordial earth, beneath the surface of visuality. Its locus in sites of volcanic activity, the work is self-referential in that the object is the subject: it is made with tar that looks like mud. But the journey he follows as he manipulates the tar becomes a strange amalgam that speaks of certain special and sensual qualities: from limitlessness to the armor of a giant crocodile.
Mugar creates a flickering surface that is the interface of the sunlit world and the swelling body of the ocean's restless flux. This is not a world of people and things,  nor of the distinct forms of abstract rationalism. The individual units of the painting are an impulse themselves, as Mondrian's flat units are questioned as a basis for painting.
But what if all this repetition of marks hints only at a grim monotony that all the color cannot belie: the repetition of waves ad infinitum that reveal nothing or only serve to hide the truth."
—————————–
John Lobosco-The Visual Journey

When: On view through March 30th, 2013
Where: Albright Art Gallery, Downstairs @ 32 Main St., Concord, MA 01742
How: Official Website
What/Why: "Albright Art Gallery brings contemporary art to historic Concord, MA and showcases regional contemporary artists."
————–
Pixels and Photons

When: On view through February 24th, 2013
Opening Reception: Saturday February 16th, 2013 7-10PM
Where: Gallery X, 169 William Street, New Bedford, MA 02140
How: Official Website
What/Why: Photography and Digital Art.
————–
June August – Pop Fusion: Past Present

(Blue Bob Dylan English Red)
When: On view through March 22nd, 2013
Where: Beverly J. Tassinari Gallery, Library, Academic Center, Newbury College, 150 Fisher Avenue, Brookline, MA 02445
How: Official Website
What/Why: "Featuring the prints of June August. The exhibition is curated by Professor Peter Galeno of Newbury College.  Dates are February 7 – March 22, 2013.  The show has Andy Warhol and Takashi Murakami meeting in one silkscreen, the other works show their and other artists' influence."
————–
Barbara Grad – Lost Horizons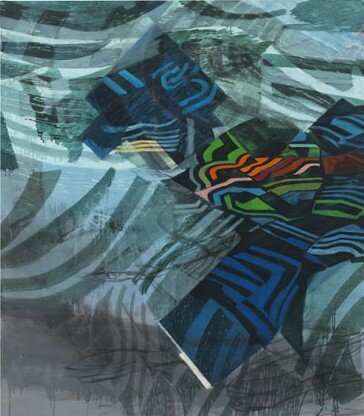 (Crosscurrent)
When: On view through March 12th, 2013
Opening Reception: Saturday February 16th, 2013 4PM
Where: Howard Yezerski Gallery, 450 Harrison Ave, Boston, MA 02118
How: Official Website
What/Why: "Howard Yezerski Gallery is pleased to present Lost Horizons, a solo exhibition of recent paintings by Barbara Grad. In this latest series Grad shoves towards a new abstraction, pushing the boundary of representation until it teeters on the edge of instability.
Grad sees herself as a part of a movement of artists rejecting image and instead accessing space through paint and color. She takes cues from artists like Sigmar Polke who take resources from everywhere, creating a discourse between the materials and the images. She thinks about David Park's sense of light traveling through the paint, applying those lessons to her treatment of space and color.
Grad fills her paintings with the contradictions of contemporary human experience. She searches for geometries that match the volatility that she senses beneath her feet. She uses mapping as a visual language to fuse divergent regions. What emerges is a divergent aesthetic based on intuitive yet labyrinthine treatment of imaginary space. Geometries oppose organic line; atmosphere bleeds into the concrete.
The shapes of color tip into one another. The paintings spin you around within them, disorienting. The stripes trick your eye into looking for pattern. The ground beneath the green is unstable, pulled out beneath the space of the painting. Go deeper. You move further, but cannot find a place to rest. The abstractions confront, disorient, and engage."
————–
Ed Ruscha: Standard

When: On view through June 9th, 2013
Where: Rose Art Museum, 415 South Street, Waltham, MA 02453
How: Official Website
What/Why: "Ed Ruscha: Standard is an exhibition featuring work from across the sixty-year career of one of America's most innovative and influential artists. Originating at the Los Angeles County Museum of Art (LACMA) and drawn largely from its collection, the exhibition will feature more than 70 works of art in a variety of media including painting and film by this iconic Los Angeles-based artist and will be supplemented by selections from the Rose collection. 
Ruscha's art depicts everyday objects – gas stations, street signs, billboards, commercial packaging – yet often triggers philosophical reflections about the relationship between words, things, and ideas. The word "standard," a reoccurring one in the artist's vast body of work, is a case in point: it can be a banner or rallying point, an established level of quality, or an oil company's brand name. In his depictions of Standard stations, Ruscha points to each of these definitions and more, making his repeated treatment of this word/image a revealing structure through which to track and analyze the artist's development over time. 
"Remarkably, given the artist's stature and influence, the Rose's presentation of Standard will be the first large-scale solo museum exhibition of Ed Ruscha's work in the Boston area," states Christopher Bedford, Henry and Lois Foster Director of the Rose. "Consequently, this region will have the rare opportunity to look and think deeply about an artistic trajectory over decades that has left an indelible mark on the history of art."
Working confidently in many media, including painting, photography, printmaking, drawing, and film, Ruscha is recognized as one of the most important artists of our time. His profound influence can be seen in graphic design, cinema, architectural theory, and urban history."
Also on view..
On the matter of abstraction (figs. A & B) |Walead Beshty: Untitled

"Artist Walead Beshty collaborated with Christopher Bedford, Henry and Lois Foster Director of the Rose, to create On the matter of abstraction (figs. A & B).  Comprised of post-war non-figurative works drawn from the Rose's permanent collection, the exhibition takes the architecture of the museum's original building (Max Abramovitz, 1961), and uses it to structure two parallel narratives. The entry level, a terrazzo clad room with floor to ceiling windows, features works in the tradition of analytic abstraction by Ellsworth Kelly, Sol Lewitt, Robert Mangold, Kenneth Noland, Agnes Martin and Judy Chicago, among many others.  Downstairs, the materially laden objects on display demonstrate a contrasting investment in the unruly. With works by Mark Bradford, Jessica Stockholder, Ana Mendieta, Helen Frankenthaler, Robert Rauschenberg and Charline von Heyl, among others, the lower level focuses not only on the gesture and body of the artist but also on the cultural detritus of the world at large. Beshty describes the visitor's descent to the lower floor as a movement from "the cathedral to the cave… both existing as traditional sites of ritual, contemplation and communion." here re-imagined as a passage from "line to stain."
Within the same space, Beshty created a separate work, a mirror and glass floor that runs throughout both levels of the building:Untitled (Rose Art Museum, Brandeis University: Waltham, Massachusetts, February 12 – June 9, 2013). According to Bedford, "While Beshty's floor is not part of the exhibition on the surrounding walls, it does function as a physical armature for the viewing experience, straddling—perhaps even collapsing—the dialectical concept that structures On the matter of abstraction's two parts.  But while Beshty's floor may lack an image of its own, it absorbs the world around it through reflection, becoming by virtue of context a highly representational device.  Over time and through use, the surface cracks as a result of visitors' movements, subsequently taking apart the images of the objects we see in it, until finally that reflected world is nothing more than a dense matrix of fractured images and jagged lines."
————–
What It Is

(Oven, Anthony Palocci Jr)
When: On view through February 28th, 2013
Opening Reception: Friday February 15th, 2013 7-11PM
Where: Lot F Gallery, 145 Pearl Street, Boston, Massachusetts 02110
How: Official Website
What/Why: "Artist Anthony Palocci Jr. is driven to paint the things around him, exposing the character and personality of everyday objects. In What it is, his first solo exhibition in Boston, he will reveal a glimpse of his life, through beautiful interpretations of refrigerators, sinks and stove tops on canvas. He observes his subjects in a very minimalistic perspective, that is both mesmerizing and familiar to the viewer. 
Anthony's new body of work is an extension of his previous series, Eat & Sleep, which revolved around studies of food and bedroom scenes. Continually drawing on these topics, he chooses to zone in on and develop methods to paint them. "….it is through this process of identifying how an object exists in space and in light," he explains, "that the feeling I am looking for in the work is expressed." 
This past spring, Anthony graduated with a MFA from Pratt Institute in New York City, after earning an undergraduate degree in painting at Montserrat College of Art in 2009. He works primarily in oil, the fluidity of the medium lending to his process of "coming back" to paintings that he is working on. He is inspired by the way he looks at life, zooming out from the detail to the big picture. 
The imagery that Anthony creates can be so simple, yet hold a lot of power and represent a greater unknown. As the body of work compels the viewer to ask questions, Anthony believes that is exactly what art should do. "Life can be ironic, depressing, or absurd, and it can quickly become fortuitous and exciting. What is consistent is the environment and the things we interact with on a daily basis". 
————–
The Written Word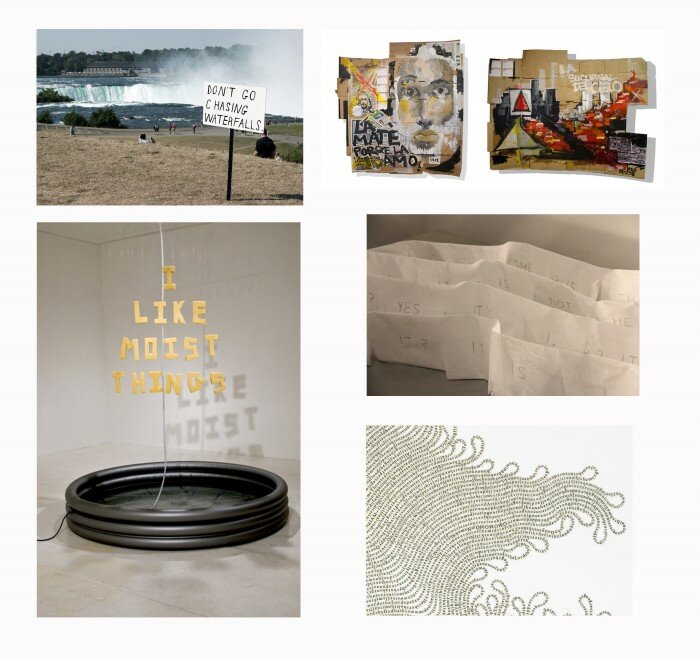 (exhibition preview)
When: On view through March 2nd, 2013
Opening Reception: Saturday February 16th, 2013 6PM-12AM
Where: Blanc Gallery, 110 Brookline Street in Cambridge, MA 02139
How: Official Website
What/Why: "In its communicative function, language is a set of tools with which we attempt to guide another mind to create within itself a mental representation that approximates the one we have."
Blanc Gallery presents "The Written Word", featuring text based art from local, out of state, and international artists. Featured artists include: Boston-based Pat Falco and Sara Rushford, international street artist known as Jousef Massif, as well as nationally acclaimed artists Charley Friedman and Meg Hitchcock who have been featured in publications such as The Huffington Post and The New York Times.
"The Written Word" will explore the many ways in which language and text can altar and expand the visual experience. All language is relative. Words have alternative meanings regionally and languages differ across the globe. So how much does language actually affect the way we think and interpret the things we see? To what extent do the words we read and write convey our fundamental meaning?
While the works of Falco and Friedman explore the use of humor and sarcasm reinterpreted into a visual form, Hitchcock takes the written word in a completely different direction by collageing cutouts from biblical and other religious texts in order to foster a deeper understanding of these well-known words and their meanings.
The work of Sarah Rushford examines the writing process through her work. Because her work is rooted in hand written words, she subsequently examines the degradation of the written word via its relationship with the body and the gestural movements necessary to create it. Her simplistic word choices allow her viewers to focus on the emotional connotations we associate with certain words and phrases, as well as the gestural movements she has tied to them visually.
Finally, we will explore translation and the shortcomings of written language through the work of Latin-American street artist known as Jousef Massif. Massif incorporates words in Spanish and sometimes in English as a means of highlighting the inability to fully communicate ones inner thoughts through art or language. Through his work, we might question whether we can ever truly 'understand' one another."
————–
The Slow Vast Heave of Matter That Just Floats in the World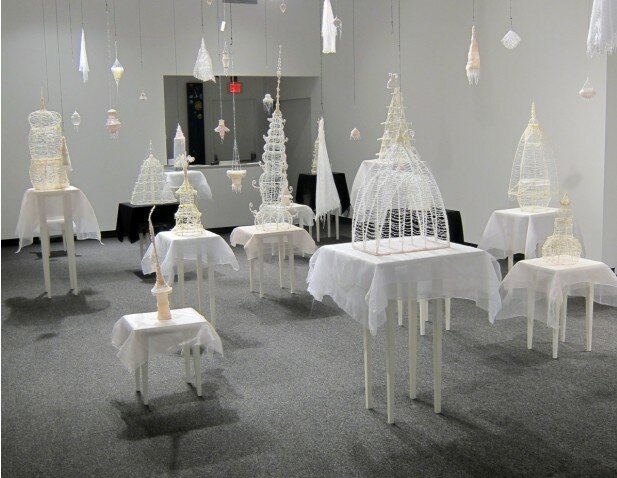 (installation view)
When: On view through February 23rd, 2013
Where: Gallery NAGA, 67 Newbury Street, Boston MA 02116
How: Official Website
What/Why: "In February, Gallery NAGA's exhibition space will be occupied by Esther Solondz's complex and ephemeral installation The Slow Vast Heave of Matter That Just Floats in the World.
The Slow Vast Heave of Matter That Just Floats in the World is on exhibition from February 1 through 23.  A reception for the artist and the public will be held at the gallery on Friday, February 1 from 6 to 8 pm.
The continuing evolution of Esther Solondz's fascination with and experimentation with materials that transform is expressed in her new work.  For the past ten years, she's worked with substances that, over time, turn themselves into something else: dripping salt water that forms stalagmites, iron filings that rust to leave a suggestive half-here, half-there image.  This installation is comprised of materials—steel, thread, and silicon rubber—one might assume would transform or dissolve, but in fact are much more stable.
The Slow Vast Heave of Matter That Just Floats in the World is an installation made up of structures hanging from the ceiling, propped on pedestals, and slowly rotating from the ceiling with fabric drifting between them.  The structures are made out of steel then wrapped in thread and then coated in silicon rubber.  Some are so tall and precarious while others are so heavy with dripping silicon they look as if they might topple over at any moment. 
The overall feeling of the work is one of weightlessness.  Some structures appear as if they have just arrived and others appear as if they might be on their way to another plane of existence.  They hover, held up by string, or float on sheer fabric.   "I was trying to make structures that paradoxically had the most minimum amount of structure.  Impossibly light, which of course was impossible.  I kept thinking I wanted them to have no structure at all – that they could be released from the constraints of the materials that were necessary to hold them up.  I tried to counterbalance the grounded weight with structures that were tethered from above.  Together I felt that they created some kind of equilibrium – a delicate balance, a fragile beauty, akin to floating," Solondz says. "
————–
StrokeTraceBlow: Joshua Neustein, Jacob El Hanani, Roland Flexner

(Gendered, Joshua Neustein)
When: On view through March 9th, 2013
Where: Steven Zevitas Gallery, 450 Harrison Ave, Boston, 02118
How: Official Website
What/Why: "Steven Zevitas Gallery is pleased to present an exhibition of three mature artists who have influenced the direction of drawing and contributed to the acceleration of the discourse surrounding drawing over the past decade. They have each founded notable points of interest or milestones for emerging artists. The show's title, StrokeTraceBlow, describes the physical activities, the methods of these artists' studio practice. Joshua Neustein (pronounced noy-sh-tine),  Jacob El Hanani and Roland Flexner have developed highly personal bodies of work, but share a discourse. There is a critical link between the facture of their work and its content; or, put differently, each produces work whose "meaning" is immanent and derives largely from the way in which it was created. More information about the exhibit here."
————–
Simen Johan: Until the Kingdom Comes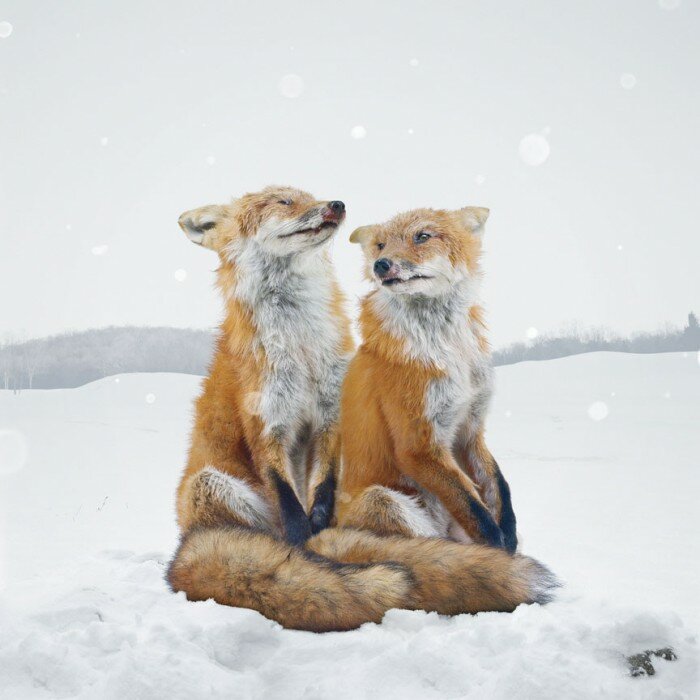 (Untitled #136)
When: On view through February 17th, 2013
Where: The David Winton Bell Gallery, located on the first floor of List Art Center, 64 College St, Brown University, Rhode Island,
How: Official Website
What/Why: "In Until the Kingdom Comes—the ongoing series that he began in 2006—Simen Johan creates a natural world that is, at one and the same time, familiar and uncanny. The images are amusing, sweet, clever, mysterious, foreboding. His oversized photographs depict animals at nearly life size, increasing the sense of verisimilitude and often engendering a sense of awe at the viewer's "face-to-face" encounter with the animal. 
Johan photographs animals in zoos and farms, occasionally employing taxidermy and road kill. Uncanny elements may be captured during shooting—as in his image of a lamb that sits upright like a dog, taken with the aid of a farmer who held the animal in position while the image was shot—or created through the use of Photoshop. 
Striving to "confuse the boundaries between opposing forces, such as the familiar and the otherworldly, the natural and the artificial, the amusing and the eerie," Johan mixes sweet images appropriate to children's literature (such as the lamb) with dark and mysterious scenes that might illustrate our primordial beginnings or apocalyptic ends. Smiling owls and weeping foxes mimic human emotions. Two moose wage battle amidst a flock of parakeets. And, in a particularly dark and foreboding image, an elderly bison (a symbol of the American West?) lies on the ground amidst a landfill. Like many of Johan's works, the image takes on layered interpretations, speaking simply to our individual ends, or more broadly to the environmental and political decline of our nation. For Johan, this is all part of an existential search for spiritual or philosophical truth. He sees his animals not as personifications of humans, or as animals as such, but rather as part of the universal spirit that encompasses us all."
————–
Stories Retold

When: On view through February 27th, 2013
Where: Ellen Miller Gallery, 38 Newbury Street, 4th Floor, Boston, MA 02116
How: Official Website
————–
Would you like a free issue of local Literary and Arts Magazine, Spirited? Only a few more hours left in the FLUX. giveaway! Learn more here.
The future is full of tweets. #dystopia
Go see art. Stay sweet. Have a great weekend! ♥