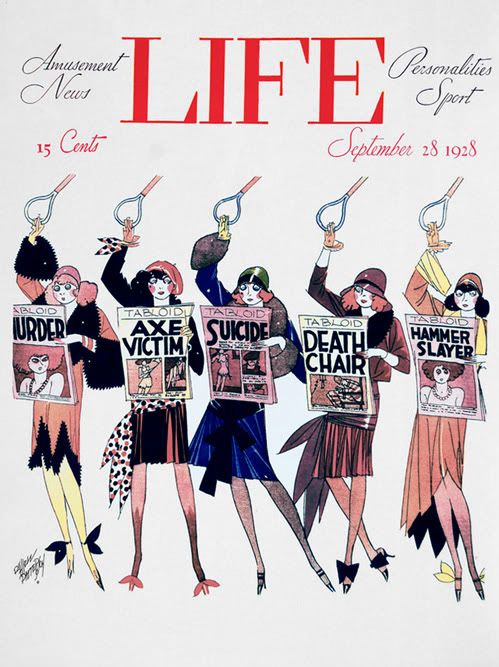 Hi.
Let's start things off with my pick of the week..Voltage Coffee in Kendall Square is hosting an art opening this evening for Tess Jenkins, and it looks to be amazing. I have been to Voltage for a few different events and it never disappoints, its nice to see gallery spaces popping up in non-traditional settings.
However, I must admit I have yet to sample one of their creative coffee concoctions since I don't 9-5 in the area. The owner even makes her own syrups and snacks from scratch!
The Atticus Finch, a latte with vanilla and burnt sugar has my name all over it.
Maybe I should hire an intern to deliver lattes to my face, take my dog out, and read PerezHilton for me because I am so out of touch with celebrity gossip these days.
Ashlee and Pete?!  Jude and Sienna?! WHAT WENT WRONG!?
The Work of Tess Jenkins(Opening Night)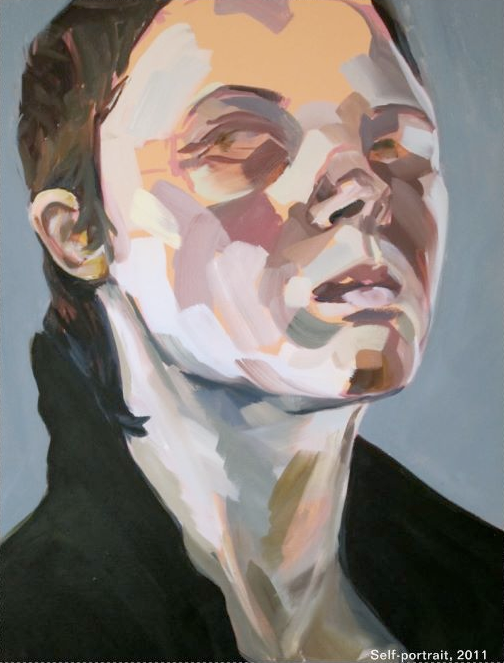 When: Friday February 11th 7:00-10:00PM
Where: Voltage Coffee & Art / 295 3rd Street Kendall Sq, Cambridge, MA
How: Official Website
What/Why: "Voltage Coffee & Art is holding its 2nd art opening this Friday, February 11th from 7-10pm.  We are featuring the art of Tess Jenkins; a very strong, classically trained artist who works in abstract portraiture to deal with perception and her reactions to people's visual undefinabilities.
Artist Statement: All of my work is done from life. I try to make each piece in one sitting, because each piece is a document of a moment and the track of my perceptions over that period. Rather than portraits, I see  these paintings as my reactions to the overwhelming complexities of flesh and my frustrations at the undefinability of the people that inhabit these bodies. With each piece I hope to move towards an evermore direct and uninhibited practice that allows me to express with the most honesty possible the anxiety, excitement and confusion of experience and perception, and to successfully simplify their many intricate layers into the visual."
—————————————-
Cabin Fever Indie Gift Show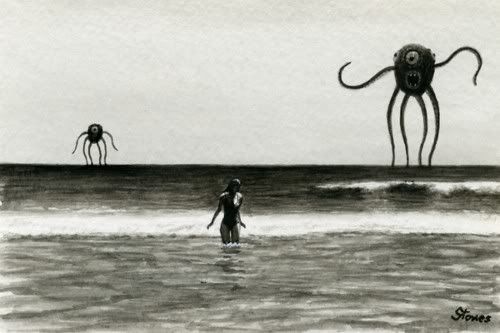 (Monster Sees Swimmer, Greg Stones)
When: Sunday February 13th, 2011 11:00AM-6:00PM
Where: Cathedral High School 74 Union Park Street Boston, MA 02118
How: Official Website
Cost: $3
What/Why: "Browse for fabulous handmade wares from 80 of the area's top independent designers, artists and artisans at the 2nd Annual Cabin Fever Indie Gift Show taking place on Sunday, February 13th, 2011. Choose from an exceptional array of indie goods: jewelry, handbags and wearables, stationary and paper goods, re-purposed accessories, gourmet foods and flowers, bath and body products, plus lots and lots of chocolate and hearts!
Cabin Fever will be held indoors at the Cathedral Hs Gym (home to the SoWa Holiday Market) in the thick of the SoWa Art and Media district, within walking distance of Boston's best artist studios, galleries, boutiques and restaurants."
—————————————————
Papercut Presents: A Records and Zines Distro Fair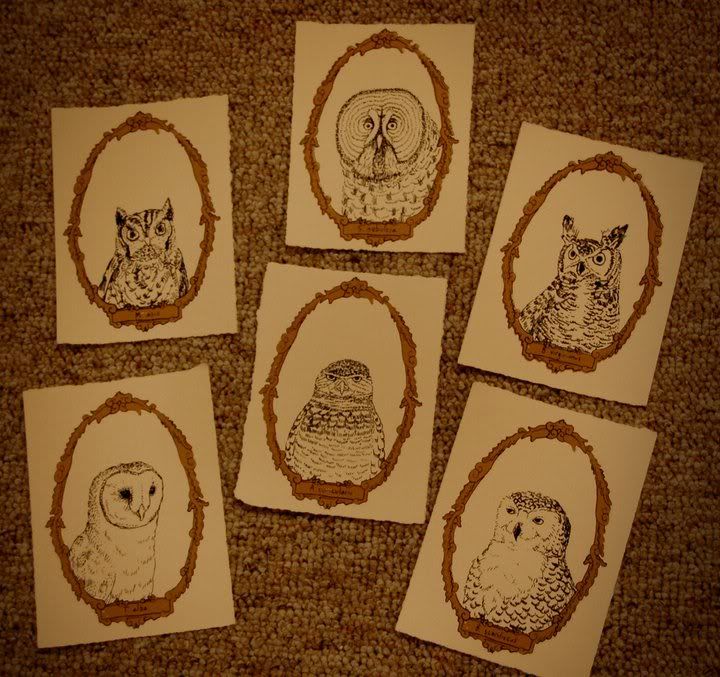 (work by Alex Krokus of Spikedriver Arts Collective)
When: Saturday February 12th, 12:00-6:00PM
Where: Democracy Center/45 Mt Auburn St. Cambridge, MA
How: Official Website
What/Why: "Various distros and labels from across Massachusetts!
Zinesters, Comic artists, alternative printing companies, and more!
Featuring DJs: Ryan the Terrible, Christine Judge, and Jeff Poot. Raffles by Razorcake Mag and Orchard Skate Shop.Cheap snacks provided by WBTU!"
——————————-
Preview of "Cycles" Exhibit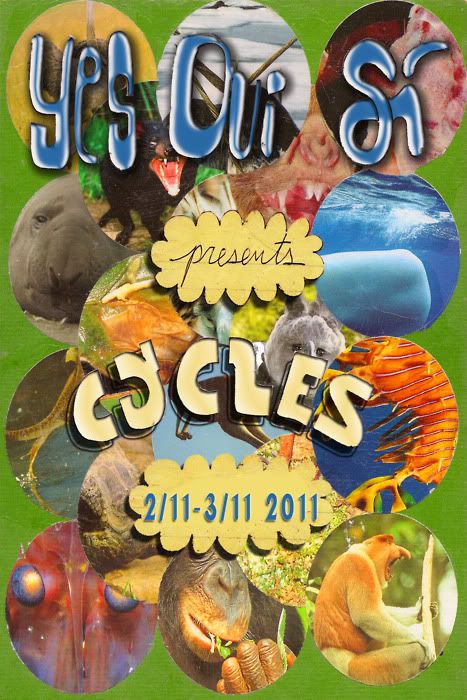 When: Opening reception is Friday February 11th, 6:00PM (RSVP Required)
Where: Yes! Oui! Si! 19 Vancouver st. Boston, MA, 02115
How: Official Website
What/Why: "Yes.Oui.Si Space is a multi-sensory exhibition stpace that aims to untie a diverse range of creative mediums in a single space. We coordinate happenings and facilitate situations of collaboration through a fusion of multi-sensory art shows and kaleidoscopic music concerts.  The Cycles show will feature work in a wide array of mediums pertaining to "plants-life-lunar-dream-bicycles-seasonal-popcycles-tidal-habitual-trends-cultural…"
——————————
SLAM Valentine's Local Artist Market
When: Saturday, February 12, 2011 12:00 pm
Where: The Burren 247 Elm St Somerville, MA 02144
How: Official Website
What/Why: " Looking for a really special Valentine's gift? Come to the SLAM Valentine's Local Artist Market! Where you will find a great selection of unique jewelry, pottery, glass, metal, textiles, sculpture, painting, photography, wearable art and so much more. Art makes a great gift for friends and family…or for yourself.
Shop at the market then stay and listen to live local Bluegrass musicians. The Burren will also be offering $5.00 Lunch Specials on market day as well as their full menu of traditional Irish dishes and American favorites."
—————————
SMFA Annual Student Exhibition
(The Collection, Joo Lee Kang)
When: On view through March 03, 2011
Where: SMFA / 230 The Fenway, Boston, MA
How: Official Website
What/Why: "The largest annual exhibition of student work, celebrating artists who are on the threshold of their creative futures. Features works by 2010–11 award recipients alongside pieces selected by an independent jury from approximately 300 entries."
————————-
A Simple Heart: Der Kleiner Mann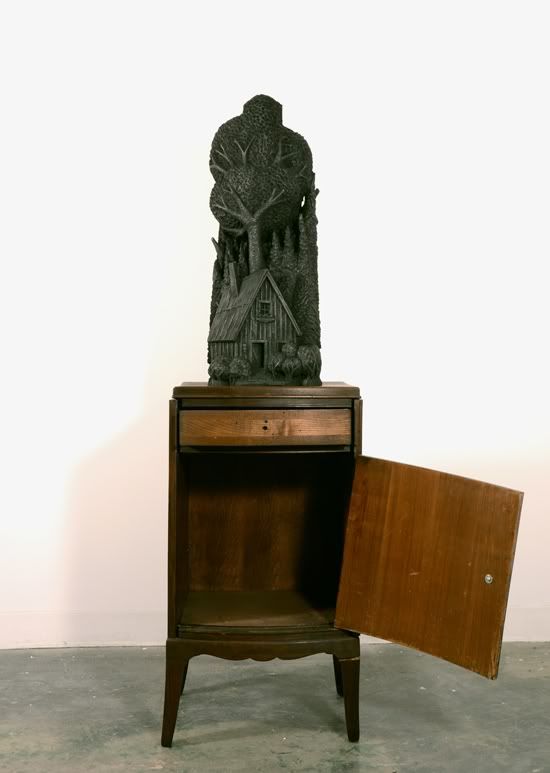 (A Simple Heart, Aaron Spangler)
When: On view through March 5th , 2011
Where: La Montagne Gallery 555 East 2nd Street, South Boston, MA 02127
How: Official Website
What/Why: " A Simple Heart: Der Kleiner Mann, an exhibition of new sculpture and rubbings by Aaron Spangler."
For more information visit La Montagne Gallery's site.
———————
Feminine Form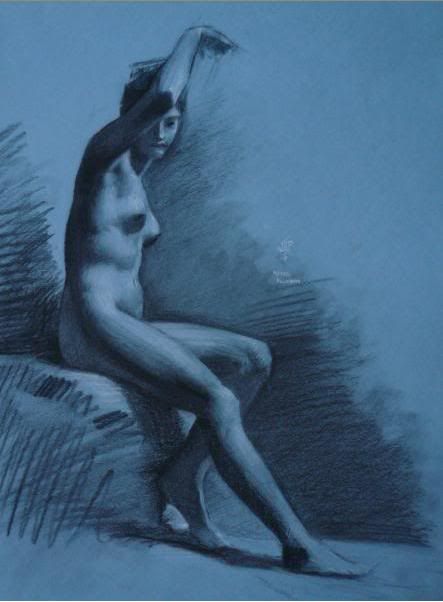 (After Pru D'hon, Jason Polins)
When: On view until February 12th, 2011
Where: Gallery Seven, 7 Nason Street , Maynard, MA 01754
How: Official Website
What/Why: " In the exhibition "Feminine Form" the sensuality and beauty of the female nude is explored through the eyes of two painters: Jason Polins and Will Kirkpatrick and two photographers: Berta Daniels and Christian Waeber. In Christian Waeber's compelling images we see the female form either shot very close up or working as part of an overall landscape. In both cases he is working with the form as an abstract shape. His work is a wonderful counterpoint to the more classical photographic nudes by Berta Daniels. In Berta's work we see the body as the primary focal point and the other components in the photograph functioning as background or as subtle supporting elements. Her work is a beautiful celebration of the feminine form.
In much of Jason Polins work we see the model in everyday situations, standing in front of a bathroom mirror or resting on a couch. Through a masterful sense of light and form Jason transforms these everyday moments into powerful works of art. His work is both evocative and soulful. Will Kirkpatrick works in the tradition of the formal nude. His models are painted as separate entities from the background and his work is about the feminine form in isolation and not as something interacting with its surroundings. With loose and graceful brushstrokes and his ability to draw beautiful lines, Kirkpatrick creates images that radiate a dynamic energy."
——————————
AIGA 50 books/50 covers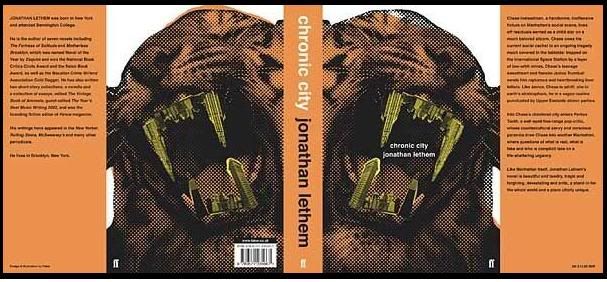 (Jacket art for Chronic City)
When: On view through March 06th, 2011
Where: Gallery at Mount Ida College(Carlson Hall) 777 Dedham Street, Newton, Massachusetts
How: Official Website
What/Why: "After careful and considered review of many entries, the 2009 jury of the "AIGA 50 books/50 Covers" competition selected a group of examples of outstanding book and book cover design produced in 2009. The jury's selections was mounted as a public exhibition during the "AIGA Design Conference" in October 2010 and at the AIGA National Design Center in New York in December 2010, and now travels to The Gallery at Mount Ida on its way around the country in 2011.  In addition, selections become part of the AIGA Design Archives, are documented in 365 Year in Design and the physical artifacts join the AIGA Design Archives at the Denver Art Museum and the Rare Book and Manuscript Library at Columbia University."
——————
The Work of Dan Wills and Chris Frost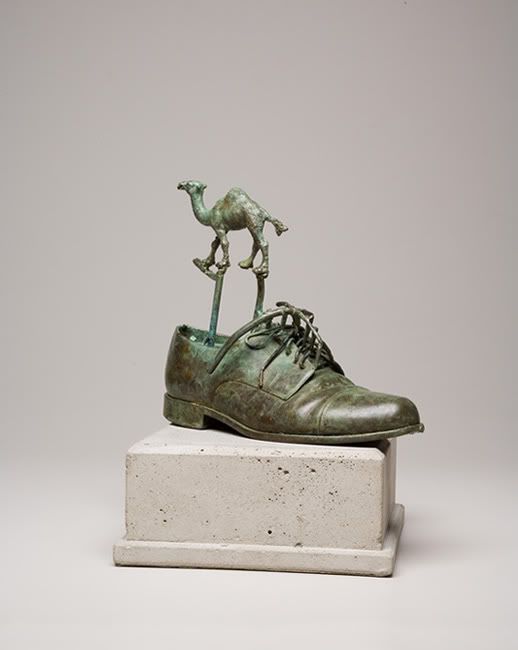 (Walk a Mile, Chris Frost)
When: February 9th-March 13th, 2011
Where: Boston Sculptors Gallery/ 486 Harrison Avenue, Boston, MA
How: Official Website
What/Why: "Steeped in architectural tradition, Frost works in lead, bronze, and wood, often miniaturizing and concatenating everyday objects in  order to derive new meaning from unusual visual relationships. His  belief that encountering the ordinary (be it hat, fish or building)  through a new perspective can create unexpected, humorous and often poignant interpretations. His work is held in several collections  including the Decordova Museum and the Boston Public Library. Chris was born in Boston, MA, and raised in New York. He received his Masters from the School of the Museum of Fine Arts and works in Somerville, MA.
Dan Wills' sculptures are made of multiple wood forms, patterned by the lace of wires that bind them together. Surfaces are painted or charred, each graphically holding emotions ranging from aggressive hostility to surreal humor. Wills studied at the Pennsylvania Academy of Fine Arts, has received degrees from Haverford, Rhode Island School of Design and Cornell. He now teaches at the School of the Museum of Fine Arts, Boston, MA"
———————————-
Seductive Subversion: Women Pop Artists, 1958-1968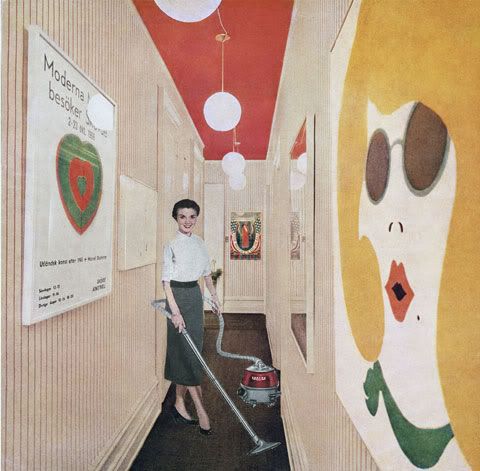 (Vacuuming Pop-Art, Martha Rosler)
When: On view now through April 03, 2011
Where: Tufts University Art Gallery at the Aidekman Arts Center, 40R Talbot Avenue, Medford, MA 02155
How: Official Website
What/Why: "Seductive Subversion: Women Pop Artists, 1958-1968 examines the impact of women artists on the traditionally male-dominated field of Pop art. It reconsiders the narrow definition of the Pop art movement and reevaluates its critical reception. In recovering important female artists, the show expands the canon to reflect more accurately the women working internationally during this period. The exhibition features 68 artworks by 22 artists.
Some of these artists experimented with then-new, industrial materials such as Plexiglas, plastics, rubber, and neon to create unique works of art that responded to the effects of mass-production. Others subverted domestic skills they had learned as young girls to create the first "soft sculpture" using fabrics, plastics, and other found materials that deployed a craft aesthetic as high art. Others appropriated from mass culture, including Hollywood film, advertising, publicity photos, and commercial publishing to critique emergent popular culture and male fantasies about female desire. "
—————————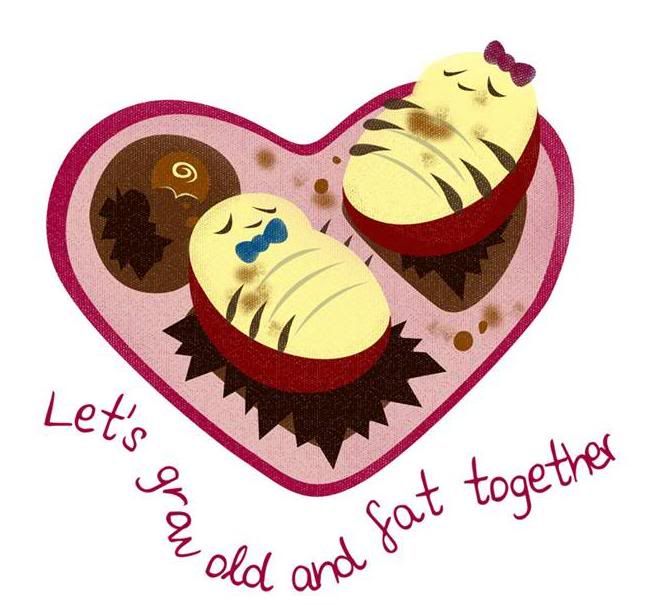 With VDay around the corner, thought it appropriate to share these fun printable Valentines created by Boston born female urban art collective, Paint Pens in Purses.  Nothing says 143 quite like a warm and endearing compliment.
While I'm here, did you know the ICA and Barbara Lynch's italian-inspired Sportello have teamed up to offer a prix-fixe theater menu?  For $35 you get a 3 course meal just by flashing your ICA ticket for that evening's performance.  Eat good grub, see good theater. I think I just single-handedly saved your relationship.
You're welcome. ♥