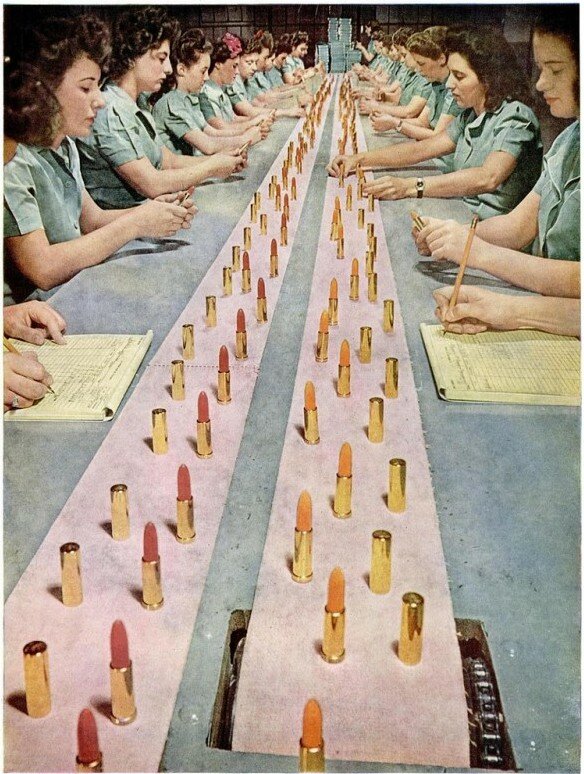 Seems like everyone around the office has checked out is already in 'holiday mode'.
Let's run away!
ghost orchids x diabolique x measurements of space x reverie
———————————————
Measure for Measure

(Measurements of Space in a Fractal Structured Vacuum(installation view, Felicity Nove)
When: On view through December 22nd, 2011
Where: Harvard University, Carpenter Center for the Visual Arts, Cambridge, MA
How: Official Website
What/Why:"Measure for Measure is an unprecedented all-media exhibition conceptualized and curated by globally renowned Harvard physicist Dr. Lisa Randall. Celebrated artist Lia Halloran co-curated this innovative project. Los Angeles-based artists Zig Gron, Katrina McElroy, Felicity Nove, Barbara Parmet, Susan Sironi, Elizabeth Tobias and Meeson Pae Yang created new and experimental works through a collaborative process with the curators, and the exhibition debuted in 2010 at Gallery 825 in Los Angeles.
Measure for Measure is an exploration of the concept of scale through contemporary art expression. Randall and Halloran's curatorial vision explains how the concept of scale plays an important role both in understanding the makeup of the universe and in how we perceive it. Objects can repeat themselves at different sizes, or entirely new worlds can open at different lengths. In science, we find very different elements and laws of nature when we study objects on small and large scales. In art we explore the experience and perceptions of size that we can see and make tangible both physically and visually. Conceptual investigations of size begin with objects we see around us that relate to the human body in visual distances and then explode outward to the vast extent of the universe and inward to the microscopic, at sometimes abstracted, and challenging-to-conceive levels. Although the range between these two boundaries is conceptually dramatic, artists have many ways to show relationship, consistency and parallels in structure and form that are worlds away in size. Our relationship to scale can make us question and perceive the world in new and various ways.
Measure for Measure investigates how we reinvigorate our thoughts and expand our perceptions when recognizable objects and spaces in architecture and nature are viewed in from different vantage points or are shifted in scale."
———————
Staff Only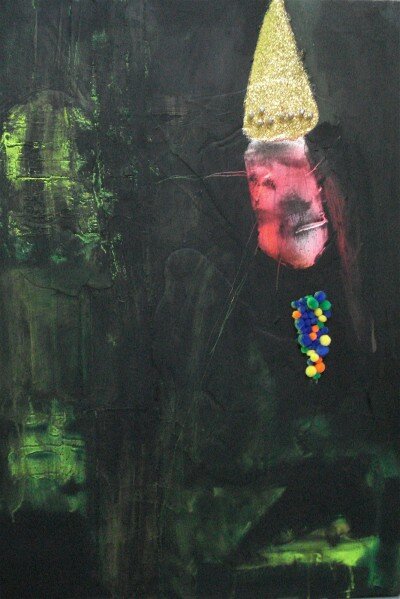 (Circus Boy, prior work of Sydney Phelon)
When: On view through January 14th, 2012
Opening Reception: Friday December 16th, 7-10PM
Where: Voltage Coffee & Art, 295 3rd Street, Cambridge, MA 02142
How: Official Website
What/Why: "We are saying goodbye to 2011 and ringing in the new year with work from a batch of Voltage's own talent. Come by on Friday for the opening of our STAFF ONLY all staff exhibition, featuring works by Zoe Mcdonnell, Sydney Phelon, Wesley Simon, Katie Gelin and Lucy Valena."
———————
Intertwined

When: On view through February 19th, 2012
Where: Hampden Gallery, UMass Amherst, 121 Presidents Dr, Amherst, Massachusetts
How: Official Website
What/Why:"Featuring: Susan Bradley, Sharon Ligorner, Elizabeth Meyersohn, Holly Murray, Scott Tulay. Intertwined in The Incubator. This small venue plays host to big ideas.
When we try to pick out anything by itself, we find it hitched to everything else in the Universe. –John Muir
Curated by Joyce Conlon, Intertwined is an exhibition of five New England artists. Conlon chose artists whose visually appealing work is united by facture and attention to nature, culture and how the two intersect.
Using straw, wax, pigment, oil, ink, and charcoal these five artists harness various techniques to lend physical form to poetic and literal ideas that blur distinctions about the interdependence of all."
———————
20th Century Design Auction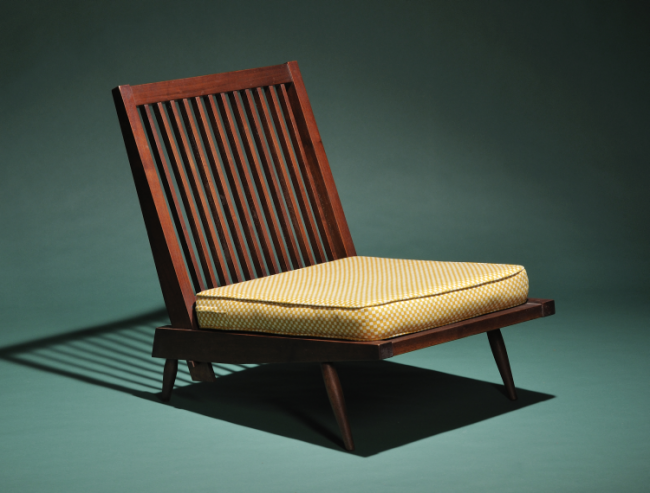 (Lot 495: George Nakashima Lounge Chair)
When: Saturday December 17th at 10 am
Where: Skinner Auctioneers & Appraisers, 63 Park Plaza  Boston, MA 02116
How: Official Website
What/Why: "The next 20th Century Design auction in Boston features a fine selection of Art Nouveau, Arts and Crafts, Art Deco, and Mid-Century Modern design. Arare desk by Charles Rohlfs  highlights the sale along with artwork, pottery, silver, metalwork and fine modern furniture. Art glass on offer includes works by R. Lalique and Lalique; cameo glass by Le Verre Francais, Schneider, and Daum; and finely designed and crafted English cameo glass. American design is represented by Durand, Quezal, and Tiffany Studios lamps, art glass, and metalwork. The sale also features a fine collection of Dedham Pottery. 20th Century Design auctions at Skinner are a treasure trove for those in search of high quality artwork or great design to round out a collection or furnish a home. "
———————
Winter Lights IV

When: On view through January 01, 2012
Where: Loading Dock Gallery, 122 Western Avenue, Lowell, MA 01851
How: Official Website
What/Why: "Each year the Winter Lights artist and artisan showcase at the Loading Dock Gallery gets brighter and more extensive. Winter Lights IV, opening November 30, expands the display of elegant, giftable art into media not offered before. The main area of the gallery will be packed with locally-made, affordable, and entrancing works to give to others or to cherish yourself."
———————
Reverie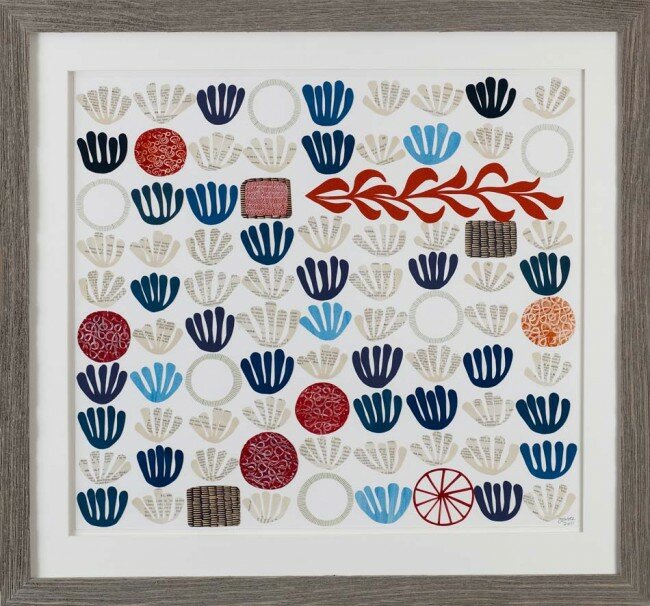 (Reverie)
When: On view through December 31st, 2011
Where: Nahcotta Gallery, 110 Congress Street, Portsmouth, NH 03801
How: Official Website
What/Why: "Jennifer Judd-McGee's second solo show at Nahcotta, REVERIE, will be on display from November 30th through December 31st. REVERIE, in the words of the artist herself, "is about joy and hopefulness and strengthening, about finding that dreamy place where beauty and calm is found in the tiniest unexpected details." 
As she explores the coast of Maine, Judd-McGee chronicles her visual experience with a macro lens, simultaneously softening and focusing the gaze and what is captured. With a collection of this resource material, she's galvanized to create her work of meticulously cut paper, mixed media, and paper and ink.  Much of this colorful, gorgeous REVERIE work is repetitive patterns – rows of leaves, pods, flowers, metal findings, beach stones. And while Judd-McGee adapts to her recently diagnosed chronic illness, her art, in turn, adapts and evolves. "Since making my work feels akin to breathing, I find myself seeking a state of reverie as often as possible", she explains. "
———————
Holiday Exhibition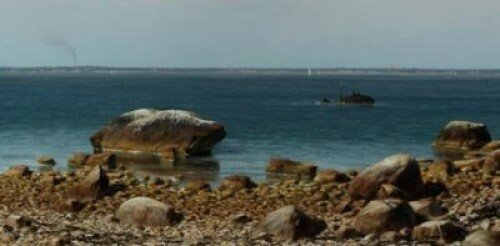 (The Rocky Beach, Joseph McGurl)
When: On view through December 30th, 2011
Where: Guild of Boston Artists, 162 Newbury Street, Boston, MA
How: Official Website
What/Why: "The Guild of Boston Artists was founded in 1914 as a non-profit art association and from the beginning has been New England's premier source for local artists working in the academic, realist tradition.
Over seventy of New England's top contemporary artists are currently represented by the gallery. Their mediums range from oils, bronze, acrylics, pastel, watercolors and pencil with genres that include traditional landscapes, cityscapes, florals, figurative and still-life. Along with an aggressive exhibition schedule, the Guild offers an array of educational programs that include classes, workshops, lectures and critiques."
———————
Fall 2011 BFA Exhibition

When: On view through December 29th, 2011
Where: U Mass Lowell, Dugan Gallery & University Gallery
How: Official Website
What/Why: "Featuring the final thesis projects from the Art & Design studios by the graduating seniors, including all types of media produced within the UML Art Department's BFA program."
———————
Transcending Boundaries: The Art and Legacy of Tang China

(Court Lady, 2nd quarter of the 8th century, Unknown Artist)
When: On view through December 18th, 2011
Where: Smith College Museum of Art, Elm Street at Bedford Terrace , Northampton, MA 01063
How: Official Website
What/Why: "Featuring nearly thirty masterpieces loaned from the Yale University Art Gallery, this exhibition explores the art and culture of the Tang dynasty (618-907) and its everlasting influence in Chinese art. With a range of ceramic, metal, and sculptural works, the exhibition first showcases the secular and religious lives in the Tang capital Chang'an. This cosmopolitan city is also known as the Chinese end of the Silk Road, from which exotic goods, foreign technologies, and religious ideas further spread in China. Based on later paintings that emulated Tang styles or were inspired by Tang tales, the second section of the exhibition illustrates the enduring allure of this "Golden Age" among Chinese artists across time. These carefully selected artworks will present a valuable opportunity to understand the innovative adaptations and creative reinterpretations in Chinese art that crossed boundaries between foreign and indigenous, past and present, as well as secular and sacred traditions."
———————
Siobhan Healy presents 'Ghost Orchids'
When: On view through March 4th, 2012
Where: Harvard Museum of Natural History, 26 Oxford Street, Cambridge, MA 02138
How: Official Website
What/Why:"In this sculpture display in the museum's Glass Flowers gallery, Scottish artist Siobhan Healy has created a subtle and thought provoking artwork that is inspired by the rare British wild flower- the Ghost Orchid (Epipogium aphyllum). The Orchid is depicted in transient and ethereal clear glass with the intention to encourage the viewer to reflect on the potential loss of this fragile species. 
Healy is an artist who specializes in glasswork relating to rare species of wild plants. The idea of preserving and documenting plants permeates her work and the ghost orchid is an evocative emblem of the 1 in 5 of UK wild flowers that are threatened with extinction. The Ghost orchid is the most mysterious wildflower in Britain, the strangest, the most rare, and it was thought to be extinct 23 years ago. Recently the ghost orchid has reappeared in the UK. It's sighting, initially kept a close secret, has electrified the British botanical community. "
———————
Holiday Art Show: Paintings, Prints, Photographs & More

(Collage XXV, Jeanette O'Connor)
When: On view through December 30th, 2011
Where: Gallery Seven, 7 Nason Street, Maynard, MA 01754
How: Official Website
What/Why: "Gallery Seven presents their annual "Holiday Art Show: Paintings, Prints, Photographs & More".  Original works by 14 are artists: Kevin J. Briggs, Brenda Cirioni, A.M. Clark, H.M. Craig, J.C. Dywer, Charlene Fall, Kay Hartung, Robin Herr, Heather McClurg, Jeanette O'Connor, Max Payne, Richard Perry, Amantha Tsaros and Danielle Watson."
———————
Holiday Fine Arts & Crafts Fair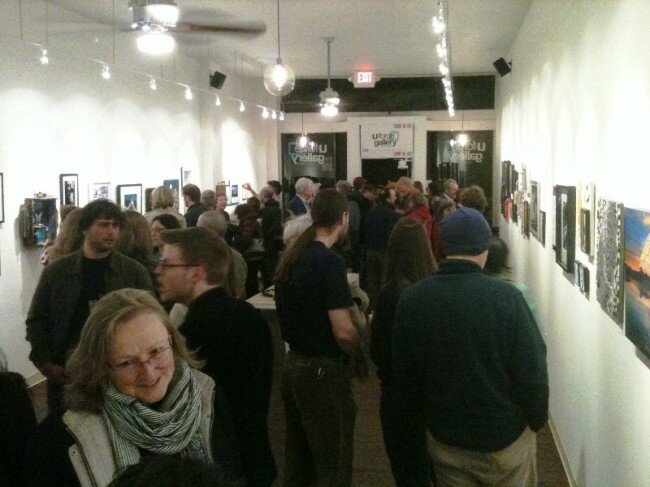 (art enthusiasts enjoying a prior Uforge  soiree)
When: Saturday December 17th-Sunday December 18th, 2011 11AM-5PM
Where: Uforge Gallery,  767 Centre Street Jamaica Plain, MA 02130
How: Official Website
What/Why: "This Saturday and Sunday, join Uforge Gallery and The Footlight Club for a Holiday Fine Arts & Crafts Fair! Over 30 artists in both locations will be selling their work in time for the holidays. Stop by 11am – 5pm."
———————
Inferno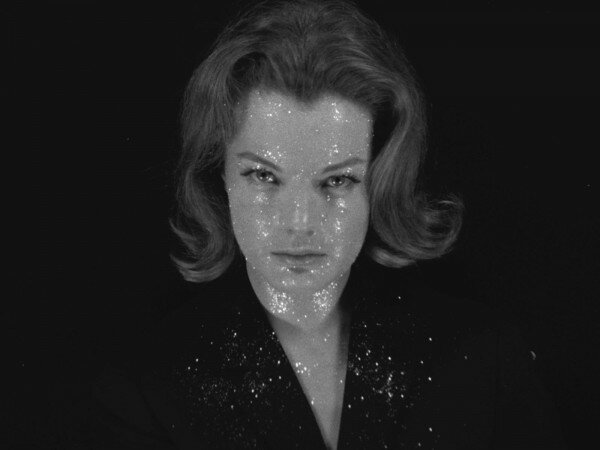 When: December 16th, 9:30PM
Where: Harvard Film Archive, Harvard Film Archive Cinematheque , 24 Quincy Street, Cambridge, MA 02138
How: Official Website
Cost: $9
What/Why: "France 2009, 35mm, b/w & color, 102 min. French with English subtitles
Archival detective and world-renowned film preservationist Serge Bromberg gained rare access to footage from Clouzot's aborted and outrageously ambitious L'Enfer, a long cherished tale of dangerous infatuation starring Romy Schneider and proposed to feature what would have been extended sequences of spectacular visual effects. The story of the doomed project, with Clouzot under siege from illness and ill fortune from every direction, is gripping and ultimately tragic."
Also on view..
Diabolique

"Clouzot has been endlessly accused of cruelly manipulating both his characters and audience because of his wildly successful suspense classic, Les Diaboliques, a work of audacious trickery that entirely reinvented the rules for mystery cinema. Clouzot once again cast a jaundiced eye upon marriage, here in the story of scandalous love triangle between a tyrannical prep school headmaster, played with steely derision by Paul Meurisse, and two women teaching at his school – Simone Signoret's brooding history instructor and his long-suffering wife, played, ironically, by Mrs. Vera Clouzot. Alfred Hitchcock zealously pursued the source novel of Les Diaboliques by the famed mystery writing team, Bouileau and Narcejac, only to be beaten by Clouzot who adopted the book into a film that inspired many important aspects of Psycho, made five years later, including Hitchcock's "Don't reveal the ending!" campaign which was closely modeled on the cunning marketing strategy that propelled Clouzot's picture into an international box office sensation."
Woman in Chains
"Clouzot's unsettling last film offers a variation of his recurrent grand theme of torturous love, here in the form of a dangerous love triangle set in the Sixties Paris art world. The story of a chic gallerist whose discerning taste only hints at the strange sexual obsessions that eventually lure a wide-eyed up-and-coming artist into his kinky den, La Prisonnière returns to Clouzot's idea of corrupt business as the driving metaphor for the 20th century, with civilization doomed by the unfair "wages," be they pecuniary or psychosexual, that sustain yet ultimately destroy it. Clouzot's only full-length feature in color, La Prisonnière concludes with a hypnotic barrage of psychedelic Op-Art abstraction directly borrowed from his ill-fated and abandoned feature, L'Enfer."
———————

So that was the last wrap-up of 2011!
Loads of great events happening in Boston.
But, I wouldn't be mad if you decided to skip going out this weekend in favor of feverishly deleting kegstand photos from your Facebook timeline before it goes live next week.
Put in the extra legwork. Trust me. ♥