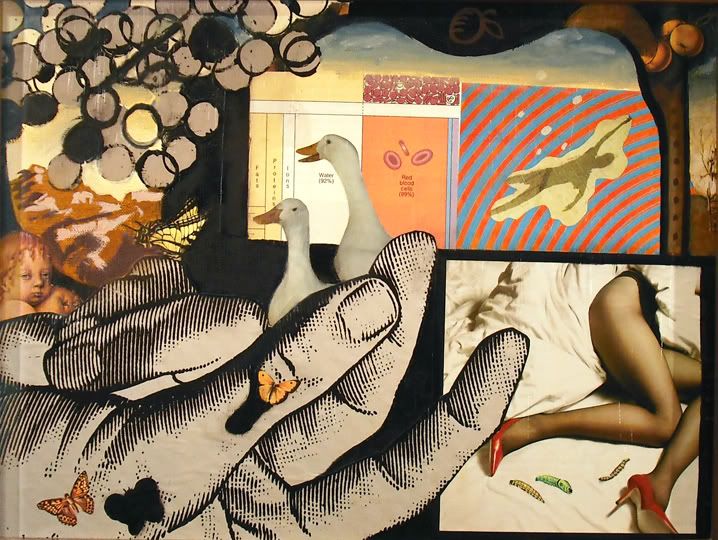 (The Transfer, Al Lewis)
Christmas came early, on this weekly wrap-up eve I wanted to get local events out to you tout de suite.  So start planning your weekend or hit up some shin-digs that are happening this evening!
Large and Small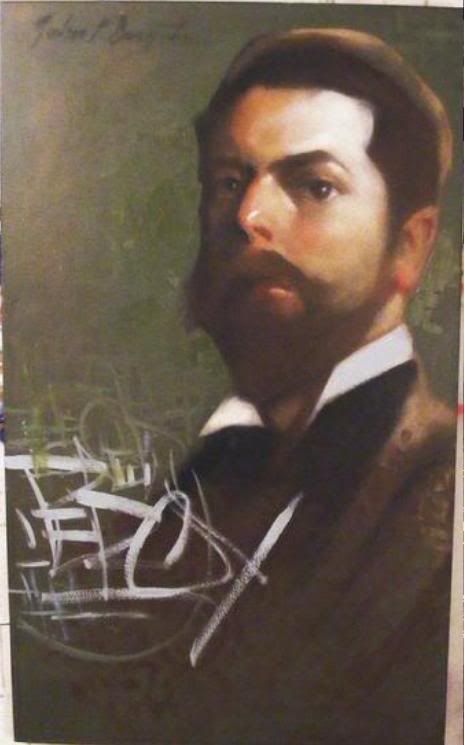 When: Friday, December 17th, 2010 / 7:00PM – 11:00PM
Where: Lot F Gallery/ 145 Pearl St #4 Boston, MA
How: Official Website
What/Why: " A group show featuring the works of: Sean Flood, Catalina Viejo Lopez de Roda, Jamie O'Neill, andPercy Fortini-Wright. A variety of work from 4 very talented artists. All living and working out of Boston these artists have strong bodies of work that will come together for a diverse but coherent selection. Expect to see a wide range of sizes and styles. Our last show of 2010 so make sure to stop by. "
———————
Collide and Explode: The Work of Al Lewis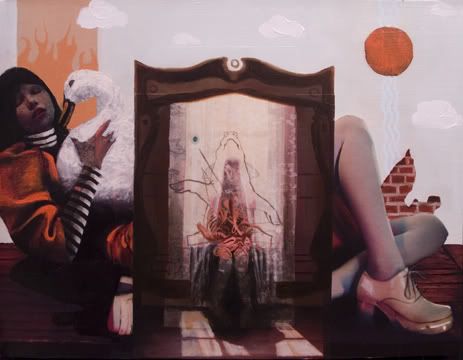 (Digression)
When: On view now through Friday, January 21, 2011
Where: The James's Gate Pub and Gallery/5 -11 McBride street, Jamaica Plain, MA
How: Official Website
What/Why:"The exhibition is cooked up from a recipe for an interstellar carnival. Complete with two indigo androids, seventy-five droplets of iodine, five antelope each with alter-ego's, a salt shaker half full of secrets, and a whole galaxy of multi-colored circles, stripes, impossibilities… and also a quart of absurdity, a quart of fear, a case of indecision, a pint of paranoia and two dozen pleasant thoughts … Not that one needs all that for one show, but once you get locked into a serious collage collection, the tendency is to push it as far as you can. The only thing that really worried me was the lightening. There is nothing in the world more helpless and irresponsible and depraved than a man with a lightening gun. And I knew he'd be there one of those days and ZAP, back in time forever! Come for the art, stay for a beer."
———————————-
The Blue Flower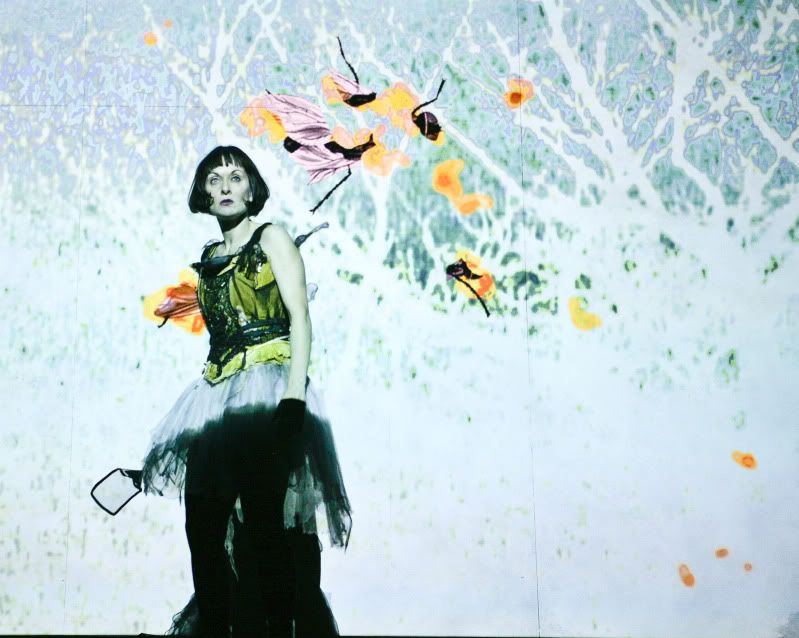 When: Shows on various dates through January 08, 2011
Where: American Repertory Theater/ Loeb Drama Center 64 Brattle St Cambridge, MA 02138
How: Official Website
Cost: $25-$35
What/Why:"The Blue Flower rides the twisted rails of history and the tangled love interests of three artists and a scientist, from Paris during the Belle Epoque, through the battlefields of the Great War and beyond. The Blue Flower is inspired by the lives of historical figures Max Beckmann, Franz Marc, Hannah Hoch, and Marie Curie. Influenced by the art movements—Dada and Surrealism—and the political tenor of the day, the characters struggle to make sense of the world in which they create."
————————-
New England Water Color Society Small Works Show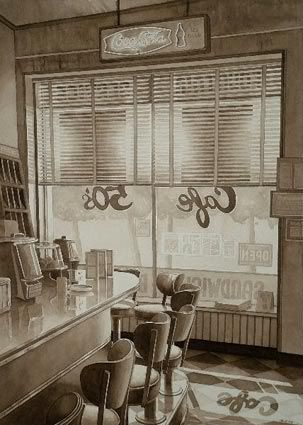 (Fountain Service, Becky Haletky)
When: December 17-19, 2010 11am – 4pm; Saturday & Sunday 1pm – 5 pm
Where: Emmanuel Church
How: Official Website
What/Why:"This holiday season, the New England Watercolor Society presents their small works sale as a refreshing gift-giving alternative to expensive baubles and gadgets. The gallery show in the gorgeous Emmanuel Church on Newbury Street will feature paintings of all kinds of subjects—the main unifying theme being that the pieces are priced and sized for easy gifting"
——————————————
Fran Forman: ReCollections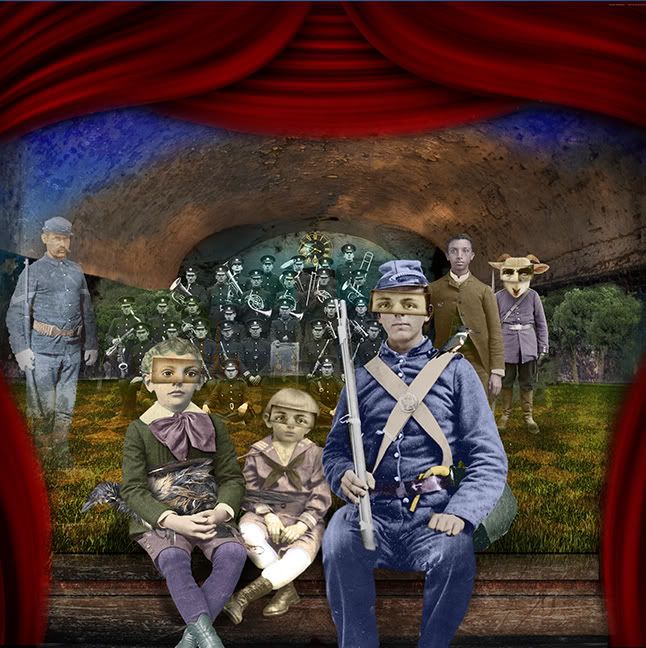 (Dreaming of a Marching Band when I return from War)
When: On view now through March 11th, 2011
Where: Thompson Gallery, 45 Georgian Road Weston MA, 02493
How: Official Website
What/Why: "ReCollections, examines a trend among contemporary artists to cull history's riches and carnage for images, ideas and content. Forman's work, which fuses antique photography with digital imaging techniques, explores memory, loss and longing through dreamlike imagery. "
—————————————
Paulette Tavormina Natura Morta
(Cabbage and Melon after J.S.C.)
When: On view through December 31, 2010
Closing Reception and Gallery Talk: Saturday December 18th, 2010 2PM-4PM
Where: Robert Klein Gallery, 38 Newbury Street, Boston, MA
How: Official Website
————————
Benicia Gantner (Last weekend on view!)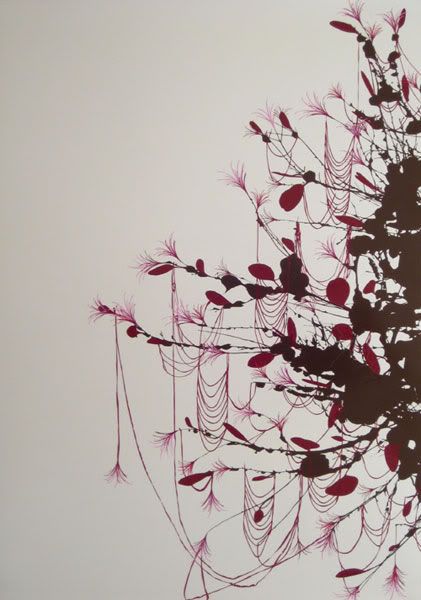 (Netanglement)
When: On view through December 18th, 2010
Where: Walker Contemporary / 450 Harrison Avenue, Boston, MA
How: Official Website
What/Why:"The reductive landscapes that define my work are rooted in my experience of the natural world, yet manifest as images that are wholly unnatural- flattened, simplified spaces, saturated with color, and populated with both abstract and recognizable organic forms. The work explores the juncture between the natural and the built environment, and superimposes a structural and systematic approach to the observation of the natural world. These imagined spaces are like flashes of a dream, or déjà vu—both familiar and alien, shaped by the specificity of my own observations of the natural world and the drive to conjure new spaces to explore. The work is bereft of human presence, offering the possibility of an imagined wonderland, glimpses of a hidden natural world. "
—————————————-
On Location: Drawing Every Day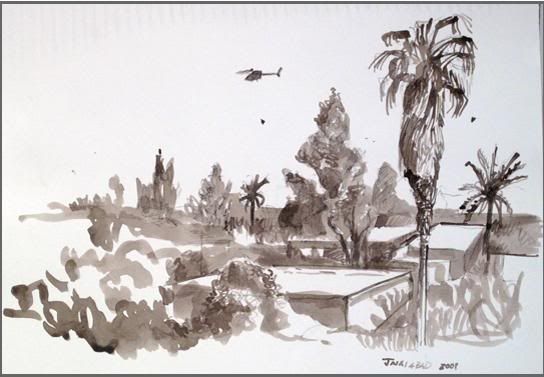 (Jalalabad, David Lindholm)
When: On view through January 21, 2011
Where: Montserrat Gallery / 23 Essex Street Beverly, MA 01915
How: Official Website
What/Why: "Inspired by the artistic practice of daily drawing this exhibition features drawings created across the Globe. Ranging from Seattle to Afghanistan, the images are taken directly from the sketchbooks of artists, illustrators and designers. The works connect to the tradition of the artist as reporter, the illustrated travelogue, and the newfound resurgence of observational drawing as seen in the urban sketchers movement.
Together the drawings celebrate life. The artist's sketchbook is often a site of personal expression, a place of spontaneity, where one captures the energy of traveling and feels the freedom to experiment. It is also a reflection of the desire to observe and record the world. In the process of documenting the everyday, each artist presents something otherwise unseen."
—————————
Gardner After Hours: Blueprint
(Isabella Stewart Gardner, in Venice, Anders Zorn)
When: Thursday, December 16 · 5:30pm – 9:30pm
Where: Isabella Stewart Gardner Museum/280 The Fenway/Boston, MA
How: Official Website
Cost: Adults: $12 | Seniors: $10 | College Students: $5
What/Why:"We hate to say goodbye (even temporarily!), but Gardner After Hours is taking a brief hiatus for 2011 as the museum prepares for the opening of its new Renzo Piano-designed wing in early 2012 . Join us on December 16 to send After Hours off in style!
Blueprints old and new… Discover the Gardner's building project tonight and see if you can envision what Gardner After Hours will be like once the project is complete!
*With a special After Hours PLUS program at 7pm: three scenes (variation one) Contemporary Performance with Adam Pendleton (After Hours PLUS tickets required; no extra charge.)
*Under the Covers @ After Hours: Learn more about the Gardner's rare books collection in informal talks with Mellon Curatorial Fellow Anne-Marie Eze.
*Courtyard Sounds: DJ Adam Gibbons spins from the courtyard from 5:30-6:15, and again from 8:15-9:00."
———————————————-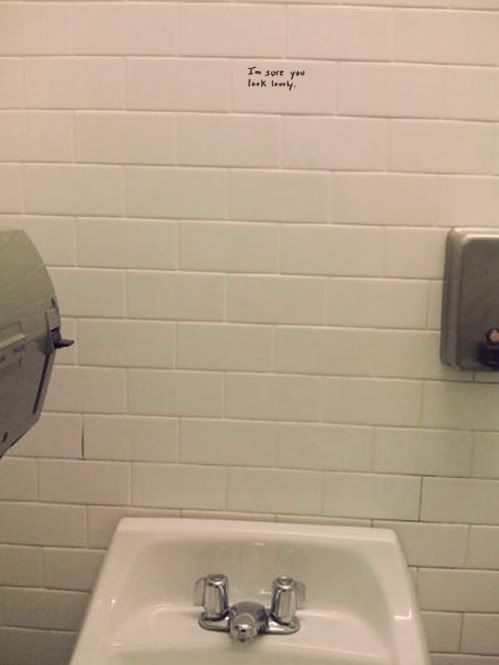 Hope your week is being kind to you! ♥