"Anti-mogul, accidental CEO, troublemaker extraordinaire"
After last week's "lowbrow" art post I was inspired to download the documentary,The Treasures of Long Gone John.  The film chronicles the life of Long Gone John(LGJ) who went from being a juvenile delinquent to starting his own record label, a toy company, and emerging as a heavy hitter in the art world.
LGJ started Sympathy for the Record Industry using the paltry funds he received during a court settlement in the eighties.  He was involved in every aspect of the company from packaging design, shipping, to even melting his own vinyl.  Out of his California home studio, LGJ was responsible for over 750 releases(sometimes 1 or 2 releases per week) and had a hand in launching the careers of The White Stripes, The Electrocutes(the first Donnas incarnation) and Hole.
In 2007, LGJ announced via his myspace page that he was selling the label for "$625,000.00 or $700,000.00 if I don't like you".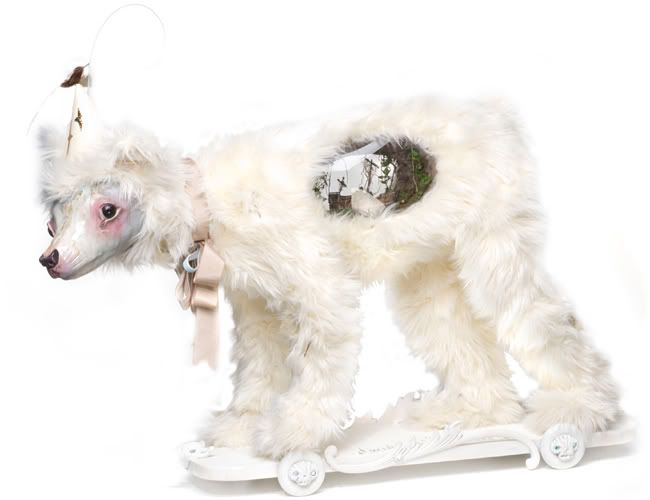 (Winter Wonder Where, Liz McGrath)
Aside from his love of music, LGJ always had a penchant for acquisitions and would spend hours scouring flea markets for bizarre trinkets which later evolved into visiting the eccentric galleries of LA.  Over the course of time, he became close friends with the likes of Mark Ryden, Liz McGrath, Camille Rose Garcia, and Todd Schorr, who spent the better half of a year creating an 8'x6' commission piece for John(his painstaking progress was documented during the film).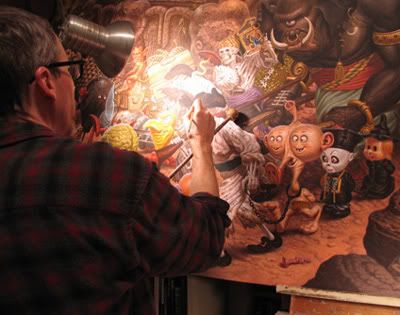 LGJ featured his friends' work on the cover of many of Sympathy's albums and took his love of art coupled with an insatiable need for bric-a-brac, and ended up launching Necessaries Toy Foundation which creates 18-24" toy figures.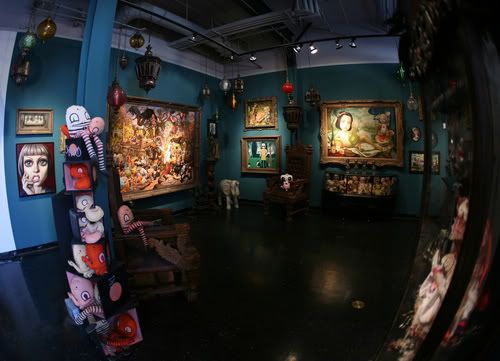 Again, I really enjoyed the film and don't want to say too much more about it, but it was interesting to see vignettes featuring Robert Williams, Mark Ryden and Marion Peck among others interspersed throughout the film.  It helped flesh out some of the open items left swimming in my head after exploring the world of lowbrow last week.
As a matter of the fact, all of the artists in the film, except for Shag (who honestly seems like an awkward choice for the film) are not a fan of the term "lowbrow" and provide their own personal takes as to why. Some consider it inapplicable, insulting, dated, and diminutive to their craft.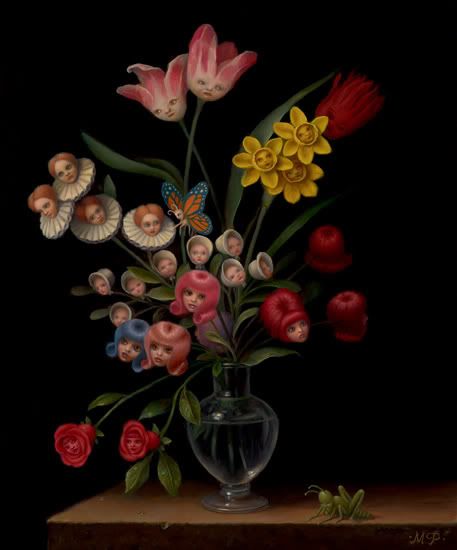 (Bouquet, Marion Peck)
The Treasures of Long Gone John feels very accessible and features a wall-to-wall soundtrack of over 40 Sympathy artists, original animation and time lapse photography.  The film is definitely worth your attention for 90 minutes or so even if you aren't an "art buff".  Really enjoyable to take in the barrage of intriguing personalities and follow a well developed storyline that effortlessly carries you through the life of this eccentric West Coast legend.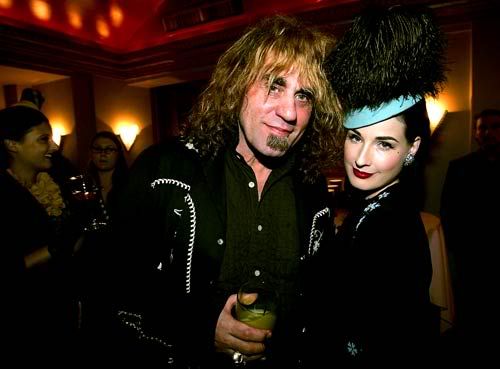 (LGJ & Dita ♥ )
What's your criteria as a collector?
All I want to do is surround myself with things that I suppose make me happy. Just big colorful things that, you know, I like to fill my existence with. Stuff. And that's the high end of the stuff 'cause I go from, you know, beautiful artwork down to shit that other people wouldn't stoop and bend over to pick up off the ground.
(Excerpt from John, Long Gone-A Final Introspective published in the OC Weekly)