While the weather outside might be frightful,with two more weekends until Christmas.. SUCK IT UP, bundle up, and start tackling that kinda-last-minute shopping.
Don't forget to get something for your in-laws, four leggeds, schizophrenic uncles, and that cute guy on the train.
Mass Market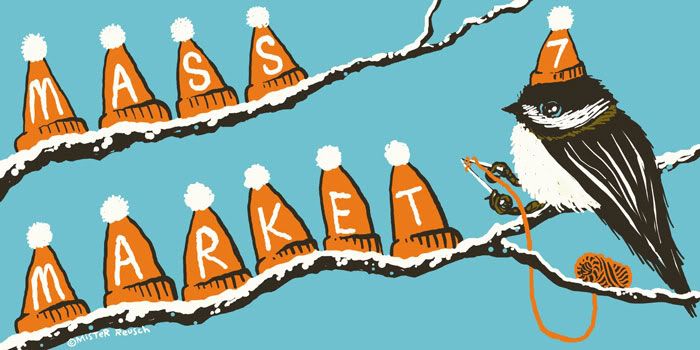 When: Sunday, December 12 · 11:00am – 5:00pm
Where: Mass Art Gym/ 621 Huntington Avenue, Boston, MA
How: Official Website
What/Why: "Mass Market is a DIY (do it yourself) flea market where artists, crafters, clothing designers, jewelry designers, photographers record sellers, local bands, button makers, bookbinders, photographers, djs, vegan and vegetarian bakers, and many others come together for a day of swapping, sharing, selling and buying art."
———————————————————————-
12×12 Holiday Show
(White Rabbit in a Snowstorm, Joe Kitsch)
When: December 1st-18th, 2010
Where: Bromfield Gallery / 450 Harrison Avenue, Boston, MA
How: Official Website
What/Why:"Come browse through this gallery-filling exhibition!
View a wide range of contemporary artwork, 12 x 12" or smaller, by Bromfield gallery artists and guest artists from the Greater Boston area.
Priced from $100-$500, the work ranges from painting and drawing to printmaking and photography. Grab an affordable art gift for the holidays!"
——————————————-
SoWa Holiday Market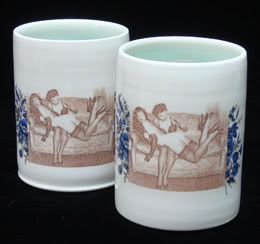 When: Saturday December 11th and December 12th, 2010
Where: Cathedral High School / 74 Union Park Street Boston, MA 02118
How: Official Website
Cost: $5
What/Why: "Now in its 7th season, this year's SoWa Holiday Market will feature 80 juried artists and designers from around New England. From the fashionably chic to the hip and cutting edge, shoppers are sure to find an original gift for everyone on their list. Expect to find an exceptional array of indie goods, including: handbags, jewelry, pottery, letterpress stationary, silk-screened t-shirts, baby clothes, re-purposed wool accessories and more! This handmade holiday spectacular will take place in SoWa's Cathedral High School Gym, located in Boston's trendy SoWa arts and media district. Within walking distance to Boston's best galleries, boutiques and international cuisine, the SoWa Holiday Market is at the center of Boston's most diverse and exciting neighborhoods!"
—————————————-
Craft Boston Holiday Sale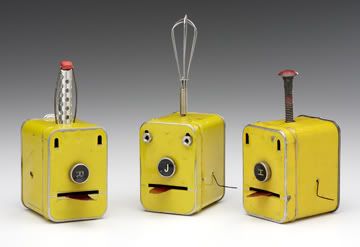 When: December 10-12, 2010
Where: The Cyclorama / 539 Tremont Street/ Boston, Massachusetts 02115
How: Official Website
What/Why: "Craftboston Holiday features 90 of the most innovative craft artists of our time, showcasing one-of-a-kind and limited-edition pieces in baskets, ceramics, decorative fiber, art-to-wear, furniture, glass, jewelry, leather, metal, mixed media, paper and wood. It's an amazing opportunity for creative shoppers, collectors and those who are looking for the perfect gift to complete their holiday shopping!"
—————————————
Ceramics Holiday Show and Sale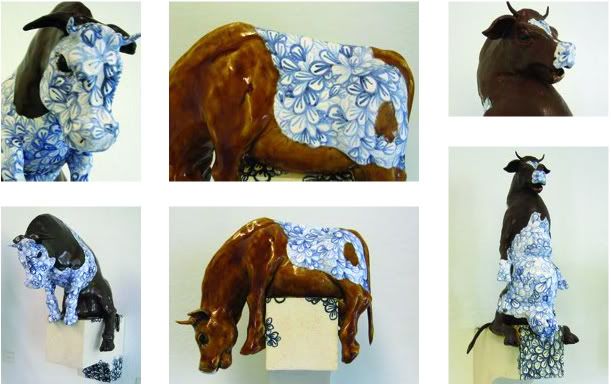 (Margaret Angelo)
When: December 10th-12th, 2010 10 am – 7 pm
Where: Office for the Arts at Harvard/ 219 Western Avenue, Allston, MA
How: Official Website
What/Why: "Come see more than sixty potters and sculptors present an extraordinary selection of hand-made work ranging from masterpieces to treasured bargains. Long recognized as featuring the best and most varied selection of contemporary ceramics in the Northeast, this popular exhibition attracts several thousand visitors."
—————————————————————————-
When you're not ducking into stores, be sure to make time to check out some of these great ongoing events..
Jason Chase and Scott Listfield Stars and Cars
(NASDAQ, Scott Listfield)
When: December 3rd- January 29th, 2011
Where: Laconia Gallery/ 433 Harrison Avenue, Boston
How: Official Website
What/Why: "Scott Listfield and Jason Chase make bold, colorful paintings which remind us of what we dreamt the future would be like as kids. They take a long look at our current culture in a wrong-end-of-the-telescope fashion, where very small things might indeed have very big meaning. The toys and fantasies of our youth have shaped the world we have grown up into, but also colored our perception of how things should be."
————————————————-
Betty, Charlie, Francesca & George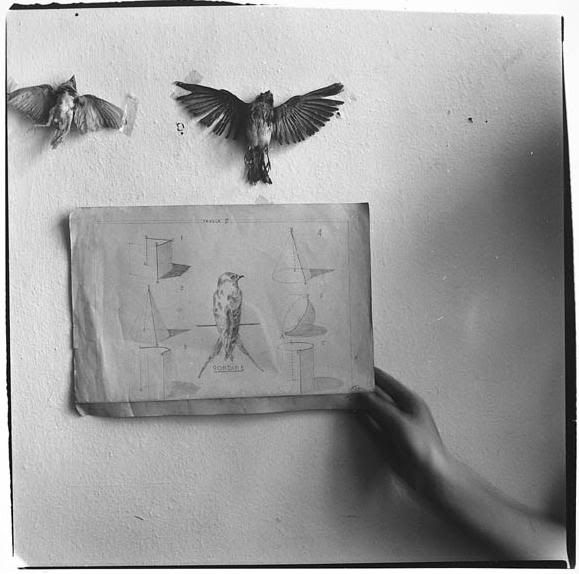 (Untitled, Francesca Woodman)
When: December 10 – January 29, 2011
Where: Samsøn 50 Harrison Avenue, Boston, MA
How: Official Website
What/Why: "Samsøn is pleased to present a familial group exhibition Betty, Charlie, Francesca & George from December 10 – January 29, 2011 " Read up on the artist bios here
——————————
MIT Luminous Windows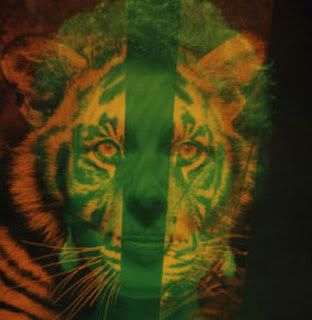 When: December 10, 2010 through April 1, 2011
How: Official Website
Where: MIT Museum 265 Massachusetts Ave, Cambridge, MA 02139
What/Why: "The MIT Museum's third annual "Luminous Windows" winter holography exhibition featuring works by seven pioneering artists and scientists opens on December 10, 2010 and will run through April 1, 2011.  The holograms will be visible every evening in the museum's Massachusetts Avenue windows from dusk until 2:00 a.m."
———————————————————-
Richard Serra
(Sonny Rollins, 1999)
When: December 11th, 2010-February 11th, 2011
Where: The Barbara Krakow Gallery 10 Newbury Street Boston, Massachusetts 02116
How: Official Website
What/Why: "Richard Serra is an American minimalist sculptor and video artist known for working with large-scale assemblies ofsheet metal. Serra was involved in the Process Art Movement."
——————————————————-
VideoSur III: Experimental Shorts from Argentina, Chile, and Brazil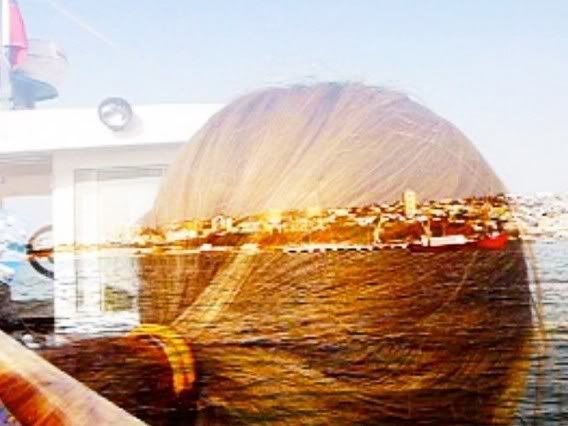 When: December 10, 2010 8:00 pm – 9:30 pm
Where: Museum of Fine Arts (Remis Auditorium)465 Huntington Avenue Boston, MA 02120
How: Official Website
Cost: $6 MFA members/$7 Nonmembers
What/Why: "Inspired by the spirit of exchange in the Americas, DiscordiaFilms' VideoSur programs present Latin American video art to US audiences. VideoSur III explores how South American artists use digital media to communicate their experience of urban environments. Whether working in their cities of origin, travel destinations or temporary places residence, these artists comment on the transitory and connective realities of Latin American communities. Fully immersed in a globalized, visual culture, the videos highlight artists' unique perspectives and creative approaches, often made necessary by a lack of resources. Featuring work in animation, stop-motion and video-performance, VideoSur III depicts vast cityscapes, micro-perspectives of city life, and the rapid exchanges that result from migration."
——————————————————-
Boston Does Boston IV
(1928 Analytics,1920's German Expressionist cinema reinterpreted as
Futurist motion studies by Kurt Ralske)
When: December 11, 2010 – January 29, 2011
Where: The Distillery, 516 E. 2nd Street, South Boston, MA 02127
How: Official Website
What/Why: "Proof Gallery is pleased to present Boston Does Boston, an exhibition of 6 local artists. Now in its fourth annual installment, Proof Gallery asked three Boston affiliated artists to each choose another local artist to exhibit with. The result is an exciting cross section of the Boston arts community. Spanning a range of media, the participants in Boston Does Boston IV represent the vanguard of contemporary approaches and concerns."
————————————————————
And because I'm a sucker for des animaux, I have to mention there are some great holiday glamour shot opportunities for your pet this weekend!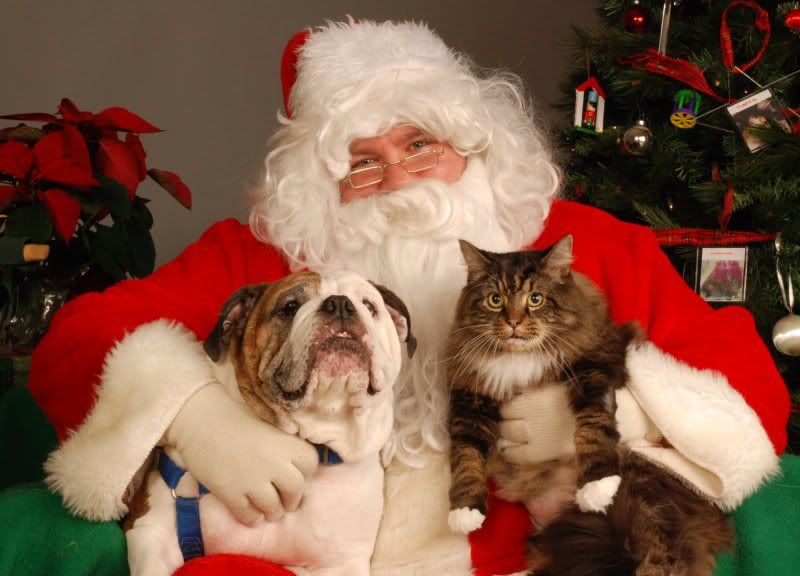 "Saturday, Dec 10 – Sunday Dec. 11th: Hotel Marlowe in Cambridge. 2-4 PM. Guests will be entered to win a night at one of Boston's Kimpton Hotels! (Hotel Marlowe, Nine Zero, Onyx Hotel) Plus, there will be treats from the Polka Dog Bakery for your pup.
There's another photo option that will help out a very worthy charity. On Saturday, Dec. 11- Sunday Dec. 12th from 10am to 6pm, you can get your pet's photo with Santa at the MSPCA. A framed photo of your pet(s) with Santa costs $20. With each donation, owners will also be emailed a digital photo image. All proceeds from the event will benefit the animals of the MSPCA-Boston Animal Care and Adoption Center.
Plus, there's a Bake Sale with some great animal-friendly goodies. Ann Clark Limited hand-made cookie cutters will be available in holiday and animal shapes. Gifts for your furry best friend will include beds, scratching posts, leashes, collars, toys, treats and more from supporters including Up Country and Mimi Green. Baked goods will include tarts, cakes, pies, cookies and more from some of Boston's best-known bakeries, as well as homemade treats."(via Boston Herald)
Only a few more hours left of work…have a great weekend you earned it! ♥